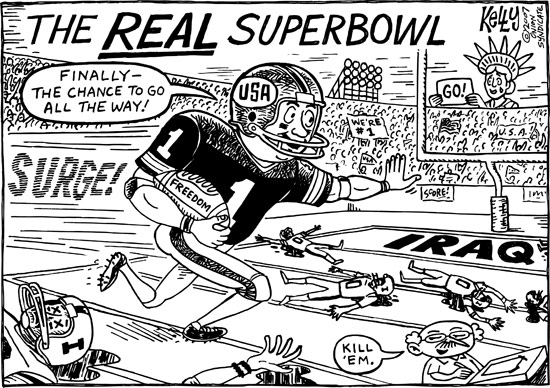 Spectacle Schmectacle: Remember the March 4th Strike!
Check Out Miami's Paul Moore on the Superbowl:
www.richgibson.com/blog/?p=122#comments
The poverty of our century is unlike that of any other. It is not, as poverty was before, the result of natural scarcity, but of a set of priorities imposed upon the rest of the world by the rich. Consequently, the modern poor are not pitied but written off as trash. The twentieth-century consumer economy has produced the first culture for which a beggar is a reminder of nothing.    John Berger
On the Little Rouge  School Front:
A Rouge Forum Broadside on March 4th,  Resistance, and Fear: rougeforum.org/resistancefear.html

Call For Proposals–Rouge Forum Conference August 2-5, 2010:
www.rougeforumconference.org/
Call for Manuscripts: A Return to Educational Apartheid? Critical Education: "This current series will focus on the articulation of race, schools, and segregation, and will analyze the extent to which schooling may or may not be returning to a state of educational apartheid."
m1.cust.educ.ubc.ca/journal/index.php/criticaled/announcement/view/8
Whose School? Our School? Occupations in Glasgow: "Parents in Glasgow occupied yet another primary school this week; the latest in a series of school occupations which have taken place over the past year."
libcom.org/news/parents-occupy-school-lanarkshire-threatened-closure-26012010
Harvard Initiates Educational Leadership-Business Partnership (this is new?): " The Harvard doctorate broadens the reach of traditional programs by collaborating with the Harvard Business School and the John F. Kennedy School of Government, he said. The first year of studies is devoted to a rigorous core curriculum. The next year, students chose from a slate of courses at the three schools–such as "Managing Human Capital" at the business school or "Marketing for Non-Profits and Public Agencies" at the Kennedy school."
findarticles.com/p/news-articles/community-college-week/mi_7781/is_4_22/harvard-announces-plans-offer-doctorate/ai_n39302082/
What They Do With The Kiddies After High School–Pedagogy With Those Fun Loving Marines:
www.pbs.org/wgbh/pages/frontline/digitalnation/waging-war/immersion-training/shooting-at-pendleton.html?play
Arne Duncan: "Atta Boy Detroit Bobb (Broad): "Duncan praised Bobb and what he's done in the district, calling him "a breath of fresh air."
www.detnews.com/article/20100205/SCHOOLS/2050364/1026/schools/Education-secretary-says-Robert-Bobb-is-a–breath-of-fresh-air-#ixzz0ee66pNNn

SF City College Cancels Summer Sessions: "Thousands of students who expected to make up missed courses or simply move their education forward will have to put those plans on hold this year because City College of San Francisco is canceling its popular summer session."
Read more: www.sfgate.com/cgi-bin/article.cgi?f=/c/a/2010/02/04/MNGF1BS143.DTL&type=education#ixzz0ejarzK4e
LA Times Exams the Explosion of Charters in the Second Largest School District: "Los Angeles is home to more than 160 charter schools, far more than any other U.S. city. Charter enrollment is up nearly 19% this year from last, while enrollment in traditional L.A. public schools is down."
www.latimes.com/news/local/la-me-charters10-2010jan10,0,5522248.story?page=2
On the Perpetual Wars and Booming Inequality Front:

Davos Banksters to Obamagogue, "*!*&#* You:" The more contentious discussions were around Mr. Obama's plan to restrict proprietary trading. One hedge fund manager described the proposed rule by using more four-letter words in one sentence — as nouns and verbs — than I thought possible…"I can find a way to say that virtually any trade we make is somehow related to serving one of our clients. They can go ahead and impose the rule on Friday, and I can assure you that by Monday, we'll find a way around it. Nothing will change unless the definition is ironclad." www.nytimes.com/2010/02/02/business/02sorkin.html
Underwater Homeowners To Banksters, "@#!#! You!": The number of Americans who owed more than their homes were worth was virtually nil when the real estate collapse began in mid-2006, but by the third quarter of 2009, an estimated 4.5 million homeowners had reached the critical threshold, with their home's value dropping below 75 percent of the mortgage balance.
Suggestions that people would be wise to renege on their home loans are at least a couple of years old, but they are turning into a full-throated barrage.
www.nytimes.com/2010/02/03/business/03walk.html?hp

UAW Meeting Uprising in Bay Area Regarding the Future Closing of the NUMMI Plant (video, short and hot): www.youtube.com/watch?v=Cj32Okmz-ho


Can the Afghan Puppet Cut His Strings? " a long-simmering conflict between Karzai and key officials of the Barack Obama administration over that issue came to a head at last week's London Conference, when the Afghan president refused to heed U.S. signals to back off his proposal to invite the Taliban leaders to participate in a nationwide peace conference." www.ipsnews.net/news.asp?idnews=50196

Mineworkers Strike vs Concessions in Kern County CA: ""I think the company had the impression we were going to roll over and let them feed us the poison.""After hours of analyzing and evaluating the contract, every one of the 500 workers at the meeting voted no," said union spokesman Craig Merrilees. "The contract would allow the right to discriminate and practice cronyism when it comes to deciding who gets a raise, who gets overtime and who gets training opportunities." www.latimes.com/news/local/la-me-boron1-2010feb01,0,362036.story

AIG To Dole Out $100 Million in Bonuses: "The Obama administration has been outmaneuvered. And the closed-door negotiations just add to the skepticism that the taxpayers will ever get the upper hand." www.nytimes.com/2010/02/03/business/03aig.html?hp

Nobel Peacenik Wants Biggest War Budget Ever: " The budget calls for a 3.4 percent increase in the Pentagon's base budget to $549 billion plus $159 billion to fund U.S. military missions in Iraq, Afghanistan and Pakistan. Obama's spending freeze on other parts of the budget, to try to rein in the deficit, did not apply to the military.
www.reuters.com/article/idUSTRE6103C520100202
There Goes the Passport Kevlar: US Can Kill It's Scary Citizens When Overseas: "Director of National Intelligence Dennis C. Blair acknowledged Wednesday that government agencies may kill U.S. citizens abroad who are involved in terrorist activities if they are "taking action that threatens Americans." www.washingtonpost.com/wp-dyn/content/article/2010/02/03/AR2010020303968_pf.html
There Goes the Dow: "In the final minutes of trading, the blue-chip gauge was briefly below 10,000, falling as low as 9,998.71."
latimesblogs.latimes.com/money_co/2010/02/dow-flirts-with-10000point-level-as-markets-sink-worldwide.html
There are NO US Troops in Pakistan, No US Troops in Pakistan, No US Troops In Pakist…"Mr. Aziz said it was odd that American soldiers would go to such a volatile area where Taliban militants were known to be prevalent even though the Pakistani security forces insisted that they had been flushed out." www.nytimes.com/2010/02/04/world/asia/04pstan.html?th&emc=th

Global Research on the Istanbul War Confab: "That the same conference discussed the bloc's 21st century new global military doctrine – former U.S. secretary of state Madeleine Albright delivered an address on the topic – raises the question of how many of the 35 partner states' military chiefs may have joined their 28 NATO colleagues for that phase of discussions. That such a high percentage of the world's leading military commanders attended a two-day affair which deliberated on both the war in South Asia and the expansion of the world's only military bloc's activities even further outside the Euro-Atlantic area (when it has already conducted operations in four continents) confirms that the Afghan war serves more than one purpose for the West. It is the laboratory for strengthening military ties with nations on every inhabited continent and for building the nucleus of and foundation for a potential future world army."
www.globalresearch.ca/index.php?context=va&aid=17428
Poem of the Week :
Lord Byron
Hereditary bondsmen! know ye not,
Who would be free, themselves must strike the blow?
By their right arms the conquest must be wrought?
Weirdness of the Week: Baptists Stealing Children: "They Knew it Was Wrong!" One nine-year-old girl was crying, and saying, 'I am not an orphan. I still have my parents.' And she thought she was going on a summer camp or… something like that [when she was taken]," he said.http://www.independent.co.uk/news/world/americas/us-baptists-knew-taking-children-out-of-haiti-was-wrong-1886357.html
Thanks to Pana, Paul, Amber, Wayne, Doug, Sandy, Cheri, Candace, Tony, Elvira, Marisol, Perry, Kathryn, Adam, Gina, Faith, Greg and Katie, Isabella, Grace, Peter, Stephen, Rick, Dirty Edd, Jill, Sorry We Missed You Karen, Dina, Bill, SSg Lloyd, Kay T, Elaine, Sharon A, Mary, the Susans (as always), Joe, and Will.
Good luck to us, every one.
r