December 15th, 2013 / Author: rgibson
We Say Fight Back!
Conference on Race and Racism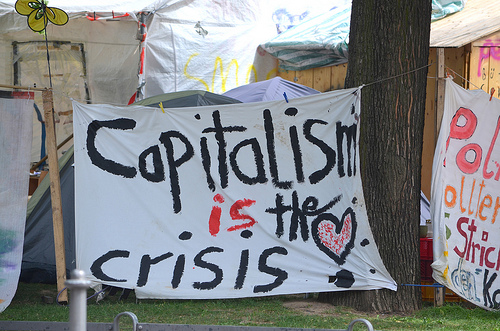 The American Studies Association took this on: Since the decline of Marxist scholarship in the 1970s, scholars of race in the United States have shied away from talking about capitalism. In this mini-conference at Howard University, we will bring together a group of scholars to re-ignite a discussion on racism and capitalism.
This conference is designed to be more of a conversation than a presentation of formal research papers. In that vein, we are asking our panelists to offer five to seven minute reflections on two questions:
What is the relationship between racism and capitalism?
What does racial justice look like? http://raceandracisms.blogspot.com/p/conversation-on-racism-and-capitalism.html
Cliffnotes on the discussion are here http://storify.com/tanyagolashboza/conversation-on-racism-and-capitalism
Resistance rose in 2013–if unguided  
The Little Red Schoolhouse
Pearson Capitalizes a bit too much in Capitalist Schools The Pearson Foundation, the charitable arm of one of the nation's largest educational publishers, will pay $7.7 million to settle accusations that it repeatedly broke New York State law by assisting in for-profit ventures. An inquiry by Eric T. Schneiderman, the New York State attorney general, found that the foundation had helped develop products for its corporate parent, including course materials and software. The investigation also showed that the foundation had helped woo clients to Pearson's business side by paying their way to education conferences that were attended by its employees.
Under the terms of the agreement to be announced on Friday, the money, aside from $200,000 in legal expenses, will be directed to 100Kin10, a national effort led by a foundation, the Carnegie Corporation, to train more teachers in high-demand areas, including science, technology, engineering and math.
"The fact is that Pearson is a for-profit corporation, and they are prohibited by law from using charitable funds to promote and develop for-profit products," Mr. Schneiderman said in a statement. "I'm pleased that this settlement will direct millions of dollars back to where they belong."   http://www.nytimes.com/2013/12/13/nyregion/educational-publishers-charity-accused-of-seeking-profits-will-pay-millions.html?emc=edit_tnt_20131212&tntemail0=y&_r=2&%20December%2012,%202013
Charters top 50% Market Share in Detroit's Capitalist Schools  For the first time, more than 50 percent of children who live in Detroit attend a charter school, according to a report released Tuesday by the National Alliance for Public Charter Schools.
In the 2012-13 school year, 51,083 Detroit children — or 51 percent of the city's school-age population — attended charter schools, making Detroit only one of two cities in the nation with more than half of its public school students attending charter schools.
New Orleans, which saw a state takeover of its public school system after Hurricane Katrina, topped the list with 79 percent of students attending charter schools.
It's the first time the market share for charter schools surpassed the 50 percent mark in Detroit. In 2011-12, just 41 percent of students were in charter schools with the rest attending DPS, the Education Achievement Authority or other public schools. Eight years ago the number attending charter schools was 18 percent.
From The Detroit News: http://www.detroitnews.com/article/20131210/SCHOOLS/312100089#ixzz2n92XsR27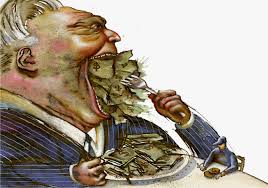 Greed Revolves the Boss' Doors at San Diego Schools   LaGacé campaigned aggressively for expanding the district's relationship with Lightspeed. The company was awarded hundreds of thousands of dollars' worth of no-bid contracts for web filtering and a new social network for teachers and students. The relationship led to a no-bid $375,000 contract, awarded to Lightspeed last April.
Five months after that contract was approved, LaGacé left the district.
He took a job at Lightspeed Systems, where he's now the company's vice president of global business development.
LaGacé isn't the only San Diego Unified official to leave an influential post at the district only to go and work for a company that won contracts under his tenure.
During his five-year stretch at the district, former Chief of Staff Bernie Rhinerson, who left the district earlier this year, was a self-professed cheerleader for Schoolwires, a Pennsylvania-based K-12 technology company that redesigned the district's website. Since his retirement this summer, Rhinerson has worked as a paid consultant for Schoolwires, appearing in promotional videos for the company.    http://voiceofsandiego.org/2013/12/11/revolving-door-between-sd-unified-contractors-still-open-despite-warnings/
Spartan Michigan State Prezzie gets $125 bonus  Michigan State University President Lou Anna Simon was awarded a $125,000 bonus Friday by the schools' Board of Trustees, the school said in a news release.
From The Detroit News: http://www.detroitnews.com/article/20131213/SCHOOLS/312130101#ixzz2nWCP68ot
The International Hot War of the Rich on the Poor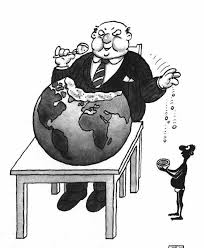 That "Good" long war on Afghanistan is for..? Under the proposed Afghan-US security pact, which is an integral part of Obama's Asian pivot, Washington and its NATO partners are preparing to ensure a permanent military presence in Afghanistan, with military facilities located in proximity of China's Western frontier. The pact would allow the US to maintain their nine permanent military bases, strategically located on the borders of China, Pakistan and Iran as well as Turkmenistan, Uzbekistan and Tajikistan.
In addition to its vast mineral and gas reserves, Afghanistan produces more than 90 percent of the World's supply of opium which is used to produce grade 4 heroin.
US military bases in Afghanistan are also intent upon protecting the multibillion narcotics trade. Narcotics, at present, constitutes the centerpiece of Afghanistan's export economy.
The heroin trade, instated at the outset of the Soviet-Afghan war in 1979 and protected by the CIA, generates cash earnings in Western markets in excess of $200 billion dollars a year.
"The highest concentration of NATO servicemen in Afghanistan is being accompanied with the highest concentration of opium poppy, …. That situation causes doubts about the anti-terrorist mission and leads to the conclusion about catastrophic consequences of the eight-year stay [of coalition forces] in Afghanistan," (Russia's Federal Drug Control Service head Viktor Ivanov, January 2010)    http://www.globalresearch.ca/the-war-is-worth-waging-afghanistan-s-vast-reserves-of-minerals-and-natural-gas/19769
South Korea Announces Expansion of Its Air Defense Zone   Defying both China and Japan, South Korea announced on Sunday that it was expanding its air patrol zone for the first time in 62 years to include airspace over the East China Sea that is also claimed by Beijing and Tokyo.  With South Korea's newly expanded zone, the air defense zones of all three countries now overlap over a submerged reef called Ieodo in South Korea and Suyan Rock in China. The reef is controlled by South Korea, which maintains a maritime research station there, but China also claims it. The seabed around the reef is believed to be rich in natural gas and minerals deposits.
The South Korean move came two weeks after China stoked regional tensions by unilaterally expanding its own air patrol zone to partly overlap with South Korea's and include airspace over the reef. The expanded Chinese air control zone also covers a set of East China Sea islands, called Diaoyu in Chinese and Senkaku in Japanese, which are at the heart of a territorial feud between Japan and China.    http://www.nytimes.com/2013/12/09/world/asia/east-china-sea-air-defense-zone.html?ref=international-home&_r=0
North Korea Scratches an Itch North Korea said on Friday that Jang Song-thaek, the uncle and presumed mentor of its leader, Kim Jong-un, was executed for plotting a military coup.  The announcement was a highly unusual admission of instability from the reclusive, nuclear-armed country, which normally cloaks any signs of disloyalty to the Kim dynasty that has ruled since the country's founding. It was the first time in recent decades that the North revealed a purported attempt to overthrow its leadership, analysts said, and the first publicly announced execution of a member of the ruling family.
Calling him a "traitor" and "worse than a dog," the state-run Korean Central News Agency said Mr. Jang, 67, was executed on Thursday, immediately after he was convicted of treason in a special military court.    http://www.nytimes.com/2013/12/13/world/asia/north-korea-says-uncle-of-executed.html?ref=international-home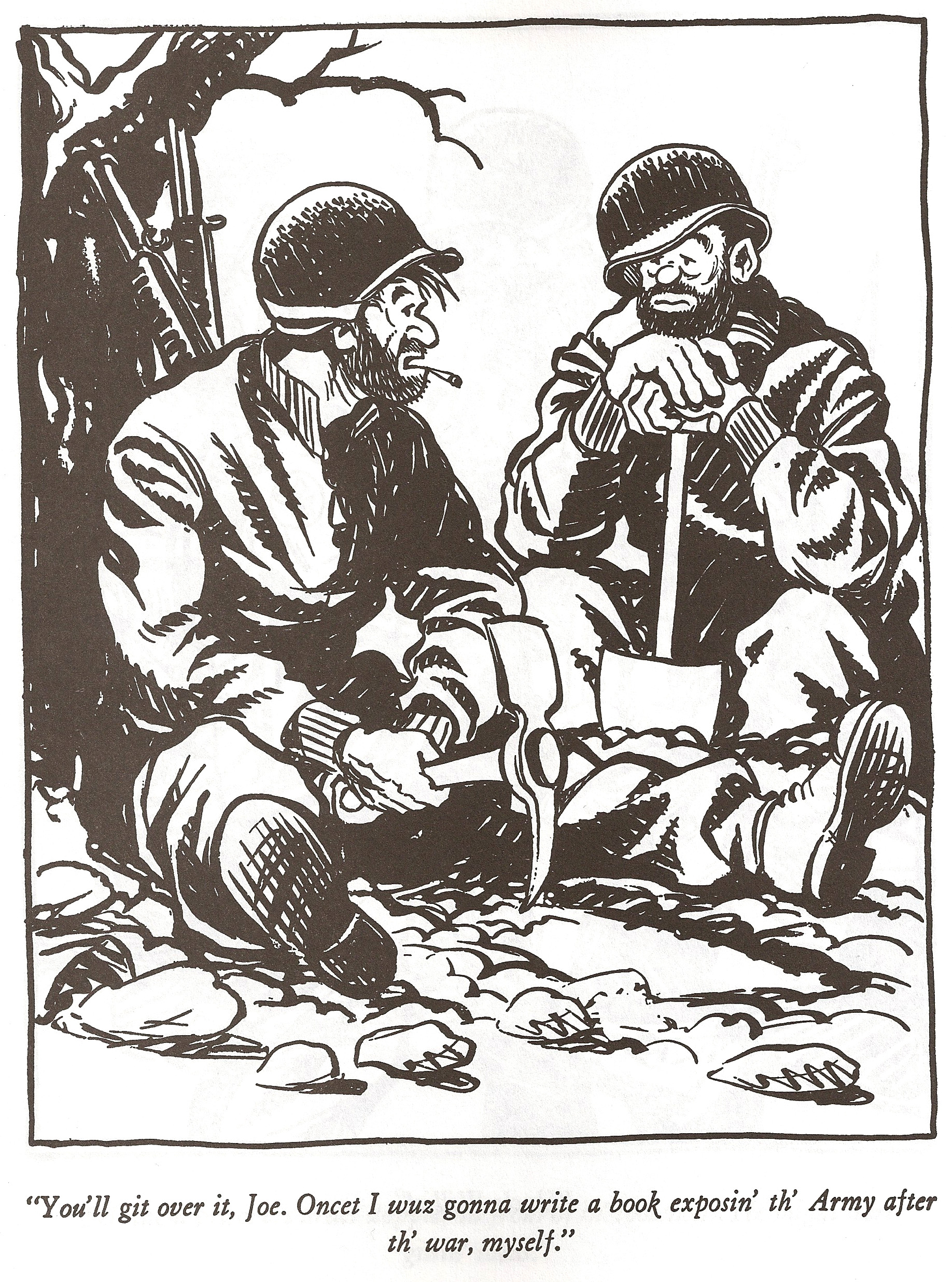 Budget Cuts for Military Retirees–thanks Patriots! Military retirees could face as much as $124,000 in lost retirement income if the bipartisan budget agreement is enacted, according to the Military Officers Association of America (MOAA).
The Washington Free Beacon reported that under the budget agreement crafted by House Budget Committee Chairman Paul Ryan (R., Wisc.) and Senate Budget Committee Chairman Patty Murray (D., Wash.), military retirees younger than 62 will receive 1 percentage point less in their annual cost-of-living adjustment (COLA).
While new federal employees who are hired after Jan. 1, 2014 will be required to pay 1.3 percent more of their pay into their pension plans, federal retirees will continue to receive their generous pension benefits and current employees will not be required to pay more.
Current civilian government workers will be grandfathered in at their current contribution rate of 0.8 percent.
According to the MOAA, the nation's largest association of military officers, the proposal would have a significant impact on military retirees, including many who retire in their 40s after two decades of service.
A loss of one percentage point in their COLA translates into thousands of dollars in lost retirement income.
For instance, a 42-year-old who retires as an enlisted E-7 could lose a minimum of $72,000. E-7 refers to the ranks of Sergeant First Class, Chief Petty Officer (CPO), Master Sergeant, and Gunnery Sergeant.    http://freebeacon.com/report-budget-plan-could-cost-service-members-124000-in-retirement-pay/
Deceased Marine's body returned with missing heart after Greek Government 'harvests' it  The family of the fallen marine claims that they were unaware of the missing heart until a fellow officer of their son accidentally informed this family that the soldiers heart was removed. To make matters that much worse for this grief stricken family, when the family requested their sons heart be returned, the officials in Greece sent someone elses heart. The family is now suing U.S. Government officials over an illegally performed autopsy that apparently took place in Greece. The officials in Greece claim that they kept the heart for testing reasons, after the officials in Greece had left the body unattended for 6 days, once the fallen soldier was pronounced dead. The family requested the heart and upon performing DNA testing, discovered that it was not even their sons heart.    http://beforeitsnews.com/military/2013/12/deceased-marines-body-returned-with-missing-heart-after-greek-government-harvests-it-2457158.html
China can hit the moon–and you China completed the first soft landing on the moon's surface in 37 years Saturday, becoming only the third country to pull off the feat.
State television showed scientists in white and pale-blue coats applauding, shaking hands and congratulating each other after the craft, Chang'e 3, landed safely at 9:12 p.m. local time. It also showed photographs of the moon's surface beamed back from the craft.  ,,,"This was a big step," said Joan Johnson-Freese of the U.S. Naval War College in Newport, R.I. http://www.washingtonpost.com/world/china-successfully-completes-first-soft-landing-on-moon-in-37-years/2013/12/14/fad6ffb4-64c6-11e3-af0d-4bb80d704888_story.html?tid=pm_pop
Cheers in San Diego! More War is More Work!!!! More than $130 million in new military acquisition and construction money will pour into San Diego area military bases under the defense spending bill approved by the House of Representatives last week.
The money comes on top of regular base maintenance and operation funding and would be augmented by unspecified millions more if the two-year budget deal that rolls back Pentagon "sequester" cuts.
All eyes turn to the Senate this week, which still has to act on the budget and defense bills, the latter which includes a provision inserted by Rep. Duncan Hunter, R-Alpine, that makes physical performance standards the same for men and women as the Pentagon moves to open up combat jobs to female troops.
The former Marine who served in combat in Iraq and Afghanistan believes the standards must be the same for troops regardless of gender to both meet the needs of each specialty and to attract and retain those most qualified for any particular assignment.
"It takes some of the political pressure off the services in having women serve in combat specialties," Hunter said Friday "The military can now simply say the standards are the same for everyone."    http://www.utsandiego.com/news/2013/dec/13/sd-military-bases-to-get-millions/
MacMillan: History says WW3 could be on the horizon  The decades leading up to 1914 were, as now, a period of dramatic shifts and upheavals, which those who experienced them thought of as unprecedented in speed and scale. New fields of commerce and manufacture were opening up, such as the rapidly expanding chemical and electrical industries. Einstein was developing his general theory of relativity; radical new ideas like psychoanalysis were finding a following; and the roots of the predatory ideologies of fascism and Soviet Communism were taking hold.
Globalization can have the paradoxical effect of fostering intense localism and nativism, frightening people into taking refuge in small like-minded groups. Globalization also makes possible the widespread transmission of radical ideologies and the bringing together of fanatics who will stop at nothing in their quest for the perfect society. In the period before World War I, anarchists and revolutionary Socialists across Europe and North America read the same works and had the same aim: to overthrow the existing social order. The young Serbs who assassinated Archduke Franz Ferdinand of Austria at Sarajevo were inspired by Nietzsche and Bakunin, just as their Russian and French counterparts were.    http://www.nytimes.com/2013/12/14/opinion/macmillan-the-great-wars-ominous-echoes.html?pagewanted=1&_r=0&hp&rref=opinion/international
The International Economic War of the Rich on the Poor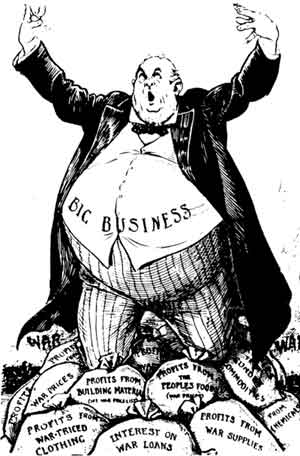 About the Secret ObamagogueCare Deductibles Until now, it was almost impossible for people using the federal health care website to see the deductible amounts, which consumers pay before coverage kicks in. But federal officials finally relented last week and added a "window shopping" feature that displays data on deductibles.
For policies offered in the federal exchange, as in many states, the annual deductible often tops $5,000 for an individual and $10,000 for a couple.  ..Insurers devised the new policies on the assumption that consumers would pick a plan based mainly on price, as reflected in the premium. But insurance plans with lower premiums generally have higher deductibles.
In El Paso, Tex., for example, for a husband and wife both age 35, one of the cheapest plans on the federal exchange, offered by Blue Cross and Blue Shield, has a premium less than $300 a month, but the annual deductible is more than $12,000. For a 45-year-old couple seeking insurance on the federal exchange in Saginaw, Mich., a policy with a premium of $515 a month has a deductible of $10,000.    http://www.nytimes.com/2013/12/09/us/on-health-exchanges-premiums-may-be-low-but-other-costs-can-be-high.html?nl=todaysheadlines&emc=edit_th_20131209
Next Choke Point in Obamagogue Care–medication costs "If you like your medicines, you may not be able to keep them under Obamacare," health policy analyst Scott Gottlieb wrote in a Forbes column. "Health plans are cheapening their drug formularies – just like they cheapened their networks of doctors. That's how their paying for the benefits that President Obama promised, everything from free contraception to a leveling of premiums between older (and typically costlier) beneficiaries, and younger consumers."
The affordability of prescriptions could hinge on whether a consumer is enrolled in a platinum, gold, silver or bronze plan.
Under the Patient Protection and Affordable Care Act, those earning up to 250 percent of the poverty level will qualify for cost-sharing reductions on prescriptions. That applies to those earning less than $60,000 for a family of four and $30,000 for an individual. That's only if they are enrolled in the silver plan on the exchange….Gottlieb used the drug Copaxone for multiple sclerosis as an example, saying someone with a bronze plan would be responsible for paying 40 percent of the drugs out-of-pocket costs, or about $1,980 per month. Under the platinum plan, the out-of-pocket cost would be $792 per month.
If a drug isn't covered, the Centers for Medicare and Medicaid Services have said there is an appeals process to seek the coverage.
"But this appeals process can take months. And there is no sure chance of winning," Gottlieb said. "If a drug costs tens of thousands of dollars a year, how many patients will be able to foot that bill out of pocket until they win an appeal, or take the chance that they could lose the appeal, and be stuck with the full cost of the drug?"
A January 2012 study of 22 carriers in six states by Avalere Health found the number of available drugs per carrier ranged from 480 to 1,110. The study found that 90 percent of the lowest-cost bronze plans require patients to pay 40 percent out of pocket for the most expensive prescription "tiers." Currently the average prescription co-pay is about 29 percent for insurance policies.    http://www.theblaze.com/stories/2013/12/09/can-you-even-keep-or-afford-your-medicine-under-obamacare/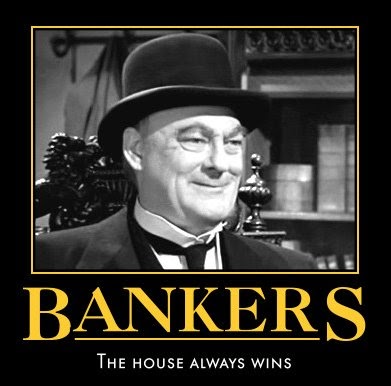 Taibbi on the Banksters' Get out of Jail Free Cards The GE Muni-riggers will now join such luminaries as the Gen Re defendants (executives from an insurance company who were convicted in 2008 of helping AIG conduct a fraudulent accounting transaction) and the KPMG defendants (executives of the U.S. arm of the Dutch accounting giant who were convicted in the 2000s of selling illegal tax shelters) in the ranks of Wall Street line-crossers who improbably made it all the way to guilty verdicts in criminal cases, only to be freed on technicalities later on.
As one antitrust lawyer I know put it: "Apparently, the government can't seem to get criminal trials involving financial executives (as opposed to, well, drug dealers) right. Go figure."
Read more: http://www.rollingstone.com/politics/blogs/taibblog/another-batch-of-wall-street-villains-freed-on-technicality-20131204#ixzz2n91ouCHj
Government Motors Takes Credit for Cost Saving/Polluting  GM's bailout may have cost us taxpayers $10B, but don't worry—the company is going to drown out all your negativity towards them with some positive press, like this piece published yesterday in the Detroit News.
The article talks admiringly of GM's "Landfill Free" initiative, which is now being enacted at the Renaissance Center. Under GM's program, the huge amount of trash produced every day at the RenCen is now either recycled or "converted to energy." It's touted as an environmentally friendly move by the new, more responsible GM. It's not so simple. While the increased recycling is nice, the 51% of the RenCen's garbage that's "converted to energy" is just as much connected to the green in GM's bank account than any environmental concern.
Three things the article isn't telling us:
1. "Convert to Energy" = Burn: Rather than a landfill, the RenCen's trash is now heading to the Detroit Renewable Energy LLC, the city's giant cigarette in the sky, or what the Sierra Club calls the world's largest trash incinerator. Burning trash generates steam, electricity, and terribly stinky clouds that choke neighborhoods from Midtown to Allen Park. It has previously been cited for several environmental violations, and is accused of raising asthma rates among Detroit children.
2. Burning Trash Saves GM Money: GM isn't just a good steward trying to show the RenCen's tenants the value in burning trash—it has a big stake in ensuring the incinerator meets its daily trash quotas. Detroit Renewable Energy and GM announced a partnership in November that sends steam directly from the incinerator to GM's Detroit-Hamtramck Assembly Center, covering 58% of its energy needs. That saves GM about $2M annually, which is a good incentive to redirect the RenCen's trash (2M pounds/year) into the incinerator's fires.
3. We're all "Going Green": If the City of Detroit picks up your garbage, give yourself a pat on the back—you're probably converting that garbage to energy! Nearly all of the city's trash heads straight to the incinerator. GM is simply sending its trash where yours has been going since the early 90s—into the atmosphere.    http://detroit.curbed.com/archives/2013/12/gm-burns-rencens-trash-to-power-factory-calls-it-green.php
Save the DIA's Rivera Murals (and the whole damn museum) from the Banksters!
Eager for Vacation, Congress lets one point three million workers fall off unemployment  Nearly 40,000 Ohioans will see their unemployment benefits cut off a few days after Christmas because Congress will fail to vote on extending payments before going on recess until early next year.
The U.S. House failed to vote Thursday on a proposal by Democrats that would have extended benefits for three months, after Republicans blocked the effort. Since the House adjourns Friday until next year, there won't be an opportunity to take the issue up before benefits expire Dec. 28. About 1.3 million Americans are expected to have their unemployment insurance terminated.   http://www.cleveland.com/business/index.ssf/2013/12/13_million_will_have_unemploym.html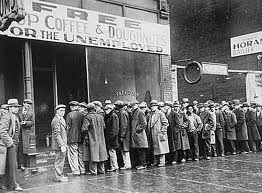 The Emergence of Fascism as a Popular Mass Movement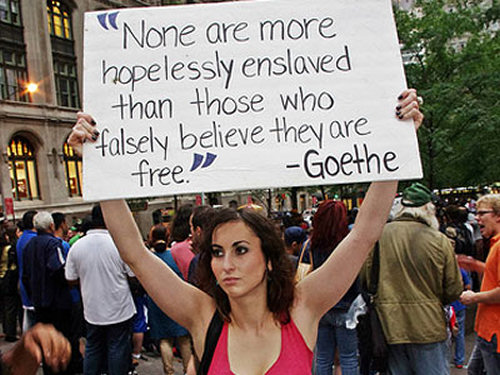 Juveniles Tortured in Michigan Prisons  n Ann Arbor attorney has brought a class-action lawsuit against the Michigan Department of Corrections, alleging the department and its officials have subjected male prisoners younger than 18 to sexual, physical and emotion abuse by unlawfully housing them with adult inmates.
Attorney Deborah LaBelle, who in 2009 won a $100-million settlement on behalf of more than 500 female Michigan prisoners who said they were sexually abused by corrections officers, filed the lawsuit in U.S. District Court in Detroit on Tuesday.
Plaintiffs in the suit are seven unnamed "John Doe" prisoners who allege they were sexually and physically assaulted or harassed while housed in the Michigan prison system.
But in seeking to certify the lawsuit as a class action, LaBelle says it is filed on behalf of "at least 500 children" between the ages of 14 and 17 who have been housed in Michigan prisons for a year or more in the last three years.     http://www.correctionsone.com/juvenile-offenders/articles/6523405-Class-action-lawsuit-claims-children-suffer-sexual-emotional-abuse-in-Mich-prisons/
Solidarity for Never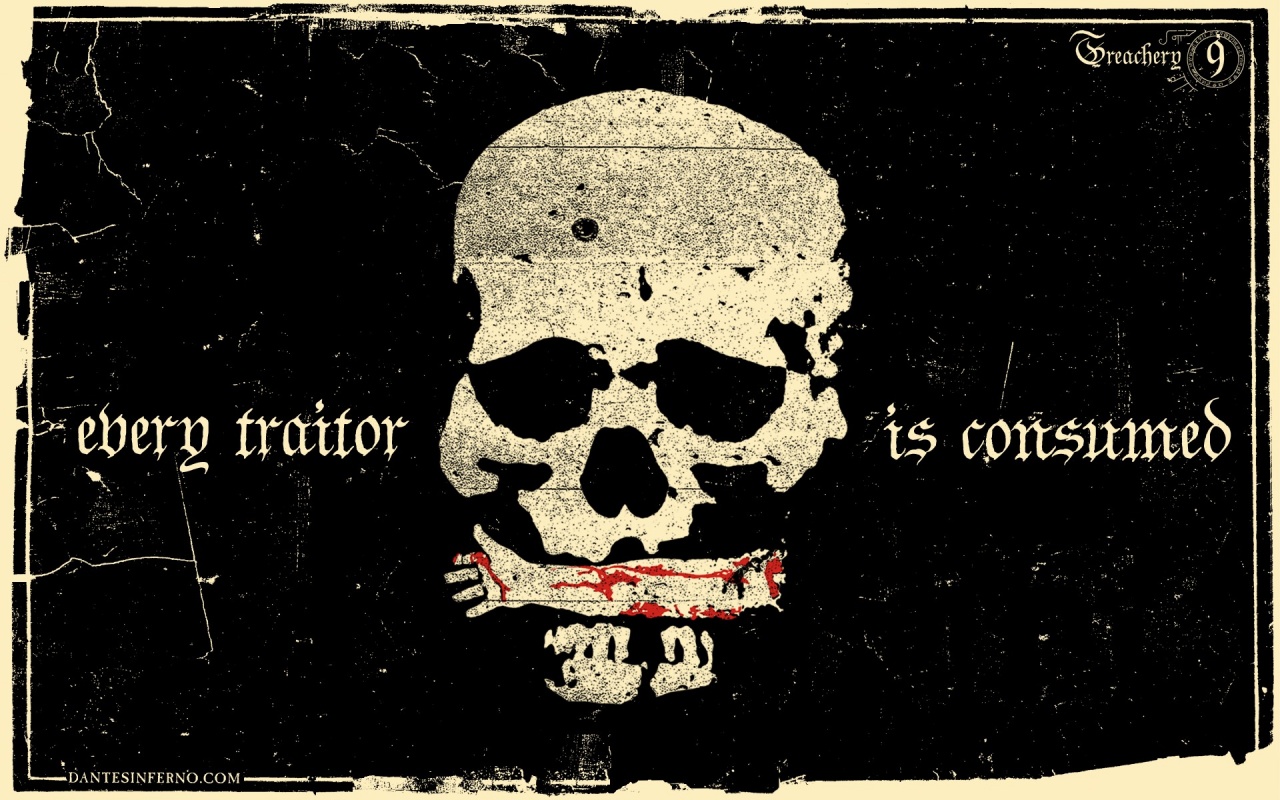 The Quisling Flip of the ANC and their Big Man "The nationalization of the mines, banks and monopoly industries is the policy of the ANC, and the change or modifications of our views in this regard is inconceivable," wrote Nelson Mandela in January 1990, two weeks before he was released from his long captivity on Robben Island. He was assuring his comrades in the African National Congress that he remained loyal to the socialist economic program enshrined in their mid-1950s Freedom Charter. The ANC would, he promised, give back to the people of South Africa the riches that wealthy whites had stolen from them under British colonial rule and the years of Afrikaner-led apartheid.
Four years later, he would become president of all South Africa, democratically elected in the country's first election in which the overwhelmingly non-white majority was allowed to vote. But by that time, Mandela and his closest aides had secretly agreed to precisely the change of views that he had called "inconceivable."
The ANC gave up nationalization and a radical redistribution of wealth. They promised to repay $25 billion in debt that the apartheid government had amassed. They removed exchange controls, allowing the largest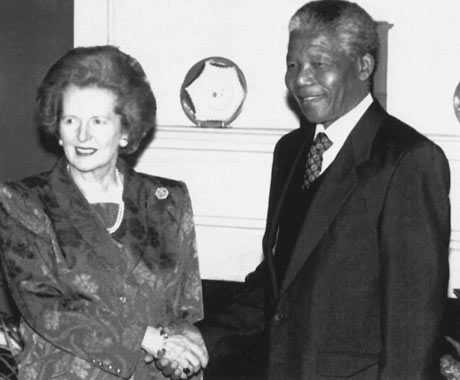 corporations and richest whites to send their money abroad. And instead of top-down state socialism, as once practiced by the now defunct Soviet Union, or preferably a Scandinavian mixed economy, they went whole hog for the privately controlled, "free market," trickle-down economics preached by Milton Friedman and the Chicago School, the Austrian economist Friedrich Hayek, British prime minister Margaret Thatcher, American president Bill Clinton, and "the Washington consensus."
The result of this neo-liberal economic agenda has been both tragic and predictable….. All this came to a head in 1994, when the International Monetary Fund agreed to loan South Africa $850 million for the transition, but only if the ANC would sign off on the economic deal they had worked out with Oppenheimer, his Brenthurst Group of fellow moguls, and the Clinton Administration in Washington. For South Africa's best-known white revolutionary Ronnie Kasrils, a leader of the South African Communist Party and co-founder with Mandela of the ANC's armed wing, "Spear of the Nation," this was "our Faustian moment." With all its strings, the loan precluded a radical economic agenda, as did all the other concessions that the ANC made "to keep negotiations on track and take delivery of the promised land for our people."
In the new introduction to his memoirs "Armed and Dangerous," Kasrils blames himself as well as Mandela for having "chickened out," his exact words. "Doubt had come to reign supreme: we believed, wrongly, there was no other option, that we had to be cautious, since by 1991 our once powerful ally, the Soviet Union, bankrupted by the arms race, had collapsed. Inexcusably, we had lost faith in the ability of our own revolutionary masses."  http://readersupportednews.org/opinion2/292-151/20898-focus-how-big-money-washington-and-the-imf-trumped-mandela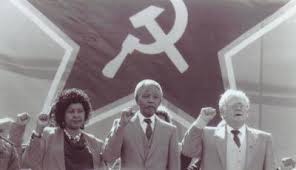 South Africa's CP Defends their Traitor–threatens "enemies"  The SACP condemns in the strongest terms the booing and disruptions that occurred at the FNB stadium on Tuesday, during the official memorial service of comrade Nelson Mandela. The booing was against the values that Madiba stood for, and was certainly not spontaneous but well-premeditated and orchestrated by an element aimed at embarrassing our President, our people and all decent South Africans. Their behavior was not only disgusting, but it was treacherous, counter-revolutionary and an insult to the dignity, sacrifices and the memory of Cde Nelson Mandela.
The SACP has called upon all its members and structures in Gauteng, to bring to the Party whatever information they might have about who was behind this despicable behavior, so that these elements are exposed, named and shamed. In particular we need to ensure that we get information of who the ring leaders behind this action were, so that they will also be exposed, named, shamed and be driven out of the ranks of our movement. https://portside.org/2013-12-14/south-african-communists-hail-nelson-mandela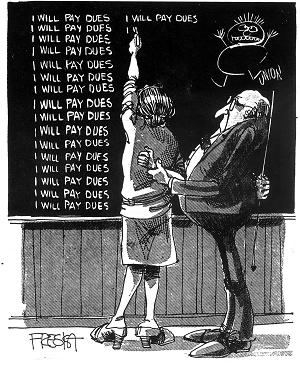 NYU Grad Assistants didn't have enough enemies so they voted for their illusions  Graduate teaching and research assistants at New York University have voted overwhelmingly to unionize, the American Arbitration Association announced this week after conducting the vote.    http://www.nytimes.com/2013/12/13/nyregion/nyu-graduate-assistants-to-join-auto-workers-union.html?emc=edit_tnt_20131213&tntemail0=y
Spy versus Spy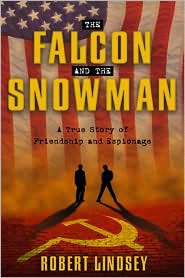 Hersh: Obamagogue Lied on the Syria Gas Attacks Barack Obama did not tell the whole story this autumn when he tried to make the case that Bashar al-Assad was responsible for the chemical weapons attack near Damascus on 21 August. In some instances, he omitted important intelligence, and in others he presented assumptions as facts. Most significant, he failed to acknowledge something known to the US intelligence community: that the Syrian army is not the only party in the country's civil war with access to sarin, the nerve agent that a UN study concluded – without assessing responsibility – had been used in the rocket attack. In the months before the attack, the American intelligence agencies produced a series of highly classified reports, culminating in a formal Operations Order – a planning document that precedes a ground invasion – citing evidence that the al-Nusra Front, a jihadi group affiliated with al-Qaida, had mastered the mechanics of creating sarin and was capable of manufacturing it in quantity. When the attack occurred al-Nusra should have been a suspect, but the administration cherry-picked intelligence to justify a strike against Assad.  … there was immense frustration inside the military and intelligence bureaucracy: 'The guys are throwing their hands in the air and saying, "How can we help this guy" – Obama – "when he and his cronies in the White House make up the intelligence as they go along?"'   the irony is that, after Assad's stockpile of precursor agents is destroyed, al-Nusra and its Islamist allies could end up as the only faction inside Syria with access to the ingredients that can create sarin, a strategic weapon that would be unlike any other in the war zone. There may be more to negotiate.   http://www.lrb.co.uk/2013/12/08/seymour-m-hersh/whose-sarin
CIA NOC Flops  Twelve years after the CIA began a major push to get its operatives out of embassy cubicles and into foreign universities, businesses and other local perches to collect intelligence on terrorists and rogue nations, the effort has been a disappointment, current and former U.S. officials say. Along with other parts of the CIA, the budget of the so-called Global Deployment Initiative, which covers the NOC program, is now being cut.
"It was a colossal flop," a former senior CIA official said in sentiments echoed by a dozen former colleagues, most of whom spoke on condition of anonymity to discuss a classified program.   http://www.latimes.com/world/la-fg-cia-spies-20131208,0,3603017.story#ixzz2mvcDGvF5
CIA Forced Medics to Torture  Defense Department and CIA interrogation policies after 9/11 forced medical professionals to abandon their ethical obligations to "do no harm" to those in their care and some prohibited practices, including force-feeding of hunger strikers, continue today, a report issued Monday alleges.
The report, Ethics Abandoned: Medical Professionalism and Detainee Abuse in the War on Terror, was carried out by a 19-member task force of Columbia University's Institute on Medicine as a Profession and the Open Society Foundations. The researchers spent two years examining public records of medical professionals' involvement in military and intelligence interrogations and treatment of detainees.
It accuses the counter-terrorism operations of having "improperly demanded that U.S. military and intelligence agency health professionals collaborate in intelligence gathering and security practices in a way that inflicted severe harm on detainees in U.S. custody."
The involvement of medical professionals in abuse and interrogation occurred at the Guantanamo Bay detention center for terrorism suspects as well as at Bagram air base near Kabul, Afghanistan, and at other CIA "black sites," the report claimed.   http://www.latimes.com/world/worldnow/la-fg-wn-military-cia-medical-abuse-detainees-20131104,0,4796513.story#ixzz2mvce5JoP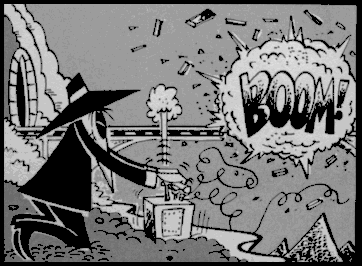 CIA Honors Spies who invaded China and Got Caught  The Central Intelligence Agency has awarded its highest honor for valor, the Distinguished Intelligence Cross, to two former officers who spent two decades imprisoned in China.  John T. Downey and Richard G. Fecteau were in a C-47 transport aircraft that was shot down over northeastern China in November 1952 while on a mission to pick up a courier.
They were part of an effort, later deemed a failure, to cultivate resistance to Mao Zedong's newly established Communist government and to divert Chinese military strength from the Korean War.
Their long experience in detention — Mr. Fecteau was released in 1971 and Mr. Downey two years later — has been held up by the C.I.A. as a model of loyalty and sacrifice.    http://sinosphere.blogs.nytimes.com/2013/12/11/c-i-a-honors-former-officers-held-captive-for-decades-in-china/?emc=edit_tnt_20131211&tntemail0=y&_r=0
Ex-FBI agent who disappeared in Iran was on rogue mission for CIA  An American man who disappeared in Iran more than six years ago had been working for the CIA in what U.S. intelligence officials describe as a rogue operation that led to a major shake-up in the spy agency.
Robert Levinson, a retired FBI agent, traveled to the Iranian island of Kish in March 2007 to investigate corruption at a time when he was discussing the renewal of a CIA contract he had held for several years. He also inquired about getting reimbursed for the Iran trip by the agency before he departed, according to former and current U.S. intelligence officials. After he vanished, CIA officials told Congress in closed hearings as well as the FBI that Levinson did not have a current relationship with the agency and played down its ties with him. Agency officials said Levinson did not go to Iran for the CIA.
But months after Levinson's abduction, e-mails and other documents surfaced that suggested he had gone to Iran at the direction of certain CIA analysts who had no authority to run operations overseas. That revelation prompted a major internal investigation that had wide-ranging repercussions, the officials said, speaking on the condition of anonymity.    http://www.washingtonpost.com/world/national-security/ex-fbi-agent-who-went-missing-in-iran-was-on-rogue-mission-for-cia/2013/12/12/f5de6084-637b-11e3-a373-0f9f2d1c2b61_story.html
Nobody Knows How Many Cookies Got from the Jar–but no heads have rolled. Why?  American intelligence and law enforcement investigators have concluded that they may never know the entirety of what the former National Security Agency contractor Edward J. Snowden extracted from classified government computers before leaving the United States, according to senior government officials.  remain in the dark about the extent of the data breach partly because the N.S.A. facility in Hawaii where Mr. Snowden worked — unlike other N.S.A. facilities — was not equipped with up-to-date software that allows the spy agency to monitor which corners of its vast computer landscape its employees are navigating at any given time.
Six months since the investigation began, officials said Mr. Snowden had further covered his tracks by logging into classified systems using the passwords of other security agency employees, as well as by hacking firewalls installed to limit access to certain parts of the system.
"They've spent hundreds and hundreds of man-hours trying to reconstruct everything he has gotten, and they still don't know all of what he took," a senior administration official said. "I know that seems crazy, but everything with this is crazy."
That Mr. Snowden was so expertly able to exploit blind spots in the systems of America's most secretive spy agency illustrates how far computer security still lagged years after President Obama ordered standards tightened after the WikiLeaks revelations of 2010.    http://www.nytimes.com/2013/12/15/us/officials-say-us-may-never-know-extent-of-snowdens-leaks.html?ref=international-home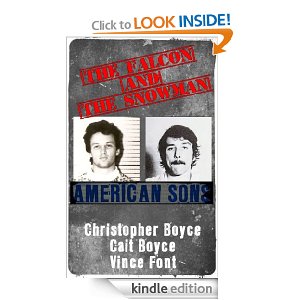 Listen to the Falcon, Chris Boyce, Tell His Story Christopher Boyce was a 21-year-old intelligence worker, who became so disillusioned with the CIA's alleged surveillance operations against America's allies in the 1970s that he decided to leak the information to the Soviet Union.
Boyce's story was depicted in the 1985 film The Falcon and the Snowman.
Now the former CIA agent has written a book that picks up where the film left off, titled The Falcon and the Snowman: American Sons.    http://www.abc.net.au/radionational/programs/breakfast/imprisoned-cia-whistleblower-tells-his-story/5148474
Cryptome–Wikileaks plus!  http://cryptome.org/
The Magical Mystery Tour
Judge Orders Removal of Mt Soledad Cross (again)  The controversial cross on Mt. Soledad was deemed unconstitutional by a federal judge in San Diego on Thursday, meaning the cross could come down within the next few months. A federal judge issued an order declaring the 43-foot Latin cross violates the Establishment Clause of the Constitution and unlawfully endorses one religion over others.
The cross, part of the Mt. Soledad Veterans Memorial, was challenged in 2006 lawsuit by the Jewish War Veterans of the United States of America and several local residents, all represented by the American Civil Liberties Union and the ACLU of San Diego & Imperial Counties.
Source: http://www.nbcsandiego.com/news/local/Judge-Orders-Removal-of-Mt-Soledad-Cross-235662901.html#ixzz2nQctzMzv
Tex as Six clergy sex abuse victims have settled their civil cases against the Beaumont Catholic diocese.
http://www.beaumontenterprise.com/news/article/Diocese-of-Beaumont-settles-sex-abuse-suit-5058195.php
We hope this settlement comforts at least some of the many families who have suffered and are suffering because Catholic officials kept Fr. Ronald Bollich on the job knowing he had molested young boys.
At the same time, however, no single event can magically erase decades of pain. So we strongly urge these victims to continue in therapy, twelve step programs and support groups. Long after the checks are cut and the public forgets about these cases, these deeply wounded victims will likely still need help coping with the often life-altering impact of horrific childhood betrayal.
We also hope this settlement will encourage others who saw, suspected or suffered clergy sex crimes to come forward, expose predators, protect kids and start healing. It's always tempting to keep quiet about child sex crimes – whether known or suspected. However, it's also always irresponsible. Kids are only safe when adults are brave and caring enough to speak up.
The Best and Worst Things in the History of the World
Demagogue gives Dictator a nice shake
Indiana: The Most Depressing State in the USA (sorry JB)    http://www.health.com/health/gallery/0,,20483493_3,00.html