April 18th, 2015 / Author: rgibson
Where the attached "merit pay," is death.
We Say Fight Back!
US Pilots Fight against Drones  A group of military veterans is taking aim at U.S. drone strikes overseas with graphic TV ads directly asking Air Force pilots to stop flying the unmanned aircraft, calling the operations immoral and illegal.
The ads are the first commercials opposing U.S. drone operations ever shown on American TV, according to sponsors, which include the Veterans Democratic Club of Sacramento County and the Sacramento chapter of Veterans for Peace. The campaign is spearheaded by an activist website, KnowDrones.com.
The commercials are airing this month on Comcast in Northern California communities near Beale Air Force Base, which is home to Golden Hawk reconnaissance drones. Pilots at Beale remotely fly the spy drones over areas believed to be controlled by terrorists in foreign countries and pinpoint human targets for attack by armed Predator and Reaper drones.  The two 15-second spots show images from a drone operations video screen, an explosion and civilians searching through rubble after a drone attack. On-screen messages read "Drone killings violate law and morality" and "Drone pilots. Please refuse to fly. No one has to obey an immoral law."
One of the ads, which includes images of dead and mutilated children, is being run only after 10 p.m., while the other spot airs from 5 a.m. to 9 p.m. daily. Both are posted on YouTube.  www.military.com/daily-news/2015/04/09/military-veterans-target-us-drone-strikes-in-tv-ads.html
Arrested U. Delhi Prof Goes on Hunger Strike Eleven months after he was arrested for suspected links with Maoists, Delhi University professor GN Saibaba has gone on an indefinite hunger strike at the Nagpur Central Jail to protest mistreatment.
Saibaba, a wheelchair-bound polio patient, stopped eating on April 11 because he is allegedly being deprived of his prescribed medicines and proper food. He completed five days of fasting on Wednesday, with his lawyers and family claiming that his health is rapidly declining.
"Saibaba's condition has worsened and he desperately needs proper medical attention, but the jail authorities are refusing to shift him to a hospital," said Surender Gadling, one of the advocates fighting the professor's case. "The medicines being given by the jail doctor are not appropriate for him." Saibaba's arrest last year sparked a controversy because of the manner in which the Maharashtra police captured him. An English professor at Delhi's Ram Lal Anand College and the deputy secretary of the Revolutionary Democratic Front, Saibaba had been questioned at his home the previous year for suspected links with Maoists.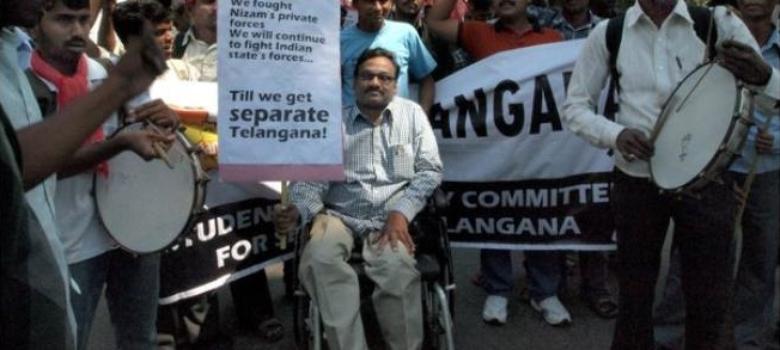 On May 9, 2014, when he was on his way back home, Saibaba's car was forcefully stopped by men in plain clothes. While they blindfolded his driver, Saibaba was taken away and his wife later got a call from the police in Gadchiroli, Maharashtra, informing her of the arrest.
He was accused of hatching a criminal conspiracy with two Naxalite commanders in the forests of Gadchiroli, a charge that many of his supporters find implausible, given that Saibaba is wheelchair-bound. In February, nine months after his arrest, the Gadchiroli sessions court finally framed charges against Saibaba under the controversial Unlawful Activities (Prevention) Act.
Since then, his applications for bail on medical grounds have been denied thrice  scroll.in/article/720821/Arrested-Delhi-University-professor-goes-on-hunger-strike-in-Nagpur-jail-against-medical-neglect
Fifty thousand Mexican farmworkers have gone on strike in Baja California, and they're aggressively protesting low wages, poor working conditions and rights abuses.  
Protest leaders are set to meet with growers; meanwhile, millions in crops have rotted as the two groups fight to find middle ground.
According to reports, workers have been throwing rocks and burning tires to raise attention to the apparent mistreatment of the employees who farm millions of dollars in strawberries, tomatoes and other produce in the agricultural sovereign state of Baja.
During the height of disputes, protesters blocked the main north-south highway and Transpeninsular Highway, and partner strikes have sprouted across the state. The workers have demanded overtime pay, breaks, healthcare, water and time off. Also, the demonstrators requested field bosses end arbitrary firings, sexual abuse and other abuses.
According to the Associated Press, farmworkers make as little as $8 to $10 for a full 10-hour day of labor, and they are asking to be paid $20 a day for long days in hot-houses and in the sun. According to workers who spoke with AP, workers must use their small wages to support themselves and their families, which is difficult.
Baja California Gov. Francisco Vega released a public statement that urged the farmers to return to work because the crop loss will lead to the destruction of jobs, and it will likely "affect everyone who depends on this part of the economy."
Since the protests began, more than 200 demonstrators have been arrested for vandalism, riots and rock-throwing. Businesses have boarded up their windows, and more than 1,000 police officers have been piped throughout the state to promote control. Just one month ago, Mexico's agricultural sector created an alliance of industry trade groups that was meant to improve work conditions for farmworkers, but the group has yet to respond to the turmoil.  www.latinpost.com/articles/45297/20150401/50-000-mexican-farmworkers-have-gone-on-strike-in-baja-california-demanding-overtime-pay-breaks-healthcare-and-water.htm
Veterans For Peace 30th Annual Convention
VFP 2015 Annual Convention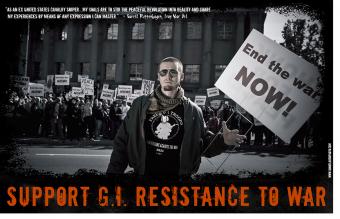 IVAW NATIONAL CONVENTION  www.ivaw.org/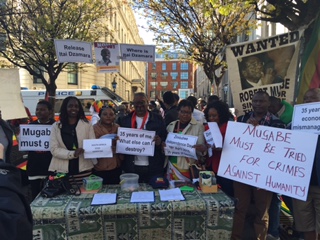 London Rougers and friends picket Dictator Mugabe
The Little Red Schoolhouse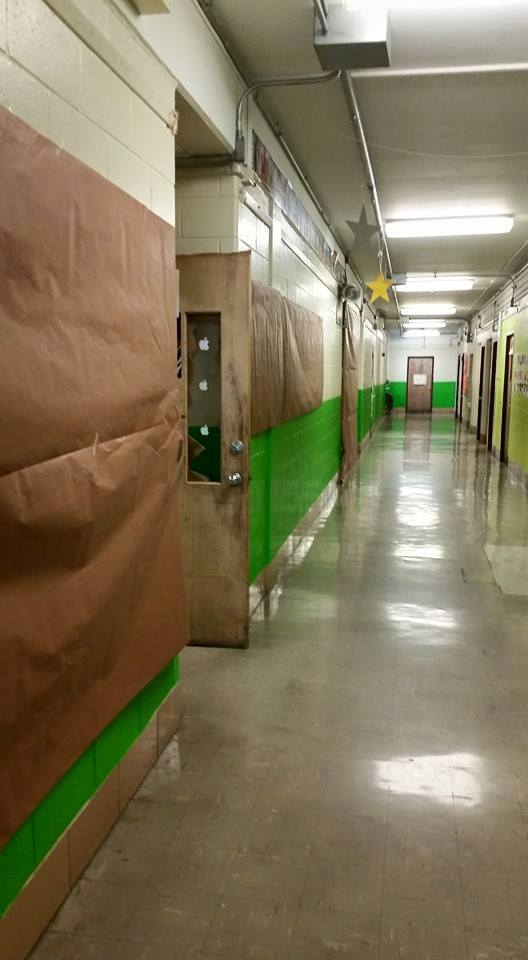 In Capital's schools on test days, all the words are covered. Words. All of them. Photo Tom H.
As Opportunist as the Fake "Test Resistance," Talk Opt out, but opt in This past winter, Nicholas Gottlieb, the father of a third grader and a sixth grader in Manhattan, helped organize a citywide forum against standardized testing during which more than 200 parents and teachers talked about ways to "attack the issue from different angles."
Just last month, he led chants at a rally to protest Gov. Andrew M. Cuomo's education platform, including a plan to make teacher evaluations more dependent on test scores.
But on Tuesday, when more than a million third through eighth graders in New York State sit for the first of six English and math testing sessions, Mr. Gottlieb's two daughters, who attend Public School 3 in the West Village and the Clinton School for Writers and Artists in Chelsea, will be opting in.
"I would like to think that I would have the courage of my convictions," he said. "But can I really do that when it means I'm gambling with my kids' futures?"
New York has become a center of the nationwide anti-testing movement, and this could be a crucial year in determining whether it breaks out of the realm of rallies and Facebook pages to become a significant educational force. But for various reasons, even parents who are uncomfortable with the exams are discovering it is hard to push the button on the nuclear option — refusing to have their own children take them.
David Michaelson, a biologist, and Joy Romanski, a climate scientist, recently attended a school rally with their son Jacob, a fifth grader at Public School 321 in Park Slope, Brooklyn, to protest the proposal of Mr. Cuomo, a Democrat, to make student test scores count for 50 percent of teacher ratings. (The bill that eventually passed allows the state's Education Department to decide.)
But when it came time to decide whether Jacob would take the tests, Dr. Romanski said, "both of us knew that, no, we could not refuse."
She and her husband want Jacob to take the test for Hunter College High School, a school for the gifted on the Upper East Side of Manhattan, which is offered to students who reach a high benchmark on the state tests.  www.nytimes.com/2015/04/14/nyregion/despite-opposing-standardized-testing-many-new-york-parents-and-students-opt-in.html?hp&action=click&pgtype=Homepage&module=second-column-region&region=top-news&WT.nav=top-news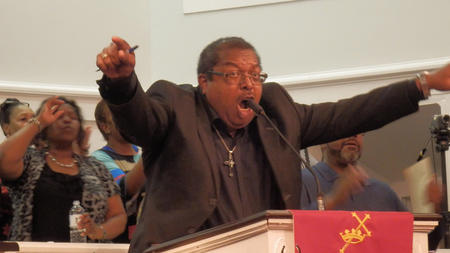 With Rico Overcharge, Opportunist and Cowardly Gatekeepers turn to mystics Bowing their heads in prayer, a congregation of teachers, pastors and civil rights activists pleaded for mercy.
"Our teachers were crucified the other day," the Rev. Anthony Motley, pastor of Lindsay Street Baptist Church, cried from the pulpit as the crowd linked arms and swayed to the sound of an electric organ. "One of these days, one of these days, one of these days our teachers are going to rise up from this unjust grave."
Several hundred people had gathered at the First Iconium Baptist Church in East Atlanta for a prayer vigil to support a notorious group — 11 former Atlanta educators convicted of cheating to inflate student test scores.
While many civic leaders, including Mayor Kasem Reed, welcomed the guilty verdicts earlier this month as the final resolution of a scandal that roiled the city for nearly six years, some are uneasy about the prospect of teachers serving up to 35 years in jail.
Jurors in the Atlanta case — one of the largest academic misconduct trials in U.S. history — found 11 of 12 defendants guilty April 1 of violating Georgia's Racketeer Influenced and Corrupt Organizations Act, a charge that carries a prison sentence of up to 20 years.
Some were also found guilty of additional felonies, such as influencing a witness, theft by taking, false swearing or making a false statement or writing.
Their supporters complain that the teachers and administrators — all African Americans who worked in low-income neighborhoods — were unfairly targeted with a racketeering statute popularly associated with mobsters and gangsters.  www.latimes.com/nation/nationnow/la-na-atlanta-teachers-20150407-story.html?fb_action_ids=10153264425609650&fb_action_types=og.shares#page=1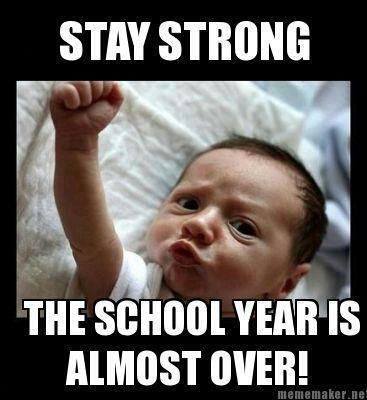 In LA, Deasy's Corrupt IPad Deal now investigated by FBI and SEC The federal Securities and Exchange Commission recently opened an informal inquiry into whether Los Angeles school officials complied with legal guidelines in the use of bond funds for the now-abandoned $1.3-billion iPads-for-all project.
In particular, the agency was concerned with whether the L.A. Unified School District  properly disclosed to investors and others how the bonds would be used, according to documents provided to The Times.
District officials said they were optimistic that they had addressed the SEC concerns.
The news of the SEC inquiry came the same week that L.A. Unified officials demanded a refund from computer giant Apple over curriculum supplied on the devices by Pearson, which sells education services and materials worldwide.
Problems plagued the fall 2013 rollout of the iPad project and questions later arose about whether Apple or Pearson had an unfair advantage in the bidding process. An ongoing criminal investigation by the FBI is looking into that matter. Current and former district officials have denied any wrongdoing.
Pearson also has consistently defended its actions. Apple has not responded to requests for comment. In the iPad effort, Pearson was a subcontractor to Apple.  www.latimes.com/local/lanow/la-me-ln-sec-ipad-inquiry-20150416-story.html
Deasy's Fake Degree Deasy claims to have earned his PhD at the University of Louisville (UL) in the College of Education. The Dean of the College at the time was one Robert Felner, now serving a jail term of 63 months for a variety of frauds committed against UL — and other universities.
The controversial history of John Deasy (and the fact that his quickie "PhD" was awarded by a University of Louisville dean who later went to prison for fraud) seems to be no barrier to the top job in Los Angeles. Deasy has the support of both the Gates and Broad foundations, and that's enough for Los Angeles Mayor Antonio R. Villaraigosa. One charge against Feiner was the misappropriation of a $649,000 federal grant. In total, Felner was convicted of stealing $2.3 million in research grants. He was ordered to pay UL $51,000 and the University of Rhode Island $1.3 million. Felner resigned from UL in 2008. He was sentenced on May 17, 2010.
John Deasy earned his PhD directly under Felner, in a period of four months, earning nine UL credit hours.
Prior to coming to UL, Deasy had awarded Felner's research company, the National Center on Public Education and Social Policy, a $375,000 grant from the Santa Monica district where Deasy was head.
Before he came to UL, Felner had been dean at the University of Rhode Island's College of Education from 1996-2003. Deasy studied there in the same period, while Deasy was also a Rhode Island school superintendent.   www.susanohanian.org/show_atrocities.php?id=9593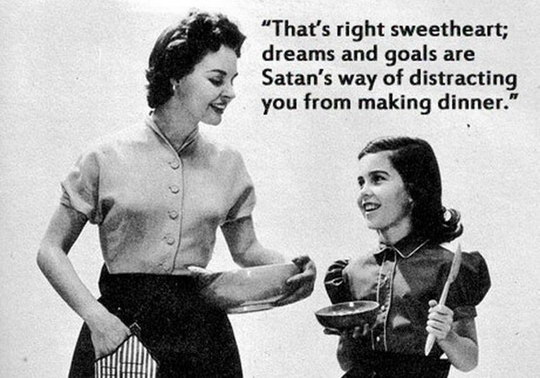 LA's Sexist System approves All Girl STEM school The nation's second-largest school district on Tuesday approved the creation of an all-girls school focused on science, technology, engineering and math in an attempt to narrow the gap between boys and girls in those subjects.
The Los Angeles Unified School District board voted unanimously to start the Girls Academic Leadership Academy on the condition the district receives a waiver from the state Board of Education to operate a single-gender school.
District officials said the school is modeled after the Young Women's Leadership School of East Harlem and joins a handful of other single-gender public schools nationwide focused on what are known as STEM courses.
Los Angeles Unified data shows girls perform as well or better in math and science in elementary schools but their scores decline as they continue through middle and high school.
Fewer female students also take Advanced Placement courses in math and science.
A recent study of federal data found that fewer high school girls than boys reported liking science and math. Among 2009 high school graduates, male students had higher average math and science scores then female students who took specific math and science classes.
The school was the idea of a Los Angeles district counseling coordinator whose own daughters had attended private, all-girls schools.  www.chron.com/news/education/article/LA-Unified-considers-starting-all-girls-science-6198764.php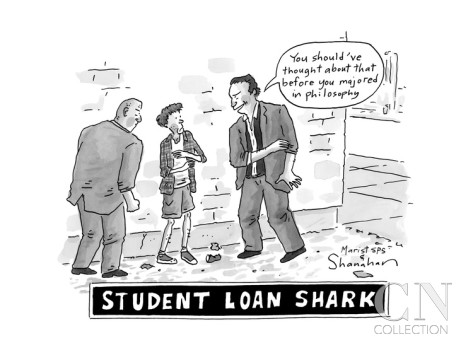 Video Embedded: Racist Bullying at Rich, Segregated West Bloomfied MI Middle School www.clickondetroit.com/news/threats-bullying-on-school-bus-caught-on-video/32333954
So Long UW Madison? The University of Wisconsin-Madison will eliminate about 400 positions, most of them vacant, and will close or restructure several academic programs across campus over the next two years in response to anticipated state budget cuts, Chancellor Rebecca Blank announced on her blog Friday.
The College of Letters and Science — which teaches more than 80% of all freshman and sophomore credit hours, and nearly 60% of the overall credit hours at UW-Madison — will drop roughly 320 courses across departments by the end of fiscal 2017. Fewer courses and class sections will reduce the total number of class seats by nearly 9,000, according to the college's dean, Karl Scholz.
The course cuts go hand in hand with the elimination of 92 positions in Letters and Science: 48 faculty and 44 academic staff, including instructional staff, Scholz said. Graduate students who teach labs and introductory courses also would be affected as UW-Madison's largest college cuts $7.4 million, or 5%, of its $145 million base budget.
"The strategy is to not replace existing vacancies," Scholz said. "I'm trying to do everything I can to mitigate and ideally avoid layoffs."
Blank said information technology, agriculture and the arts would be among the academic areas facing closures and mergers. But she said all parts of campus will feel the effects of staff reductions and budget cuts.
Ultimately, Blank said, cuts will likely lead to larger class sizes, reduced course options and fewer undergraduate advisers. Retention rates and time to degree also could be affected because this is just the beginning of cost-cutting measures, she said.
"I want to emphasize that these changes, as difficult as they are, cannot and will not stop with this year's budget," Blank said  www.jsonline.com/news/education/uw-madison-to-cut-400-jobs-close-and-merge-programs-b99483267z1-300310501.html
The Future of US Schooling unless a class conscious movement overcomes the empire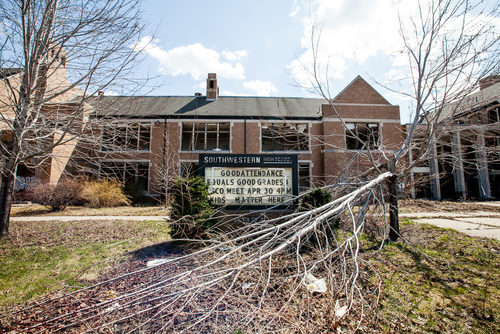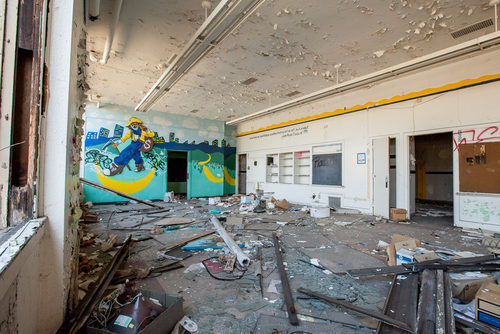 Southwestern High, Detroit—scrapped detroit.curbed.com/archives/2015/04/detroit-wants-to-demolish-whats-left-of-historic-southwestern-high-school.php
Bertell Ollman Writing More than a Decade Ago on "Why So Many Exams?" The psychologist, Bill Livant, has remarked, "When a liberal sees a beggar, he says the system isn't working. When a Marxist does, he says it is". The same insight could be applied today to the entire area of education. The learned journals as well as the popular media are full of studies documenting how little most students know and how fragile are their basic skills. The cry heard almost everywhere is "The system isn't working". Responding to this common complaint, conservatives – starting (but not ending) with the Bush Adminstration – have offered a package of reforms in which increased testing occupies the central place. The typical liberal and even radical response to this has been to demonstrate that such measures are not likely to have the  "desired" effect.  The assumption, of course, is that we all want more or less the same thing from a system of education, and that conservatives have simply made an error in the means they have chosen to attain our common end. But what if students are already receiving – more or less – the kind of education that conservatives favor? This would cast their proposals for "reform" in another light. What if, as Livant points out in the case of beggars, the system is working?   richgibson.com/whyexams.html
The International Hot War of the Rich on the Poor
a reminder while the Iraqi bosses are in the USA demanding more $ and weapons for their "military"
Physicians for Social Responsibility: Body Count In Iraq, Afghanistan, Pakistan-1.3 million  …the war has killed around 1 million people in Iraq,  220,000 in Afghanistan, and 80,000 in Pakistan…the figure ia approximately ten times what the public expects ,,and propagated by the media..and ours is only a conservative estimate. www.psr.org/assets/pdfs/body-count.pdf
Who is Losing Ramadi? Thousands of families fleeing Iraq's western city of Ramadi choked checkpoints leading to Baghdad on Friday, after an Islamic State advance spread panic and left security forces clinging to control.
A column of traffic several vehicles wide snaked for miles at a checkpoint in Sadr al-Yusufiyah, on the edge of Baghdad province, as minibuses, cars and trucks picked up families who crossed by foot carrying their possessions in bags and wheelbarrows. Suhaib al-Rawi, the governor of Anbar province, of which Ramadi is the capital, described it as a human disaster on a scale the city has never witnessed.
U.S. and Iraqi officials have warned that the city is at risk of falling to the Islamic State despite seven months of airstrikes by U.S. planes in Anbar. Such a loss would be a serious blow to Iraq's government, which recently announced a military campaign for the province after retaking the militant stronghold of Tikrit, and to the international effort to push back the militant group, whose gains in Ramadi have demonstrated an ability to create chaos even while under pressure.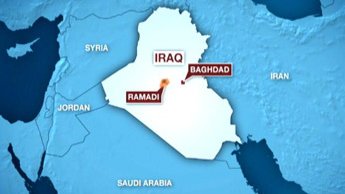 ISIS Expands in Afghanistan The Afghan president, Ashraf Ghani, blamed the Islamic State extremist group for a suicide bombing here on Saturday that killed 35 civilians. If responsibility is confirmed, it will suggest a major escalation of the group's activities in Afghanistan.
The bombing at the Kabul Bank branch here, in which a man wearing an explosive vest targeted a crowd of people waiting to collect their pay, also wounded 125, making it the worst suicide attack this year, Afghan officials said. All of the victims were civilians, the police said.
"Today the deadly attack in Nangarhar Province — who claimed responsibility?" said Mr. Ghani, speaking on national television during a visit to the northern province of Badakhshan, which has been hit hard by recent Taliban attacks. "Taliban did not claim responsibility, but Daesh claimed responsibility." Daesh is the Arabic acronym for the Islamic State, also known as ISIS or ISIL.
If Islamic State militants did carry out the attack, it will be the first time they have struck so far from their Middle East home ground.  www.nytimes.com/2015/04/19/world/asia/afghanistan-jalalabad-suicide-bombing-bank.html?hp&action=click&pgtype=Homepage&module=first-column-region&region=top-news&WT.nav=top-news&_r=0
Cockburn–The Wars that (should) Haunt Us Few recall that David Cameron led Britain into one war in Libya that overthrew Gaddafi, but was disastrous for most Libyans. Without this conflict, the drowned bodies of would-be emigrants to Europe would not be washing up in their hundreds on Libyan beaches. To get the full flavour of what went wrong, it is worth watching a YouTube clip of Cameron grandstanding on a balcony in Benghazi on 15 September 2011, as he lauds Libya's new freedom. Then turn to almost any recent film of Benghazi or Tripoli showing militias battling in streets and buildings shattered by shellfire.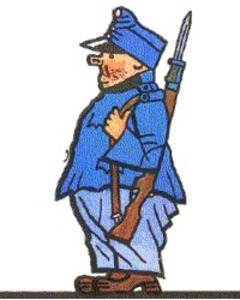 The Good Soldier Svejk: and His Fortunes in the World War (just a reminder)
US Troops banned from Philippine bars The U.S. Pacific Command has banned its troops in the Philippines from bars and nightclubs, a spokesman said Saturday, with the trial underway of a U.S. Marine accused of killing a transgender Filipina he met in a bar.
Thousands of American and Filipino soldiers were set to kick off 10 days of annual joint military exercises Monday, according to Capt. Alex Lim, a spokesman for the U.S. forces.
But there will be strict controls on their free time.
"There is a 10 p.m. curfew. The restrictions include no bars and clubs," he told Agence France-Presse.
He also said that American soldiers will only be allowed to eat meals "in the vicinity of their place of dwelling."
Lim would not say why the restrictions were imposed, but conceded they came after an American soldier was arrested over the alleged murder of a transgender Filipina he met in a bar in October after taking part in military exercises in the Philippines.  america.aljazeera.com/articles/2015/4/18/us-soldiers-banned-from-bars-in-philippines.html
The International Economic War of the Rich on the Poor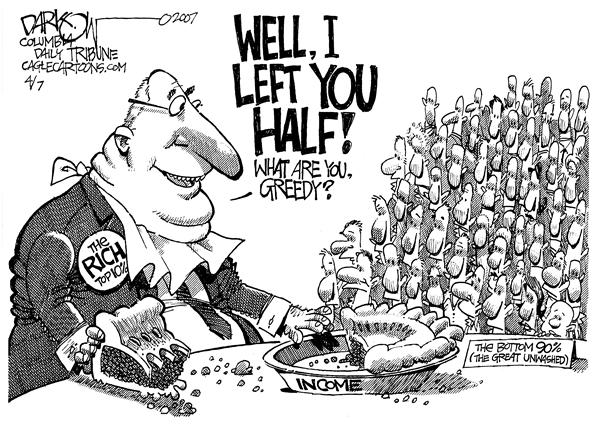 Working, but on Public Assistance, subsidizing the corps A home health care worker in Durham, N.C.; a McDonald's cashier in Chicago; a bank teller in New York; an adjunct professor in Mayfield, Ill. They are all evidence of an improving economy, because they are working and not among the steadily declining ranks of the unemployed.
Yet these same people also are on public assistance — relying on food stamps, Medicaid or other stretches of the safety net to help cover basic expenses when their paychecks come up short.
And they are not alone. Nearly three-quarters of the people helped by programs geared to the poor are members of a family headed by a worker, according to a new study by the Berkeley Center for Labor Research and Education at the University of California. As a result, taxpayers are providing not only support to the poor but also, in effect, a huge subsidy for employers of low-wage workers, from giants like McDonald's and Walmart to mom-and-pop businesses.  www.nytimes.com/2015/04/13/business/economy/working-but-needing-public-assistance-anyway.html?hp&action=click&pgtype=Homepage&module=photo-spot-region&region=top-news&WT.nav=top-news
Sellout Mandela's Legacy in S. Africa–anti-immigrant violence and riots Arrests have been made in South Africa as anti-immigrant violence spreads to parts of Johannesburg's commercial heart.
Police fired more rubber-coated steel bullets at a crowd of anti-immigrant protesters in downtown Johannesburg on Friday afternoon, as they tried to separate the protesters from a group of immigrants.
In Gauteng province, of which Johannesburg is the capital city, police arrested 18 people after overnight street battles, Major-General Phumzo Gela, deputy police commissioner, said on Friday afternoon.
Earlier on Friday, police clashed with a crowd of South Africans in Johannesburg's Jeppestown area.
The crowd carrying hammers and axes gathered near the city centre, chanting "Foreigners must leave."
Groups of South Africans in Jeppestown and Cleveland blocked roads with rocks and burning tyres and then ordered foreigners to leave the country, police said. Jeppestown and Cleveland are neighbourhoods adjoining the Johannesburg Central Business District (CBD).  www.aljazeera.com/news/2015/04/fear-grips-foreigners-johannesburg-150417081633360.html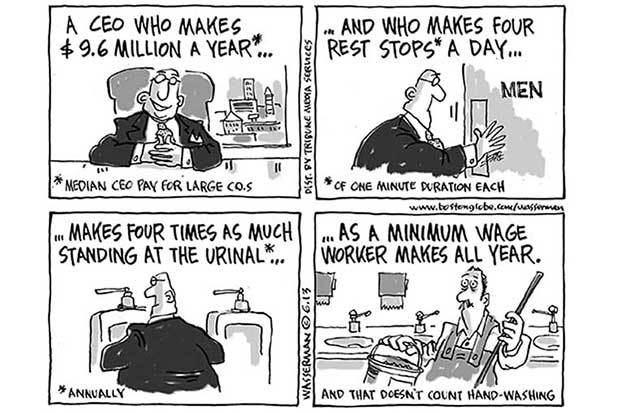 Economic Inequality–the History  ANGUS MADDISON, who died in 2010, was among the most influential of economic historians; his book on the world economy over the past 2,000 years is a classic. Now, one of the institutions he worked for, the Organisation for Economic Co-operation and Development, has teamed up with the University of Utrecht to produce an account of the conditions of life in 25 countries since 1820. It details everything from builders' wages in 1920s Japan to homicide rates in 19th-century Italy. It bridges the gap between Maddison's macroeconomic panorama and microeconomic studies by historians such as Peter Laslett, author of "The World We Have Lost", about early modern England.
For the most part, the findings confirm what is suspected, if not known in such detail. The number of years in education has increased everywhere. Average heights have risen almost everywhere (by 1.1cm more in America in 1820-1990 than in China). The purchasing power of construction workers' wages has grown everywhere, though in Britain the rise was tenfold in 1820-2000; in Indonesia it was only twice.
There is an exception to this generalisation, though: inequality. You would expect that the world of the Qing dynasty, Tsar Nicholas I and the British East India Company would be more unequal than today's. Yet in China, Thailand, Germany and Egypt, income inequality was about the same in 2000 as it had been in 1820. Brazil and Mexico are even more unequal than they were at the time of Simón Bolívar. Only in a few rich nations—such as France and Japan—do you find the expected long-term decline in income inequality.
What is true for individual countries is also true if you treat the world as a single nation. The study uses the Gini coefficient, a measure of income inequality in which zero represents perfect equality—everyone has the same income—and 100 perfect inequality—one person has everything. The global Gini rose from 49 in 1820 to 66 in 2000. But this was not caused by widening disparities between rich and poor within countries (inequality in its usual sense). Inequality of that sort fluctuated for 130 years to 1950, before falling sharply in 1950-1980, in what the report calls an egalitarian revolution. Since 1980 it has risen again (as Thomas Piketty, a French economist, has shown), back to the level of 1820.  www.economist.com/news/finance-and-economics/21621908-what-impressive-work-economic-history-tells-you-about-inequality-breaking
Hey China! Buy American  Ford Motor Co. on Saturday unveiled a new Taurus sedan that for the first time will be sold in China.
The Dearborn automaker took the wraps off the new car — along with a refreshed Focus and Explorer SUV— at a special event in advance of the Shanghai Auto Show.
The Taurus is powered by a twin-turbo 2.7-liter EcoBoost V6 engine and will be manufactured at the recently opened Changan Ford Hangzhou Plant. No pricing or release date information was given.
"The new Ford Taurus is another example of the best Ford has to offer globally, designed and developed with the Chinese market in mind," Marin Burela, president, Changan Ford Automobile Co., said in a statement. "More than just a premium business sedan, it's an elegant statement of what is possible under the One Ford plan."
The Emergence of Fascism as a Popular Mass Movement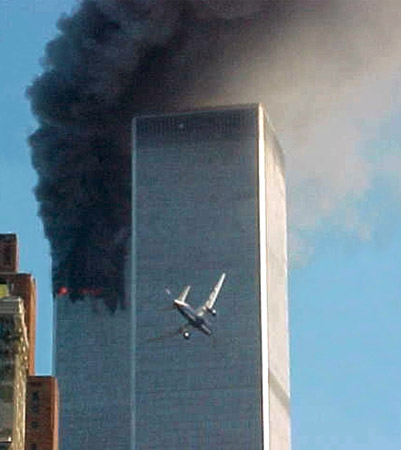 FBI (and Obamagogue) accused of Whitewashing Saudi Involvement in Set 11/01 The Federal Bureau of Investigation is facing accusations that it is 'whitewashing' possible Saudi Arabian involvement in the 9/11 terrorist attacks.
A commission designed to review evidence about the world-changing bombings has not delved into an FBI agent's claims that a Saudi Florida family had ties to the hijackers after the agency said that the report was 'unsubstantiated'.
Relatives of homeowner Esam Ghazzawi lived in the plush Sarasota dwelling until they fled and left cars, furniture and food in their refrigerator behind right before the 9/11, prompting some to say they knew about the attacks.
The daughter and son-in-law of Ghazzawi, who worked as an adviser to a member of the Saudi royal family, had stayed at the 3,300 square foot house for six years but left in late August 2001, not even leaving a forwarding address.
An FBI agent who investigated the disappearance after neighbors thought it was suspicious said that the family had 'many connections to individuals associated with the terrorist attacks on 9/11/2001′.
At least one 'family member' had attended the same Venice, Florida, flight school as some of the hijackers, according to a piece in the New York Post.
Mohamed Atta, the leader of the hijackers, and two other terrorists on the flights, Marwan Al-Shehhi and Ziad Jarrah, were also reported to have visited the Sarasota house, according to Florida Bulldog.
Anoud Al-Hijji, Ghazzawi's daughter, later returned to America to sell the home.
The 9/11 Commission wrote that 'The FBI told the Review Commission that the [FBI report] on which the news article was based was "poorly written" and wholly unsubstantiated…'
'When questioned later by others in the FBI, the special agent who wrote [it] was unable to provide any basis for the contents of the document or explain why he wrote it as he did'.
Former Florida Senator Bob Graham told the Miami Herald: 'The FBI has served America through most of its history. There were stumbles by the agency before 9/11 and since the tragedy there has been a consistent effort to cover up the extent of Saudi Arabia's involvement.'
The Congressional Joint Inquiry into the attack, which Graham co-chaired, contained 28 fully pages that are said to have spoken about who financed 9/11 that were fully redacted by the Bush administration.
Senator Graham said the pages 'point a very strong finger' at the government of Saudi Arabia, rather than wealthy Saudi individuals, as the backers of the attack.
They also implicate officials at the Saudi Embassy in Washington for involvement with 9/11 hijackers in San Diego, sources told Hoover Institute fellow Paul Sperry.
Read more: www.dailymail.co.uk/news/article-3035921/FBI-accused-whitewashing-Saudi-Arabian-involvement-9-11-quashing-report-Florida-family-mysteriously-fled-two-weeks-attack.html#ixzz3XAtXcudu
Follow us: @MailOnline on Twitter | DailyMail on Facebook
Ferguson: National Guard Called Citizens "enemy forces"  As the Missouri National Guard prepared to deploy to help quell riots in Ferguson, Missouri, that raged sporadically last year, the guard used highly militarized words such as "enemy forces" and "adversaries" to refer to protesters, according to documents obtained by CNN.
The guard came to Ferguson to support law enforcement officers, whom many community leaders and civil rights activists accused of using excessive force and inflaming an already tense situation in protests that flared sporadically from August through the end of the year.
The National Guard's language, contained in internal mission briefings obtained through a Freedom of Information Act request, is intensifying the concerns of some who objected to the police officers' actions in putting down riots.  www.cnn.com/2015/04/17/politics/missouri-national-guard-ferguson-protesters/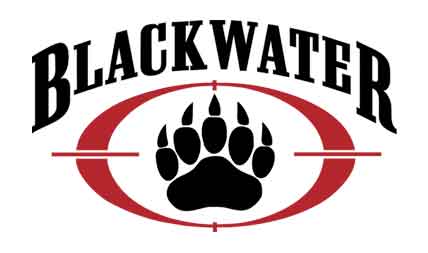 In Sop to Iraqi Bosses–Blackwater mercs get hammered (and well deserved) One by one, four former Blackwater security contractors wearing blue jumpsuits and leg irons stood before a federal judge on Monday and spoke publicly for the first time since a deadly 2007 shooting in Iraq.
The men had been among several private American security guards who fired into Baghdad's crowded Nisour Square on Sept. 16, 2007, and last October they were convicted of killing 14 unarmed Iraqis in what prosecutors called a wartime atrocity. Yet on Monday, as they awaited sentences that they knew would send them to prison for most if not all of their lives, they defiantly asserted their innocence.
"I know for a fact that I will be exonerated, in this life and the next," said Paul A. Slough.
"I am very sorry for the loss of life," Dustin L. Heard said. "But I cannot say in all honesty to the court that I believe I did anything wrong."
"As God is my witness," Evan S. Liberty said, he fired only at insurgents who were shooting at him.
"The verdict is wrong," said Nicholas A. Slatten, a former Army sniper who was convicted of murder for starting the melee with a precision shot through the head of a young man stopped at an intersection. "You know I am innocent, sir." The judge, Royce C. Lamberth, strongly disagreed, sentencing Mr. Slatten to life in prison and handing 30-year sentences to the three others. A fifth former guard, Jeremy P. Ridgeway of California, had pleaded guilty to voluntary manslaughter and testified against his former colleagues. He has not been sentenced but testified that he hoped to avoid any prison time.  www.nytimes.com/2015/04/14/us/ex-blackwater-guards-sentenced-to-prison-in-2007-killings-of-iraqi-civilians.html?hp&action=click&pgtype=Homepage&module=first-column-region&region=top-news&WT.nav=top-news
OK Copper who shot unarmed man didn't know a gun from a taser If the official statement was to be believed, a deputy-involved shooting of a suspect in Tulsa during an altercation with police earlier this month was hardly unusual.
"As the suspect continued to struggle with Deputies, the Reserve Deputy discharged his firearm striking the suspect," a news release from the Tulsa County Sheriff's Office states. "The suspect was treated at the scene by EMSA ambulance and has been transported to an area hospital."  Notably absent from officials' original account, however, was the fact that the suspect — a 44-year-old unarmed black man named Eric Harris — died of his wounds shortly thereafter and that the man who shot him — a 73-year-old white reserve deputy named Robert Bates — claims he never even intended to pull out his gun in the first place. www.washingtonpost.com/news/morning-mix/wp/2015/04/12/oklahoma-deputy-who-killed-unarmed-man-thought-he-was-firing-taser-authorities-say/?hpid=z3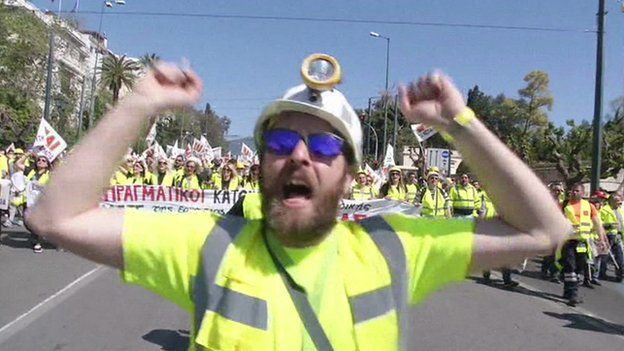 Greece: Social Democrats Unleash Cops at Athens U  Police in Greece have ended a 19-day sit-in by anti-establishment protesters at Athens University.
Officers moved in on Friday after leftist demonstrators clashed with riot police in the city centre following a miners' rally.
Thousands protested against the government's decision to block plans to develop the Skouries gold mine.
Correspondents say it was one of the most significant labour challenges since leftist Syriza came to power.
The government says all the workers' jobs are safe, and has accused the mine company of trying to blackmail Greece.
Police arrested 14 protesters after breaking up the university sit-in on Friday morning, according to local media reports.
The protesters have been occupying buildings at the site for more than two weeks, demanding the closure of maximum security prisons and the release of some suspects.
Leftist and anarchist demonstrators hurled petrol bombs and bottles at the police, who responded with tear gas and stun grenades on Thursday.
The clashes came after protests by both supporters and opponents of the Canadian-run gold mine in Skouries, in the northern Greek peninsula of Halkidiki.   www.bbc.com/news/world-europe-32347918
Solidarity for Never
not the original Ratfink….
After 8 Years with No Raise–the UTLA Sellout Tentative Agreement  he L.A. Unified School District and the teachers union reached a tentative contract settlement Friday night for a three-year deal that includes a 10% salary increase over two years. There also are terms affecting class sizes, the number of counselors at schools and the district's teacher evaluation system.
The deal could end more than a year of strained relations and organized agitation by United Teachers Los Angeles, whose members have not received a raise for eight years. The pact must be ratified, however, by both the union membership and the Board of Education.
The apparent breakthrough, after a long mediation session on Friday, will halt, at least for now, talk of a possible strike.
"This is an important step in restoring trust and partnership between LAUSD and UTLA," said school board member Steve Zimmer. "Our message to our teachers is simple: We believe in you. I look forward to the stability and renewed collaboration this agreement will bring and to all us working together to improve outcomes for all students in L.A."
A statement from the union echoed those sentiments: "LAUSD and UTLA believe this agreement is good for students, educators, the community and the stability of the district moving forward."  www.latimes.com/local/lanow/la-me-ln-tentative-settlement-utla-20150417-story.html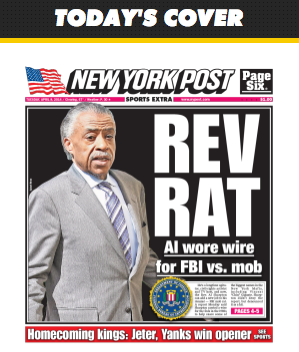 Obamagogue pal, Poverty Pimp, and snitch, hustles to destroy movement in S.C.    In an interview on Saturday, Mr. Sharpton became the highest-profile figure so far to demand that Officer Habersham face indictment. "Given what I've seen, he certainly should be held accountable," he said. "What charge, I don't know. But certainly he should not walk away without facing some accountability in the justice system." www.nytimes.com/2015/04/13/us/sharpton-will-call-for-2nd-officer-to-be-prosecuted-in-walter-scott-shooting.html?hp&action=click&pgtype=Homepage&module=first-column-region&region=top-news&WT.nav=top-news
Do TFA'ers Really Want to Join One of the US' Worst Unions? A union is targeting Detroit's charter schools in an organizing drive significantly aided by a former enemy.
While most of the state's traditional public schools are unionized, charters have remained largely union free — only a handful have been organized over the past 20 years. The last one to do so in Detroit was Cesar Chavez Academy in 2013.
But now the American Federation of Teachers — Michigan has found a potent new weapon to break open charters. They've co-opted a number of instructors from Teach for America.
Teach for America, which has about 230 active teachers in its Detroit corps, takes some of the brightest college graduates from around the country and places them for two years in high-poverty urban districts. About 60 percent of the TFA teachers in Detroit work in charter schools.
Until now, Teach for America has been an anathema to the union because it sees its recruits as taking jobs that should go to union teachers.
In an interesting twist, the AFT is using Teach for America members to lead organizing drives at charter schools.  www.detroitnews.com/story/opinion/columnists/ingrid-jacques/2015/04/15/jacques-union-targets-detroit-charters-old-enemy/25824841/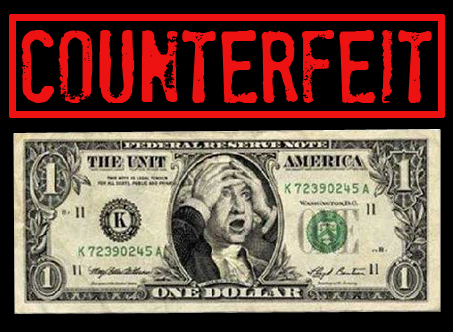 Counterfeit Unions of the Empire Labor bosses at all levels are the nearest and most vulnerable of workers' enemies. Rather than "move unions to the left," better, "demolish the labor quislings, take their treasuries, seize their buildings, as we build a mass class conscious movement to transcend the system of capital."
Why does that make better sense?
Since the Industrial Workers of the World (a grand vision but fatally flawed practice) were nearly demolished in the Palmer Raids of 1919, American unionism has been a false flag operation: not what most people think of as unionism.
*Every major labor leader in the US adopts the corporate-state view of unity of Labor Bosses, Government, and Corporations in the national interest. These are hardly "labor" unions in the strict sense of the word. They are the empire's unions. I assume the connections of labor and US intelligence are fairly well known and do not need to be explained. They are the unions of what now is, surely, the US corporate state.   www.counterpunch.org/2013/10/23/counterfeit-unionism-in-the-empire/
Best and Brightest from TFA to run AFT scam on Detroit Charters A union is targeting Detroit's charter schools in an organizing drive significantly aided by a former enemy.
While most of the state's traditional public schools are unionized, charters have remained largely union free — only a handful have been organized over the past 20 years. The last one to do so in Detroit was Cesar Chavez Academy in 2013.
But now the American Federation of Teachers — Michigan has found a potent new weapon to break open charters. They've co-opted a number of instructors from Teach for America.
Teach for America, which has about 230 active teachers in its Detroit corps, takes some of the brightest college graduates from around the country and places them for two years in high-poverty urban districts. About 60 percent of the TFA teachers in Detroit work in charter schools.
Until now, Teach for America has been an anathema to the union because it sees its recruits as taking jobs that should go to union teachers.
In an interesting twist, the AFT is using Teach for America members to lead organizing drives at charter schools.  www.detroitnews.com/story/opinion/columnists/ingrid-jacques/2015/04/15/jacques-union-targets-detroit-charters-old-enemy/25824841/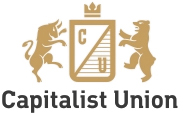 UAW boss isn't a sellout: He's a BUSINESSMAN! The start of United Auto Workers' national contract talks is months away, but the take on President Dennis Williams is that he's a guy who will work with the Detroit automakers.
Not because the union president is likely to be a pushover, ranking industry executives say. But because the UAW CEO understands competition better than his predecessor and he's likely to approach bargaining the way they do: as a business proposition whose results will be judged by key constituencies.
"People are watching these negotiations," one industry executive close to the process said. "If we do the same old stuff, that won't help build the union."
Put another way: Williams is no Bob King.
Where the former president spent time and member dues in vain attempts to unite workers around the globe, Williams demonstrates a sharper focus on the needs of his members and squaring those with the competitive realities facing the automakers.
Where King tended to see multinational corporations as repositories of cash to be fleeced for the union's short-term benefit, Williams recognizes that competitive employers are in the long-term interest of the union and its desperate need for growth — in the Detroit companies and, potentially, the foreign-owned operating in the United States.
Where King pledged cooperation even as he threatened to brand non-union automakers "human rights violators" if they didn't readily accede to the UAW's organizing efforts, Williams so far is less publicly bombastic and less contradictory in the messages he sends.  Where King would spend weeks traveling to meet with South Korean unionists or an international labor conference in Geneva, one of the most expensive cities on the planet, Williams is focused on the United States and is more likely to be attending a board meeting of Illinois-based Navistar Inc., where he has been a director since 2006.  www.detroitnews.com/story/business/columnists/daniel-howes/2015/04/16/howes-uaw-williams-businessman-right-time/25915261/
Spy versus Spy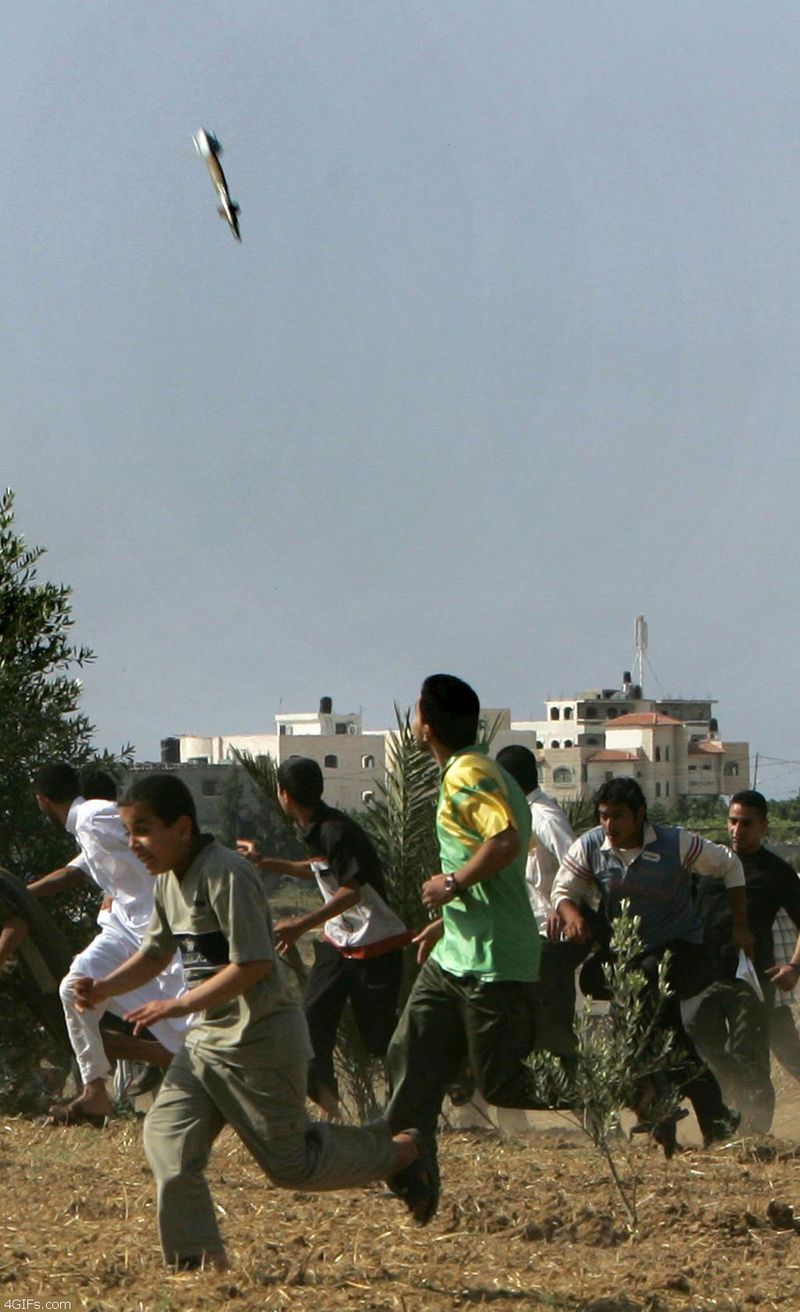 Intercept: Germany is the Tell-Tale Heart of the US Drone War TOP-SECRET U.S. intelligence document obtained by The Intercept confirms that the sprawling U.S. military base in Ramstein, Germany serves as the high-tech heart of America's drone program. Ramstein is the site of a satellite relay station that enables drone operators in the American Southwest to communicate with their remote aircraft in Yemen, Somalia, Afghanistan and other targeted countries. The top-secret slide deck, dated July 2012, provides the most detailed blueprint seen to date of the technical architecture used to conduct strikes with Predator and Reaper drones.
Amid fierce European criticism of America's targeted killing program, U.S. and German government officials have long downplayed Ramstein's role in lethal U.S. drone operations and have issued carefully phrased evasions when confronted with direct questions about the base. But the slides show that the facilities at Ramstein perform an essential function in lethal drone strikes conducted by the CIA and the U.S. military in the Middle East, Afghanistan and Africa.
The slides were provided by a source with knowledge of the U.S. government's drone program who declined to be identified because of fears of retribution. According to the source, Ramstein's importance to the U.S. drone war is difficult to overstate. "Ramstein carries the signal to tell the drone what to do and it returns the display of what the drone sees. Without Ramstein, drones could not function, at least not as they do now," the source said.
The new evidence places German Chancellor Angela Merkel in an awkward position given Germany's close diplomatic alliance with the United States.  firstlook.org/theintercept/2015/04/17/ramstein/
The Magical Mystery Tour
Wacko Scientology Abuses Tax Exempt Status (but so do all mystics) In the past, critics of the church have called for its tax exemption to be revoked because it is not a "real religion." I agree that tax-exemption isn't merited, but not for that reason. The Church of Scientology has a distinct belief system which, despite its somewhat strange cosmology — mocked by the TV show "South Park" and many others — is not essentially more strange than, say, the idea of a virgin birth. Scientologists are entitled to believe what they want to believe. And the IRS website makes it clear that anyone is entitled to start a religion at any time without seeking IRS permission. To maintain the right to be tax-exempt, however, religions must fulfill certain requirements for charitable organizations. For example, they may not "serve the private interests of any individual" and/or "the organization's purposes and activities may not be illegal or violate fundamental public policy."
On these points alone, it is hard to see why Americans should subsidize Scientology through its tax-exemption.
Regarding "private interests," it seems clear that Scientology is ruled by only one man, David Miscavige. Further, powerful celebrities within the church, particularly Tom Cruise, receive private benefits through the exploitation of low-wage labor (clergy members belonging to the Sea Org make roughly 40 cents an hour)  www.latimes.com/opinion/op-ed/la-oe-0412-gibney-scientology-20150412-story.html#page=1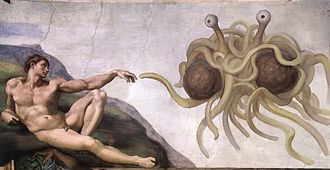 Don't Tax the FSM's Pirates and all FSM believers!
The foundation of irreligious criticism is: Man makes religion, religion does not make man. Religion is, indeed, the self-consciousness and self-esteem of man who has either not yet won through to himself, or has already lost himself again. But man is no abstract being squatting outside the world. Man is the world of man – state, society. This state and this society produce religion, which is an inverted consciousness of the world, because they are an inverted world. Religion is the general theory of this world, its encyclopaedic compendium, its logic in popular form, its spiritual point d'honneur, its enthusiasm, its moral sanction, its solemn complement, and its universal basis of consolation and justification. It is the fantastic realization of the human essence since the human essence has not acquired any true reality. The struggle against religion is, therefore, indirectly the struggle against that world whose spiritual aroma is religion.
Religious suffering is, at one and the same time, the expression of real suffering and a protest against real suffering. Religion is the sigh of the oppressed creature, the heart of a heartless world, and the soul of soulless conditions. It is the opium of the people.
The abolition of religion as the illusory happiness of the people is the demand for their real happiness. To call on them to give up their illusions about their condition is to call on them to give up a condition that requires illusions. The criticism of religion is, therefore, in embryo, the criticism of that vale of tears of which religion is the halo .https://www.marxists.org/archive/marx/works/1843/critique-hpr/intro.htm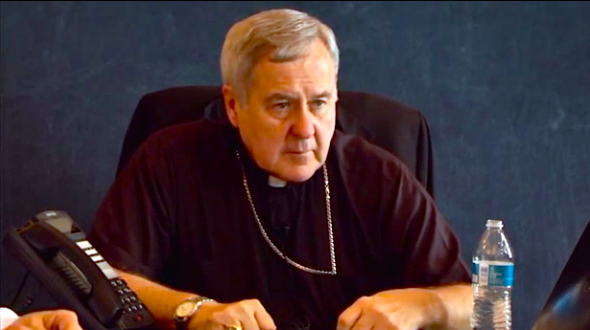 above, Archbishop Carlson
St Louis Priest: How was I to know it was illegal to f… kids? "I'm not sure whether I knew it was a crime or not," said St. Louis Archbishop Robert Carlson, who is part of a lawsuit accusing more than 100 priests and church employees of sex abuse. "I understand today it's a crime."
Robert Carlson, now a 69-year-old archbishop in St. Louis but formerly an auxiliary bishop in the Archdiocese of St. Paul and Minneapolis, gave a deposition last month for a lawsuit that claims the Minnesota Archdiocese and the Diocese of Winona caused a "public nuisance" by not disclosing information on abusive priests, the MPR news first reported.
Carlson additionally faces a clergy abuse lawsuit as part of the Archdiocese of St. Louis, where more than 100 priests and church employees have been accused of sexual abuse, the St. Louis Dispatch reports. Carlson has served as archbishop there since 2009.
The Best and Worst Things in the History of the World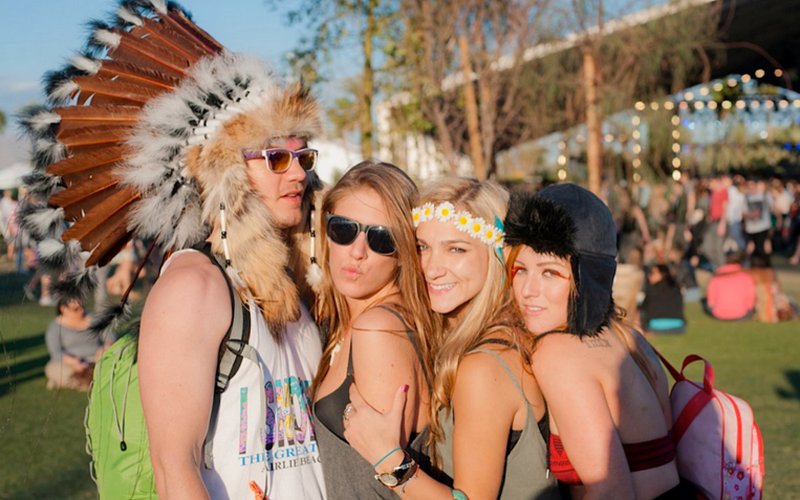 Coachella, Oasis for Douchebags and Trust Fund Babies should be avoided at all costs (the truly curious can see a video embedded that includes the coppers tazing a naked guy).
Paris Hilton isn't the only famous face getting weird in Indio. A horde of B-list celebs are now reportedly being paid by various brands to attend the festival wearing their fashions. Glee star Lea Michele will allegedly be paid $20,000 to rock Lacoste, Vanessa Hudgens will net $15,000 from McDonalds (will she dress like The Hamburgler?), and Joe Jonas is apparently seeking around $20,000 (?!) for a brand to sponsor his Coachella experience. Stars, they're just like us!
If you're an average Joe, good luck getting into any of the brand-sponsored daytime pool parties (which look like outtakes form The Wolf of Wall Street) or afterparties, too, if you're not giving lip service to a promoter.
But wait, there's more. Coachella is a booming business these days, with the 2013 edition bringing in $67 million  www.thedailybeast.com/articles/2014/04/11/coachella-oasis-for-douchebags-and-trust-fund-babies-should-be-avoided-at-all-costs.html?via=desktop&source=facebook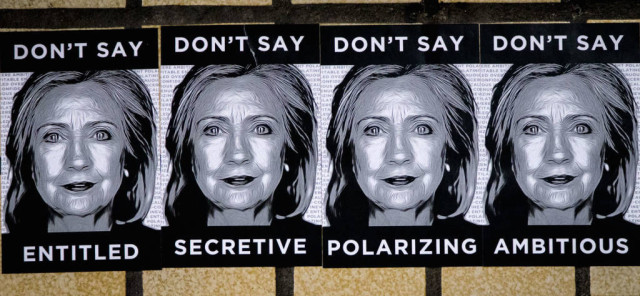 Each poster put up says "Don't Say" at the top – a reference to the story from a few weeks ago where a political action group supporting Clinton released a list of words that would indicate "coded sexism" against her.
So Long
Galaeno: All is Forgiven. www.nytimes.com/2015/04/14/books/eduardo-galeano-uruguayan-voice-of-anti-capitalism-is-dead-at-74.html?_r=0
Grass: Dead Waffen SS Nazi (leaves the planet a bit better) www.nytimes.com/2015/04/14/world/europe/gunter-grass-german-novelist-dies-at-87.html?hp&action=click&pgtype=Homepage&module=mini-moth&region=top-stories-below&WT.nav=top-stories-below