July 20th, 2014 / Author: rgibson
We Say Fight Back!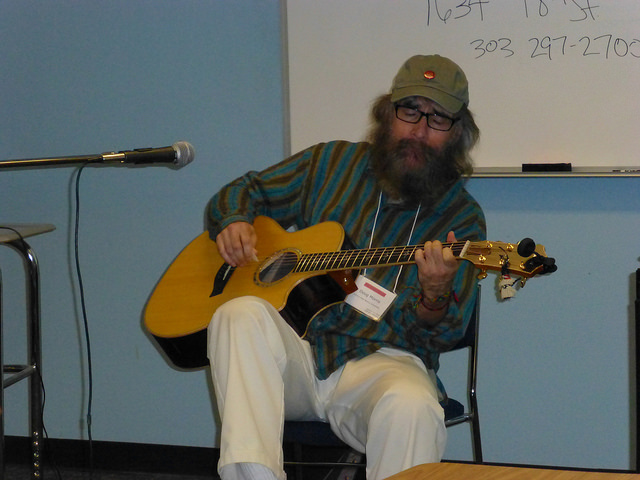 Doug Morris leading songs from the Little Red Songbook at the Rouge Forum Conference
John Royal and hundreds fight Detroit Water shutoffs (video embedded)  http://www.clickondetroit.com/news/arrests-made-at-water-shutoff-protest-in-detroit/27031994
Worldwide Protests against Zionists' Attack on their Gaza Concentration Camp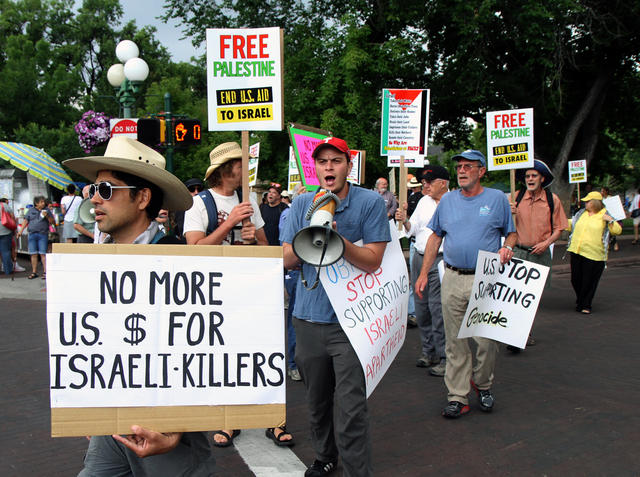 Brits Strike for a day  Members of the National Union of Teachers (NUT) will join council and health workers, firefighters and civil servants across England and Wales for a one-day strike on Thursday, in the biggest ever walkout since the coalition government came to power.  With more than a million people expected to take part in the industrial action, we explain what NUT members hope to gain from the stoppage. Why are NUT members striking?
The NUT has been in dispute with the Government for more than two years over changes to pay, pensions and working conditions, and are calling on members in state schools and sixth form colleges in England and Wales to take part in the strike.   http://www.independent.co.uk/news/uk/home-news/nut-teachers-strike-why-are-union-members-striking-on-thursday-9595835.html
The Little Red Schoolhouse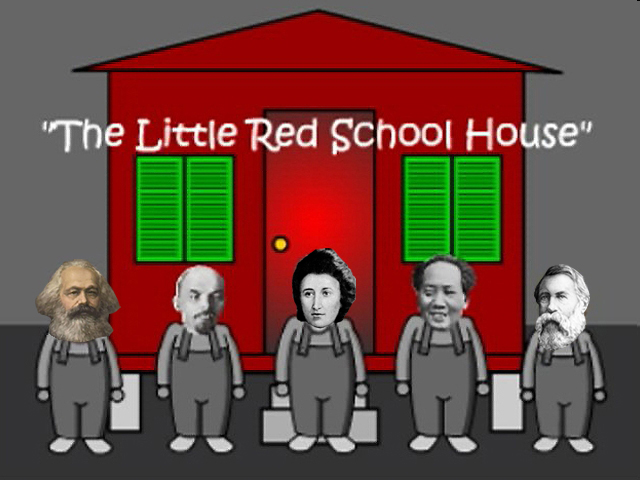 New Yorker–the Atlanta Test Cheats (long) Waller said that he had never experienced so much pressure in his life. Although administrators throughout the district knew that there was cheating, he said that "nobody wanted to talk about it." "We'd been cultivated in so many untruths throughout the years," he told me. In 2008, he decided to resign, but Hall worked with the Casey Foundation to give him an "incentive award grant" of fifteen thousand dollars. He agreed to stay, believing that soon he would have the strength to tell the district that its targets couldn't continue to rise. By 2008, there were nine teachers on Waller's team, and cheating had become a "well-oiled machine," as he put it…..after more than two thousand interviews, the investigators concluded that forty-four schools had cheated and that a "culture of fear, intimidation and retaliation has infested the district, allowing cheating—at all levels—to go unchecked for years." They wrote that data had been "used as an abusive and cruel weapon to embarrass and punish." Several teachers had been told that they had a choice: either make targets or be placed on a Performance Development Plan, which was often a precursor to termination. At one elementary school, during a faculty meeting, a principal forced a teacher whose students had tested poorly to crawl under the table.    http://www.newyorker.com/reporting/2014/07/21/140721fa_fact_aviv?currentPage=all
In San Diego County alone, 15 Capitalist School Bosses averaging over $250,000 a year http://www.utsandiego.com/news/2014/jul/25/18-top-paid-educators-san-diego-county/#&panel1-19
The International Hot War of the Rich on the Poor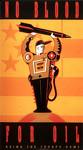 Thank Obamagogue and Susan Rice: U.S. evacuates embassy in Libya, citing militia violence   The State Department on Saturday evacuated all U.S. personnel from its embassy in Libya after clashes among rival militias in the capital intensified in recent days in the vicinity of the diplomatic mission, officials said.
Traveling in Paris, Secretary of State John F. Kerry cited the threat posed by "freewheeling militia violence" near the embassy in Tripoli. Kerry said some embassy functions will continue from neighboring Tunisia, where diplomats were taken.
"We will return the moment the security situation permits us to," Kerry said.
The evacuation of diplomats and other government personnel by land lasted five hours and was carried out with U.S. military aircraft providing security from the air, officials said. The decision was not made lightly, the State Department said.  http://www.washingtonpost.com/world/national-security/us-evacuates-embassy-in-libya-citing-militia-violence/2014/07/26/54e3ca24-14ca-11e4-98ee-daea85133bc9_story.html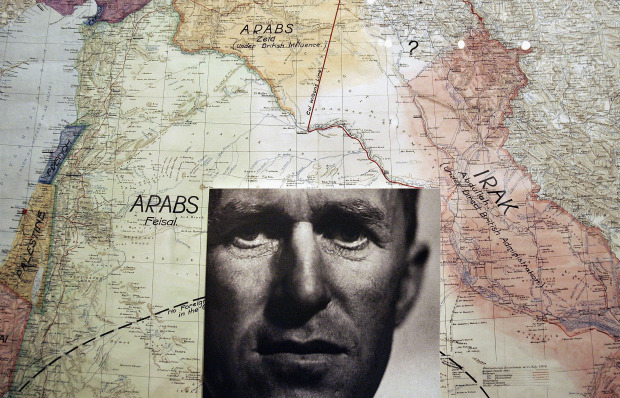 Back Story on Lawrence's Great Loot in the Middle East  The Sykes-Picot Agreement was the compromise aimed at ending the internecine warfare. France would get Greater Syria (which it would divide to create Lebanon), plus zones of influence in northern Iraq. Britain would get the rest of Iraq and Jordan and establish the Palestine Mandate. All of this, however, had to be kept secret from the locals, whom the British and French incited to rebel against imperial Ottoman rule even as they plotted to impose their own.
The Arabs thought they were fighting for independence, but London and Paris had other designs. Instead of the lands between the Tigris and Euphrates rivers and access to the Mediterranean the Arabs had been promised, they would get the sun-blasted deserts of Arabia and the rule of monarchs, who were easy to buy or bully.
However, to run such a vast enterprise through the use of direct force was beyond the power of even London and Paris. So both empires transplanted their strategies of exploiting religion, sect, tribe, and ethnicity — which had worked so well in Indochina, India, Ireland, and Africa–to divide and conquer, adding to it a dash of chaos.
The French put the minority Christians in charge of Lebanon to keep down the majority Sunnis and Shiites. They recruited the minority Alawite Shiites in Syria to head up the army that ruled over the majority Sunnis, while the British installed a Sunni king in Iraq to rule over the country's majority Shiites. In Palestine the British used Zionism much as they were using Protestantism in Northern Ireland to keep down the native Catholic Irish and keep both communities divided. Communities ended up fighting one another rather than their imperial masters, which, of course, was the whole point of the matter.  Now those demons are on the loose.
There are new players in the Middle East since Sykes and Picot drew up their agreement. Washington and Israel were latecomers, but eventually replaced both imperial powers as the major military forces in the region.
The enemy of the "Great Loot" was secular nationalism, and the United States, France, and Britain have been trying to overthrow, isolate, or co-opt secular regimes in Iraq, Syria, Egypt, and Libya since they first appeared. The rationale for the hostility is that secular regimes were run by dictators. Many have been, but they're arguably no worse than the Wahhabi fanatics in Saudi Arabia or the monsters the Gulf monarchies have nurtured in Syria and northern Iraq.
Why is Syria a dictatorship when Saudi Arabia is not? This past February, the kingdom passed a law equating anything offends "the nation's reputation or its position" — including dissent, the exposure of corruption, and campaigns for reform — with "terrorism."
The list of names on the ledger of those who nurture terrorism in the Middle East is long. Yes, it certainly includes the Bush administration, which smashed up one of the most developed countries in the region, dismantled the Iraqi state, and stoked the division between Sunni and Shiites. But also the Clinton administration, whose brutal sanctions impoverished Iraq and eviscerated its middle class. And further back, during the first Gulf War, George H. W. Bush pounded southern Iraq with toxic depleted uranium, inflicting a massive cancer epidemic on places like Basra. It was Jimmy Carter and the CIA who backed Saddam Hussein's rise to power, because the Ba'athist dictator was particularly efficient at torturing and killing trade unionists and members of the Iraqi left.  http://www.huffingtonpost.com/conn-hallinan/isis-the-spoils-of-the-gr_b_5552151.html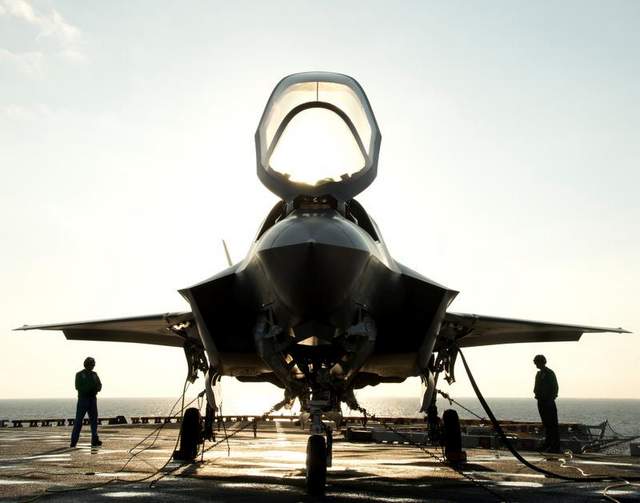 What Me Worry? Marine commandant: F-35 engine fire a 'one-off' incident  As the Pentagon announced it was un-grounding the F-35 fleet following an investigation into a June engine fire, the commandant of the Marine Corps reiterated his support for the fighter program and said the mishap amounted to a fluke.
"This is what we would probably call a one-off," said Gen. Jim Amos, speaking at an event hosted by the Brookings Institution on Tuesday. "It doesn't mean it's not significant; it doesn't mean we're not going to pay attention to it. But it does mean that the level of confidence to return to flight operations is pretty doggone high."
The entire F-35 fleet was grounded July 3 following an F-35A fire at Eglin Air Force Base, Florida, on June 23. Pentagon acquisitions chief Frank Kendall told reporters in London 10 days later that the fire was caused by "excessive rubbing" of fan blades inside the plane's engine, though it wasn't immediately clear what led to the problem.  http://www.marinecorpstimes.com/article/20140715/NEWS04/307150065/Marine-commandant-F-35-engine-fire-one-off-incident
Michael Klare, Fighting for Oil   (and why is oil so important? It moves every military. No Military? No empire)  Iraq, Syria, Nigeria, South Sudan, Ukraine, the East and South China Seas: wherever you look, the world is aflame with new or intensifying conflicts. At first glance, these upheavals appear to be independent events, driven by their own unique and idiosyncratic circumstances. But look more closely and they share several key characteristics — notably, a witch's brew of ethnic, religious, and national antagonisms that have been stirred to the boiling point by a fixation on energy.
In each of these conflicts, the fighting is driven in large part by the eruption of long-standing historic antagonisms among neighboring (often intermingled) tribes, sects, and peoples. In Iraq and Syria, it is a clash among Sunnis, Shiites, Kurds, Turkmen, and others; in Nigeria, among Muslims, Christians, and assorted tribal groupings; in South Sudan, between the Dinka and Nuer; in Ukraine, between Ukrainian loyalists and Russian-speakers aligned with Moscow; in the East and South China Sea, among the Chinese, Japanese, Vietnamese, Filipinos, and others. It would be easy to attribute all this to age-old hatreds, as suggested by many analysts; but while such hostilities do help drive these conflicts, they are fueled by a most modern impulse as well: the desire to control valuable oil and natural gas assets. Make no mistake about it, these are twenty-first-century energy wars.
It should surprise no one that energy plays such a significant role in these conflicts. Oil and gas are, after all, the world's most important and valuable commodities and constitute a major source of income for the governments and corporations that control their production and distribution.  http://www.tomdispatch.com/blog/175865/tomgram%3A_michael_klare,_fighting_for_oil/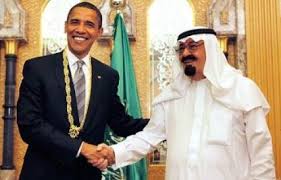 Saudi Complicity in the Rise of ISIS  How far is Saudi Arabia complicit in the Isis takeover of much of northern Iraq, and is it stoking an escalating Sunni-Shia conflict across the Islamic world?
Some time before 9/11, Prince Bandar bin Sultan, once the powerful Saudi ambassador in Washington and head of Saudi intelligence until a few months ago, had a revealing and ominous conversation with the head of the British Secret Intelligence Service, MI6, Sir Richard Dearlove. Prince Bandar told him: "The time is not far off in the Middle East, Richard, when it will be literally 'God help the Shia'. More than a billion Sunnis have simply had enough of them."
The fatal moment predicted by Prince Bandar may now have come for many Shia, with Saudi Arabia playing an important role in bringing it about by supporting the anti-Shia jihad in Iraq and Syria. Since the capture of Mosul by the Islamic State of Iraq and the Levant (Isis) on 10 June, Shia women and children have been killed in villages south of Kirkuk, and Shia air force cadets machine-gunned and buried in mass graves near Tikrit.
In Mosul, Shia shrines and mosques have been blown up, and in the nearby Shia Turkoman city of Tal Afar 4,000 houses have been taken over by Isis fighters as "spoils of war". Simply to be identified as Shia or a related sect, such as the Alawites, in Sunni rebel-held parts of Iraq and Syria today, has become as dangerous as being a Jew was in Nazi-controlled parts of Europe in 1940.
There is no doubt about the accuracy of the quote by Prince Bandar, secretary-general of the Saudi National Security Council from 2005 and head of General Intelligence between 2012 and 2014, the crucial two years when al-Qa'ida-type jihadis took over the Sunni-armed opposition in Iraq and Syria. Speaking at the Royal United Services Institute last week, Dearlove, who headed MI6 from 1999 to 2004, emphasised the significance of Prince Bandar's words, saying that they constituted "a chilling comment that I remember very well indeed".    http://www.counterpunch.org/2014/07/15/saudi-complicity-in-the-rise-of-isis/
The International Economic War of the Rich on the Poor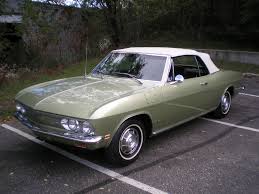 Abovr, the classic killer Corvair
GM Killed People for Money–again–Documents Show General Motors Kept Silent on Fatal Crashes  G.M.'s response, as well as its replies to queries in other crashes obtained by The New York Times from the National Highway Traffic Safety Administration, casts doubt on how forthright the automaker was with regulators over a defective ignition switch that G.M. has linked to at least 13 deaths over the last decade….The company repeatedly found a way not to answer the simple question from regulators of what led to a crash. In at least three cases of fatal crashes, including the accident that killed Mr. Erickson, G.M. said that it had not assessed the cause. In another fatal crash, G.M. said that attorney-client privilege may have prevented it from answering. And in other cases, the automaker was more blunt, writing, "G.M. opts not to respond." The responses came even though G.M. had for years been aware of sudden power loss in the models involved in the accidents.  http://www.nytimes.com/2014/07/16/business/documents-show-general-motors-kept-silent-on-fatal-crashes.html?hp&action=click&pgtype=Homepage&version=HpSum&module=first-column-region&region=top-news&WT.nav=top-news
Irony alert: Obamagoguette bemoans money in politics, asks donors for 'big, fat check Michelle Obama on Thursday night urged Democrats to "dig deep" into their pockets and "write a big fat check" before the midterm elections, but minutes later complained of too much money in politics.
Speaking at a party fundraiser in Chicago, Mrs. Obama said Democrats must triumph in the November contests if President Obama is to make progress on his agenda during the final two years of his term. Read more: http://www.washingtontimes.com/news/2014/jul/24/michelle-obama-says-money-in-politics-is-bad-asks-/#ixzz38clNyEdC
Follow us: @washtimes on Twitter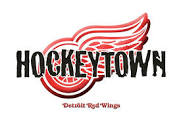 Stadium subsidies are financed by pension cuts– In Detroit, No Water but freebie stadium for Red Wings  As states and cities grapple with budget shortfalls, many are betting big on an unproven formula: Slash public employee pension benefits and public services while diverting the savings into lucrative subsidies for professional sports teams.
Detroit this week became the most prominent example of this trend. Officials in the financially devastated city said their plan to slash public workers' pension benefits will move forward. On the same day, the billionaire owners of the Detroit Red Wings, the Ilitch family, unveiled details of an already-approved taxpayer-financed stadium for the professional hockey team.
Many Detroit retirees now face big cuts to their previously negotiated retirement benefits. At the same time, the public is on the hook for $283 million toward the new stadium. http://www.sfgate.com/opinion/article/Stadium-subsidies-are-financed-by-pension-cuts-5645594.php
The Emergence of Fascism as a Popular Mass Movement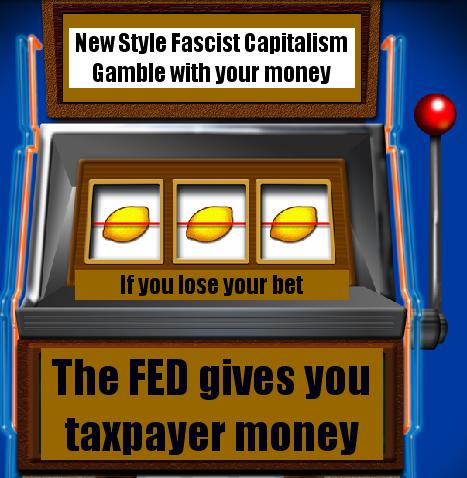 Military Equipment Rolls Into America's Cities  As America's war in Afghanistan winds down, the tools used to fight the battle are popping up in towns and cities across the country.As the New York Times reports:
During the Obama administration, according to Pentagon data, police departments have received tens of thousands of machine guns; nearly 200,000 ammunition magazines; thousands of pieces of camouflage and night-vision equipment; and hundreds of silencers, armored cars and aircraft.
The Times cites the example of Neenah, Wisconsin, "a quiet city of about 25,000 people," with a low violent crime rate that "has not had a homicide in more than five years."
Nevertheless, the town just acquired a 9-foot-tall, 30-ton armored vehicle built to withstand land mines.
The militarization of police is not new and neither, critics say, are its results.  http://www.huffingtonpost.com/2014/06/09/military-equipment-used-by-police_n_5475382.html
Marine whistleblower moves to new duty stationThe Marine at the center of an undue command influence controversy has moved to a new duty station in Suffolk, Virginia, according to a Marine Corps official.
Nearly 10 months after he was removed from his job, Maj. James Weirick, a staff judge advocate, will serve in the Joint Force Development, a command that advances future operations between military services.
The move came about a month after the Defense Department inspector general did not substantiate Weirick's claims that he was removed from his job following his criticism of how the Corps' top leaders — including Commandant Gen. Jim Amos and his advisers — were handling the now infamous scout sniper case.
The saga began in March 2013, when Weirick filed a complaint with the Defense Department inspector general alleging that Amos and his top advisers exerted undue command influence in the case of the Marine snipers who filmed themselves urinating on Taliban corpses. About six months later, Weirick was removed from his job after sending a bizarre email to Peter Delorier, a former civilian legal adviser to Amos. In the email, Weirick urged Delorier to be "honest and truthful."
Weirick argued the move was backlash for filing the IG complaint. But in June, the IG found that while Weirick faced multiple unfavorable personnel actions, he was not removed from his job as an act of reprisal.  http://www.marinecorpstimes.com/article/20140715/NEWS/307150059/Marine-whistleblower-moves-new-duty-station 
Solidarity for Never
Imperialist Murder Obamagogue Praises NEA Bosses ($465,000 a year + 3% raise and living on expense account)
NEA Tops were First Endorsers of the Dishonest Obamagogu
At the 2007 NEA RA, Bulbous Empty Suit Reg Weaver ($686,949 for one years work) Introduced Obamagogue
Details of some of the income top US school workers' union bosses draw  In 1995 the late Helen Bernstein was president of the United Teachers of Los Angeles (UTLA). At that time Ms. Bernstein and Adam Urbanski (then UFT New York, now AFT vice president) formed a non-profit Teacher Union Reform Network "TURN" with a grant from the PEW charitable trust. TURN now has affiliates throughout the country at the national, state, and local levels; see the TURN exchange network. TURN leadership is now headed by AFT vice-president Adam Urbanski.
What might be surprising to teachers is that TURN takes money from the billionaires. These billionaires are certainly not looking out for worker rights, but instead concentrating on vigorously busting up the labor unions and squashing collective bargaining rights. The Gates and Broad Foundations have each given millions to TURN. Union leaders such as Karen Lewis (president of Chicago teachers union) spoke at TURN's 2012 national convention, and Diane Ravitch, Deborah Meier and Linda Darling Hammond did likewise in 2013. 
In the Broad Foundation 2009 Annual Report at page 10 the foundation exuberantly admits to "investing" in union leaders like Randi Weingarten (AFT president) to run/manage incentive based compensation. (Doesn't this seem like the very prohibitive "company union" outlawed back in 1935 to prevent exploitation of the workforce?) This type of merit based, union busting tactic has been criticized by Diane Ravitch on her blog and in her books. So, why is Ravitch speaking at TURN's national convention? And was she paid to do so? If paid, was she paid by the very same privatizers she had so vehemently exposed in her published books "Reign of Error" and "Death and Life of the Great American School System"? What a strange TURN of events….
Take a quick look at Randi Weingarten and you will find Randi is a trustee at New Visions for Public Schools, which is funded by the Walton Family Foundation, by Gates, and by Milken, the junk bond felon. Publicly available reported IRS 990 forms show that Randi is on the board of Green Dot New York Charter School and the board of New Visions for Public Schools. Keeping Randi company on the Brooklyn Green Dot board was board member Nadya (aka Nadine) Dabby. Take a quick look at Dabby and you will find she is paid by the Broad Foundation, and that California Governor Brown appointed Dabby (a Broadie) to the State's Allocation Board.
Broad's relationship with Randi Weingarten goes back over a decade as readily admitted in the 2009 Broad Foundation annual report. Too many illicit non-profits to list receive funds not only from the billionaire foundations, but also from rank and file teacher money, e.g., the AFT Innovation Fund.   https://groups.yahoo.com/neo/groups/lausd-teachers/conversations/topics/3302;_ylc=X3oDMTJycmg3b3I4BF9TAzk3MzU5NzE1BGdycElkAzcwOTg0NTI0BGdycHNwSWQDMTcwNTA4MjE3OARtc2dJZAMzMzAyBHNlYwNkbXNnBHNsawN2bXNnBHN0aW1lAzE0MDU0MDkzMjM-
AFT Convention–Please let us more effectively help you oppress us and our kids  The American Federation of Teachers' governing body has passed a resolution calling for more teacher input into the implementation of the Common Core State Standards.
It passed by a majority in a standing vote, but the debate on the item underscored the extremely divergent opinions within the 1.6 million-member union about the K-12 student expectations.
It's hard to underscore enough just how passionate—and, at times, angry—the debate was on this resolution. Some delegates spoke in defense of high standards for students. But others, including special educators and early-childhood educators, said that the standards weren't developmentally  http://blogs.edweek.org/edweek/teacherbeat/2014/07/common-core_resolution_calls_f.html
UTLA Top Suggests Strike–wants to Raise Dues for Payoffs  The new leader of the Los Angeles teachers union signaled a more militant stance toward the school district, including the possibility of a strike, at a national teachers union convention held downtown this weekend.  http://www.latimes.com/local/lanow/la-me-ln-caputopearl-teachers-strike-20140713-story.html
Highlights from Most Boring NEA Rep Assembly Ever: NEA delegates called for Duncan's resignation, saying nothing about the puppet master they so helped elect, nor anything about the empire's failing wars that are killing their students, and hundreds of thousands of others. Lily Eskelson became the new president, stepping up in the usual lock-step fashion, from VP. She signed the $646,949 check that ex Prez Reg Weaver got for 1 year's work. Lily will get a 3% raise, on top of the $465 thousand she gets–and she can live on her expense account, gets a free car, housing, etc. She represents people who live in trailers. NEA claims her taking office is a victory for affirmative action. Michelle Alexander cracks up.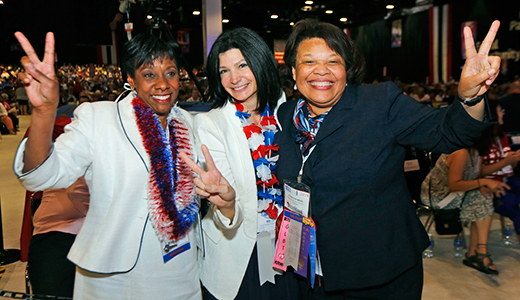 NEA Vice President Elect Becky Pringle (left), President Elect Lily Eskelsen García (center) and Secretary Treasurer Elect Princess Moss (right) on the RA floor after election results at National Education Association's 93rd Representative Assembly at the Colorado Convention Center, Denver, Co., July 4, 2014.
Photo by Calvin Knight for NEA
Delegates vote for all-minority, all-female, officer team to head nation's largest union  http://www.nea.org/grants/59617.htm
Following the NEA Delegate vote to Fire Duncan, NEA Prezzie Eskelsen/Garcia Gave him a Nice Hug  "I made it clear to the secretary that I don't want to demonize anybody. He's sincere and he's absolutely wrong," she said. "We agreed at the end of that meeting; we were very clear. He was very clear that he thinks we need to stay on what he calls accountability. I believe that has come to mean you hit your number and there's a consequence for not hitting your number. That's disastrous, I let him know that I would keep telling people that's disastrous."
Despite the education secretary's outwardly nonchalant reaction to the NEA vote, García says he seemed "hurt" and "surprisingly confused." In her estimation, he didn't realize the level of anger he had conjured up.
"Arne Duncan is not a bad man," she said. "I think he sincerely believes this stuff."
Despite their differences, says García, they ended the meeting with a hug.  http://www.msnbc.com/msnbc/incoming-nea-head-inherits-tension-arne-duncan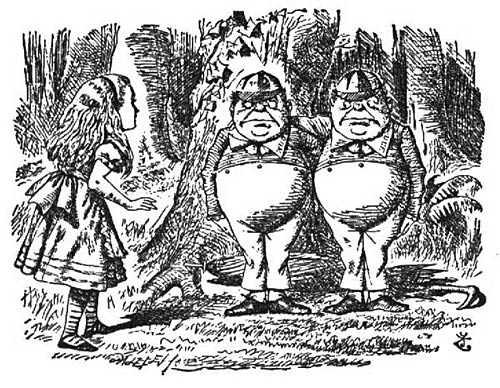 NEA And AFT (and others) Throw Member Money at Tweedle Dee and Dum The Democratic Governors Association, a Section 527 political organization, reported raising $13.8 million and spending $12.1 million, during the second quarter of 2014.
Major donors included $1,360,000 from the NEA Advocacy Fund (DC) $900,000 from the American Federation of Teachers AFT (DC); $750,000 from AFSCME (DC); $450,000 from the United Food Commercial Workers Intl. Union; $300,000 from SEIU IPEA (DC); $325,000 AstraZeneca Pharmaceuticals (AZ); $250,000 from Pfizer Inc. (OH); $250,000 from United Healthcare Services Inc.; $250,000 from SEIU Michigan State Council (MI); $150,000 from PhRMA (DC); and $150,000 from the International Union of Painters Allied Trades (DC).  http://blogs.rollcall.com/moneyline/democratic-governors-association-raises-13-8-million/?dcz=
School Workers Rush to Become part of their own oppression in electoral shell game  Backed by tens of millions in cash and new data mining tools that let them personalize pitches to voters, the unions are sending armies of educators to run a huge get-out-the-vote effort aimed at reversing the red tide that swept Republicans into power across the country in 2010.
The unions have plenty of money: They spent $69 million on state races in 2010 and are likely to top that this year. But as they gear up for the most intense and focused mobilization efforts they have ever attempted, they believe it's their members who will give them an edge. Americans may be frustrated with public schools and wary of unions, but polls still show respect and admiration for teachers.
"If someone knocks on your door and says, 'I'm Mark, I'm from the state Democratic Party,' you take the literature and shut the door," said Karen White, political director for the National Education Association. "If you say, 'Hi, I'm Karen, I'm a third-grade teacher at Hillsmere Elementary and I'm here to tell you what's at stake for public education,' that gets a very different reaction from the voter."
Or at least, so union leaders hope.
While other interest groups focus on the frenzied fight for control of the Senate, teachers unions are pouring their resources into state politics. They're pushing to flip legislative chambers in several states to Democratic control and put allies in key offices such as attorney general and secretary of state in Arizona, Colorado and New Mexico.
Above all, they're out to oust incumbent Republican governors, especially Wisconsin's Scott Walker, Florida's Rick Scott and Michigan's Rick Snyder.
Read more: http://www.politico.com/story/2014/07/unions-teachers-streets-votes-109305.html#ixzz38eQJeRYy
Spy versus Spy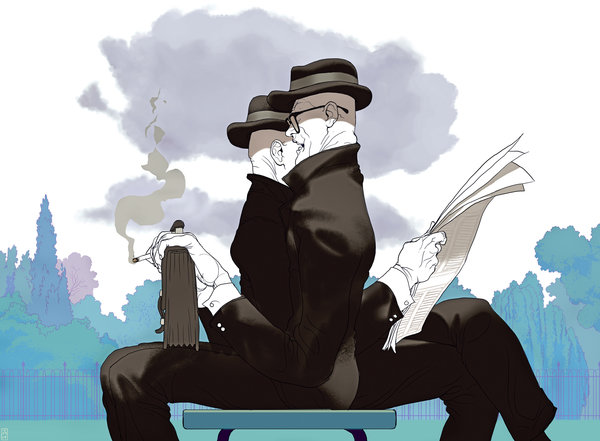 In From the Cold  –Ben Macintyre's 'A Spy Among Friends'  When devouring this thriller about Kim Philby, the high-level British spymaster who turned out to be a Russian mole, I had to keep reminding myself that it was not a novel. It reads like a story by Graham Greene, Ian Fleming or John le Carré, all of whom make appearances, leavened by a dollop of P. G. Wodehouse. But, in fact, "A Spy Among Friends" is a solidly researched true story. The London journalist Ben Macintyre, who has written nine previous histories chronicling intrigue and skulduggery, takes a fresh look at the grandest espionage drama of our era. And like one of his raffish characters relaxing around the bar at White's, that venerable clubhouse of England's old boys' network, he is able to play the role of an amusing raconteur who can cloak psychological and sociological insights with dry humor. http://mobile.nytimes.com/2014/07/27/books/review/ben-macintyres-a-spy-among-friends.html?referrer=&_r=3
Clothing the Bodyguard of Lies: Ex-Chief of C.I.A. Shapes Response to Detention Report  Just after the Senate Intelligence Committee voted in April to declassify hundreds of pages of a withering report on the Central Intelligence Agency's detention and interrogation program, C.I.A. Director John O. Brennan convened a meeting of the men who had played a role overseeing the program in its seven-year history.
The spies, past and present, faced each other around the long wooden conference table on the seventh floor of the C.I.A.'s headquarters in Northern Virginia: J. Cofer Black, head of the agency's counterterrorism center at the time of the Sept. 11 attacks; the undercover officer who now holds that job; and a number of other former officials from the C.I.A.'s clandestine service. Over the speakerphone came the distinctive, Queens-accented voice of George J. Tenet.
Over the past several months, Mr. Tenet has quietly engineered a counterattack against the Senate committee's voluminous report, which could become public next month. The effort to discredit the report has set up a three-way showdown among former C.I.A. officials who believe history has been distorted, a White House carefully managing the process and politics of declassifying the document, and Senate Democrats convinced that the Obama administration is trying to protect the C.I.A. at all costs.
The report is expected to accuse a number of former C.I.A. officials of misleading Congress and the White House about the program and its effectiveness, but it is Mr. Tenet who might have the most at stake.
The detention and interrogation program was conceived on his watch and run by men and women he had put in senior positions. After virtually disappearing from public view since leaving the C.I.A. in 2004 except for a brief period promoting his memoir, Mr. Tenet is working behind the scenes with many of the same people to develop a strategy to challenge the report's findings.  http://www.nytimes.com/2014/07/26/world/george-tenet-ex-chief-of-cia-is-set-to-defend-actions-on-interrogation-program.html?emc=edit_th_20140726&nl=todaysheadlines&nlid=2254121&_r=0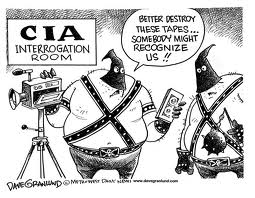 NSA: Releasing Snowden Emails Would Violate His Privacy  The National Security Agency says it can't release emails sent by exiled whistleblower Edward Snowden to NSA officials because doing so would invade his personal privacy.
That rationale was one of several given to journalist Matthew Keys, formerly social media editor at Reuters, in response to a Freedom of Information Act request that sought emails sent from ejsnowd@nsa.ic.gov in the first five months of 2013.
Keys published the NSA's response on Thursday. The NSA's FOIA office, which is dealing with a significant backlog, could not immediately supply a copy to U.S. News.
Snowden has said repeatedly he raised concerns internally when he worked as an NSA contractor before he decided to leak documents that exposed the agency's sweeping – and arguably illegal – surveillance programs.  http://www.usnews.com/news/articles/2014/07/14/nsa-releasing-edward-snowden-emails-would-violate-his-privacy
Germany orders CIA station chief to leave over spying allegations  The German government ordered the CIA's top officer in Berlin to leave the country Thursday in an extraordinary escalation of a conflict between the two allies over U.S. espionage.
The move amounts to a high-profile expression of German anger over alleged CIA operations uncovered by German investigators in recent weeks, as well as continued public outrage over the exposure last year of widespread U.S. surveillance programs whose targets included Chancellor Angela Merkel.
A spokesman for the German government, Steffen Seibert, confirmed the expulsion of the CIA station chief in a statement that made clear Berlin regards U.S. espionage efforts as a breach of trust.
"The representative of the U.S. intelligence services at the Embassy of the United States of America has been requested to leave Germany," Seibert said. Continued cooperation would require "mutual trust and openness," Seibert added. "The Federal Government continues to be ready for this and expects the same from its closest partners."  http://www.washingtonpost.com/world/europe/germany-expels-us-intelligence-station-chief-over-spying-allegations/2014/07/10/dc60b1f0-083c-11e4-8a6a-19355c7e870a_story.html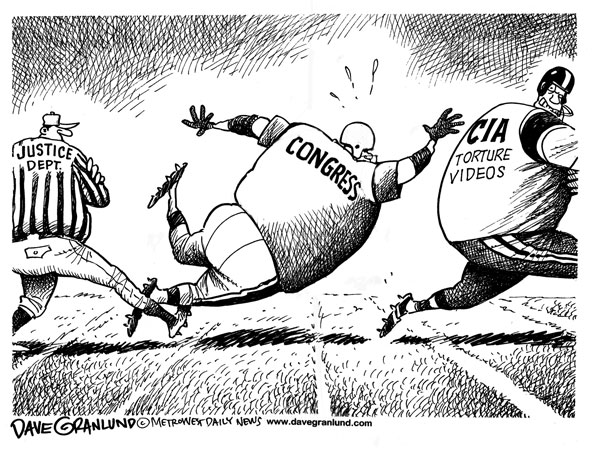 CIA employee's quest to release information 'destroyed my entire career  His CIA career included assignments in Africa, Afghanistan and Iraq, but the most perilous posting for Jeffrey Scudder turned out to be a two-year stint in a sleepy office that looks after the agency's historical files.
It was there that Scudder discovered a stack of articles, hundreds of histories of long-dormant conflicts and operations that he concluded were still being stored in secret years after they should have been shared with the public.
To get them released, Scudder submitted a request under the Freedom of Information Act — a step that any citizen can take, but one that is highly unusual for a CIA employee. Four years later, the CIA has released some of those articles and withheld others. It also has forced Scudder out.
His request set in motion a harrowing sequence. He was confronted by supervisors and accused of mishandling classified information while assembling his FOIA request. His house was raided by the FBI and his family's computers seized. Stripped of his job and his security clearance, Scudder said he agreed to retire last year after being told that if he refused, he risked losing much of his pension.
In an interview, Scudder, 51, cast his ordeal as a struggle against "mindless" bureaucracy, but acknowledged that it was hard to see any winners in a case that derailed his CIA career, produced no criminal charges from the FBI, and ended with no guarantee that many of the articles he sought will be in the public domain anytime soon.
"I submitted a FOIA and it basically destroyed my entire career," Scudder said. "What was this whole exercise for?"  http://www.washingtonpost.com/world/national-security/cia-employees-quest-to-release-information-destroyed-my-entire-career/2014/07/04/e95f7802-0209-11e4-8572-4b1b969b6322_story.html
Emails shed new light on UK link to CIA 'torture flights'Crucial logs revealing flights to a British overseas territory when it was allegedly used as a secret US prison are in the possession of the police, the Observer has learned.
The revelation has raised concerns about why, despite repeated demands, details of the flights have not been shared with lawyers and MPs, who for years have been investigating the role played by Diego Garcia, an atoll in the Indian ocean, in the CIA's extraordinary rendition programme.
A Whitehall official was photographed last week carrying documents marked "sensitive" confirming that the logs recording details of planes landing and taking off at the atoll have been handed to detectives. The documents, a series of printed emails and handwritten notes made by the official, reveal internal Foreign Office discussions about the line to take in response to questions about the British territory raised by lawyers and MPs.The Foreign Office has repeatedly stressed there is no evidence Diego Garcia was used in the rendition programme,   http://www.theguardian.com/world/2014/jul/12/uk-cia-torture-flights-rendition-programme
The Magical Mystery Tour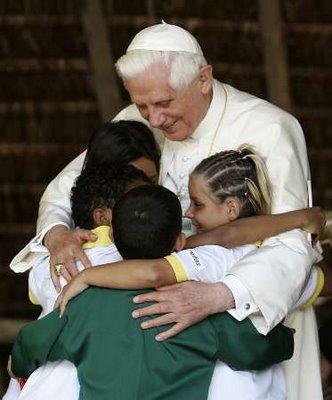 PA- Victims want US Catholics to "grill" Pope in Philly  It's now confirmed: Pope Francis will visit Philadelphia – and maybe other North American cities – next year.
He's done little or nothing substantial to protect kids and expose cover ups. So we hope that when he comes here, U.S. Catholics and citizens will grill him about the on-going, horrific child sex abuse and cover up crisis. We hope they will insist that he stop making apologies and start taking action, that he stop asking forgiveness and start firing enablers, that he stop shifting blame and start "outing" predators, that he stop making excuses and start making change.
In few countries on earth have so many wounded victims been stepping forward and have so many upset Catholics been pressing for reform for so long. If there's anywhere on earth that Francis should face tough questions about his refusal to take tangible steps to prevent clergy sex crimes, it's here.  http://www.snapnetwork.org/pa_victims_want_us_catholics_to_grill_pope_in_philly
The Best and Worst Things in the History of the World
http://www.huffingtonpost.com/2014/07/15/ismael-hernandez_n_5588607.html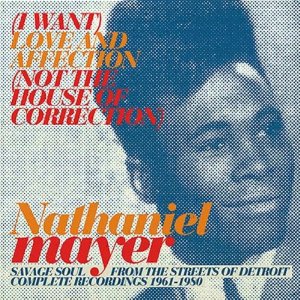 So Long
Tommy
The Ramones' drummer on only its first three studio albums, Erdelyi served later as the band's producer and was forever a principal in shaping the sound of one of America's most beloved punk rock outfits.
"We thought we were the best band in the world," Erdelyi said in 2004. "Everyone else would have to catch up with us."
Erdelyi, 65, the last surviving original member of the Ramones, died Friday at home in New York  http://www.latimes.com/local/obituaries/la-me-tommy-ramone-20140713-story.html