August 29th, 2015 / Author: rgibson
We Say Fight Back!
To the Editor (NYT): There are so many despicable circumstances described in your excellent article — ageism, sexism, worker tattling on worker, work at the expense of life — but none is more depressing than the fact that there is an endless supply of intelligent people willing to step into inhumane labor practices.
I know that we are in a new "knowledge economy" in which "innovation" is the featured product, but hasn't the current generation of social media, technology-savvy go-getters read even a bit of Marx?
You don't need to be anticapitalist to recognize that the dealings you enter into at work define your social relationships in general, or that the alienation you experience is not only from your fellow workers or from your family, but also from yourself.
How can what you do for 18 hours a day be compartmentalized from who you "really" are?
PEGGY DEAMER
Orient, N.Y. www.nytimes.com/2015/08/23/opinion/sunday/a-look-inside-amazon.html?_r=0
TFA's Jesse Hagopian introduces Boots Riley
Staughton Lynd Reviews Serge: "Anarchist Thought," in Anarchists Never Surrender, pp. 202-228, is Serge's own conclusion as to how anarchism and Marxism might be synthesized.   It was written at the end of the 1930s when he had left the Soviet Union but remained fully at the height of his powers.
Serge accepts Marxist economic analysis. He says of anarchism that it was "the ideology of small-scale artisans" and that as industrial development became more marked in southern Europe "anarchism surrendered its preeminence in the revolutionary movement to Marxist workers' socialism." www.counterpunch.org/2015/08/24/anarchism-marxism-and-victor-serge/
Curriculum and Instruction
Tenure-Track
The Department of Secondary Education is seeking a tenure track Assistant Professor of secondary curriculum and instruction in the College of Education at California State University, Fullerton. We are seeking an enthusiastic individual committed to promoting just, equitable, and inclusive education to teach in the graduate program and the single subject credential program. The Department offers Master of Science degrees with concentrations in Secondary Education, Teaching Foundational Mathematics, and Teacher Induction. These programs make extensive use of a cohort-based, online learning community model and have a strong theory to practice orientation.  All are closely aligned with the core propositions of the National Board for Professional Teaching Standards. http://hr.fullerton.edu/diversity/job-openings/ft/8198BR_curriculum_and_instruction.asp
Jeffrey B. Perry Blog
The Developing Conjuncture and Some Insights
from Hubert Harrison
and Theodore W. Allen
on the Centrality of the Fight
Against White Supremacy
. . . the plantation bourgeoisie established a system of social control by the
institutionalization of the 'white' race whereby the mass of poor whites was alienated
from the black proletariat and enlisted as enforcers of bourgeois power."
 – Theodore W. Allen
Class Struggle and the Origin of Racial Slavery:
The Invention of the White Race
60 years since the murder of Till
In recent years the gap between rich and poor in the United States has grown to record proportions while stark racial disparities have persisted and in many instances increased. Millions of poor and working people are suffering and conditions are getting worse, particularly for Black and Latino people. This is happening at a time when the U.S. Census Bureau is predicting that "minorities" will comprise more than half of all children by 2023 and the majority of the population by 2042 and at a time when poor and working people domestically and internationally are showing an increased willingness to protest against exploitation and oppression.
While there are many factors affecting the current situation it is instructive to review some class and racial aspects of the developing conjuncture in the United States and to do so in the context of insights drawn from the lives and work of Hubert H. Harrison (1883-1927) and Theodore W. Allen (1919-2005). Harrison and Allen were working-class intellectual/activists who focused on the centrality of the fight against white supremacy and they are two of the twentieth-century's most important writers on race and class. In the belief that their work has much to offer scholars, activists, and readers today, this essay presents an introduction to Harrison and Allen followed by a brief look at the developing conjuncture and a lengthier discussion of some insights from their lives and work.  www.jeffreybperry.net/blog.htm?post=960163
For nine days, Jitu Brown has ignored the aching pangs from his stomach, the passing dizzy spells and sluggishness that comes from living without solid foods.
Brown, 49, is one of a dozen local activists refusing to eat to draw attention to the plight of Dyett High School in Washington Park on the South Side. The activists hope this latest tactic will force the Chicago Public Schools board to finally decide the fate of the troubled high school once slated for closure. "We will not stand for the continued ignoring of our voices as African-American families," said Brown, who is a leader of the Coalition to Revitalize Dyett High School, which started a hunger strike on Aug. 17. "We have worked on Dyett High School since 2009, and we have brought proposals to the Board of Education since 2009. It's 2015, and we're put inside of a process that we fear is rigged. That we know is rigged."   www.chicagotribune.com/news/ct-chicago-dyett-school-hunger-strike-met-20150825-story.html
Lebanon Thousands of people have taken part in a rally in the Lebanese capital Beirut in protest at a government they say is corrupt and ineffective.
Security was high amid fears the demonstrations could turn violent, as similar protests did last weekend.
Organisers of Saturday's mostly peaceful rally demanded the environment minister resign within 72 hours.
The government's failure to solve the crisis over the disposal of rubbish led to the 'You Stink' campaign.
They have been calling on the government to hold snap parliamentary elections, and also want the interior minister held to account for excessive force by police at least week's protests. www.bbc.com/news/world-middle-east-34097555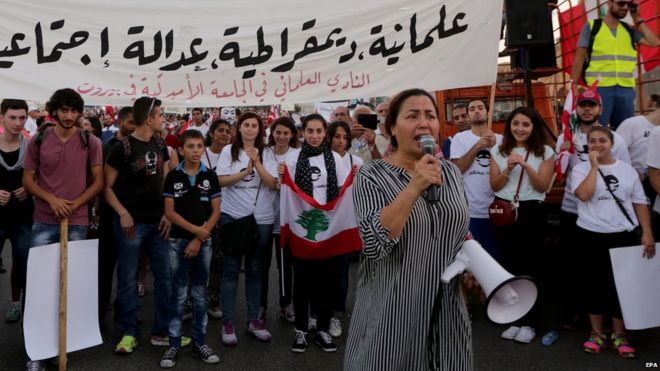 The Little Red Schoolhouse
The Opportunist who is the Prezzie of the San Diego School Board San Diego Unified plainly lays out the expectations for the school board and its president. The president, elected by other trustees, will lead the board and serve as its spokesperson.
A district ethics memo goes further: Board members are to build public trust, avoid conflicts of interest, refrain from using their positions for personal gain and adhere to the highest standards of transparency.
But as board president, Marne Foster regularly refuses to talk to media and has been absent from debates and interviews. She held a private fundraiser for her sons, advertising the event on a district website, and spread word through her professional connections – raising concerns about whether she was trying to leverage her political position for personal gain.
A principal says Foster used political muscle to meddle in affairs and end her job at the school.  www.voiceofsandiego.org/topics/education/marne-fosters-a-mother-first-for-better-or-worse/?utm_source=Voice+of+San+Diego+Master+List&utm_campaign=42c4ced4db-Morning_Report&utm_medium=email&utm_term=0_c2357fd0a3-42c4ced4db-81862829&goal=0_c2357fd0a3-42c4ced4db-81862829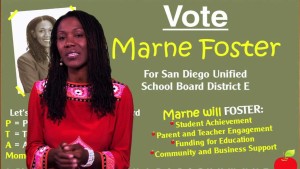 As students head back for another year of school, one small district in the valley is on the cutting edge of education. The Lindsay School district has eliminated grades and grade levels. School leaders say the scheme has transformed education.
Its 7:30 on the first day of school and students at the Lindsay High School re-connect with friends and wait for the bell to ring.
The roughly 1-thousand students are part of just a handful of districts in the country using a system called Performance Based Grading.
The basic idea is that rather than moving students through grade levels as a class, let them finish their course work at their own speed, regardless of what year they are in school.
17-year old Senior Leif Ceasar explains it this way.
"I am a lot stronger in history, English, science than I am in math, for example. I moved ahead of the class in those classes. With math I have been more with the class," Ceaser said. http://kvpr.org/post/one-valley-school-districts-unorthodox-educational-approach-no-more-grades
Fond memory
California Community College Accreditor Flunks   The central focus of accreditation processes should be on providing excellent teaching and learning opportu­nities and on academic integrity. The current accred­itor for the California Community Colleges has failed to maintain such a focus. Over the past several years,numerous system constituencies have raised consis­tent concerns regarding various aspects of the accred­itation process and the performance of the accreditingcommission, especially in areas related to transpar­ency, collegiality, and consistency. This task force finds little evidence that the accrediting commission has the ability or willingness to address these concerns.
In addition, developments such as associate degrees for transfer and the beginnings of a community col­lege baccalaureate degree effort have led California community colleges to become more integrated with 4-year colleges and universities. For this reason, thecommunity colleges system would benefit from acloser, more formalized collaboration with the otherinstitutions of higher education in the region, including
service on evaluation teams. Further delay in resolving the issues with the accred­
itor will have adverse effects on our colleges, on our students, and on California's economy and future and will prevent the timely development of the robust
accreditation structure that other regions enjoy and that California lacks. The task force therefore urges the Chancellor and the Board of Governors to seek other
accrediting options that would provide the collabora­tive and credible approach to accreditation that the California Community Colleges require and deserve.http://californiacommunitycolleges.cccco.edu/Portals/0/reports/2015-Accreditation-Report-ADA.pdf
New Mexico School Boss has some problems Embattled Albuquerque Schools Superintendent Luis Valentino is facing calls for his resignation for hiring an administrator facing child sex charges.
He follows a long line of school chiefs in the troubled district ousted over favoritism, contentious tenures, and allegations of drug addiction.
Before Valentino took over in June, former superintendent Winston Brooks abruptly resigned last year over a secret personnel issue. His tenure was marked controversy after he insulted state Public Education Secretary Hanna Skandera on social media using farm animal sounds.
Former superintendent Beth Everitt left her post following a controversy over the changing a student's failing grade and former superintendent Joseph Vigil died in a bizarre one-car rollover involving alcohol. Vigil was not the driver.
Former school chief Brad Allison resigned in 2002 amid allegations of drug abuse. www.washingtontimes.com/news/2015/aug/26/troubles-for-an-albuquerque-superintendent-not-new/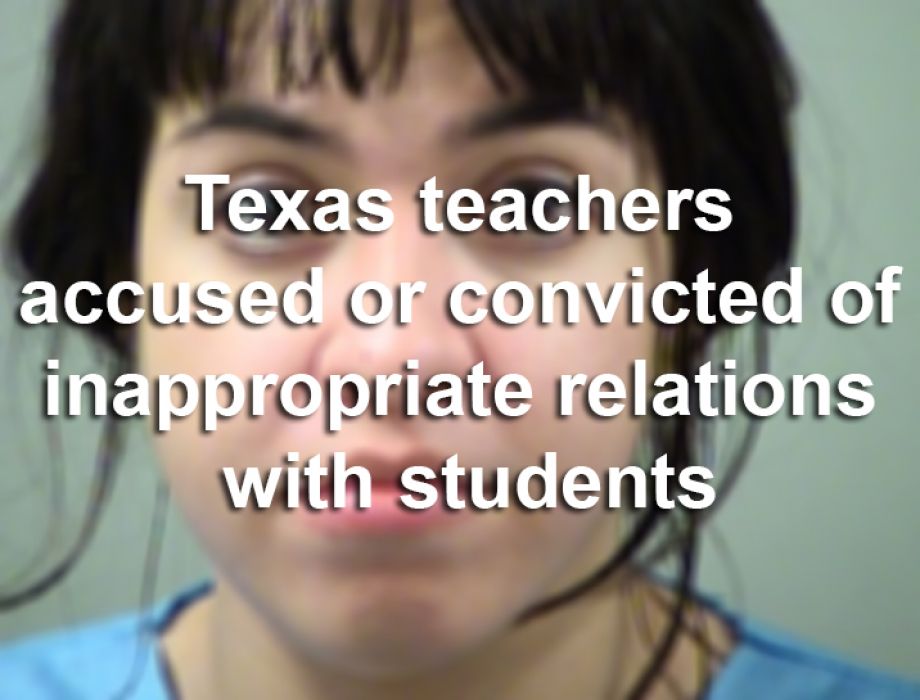 Texas' top education agency has opened more than 170 investigations into alleged inappropriate relationships between educators and students since September.
Officials with the Texas Education Agency's educator investigations unit have begun 174 cases regarding purported student-teacher relationships from Sept. 1, 2014 to July 31, 2015, agency spokesperson Lauren Callahan told the San Antonio Express-News on Tuesday.
The state has seen a 27 percent jump in investigations into alleged student-teacher relationships over the past three school years, the agency said in October: the number of investigations rose from 141 during the 2009-10 academic year to 179 in 2013-14.
Scroll through the gallery to see Texas teachers who have been accused, investigated and convicted for inappropriate relationships with students.
Analysts such as Terry Abbott, former chief of staff at the U.S. Department of Education, have pointed to the rise of social media and text messaging as a means to communicate with students outside of the classroom environment and away from parents and school officials. www.mysanantonio.com/news/education/article/Texas-opened-more-than-170-investigations-into-6466459.php
The International Hot War of the Rich on the Poor
Council on Foreign Relations:
Revising U.S. Grand Strategy Toward China
Overview
"China represents and will remain the most significant competitor to the United States for decades to come. As such, the need for a more coherent U.S. response to increasing Chinese power is long overdue," write CFR Senior Fellow Robert D. Blackwill and Carnegie Endowment for International Peace Senior Associate Ashley J. Tellis in a new Council Special Report, Revising U.S. Grand Strategy Toward China.
"Because the American effort to 'integrate' China into the liberal international order has now generated new threats to U.S. primacy in Asia—and could result in a consequential challenge to American power globally—Washington needs a new grand strategy toward China that centers on balancing the rise of Chinese power rather than continuing to assist its ascendancy."
The authors argue that such a strategy is designed to limit the dangers that China's geoeconomic and military power pose to U.S. national interests in Asia and globally, even as the United States and its allies maintain diplomatic and economic interactions with China.
Blackwill and Tellis recommend that Washington do the following:
Revitalize the U.S. economy
"Nothing would better promote the United States' strategic future and grand strategy toward China than robust economic growth…This must be the first priority of the president and Congress."
Strengthen the U.S. military
"Congress should remove sequestration caps and substantially increase the U.S. defense budget…Washington should intensify a consistent U.S. naval and air presence in the South and East China Seas," and "accelerate the U.S. ballistic-missile defense posture" in the Pacific.
Expand Asian trade networks
"U.S. grand strategy toward China will be seriously weakened without delivering on the TPP [Trans-Pacific Partnership trade agreement]. A major push by the White House for ratification should therefore begin immediately in the new Congress, including seeking trade promotion authority."
Russia, China kick off active phase of Sea of Japan naval drills
Twenty-two vessels, 20 aircraft, 40 armored vehicles and 500 marines from Russia and China have begun the active phase of the 'Joint Sea 2015 II' drills in the Sea of Japan off the coast of Russian Far Eastern city of Vladivostok.
"During the active phase of the maritime maneuvers to last till August 27, the sailors work out the issues of join anti-sabotage, anti-submarine, anti-vessel and anti-aircraft defense. Besides that there'll be gunnery drills with different types of surface, underwater and aerial targets," Roman Martov, Russia's Eastern Military District spokesman, said as cited by TASS.
The drills will be held in Peter the Great Bay, with vessels performing their tasks in Russian territorial waters and in neutral waters off the Sea of Japan.
The war games will culminate in a joint amphibious and airborne landing by Russian and Chinese troops at the Klerk firing range in the Far East, Martov added.
"It's first time ever such an operation is to be held on the Russian soil," he stressed. www.rt.com/news/313170-russia-china-japan-sea-drills/
Imperialism (think cheap labor, raw material, markets, regional control) and the Arctic o deal with the growing numbers of vessels sluicing north through the Bering Strait, the Coast Guard has had to divert ships like the Alex Haley from other core missions, like policing American fisheries and interdicting drugs. The service's fleet is aging, especially the nation's only two icebreakers. (The United States Navy rarely operates in the Arctic.) Underwater charting is paltry, while telecommunications remain sparse above the highest latitudes. Alaska's far n
All these shortcomings require investments that political gridlock, budget constraints and bureaucracy have held up for years.
Russia, by contrast, is building 10 new search-and-rescue stations, strung like a necklace of pearls at ports along half of the Arctic shoreline. More provocatively, it has also significantly increased its military presence, reopening bases abandoned after the collapse of the Soviet Union.
Russia is far from the only rival — or potential one — in the Arctic. China, South Korea and Singapore have increasingly explored the possibility that commercial cargo could be shipped to European markets across waters — outside Russia's control — that scientists predict could, by 2030, be ice-free for much of the summer.
In 2012, with great fanfare, China sent a refurbished icebreaker, the Xuelong, or Snow Dragon, across one such route. Signaling its ambitions to be a "polar expedition power," China is now building a second icebreaker, giving it an icebreaking fleet equal to America's. Russia, by far the largest Arctic nation, has 41 in all.
"The United States really isn't even in this game," Admiral Zukunft said at a conference in Washington this year.
orth lacks deepwater port facilities to support increased maritime activity. http://www.nytimes.com/2015/08/30/world/united-states-russia-arctic-exploration.html?hp&action=click&pgtype=Homepage&module=first-column-region&region=top-news&WT.nav=top-news&_r=0
Europe Reels From More Migrant Deaths on Land and Sea
The migrant crisis, the biggest wave to hit Europe since World War II, was further amplified on Friday by a report from the United Nations refugee agency estimating a 40 percent jump this year in the number of people fleeing to the Continent by boat compared with all of 2014. Most are escaping war and strife in the Middle East and Africa.
Secretary General Ban Ki-moon of the United Nations, expressing shock over the latest deaths, announced an emergency summit Sept. 30 in New York while world leaders are visiting for the annual General Assembly. He called Europe's migrant crisis a reflection of deeper travails elsewhere and cited the Syria war as an example, saying that conflict had "just been manifested on a roadside in the heart of Europe."
The deadly perils of crossing the Mediterranean, already well known, were reinforced by news from Libyan and international relief officials that 150 people had drowned off western Libya after their boats sank on Thursday.
The exact toll was unclear, but potentially was among the highest this summer for the desperate families trying to reach European shores.
The United Nations refugee agency report said the number of refugees and migrants crossing the Mediterranean to reach Europe had reached 310,000 this year, up from 219,000 in 2014.
Close to 200,000 people have landed in Greece this year and about 110,000 more have reached Italy, Melissa Fleming, a spokeswoman for the refugee agency told reporters in Geneva.
More than 2,500 people have died at sea this year, not including those believed to be victims in Thursday's sinking off Libya. Last year, 3,500 died or were lost while trying to cross the Mediterranean to Europe.http://www.nytimes.com/2015/08/29/world/europe/migrants-bodies-austria-truck.html?_r=0
Educated Islamo-fascists of IS' Blow up Antiquities in Syria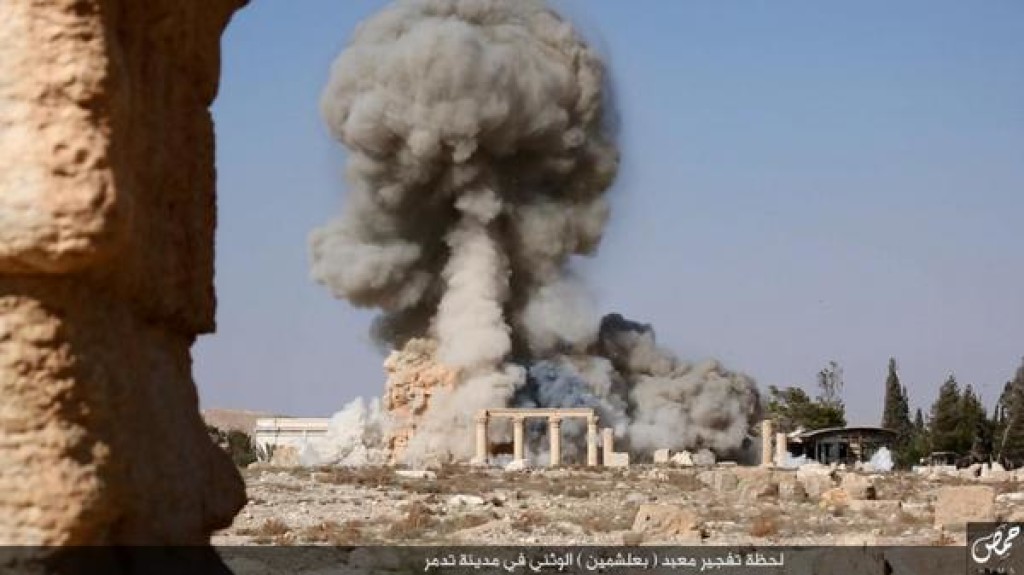 The Islamic State has released photos purporting to show the destruction of the ancient Baalshamin temple in the city of Palmyra in Syria. The temple was said to have been built by the Romans over 2,000 years ago.
The photos show Islamic State militants moving explosives into the temple and on the outside of the structure. The last image in the series shows the temple exploding. It is unclear when the temple was destroyed. Some sources said the detonation too place as late as over the weekend, while the Syrian Observatory for Human Rights said that it was destroyed last month.
The United Nations Educational, Scientific and Cultural Organization (UNESCO) released a statement saying "the systematic destruction of cultural symbols embodying Syrian cultural diversity reveals the true intent of such attacks, which is to deprive the Syrian people of its knowledge, its identity and history." The organization continues by pointing out, "this destruction is a new war crime and an immense loss for the Syrian people and for humanity." Just one week before blowing up the temple, the Islamic State also beheaded the 82-year-old Syrian archaeologist, Khaled Assad.
The Islamic State overran the city of Palmyra in late May. In other photos released by the jihadist group, Syrian regime soldiers are seen being executed in other ancient ruins in the city.  www.longwarjournal.org/archives/2015/08/islamic-state-destroys-ancient-temple-in-syria.php?utm_source=feedburner&utm_medium=email&utm_campaign=Feed%3A+LongWarJournalSiteWide+%28The+Long+War+Journal+%28Site-Wide%29%29
Taliban takes another district in southern Afghanistan The Taliban overran the Musa Qala district center when Afghan forces fled after several days of fighting. The fall of Musa Qala puts the Taliban in effective control of northern Helmand, and will allow it to threaten the provincial capital of Lashkar Gah.
A member of the Helmand provincial council confirmed that the Taliban seized the district center this morning. "Three Afghan security members were killed and ten others including the district governor were wounded," ATN News reported.
Afghan defense officials have boasted that more than 60 Taliban fighters were killed, most in Coalition airstrikes, during the peak of fighting which began three days ago. "Pakistani, Arab and Chechen Taliban insurgents" are present in Musa Qala, TOLO News reported.
Afghan forces took heavy casualties during the fighting. A member of the Helmand provincial council said that 45 Afghan soldiers were killed and 20 more surrendered during an assault on an outpost on Aug. 23. At least nine policemen were killed in an attack on a police station on Aug. 13.
The Taliban confirmed its forces took control of Musa Qala. In a statement released on Voice of Jihad, the Taliban's official website, the group said "Mujahideen of Islamic Emirate have managed to overrun Musa Kala district center, HQ building, Police HQ, PRT building and all surrounding check posts in an overnight assault." According to the Taliban, "a sizable number of arms, ammunition, APCs, vehicles and other equipment has also been seized in the operation."
Afghan forces are "currently retreating towards Gereshk" in the neighboring district of Nahri Sarraj district, the Taliban claimed. "Mujahideen are now pursuing the convoy."
The Taliban now control most of northern Helmand province, and will likely push its offensive towards Lashkar Gah in central Helmand, as Afghan security forces are stretched thin with an ongoing Taliban offensive in the Afghan north. This spring and summer, the Taliban have taken control of at least four of the seven districts in Kunduz province and have also seized districts in Sar-i-Pul and Badakhshan provinces. www.longwarjournal.org/archives/2015/08/taliban-takes-another-district-in-southern-afghanistan.php?utm_source=feedburner&utm_medium=email&utm_campaign=Feed%3A+LongWarJournalSiteWide+%28The+Long+War+Journal+%28Site-Wide%29%29
The International Economic War of the Rich on the Poor
China ends fun experiment with capitalism
CHINA is to return to full-scale communism after realising capitalism is not really its 'bag'.
As the value of the country's economy was reduced to £124, the Chinese government ordered its 1.4 billion citizens to return their Volvos and iPhones.
President Xi Jinping said: "Well, that didn't work.
"It was worth a try, but it seems that Chairman Mao was right. Completely insane, but, in his own way, also very wise.http://www.thedailymash.co.uk/news/international/china-ends-fun-experiment-with-capitalism-20150825101446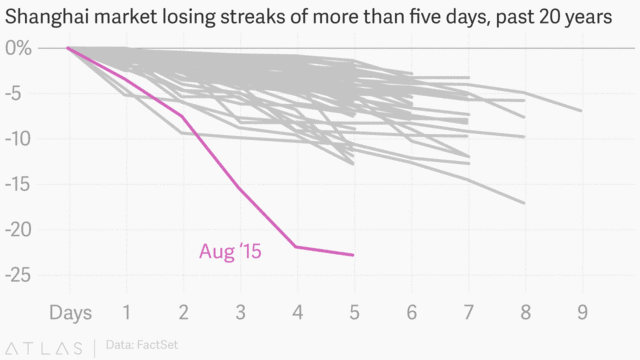 A tale of two recoveries: Urban League report shows stark differences in post-Katrina recovery for black and white New Orleanians   www.theneworleansadvocate.com/news/13271684-123/urban-league-report-takes-unstinting

New Orleans –Poverty still high
In the city, meanwhile, there are almost 100,000 fewer black residents, who now make up 59% of the population, down from 67%, according to the local Data Center analysis group. And there are now proportionally more poor black households—44% compared with 42% in 1999—with incomes below $21,000.
"The poverty level is just as high as pre-Katrina," said Allison Plyer, the demographer who runs the nonprofit Data Center.
The city now has a greater proportion of white residents—about 31% compared with 27% before the storm—and the percentage of white families with top-tier annual incomes—more than $105,000—has risen to 30% from 25% a decade ago, according to the Data Center.
After the levees broke in the wake of Hurricane Katrina, 7,000 New Orleans teachers lost their jobs, paving the way for a massive change in the city's teaching force.
Now, a descriptive study by Nathan Barrett and Douglas N. Harris of the Education Research Alliance for New Orleans, paints a picture of just how different the city's teachers look today from a decade ago. Here are some of key trends:
The city's teaching force is now 49 percent black, compared to 71 percent black in 2005.
About 60 percent of teachers in 2005 were trained in New Orleans colleges; in 2014, fewer than 40 percent were.
Teacher experience levels dropped notably since 2003; the percentage of teachers with five or fewer years of experience increased from 33 percent to 54 percent over that time period.
The percentage of certified teachers fell from 79 percent to 56 percent.
Teachers were now twice as likely to exit teaching altogether, at 18 percent, in 2013 compared to 2004 (9 percent), and it is also more common for teachers to change schools within a CMO or the parish-run schools than before the storm. Interestingly, though, it's still not that common (4 percent) for teachers to move to work in another parish.
Some of these findings are expected given policy changes in the city's education system. For example, 93 percent of the city's students are taught in charters, and those schools don't have to hire teachers with traditional credentials. But others, the researchers note, are harder to pin down. For instance, was the drop in minority teachers due to a diminished supply of teachers, a change in hiring priorities by schools, or difficulties faced by black teachers in returning to the city after Katrina?
Finally, the report notes that many of these trends—high turnover, little experience—are the opposite to the conventional wisdom on teacher quality, and yet test scores have improved noticeably in the Crescent City. Again, it's unclear whether that's a result of schools' newfound flexibilities with hiring and firing, the effects of the alternative programs many new hires came through, or some other factor.
And there are still a lot of open-ended questions, the authors underscore: For example, standardized test scores may be up, but how will students taught under this new system do on measures like creativity and civic engagement?
We do know that, whatever the impact on students of this turnover, Katrina wrought severe collateral damage on the teachers who were fired without so much as an apology, as my colleague Corey Mitchell reported. Corey's story is part of Education Week's package looking at New Orleans education 10 years after the storm.  blogs.edweek.org/edweek/teacherbeat/2015/08/new_orleans_teaching_force_whi.html?cmp=ENL-TU-NEWS1
Henwood: Vote NO to a Clinton Dynasty (and all lesser evils too) How's that hopey, changey stuff working out for you?" Sarah Palin asked American voters in a taunting 2010 speech. The answer: Not so well. We avoided a full-blown depression, but the job market remains deeply sick, and it's become quite mainstream to talk about the U.S. economy having fallen into structural stagnation (though the rich are thriving). Barack Obama has, if anything, seemed more secretive than George W. Bush. He kills alleged terrorists whom his predecessor would merely have tortured. The climate crisis gets worse, and the political capacity even to talk about it, much less do anything about it, is completely absent. These aren't the complaints Palin would make, of course. But people who voted for Obama in 2008 were imagining a more peaceful, more egalitarian world, and they haven't gotten it.
Be of good cheer, though. Many savants — and not all of them Democrats — have a solution for 2016. That would be putting Hillary Clinton in the White House. What is the case for Hillary (whose quasi-official website identifies her, in bold blue letters, by her first name only, as do millions upon millions of voters)? It boils down to this: She has experience, she's a woman, and it's her turn. It's hard to find any substantive political argument in her favor. She has, in the past, been associated with women's issues, with children's issues — but she also encouraged her husband to sign the 1996 bill that put an end to the Aid to Families with Dependent Children program (AFDC), which had been in effect since 1935. Indeed, longtime Clinton adviser Dick Morris, who has now morphed into a right-wing pundit, credits Hillary for backing both of Bill's most important moves to the center: the balanced budget and welfare reform.1 And during her subsequent career as New York's junior senator and as secretary of state, she has scarcely budged from the centrist sweet spot, and has become increasingly hawkish on foreign policy.
What Hillary will deliver, then, is more of the same. And that shouldn't surprise us. As wacky as it sometimes appears on the surface, American politics has an amazing stability and continuity about it. Obama, widely viewed as a populist action hero during the 2008 campaign, made no bones about his admiration for Ronald Reagan. harpers.org/archive/2014/10/stop-hillary-2/
Looting made EasyCorporations are taking the retirement savings of elderly public employees and using them to inflate their stock prices so wealthy CEOs and their shareholders can enrich themselves at the expense of their companies. And it's all completely legal. Under current financial regulations, corporate bosses are free to repurchase their own company's shares, push stock prices into the stratosphere, skim off a generous bonuses for themselves in the form of executive compensation, and leave their companies drowning in red ink.
Even worse, a sizable portion of the money devoted to stock buybacks is coming from  "massively underfunded public pension" funds that retired workers depend on for their survival. According to Brian Reynolds, Chief Market Strategist at New Albion Partners,  "Pension funds have to make 7.5%," so they are putting their money "in these levered credit funds that mimic Long-Term Capital Management in the 1990s." Those funds, in turn, "buy enormous amounts of corporate bonds from companies which put cash onto company balance sheets…and they use it to jack their stock price up, either through buybacks or mergers and acquisitions…It's just a daisy chain of financial engineering and it's probably going to intensify in coming years."   ("How a Public Pension Crisis Is Driving an Epic Credit Boom", Financial Sense)
So, once again, ordinary working people are caught in the crosshairs of a corporate scam that could blow up in their faces and leave them without sufficient resources to muddle through their retirement years.
The amount money that's being funneled into buybacks is simply staggering. According to Dave Dayen at the Intercept:
"Last year, companies spent $553 billion to repurchase outstanding shares, just short of the record $589.1 billion in 2007. Large companies like Apple, General Motors, McDonald's, Pfizer, Microsoft and more have engaged in buybacks in recent years.  www.counterpunch.org/2015/08/28/looting-made-easy-the-2-trillion-buyback-binge/
Los Angeles County: 13,000 Become Homeless Every Month
a new study released August 25th, chronic homelessness in Los Angeles County, especially among children and youth, overwhelms the dwindling supply of affordable housing there. The report by the Economic Roundtable, a Los Angeles research organization, says, chronic homelessness is such a daunting problem in Los Angeles County that about 13,000 people on public assistance slip into homelessness every month, one half of whom are children. – See more at:
portside.org/2015-08-29/los-angeles-county-13000-become-homeless-every-month#sthash.nwrIryeP.dpuf
The Emergence of Fascism as a Popular Mass Movement
Why it  was necessary to assassinate OBL (hint, impossible to combat religion, CIA/Family ties) A comprehensive new book about U.S. special operations reveals that the mission to get top terrorist Osama bin Laden was "a kill mission, not a capture mission," and that SEAL Team 6 members handpicked for the assault were ordered by President Obama to fight it out, not surrender, if caught.
"Bin Laden was the first time [were were told], 'This is a kill mission, not a capture mission, unless he was naked with his hands up,'" a Team 6 source is quoted in Relentless Strike, due out September 1.
"They [the CIA] were adamant: Kill him.
Ban Lifted on NSA bulk data collection A federal appeals court in Washington has lifted an injunction against the National Security Agency's call records program on the grounds that the plaintiff has not proved his own phone records were collected and so lacks standing to sue. The move lifts a ban on the NSA's collection that had been imposed — and temporarily stayed — by a U.S. District Court judge in December 2013.
The program, after it was acknowledged by the government in the summer of 2013, spurred heated national, congressional and legal debate over whether it was proper and lawful for the NSA to collect millions of Americans' phone records in an effort to detect terrorist plots.
Congress in June put an end to the program, passing a law that barred the government from collecting phone and other records in bulk. But the NSA is continuing to do so as it transitions the program to phone companies by December.
In Friday's ruling, a three-judge panel of the U.S. Court of Appeals for the District of Columbia sent the case back to the lower court for further deliberation on the standing issue.http://www.santafenewmexican.com/news/ban-lifted-on-nsa-bulk-collection-program/article_b827f22a-ff87-5ef0-817b-5aae8be5ea5f.html
Mich State Bar Awards Right Singer Writing Prize The bar association has offered Michigan lawyers a chance to flex their literary skills with a biennial short story contest for the past eight years.
The contest is open to all bar association lawyers in Michigan. More than 30 short stories were submitted this year.
The contest is judged by a panel of attorneys.  The winners were announced in this month's copy of the State Bar of Michigan magazine.
This year, a story titled "post-conviction relief" received an honorable mention in the contest. But the award has been withdrawn. A press release from the SBM says the story contains "racist cues and symbolism."
"We cannot apologize enough," said State Bar President Thomas C. Rombach in a written statement.
The story was written by Kyle Bristow, an attorney with links to white supremacist groups, according to the Southern Poverty Law Center.
Bristow first gained notoriety when he served as the president of the Young Americans for Freedom chapter at Michigan State University. Under his leadership, the group was criticized for anti-immigrant and anti-homosexual themed events. He has since published two works: White Apocalypse and The Conscience of a Right-Winger.
In a statement sent to the Lansing State Journal, Bristow defends his short story insisting it's "simply about a criminal defense attorney who becomes fed up with the legal system."
The State Bar of Michigan has not only withdrawn the award, it has canceled the short story contest.  michiganradio.org/post/state-bar-withdraws-writing-award-short-story-racist-symbolism#stream/0
Taibbi on the Electoral Clown Show the race for the Republican Party presidential nomination sure seems funny. The event known around the world as hashtagGOPClownCar is improbable, colossal, spectacular and shocking; epic, monumental, heinous and disgusting. It's like watching 17 platypuses try to mount the queen of England. You can't tear your eyes away from it.
It will go down someday as the greatest reality show ever conceived. The concept is ingenious. Take a combustible mix of the most depraved and filterless half-wits, scam artists and asylum Napoleons America has to offer, give them all piles of money and tell them to run for president. Add Donald Trump. And to give the whole thing a perverse gravitas, make the presidency really at stake.
It's Western civilization's very own car wreck. Even if you don't want to watch it, you will. It's that awesome of a spectacle.: www.rollingstone.com/politics/news/inside-the-gop-clown-car-20150812#ixzz3kH3M1vmb
Supreme Ct Can ban protests The Supreme Court, the setting for landmark rulings in favor of free speech, can keep protesters off its marble plaza without violating their constitutional rights, a federal appeals court ruled Friday.The inviting 20,000-square-foot, open-air plaza can remain a protest-free zone because the court has an interest in preserving decorum and the idea that judges are not influenced by public opinion and pressure, said a unanimous three-judge panel of the U.S. Court of Appeals for the District of Columbia Circuit news.yahoo.com/appeals-court-says-supreme-court-ban-protests-plaza-145958480–politics.html
Solidarity for Never
PA teachers decide to work for no pay Chester Upland teachers and support staff voted Thursday to keep working despite learning that the district might not have money to pay them next month.
Two days after a Delaware County judge rejected a new financial recovery plan submitted by Chester Upland and state officials, its 223 teachers and support staff were told the district could not make its Sept. 9 payroll.
Michele Paulick, president of the Chester Upland Education Association, which represents the teachers, called the announcement from Superintendent Gregory Shannon and receiver Francis Barnes "horrible news." But she said staffers decided to keep coming back, to keep schools open for about 3,800 students.
"We have no idea when that first paycheck is coming, but we're going to stay here as long as we're financially able," she said.
Paulick said teachers could lose their jobs if they failed to show up, because it means "you would terminate your contract with the district." She also said she had not heard of anyone choosing to leave.
It's not the first time the staffers in the perennially struggling school district have been told they might not get paid, and it wasn't entirely unexpected. Read more at www.philly.com/philly/education/20150828_No_paychecks__Chester_teachers_keep_working.html#5X56Ms1ZesFKgTvc.99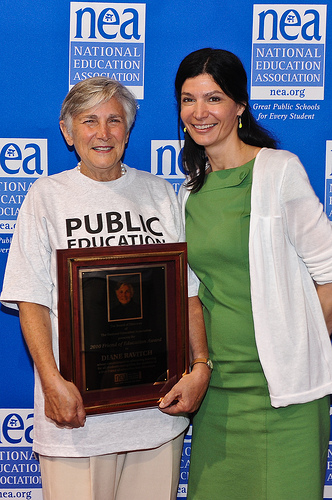 NEA boss awarding vacillating reactionary hack Ravitch NEA's top award
NEA Boss: Working for nothing is fine plan NEA issued the following statement from President Eskelsen García:
"The decision by our colleagues in Chester, Pa. to work without pay shows they're willing to go beyond talking about support for students; they're actually willing to walk the walk. It's time now for Keystone State lawmakers to put words into action and support students by making sure their schools have the funding, tools and resources necessary to prepare them to succeed in life.
"Chester Upland students need the adults in their lives to find viable solutions to the financial issues that threaten their ability to receive a good education. It's impossible to ignore the fact that this same school district was in similar distress less than five years ago. The school district faces tough, but not insurmountable problems. Lawmakers, parents, community leaders, educators—we're all responsible—we must do whatever is necessary to fix the things that stand in the way of students' opportunities to learn and grow.
"Right on schedule next week, buses will pick up students in the Chester Upland school district, school doors will open, and classrooms will welcome students full of excitement, largely because educators are willing to go the extra mile, give a little more, even with a personal sacrifice to themselves and their families. Chester Upland educators are walking the walk and the more than three million NEA members across the nation stand shoulder to shoulder with them. They're teaching their students a very valuable lesson: they are a priority. It's time their elected leaders did the same.  www.nea.org/home/63607.htm
NEA loves edTPA  Prepare Tomorrow's Teachers with edTPA
Designed for the profession by the profession, edTPA was developed by teachers and teacher educators from across the nation in collaboration with faculty and staff from Stanford University.  http://www.nea.org/teacherquality
Spy versus Spy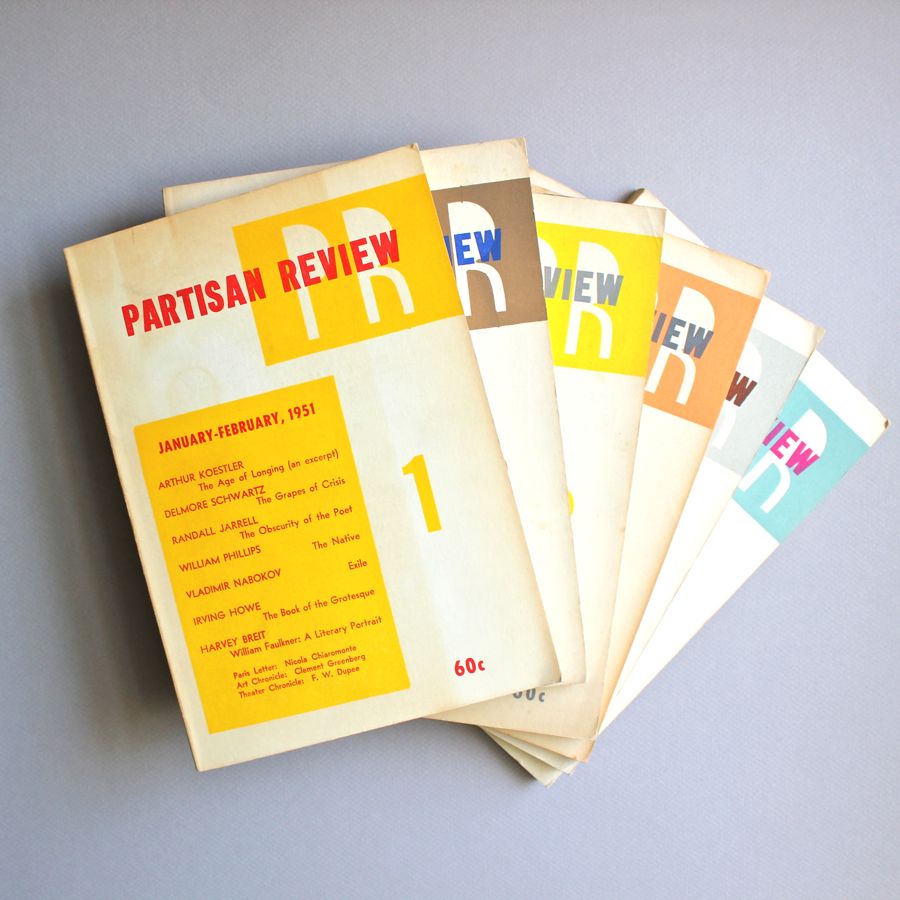 Literary Magazines for Socialists Funded by the CIA, Ranked
www.theawl.com/2015/08/literary-magazines-for-socialists-funded-by-the-cia-ranked
The Time the CIA Trolled Twitter Carolyn Reams, a web strategist for the CIA who operates its Twitter account, was interviewed on a DigitalGov podcast on Aug. 25 about her work coordinating the agency's social media presence. The agency has been using social media to present a friendlier face as public trust in government institutions has plummeted in recent years.
She admitted that the Russian tweet was designed specifically so people would think the account was hacked. Ultimately, the CIA hoped that the resulting furor would draw more attention to its tweet-story of how the agency snuck copies of Boris Pasternak's Dr. Zhivago into the Soviet Union during the Cold War.
"We wanted to put [the tweet] out there, and we did, and then we didn't put anything out for about a half hour," she said. While the CIA sat quietly—its most recent tweet written in the language of an old American enemy—the internet thought the US government was being hacked again. Kind of brilliant.
Originally, Reams was going to run 12 separate tweets in Russian, but was talked down into only sending one. She even ran it by CIA director John Brennan, who wondered aloud if people would think the agency was hacked. "Yeah, that's the idea," Reams recalled telling Brennan.
If non-Russian-speaking Americans translated the tweet, they would have realized it was a quote from Pasternak (though that, by itself, wouldn't necessarily prove the account wasn't hacked). But many didn't. "For those people, to include some in the press, who didn't take a really good close look at it, they thought, 'oh my gosh, we're being hacked,'" Reams said. "It worked out quite well, I would say."
About a half hour after she sent the Russian tweet, Reams began tweeting documents and photos from the CIA Dr. Zhivago story (in English) to, arguably, a much bigger audience than a half hour before (after all, the tweet was re-tweeted more than 1,500 times and covered widely by the media). Mission accomplished. The collateral damage was some annoyed Twitter followers, but she figured they'd get over it.
It's rather unusual for a shadowy government agency to have a sense of humor, let alone actively try to troll a large number of its followers. But government agencies—the CIA especially, given its secrecy—need to be creative on social media, given all the rules and regulations restricting their voice. NASA is doing a fantastic job, and now the CIA, in its own strange way, is finding ways to get more people interested in declassified missions.  qz.com/488559/that-time-the-cia-trolled-everyone-with-a-twistedly-genius-twitter-strategy/
The Magical Mystery Tour
Priest looted the poor box A guilty plea appears likely in the case of a Detroit-area Catholic priest accused of conspiring to steal nearly $700,000 from his church.
A court filing shows a change-of-plea hearing has been scheduled for Sept. 1 in Detroit federal court.
The Rev. Edward Belczak is charged with conspiring with a parish administrator to take money from St. Thomas More church in Troy. The indictment says he helped himself to $110,000 from a church account to pay for a Wellington, Florida, condominium.
The government says cash was also missing from special collections on Mother's Day and Father's Day. The now-former parish administrator, Janice Verschuren, is also charged in the case.
Belczak was removed from St. Thomas More in 2013 after an audit raised questions about parish finances. www.detroitnews.com/story/news/local/oakland-county/2015/08/25/guilty-plea-hearing-scheduled-detroit-area-priest/32360709/
The Best and Worst Things in the History of the World
Atta boy, Brownie!
So Long
What can possibly explain this person?
Ieng Thirith, the sister-in-law and close collaborator of the genocidal Cambodian leader Pol Pot, died on Saturday in Pailin, Cambodia. She was 83.
Her death was confirmed by the Extraordinary Chambers in the Courts of Cambodia, a United Nations-backed tribunal charged with trying leaders of the Khmer Rouge government.
The Khmer Rouge's rule, from 1975 to 1979, is estimated to have left 1.7 million people dead.
As minister of social affairs, Ms. Ieng Thirith was the most powerful woman in the Khmer Rouge. She was married to Ieng Sary, who was foreign minister and deputy prime minister. He died in 2013.
Both she and her husband were part of a group of young revolutionaries who studied in Paris in the 1950s and later formed the core of the Khmer Rouge movement. She graduated from the Sorbonne, majoring in Shakespearean studies. www.nytimes.com/2015/08/23/world/asia/ieng-thirith-khmer-rouge-minister-in-cambodia-dies-at-83.html?ref=obituaries&_r=0
*In the end the dyke will crumble is from www.counterpunch.org/2015/08/24/anarchism-marxism-and-victor-serge/