We Say Fight Back!
At the heart of "Syria Burning," his passionate, spot-on overview of the civil war in Syria, Charles Glass takes a pause to remember the Syrian city of Aleppo, founded 8,000 years ago on a hilltop, 225 miles north of Damascus.
An entrepôt on the fabled Silk Road and Islam's third most important city during the Renaissance, it was also a beacon of tolerance. "No city in Syria is more mixed or diverse," Glass writes. "Until now, it has stood for just about everything al-Qaeda of Iraq and ISIS oppose."
"Until now" arrived one year after the Syrian uprising began five years ago; since then, Aleppo has been caught in the cross-fire, reduced to rubble while being torn apart by sectarian hatred that reminds me of what happened to Sarajevo.
Like so much writing about the Middle East, Glass's book is nostalgic; he's not shy about stating outright that Syrians were better off under the Ottomans — or even under the pre-2011 Assad regime. He has no illusions about who Assad is. But he also seconds the view expressed by a Syrian friend: "I don't like the (Assad) dictatorship. But these people are showing themselves worse."
"These people" are the Islamic fundamentalists who hijacked an initially peaceful revolution, transforming another hopeful iteration of the Arab Spring into this never-ending Syrian winter. Glass runs the numbers: more than 300,000 dead and 11 million refugees or displaced persons — more than half of Syria's prewar population of 22 million.
Glass traces how foreign powers pursuing their own agendas spawned an armed struggle that replaced peaceful protests and rendered them irrelevant; as a result, "those who eventually captured the revolution dropped its original objectives in favor of supplanting a secular dictatorship with a dictatorial theocracy."
Glass assigns Washington a large share of the blame: "The weapons supplied to the fanatics were manufactured in the US, and American intelligence in Turkey knew which rebels Turkey, Qatar and Saudi Arabia were assisting." Those rebels would aid and abet the rise of the Islamic State.
Glass is also clear about why the United States itself supported fundamentalist jihadists and insisted that Assad had to go, even as it continued to support even more repressive regimes like Saudi Arabia: Its nearly pathological hatred for Assad allies Iran and Hezbollah. Five years later, Assad and Iran have become de facto American allies in the war against the Islamic State.  By Mike Fischer, Special to the Journal Sentinel
 Aleppo: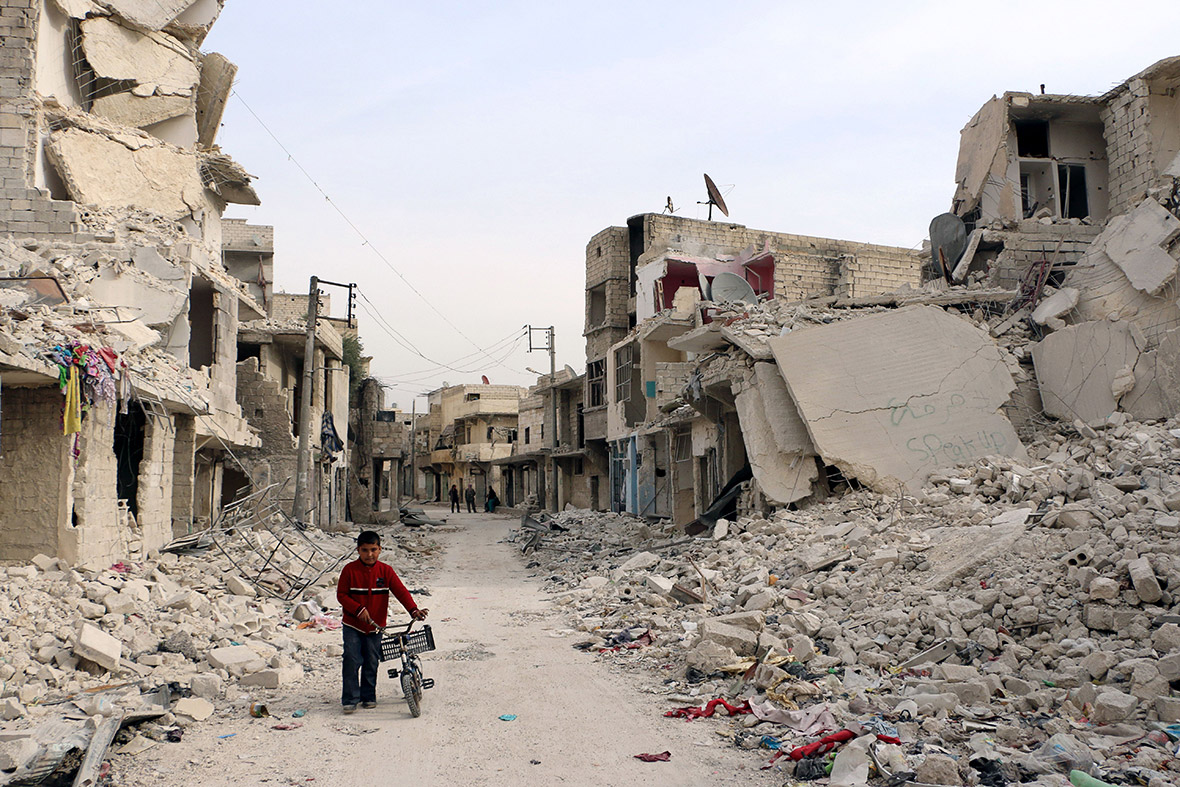 It's been four years since a group of US Navy Seals assassinated Osama bin Laden in a night raid on a high-walled compound in Abbottabad, Pakistan. The killing was the high point of Obama's first term, and a major factor in his re-election. The White House still maintains that the mission was an all-American affair, and that the senior generals of Pakistan's army and Inter-Services Intelligence agency (ISI) were not told of the raid in advance. This is false, as are many other elements of the Obama administration's account. The White House's story might have been written by Lewis Carroll: would bin Laden, target of a massive international manhunt, really decide that a resort town forty miles from Islamabad would be the safest place to live and command al-Qaida's operations? He was hiding in the open. So America said.
The most blatant lie was that Pakistan's two most senior military leaders – General Ashfaq Parvez Kayani, chief of the army staff, and General Ahmed Shuja Pasha, director general of the ISI – were never informed of the US mission. This remains the White House position despite an array of reports that have raised questions, including one by Carlotta Gall in the New York Times Magazine of 19 March 2014. Gall, who spent 12 years as the Times correspondent in Afghanistan, wrote that she'd been told by a 'Pakistani official' that Pasha had known before the raid that bin Laden was in Abbottabad. www.lrb.co.uk/v37/n10/seymour-m-hersh/the-killing-of-osama-bin-laden
An anti-government protest in the Macedonian capital of Skopje has resulted in violence, with police being reportedly involved in clashes with demonstrators who have reportedly stormed the president's office.
The protest began Wednesday daytime and reportedly accumulated some three thousand people.
UC Davis Katehi Protesters End Their Sit-In
The students
who staged a sit-in outside UC Davis Chancellor Linda Katehi's office have ended their protest.
After five weeks camping out, the student
protesters say they achieved their goal of bringing local and national attention to what they say is Katehi's unethical behavior.
The students vacated the building around noon and walked in silence, with tape covering their mouths, around campus.
The protesters aren't the only ones putting the pressure on Katehi to step down. On Thursday, two more lawmakers called for her resignation, coming just one day after it was revealed the university spent tens of thousands of dollars on a public relations
campaign to bury bad press.
Assemblyman Mike Gatto and Freddi Rodriguez both took to Twitter on Thursday to express their frustration and called for Katehi's resignation.  sacramento.cbslocal.com/2016/04/15/uc-davis-katehi-protesters-say-they-will-end-their-sit-in/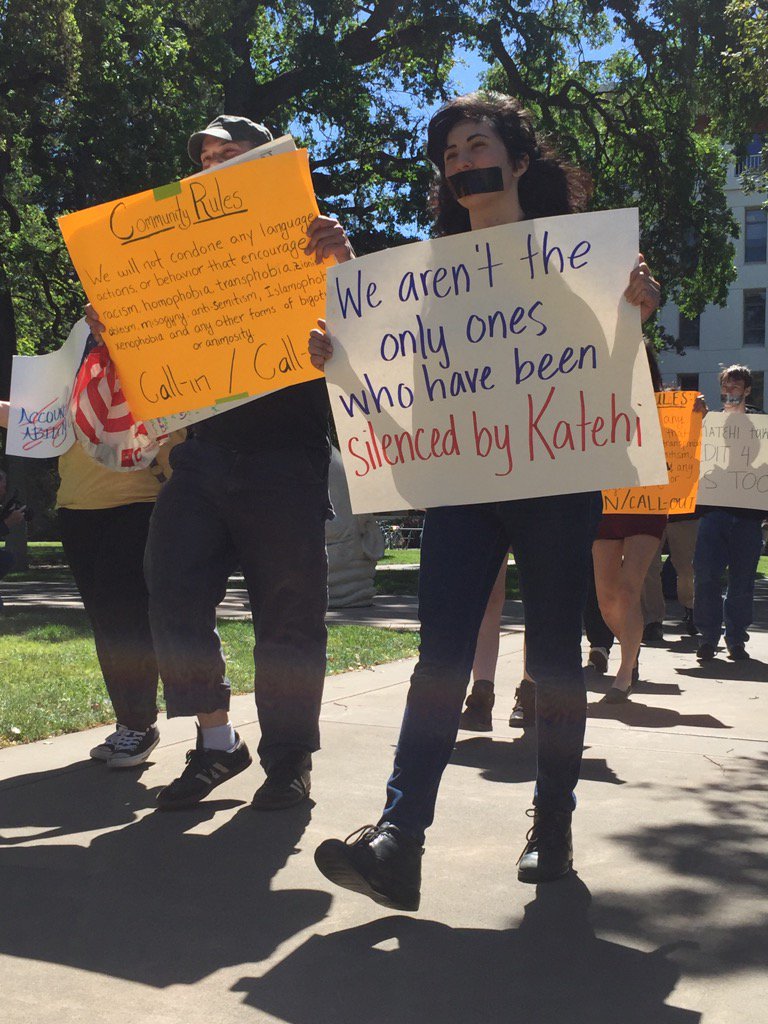 Paris Raising Hell  A revolt over proposed labor-law reforms in France has set off an uprising among French youth, fed up, they say, over their government's failure to tackle a host of problems and thus robbing them of their future. Calling itself Nuit Debout — roughly translatable as "Standing Up at Night" — the movement recalls Spain's 2011 anti-austerity Indignados movement and the Occupy movement in the United States. But there are also echoes of France's own history of popular revolt, including the student-led protests of May 1968.
It all began on March 31 after upward of 390,000 students and labor union members marched in several cities to protest a plan by President François Hollande's government to change protective labor laws to make it easier and less costly for employers to lay off workers. The idea, the government argues, is to open up jobs for younger people and reduce a seemingly intractable unemployment rate of 10 percent (nearly 26 percent among the young). Mr. Hollande has said he will not seek re-election if he cannot deliver on that promise.  .http://www.nytimes.com/2016/04/14/opinion/in-paris-a-protest-movement-awakens.html?action=click&pgtype=Homepage&clickSource=story-heading&module=opinion-c-col-right-region%C2%AEion=opinion-c-col-right-region&WT.nav=opinion-c-col-right-region&_r=1
features.westword.com/ludlow-massacre-anniversary/
Anti-austerity protest brings 150,000 to the streets of London to demand David Cameron's resignation

www.independent.co.uk/news/uk/politics/anti-austerity-protest-50000-london-david-cameron-resignation-trafalgar-square-a6987276.html
Surveillance Capitalism
Monopoly-Finance Capital, the Military-Industrial Complex, and the Digital Age
The United States came out of the Second World War as the hegemonic power in the world economy. The war had lifted the U.S. economy out of the Great Depression by providing the needed effective demand in the form of endless orders for armaments and troops. Real output rose by 65 percent between 1940 and 1944, and industrial production jumped by 90 percent.1 At the immediate end of the war, due to the destruction of the European and Japanese economies, the United States accounted for over 60 percent of world manufacturing output.2 The very palpable fear at the top of society as the war came to a close was that of a reversion to the pre-war situation in which domestic demand would be insufficient to absorb the enormous and growing potential economic surplus generated by the production system, thereby leading to a renewed condition of economic stagnation and depression.
Assistant Secretary of State Dean Acheson declared in November 1944 before the Special Congressional Committee on Postwar Economic Policy and Planning, that if the economy slipped back to where it was before the war "it seems clear that we are in for a very bad time, so far as the economic and social position of the country is concerned. We cannot go through another ten years like the ten years at the end of the twenties and the beginning of the thirties [i.e., the Stock Market Crash and the Great Depression], without the most far-reaching consequences upon our economic and social system." Acheson made it clear that the difficulty was not that the economy suffered from a lack of productivity, but rather that it was too productive.
"When we look at the problem we may say it is a problem of markets. You don't have a problem of production. The United States has unlimited creative energy. The important thing is markets."3
Postwar planners in industry and government moved quickly to stabilize the system through the massive promotion of a sales effort in the form of a corporate marketing revolution based in Madison Avenue, and through the creation of a permanent warfare state, dedicated to the imperial control of world markets and to fighting the Cold War, with its headquarters in the Pentagon  monthlyreview.org/2014/07/01/surveillance-capitalism/
The Little Red Schoolhouse
UC Davis contracted with consultants for at least $175,000 to scrub the Internet of negative online postings following the November 2011 pepper-spraying of students and to improve the reputations of both the university and Chancellor Linda P.B. Katehi, newly released documents show.
The payments were made as the university was trying to boost its image online and were among several contracts issued following the pepper-spray incident.
Some payments were made in hopes of improving the results computer users obtained when searching for information about the university or Katehi, results that one consultant labeled "venomous rhetoric about UC Davis and the chancellor."more here: www.sacbee.com/news/local/article71659992.html#storylink=cpy
$ Decisive in Capitalist Schools:

UC Berkeley to eliminate 500 staff jobs
Financially troubled UC Berkeley will eliminate 500 staff jobs over two years to help balance its budget by 2019-20, The Chronicle has learned.
Chancellor Nicholas Dirks sent a memo to employees Monday informing them of the job reductions and said they will amount to "a modest reduction of 6 percent of our staff workforce."
Berkeley employs about 8,500 staffers, from custodians to administrators. Faculty members will not be affected. Dirks said the reductions will be done in part through attrition and did not mention layoffs.  www.sfgate.com/education/article/UC-Berkeley-to-eliminate-500-staff-jobs-7244049.php
Coaching college football or basketball at a major University of California campus isn't brain surgery; it's much more lucrative.
The 15 highest-paid University of California athletic coaches collectively made about $18 million last year, according to salary data released by the UC system in July. About $11 million of that went to five football or basketball coaches, none of whom coached their teams to a top five NCAA ranking in 2014.
By contrast, the five highest-paid neurosurgeons at the University of California at San Francisco earned $4 million last year. U.S. News and World Report recently ranked UCSF's neurosurgery department as the best in California and the fourth-best in the nation, noting that other neurosurgeons frequently named it "among the best for very challenging patients." more here: www.sacbee.com/site-services/databases/article2603939.html#storylink=cpy
Phiily's Capitalist Schools' Teacher Vacancies  With little more than two months remaining in the academic year, more than 100 teacher vacancies remain across the Philadelphia School District, resulting in thousands of students' being taught by uncertified teachers, it was disclosed during a City Council hearing Monday.
Following the joint hearing of the Education Committee and the Children and Youth Committee, a district spokesman said there are 139 vacancies, which represents 1.6 percent of the district's 8,443 teacher positions.
"Our goal is to seek zero vacancies. We know we have a lot of work to do," said spokesman Fernando Gallard.
In the meantime, the district will offer a variety of summer classes to help those students who did not have a regular teacher for more than one-third of the school year.
The International Hot War of the Rich on the Poor
Afghan Taliban announce spring offensive
The Taliban announced the start of their warm-weather fighting season Tuesday, vowing "large-scale attacks" in the 15th year of their war against the U.S.-backed Afghan government.
In an email to media, the militants said the spring offensive had begun at 5 a.m. They dubbed the campaign "Operation Omari" in honor of Taliban founder Mullah Mohammad Omar, who died three years ago.
The Taliban said that in areas under their control, "mechanisms for good governance will be established so that our people can live a life of security and normalcy." The insurgents control several rural districts and last year seized the northern city of Kunduz and held it for three days.
The Taliban said they would try to avoid killing civilians or destroying civilian infrastructure, and would carry out a "dialogue with our countrymen in the enemy ranks" to try to convince them to join the insurgency.  www.militarytimes.com/story/military/2016/04/12/taliban-spring-offensive-afghanistan/82929352/
The Stennis Carrier Strike Group is back on patrol in the South China Sea amid simmering tensions over China's move toward building a man-made island within striking distance of the Philippines.
The carrier John C. Stennis has been in the region for two weeks, conducing flight operations, training and working with partners, according to U.S. Pacific Fleet.
Defense Secretary Ash Carter is expected soon to visit the Stennis on its patrol, which comes as the Obama administration grapples with how to respond to China's territorial grab in the strategically vital South China Sea. Details of these discussions emerged last week, when Navy Times reported that the military's top commander in the Pacific is pushing for more aggressive moves to signal that it doesn't consider the artificial islands as entitling China to territorial seas around them.  www.navytimes.com/story/military/2016/04/14/stennis-south-china-sea-tensions-scarborough-shoal/82989002/
The rise of ISIS in Egypt is forcing the Pentagon to rethink troop numbers there
The rise of an Islamic State faction in Egypt's Sinai Peninsula is prompting the Pentagon to consider changing or scaling back the mission for about 700 U.S. troops who are deployed on a longstanding peacekeeping effort there, a defense official said Tuesday.
Defense Secretary Ash Carter has made "formal communications" with Egypt and Israel notifying them about the U.S. review of its mission as part of the Multinational Force of Observers, a little-known peacekeeping force that helps maintain a 1979 treaty between the two countries that share a border there, the official said.
The U.S. wants to "automate" the mission, monitoring activity along the Israeli-Egypt border by using drones or satellite technology rather than American personnel on the ground.  www.militarytimes.com/story/military/2016/04/12/rise-isis-egypt-prompts-review-us-military-mission-sinai/82936518/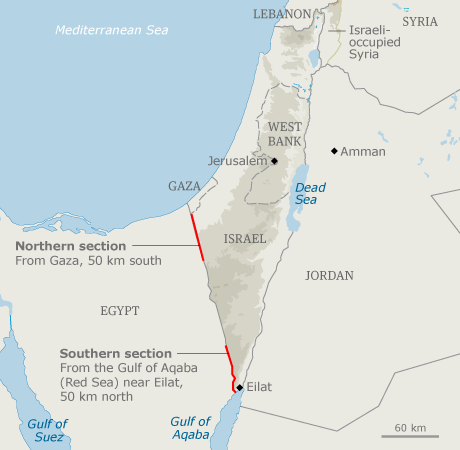 Lies About Combat in Iraq
To the Editor:
Re "New Focus on U.S. Role in Iraq" (front page, April 12):
As a psychotherapist working closely with our military and veterans, I am deeply troubled by your article about a Marine's death on a secret Iraqi base. I am concerned not only for the family of this fallen Marine, but also for all of us being misled by leadership disguising the realities of war.
It is tragic enough that another American son has fallen, but when families and the nation are told that he and others are not counted as being deployed in the combat zone because they are on temporary assignment or there less than four months; when the public is told that our Marines are on "fire complexes" rather than fire bases so that they sound safer; when we were told combat operations were over while we are still sending troops to fight and be killed in that same region, we are fed a series of lies.
We all need to know the truth about our troops' hardships and danger, support their families and debate policy in an open and honest manner. Anything less harms our entire democracy. The ancient Greeks taught that inaccurate language poisons the soul. To the extent that our language about war hides its terrible truths, we are all being poisoned.
EDWARD TICK
Troy, N.Y.  www.nytimes.com/2016/04/14/opinion/lies-about-combat-in-iraq.html?smprod=nytcore-ipad&smid=nytcore-ipad-share
Hillary Clinton may have foreign policy experience, but it is experience comprised of disaster after disaster.
In an interview with the New York Daily News, journalist Juan González asked the presidential candidate about her role in the coup in Honduras. In 2009, the Honduran military overthrew the democratically elected government of President Manuel Zelaya. The populist left-wing leader was woken up in the middle of the night, kidnapped and whisked away from his own country.
The international community immediately condemned the coup. The U.S. response was quite different. The Obama administration, and particularly the State Department under the leadership of Hillary Clinton, defended the coup.
Clinton, a committed hawk and firm believer in U.S. empire, played a uniquely hands-on role in the coup, just as she did in the equally disastrous war in Libya.
Emails released from Clinton's time as the secretary of state show that some of her top aides urged her to dub the putsch a military coup and to cut off U.S. aid. She refused to do so.
Instead, the U.S. defied the Organization of American States and pushed for the world to recognize the coup government. www.alternet.org/election-2016/hillary-being-misleading-about-her-role-honduras-coup
The International Economic War of the Rich on the Poor
China's Young Billionaire Inheritors of Maoism buy up Vancouver China's rapid economic rise has turned peasants into billionaires. Many wealthy Chinese are increasingly eager to stow their families, and their riches, in the West, where rule of law, clean air and good schools offer peace of mind, especially for those looking to escape scrutiny from the Communist Party and an anti-corruption campaign that has sent hundreds of the rich and powerful to jail.
With its relatively weak currency and welcoming immigration policies, Canada has become a top destination for China's 1 percenters. According to government figures, from 2005 to 2012, at least 37,000 Chinese millionaires took advantage of a now-defunct immigrant investor program to become permanent residents of British Columbia, the province that includes Vancouver.
The metropolitan area of 2.3 million is home to increasing numbers of ethnic-Chinese residents, who made up more than 18 percent of the population in 2011, up from less than 7 percent in 1981, according to government figures.
Continue reading the main story
Related Coverage
Many residents say the flood of Chinese capital has caused an affordable housing crisis. Vancouver is the most expensive city in Canada to buy a home, according to a 2016 survey by the consulting firm Demographia. The average price of a detached house in greater Vancouver more than doubled from 2005 to 2015, to about 1.6 million Canadian dollars ($1.2 million), according to the Real Estate Board of Greater Vancouver.  www.nytimes.com/2016/04/13/world/americas/canada-vancouver-chinese-immigrant-wealth.html?_r=1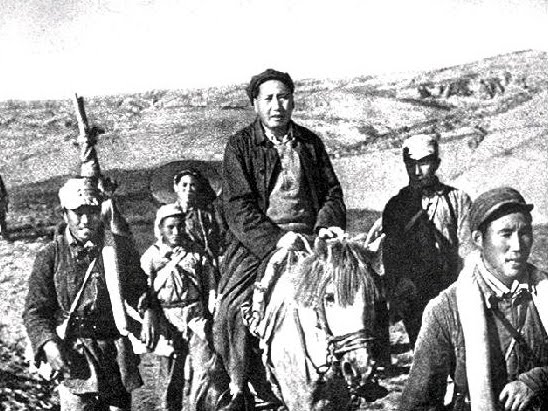 What happened after millions died to win Chinese socialism (capitalism with a purportedly benevolent party–class–on top)
JAMA Research Shocker: Rich People Live Longer 
For poor Americans, the place they call home can be a matter of life or death.
The poor in some cities — big ones like New York and Los Angeles, and also quite a few smaller ones like Birmingham, Ala. — live nearly as long as their middle-class neighbors or have seen rising life expectancy in the 21st century. But in some other parts of the country, adults with the lowest incomes die on average as young as people in much poorer nations like Rwanda, and their life spans are getting shorter.
In those differences, documented in sweeping new research, lies an optimistic message: The right mix of steps to improve habits and public health could help people live longer, regardless of how much money they make.
One conclusion from this work, published on Monday in The Journal of the American Medical Association, is that the gap in life spans between rich and poor widened from 2001 to 2014. The top 1 percent in income among American men live 15 years longer than the poorest 1 percent; for women, the gap is 10 years. These rich Americans have gained three years of longevity just in this century. They live longer almost without regard to where they live. Poor Americans had very little gain as a whole, with big differences among different places.  www.nytimes.com/interactive/2016/04/11/upshot/for-the-poor-geography-is-life-and-death.html?_r=0
The Emergence of Fascism as a Popular Mass Movement
Petras:
Trump "The Fascist": Backdoor Backing of a Political Psychopath Named Hilary Clinton
From left to right a raucous chorus has emerged to denounce Republican Presidential primary frontrunner Donald Trump as a 'fascist'. They cite his campaign promises to build an Israeli-style wall along the US border; his threats to expel eleven million undocumented immigrants; and to restrict foreign Muslims from entering the US, as well as the way his pugnacious face and arm resemble those of Benito Mussolini ('he juts out his chin, he raises his arm').
They decry his extreme nationalism as 'resembling Hitler's policy', by which they mean his opposition to detrimental free trade agreements and his slogan to "Make America Great.. Again."
In this article I will critically address the current cartoonish image of fascism with fascism's historical reality, and then proceed to analyze the so-called "lesser evil" politics behind the re-invention of an American fascist in the guise of billionaire Donald Trump.Fascism: Fact and Fiction
Historically, fascist politics involved organized mass movements, armed militia and paramilitary groups who assaulted political opponents and violently censored critical speech and suppressed the right to assemble. Fascists scapegoated minorities, especially gypsies and Jews, and burned trade unions and leftist headquarters, assassinating their leaders and beating their members. Programmatically, they attacked pacifists and defended overseas wars and empires in the name of 'living space'. Evoking a past imperial glory, they were not 'isolationists'.
Candidate Trump has not organized anything resembling a mass movement, let alone an armed militia. There are no 'Trumpeting Brown Shirts'.  petras.lahaine.org/?p=2079
Fascism: Fact and Fiction
Historically, fascist politics involved organized mass movements, armed militia and paramilitary groups who assaulted political opponents and violently censored critical speech and suppressed the right to assemble. Fascists scapegoated minorities
American prisons currently hold 443 convicted terrorists, far more than the 89 men who remain imprisoned in Cuba.
The New York Times was able to confirm locations for about a third of the terrorists, shown on the map above. The Department of Justice would not release the names or locations of the other prisoners who had been convicted of terrorism.
The most notorious terrorists are being held in the maximum security sections of just a few federal prisons. But many others, serving lesser sentences for crimes like financing attacks or bomb hoaxes, are at facilities across the country…
Mail and telephone calls are restricted. Prisoners in the units are not allowed to have any physical contact with visitors or family members. The majority of prisoners in the units, which were opened in 2006 and 2008, are Muslims…The number of convicted terrorists in American prisons has increased by more than 150 inmates since 2007. The number of domestic terrorists, some of whose crimes are related to white supremacy or eco-terrorism, has fallen in recent years, but the number of convicted terrorists who are not American citizens continues to rise.  www.nytimes.com/interactive/2016/04/07/us/terrorists-in-us-prisons.html?_r=0
 Chicago: PD is a Violent Racist Institution!!!  Racism has contributed to a long pattern of institutional failures by the Chicago Police Department in which officers have mistreated people, operated without sufficient oversight, and lost the trust of residents, a task force appointed by Mayor Rahm Emanuel has found.
The report, issued on Wednesday, was blistering, blunt and backed up by devastating statistics. Coincidentally, it was released as city leaders were installing a new, permanent superintendent for the Chicago Police Department.
"C.P.D.'s own data gives validity to the widely held belief the police have no regard for the sanctity of life when it comes to people of color," the task force wrote. "Stopped without justification, verbally and physically abused, and in some instances arrested, and then detained without counsel — that is what we heard about over and over again."
The report reinforces complaints made for decades by African-American residents who have said they were unfairly singled out by officers without justification on a regular basis, then ignored when they raised complaints.  www.nytimes.com/interactive/2016/04/13/us/Police-accountability-report.html
Solidarity for Never
Former Broward Teachers Union president sentenced to 5 years in prison
A former Broward Teachers Union president convicted on fraud charges was sentenced Friday to five years in prison.
"I regret the heartache and the hardships that this situation has caused to those I love (and) to those who have stood by me throughout the years," Pat Santeramo said.
Santeramo was convicted Jan. 10 on eight of the nine charges against him, including theft, money laundering, illegal campaign contributions and organized scheme to defraud. He was acquitted of one count of theft involving a gas card.
"He was the gatekeeper of a multimillion-dollar budget from the dues of the Broward teachers, and that money was going nowhere without him knowing exactly where it was going," prosecutor David Schulson told Local 10 News.
Prosecutors claimed that Santeramo inflated invoices on work done at the union and split the excess cash with a construction company owner, who was given immunity for testifying against the longtime BTU president.
After his prison term, Santeramo will be on probation for five years. As a special condition of his probation, the State Attorney's Office said he must pay restitution of $163,500 to two insurance companies.  www.local10.com/news/former-broward-teachers-union-president-sentenced-to-5-years-in-prison
False Flag Movements Collection:
Those who believe capital can be split from US democracy do not grasp the capitalist state the "Founders" created:
Fishhook Sanders promises support for Hillbillary  As the two Democratic presidential candidates engage in some of their sharpest attacks of the campaign, Sen. Bernie Sanders (I-Vt.) on Thursday affirmed that he would support opponent Hillary Clinton in the general election if she wins the nomination.
"Sure I will," he said, when pressed by CBS News' Charlie Rose in an interview. "Look, as I said a million times, I think the idea of a Donald Trump or a Ted Cruz presidency would be an unmitigated disaster for this country.  www.huffingtonpost.com/entry/bernie-sanders-hillary-clinton_us_5706fbbde4b03a9e75d3fd93
Keynesian (anti-Marxist) Naomi Klein Backs Hillbillary's fishhook Hilary cannot be trusted. Vote #BernieSanders www.dailykos.com/story/2016/3/1/1493825/-Naomi-Klein-Supports-Bernie-Sanders-Hillary-Can-t-Be-Trusted
Lifelong Sellout Tom Hayden Loves Hillbillary (how long before DSA loves her as much?) Democrats all have to unite to win the White House and Supreme Court this year, building bridges without permanent bruising or the confusion of divide-and-conquer.
The state of the race is in flux. Respect and support for Bernie are rising, though Hillary maintains a 212-delegate edge. As of April 3, The New York Times assessed that Bernie will need "landslide" victories in the battles ahead.  www.thenation.com/article/i-used-to-support-bernie-but-then-i-changed-my-mind/
Hayden Still Lies About Vietnam  Tom Hayden, in his, "The Forgotten Power of the Vietnam Protests," (Counterpunch, May 3, 2015) does a fine job recreating many of the details of the wars on Vietnam–from the point of view of a liberal Democrat who spent years in the California legislature and who must have grown rich as well from his marriage to Jane Fonda, once anti-war prima donna, later Ted Turner's wife and religious-"feminist" later still.1
Hayden's standpoint does not serve his broader analysis well. Perhaps that explains why the words "capitalism," and "imperialism," never appear in his piece. Nor does Marx, so powerfully influential to the Vietnamese movement as well as the world's anti-war movements.
Class and empire's wars define our times, as they did then.
Vietnam was an imperialist war. Rubber, tin, rice, were all key to any empire's designs (rubber, like oil, moves the military), while the other indicators of imperialist action (regional control, markets, cheap labor) easily come into view if we walk back the cat from Vietnam's current state as a low-wage center.  www.counterpunch.org/2015/05/12/the-wars-on-vietnam/
Hillbillary Clinton Easily steps on front of Social Nationalist Opt Out Farce  She also weighed in this week on testing and other education issues in New York, criticizing New York's roll-out of the Common Core standards – which are at the heart of why some parents have kept their kids from taking standardized tests – but saying she'd "probably" encourage her granddaughter Charlotte to take a state assessment if she was older.
Spy versus Spy
The U.S. Navy will seek to prosecute an alleged spy using closed court proceedings because the allegations against him have brought worrisome attention to the military's secretive intelligence gathering activity, the service's top officer told Navy Times on Wednesday.
Speaking with the newspaper's editorial board, Chief of Naval Operations Adm. John Richardson was cautious when asked about Lt. Cmdr. Edward Lin, the naval flight officer accused of leaking sensitive information either to China, his native Taiwan or perhaps both. Lin was assigned to one of the Navy's two "special projects" squadrons, seldom-discussed organizations that conduct aerial reconnaissance and surveillance aimed at foreign military activity. He remains in jail on a host of charges, including espionage.
"Much of the disposition of this case will be done in classified venues," Richardson said, acknowledging the unwanted publicity of such sensitive military operations.
(Lin faces charges of espionage, attempted espionage and patronizing a prostitute in a rare spying case involving an active-duty member of the U.S. military. It's a steep fall for a lieutenant commander who has served on some of the Navy's most advanced maritime surveillance aircraft.  An espionage conviction can carry the death penalty, although no American has been executed for spying since 1953, when the married couple Julius and Ethel Rosenberg were put to death for passing military secrets to the Soviet Union about the atomic bomb program.  www.navytimes.com/story/military/2016/04/13/navy-espionage-edward-lin-court-martial-admiral-john-richardson/82976086/
Portuguese Court Approves Extradition of US Spy-kidnapper to Italy In 2006, Ms. De Sousa was among 26 Americans — believed to be 25 C.I.A. officers and one military officer — who were indicted in Italy for their involvement in the kidnapping of Osama Moustafa Hassan Nasr, a Muslim cleric known as Abu Omar, who was abducted from a Milan street in broad daylight in February 2003.
The cleric was held at an American military base in Germany before being flown to Egypt, where he claims to have been tortured before his eventual release.
The kidnapping led to tensions between the United States and Italy, and more broadly became a symbol of the American practice of renditions, in which a terrorism suspect is captured and delivered to another country for interrogation.
Mr. Nasr was sentenced, in absentia, by an Italian court in December 2013 to six years in prison for terrorist activities, although he never served the sentence.
Ms. De Sousa, who resigned from the C.I.A. in 2009, was sentenced in absentia in Italy to six years in prison.  www.nytimes.com/2016/04/12/world/europe/portugal-supreme-court-extradition-cia-agent-sabrina-de-sousa.html?emc=edit_tnt_20160412&nlid=2254121&tntemail0=y&_r
The Magical Mystery Tour
Two fakirs in hugfest
Bernie Sanders met with Pope Francis on Saturday during his visit to the Vatican, the senator told CNN.
Sanders, a U.S. Senator from Vermont, traveled to the Vatican to address a conference on social, economic and environmental issues.
He described his meeting with the Pope as "extraordinary," saying it happened before Francis left for Greece, where he's visiting refugees.
They met in a hallway at the Casa Santa Marta, the Vatican residence where Sanders and his wife spent the night, he said.
Vatican Bank intact. Not a Peep from Anti-bankster Sanders 
Italian prosecutors have now detained the former head of the Vatican's bank after searching his home and former office for suspected criminal behavior. Catholics and followers of the Holy See will be disappointed to learn that the Vatican's bank appears to be embroiled in yet another financial scandal. After a number of very embarrassing episodes in recent years, the Pope pledged to comply with international standards on illicit finance and clean up the bank's image. The European Union has an important role to play in helping the Vatican mitigate risk and come into full compliance; the Financial Action Task Force (FATF), set up by the G-7 to combat money laundering and terrorist financing, has a responsibility as well.
The Institute for Works of Religion (IOR), commonly referred to as the Vatican Bank, is a privately held financial institution located inside Vatican City. Founded in 1942, the IOR's role is to safeguard and administer property intended for works of religion or charity.  www.forbes.com/sites/realspin/2012/06/26/the-vatican-bank-the-most-secret-bank-in-the-world/#75c256c263ac
The Best and Worst Things in the History of the World
So Long
Me. New Knees this week.