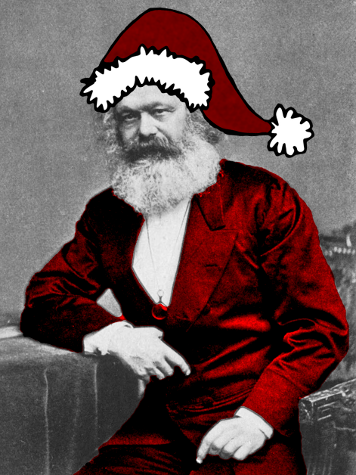 We Say Fight Back!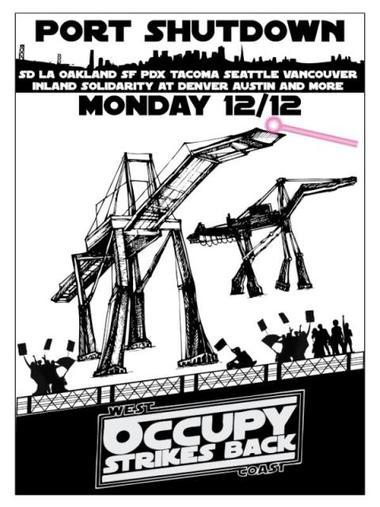 "You can't co-opt labor issues if you are in the working class," said Boots Riley, 40, a rap musician with the Coup who helped plan the port shutdown. "The organizers of this movement are the working class, and these are issues that belong to the working class. No one has a copyright on working-class struggles."
"The 1 percent has been able to write and pass labor laws that are designed to restrict the amount of action that can legally be taken by a union. Most union officials today refuse to challenge those laws," Occupy organizers wrote on a Web site explaining the port shutdown. "It is the responsibility of rank-and-file workers and their allies to escalate the labor struggle. Occupy can spearhead this movement." www.nytimes.com/2011/12/14/us/occupy-oakland-angers-labor-leaders.html?_r=1&hp
U Mich Protest: Education Should not be an Expensive Commodity Demanding "instruction, not construction," demonstrators on Thursday interrupted a University of Michigan board meeting to protest tuition rates they say make higher education inaccessible.
About 20 "Occupy U-M" protesters stood before the Board of Regents to condemn the university for raising tuition while committing money to capital improvement projects. The demonstrators' protest was brief and peaceful.   detroitnews.com/article/20111216/SCHOOLS/112160378/1026/schools/-Occupy-U-M-protesters-slam-tuition-increases
More than 150 Occupations in California Occupy protests have spread to nearly 150 locations equally distributed between Northern and Southern California. Researchers at UC Riverside used social media sites like Facebook to track the movement's growth from large urban centers to remote mountain towns.   www.scpr.org/news/2011/12/16/30382/uc-riverside-study-occupiers-finds-150-camps-calif/
Chinese Rebel vs National Socialist Quisling Government A long-running dispute between farmers and local officials in southern China exploded into open rebellion this week after villagers chased away government leaders, set up roadblocks and began arming themselves with homemade weapons, residents said.      The conflict in Wukan, a coastal settlement of 20,000 people near the country's industrial heartland in Guangdong Province, escalated Monday after residents learned that one of the representatives they had selected to negotiate with the local Communist Party had died in police custody. The authorities say a heart attack killed the 42-year-old man, but relatives say his body bore signs of torture.
Residents set up blockades to keep out the police and prevent more arrests. Some residents said armed riot police officers were blocking shipments of food and water into the village in an attempt to suppress the uprising.   Spasms of social turmoil in China have become increasingly common, a reflection of the widening income gap and deepening unhappiness with official corruption and an unresponsive legal system. But the clashes in Wukan, which first erupted in September, are unusual for their longevity — and for the brazenness of the villagers as they call attention to their frustrations.      http://www.nytimes.com/2011/12/15/world/asia/chinese-village-locked-in-rebellion-against-authorities.html?_r=1&hp
The Little Red Schoolhouse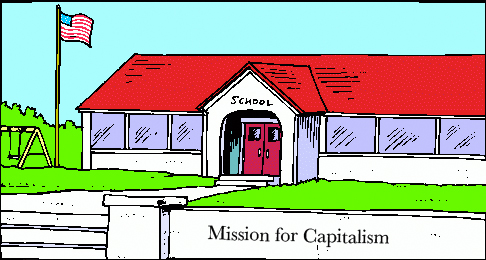 Democrats Continus Decade's Long Capitalist Assault on Schooling: Gov. Jerry Brown announced nearly $1 billion in new cuts to state spending on Thursday, slashing spending on higher education in California and eliminating funding for free school bus service but avoiding deeper cuts that many had feared.
The long-anticipated cuts are due to California's tax revenue falling below the optimistic targets that Brown and legislative Democrats used when they approved the state budget in June. "This is not the way we'd like to run California, but we have to live within our means," Brown said at a midday press conference.      http://latimesblogs.latimes.com/california-politics/2011/12/jerry-brown-slashes-spending-california-budget-cuts.html
California's Community Colleges, Serving the Most Exploited, Gutted By Dems the deepest impact will be at community colleges, where the cuts will cost $102 million, for a total loss this year of $502 million from the system's $5.9 billion budget.
"Colleges are at a breaking point now," said Chancellor Jack Scott of the community college system, predicting more crowded classrooms and layoffs of adjunct faculty, who teach on semester-to-semester contracts.
"Colleges will say to many of them, 'Sorry, we don't need you anymore,'" Scott said. "And I can't guarantee there won't be layoffs of permanent personnel."   At the same time, community colleges expect to make back about $110 million by charging students, most of whom are low-income, more to attend.
Tuition will rise to $46 a unit next summer ($1,380 a year for a full-time student taking 15 units), up from $36 a unit ($1,080 a year). Last year it cost $26 a unit, or $780 a year for a full load of classes. That's a 57 percent increase since last spring.   http://www.sfgate.com/cgi-bin/article.cgi?f=/c/a/2011/12/14/MNFV1MBVNN.DTL&tsp=1
More Charges Vs Penn State, this time, The College of Ed Prof Phoenix private investigator Paul McLaughlin alleges that he was abused by a Penn State professor for four years in the 1970s and 80s, when McLaughlin was a young teenager.
McLaughlin says that when he finally contacted Penn State officials to tell them about the events, he was rebuffed.
He was allegedly chastised by officials for trying to blackmail the school. He was also allegedly told by then- Penn State President Graham Spanier that Spanier was not interested in listening to a tape in which Professor John Neisworth allegedly confessed to giving alcohol to and engaging in various sexual acts with McLaughlin.   hereandnow.wbur.org/2011/12/16/penn-state-mclaughlin
Nine States To Race to the Slop They are California, Delaware, Maryland, Massachusetts, Minnesota, North Carolina, Ohio, Rhode Island and Washington.    http://www.detnews.com/article/20111217/SCHOOLS/112170352/Michigan-denied-Race-Top-funds-again?odyssey=tab|topnews|text|FRONTPAGE
Wait! US Capitalist Schools aren't failing! They're Working. Nobody knows History: Almost half of U.S. public schools are labeled failing under the federal No Child Left Behind law, compared with the 80 percent estimate President Barack Obama's administration cited as a rationale for changing its mandates, a study found.
The estimated percentage of schools that didn't show adequate progress toward passing state standardized tests of math and reading was 48 percent in 2011, a record and an increase from 39 percent in 2010, according to a report today by the Center on Education Policy, a Washington-based nonpartisan research group.    http://www.bloomberg.com/news/2011-12-15/obama-overstated-failing-schools-under-u-s-no-child-law-study-indicates.html
The International Hot War of the Rich on the Poor
December 16 1944 the Battle of the Bulge
Obamagogue, Lying Again, Thanks 4500 Dead Troops and Warns "Others" not to Interfere in Iraq "Now Iraq is not a perfect place," said Obama, standing at a lectern set up in an airplane hangar. "It has many challenges ahead. But we are leaving behind a sovereign, stable and self-reliant Iraq, with a representative government that was elected by its people."   …Obama largely ignored the furor over the war's origins under the Bush administration.    http://www.latimes.com/news/politics/la-pn-obama-fort-bragg-iraq-speech-20111214,0,4258660.story
Iraq: We Broke It. We Own It. You Fix It 1. The U.S. has spent over a trillion dollars in Iraq since March, 2003, with  almost 4500 soldiers killed and more than 32,000 wounded (20% with serious brain or spinal injuries). The result of all this huge expenditure of money and lives is:
a. The overthrow of Hussein, Iran's main nemesis in the region, has
strengthened Iran's position.
b. The al-Maliki government, which the U.S. helped install, is an unreliable
ally. It is friendly with Iran (and will soon be closing down the main base of
MEK, an opposition force to the Iranian regime), it refuses to endorse
sanctions against either Iran or Syria, and it has granted oil concessions to
China and Russia.
c. The U.S. wanted to keep 20,000 troops in Iraq, but the Iraqi Parliament has
refused to grant the U.S. military immunity protection against lawsuits. The
U.S. then asked for immunity for 3,000 troops, but this was denied as well.
2. Since Iraq has the third largest reserves of oil in the world, and borders
Iran, the U.S. is not about to leave and allow an Iraqi-Iranian alliance. It
plans to do the following:
a. Leave 157 military personnel and 700 Pentagon contractors to train Iraqi
forces in how to use and maintain U.S.-supplied weapons.
b. The State Department will have a huge force of 16,000 personnel, including:
1. Hiring 5500 armed private security contractors to protect the
massive 104-acre U.S. embassy, consulates in Basra and Arbil (the Kurdish
capital) and various U.S. projects, as well as operate a fleet of helicopters,
planes and armored vehicles. Senator John Kerry even questioned whether the
U.S. was "replacing a military presence with a private mercenary presence."
(www.wired.com/dangerroom/2011/02/5500-mercs-to-protect-u-s-fortresses-in-iraq/)
2. Having 4500 "general life support" contractors needed to provide
food, medical treatment, transportation and other services for State Department
personnel.
3. Installing 6000 "civilian" personnel, which will include the largest
CIA station in the world.
c. The U.S. military will maintain at least 40,000 troops in the region
(including 25,000 across the Iraqi border in Kuwait) within striking distance
of Iran. Tens of thousands of soldiers will also be deployed in Qatar, Bahrain
(which has a major U.S. naval base), Turkey, and Oman, as well as on navy
ships in the Persian Gulf and the Arabian Sea. As Defense Secretary Leon
Panetta announced: "So we will always have a force that will be present and
that will deal with any threats from Iran."
Marines try to Destroy Documents of Haditha War Crimes but, as Usual, Fail The documents — many marked secret — form part of the military's own internal investigation, and confirm much of what happened at Haditha, a Euphrates River town where Marines killed 24 Iraqis, including a 76-year-old man in a wheelchair, women and children, some just toddlers.
Haditha became a defining moment of the war, helping cement an enduring Iraqi distrust of the United States and a resentment that not a single Marine was ever prosecuted. That is one of the main reasons that all American combat troops are leaving by the weekend.  …the report documents the dehumanizing nature of this war, where Marines came to view 20 dead civilians as not "remarkable," but as routine.
Iraqi civilians were being killed all the time. Maj. Gen. Steve Johnson, the commander of American forces in Anbar Province, in his own testimony, described it as "a cost of doing business."
The stress of combat left some soldiers paralyzed, the testimony shows. Troops, traumatized by the rising violence and feeling constantly under siege, grew increasingly twitchy, killing more and more civilians in accidental encounters. Others became so desensitized and inured to the killing that they fired on Iraqi civilians deliberately while their fellow soldiers snapped pictures, and were court-martialed. The bodies piled up at a time when the war had gone horribly wrong.
The documents ultimately led to a report that concluded that the Marine Corps's chain of command engaged in "willful negligence" in failing to investigate the episode and that Marine commanders were far too willing to tolerate civilian casualties. That report, however, did not include the transcripts…. , "I had Marines shoot children in cars and deal with the Marines individually one on one about it because they have a hard time dealing with that."     www.nytimes.com/2011/12/15/world/middleeast/united-states-marines-haditha-interviews-found-in-iraq-junkyard.html?_r=1&hp=&pagewanted=all
Oil Mission Accomplished. A Nation in Ruins and Worse to Come WHEN the last remaining American forces withdraw from Iraq at the end of this month, they will be leaving behind a country that is politically unstable, increasingly volatile, and at risk of descending into the sort of sectarian fighting that killed thousands in 2006 and 2007.     www.nytimes.com/2011/12/16/opinion/an-unstable-divided-land.html?_r=1
Bradley Manning, hero in a Kangaroo Court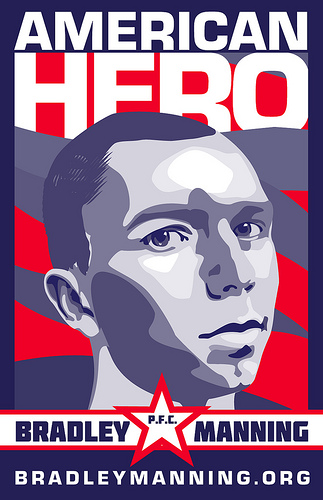 Appearing in a military courtroom Friday for the first time, accused WikiLeaks source Army Pfc. Bradley Manning said he understood the charges against him in a criminal case that involves one of the largest leaks of classified material in U.S. history.
The pretrial proceeding got bogged down in legal maneuvering when Manning's civilian lawyer, David Coombs, argued that the presiding military officer could not be impartial because he is also a federal prosecutor.
Coombs said Army Reserve Lt. Col. Paul Almanza should step aside because he is the deputy chief prosecutor of the child exploitation and obscenity section of the criminal division of the Department of Justice.
"A reasonable person looking from the outside would say clearly the investigating officer is biased," Coombs said.
Almanza acknowledged sending emails about the case from his Justice Department account earlier this week. He said he had no contact, however, with federal prosecutors who are conducting a separate grand jury investigation of WikiLeaks founder Julian Assange.   www.latimes.com/news/nationworld/nation/la-na-wiki-manning-20111217,0,853230.story
Ok. We Want to know WHO is Crashing the US' Drones: The U.S. military is investigating what caused a U.S. military drone to crash near a civilian airport runway in the Republic of Seychelles, a U.S. Air Forces in Europe spokesman said Wednesday.   www.stripes.com/news/air-force-investigating-cause-of-drone-crash-in-seychelles-1.163399
Hey Afghanistan! Enough With the Drones Already! Your Friends. Iraq Iran escalated its confrontation with the United States on Thursday over the captured American spy drone launched from Afghanistan, warning the Afghan government to order a halt to such surveillance flights.     www.nytimes.com/2011/12/16/world/middleeast/iran-warns-afghanistan-to-stop-us-drone-flights.html?emc=tnt&tntemail1=y
The International Economic War of the Rich on the Poor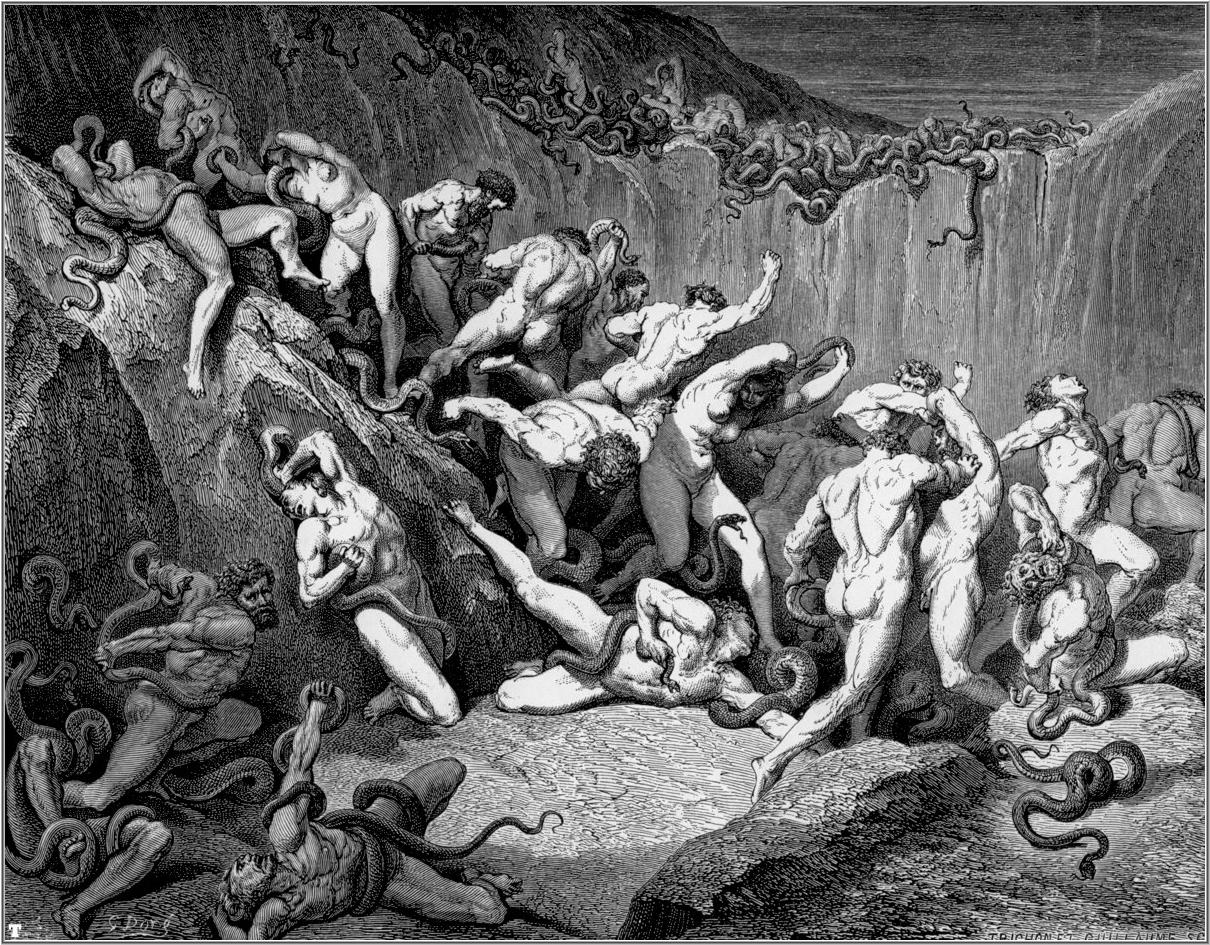 Above, Thieves in Dante's Hell
Tomgram on the Coming Election Farce This year, when the media is feeling the pinch of hard times, $3 billion dollars in prospective TV ads must look like manna from heaven. In fact — though no one in the media ever writes about it — this has to represent one of the great conflict of interest stories of our time, maybe of all time. The pundits, commentators, reporters, and news announcers who once again seem so intent on convincing us that this will be the election of the century are essentially drumming up business for the owners of their networks or cable stations who will profit handsomely, even staggeringly, from the dollars that those glued eyeballs bring in. …It's clear enough — or should be by now — that the electoral process has been occupied by the 1%; which means that what you hear in this "campaign" is largely refracted versions of their praise, their condemnation, their slurs, their views, their needs, their fears, and their wishes. They are making money off, and electing a president via, you. Which means that you — that all of us — are occupied, too.
So stop calling this an "election." Whatever it is, we need a new name for it.      http://www.tomdispatch.com/post/175478/tomgram%3A_engelhardt%2C_the_1%25_election/#more
Scratching The Fannie/Freddie Surface,  Charges Filed by SEC The SEC charged six former executives of Fannie Mae and Freddie Mac with securities fraud Friday, saying they misled the public about the companies' exposure to subprime loans during the mortgage meltdown.
The executives charged in the civil suits include Daniel H. Mudd, former chief executive of Fannie Mae, and Richard F. Syron, who was chairman and chief executive at Freddie Mac.    http://www.washingtonpost.com/business/economy/six-former-fannie-freddie-execs-charged-with-fraud/2011/12/16/gIQAz4FSyO_story.html?tid=pm_pop
Let the Trade Wars Begin. China Slaps Tarrifs on US SUV's China's Commerce Ministry announced today it will levy tariffs on U.S. automakers for imports of sedans and SUVs, touching off bipartisan criticism of Chinese officials in the nation's capital.
House Ways and Means Chairman Dave Camp, R-Midland, and the committee's ranking Democrat, Rep. Sander Levin, D-Royal Oak, issued a joint statement calling China's action, which will directly affect Detroit-area automakers unjustifiable.
"Unfortunately, this appears to be just one more instance if impermissible Chinese retaliation against the United States and other trading partners," the congressmen said in the statement.    http://www.freep.com/article/20111214/BUSINESS01/111214034/China-tariffs-U-S-automakers?odyssey=tab|topnews|text|FRONTPAGE
Two Scrappers Killed When Detroit's Arnold Home Collapses on Them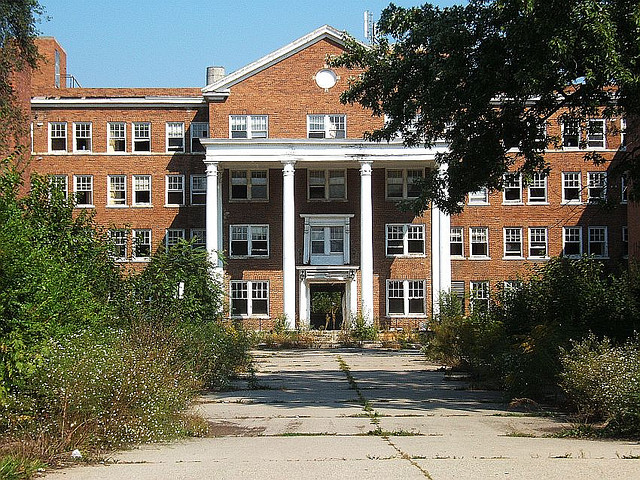 Above, the abandoned Episcopalean Arnold Home, 1901 to 2004
A roof collapse in an abandoned nursing home killed two apparent metal scrappers, who were found by police Wednesday afternoon at the longtime west-side eyesore.
Sgt. Eren Stephens said the two men had been reported missing since Monday. Their bodies were found on the first floor in the rear of the abandoned Arnold Nursing home at 18520 W. Seven Mile.      http://www.detnews.com/article/20111214/METRO/112140416/Roof-collapse-kills-2-abandoned-nursing-home?odyssey=tab|topnews|text|FRONTPAGE
The Emergence of Fascism as a Popular Mass Movement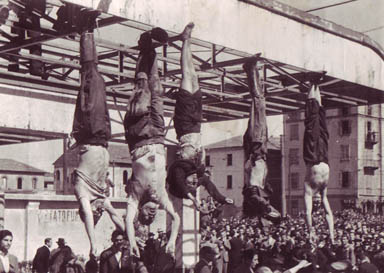 The revolt against science…is not only the expression of a dying and doomed social class; it is an essential part of the campaign of reaction. This is the basis which helps prepare the ground for all quackeries and charlatanries of chauvinism, racial theories, anti-semitism, Aryan grandmothers, mystic swastikas, divine missions, strong-man saviors, and all the rest of the nonsense through which capitalism to-day can try to maintain its hold…There is method in the madness. For capitalism can no longer present any rational defence…Therefore it can only endeavor to save itself on a wave of obscurantism, holding out fantastic symbols and painted substitutes for ideals to cover the reality of the universally hated moneybags. Fascism is the final reduction of this process to a completely worked out programme. R Palme Dutt
The Terror Prisons Inside the USA It is the other Guantánamo, an archipelago of federal prisons that stretches across the country, hidden away on back roads. Today, it houses far more men convicted in terrorism cases than the shrunken population of the prison in Cuba that has generated so much debate.  … Big numbers. Today, 171 prisoners remain at Guantánamo. As of Oct. 1, the federal Bureau of Prisons reported that it was holding 362 people convicted in terrorism-related cases, 269 with what the bureau calls a connection to international terrorism — up from just 50 in 2000. An additional 93 inmates have a connection to domestic terrorism. ¶ Lengthy sentences. …www.nytimes.com/2011/12/11/us/beyond-guantanamo-bay-a-web-of-federal-prisons.html?hp
One in 5 US Women Sexually Assaulted, Abused: Nearly one-fifth of U.S. women have been the victim of a sexual assault at some time in their lives, according to new federal data released Wednesday.
In addition, one in four has been the victim of severe physical violence by a boyfriend or husband, according to the National Intimate Partner and Sexual Violence Survey, which was conducted by the federal Centers for Disease Control and Prevention.   www.washingtonpost.com/blogs/the-checkup/post/nearly-one-in-five-us-women-has-been-raped-new-federal-survey-finds/2011/12/14/gIQABOrMuO_blog.html
The Bogus Khmer Rouge Show Trials   " I encouraged the Chinese to support Pol Pot..  . I encouraged the Thai to help the Khmer Rouge. The question was how to help the Cambodian people. Pol Pot was an abomination. We could – Zbigniew Brzezinsk      http://www.great-quotes.com/quote/87459
Spy Versus Spy
Below, Katrina Leung, Chinese Spy, Seducer of FBI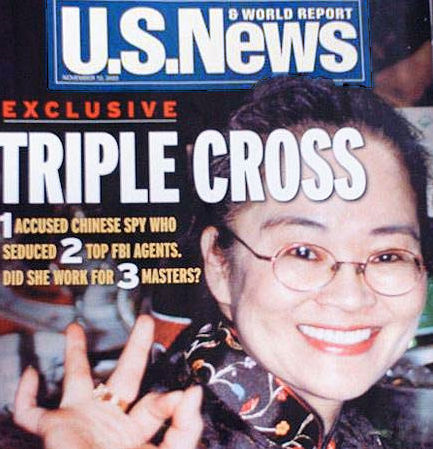 Holy Crap! Those Pesky Chinese Figured out how to Spy on the USA! just as China has become a global economic power, it has developed a world-class espionage service — one that rivals the C.I.A.
During the cold war, dozens of counterintelligence agents in the F.B.I. and the C.I.A. pursued Soviet and then Russian spies. The K.G.B. was seen as the enemy; China took a back seat. Only a handful of F.B.I. agents specialized in Chinese spy cases, and their work was not regarded as career-enhancing. Washington's ongoing failure to make Chinese espionage a priority has allowed China to score a number of successes in its espionage efforts against the United States.
China's foreign intelligence service and its military intelligence agency actively spy on the American defense industry, our nuclear weapons labs, Silicon Valley, our intelligence agencies and other sensitive targets.
In January, when Robert M. Gates, then the defense secretary, was visiting China, Beijing unveiled a stealth fighter jet, the J-20. The disclosure demonstrated that China had achieved a stealth capability, allowing it to conceal its planes, ships and missiles from radar — similar to the American stealthjust as China has become a global economic power, it has developed a world-class espionage service — one that rivals the C.I.A….China has even penetrated the F.B.I. In 2003, Katrina Leung, an F.B.I. informant for two decades, was found to be working as a double agent for Beijing. Astonishingly, the two top F.B.I. agents in California responsible for Chinese counterintelligence were having affairs with Ms. Leung at the same time, allowing her to help herself to classified documents that were brought to her home by one of the agents. www.nytimes.com/2011/12/11/opinion/sunday/chinas-spies-are-catching-up.html?_r=1&emc=tnt&tntemail1=y
Solidarity ForNever
Council On Foreign Relations Loves Occupy Ghost Dancers If the long winter does not break the occupiers, and if they use their time under siege of weather wisely, come springtime they could emerge as a battle-hardened cadre of skilled organizers well-positioned to influence the issues at stake in the 2012 elections.     globalpublicsquare.blogs.cnn.com/2011/11/11/what-do-the-occupiers-want/
Below, the Democratic Party Seeks to Commodify and Sell (out) OWS (shirt $20 and more)
Another Broward Teachers Union (Fla) Boss Forced Out On the eve of a hearing to determine whether Pat Santeramo would remain head of the Broward Teachers Union, he resigned instead.
Santeramo, the subject of two state probes into his handling of funds, agreed Tuesday night to end his decade-long run as the BTU's leader.
He was scheduled to go before the union's executive board Wednesday to defend himself against charges that he misled the body by falsifying budget reports to conceal $19,500 in reimbursed campaign contributions.
Rather than airing the union's dirty laundry before an expected crowd of more than 150 union members, Santeramo stepped down…..Calls for Santeramo's removal have steadily intensified since the release of a Nov.4 audit by the union's national parent organization — the American Federation of Teachers — which detailed salary overpayments to Santeramo and three other union leaders, information on 26 union staffers and relatives who were reimbursed for campaign contributions and two years of haphazard financial record keeping….Santeramo's attorney said he expects his client will receive $255,020 in accrued sick leave and vacation days.
, it appears Santeramo will not have to worry about his next union paycheck. A large portion of his $189,000 annual salary has been paid up front, rather than spread throughout the year as it is earned, according to the AFT audit……Santeramo, a former middle school music and physical education teacher, rose through the ranks of the union's leadership. He started as a union representative, then served as vice president, and, finally, president in 2001, when Gentile was forced out after his arrest on charges that he tried to engage a teenager in an online relationship.    http://www.miamiherald.com/2011/12/06/2534477_broward-teachers-union-president.html
The Fake Left (ExWeatherPals and Other Liberals) Whores For Obamagogue and Flops again The rally to praise Obama for supposedly ending the war in Iraq, sponsored  by Marilyn Katz, Carl Davidson, and "Chicagoans Against War in Iraq," and  billed as a national marque event, turned up 30 speakers and paid staff
> members in front of microphones. There were about 5-10 in the audience. Dozens and dozens of prepared placards that said "yes we can" were in a  box, untouched. Among the speakers were the president of the Cook County  Board Toni Preckwinkle, Alderman Joe Moore, and Tom Hayden.    http://www.mail-archive.com/marxism@greenhouse.economics.utah.edu/msg09099.html
Counterfeit Radical Henry Giroux Fundraises for Dem Party Front, Truthout . We believe that democracy matters, and we fight hard to provide the formative culture that makes it possible. Please join us in that fight.
Truthout is trying to raise $50,000 this week to stay on track going into 2012. Can you help us reach our goal?
The Magical Mystery Tour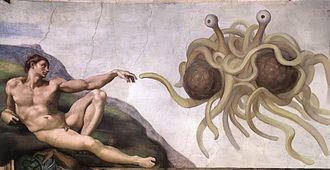 People Make Gods. Gods don't Make People. Happy Happy and UP the FSM!!! For the better part of 50 years, a cr So stop calling this an "election." Whatever it is, we need a new name for it.      http://www.tomdispatch.com/post/175478/tomgram%3A_engelhardt%2C_the_1%25_election/#morePeople Make Gods. Gods don't Make People. Happy Happy and UP the FSM!!! èche and a Christmas tree were the only holiday displays on the Loudoun County Courthouse grounds.    Then came the atheists. And the Jedis. And the Church of the Flying Spaghetti Monster — each with its own decorations. A skeleton Santa Claus was mounted on a cross, intended by its creator to portray society's obsession with consumerism. Nearby, a pine tree stood adorned with atheist testimonials. ("I can be moral without religion," declared one laminated ornament.
Flying Spaghetti Monster devotees are scheduled to put up their contribution this weekend. It's a banner portraying a Nativity-style scene, but Jesus is nowhere to be found. Instead, the Virgin Mary cradles a stalk-eyed noodle-and-meatball creature, its manger surrounded by an army of pirates, a solemn gnome and barnyard animals. The message proclaims: "Touched by an Angelhair."      http://www.washingtonpost.com/local/in-leesburg-holiday-displays-bring-controversy-and-change/2011/12/09/gIQAZFemyO_story.html
Netherlands: 20 thousand Plus Kids Raped by Canothlic Officials Tens of thousands of Dutch children were sexually abused by priests and other Roman Catholic religious figures in the last 65 years, but church officials failed to take adequate action or report problems to police, an independent commission said Friday.
Many of the victims spent part of their childhood in Catholic institutions sucstrongh as schools and orphanages, where the risk of abuse was twice as high as in the general population, the commission said. But complaints were often ignored or covered up by authorities who were more intent on protecting the church's reputation than providing care for abuse victims….The commission found that tens of thousands of children in the Netherlands were subjected over the years to abuse ranging from unwanted sexual advances to rape. Of these victims, 10,000 to 20,000 lived for some part of their youth in Catholic-run institutions such as reform schools and seminaries during the period from 1945 to '81, after which Catholic homes for children were phased out.
Abusers included priests, members of religious orders and lay workers.    http://www.latimes.com/news/nationworld/world/la-fg-dutch-catholic-abuse-20111217,0,5917792.story
Worst Thing in the History of the World
Cop Who Called off PSU Child Rape Investigation was Paterno's Neighbor and Pal The head of Penn State's Police Department who oversaw a 1998 investigation of possible sexual abuse by former Penn State assistant football coach Jerry Sandusky once lived three houses down from the defensive coordinator, property records show.
Chief Thomas Harmon took on a higher role leading the department just one month before a detective began looking into whether his former neighbor sexually abused two 11-year-old boys in a campus shower. He later ordered the case closed when the Centre County district attorney decided not to file criminal charges.
Sandusky retired from Penn State a year later. www.centredaily.com/2011/12/11/3016384/psu-chief-was-sanduskys-neighbor.html
Introducing Penn State's New Lawyer: This retention puts Penn State in the same league as Lanny Davis' other lovely clients, past and present, including:
Now-deposed Ivory Coast "strongman" Laurent Gbagbo
Brutal Equatorial Guinea President Teodoro Obiang Nguema Mbasogo (whom Davis is now suing for unpaid legal fees)
The business-backed leaders of the 2009 military coup against Honduran President Manuel Zelaya
The Coalition for Educational Success, an umbrella trade group for the exploitative for-profit college industry
The corporate groups that derailed the Employee Free Choice Act, the top federal priority for labor groups following Barack Obama's election
Whole Foods!
The Pakistani military
The fanatically right-wing Israel Project     gawker.com/5866796/penn-state-hires-evil-dictator+loving-monster-lawyer
So Long Winston Courtney: Ethical Gentleman and Hero.   www.thegrenadarevolutiononline.com/courtney.html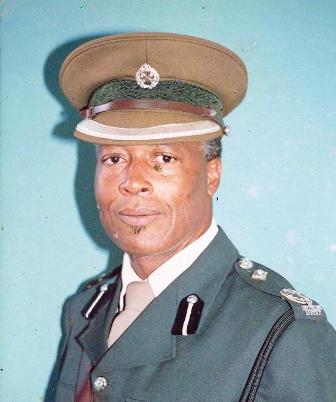 Best Thing in the History of the World