April 5th, 2014 / Author: rgibson
Below is the classic Rouge Forum Mayday Flyer. Remember to march!
We Say Fight Back!
Twenty arrested at UC Santa Cruz as teaching assistants strike
Twenty picketers were arrested Wednesday morning for blocking traffic at UC Santa Cruz as unionized teaching assistants and tutors began a strike at two UC campuses.
The arrests came around 8 a.m. as the picketers, mainly graduate students, tried to block auto entrances into the Santa Cruz campus, according to university spokesman Jim Burns. The 20 — cited on charges such as failing to disperse and being a pedestrian in a roadway — were taken to the Santa Cruz County jail and were expected to be released soon. One of the 20 also faces a charge of resisting arrest, Burns said.
Student academic workers walked off the job at Santa Cruz and UC Berkeley on Wednesday. Union officials said the strike would extend to all nine UC undergraduate campuses on Thursday.    http://www.latimes.com/local/lanow/la-me-ln-uc-arrests-20140402,0,4374812.story#ixzz2xtJD0tJg
Two more arrests as UC teaching assistants' strike spreads
Two picketers were arrested at UC Santa Cruz Thursday as a strike by unionized teaching assistants and tutors widened to all nine UC undergraduate campuses.
The walkout began at the Santa Cruz and Berkeley campuses on Wednesday and expanded Thursday across the UC system for what organizers said will be a final day. Rallies were held and picketers
http://www.latimes.com/local/lanow/la-me-ln-uc-strike-20140403,0,7695265.story#ixzz2xtJnuLWe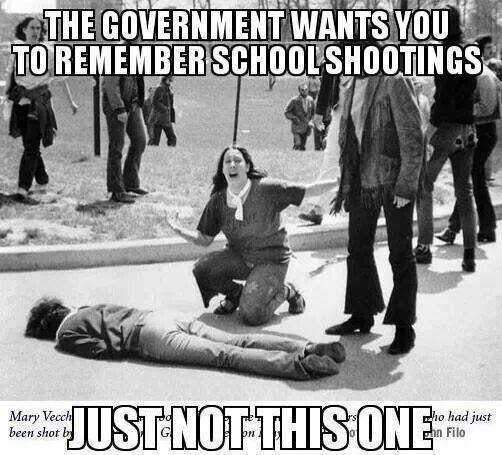 Homeless professor protests conditions of adjuncts  Mary-Faith Cerasoli is an adjunct professor of Spanish and Italian. She has a master's degree from Middlebury College. She's also homeless.
The 53-year-old staged a one-woman protest Friday afternoon in front of the New York State Department of Education to bring attention to what she calls the "abusive job" of being an adjunct professor.    http://www.pbs.org/newshour/making-sense/homeless-professor-protests-conditions-adjuncts/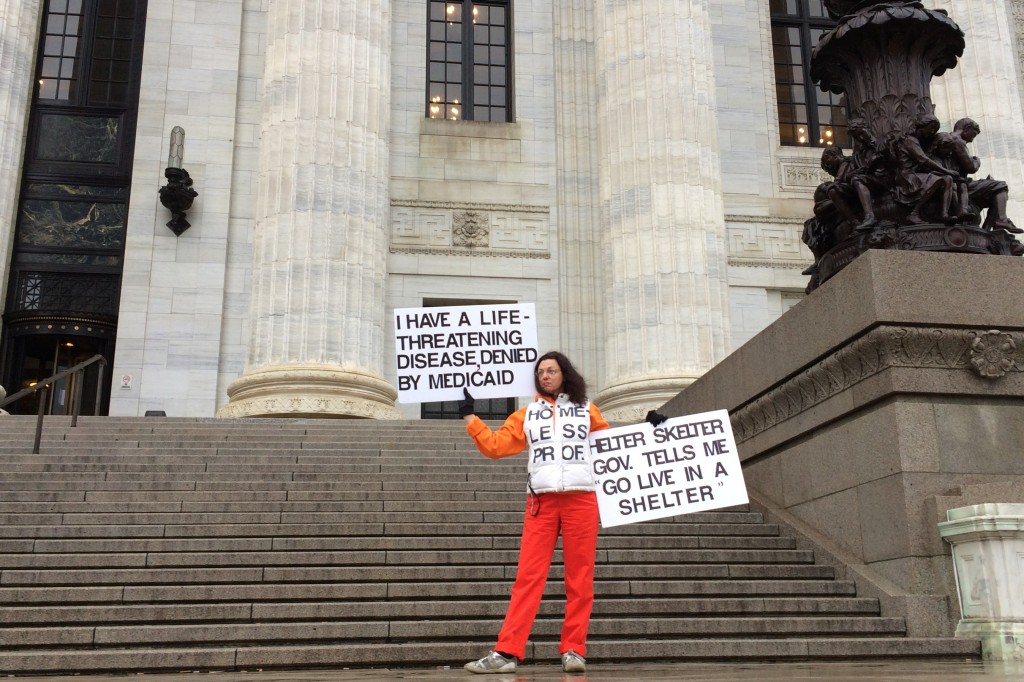 New York Times Wonders—Was Marx Right? (mostly yes)  In the golden, post-war years of Western economic growth, the comfortable living standard of the working class and the economy's overall stability made the best case for the value of capitalism and the fraudulence of Marx's critical view of it. But in more recent years many of the forces that Marx said would lead to capitalism's demise – the concentration and globalization of wealth, the permanence of unemployment, the lowering of wages – have become real, and troubling, once again.
The fall of communism discredited Marx's political vision. But, as observers have wondered before, is his view of our economic future being validated?    http://www.nytimes.com/roomfordebate/2014/03/30/was-marx-right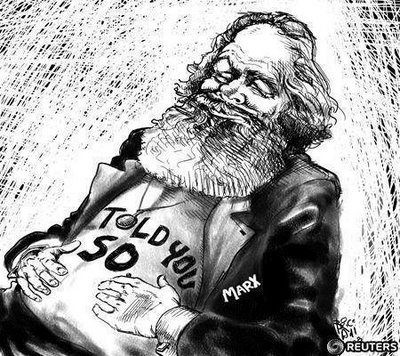 Doug Henwood answers the NYY question—I don't see how you can understand our current unhappy economic state without some sort of Marx-inspired analysis.
Here we are, almost five years into an officially designated recovery from the worst downturn in 80 years, and average household incomes are more than 8 percent below where they were when the Great Recession began, and employment still 650,000 short of its pre-recession high.  Though elites are prospering, for millions of Americans, it's as if the recession never ended.
How can this all be explained? The best way to start is by going back to the 1970s. Corporate profitability — which, as every Marxist schoolchild knows, is the motor of the system — had fallen sharply off its mid-1960s highs. Stock and bond markets were performing miserably. Inflation seemed to be rising without limit. After three decades of seemingly endless prosperity, workers had developed a terrible attitude problem, slacking off and, quaintly, even going out on strike. It's no accident that Johnny Paycheck scored a No. 1 country hit with "Take This Job and Shove It" in 1977 — utterly impossible to imagine today.
This is where Marx begins to come in. At the root of these problems was a breakdown in class relations: workers no longer feared the boss. A crackdown was in order.
And it came, hard. In October 1979, the Federal Reserve began driving interest rates toward 20 percent, to kill inflation and restrict borrowing, creating the deepest recession since the 1930s. (It was a record we only broke in 2008/2009). A little over a year later, Ronald Reagan came into office, fired the striking air-traffic controllers, setting the stage for decades of union busting to follow. Five years after Johnny Paycheck's hit, workers were desperate to hold and/or get jobs. No more attitude problem.
The "cure" worked for about 30 years. Corporate profits skyrocketed and financial markets thrived. The underlying mechanism, as Marx would explain it, is simple: workers produce more in value than they are paid, and the difference is the root of profit. If worker productivity rises while pay remains stagnant or declines, profits increase. This is precisely what has happened over the last 30 years. According to the Bureau of Labor Statistics, productivity rose 93 percent between 1980 and 2013, while pay rose 38 percent (all inflation-adjusted).     http://www.nytimes.com/roomfordebate/2014/03/30/was-marx-right/a-return-to-a-world-marx-would-have-known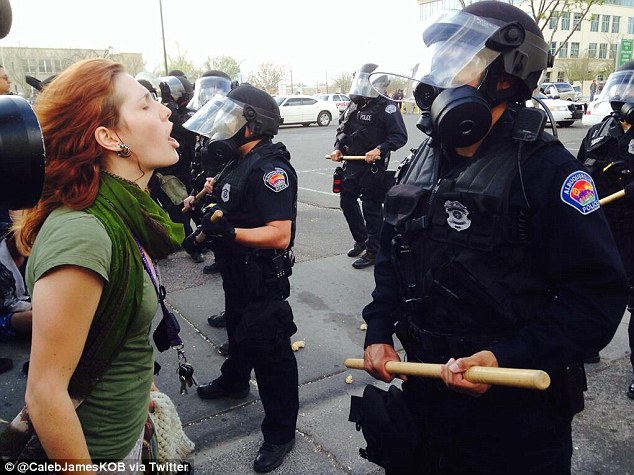 Albaquerque Rebels against Cop Murder of Homeless Man Protesters storm Albuquerque police HQ as Anonymous targets department over killing of homeless man by 'cold blooded' officers that was caught on video
Hactivist group Anonymous called on locals to protest homeless man James Boyd's killing
Boy was killed March 16 after having a run-in with police in the Albuquerque foothills where he was camped outAt least 500 gathered at Albuquerque Police headquarters around noon before moving on to Civic Plaza and the University of New Mexico Campus
Police showed up in riot gear to contain the protest, and released tear gas on the demonstration around 9:30pm when the participants became violent
Police made several arrests as they attempted to quell the crowd
UNM students were told to shelter in their dorms while locals were advised to avoid the area…Boyd's death is just the tip of the iceberg when it comes to police killings in the New Mexico capital.
The U.S. Justice Department has been investigating the Albuquerque police for a year, following reports of more than three dozen police shootings since 2010.
'We need to look at some changes within the department, but I think more importantly we need to restore confidence in the Albuquerque police department,' said City Council President Ken Sanchez.
State Senator Michael Padilla said he was responding to worried constituents.
He says he was disturbed not only by the video, but by APD Police Chief Gorden Eden's comments that the shooting was justified.Read more: http://www.dailymail.co.uk/news/article-2593008/Albuquerque-police-website-hacked-hundreds-gather-headquarters-protest-cold-blooded-killing-homeless-man-officers.html#ixzz2xaky8T3t
Follow us: @MailOnline on Twitter | DailyMail on Facebookttp://www.youtube.com/watch?v=hZN-ScfxRCk
PSU Faculty to Strike to Defend Quality Higher Education   Today, the Faculty, Educators, and Academic Professionals with PSU-AAUP issued the formal notice for strike to the Administration of Portland State. The Strike is expected to begin on April 16th  Show your support for the faculty and academic professionals now:
Sign the Petition. Send an organizational support letter. Attend the Worker Rights' Board   http://wearepsu.org/
The Little Red Schoolhouse
Felon School Boss Gets Wrist Slapped
Ohanian on Common Core State [sic] Standards  Common Core tests are to teaching as the Total Ship Computing Environment is to sailing. Both posit drones as the ideal, to eliminate the need for human participation, which involves variability, even quirkiness. The USS Zumwalt Total Ship Computing Environment costs $5 billion, which is in the ballpark for what states are spending on Common Core tests which are promise to be designed to eliminate teacher decision-making.
The USS Zumwalt isn't just a destroyer; it's a 21st century ship, "a ship with a brain of its own." That claim is eerily similar to what promoters say about the SmarterBalanced Common Core test:
Assessment information can offer specific information about areas of performance so that teachers can follow up with targeted instruction.
Entities formerly known as professionals "following up" on instructions from a test with a brain of its own.
The BusinessWeek writer notes
In an age of rampant hacking and password pilfering, you don't have to be clinically paranoid to find something worrying in the prospect of a highly automated warship that can be controlled by anyone who has the right login information.
But no media seems perturbed by computer dictating what a kid will study next.
Teachers, your unions again prove themselves incapable of standing up to the task of resisting:
The Leona M. and Harry B. Helmsley Charitable Trust announced today grants to Smarter Balanced and the Partnership for Assessment of Readiness for College and Careers (PARCC) totaling more than $1.6 million. These grants will fund a partnership between the two multi-state assessment consortia and the nation's largest teachers' unions, the National Education Association (NEA) and the American Federation of Teachers (AFT), to further engage educators in the development of next-generation assessment systems. . . .
These aren't just tests; they are next-generation assessment systems.
And here's more about this new partnership:
These grants fund the first formal partnerships between the two common assessment consortia and the National Education Association (NEA) and the American Federation of Teachers (AFT), which together represent the majority of the U.S. teaching workforce. (emphasis added)
Note the terminology: US teaching workforce.
The unions already received Common Core millions from the Bill and Melinda Gates Foundation. Now they have their hands out to Helmsley. Note: For good reason, Leona Helmsley was known as the Queen of Mean.
But to the unions, money is money and now we will watch for local "teacher ambassadors" pushing the tests in turnekey training
Teacher Ambassadors will provide turnkey training related to the new assessments to 1250 teachers across the Smarter Balanced states and assist in the development of exemplar lessons and professional learning modules that will meet the Quality Criteria for the Smarter Balanced Digital Library.
Smarter Balanced gets $785,000 to send out these drones (whoops! teacher workforce ambassadors to spread the message.
Randi Weingarten declares this "an important opportunity to bring teacher voice and expertise to the development and rollout of the assessments, which should serve to inform teachers and families and enhance instruction."
Similarly, Dennis Van Roekel applauds the Helmsley Charitable Trust for "recognizing the importance of engaging educators and their unions in the development of the next-generation assessments."    http://susanohanian.org/core.php?id=692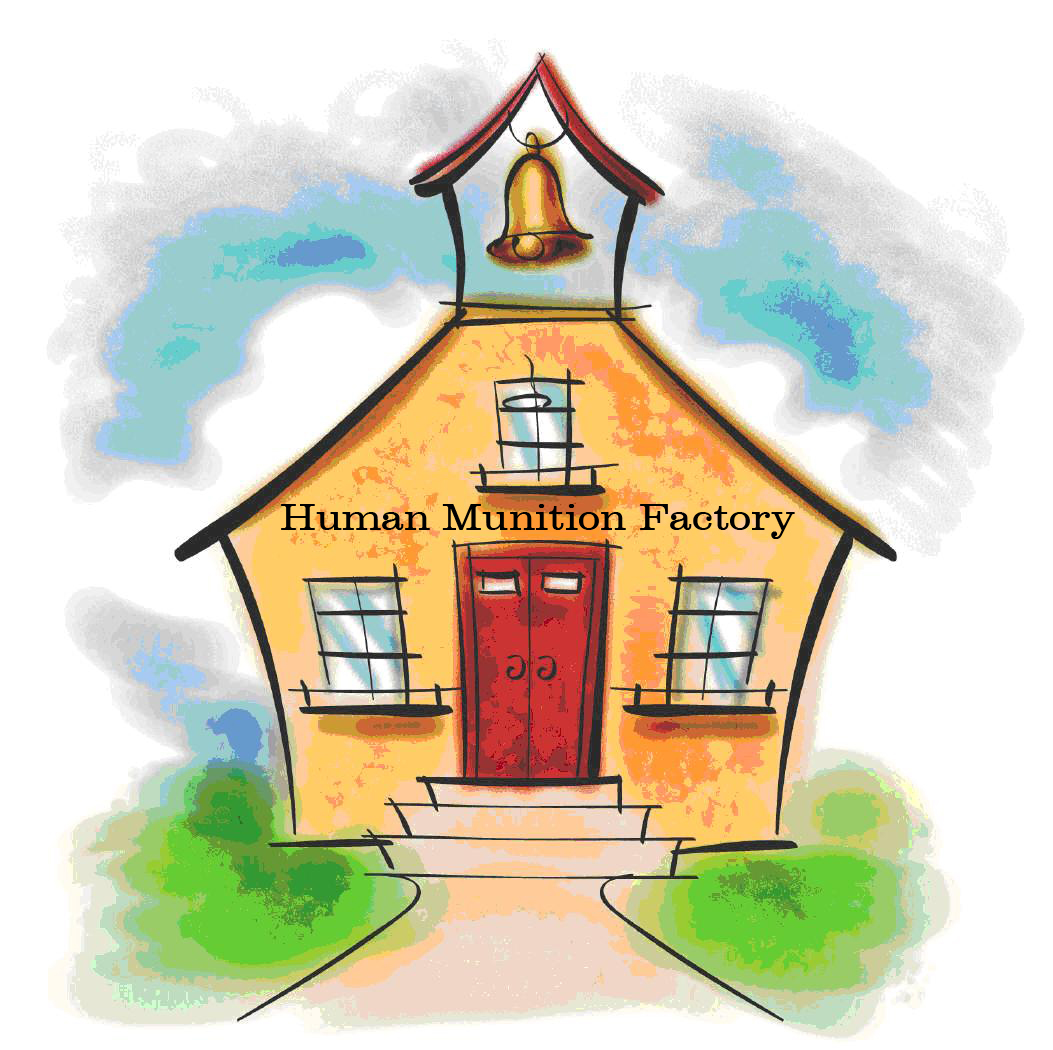 Atlanta School Boss Wants to Dodge Trial Hall, 67, has been charged in a racketeering conspiracy in the Atlanta Public Schools test cheating scandal. She has maintained her innocence.
She's one of 13 former Atlanta Public Schools employees facing trial for their alleged involvement in falsifying students' standardized test scores in 2009. Another 21 defendants have taken plea deals. http://www.ajc.com/news/news/local-education/halls-lawyer-says-her-trial-should-be-delayed/nfP9p/
The Hidden Hand Of Capital Strangling U Maine  At a special meeting of the University of Southern Maine (USM) faculty senate on March 14th, USM President Theodora Kalikow announced her plan to eliminate four academic programs and lay off 20 to 30 faculty—including tenured and tenure-track professors—along with 10 to 20 staff. What was the ostensible purposes of these unilateral decisions? To "re-brand" USM from a liberal arts institution into a "metropolitan university" and to make up $7M of a $14M shortfall. Martin Kich reported on these austerity cuts on this blog a week ago.
To this point, neither USM nor the University of Maine (UM) System has declared financial exigency. The supposed severity of the budget shortfall was quickly shown by Susan Feiner, a professor of economics and women's and gender studies at USM, to be a flimsy justification for firing faculty and closing programs. As Paul Krugman put it in his New York Times blog last week, USM's administration "seems eager to downsize liberal arts and social sciences for reasons that go beyond money."
Dismissing faculty, negating tenure, and slashing academic programs amounts to robbing USM's students of their educational experience and their tuition money, especially in light of widespread administrative bloat throughout the UM System. To their great credit, the students at USM understand that they are being robbed. They understand that their professors are being robbed too, not only of their tenure and academic freedom but, in the case of those whose jobs are on the chopping block, of their livelihoods.    http://academeblog.org/2014/03/31/cops-and-robbers-at-the-university-of-southern-maine/
And the Hidden Hand Gags Untenured COE Faculty at Eastern Mich Nearly all of the full-time lecturers in Eastern Michigan University's College of Education will be laid off later this year, union officials said Tuesday.
Ten of the 11 full-time lecturers will be out of work as of August and won't be working during the next school year, said Robert Vodicka, staff organizer of the EMU Federation of Teachers Local 9102.
Of those who received layoff notices, seven are student teaching supervisors who have placed thousands of students in classroom assignments. The other three are in the teacher education department, Vodicka said.
The incident adds to turmoil that has erupted in EMU's education school over the past year. Last fall, program instructors asked the Board of Regents to sever EMU's relationship with the state Education Achievement Authority.  From The Detroit News: http://www.detroitnews.com/article/20140211/SCHOOLS/302110120#ixzz2xtrFhGUK
Boss of Small Capitalist School System does well  The superintendent of the small Centinela Valley Union High School District, Jose Fernandez, made $674,559 last year, far more than the New York and Los Angeles school district heads.    http://www.latimes.com/local/la-me-centinela-supt-20140401,0,7384769.story#ixzz2xg4cbYlU
CA cutbacks brought San Diego State 11% less Students, so the Prezzie decides to dun the remaining students $400 each…. https://voiceofsandiego.org/2014/03/31/at-sdsu-fewer-students-will-pay-more-money-for-more-professors/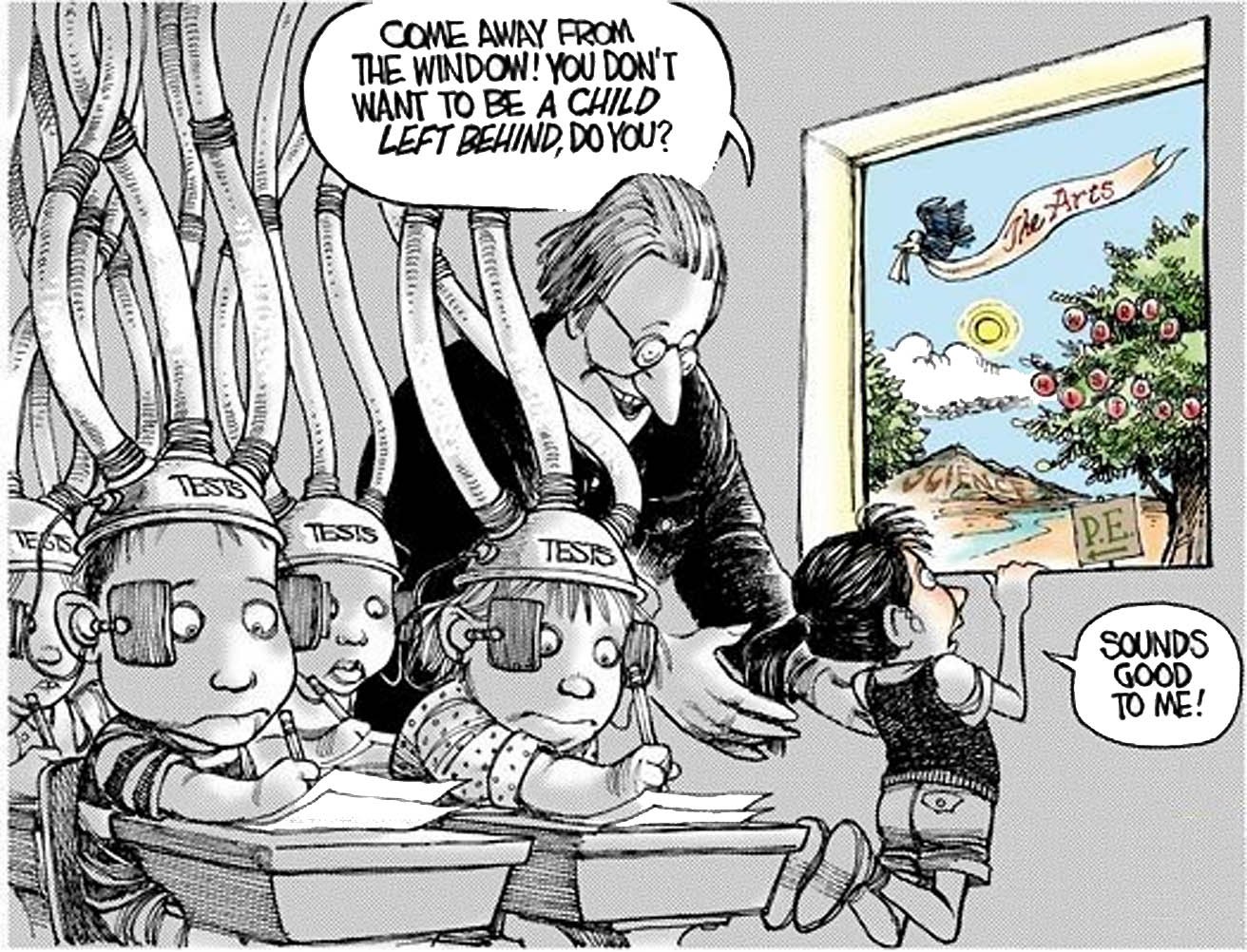 Obamagogue is SO Proud of the RaTT  http://www.whitehouse.gov/sites/default/files/docs/settingthepacerttreport_3-2414_b.pdf
Record number of homeless children enrolled in public schools, new data show  U.S. public schools are now enrolling a record number of homeless children and youth — over 1.1 million — with the largest populations in California, New York, Texas and Florida, new data from by the U.S. Department of Education show.
The news comes on the heels of a new study showing that a majority of students in public schools throughout the American South and West are poor for the first time in at least four decades.
The new homeless statistics, for the 2011-12 school year, are 10 percent higher than the year before and 72 percent higher than before the recession. Still, the reported figure — 1,168,354 homeless students — is known to actually underestimate the number of homeless children across the United States.
Ten states showed increases over the previous year of 20 percent or more; the states that showed the largest jumps in the numbers of homeless students were:    http://www.washingtonpost.com/blogs/answer-sheet/wp/2013/10/24/record-number-of-homeless-children-enrolled-in-public-schools-new-data-show/
The International Hot War of the Rich on the Poor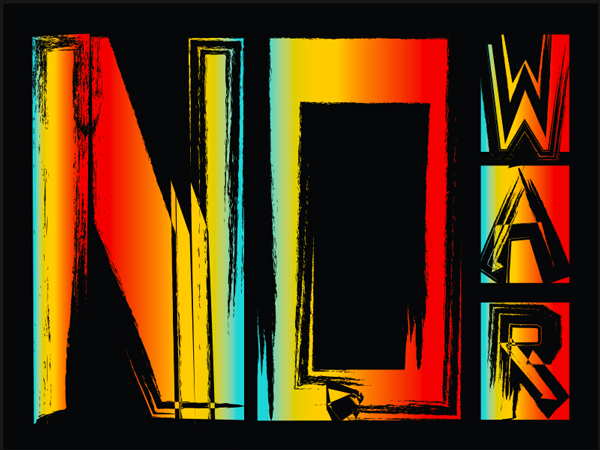 There are many beautiful Leslie Dwyer Posters here http://www.design4peace.com/
There goes that Fake Afghan Election (and here come the Taliban/AQ)  Usually, an Afghan election — a $100 million, Western-funded exercise — draws foreigners to Kabul like flies to honey, with incoming flights full of consultants, international monitors, diplomats and journalists.
Not this time. Now, it is the flights out that are full, and the incoming planes are half empty. With the possible exception of journalists, foreigners have been leaving Afghanistan like never before during an election period after a series of attacks on foreign targets and the commission running the vote.
An attack on the offices of the Independent Election Commission went on all Saturday afternoon, with staff members hiding in armored bunkers and safe rooms while five insurgents fired rockets and small arms at the commission's compound, having sneaked into a building nearby disguised in burqas.
There were no reported casualties among the election staff, but flights to Kabul were diverted because the airport was shut down for most of the afternoon, said the airport's director, Mohammad Yaqoub Rasooli.    http://www.nytimes.com/2014/03/30/world/asia/credibility-of-afghan-vote-in-doubt-as-observers-flee-violence.html?hp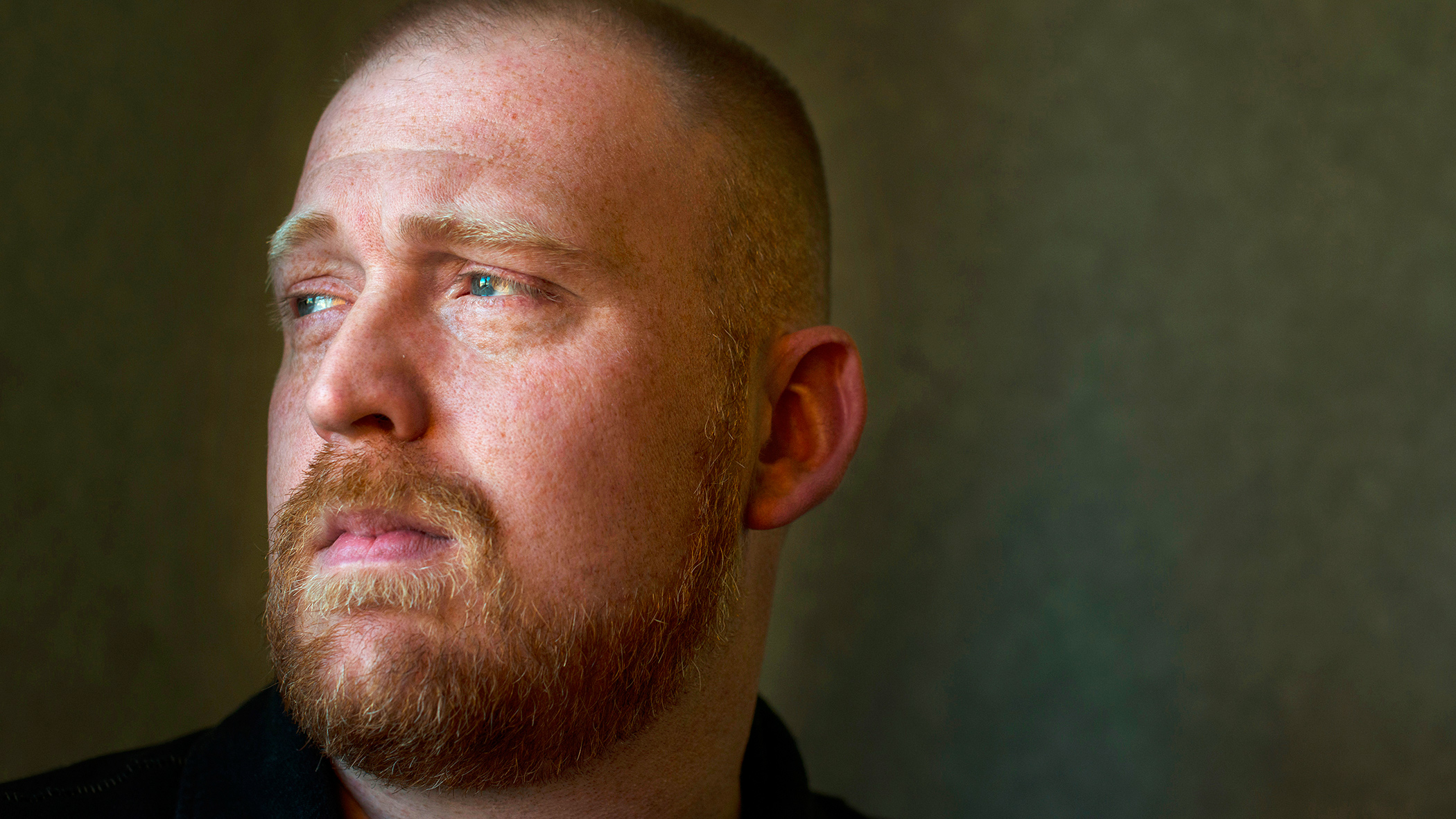 "I was proud of what I did, and I come home, and I can't even get a decent job." Nicholas Johnson
Hi There, Big Soldier! New Back in Town?  For many vets, their times in Iraq and Afghanistan were searing experiences. One in three think about their deployments daily. Among them is Nicholas Johnson, a former specialist in the Arkansas Army National Guard, who spent a year in Iraq starting in 2006. His platoon was ordered to fill roadside bomb craters, which required him to jackhammer asphalt while wearing 50 pounds of body armor and gear. He returned home with a fractured vertebra, three fused disks in his back, ringing ears and debilitating post-traumatic stress because of the frequent carnage he witnessed on Baghdad's roads.    "I can't get a good job now because . . . I have to be upfront and say I have this disability, I have a tore-up back," he said. "So now, the factories here in Topeka, where I live now, they're like: 'Oh, wow, he has military experience. Great. He has managerial experience. Oh, that's good. Some college — all right. Oh, he tore his back up. Can't do that, you know.' "
Johnson, who is 32 "but going on 60," confronts the toll of his service on his drive to a just-over-minimum-wage job at Lowe's, when he has to avoid Interstate 70 because it reminds him of Baghdad's insurgent-riddled airport road, when he panics at the sight of trash on the street because that's what Iraqi guerrillas employed to conceal explosives, when he pops painkillers and anti-anxiety pills, when he has to use a cane to walk or ask his fellow clerks for help moving boxes.
"I left the war zone," he said, "but the war zone never left me."   Although the military is fielding the most gender-integrated force in U.S. history, almost half of female vets say it is not doing enough to prevent sexual assault among service members. Among men, four in 10 share that view.
In a recent VA survey of 1,500 women who deployed to Iraq and Afghanistan, one in four said they experienced sexual assault — defined as any unwanted contact from groping to rape — during their deployments.          http://www.washingtonpost.com/sf/national/2014/03/29/a-legacy-of-pride-and-pain/?hpid=z2
That Cakewalk in Syria–Qaeda Militants Seek Syria Base, U.S. Officials Say  Dozens of seasoned militant fighters, including some midlevel planners, have traveled to Syria from Pakistan in recent months in what American intelligence and counterterrorism officials fear is an effort to lay the foundation for future strikes against Europe and the United States.
"We are concerned about the use of Syrian territory by the Al Qaeda organization to recruit individuals and develop the capability to be able not just to carry out attacks inside of Syria, but also to use Syria as a launching pad," John O. Brennan, the C.I.A. director, told a House panel recently.    http://www.nytimes.com/2014/03/26/world/middleeast/qaeda-militants-seek-syria-base-us-officials-say.html?emc=edit_tnt_20140326&nlid=2254121&tntemail0=y
Rummy–Still A Barbarian after all these years:  Rumsfeld still hasn't learned anything from Vietnam.
"Vietnam was one of the worst episodes in American history. What's [Rumsfeld's] lesson? Some things work out, some things don't — and that one didn't. He's untouched by history. In his reflection on what history means and what the effect of his policies have been on people around the world, he's learned little or nothing."Read more: http://www.rollingstone.com/movies/news/hes-untouched-by-history-errol-morris-on-donald-rumsfeld-20140401#ixzz2xt8miSGI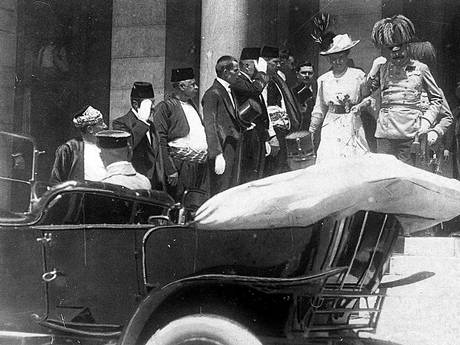 Final moments: The Archduke of Austria Franz Ferdinand with his wife Sophie in Sarajevo minutes before his shooting (AP)
A history of The Great War in 100 moments: Our unique series that captures sense of WWI, and starts in Sarajevo, on 28 June 1914  How do you remember a war that destroyed four empires, killed 18 million people and left tens of millions of other lives irreparably broken? Today, as the world prepares to mark the centenary of a conflict that left no corner of the planet untouched, we begin a unique daily series that attempts to make sense of an incomprehensibly huge chapter in human history by distilling it to a mere 100 'moments': episodes, big or small, that in one way or another capture a sense of what it was like to be caught up in the catastrophe of the First World War. Boyd Tonkin introduces our first moment  ….Focus on selected moments, as The Independent's new series does, and that "agency" returns to centre stage. Each choice and chance genuinely mattered, although none made a decisive difference in itself. Its agents, like its millions of victims, lived the First World War not as a vast span or grand plan but day by day, crisis by crisis, shock by shock. Spotlight key events and we may, just for a while, glimpse that lost world before hindsight. By 24 July, after Austria had drawn up an ultimatum to Serbia, the British Prime Minister, Herbert Asquith, could indeed tell his confidante Venetia Stanley in one of his intimate letters that "We are within measurable or imaginable distance of a real Armageddon". Then he consoles himself, and her. "Happily, there seems to be no reason why we should be anything more than spectators."    http://www.independent.co.uk/news/world/world-history/a-history-of-the-first-world-war-in-100-moments-our-unique-series-captures-sense-of-what-it-was-like-to-be-in-the-great-war-9236694.html
Judge Dismisses Lawsuit Over Drone Killings of US Citizens–Insists Courts Can't Examine 'Operational' Decisions  US District Judge Rosemary Collyer has dismissed Nasser al-Awlaki's lawsuit against Obama Administration officials over the assassination of his son and grandson in US drone strikes in Yemen.  Collyer argued that it was "impermissible" for the courts to get involved in "operational combat decisions regarding the designation of targets," though the US is not involved in combat in Yemen, where the killings took place, and the assassinations were rather planned months in advance, and publicized before they took place.
Collyer went on to insist that the Constitution grants sole decision-making on who lives and dies to the president, and that allowing lawsuits would "hinder their ability in the future to act decisively and without hesitation."
Collyer's ruling was materially identical to the Justice Department's own demand for dismissal, which insisted courts have no say over the president's ability to kill people abroad, citizen or not, and that it was essentially impossible for anyone to challenge the killings before they happen or after.    http://news.antiwar.com/2014/04/04/judge-dismisses-lawsuit-over-drone-killings-of-us-citizens/
The International Economic War of the Rich on the Poor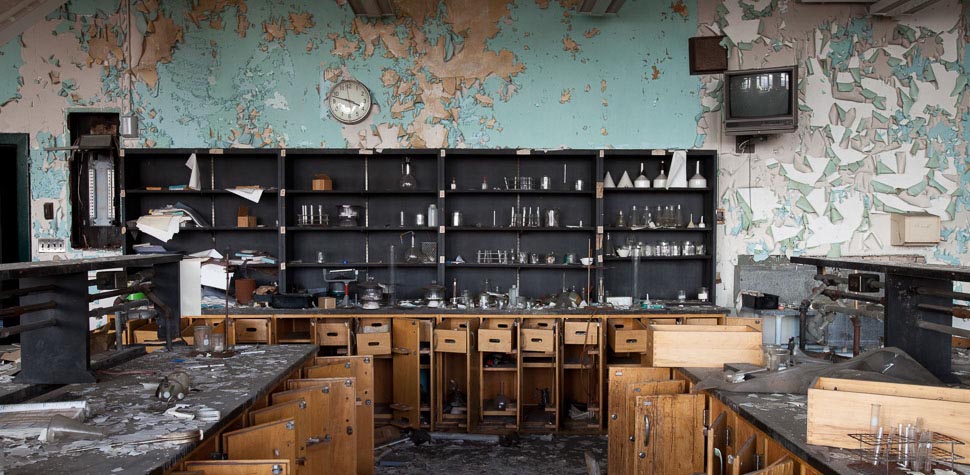 Remarkable Streaming Art on the Ruins of Detroit http://detroiturbex.com/
Stiglitz: Why Inequality Matters   While there is no single number that can depict all aspects of society's inequality, matters have become worse in every dimension: more money goes to the top (more than a fifth of all income goes to the top 1%), more people are in poverty at the bottom, and the middle class—long the core strength of our society—has seen its income stagnate. Median household income, adjusted for inflation, today is lower than it was in 1989, a quarter century ago.[1] An economy in which most citizens see no progress, year after year, is an economy that is failing to perform in the way it should. Indeed, there is a vicious circle: our high inequality is one of the major contributing factors to our weak economy and our low growth.
As disturbing as the data on the growing inequality in income are, those that describe the other dimensions of America's inequality are even worse: inequalities in wealth are even greater than income, and there are marked inequalities in health, reflected in differences, for instance, in life expectancy. But perhaps the most invidious aspect of US inequality is the inequality of opportunity. America has become the advanced country not only with the highest level of inequality, but is among those with the least equality of opportunity—the statistics show that the American dream is a myth; that the life prospects of a young American are more dependent on the income and education of his parents than in other developed countries. We have betrayed one of our most fundamental values. And the result is that we are wasting our most valuable resource, our human resources: millions of those at the bottom are not able to live up to their potential.    http://www.nextnewdeal.net/stiglitz-why-inequality-matters-and-what-can-be-done-about-it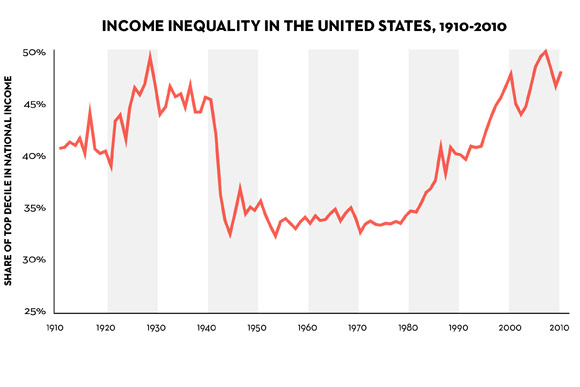 above, one of six charts NYer uses to describe Capital, http://www.newyorker.com/online/blogs/johncassidy/2014/03/piketty-looks-at-inequality-in-six-charts.html
The New Yorker explaining the "hot new" CAPITAL for the 21st Century (which reaches the silly conclusion that the rich should give up their money)  In the United States, for example, the share of income going to wages and other forms of labor compensation dropped from sixty-eight per cent in 1970 to sixty-two per cent in 2010—a decline of close to a trillion dollars.  …In the nineteen-fifties, the average American chief executive was paid about twenty times as much as the typical employee of his firm. These days, at Fortune 500 companies, the pay ratio between the corner office and the shop floor is more than two hundred to one, and many C.E.O.s do even better. In 2011, Apple's Tim Cook received three hundred and seventy-eight million dollars in salary, stock, and other benefits, which was sixty-two hundred and fifty-eight times the wage of an average Apple employee. A typical worker at Walmart earns less than twenty-five thousand dollars a year; Michael Duke, the retailer's former chief executive, was paid more than twenty-three million dollars in 2012. The trend is evident everywhere. According to a recent report by Oxfam, the richest eighty-five people in the world—the likes of Bill Gates, Warren Buffett, and Carlos Slim—own more wealth than the roughly 3.5 billion people who make up the poorest half of the world's population.  Eventually, Piketty says, we could see the reëmergence of a world familiar to nineteenth-century Europeans; he cites the novels of Austen and Balzac. In this "patrimonial society," a small group of wealthy rentiers lives lavishly on the fruits of its inherited wealth, and the rest struggle to keep up. For the United States, in particular, this would be a cruel and ironic fate. "The egalitarian pioneer ideal has faded into oblivion," Piketty writes, "and the New World may be on the verge of becoming the Old Europe of the twenty-first century's globalized economy."…The main factor, he insists, is that major companies are giving their top executives outlandish pay packages. His research shows that "supermanagers," rather than "superstars," account for up to seventy per cent of the top 0.1 per cent of the income distribution. (In 2010, you needed to earn at least $1.5 million to qualify for this élite group.) Rising income inequality is largely a corporate phenomenon.    http://www.newyorker.com/arts/critics/books/2014/03/31/140331crbo_books_cassidy?currentPage=2
Will Government Motors Use Its Bailout Shield to Defend its murderous cars?  General Motors Co. is shielded from legal liability for nearly all accidents that occurred before its July 2009 exit from bankruptcy. That protection has emerged as one of the most controversial aspects of the automaker's ignition switch recall.
Challenges to that product liability shield could unravel a key protection from hundreds of lawsuits. The Detroit automaker won that protection in the bankruptcy restructuring funded by its bailout by the federal government.
The company's immunity led U.S. Sen. Richard Blumenthal, D-Conn., last week to call on GM to create a $3 billion to $8 billion trust that would pay claims connected to the massive recall for defective ignition switches in older Chevrolet Cobalts, Saturn Ions and other similar cars.
From The Detroit News: http://www.detroitnews.com/article/20140331/BIZ/303310041#ixzz2xgMVEUW7
The Emergence of Fascism as a Popular Mass Movement
Senate CIA torture report could throw Gitmo hearings into chaos  The possible declassification and release of a Senate report into the CIA's detention and interrogation program — begun in the wake of the 9/11 terrorist attacks — could have a huge impact on the controversial military tribunals happening at Guantánamo Bay, experts and lawyers believe.
The proceedings have been moving at a snail's pace at the U.S.-held military base on the island of Cuba, amid widespread condemnation that they are being held in a legal limbo and outside the U.S. criminal justice system.
Details surrounding the CIA's activities have been one of the most contentious issues concerning the commissions at Guantánamo, where the alleged mastermind of the 9/11 attacks, Khalid Sheikh Mohammed, and his co-defendants are on trial. Their alleged treatment while in CIA custody has been a key stumbling block in the hearings' progress. The same goes for the man alleged to be behind the USS Cole bombing, Abd al-Rahim al-Nashiri, another former CIA captive.
In both cases, there have been dozens of delays — mainly due to the fact that the attorneys have been battling military prosecutors over access to classified information about the CIA interrogation program that the attorneys want to use as evidence. Both cases have been dragging on for two years and are still in the pretrial evidentiary phase.
But now that the Senate Intelligence Committee appears set to vote on releasing its long-awaited 6,300-page, $50 million study — or at least some portion of it — the defense attorneys will finally get the opportunity to talk openly at the military commissions about torture. That could prove disastrous for military prosecutors. According to defense attorneys and human rights observers who have been monitoring the proceedings, it might also derail the government's attempts to convince a jury that the detainees, if convicted, deserve to be executed.
"The U.S. government has gone to great lengths to classify evidence of crimes — crimes committed by U.S. actors," said Army Maj. Jason Wright, one of Mohammed's military defense attorneys. "Were this information in this Senate report to be revealed … it would completely gut the classification architecture currently in place before the commissions."    http://america.aljazeera.com/articles/2014/4/1/senate-cia-guantanamo.html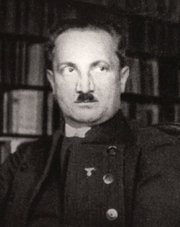 Heidigger 1933
Fans of Heidigger's Girlfriend, the CIA Asset Arrendt, might think twice: Heidegger's Notebooks Renew Focus on Anti-Semitism  It has long been one of the most contentious questions in 20th-century intellectual history: Just how much, and what kind, of a Nazi was the German philosopher Martin Heidegger?
To his strongest detractors, Heidegger was a committed National Socialist whose hugely influential ideas about the nature of being and the dehumanizing effects of modern technology and much of the modern philosophical tradition itself were fatally compromised by his membership in Hitler's party from 1933 to 1945. To his staunchest defenders, however, he was a Nazi of convenience — a sometime personal anti-Semite, perhaps, but a philosopher whose towering intellectual achievements are undiminished by temporary political dalliances or everyday bias.
Now, the recent publication in Germany of the first three volumes of Heidegger's private philosophical notebooks has brought the controversy roaring back, revealing what some say is an unmistakable smoking gun: overtly anti-Semitic statements, written in Heidegger's own hand, in the context of his philosophical thinking.    http://www.nytimes.com/2014/03/31/books/heideggers-notebooks-renew-focus-on-anti-semitism.html?ref=martinheidegger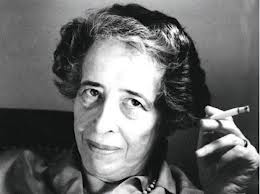 above, CIA asset Hannah Arrendt
Barbarism Rising–Three Marines stabbed during fight between Dodgers, Angels fans  Three Marines who were attacked and stabbed during a downtown Huntington Beach street fight between Dodgers and Angels baseball fans were recovering Monday as police tried to piece together what triggered the violence.
Six people were arrested Sunday after officers were summoned to a dispute between people fighting over the two baseball teams. Police said the 1:45 a.m. incident took place near the intersection of Main and Walnut streets, a crowded intersection just blocks from the beach. http://www.latimes.com/local/lanow/la-me-ln-three-marines-stabbed-dodger-angel-fans-20140331,0,6917785.story#ixzz2xaeOVFRZ
Stabbings? Shootings? Detroit police stop reporting violent crimes to media, public  You might think so by picking up the newspaper or watching TV news because police have stopped reporting most murders, shootings and other violent crimes to the media and public.  Instead, the police department is releasing information on successful arrests.
"It lets our citizens know that we are in fact making arrests and solving crime," police spokesman Sgt. Michael Woody told me.
In the meantime, the public is left in the dark about violent crime and wanted suspects.
The police department quietly stopped issuing the "Major Crime Summary Report" following the death of radio personality and activist, Angelo Henderson, who spoke daily about the crime report and the wanted suspects on his radio show.  Police Chief James Craig, who has been criticized for changing how response times are recorded, wouldn't comment for this story.
Detroit Police Commission Chairwoman Jessica Taylor, who is elected by the public to address these kinds of issues, said she doesn't see the problem.
"I don't think he is trying to hide anything," Taylor told me, asking me to wait while she urged the police commissioner to call me back.  Chief Craig never called.    http://motorcitymuckraker.com/blog/2014/04/03/stabbings-shootings-detroit-police-stop-reporting-violent-crimes-to-media-public/
Secret military device lets Oakland deputies track cellphones       Oakland County commissioners asked no questions last March before unanimously approving a cellphone tracking device so powerful it was used by the military to fight terrorists.
Now, though, some privacy advocates question why one of the safest counties in Michigan needs the super-secretive Hailstorm device that is believed to be able to collect large amounts of cellphone data, including the locations of users, by masquerading as a cell tower.
"I don't like not knowing what it's capable of," said county Commissioner Jim Runestad, R-White Lake Township, who has met in recent weeks with sheriff's officials about his concerns.
The Oakland County Sheriff's Office is one of about two dozen forces nationwide — and the only one in Michigan — with the $170,000 machine. So little is known about Hailstorm that even national experts will only speculate about its capabilities. The technology from Florida-based defense contractor Harris Corp. is believed to be an upgrade of Stingray, a suitcase-sized contraption that is installed in cars and used to trick nearby phones into connecting with it and providing data to police.
The technology can track fugitives and find missing children, but privacy advocates said they worry because similar machines can collect data from innocent smartphone users.
"It's all very secretive and information about (Stingray and Hailstorm) is tightly controlled, which makes it (difficult) to have a broad discussion about these tools," said Alan Butler, a lawyer for the Electronic Privacy Information Center, a Washington, D.C.-based advocacy group.  From The Detroit News: http://www.detroitnews.com/article/20140404/SPECIAL/304040043#ixzz2xzUz6vcX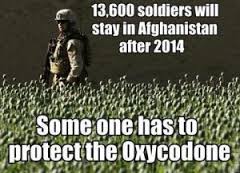 'We're all paying:' Heroin spreads misery in US  (think Afghan poppy fields protected by US Troops)  In Butler County, Ohio, heroin overdose calls are so common that the longtime EMS coordinator likens the situation to "coming in and eating breakfast – you just kind of expect it to occur." A local rehab facility has a six-month wait. One school recently referred an 11-year-old boy who was shooting up intravenously.
Sheriff Richard Jones has seen crack, methamphetamine and pills plague his southwestern Ohio community but calls heroin a bigger scourge. Children have been forced into foster care because of addicted parents; shoplifting rings have formed to raise money to buy fixes.
"There are so many residual effects," he says. "And we're all paying for it."    http://m.apnews.com/ap/db_289563/contentdetail.htm?contentguid=CqL84aPP
Solidarity for Never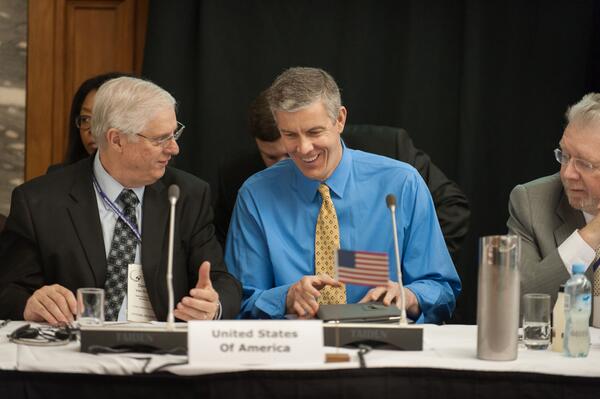 NEA boss Dennis Van Roekel ($465,000/year) and Arne Duncan Share a laugh about the US education grift
AFT Boss and EI-CIA Asset Gives an In-person Hug to Ukrainian fascists WASHINGTON—A delegation of teacher union leaders from five nations, including Randi Weingarten, president of the American Federation of Teachers, will be visiting Ukraine on Thursday and meeting with Ukraine trade union leaders and government officials. They will be available to the media on Thursday afternoon in Maidan Square.
The Trade Union of Education and Science Workers of Ukraine (STESU) invited Weingarten and education labor leaders of the United Kingdom, Poland, Denmark and Bulgaria—members of Educational International—to meet and discuss how it can continue its work in support of democracy and the rule of law.
"It is a great honor to be asked by Ukraine's teacher unions to work with them to strengthen their democratic institutions and support their efforts to build a brighter future for all Ukrainians through education, democracy and the rule of law," Weingarten said.
STESU's central office building at the Maidan Square, which sheltered protesters during the uprising, was demolished by police forces. The union has asked Education International for assistance in relocating its offices and re-establishing communication with its members.    http://www.aft.org/newspubs/press/2014/031214.cfm
below, police asset Weingarten and the vacillating reactionary Ravitch: dear pals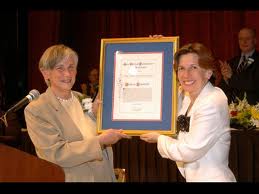 Against Ravitch    http://richgibson.com/againstravitch.htm
Unionites Poured Member Money on CA Criminal Pol Yee–and got?Mike A: I don't know if the FBI got back the envelope of cash it used to bribe California state senator Leland Yee, but hundreds of people and organizations won't get back the money they donated to Yee's campaign for Secretary of State. The law allows such contributions to be used for a legal defense fund. This is bad news for a whole lot of California unions, such as:
California Federation of Teachers
California School Employees Association
California Faculty Association
United Domestic Workers of America
California Nurses Association
AFSCME Local 3299
International Association of Heat and Frost Insulators and Allied Workers Local 16
Teamsters Local 665
Plumbers & Steamfitters Local 467
District Council of Iron Workers
International Brotherhood of Electrical Workers Local 6
Sonoma, Mendocino and Lake Counties Building Construction Trades Council
San Francisco Fire Fighters
International Union of Painters and Allied Trades
Operating Engineers Local 3
Amalgamated Transit Union
But unions aren't the only ones who will see their money paying for Yee's lawyers. He also received contributions from Facebook and the Hustler Casino.    http://www.eiaonline.com/intercepts/2014/04/01/union-campaign-contributions-may-help-fund-yees-defense
UAW Bosses, Having Lost the Southern VW vote (that had VW boss' support) want a 25% dues increase?   A top United Auto Workers official says the union will make a final decision on whether to pursue a 25-percent dues hike "within weeks."
The UAW has recently hosted a series of town hall meetings at local shops to discuss the dues hike, which would be the first increase since the late 1960s. Jimmy Settles, UAW-Ford Department vice president, told The Detroit News that the union is "just having conversations with our members to see how they feel about it."  From The Detroit News: http://www.detroitnews.com/article/20140401/AUTO01/304010025#ixzz2xgJhizvW
Rightists Easily Join Liberals in their Fake Opposition to Common Core and Big Tests (it's capitalism and empire, stupids) Republican gubernatorial candidate Rob Astorino says he will pull his children from New York's Common Core tests this week, claiming the new academic standards are turning children into guinea pigs.
The Westchester County executive on Monday released a video on his campaign website saying he and his wife are protesting Common Core by opting out of the exams this week for their children in third and fifth grade.
Astorino calls the standards "Cuomo's Common Core" and says New York's parents and teachers will lose local control over classrooms.
Cuomo has been a critic of the Common Core rollout. The budget being debated by the Legislature Monday will keep Common Core test scores off the transcripts of students in third through eighth grades through 2018. Read more: http://www.washingtontimes.com/news/2014/mar/31/ny-gop-governor-hopeful-blasts-states-common-core/#ixzz2xzQo3fww
Bankrupt Detroit Fed of Teachers (which allowed every teacher to be fired, then sued to keep the forced collection of dues) claims things are going well, then this:  Now that the Detroit Federation of Teachers has sold its office building and moved to more affordable rented space, one would think our financial troubles are over. Unfortunately, we are not out of the woods. We owed about $2.8 million on our mortgage, and were only able to get $1.3 million for the building. This means we had to pay $1.5 million to get out of the building. Given that we will save over $3  million over the next five years, this is
still a very good move. However, we did not have the $1.5 million to pay off the mortgage. We used
all our cash, borrowed $350,000 from the bank, and got behind on our payments of per capita dues to AFT and AFT Michigan. This allowed us to pay off the mortgage, but we now have to repay the new bank loan, and about  $560,000 in delinquent per capita dues from this year. This is over and above the $1.4 million we still owe AFT from 2006-08. The bank loan must be repaid by June 30. This will not leave us enough cash to
repay the per capita dues until late in the next school year. One short-term consequence of our cash flow problem is that our delegates to the state and national conventions will not be seated this year. As reported at the March membership meeting, the national and state federations' constitutions preclude seating of delegates from a local that is in arrears. Given that our delegates will not be seated, one might wonder why we are holding an election. Our constitution requires it.    http://dft231.mi.aft.org/files/april2014_1.pdf
Spy versus Spy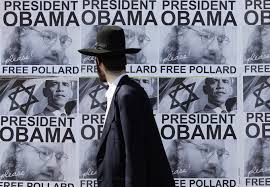 above, poster for Pollard, the venal for profit spy Israel wants to reward, again
CIA Lied (lies) about Torture/Kidnap Failures  A report by the Senate Intelligence Committee concludes that the CIA misled the government and the public about aspects of its brutal interrogation program for years — concealing details about the severity of its methods, overstating the significance of plots and prisoners, and taking credit for critical pieces of intelligence that detainees had in fact surrendered before they were subjected to harsh techniques.
The report, built around detailed chronologies of dozens of CIA detainees, documents a long-standing pattern of unsubstantiated claims as agency officials sought permission to use — and later tried to defend — excruciating interrogation methods that yielded little, if any, significant intelligence, according to U.S. officials who have reviewed the document.  "The CIA described [its program] repeatedly both to the Department of Justice and eventually to Congress as getting unique, otherwise unobtainable intelligence that helped disrupt terrorist plots and save thousands of lives," said one U.S. official briefed on the report. "Was that actually true? The answer is no."
Current and former U.S. officials who described the report spoke on the condition of anonymity because of the sensitivity of the issue and because the document remains classified. The 6,300-page report includes what officials described as damning new disclosures about a sprawling network of secret detention facilities, or "black sites,"    http://www.washingtonpost.com/world/national-security/cia-misled-on-interrogation-program-senate-report-says/2014/03/31/eb75a82a-b8dd-11e3-96ae-f2c36d2b1245_story.html?hpid=z5
More on CIA Torture from BBC  A long-awaited US Senate report said that the CIA used secret "black sites" to interrogate prisoners using techniques not previously acknowledged.
These included dunking suspects in icy water and smashing a prisoner's head against a wall.
The findings stem from the time of former President George W Bush.
Officials familiar with the secret document said that the CIA's interrogation programme yielded little useful intelligence.
They also said that this intelligence had then been exaggerated so that the interrogation programme looked more effective than it actually was.  http://www.bbc.com/news/world-us-canada-26831756
USAID –CIA 'proud of' Cuba Twitter plan  A spokesman for USAID is defending the agency's work in Cuba following a report Thursday by The Associated Press that the agency backed a "Cuban Twitter" in the country aimed at undermining its communist regime.
"The purpose of the Zunzuneo project was to create a platform for Cubans to speak freely among themselves, period," USAID's Matt Herrick said in a statement on Thursday.  He noted that in initial stages tech news, sports scores, weather and trivia were sent to "build interest and engage Cubans."
"After that, Cubans were able to talk among themselves, and we are proud of that," Herrick said.
The original AP story reported that its users in Cuba however, were not aware it was created by a U.S. agency or that their personal information was being gathered. The story also questioned whether the project was legal under U.S. law.
However, Herrick in his statement said the project was reviewed in detail in 2013 by the Government Accountability Office, which found it consistent with U.S. law. Herrick said USAID was working with resources provided by Congress "for exactly this purpose."
The AP also noted the details it uncovered regarding the project "appear to muddy" USAID's claims that it does not conduct covert actions.
Read more:   http://www.politico.com/story/2014/04/usaid-cuba-twitter-plan-105355.html#ixzz2xtqP5E63
The Magical Mystery Tour
The Fight to Reveal Abuses by Catholic Priests  In 2002, with the scandal in crescendo and the American Catholic Church knocked back on its heels, Cardinal Egan reacted with obvious ambivalence to accounts of priestly abuses that occurred in the Diocese of Bridgeport, Conn., which he had led before moving to New York. "If in hindsight we also discover that mistakes may have been made as regards prompt removal of priests and assistance to victims, I am deeply sorry," he said in a letter to parishioners.
The conditional nature of the apology, a style favored by innumerable politicians caught with hands in the till, was not lost on many listeners. Nor was the cardinal's use of "mistakes" to describe a pattern routinely described by district attorneys as a cover-up. As if that were not enough, the reluctant penitent turned thoroughly unrepentant a decade later. By then retired, he withdrew his apology. "I never should have said that," the cardinal told Connecticut magazine in 2012. "I did say if we did anything wrong, I'm sorry, but I don't think we did anything wrong."
That sort of unyielding stance amid institutional promises of change continues to bedevil the American church, the Holy See in Rome and, no doubt, many among the faithful. This issue shapes the latest installment of Retro Report, a weekly series of documentary videos, with this one reaching back to the mid-1980s to explore clergymen who prey.
By now, the story is amply familiar. Thousands of wayward clerics have been found to have sexually abused and emotionally scarred many more thousands of boys and girls. It is, too, a story of the church hierarchy as enabler: bishops who ignored the criminality, or evaded public exposure by shuffling abusers from parish to parish. The scandals have cost the church dearly, both in lost moral suasion and in its coffers. According to a monitoring group called BishopAccountability.org, United States dioceses and their insurers have had to pay out more than $3 billion, most of that money going to victims.  http://www.nytimes.com/2014/03/31/us/the-fight-to-reveal-abuses-by-catholic-priests.html?_r=0
Saudi Arabia declares all atheists are terrorists in new law to crack down on political dissidents  In a string of royal decrees and an overarching new piece of legislation to deal with terrorism generally, the Saudi King Abdullah has clamped down on all forms of political dissent and protests that could "harm public order".
The new laws have largely been brought in to combat the growing number of Saudis travelling to take part in the civil war in Syria, who have previously returned with newfound training and ideas about overthrowing the monarchy.
To that end, King Abdullah issued Royal Decree 44, which criminalises "participating in hostilities outside the kingdom" with prison sentences of between three and 20 years, Human Rights Watch said.
Yet last month further regulations were issued by the Saudi interior ministry, identifying a broad list of groups which the government considers to be terrorist organisations – including the Muslim Brotherhood.
Article one of the new provisions defines terrorism as "calling for atheist thought in any form, or calling into question the fundamentals of the Islamic religion on which this country is based".   http://www.independent.co.uk/news/world/middle-east/saudi-arabia-declares-all-atheists-are-terrorists-in-new-law-to-crack-down-on-political-dissidents-9228389.html
 Can A Television Network Be A Church? The IRS Says Yes  Several former employees also don't call Daystar a church.
"When the lights are on and the cameras are on, we're a ministry. When those lights are off, cameras are off, it doesn't feel like a ministry," says Lisa Anderson, former executive assistant to Marcus Lamb and his wife, Joni. "It is a business making money."
Daystar's former IT manager Bill Hornback agrees. "I mean, there's no Sunday sermon, no Wednesday night meeting. It's all business. It's not a church. It's a television broadcasting company, that's what they are," says Hornback.  …The committee looked at Atlanta mega-church pastor Bishop Eddie Long, and noted that he made trips in a church-leased jet to Las Vegas and Caribbean resort islands, and had a Rolls Royce and a Bentley.
The investigation examined Georgia-based televangelist Creflo Dollar and his wife, Taffi, who also drove Rolls Royces and had numerous subsidiaries connected to their church.
The inquiry also looked at the $3.5 million dollar Trump Tower condo and the Bentley convertible purchased by televangelists Paula and Randy White.
Investigators concluded the lack of accountability among these six ministries was "troubling considering that churches can reach the size of large taxable corporatio ns, control numerous… subsidiaries, and bestow Wall Street-size benefits on their ministers."
http://www.npr.org/2014/04/01/282496855/can-a-television-network-be-a-church-the-irs-says-yes
The Best and Worst Things in the History of the World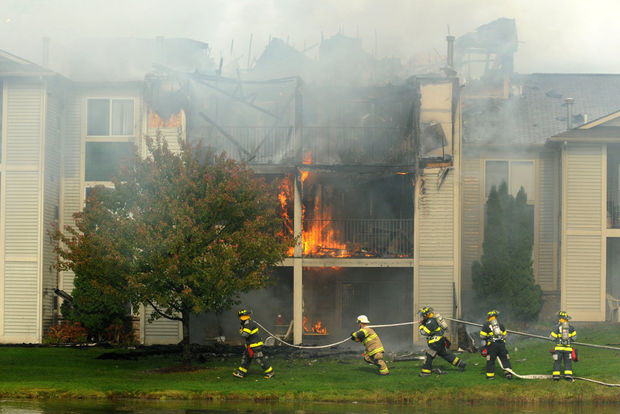 Woman sued for $2 million after boyfriend torches squirrel on apartment deck, starts massive fire   A woman who signed an apartment lease with her boyfriend and allegedly agreed to be liable for any smoke or water damage, faces a $2 million lawsuit after he attempted to cook a squirrel and started a massive fire with a torch.
Two lawsuits have been filed in Ottawa County Circuit Court by insurance companies that covered damages after the Oct. 10, 2012 fire at ClearView Apartments. The complex is located at 120th Avenue and Riley Street in Holland Township.
Khek Chanthalavong told investigators the blaze started after he had been using a torch on the deck of a unit he shared with Barbara Pellow, to burn the fur off a squirrel he'd captured. Once the fur was removed, he placed the torch in the corner of their deck, next to a plastic plant holder. He then went inside to cook the rodent.    http://www.mlive.com/news/grand-rapids/index.ssf/2014/04/woman_sued_for_2_million_after.html#incart_2box
Messianic Chris Hedges Suing His Way out of Fascism  The Barack Obama administration, determined to thwart the attempt by other plaintiffs and myself to have the courts void a law that permits the military to arrest U.S. citizens, strip them of due process and indefinitely detain them, has filed a detailed brief with the Supreme Court asking the justices to refuse to accept our petition to hear our appeal. We will respond within 10 days.
"The administration's unstated goal appears to be to get court to agree that [the administration] has the authority to use the military to detain U.S. citizens," Bruce Afran, one of two attorneys handling the case   http://truth-out.org/opinion/item/22784-chris-hedges-fighting-the-militarized-state#13963897189561&action=collapse_widget&id=130135
No tacos for you: NY restaurant chain 'bans' Putin  Hey Putin, don't even think about ordering a Super Mighty in Buffalo.
Mighty Taco, a Buffalo-based chain of Mexican fast-foot restaurants, has banned Russian President Vladimir Putin from all of the company's 23 locations in western New York.    http://m.apnews.com/ap/db_268744/contentdetail.htm?contentguid=JjEIipcJ