July 4th, 2015 / Author: rgibson
We Say Fight Back!
Here's to a National School Worker Strike, 1 day, the day after Mayday 2016!
Don't Miss Updates from the NEA Representative Assembly under "Solidarity for Never"!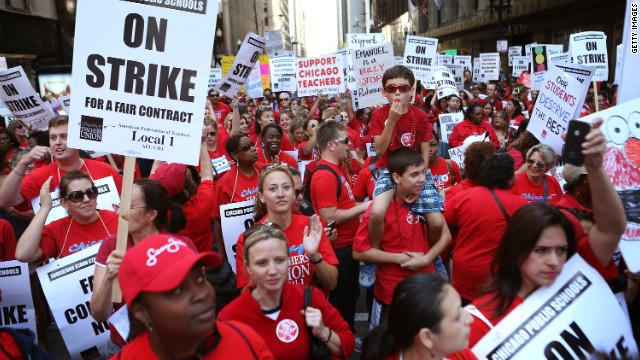 Dhaka Teachers Protest  A group of Chhatra League activists yesterday broke the locks of the administrative building of Shahjalal University of Science and Technology (SUST) which was besieged by protesting teachers.
In the morning, the teachers who are on protest demanding resignation of Vice-Chancellor Prof Aminul Haque Bhuiyan locked the building as part of their protest remained continued for second consecutive day.
Besides, they locked the VC office as well.
SUST acting proctor Emdadul Hoque confirmed the incident, telling some 40 BCL members with the support from Vice-Chancellor Prof Aminul Haque Bhuiyan did it around 1:30pm.
The proctor went on that none was available inside the building, but Chhatra League broke the locks in name of taking certificates.
When contacted, Jalalabad police station OC Akter Hossain admitted the BCL's role and said they under the banner of general student took the move led by BCL leaders Tarek and Rony.
On the other hand amid the untoward condition, the university authorities have postponed a syndicate meeting supposed to be held around 3pm, says campus sources.
– See more at: www.dhakatribune.com/politics/2015/jun/24/bcl-meddles-sust-teachers-protest#sthash.gKaPMWGU.dpuf
Above from the Labadie Collection, Radical Posters and works digitized  hyperallergic.com/217577/the-revolution-has-been-digitized-explore-the-oldest-archive-of-radical-posters/
The Labadie Story: "All American Anarchist" explained ("Curse the law. What the deuce are we organized for if it is not to overturn the law?") richgibson.com/Labadie.htm
Reminder:
Progressive Education: A Marxist Interpretation
by Gilbert G. Gonzalez ISBN 978-0-930656-16-4, paper, 200 pages, 1982  The author covers the influence of William James on John Dewey, demonstrates the pseudoscientific basis of the concept of intelligence, and relates mass compulsory education to the development of the forces of production. Gonzalez studies the harm Dewey's thought and the rise of intelligence testing have done to the Chicano community in Los Angeles. Progressive Education: A Marxist Interpretation was selected by the American Educational Studies Association (AESA) Critics Panel as one of the outstanding books in educational studies of 1985.
And: Marxist Educational Press Book Titles (many free online) at homepages.spa.umn.edu/~marquit/
Glen Ford: Both Major Parties are Plagues on Humanity The two corporate parties have collaborated in knocking off countries targeted for invasion and regime change. They have both nurtured the jihadist international network that was created under presidents Carter and Reagan. And presidents Clinton, Bush and Obama are complicit in the capital crime of genocide in the Congo, where six million people have died since 1996. The presidential nominee of either party must be a ghoul, a fiend, or a banshee.
There has never been a dime's worth of difference between the Clintons (Bill and Hillary) and Barack Obama, and less than ten cents separates the worldviews of these Democratic political twins from the Bush wing of the Republican Party.
Each has their individual quirks. Barack destroys international order and the rule of law while dabbling at song; Bill dismantled the U.S. manufacturing base and threw record numbers of Blacks in prison as he toyed with his trumpet; George W. played the fool who would Shock and Awe the world into obedience; and Hillary is the evil crone that curses the dead while screaming "We are Woman" like a banshee. But they are all the same in their corporate soullessness.
They all lie for a living, and they live to lie. Hillary Clinton commingled official and personal criminality through the medium of email. Knowing that, in a life dedicated to crime, she could never successfully sequester her private and public conspiracies, Hillary privatized all of her email correspondence during her tenure as Obama's Secretary of State (in the perfect spirit of neoliberalism). The fate of millions of Haitians whose country's earthquake and development "aid" are under the Clinton family thumb were doubtless bundled into the tens of thousands of messages she erased on leaving Foggy Bottom.http://www.blackagendareport.com/both_major_parties_plagues_on_humanity
The Little Red Schoolhouse
The Dallas school board agreed to pay former Superintendent Mike Miles $275,000 in a separation deal Friday, while it voted to bring back Michael Hinojosa as his interim replacement.
Miles will receive $125,000 in separation pay and $150,000 as a "retention incentive supplement."
The supplement is included in his contract, which provides $50,000 a year for every year he spent in DISD.
Miles was supposed to receive the money in 2017, but the board agreed to pay him now for his three years of work.
Trustees voted 6-3 to accept Miles' resignation and provide the settlement.  www.dallasnews.com/news/education/headlines/20150626-dallas-isd-to-hire-hinojosa-as-interim-chief-pay-exiting-miles-275000.ece
Corruption is endemic in capitalist schools The Wayne County Prosecutor's Office has charged a high school principal and the chief operating officer of a nonprofit with embezzling money targeted for at-risk students at Detroit schools.
Wayne County Prosecutor Kym Worthy charged Western High School principal Rudolfo Diaz and Esperanza Detroit COO Cecilia Zavala with stealing money from Esperanza Detroit.
The agency provides services and in-house counselors to at-risk students at Western International High School and other Detroit public schools.
According to Worthy, in April 2014 the DPS' Office of Inspector General noticed irregularities with some checks issued by the organization.
A member of Esperanza Detroit did an internal audit and turned findings over to the Detroit Police Department, which then turned it over to the prosecutor's office.
Michelle Zdrodowski, DPS spokesperson said, "Detroit Public Schools has and will continue to cooperate with the Wayne County Prosecutor and her office on this matter, which includes allegations/charges not directly tied to district funds.  www.detroitnews.com/story/news/local/detroit-city/2015/06/29/charged-embezzling-detroit-school-program/29467801/
Detroit Schools deficit to top $335 million, and not a bit of help from the demagogue Obama  The financial outlook for Detroit Public Schools continues to decline as its accumulated deficit is projected to grow to more than $335 million for the year ending June 30, 2016.
The projected deficit for this fiscal year, which started Wednesday, is estimated to be $97 million, according to its proposed operating budget.
David Head, spokesman for the Department of Education , said "DPS reported to us earlier this year that its (fiscal year) ending deficit this year would be $166 million."
"The department is aware of the change in deficit, and a meeting is scheduled early next week to discuss the situation," Head said.  www.detroitnews.com/story/news/local/detroit-city/2015/07/02/dps-deficit-projected-million-next-june/29628461/
New Orleans "experts" arrive in Detroit Detroit should look closely at the models that are working, such as in New Orleans, D.C., and Memphis. The school landscape in Detroit is complicated, which poses some unique challenges. That's partly why the education debate in Detroit is attracting such high-profile expertise.
For example, Paul Pastorek, the former Louisiana superintendent of education who chartered most schools in New Orleans following Hurricane Katrina, has worked with Gov. Rick Snyder the past year to craft a plan for Detroit and other districts.  www.detroitnews.com/story/opinion/columnists/ingrid-jacques/2015/07/02/jacques-ed-experts-descend-detroit/29624519/
The International Hot War of the Rich on the Poor
Pentagon Boss Outlines War Plans vs Russia (probably a bad idea) The announcement by US Defense Secretary Ashton Carter in advance of this week's NATO defense ministers meeting that the US will preposition heavy military equipment and soldiers in Eastern European and Baltic countries bordering Russia heightens the danger of war between the world's major nuclear powers.
Speaking in the Estonian capital Tallinn on Tuesday, Carter announced the deployment of Abrams tanks, Bradley armored vehicles, heavy artillery and other military equipment—enough to equip 5,000 troops—to Poland, Bulgaria, Romania, Estonia, Latvia and Lithuania. He also announced the build-up of NATO's cyberwar capabilities, saying, "We must prepare NATO and our allies for cyber challenges, particularly from Russia."
The day before, Carter spoke at a military-security think tank in Berlin and said that NATO was refocusing its strategic orientation for a long-term confrontation with Russia. Denouncing what he called Russian "aggression" in Ukraine, he spoke of a "new play book" and declared, "We will stand up to Russia's actions and their attempts to reestablish a Soviet-era sphere of influence."
He said the US would contribute bombers, fighter jets, surveillance drones, Special Operations troops and other military resources to the Very High Readiness Joint Task Force (VJTF). The VJTF, announced by NATO last year, is tasked with intervening militarily against Russia, once called upon, in a matter of days.  cyberwardesk.com/pentagon-chief-outlines-war-preparations-against-russia/
Klare:  The Coming Cold War (but with who?)  America's grand strategy, its long-term blueprint for advancing national interests and countering major adversaries, is in total disarray. Top officials lurch from crisis to crisis, improvising strategies as they go, but rarely pursuing a consistent set of policies. Some blame this indecisiveness on a lack of resolve at the White House, but the real reason lies deeper. It lurks in a disagreement among foreign policy elites over whether Russia or China constitutes America's principal great-power adversary.
Knowing one's enemy is usually considered the essence of strategic planning. During the Cold War, enemy number one was, of course, unquestioned: it was the Soviet Union, and everything Washington did was aimed at diminishing Moscow's reach and power. When the USSR imploded and disappeared, all that was left to challenge U.S. dominance were a few "rogue states." In the wake of 9/11, however, President Bush declared a "global war on terror," envisioning a decades-long campaign against Islamic extremists and their allies everywhere on the planet. From then on, with every country said to be either with us or against us, the chaos set in. Invasions, occupations, raids, drone wars ensued — all of it, in the end, disastrous — while China used its economic clout to gain new influence abroad and Russia began to menace its neighbors.
Among Obama administration policymakers and their Republican opponents, the disarray in strategic thinking is striking.  www.tomdispatch.com/post/176017/tomgram%3A_michael_klare%2C_the_coming_of_cold_war_2.0/
Who Lost Our Drone?  The Air Force has acknowledged that an MQ-1B Predator, lost March 17 during an intelligence flight over Syria, was shot down.
While Syria's official news agency at the time claimed the remotely piloted aircraft was shot down, U.S. Defense Department officials only would say the drone was lost, and didn't provide additional information because the incident was under investigation.
The Air Force this week posted a news story online about a web-based application used by intelligence experts to share information collected by remotely piloted aircraft. The application, the Air Force wrote, was adjusted in March after "a deployed MQ-1 was shot down over Syria" near the coastal town of Latakia..
The Air Force story did not say if the aircraft was shot down by Syrian forces or fighters with the Islamic State group. At the time, Syrian state media claimed the aircraft was shot down by Syrian air defenses. If correct, the shoot down contradicts Air Force and Pentagon claims that throughout the air campaign Syrian air defenses have been "permissive."  www.airforcetimes.com/story/military/pentagon/2015/06/29/air-force-lost-predator-was-shot-down-in-syria/29474659/
VA To Vet: We are not taking patients Iraq war veteran Chris Dorsey figured that no one would believe he had been turned away from a VA clinic when he sought an appointment for post-traumatic stress disorder.
So when he went on Tuesday to another facility, the VA Oakwood, Georgia, Community Based Outpatient Clinic, he flipped on his smartphone camera.
On the video, Dorsey is heard waiting patiently in line for more than 5 minutes. When he reaches the check-in counter, he informs the desk he needs a transfer from the Athens, Georgia, VA system and an appointment.
The response?
"We're not accepting any new patients — not this clinic," the VA employee behind the desk says, without providing any extra information, assistance or follow-on guidance for treatment.  www.militarytimes.com/story/veterans/2015/06/30/atlanta-georgia-va-to-iraq-war-veteran-we-are-not-taking-new-patients/29531137/
Warnings Ignored, Cannon-fodder pilots died In the decades before the Lawrence tragedy, helicopter pilots and ship crews repeatedly warned about the hazards on low-freeboard flight decks, messages that were either missed or ignored in a breakdown of the Navy systems used to identify and mitigate hazards. They called for changes that, if instituted, might have prevented the deaths, recommendations adopted only after it was too late.
The dangers of wave impacts on frigates and destroyers were reported in 13 hazard reports filed between 1983 and 2013, HAZREPS obtained by Navy Times in a 2-month-long investigation and presented publicly for the first time. These messages are chock full of warnings from aviators that presage the tragedy of Sept. 22, 2013.
Indeed, the William P. Lawrence accident was the third time in 2013 that a destroyer's flight deck took a severe hit from a wave; a crest damaged a helicopter's rotors in January and another swept a sailor overboard in March. The sailor was recovered with heavy bruising and found to be suffering from exposure after 30 minutes in the water.  www.militarytimes.com/story/military/2015/06/28/lawrence-helicopter-tragedy-accident-ddg-investigation-hazrep/29162991/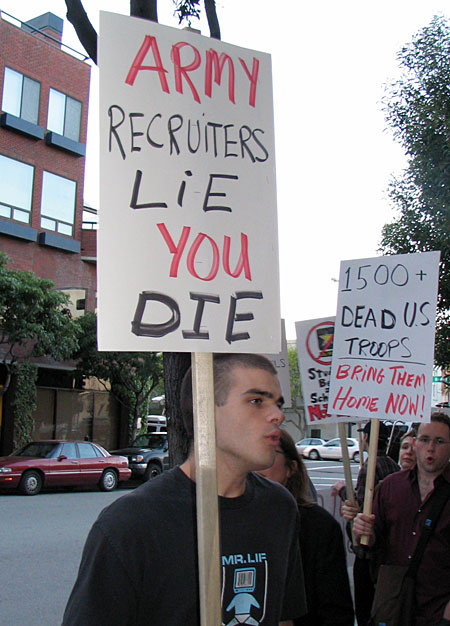 ReUp! Big Bucks! First-term Marines in only half as many specialties will be eligible for re-enlistment bonuses in fiscal 2016, a sharp decline from last year, making competition for re-up dollars tough.
While the overall bonus budget gets a small bump up to $56 million next year, only those in 55 jobs will be eligible for re-up cash, according to details released Marine administrative message 296/15, which announced the re-up bonus program in mid-June. In 2015, Marines in 106 military occupational specialties were eligible for bonuses.  www.marinecorpstimes.com/story/military/careers/marine-corps/2015/06/30/fewer-mos-more-marines-get-reup-bonuses-in-fy16/29242721/
The International Economic War of the Rich on the Poor
above, Detroit Coppers protect worker shutting off the water of another worker, who can't pay, just one of tens of thousands going forward now.  Good news: every block has someone who knows how to turn the water back on. Free Water!
Wayne County plans to sell 28,545 Detroit properties at auction this fall — including about 10,000 occupied homes — that are three or more years delinquent on taxes. That's a record number, in part because Treasurer Raymond J. Wojtowicz ended a long practice of avoiding foreclosure on properties with delinquencies of less than $1,700.  …Activists fear widespread devastation, coming atop 139,000 mortgage and tax foreclosures in Detroit since 2005.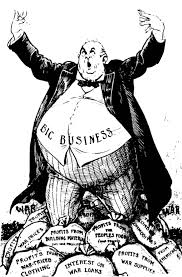 Top CEOs Make 300 times the pay of the average Worker The chief executive officers of America's largest firms earn three times more than they did 20 years ago and at least 10 times more than 30 years ago, big gains even relative to other very-high-wage earners. These extraordinary pay increases have had spillover effects in pulling up the pay of other executives and managers, who constitute a larger group of workers than is commonly recognized.1 Consequently, the growth of CEO and executive compensation overall was a major factor driving the doubling of the income shares of the top 1 percent and top 0.1 percent of U.S. households from 1979 to 2007 (Bivens and Mishel 2013; Bakija, Cole, and Heim 2012). Since then, income growth has remained unbalanced: as profits have reached record highs and the stock market has boomed, the wages of most workers, stagnant over the last dozen years, including during the prior recovery, have declined during this one (Bivens et al. 2014; Gould 2015) .
In examining trends in CEO compensation to determine how well the top 1 and 0.1 percent are faring through 2014, this paper finds:
Average CEO compensation for the largest firms was $16.3 million in 2014. This estimate uses a comprehensive measure of CEO pay that covers chief executives of the top 350 U.S. firms and includes the value of stock options exercised in a given year. Compensation is up 3.9 percent since 2013 and 54.3 percent since the recovery began in 2009.
From 1978 to 2014, inflation-adjusted CEO compensation increased 997 percent, a rise almost double stock market growth and substantially greater than the painfully slow 10.9 percent growth in a typical worker's annual compensation over the same period.
The CEO-to-worker compensation ratio, 20-to-1 in 1965, peaked at 376-to-1 in 2000 and was 303-to-1 in 2014, far higher than in the 1960s, 1970s, 1980s, or 1990s.  www.epi.org/publication/top-ceos-make-300-times-more-than-workers-pay-growth-surpasses-market-gains-and-the-rest-of-the-0-1-percent/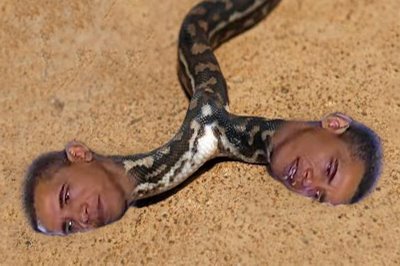 After a grueling legislative battle, US President Barack Obama signed into law a controversial trade measure that also contains landmark legislation combating the boycott, divestment and sanctions (BDS) movement in Europe.   The broader legislation faced an uphill battle after Obama's usual allies — Democrats in the House of Representative — bucked his authority and voted against key provisions out of concern that liberalization of trade could impact American jobs.
But on Monday, Obama signed into law the so-called "fast track" authorization that will allow US trade negotiators to work out a long-awaited deal with Asian states known as the Trans-Pacific Partnership. The Trade Promotion Authority legislation also contained the anti-BDS provisions, which make rejection of the phenomenon a top priority for US negotiators as they work on a more distant free trade agreement with the European Union.  These guidelines, sponsors hope, will discourage European governments from participating in BDS activities by leveraging the incentive of free trade with the US.  www.timesofisrael.com/obama-signs-anti-bds-bill-into-law/
Labor Participation Rate Lowest Since I977, Wages Stagnant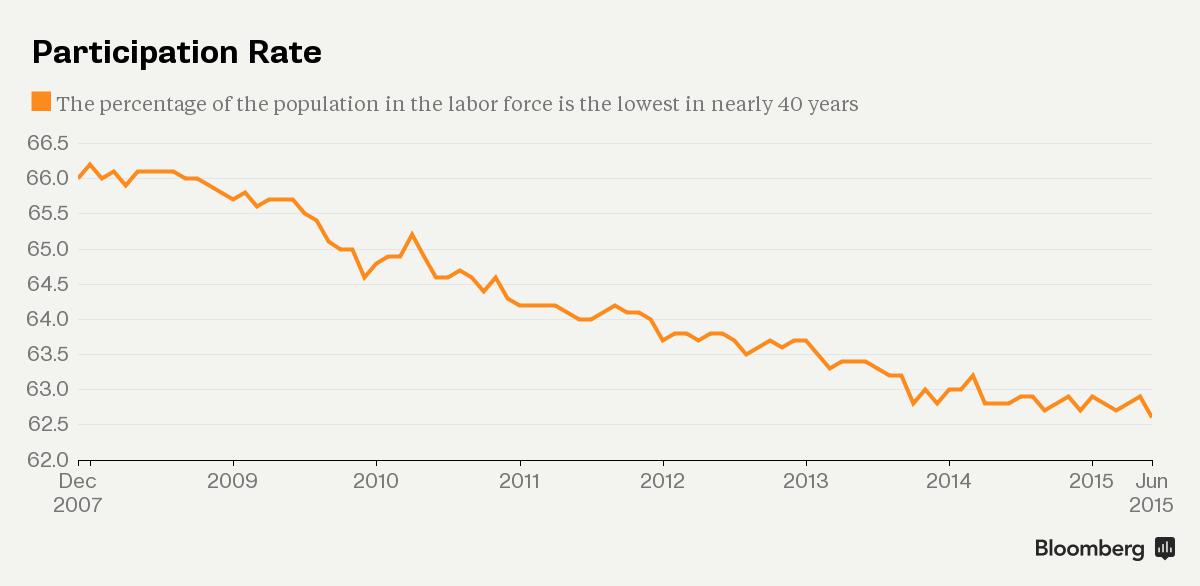 www.bloomberg.com/news/articles/2015-07-02/payrolls-in-u-s-rose-in-june-with-little-change-in-wages
Iceland Jailed banksters, maintained social safety net, and emerged from crisis  The Icelandic government, with the support of the International Monetary Fund, imposed strict capital controls, barring capital from leaving the country and prohibiting individuals from buying foreign currency or foreign stocks.
As real wages fell 11 percent from 2007 to 2010, the government did not take a hacksaw to social services, but instead raised taxes and also offered debt relief to the country's mortgage holders.
And Iceland did what no other developed country has seemed particularly eager to do: It jailed a bunch of bankers.
When the banks collapsed — combined, the third largest corporate bankruptcy in world history in one of the smallest countries — shareholders were wiped out. Foreign creditors lost billions, but hoped to recover some assets. International hedge funds spotted opportunity and bought some of those claims, reportedly for cents on the dollar.
As the economy improved, the claims — including positions in two of the country's "good" banks — increased in value. That meant that the hedge funds effectively owned a significant part of Iceland's financial system.
"We are the only country to let crazy hedge funds own our banks for seven years," Mr. Kristjansson, the fisherman, said.
The capital controls caused a lot of other weird things to happen. Overnight, the central bank gained enormous powers over how money could be spent. Mr. Siguroddsson, the chairman of the electrical wholesaler, was in Japan with his family when his credit card was rejected because he hit his foreign currency limit. He had to call a special number in the middle of the night.
"You have the feeling that there's a system watching you and telling you what you can do with your money," he said.  www.nytimes.com/2015/07/05/business/international/how-iceland-emerged-from-its-deep-freeze.html?hp&action=click&pgtype=Homepage&module=photo-spot-region&region=top-news&WT.nav=top-news&_r=0
The Emergence of Fascism as a Popular Mass Movement
6 Months into 2015, 462 Humans Shot by Coppers  At least 63 people have been shot and killed by police across the United States within the past 30 days, according to Washington Post data. This data will be regularly updated with new shootings and details.  Chart and details of each shooting: www.washingtonpost.com/graphics/national/police-shootings/
Obamagogue: billion dollar loan guarantee for Ukrainian fascists and not a dime for hometown Chicago, nor Detroit – The United States today reaffirmed its strong commitment to the people of Ukraine by signing a $1 billion sovereign loan guarantee agreement with the Government of Ukraine. The guarantee will help the Government of Ukraine continue to institute reforms that tackle corruption, improve the business climate, put the economy on a sustainable path to growth, and make government more responsive to the people.
"The $1 billion loan guarantee will help the Government of Ukraine to carry out its ambitious economic reform agenda," said USAID Acting Administrator Alfonso Lenhardt. "The guarantee sends a strong signal of U.S. support for Ukraine in achieving its reform goals and fulfilling the Ukrainian people's aspirations for a prosperous and democratic future."
The U.S. loan guarantee is part of a comprehensive international financial package, involving both official and private sectors, designed to support Ukraine as it puts in place a reform program. When issued, the U.S. loan guarantee will provide the Government of Ukraine with access to affordable financing from international capital markets, enabling the Government of Ukraine to provide critical services and protect the most vulnerable Ukrainians from the impact of necessary economic adjustments as it implements key reforms.  www.usaid.gov/news-information/press-releases/may-18-2015-us-signs-loan-guarantee-agreement-ukraine
Solidarity for Never
Hey NEA! Yikes! This powerhouse "union" demanded Arne's resignation at the 2014 RA. And he's still working for your man, Obamagogue!
How long until we see the NEA Educators for Hillary posters at the 2015 Rep Assembly?And note, below, Elvis impersonator fundraising for PAC at California delegation.

Breakthrough! 47 Years after the Kerner Report, NEA recognizes institutional racism! The NEA just voted to acknowledge the existence of institutional racism in our country. Our Professional Union will use our collective voice to demand changes in policies, programs or practices that condone or ignore unequal treatment that hinder student success. Great feeling to be part of this progressive movement that stands for social justice! (delegate post 7/3/15)
Oopsie on Institutional Racism at NEA RA There are several state flags at the entry to the delegate floor with the confederate flag, or elements of the confederate flag. Is there something we can do to remove or cover those flags? (CTA delegate post 7/3/15).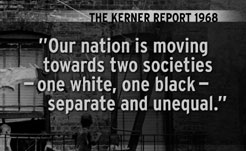 Lowest Numbers at the NEA Rep Assembly in Decades, less than 7,000.
Yooo Hooo! Political Action Specialists! NEA spent millions on the last election cycle, and lost nearly every election.
NEA Boss (from UTAH) backs authorization of NCLB (meaning all those tests she has been lying about) and tells the school workers "You are everything." Full speech with dull video is here ra.nea.org/speech/nea-president-lily-eskelsen-garcia-keynote-address-94th-nea-representative-assembly/
On 4 July, the NEA Rep Assembly agreed with Eskelsen and voted not to endorse New Business Item 5, not to join the farcical "opt-out" movement which is fully opted in to capital and empire, led by opportunists of the lowest sort, those who deliberately refuse to ask: "why the tests?"
NBI 5: The NEA will work with the AFT, state and local parent organizations and other interested parties to:
Join with organizations in support of a nationwide opt out movement where parents/guardians refuse to allow their children to take standardized tests that are or may be used to evaluate schools, school districts, and educators, and that are destroying our students' love of learning and teachers' joy of teaching by inflicting tests on students that are often developmentally inappropriate, brutalizing and that provide no immediate information to assist in students' academic growth.
Repeal any provisions of national, state and local laws/regulations that prevent or penalize parents, educators, students, or school districts for students opting out of said standardized tests.
REJECTED by the Body.
Eskelsen was the NEA's Secretary Treasure who signed the $686,949 check that out-going NEA Prezzie got for one year's work.
Those who seek evidence for the failures of capitalist democracy inside what is the most "democratic" union in the US can search NEA's New Business Items to witness the opportunistic thrashing about that comes from addressing the symptoms of a decaying empire while asking the core question of capital: "What about ME?" ra.nea.org/new-business-item/new-business-item-40/
One WTF New Business Item: Candidates reported to the NEA Women's Caucus that they have been subjected to severe questioning about their clothing, shoes, hairstyle, physical appearance, and accent. Elect leaders on their ability and leadership qualities.  ra.nea.org/new-business-item/new-business-item-95/
If the Black Robed Supremes Delete Mandatory Dues, Will Public workers form Soviets (or let the union bosses remain rich while the ranks remain loyal and obedient)?  A group of public schoolteachers on Monday petitioned the Supreme Court to hear a challenge to laws allowing teachers unions to require dues from nonmembers who disagree with union positions and policies.
A decision in the teachers' favor could change how public employee unions operate nationwide.
The lawsuit, first filed in April 2013, takes aim at the 300,000-member California Teachers Association and the affiliated National Education Association. The plaintiffs – 10 California teachers and the Christian Educators Association International – claim California's "agency shop" law is unconstitutional and violates teachers' First Amendment rights by forcing them to pay union dues regardless of whether they support or are a member of the union. Twenty-six states currently have such laws in place.  www.usnews.com/news/articles/2015/01/26/teachers-petition-supreme-court-to-overturn-forced-collective-bargaining-dues
Chicago Teachers Union bosses grovel, prepare rank and file for abject sellout after shutting down heroic strike Chicago Teachers Union President Karen Lewis said at a press conference last week , "We understand that there is a serious financial problem and we are willing to work within that framework. We accept that there will be a 0 Jpercent raise. But give us something to make that 0 percent feel better." ISO's Jesse Sharkey said on WGN radio, "When we say 'broke on purpose,' both parts are important, including the recognition that CPS is broke. We don't think it's a good time to be asking for big raises or really expensive reforms."
The Detroit Federation of Teachers Contract expired on June 30th. Michigan's right-to-work laws allow members to quit the union now. How many will leave? www.nctq.org/docs/DFT-Contract.-July-1-2012-June-30-20151.pdf
View from the Education Right: Mike Antonucci on the Janus-faced union bosses and much more: When union officers address an audience of union activists, the world is described in Manichaean terms. Standardized testing is not just misused, it is "toxic." Opponents are not just opponents, they are adversaries "who want to destroy our democracy and our public schools"—for money. These enemies are identified by name: the Koch Brothers, the Cato Institute, Americans for Prosperity, Pearson, Inc., Democrats for Education Reform, Michelle Rhee, and Arne Duncan.
The only force standing in their way is the teachers union—"the champions of equity," who "define solutions that drive excellence and success for all students," as described by former NEA president Dennis Van Roekel in his keynote address to the Representative Assembly in July 2014. Union activists, in the words of John Stocks, spoken two years earlier, are "social justice patriots" who "put the power of our soul to work to defend democracy, to fight for equal opportunity, and to create a more just society."
That plays well with the troops, whose enthusiasm and commitment are needed to advance the agenda. Unfortunately for the teachers unions, the wider world is not an echo chamber of their beliefs. To the general public, many of whom have little idea what the NEA and the AFT actually do, it sounds more than a little hyperbolic and self-congratulatory.
The external message cannot be so bellicose. Both the NEA and the AFT need allies, including those who might not sign on to the totality of the unions' vision for public education and American politics. Even with their opponents, they cannot escalate every confrontation to Armageddon. Compromises occur.
Union officers are also aware that it is detrimental to their cause to be constantly saying "no" to so many proposals for school reform. Thus the external message is devoted to depicting an organization that is forward-thinking and innovative when it comes to operating the nation's schools.
The problem for the unions' establishment wing is that the internal message leads their devotees to believe that such compromises, collaborations, and accommodations are selling out the movement. They are not always wrong about that.
While both national unions decry the corporate influence on education, they have partnerships with large corporations on many levels: sponsorships of union events, discount arrangements and credit cards as part of member benefits packages, funding for joint projects, etc. The NEA even went so far as to team up with Walden Media on a book-buying initiative for needy children. Walden Media produced Waiting for Superman, a documentary about families trying to get their kids into charter schools. It was especially critical of teachers unions.
Union activists often depict the Gates Foundation as the mastermind behind corporate education reform. But in 2009, when the foundation announced it would award $335 million to a number of school districts and charter schools to promote teacher effectiveness, the union response was a far cry from the anticorporate rhetoric it regularly delivers to its internal audience.
"These districts, working with their unions and parents, were willing to think out of the box, and were awarded millions of dollars to create transparent, fair, and sustainable teacher effectiveness models," said AFT president Randi Weingarten.
"Collaboration and multilevel integration are important when it comes to transforming the teaching profession," said then NEA president Van Roekel. "These grants will go far in providing resources to help raise student achievement and improve teacher effectiveness."
The NEA's own foundation received $550,000 from the Gates Foundation to "improve labor-management collaboration." The AFT accrued more than $10 million from the Gates Foundation, until internal pressures forced the union to end some of the grants. And of course, the Gates Foundation helped bankroll the development of the Common Core State Standards (CCSS), which both unions continue to officially support (see "Teachers Unions and the Common Core," features, Winter 2015). educationnext.org/teachers-unions-war-within/
ab0ve. Earl Browder, once head of the CP—his best idea was to dissolve it.
"Communist" Party USA (the worst thing that ever happened to the US left) vows to continue to back Dems The chairman of the National Committee of the Communist Party USA has penned a 2,023-word manifesto making the critical point that American Communists are eager to work with the Democratic Party to advance the modern communist agenda and achieve communist goals.
Communist Party chairman John Bachtell published his essay last week at People's World, a "daily news website of, for and by the 99% and the direct descendant of the Daily Worker."
"[L]abor and other key social forces are not about to leave the Democratic Party anytime soon," Bachtell promised. "They still see Democrats as the most realistic electoral vehicle" to fight against perceived class enemies.  peoplesworld.org/a-radical-third-party-i-agree/
Spy versus Spy
Above, Anna Chapman, one of 10 Russian "illegals," members of a sleeper cell that functioned quite well—caught and deported.
Surveillance "Court" Rules that NSA can go on Spying on Everything and that means you…….The Foreign Intelligence Surveillance Court ruled late Monday that the National Security Agency may temporarily resume its once-secret program that systematically collects records of Americans' domestic phone calls in bulk.
But the American Civil Liberties Union said Tuesday that it would ask the United States Court of Appeals for the Second Circuit, which had ruled that the surveillance program was illegal, to issue an injunction to halt the program, setting up a potential conflict between the two courts.
The program lapsed on June 1, when a law on which it was based, Section 215 of the USA Patriot Act, expired. Congress revived that provision on June 2 with a bill called the USA Freedom Act, which said the provision could not be used for bulk collection after six months.  www.nytimes.com/2015/07/01/us/politics/fisa-surveillance-court-rules-nsa-can-resume-bulk-data-collection.html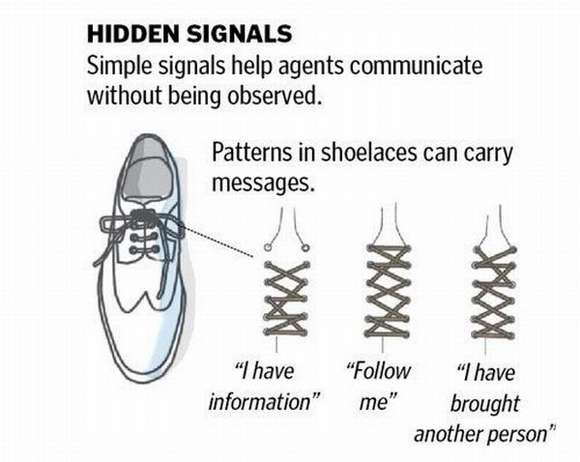 For all the aspiring and current spies, diplomats and F.B.I. agents living in states that have liberalized marijuana laws, the federal government has a stern warning: Put down the bong, throw out the vaporizer and lose the rolling papers.
It may now be legal in Colorado, in Washington State and elsewhere to possess and smoke marijuana, but federal laws outlawing its use — and rules that make it a fireable offense for government workers — have remained rigid. As a result, recruiters for federal agencies are arriving on university campuses in those states with the sobering message that marijuana use will not be tolerated.
So members of a new generation are getting an early lesson in what their predecessors have done for as long as there has been espionage, diplomacy and bureaucracy. They are lying and, when necessary, stalling to avoid failing a drug test.   www.nytimes.com/2015/06/30/us/state-marijuana-laws-complicate-federal-job-recruitment.html?hp&action=click&pgtype=Homepage&module=second-column-region&region=top-news&WT.nav=top-news&_r=0
American Spies and Germany In the summer of 2011, American intelligence agencies spied on a senior German official who they concluded had been the likely source of classified information being leaked to the news media.
The Obama administration authorized the top American spy in Germany to reveal to the German government the identity of the official, according to German officials and news media reports. The decision was made despite the risk of exposing that the United States was monitoring senior national security aides to Chancellor Angela Merkel.
The tip-off appears to have led to a senior German intelligence official being barred from access to sensitive material. But it also raises suspicions that Ms. Merkel's government had strong indications of the extent of American surveillance at least two years before the disclosures by Edward J. Snowden, which included the number of a cellphone used by the chancellor.  www.nytimes.com/2015/07/04/world/europe/an-american-tip-to-german-spies-points-to-a-more-complex-relationship.html?emc=edit_tnt_20150704&nlid=2254121&tntemail0=y&_r=1
The Magical Mystery Tour
Biden Pours More Mysticism on the Fascist Tragedy in SC Mr. Biden, who read a passage from the Book of Psalms, said only faith in God could heal.
"I pray that the families will find refuge in the shadow of his wings," said the vice president, who, along with President Obama, attended Friday's funeral service for the Rev. Clementa C. Pinckney, Emanuel's senior pastor. "And I pray that the love that all of you have shown to them — and people around the country to me — will help mend the broken hearts of their families and mine."
After his surprise appearance at the church's worship service on Sunday, Mr. Biden, who wore a simple white ribbon that recognized the victims, joined Mayor Joseph P. Riley Jr. of Charleston ou0tside the whitewashed church at a large tribute of wreaths, posters and flowers.  www.nytimes.com/2015/06/29/us/as-charleston-church-mourns-biden-adds-his-prayers.html?hp&action=click&pgtype=Homepage&module=first-column-region&region=top-news&WT.nav=top-news&_r=
above, Lebanese women burn IS flags waltermondalejnr.com/2014/09/04/more-pics-of-ballsy-topless-lebanese-girls-burning-isis-flags/
Sad News for Satanists–Oklahoma must remove 10 Commandments  Tough luck to those anticipating a seven-foot statue of Baphomet meant to grace the Oklahoma state capitol. Today the state's Supreme Court ruled that the granite Ten Commandments currently standing on capitol grounds must be removed. The religious monument rose to national controversy in December 2013, when the Satanic Temple challenged Oklahoma's acceptance of religious statues at its capitol by proposing that the Ten Commandments be joined by a goat-headed Satanic sculpture. hyperallergic.com/218911/sad-news-for-satanists-oklahomas-ten-commandments-monument-must-go/
While in Michigan, Muslim Woman Sues in order to oppress herself When Raghdaa Ali of Dearborn Heights attempted to walk into a cash advance store one day last summer to get a money order, an employee pointed to the Islamic headscarf Ali wore and said: "You need to take it off."
The Advance America Cash Advance store in Inkster has a sign outside that reads: "Please Remove hat and Sunglasses" and requires customers to be buzzed in to enter and temporarily remove their head coverings for security reasons.
But as an observant Muslim woman who keeps her head covered in accordance with her faith, Ali tried to explain why she unable to remove her scarf, known as hijab. She was denied entry and told that unless she left, police would be called.  www.freep.com/story/news/local/michigan/2015/07/01/hijab-muslim-right-wear-lawsuits/29543203/
Religion: The Ideology of Death Boko Haram fighters have gunned down at least 80 Muslims praying in mosques in a northeast Nigerian town during the holy month of Ramadan, a government official and a self-defense fighter said.
Al Jazeera's Yvonne Ndege, reporting from Abuja on Thursday, said at least 80 people, mostly men, were killed in the remote town of Kukawa, and that the death toll was expected to rise.
"We are being told that Boko Haram fighters arrived in seven cars and nine motocycles in the town before embarking on their attack, and that over 1000 Nigerian soldiers were in Kanwa, about 11km away but didn't come to the rescue," our correspondent said.  www.aljazeera.com/news/2015/07/muslims-massacred-boko-haram-sweep-nigera-150702191439658.html
Head of Vatican Bank to Latin America: Fleecing the Flock Pope Francis has turned heads with bold stands on climate change and income inequality. He helped broker a historic thaw between the United States and Cuba. He has shaken up the stodgy brand of the Roman Catholic Church.
But for all his forays into international diplomacy and deftness at image-making, his trip to South America, which begins Sunday, will test his skills in what could be a much more difficult task: putting parishioners in pews and keeping them there.
above, plastic Popes and images for sale  www.nytimes.com/2015/07/05/world/americas/pope-francis-visit-to-latin-america-will-test-his-ability-to-keep-catholics-in-the-fold.html?hp&action=click&pgtype=Homepage&module=first-column-region&region=top-news&WT.nav=top-news
The Best and Worst Things in the History of the World
One in Five Young Adults Use Smartphones, text, during sex Why pay attention to sex when you can text? A number of Americans appear to suffer separation anxiety regarding their smart­phone, so much so that they even bring it into the bedroom.
A survey released Thursday found nearly one in ten smart­phone owners admitted to having used their phone during sex.
Overall, nine percent of those surveyed said they had used their smartphone during sex. Young adults were particularly comfortable with multitasking during intercourse. Among those ages 18 to 34, one in five admitted to using their smartphone amid coitus.
"So it should be no surprise that 12 percent believe their smartphone gets in the way of their relationships," the press release for the study noted.  www.rawstory.com/2013/07/one-in-five-young-adults-admit-to-using-smartphone-during-sex/
So Long