August 30th, 2014 / Author: rgibson
We Say Fight Back!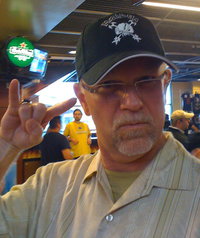 Rouge Forum Co-founder Wayne Ross PodCast on Canada's Teacher Strike (CBC)    http://www.cbc.ca/earlyedition/podcast/2014/08/29/wayne-ross-on-teachers-dispute/
Argentina–General Strike  Labour groups opposed to Argentine President Cristina Fernandez say the second general strike of the year has been a success. The stoppage began at midday (15:00 GMT) on Wednesday and disrupted life in the capital, Buenos Aires.
Many stayed at home as the country's cafes, restaurants, rail, air traffic and ports were affected. Strikers demanded increased wages and lower taxes in response to higher living costs.
The latest stoppage was called by Hugo Moyano and Luis Barrionuevo, who belong to an anti-government faction of the country's largest and most powerful union, the General Confederation of Labour (CGT).   Three of the country's main unions joined the strike and Hugo Moyano, said he estimated 80% of workers had taken part.
The government criticised the protest, saying it was "political in nature" and that only 25% of workers joined it. "There are trade unionists who are in opposition [to the government], and that's fine, but they should respect the citizens and leave their protest for 2015″ when presidential elections will be held, Cabinet Chief Jorge Capitanich said.
The trade union movement in Argentina is divided into those who back the government of President Fernandez de Kirchner and those who think it is not doing enough to help workers. The industrial action comes amid increasing economic problems for Argentina's government.
Unemployment rose to 7.5% in the second quarter as consumer spending and industrial output both fell. The government has not issued any inflation figures since February, but according to Buenos Aires based research firm Elypsis, consumer prices rose by 38% from August 2013 to August 2014.  Growth is expected to be hampered further by the fact that Argentina is in a technical default after a New York court blocked interest payments to bondholders last month    http://www.bbc.com/news/world-latin-america-28977916
Walt's Kid Makes Good
The Coup Goes to Michigan!  Did you ever wonder what happened to the days when hip hop artists such as N.W.A. and Public Enemy penned lyrics that challenged the political authorities and status quo of the time? Do you miss the time when Rage Against the Machine was leading their own musical revolution across the country?
Then the Oakland, Ca. group The Coup would be the band for you, as shown by the onslaught of funk hip-hop sound and poetically political lyrics they served to Detroit at the Magic Stick Friday night.
Formed in 1991, around the same time as N.W.A. Public Enemy and Rage Against the Machine, The Coup never achieved the fame that those bands had. But they have silently put together six albums and two EP's over the past three decades. Their most recent EP, La Grande Boutique, was released this year.
Led by the rhapsodic and rebellious singer Boots Riley, who was born in Chicago but lived in Detroit until he was six, The Coup has gathered a devoted following that is big enough for them to tour venues around the world. It was only a small turnout at the Magic Stick due to large acts such as Eminem and Rihanna playing in town, but it seemed that the lack of crowd only motivated the band to perform with more in-your-face energy.
"We came for the class war," Riley said as he surveyed his fans. "We have the idea that the people should democratically control the wealth we make through our label." Statements such as this show why critics have called him "politically communist" in the past.    http://motorcitymuckraker.com/blog/2014/08/24/political-hip-hop-crew-the-coup-brings-energy-to-magic-stick-in-detroit/
Petition to Allow Marx and Engels Writing to remain in public domain   We are very grateful for the work you have done, along with International Publishers and Progress Publishers, translating into English and publishing the MECW. This is an extremely valuable contribution to the workers movement and Marxist scholarship not only in the English-speaking world, but internationally.
MIA has made these works available for free on the web to an even wider public, and they have now become an essential tool for thousands of Marxist scholars and activists around the world.
We fully appreciate the efforts and difficulties that running a small independent publishing house entails. But allowing free access to the MECW on the MIA website does not hinder sales. On the contrary, the publicity it provides increases them, and we would support any attempt to further improve this aspect.
But over and above any commercial considerations, there is a crucial matter of principle at play here. Having been available freely online for ten years, the MECW have become an essential part of the shared knowledge and resources of the international workers movement. We cannot take a step backward.
This decision would only damage Lawrence and Wishart's reputation without bringing any significant economic advantage.
That's why we call upon you to reconsider this decision and reach an accommodation which keeps these essential resources in the public domain, where they belong.  Sign up-!    https://www.change.org/p/lawrence-and-wishart-allow-marx-s-and-engels-s-writings-to-remain-in-the-public-domain
The Little Red Schoolhouse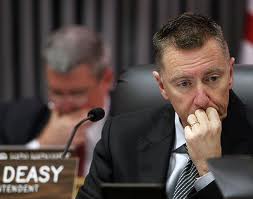 The Plot Thickens in the LA Ipad/Deasy/fake degree scandal= LA schools Supt. John Deasy and his chief deputy developed a special relationship with executives from the companies that won a key technology contract, records show, raising new questions about the bidding process in a $1-billion effort to provide a computer to every student in the nation's second-largest school system.
This collaboration between top L.A. Unified officials and those from tech giant Apple Inc. and Pearson, detailed in public records, underscores findings from an internal school district report, which warned that officials' actions could have created an impression of unfairness in the bidding.
It appears that the officials began discussing the school system's effort to supply students computers equipped with online curriculum at least two years before the contract was approved.
In one email, from May 24, 2012, then-Deputy Supt. Jaime Aquino seems to strategize with higher-ups from Pearson, an international education-services company, on how to ensure that it got the job.
"I believe we would have to make sure that your bid is the lowest one," wrote Aquino, who was an executive with a Pearson affiliate before joining L.A. Unified.
Deasy was one of the last to participate in that email exchange and made his comments after Aquino's, which covered several topics.
"Understand your points and we need to work together on this quickly," Deasy wrote. "I want to not loose [sic] an amazing opportunity and fully recognize our current limits."    http://www.latimes.com/local/education/la-me-ipads-deasy-20140825-story.html#navtype=outfit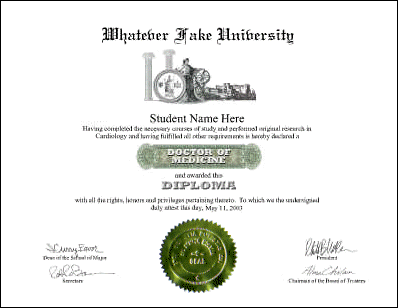 Caught! Busted! Fake-Degree Deasy Dumps IPad scam and calls that "progress" The decision, he said in a memo to school board members Monday night, will "enable us to take advantage of an ever-changing marketplace and technology advances.… We will incorporate the lessons learned from the original procurement process…."
You'd think all had gone according to plan, but make no mistake:
Despite the upbeat, moving-on tone of that message, the Deasy pullback is a defining moment in his tenure. It was nothing short of a forced surrender to critics   http://www.latimes.com/local/la-me-0827-lopez-lausdtech-20140826-column.html#navtype=outfit
Still Not Fired by NEA, AFT, nor the puppeteer, Obamagogue, Arne Declares all is almost well As teachers gear up for a new school year, I want to offer two thoughts. One is a message of celebration and thanks. The other is a response to a concern that has come up often in many conversations with teachers and families, and which deserves an answer.
First, the thanks. America's students have posted some unprecedented achievements in the last year – the highest high school graduation rate in the nation's history, and sharp cuts in dropout rates and increases in college enrollment, especially for groups that in the past have lagged significantly. For these achievements, we should celebrate America's teachers, principals, and students and their families. These achievements are also indications of deeper, more successful relationships with our students. All of us who've worked with young people know how much they yearn for adults to care about them and know them as individuals……… But the larger issue is, testing should never be the main focus of our schools." (Arne Losing it???)           http://www.ed.gov/blog/2014/08/a-back-to-school-conversation-with-teachers-and-school-leaders/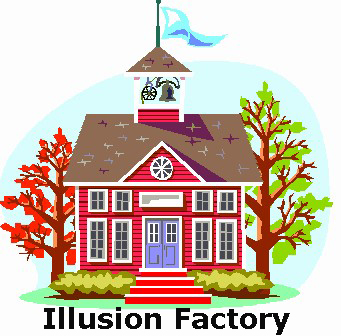 Holy Crap! Elite Colleges Segregated by Class and Race–still!  As the shaded quadrangles of the nation's elite campuses stir to life for the start of the academic year, they remain bastions of privilege. Amid promises to admit more poor students, top colleges educate roughly the same percentage of them as they did a generation ago. This is despite the fact that there are many high school seniors from low-income homes with top grades and scores: twice the percentage in the general population as at elite colleges.
A series of federal surveys of selective colleges found virtually no change from the 1990s to 2012 in enrollment of students who are less well off — less than 15 percent by some measures — even though there was a huge increase over that time in the number of such students going to college. Similar studies looking at a narrower range of top wealthy universities back those findings. With race-based affirmative action losing both judicial and public support, many have urged selective colleges to shift more focus to economic diversity.
This is partly because students are more likely to graduate and become leaders in their fields if they attend competitive colleges. Getting low-income students onto elite campuses is seen as a vital engine of social mobility.
Yet as Anthony P. Carnevale, director of Georgetown University's Center on Education and the Workforce, put it, "Higher education has become a powerful force for reinforcing advantage and passing it on through generations."
It is true that low-income enrollment at some top colleges has been slowly climbing. And some studies suggest that colleges are well intentioned but simply ineffectual in addressing economic diversity. College leaders also point to studies showing that most low-income students with high grades and test scores do not apply to highly selective colleges.
But critics contend that on the whole, elite colleges are too worried about harming their finances and rankings to match their rhetoric about wanting economic diversity with action.   http://www.nytimes.com/2014/08/26/education/despite-promises-little-progress-in-drawing-poor-to-elite-colleges.html?ref=education
The Multi-Million $ "New Teacher Center" Home to the Guy who helped negotiate the LA IPAD deal 
We appreciate the generous financial support provided over the past 14 years by the following funders:$10,000,000 +
William and Flora Hewlett Foundation
$2,000,000 – $9,999,999
Avi Chai Foundation Carnegie Corporation of New York
Bill & Melinda Gates Foundation Jim Joseph Foundation
The Joyce Foundation MetLife Foundation
Morgan Family Foundation National Science Foundation
SeaChange Capital Partners Stupski Foundation
Schusterman Family Foundation
$1,000,000 – $1,999,999
Harold K.L. Castle Foundation S.H Cowell Foundation
The James Irvine Foundation Leona M. and Harry B. Helmsley Charitable Trust
National Education Association New Profit Inc.
NewSchools Venture Fund Noyce Foundation
Sidney E. Frank Foundation Skoll Foundation
The Goldman Sachs Foundation TOSA Foundation (many more    http://www.newteachercenter.org/about-ntc/our-funders)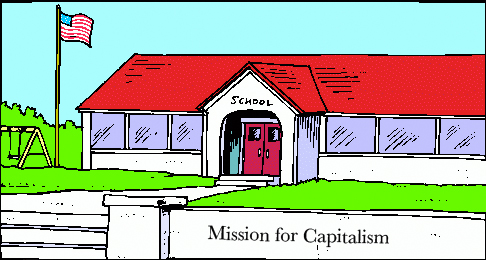 Obamagogue Admin Rewards Co. that scammed troops  The Obama administration plans to reward Navient Corp, the student loan specialist formerly owned by Sallie Mae, with new business some three months after federal prosecutors accused the company of intentionally cheating troops on their federal student loans, according to three sources familiar with the administration's plans.
The move is likely to stoke comparisons to recent multi-billion-dollar settlements reached between big banks and federal authorities over financial crisis-era misdeeds. Banks agreed to pay sizable sums, but public interest groups have criticized the settlements because the banks suffered few business consequences and their executives escaped criminal and civil charges.
"It's very disappointing," said Jason Collette, national organizer for Alliance For A Just Society, a network of state-based advocacy groups. "Until a company loses its federal contracts or a senior executive is punished, these fines are just the cost of doing business."    http://www.huffingtonpost.com/2014/08/29/obama-navient-student-loans_n_5736570.html
Will the Broad Boys Turn Detroit into New Orleans? If you aren't familiar with the name Paul Pastorek, chances are you've heard about his work.
Pastorek, Louisiana's superintendent of education from 2007 to 2011, is one of the key architects behind the successful effort to turn around the school climate in New Orleans following Hurricane Katrina. Pastorek's work to convert the vast majority of the city's public schools to charter schools has reaped positive results.
Now, Pastorek is spending time in Michigan and talking closely with Gov. Rick Snyder and his education team. Since the middle of June, he's worked about three days a week in the state, dividing his time among Lansing, Detroit and other troubled Michigan districts.
While he says his focus is on Detroit, he's looking beyond it, too.
"I'm taking stock of urban education in the state," says Pastorek, an attorney whose resume includes a stretch as general counsel to NASA.
Pastorek is currently chair of the board of directors at the Broad Center for the Management of School Systems, a nonprofit education initiative of the Eli Broad Foundation.
Craig Ruff, Snyder's education policy adviser, is pleased to have Pastorek in the state. He says the Broad Center "offered him up" and that the Governor's Office seized the opportunity. The foundation is covering Pastorek's expenses.
"He's very well thought of," Ruff says. "It's a good brain to have around."
While Pastorek says what worked in New Orleans could be replicated elsewhere, he stops short of saying simply chartering all Detroit schools is the answer.From The Detroit News:   http://www.detroitnews.com/article/20140831/OPINION01/308310006#ixzz3BxEXgUNd
The International Hot War of the Rich on the Poor
Vice News Full Length Video on the Origins of IS–exterminate all the brutes.
https://news.vice.com/video/the-islamic-state-full-length
Cockburn: Why The Ruling Class' War on Terror Failed  There are extraordinary elements in the present U.S. policy in Iraq and Syria that are attracting surprisingly little attention. In Iraq, the U.S. is carrying out air strikes and sending in advisers and trainers to help beat back the advance of the Islamic State of Iraq and the Levant (better known as ISIS) on the Kurdish capital, Erbil. The U.S. would presumably do the same if ISIS surrounds or attacks Baghdad. But in Syria, Washington's policy is the exact opposite: there the main opponent of ISIS is the Syrian government and the Syrian Kurds in their northern enclaves. Both are under attack from ISIS, which has taken about a third of the country, including most of its oil and gas production facilities.
But U.S., Western European, Saudi, and Arab Gulf policy is to overthrow President Bashar al-Assad, which happens to be the policy of ISIS and other jihadis in Syria. If Assad goes, then ISIS will be the beneficiary, since it is either defeating or absorbing the rest of the Syrian armed opposition. There is a pretense in Washington and elsewhere that there exists a "moderate" Syrian opposition being helped by the U.S., Qatar, Turkey, and the Saudis. It is, however, weak and getting more so by the day. Soon the new caliphate may stretch from the Iranian border to the Mediterranean and the only force that can possibly stop this from happening is the Syrian army.
The reality of U.S. policy is to support the government of Iraq, but not Syria, against ISIS. But one reason that group has been able to grow so strong in Iraq is that it can draw on its resources and fighters in Syria. Not everything that went wrong in Iraq was the fault of Prime Minister Nouri al-Maliki, as has now become the political and media consensus in the West. Iraqi politicians have been telling me for the last two years that foreign backing for the Sunni revolt in Syria would inevitably destabilize their country as well. This has now happened.
By continuing these contradictory policies in two countries, the U.S. has ensured that ISIS can reinforce its fighters in Iraq from Syria and vice versa. So far, Washington has been successful in escaping blame for the rise of ISIS by putting all the blame on the Iraqi government. In fact, it has created a situation in which ISIS can survive and may well flourish.
Using the al-Qa'ida Label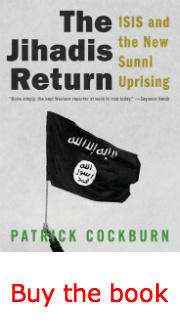 The sharp increase in the strength and reach of jihadist organizations in Syria and Iraq has generally been unacknowledged until recently by politicians and media in the West. A primary reason for this is that Western governments and their security forces narrowly define the jihadist threat as those forces directly controlled by al-Qa'ida central or "core" al-Qa'ida. This enables them to present a much more cheerful picture of their successes in the so-called war on terror than the situation on the ground warrants.
In fact, the idea that the only jihadis to be worried about are those with the official blessing of al-Qa'ida is naïve and self-deceiving……
Al-Qa'ida is an idea rather than an organization, and this has long been the case. For a five-year period after 1996, it did have cadres, resources, and camps in Afghanistan, but these were eliminated after the overthrow of the Taliban in 2001. Subsequently, al-Qa'ida's name became primarily a rallying cry, a set of Islamic beliefs, centering on the creation of an Islamic state, the imposition of sharia, a return to Islamic customs, the subjugation of women, and the waging of holy war against other Muslims, notably the Shia, who are considered heretics worthy of death. At the center of this doctrine for making war is an emphasis on self-sacrifice and martyrdom as a symbol of religious faith and commitment. This has resulted in using untrained but fanatical believers as suicide bombers, to devastating effect.
It has always been in the interest of the U.S. and other governments that al-Qa'ida be viewed as having a command-and-control structure like a mini-Pentagon, or like the mafia in America. This is a comforting image for the public because organized groups, however demonic, can be tracked down and eliminated through imprisonment or death. More alarming is the reality of a movement whose adherents are self-recruited and can spring up anywhere.
Osama bin Laden's gathering of militants, which he did not call al-Qa'ida until after 9/11, was just one of many jihadi groups 12 years ago. But today its ideas and methods are predominant among jihadis because of the prestige and publicity it gained through the destruction of the Twin Towers, the war in Iraq, and its demonization by Washington as the source of all anti-American evil. These days, there is a narrowing of differences in the beliefs of jihadis, regardless of whether or not they are formally linked to al-Qa'ida central.
http://www.tomdispatch.com/blog/175884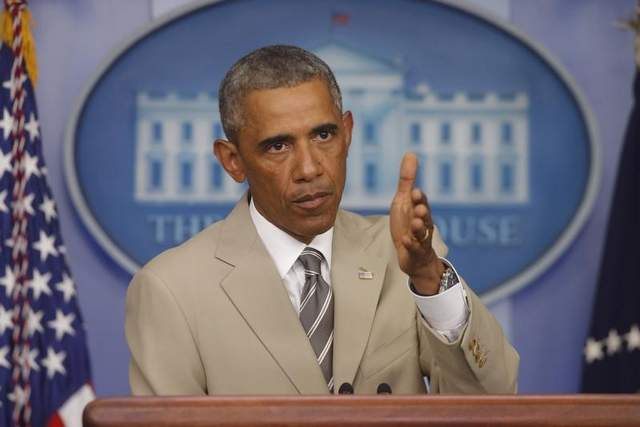 Feckless "No Strategy" Obamagogue in Taupe
No Strategy. President Barack Obama seemed to commit the worst of Washington gaffes Thursday when he updated the American people about the ongoing threat from Islamist militants wreaking havoc in Iraq and Syria.
"I don't want to put the cart before the horse: we don't have a strategy yet," Obama said of the effort to combat the militant group Islamic State of Iraq and Greater Syria (ISIS) in its safe haven in Syria.    http://time.com/3211132/isis-iraq-syria-barack-obama-strategy/
Sun Tzu: "What is of Supreme Importance in War is to Attack the Enemies' Strategy." What is the barbaric fascist IS' strategy? The Islamic Caliphate–sharia law, everywhere. What's the only answer to that" "People make gods. Gods don't make people. You have fairies dancing in your head. You will believe anything. Religion is the ideology of death." Obamagogue, surrounded by fanatics of his class' own making, can't say that. He's left with "exterminate all the brutes and alliances with the Great Satans he taught America to hate: Assad, Iran, etc. Only a social movement for reason, equality and justice can upend this.
Grenwald: The Fun of Empire–taking all sides in the war on Syria  It was not even a year ago when we were bombarded with messaging that Syrian President Bashar al-Assad is a Supreme Evil and Grave Threat, and that military action against his regime was both a moral and strategic imperative. The standard cast of "liberal interventionists" – Tony Blair, Anne-Marie Slaughter, Nicholas Kristof and Samantha Power – issued stirring sermons on the duties of war against Assad. Secretary of State John Kerry actually compared Assad to (guess who?) Hitler, instructing the nation that "this is our Munich moment." Striking Assad, he argued, "is a matter of national security. It's a matter of the credibility of the United States of America. It's a matter of upholding the interests of our allies and friends in the region."
U.S. military action against the Assad regime was thwarted only by overwhelming American public opinion which opposed it and by a resounding rejection by the UK Parliament of Prime Minister David Cameron's desire to assume the usual subservient British role in support of American wars.
Now the Obama administration and American political class is celebrating the one-year anniversary of the failed "Bomb Assad!" campaign by starting a new campaign to bomb those fighting against Assad – the very same side the U.S. has been arming over the last two years.
It's as though the U.S. knew for certain all along that it wanted to fight in the war in Syria, and just needed a little time to figure out on which side it would fight. It switched sides virtually on a dime, and the standard Pentagon courtiers of the U.S. media and war-cheering foreign policy elites are dutifully following suit…
mindlessly depicting ISIS as an unprecedented combination of military might and well-armed and well-funded savagery (where did they get those arms and funds?). Something very similar happened in Libya: the U.S. spent a decade insisting that a Global War on Terror – complete with full-scale dismantling of basic liberties and political values – was necessary to fight against the Unique Threat of Al Qaeda and "Jihadists", only to then fight on the same side as them, and arming and empowering them.
Nobody disputes the brutality and extremism of ISIS, but that is a completely different question from whether the U.S. should take military action against it. To begin with, the U.S. not only ignores, but actively supports, all sorts of brutal and extreme parties in the region.     https://firstlook.org/theintercept/2014/08/26/fun-empire-fighting-sides-war/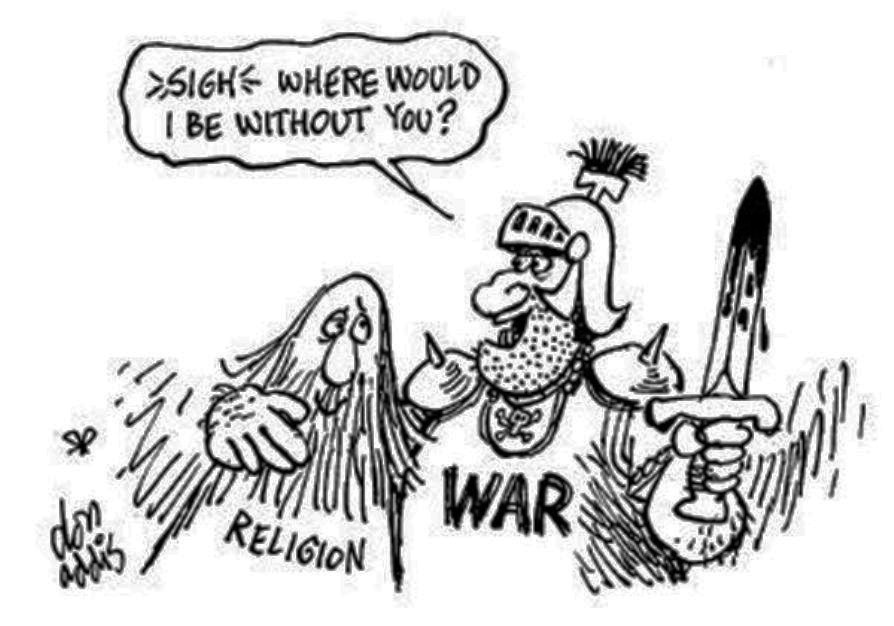 NYTimes on IS MO   As fighters for the Islamic State in Iraq and Syria continue to seize territory, the group has quietly built an effective management structure of mostly middle-aged Iraqis overseeing departments of finance, arms, local governance, military operations and recruitment.
At the top the organization is the self-declared leader of all Muslims, Abu Bakr al-Baghdadi, a radical chief executive officer of sorts, who handpicked many of his deputies from among the men he met while a prisoner in American custody at the Camp Bucca detention center a decade ago.
He had a preference for military men, and so his leadership team includes many officers from Saddam Hussein's long-disbanded army.
They include former Iraqi officers like Fadel al-Hayali, the top deputy for Iraq, who once served Mr. Hussein as a lieutenant colonel, and Adnan al-Sweidawi, a former lieutenant colonel who now heads the group's military council.  The pedigree of its leadership, outlined by an Iraqi who has seen documents seized by the Iraqi military, as well as by American intelligence officials, helps explain its battlefield successes: Its leaders augmented traditional military skill with terrorist techniques refined through years of fighting American troops, while also having deep local knowledge and contacts. ISIS is in effect a hybrid of terrorists and an army.    http://www.nytimes.com/2014/08/28/world/middleeast/army-know-how-seen-as-factor-in-isis-successes.html?emc=edit_th_20140828&nl=todaysheadlines&nlid=2254121
Bourgeois Journalist Rashid: Without the US Back in Iraq, new Government Will fail One key for Iraq"s salvation is winning back the trust of the international community. Washington applied pressure on Mr Maliki by withholding important arms supplies to Iraq such as fighter bombers until he stepped down. Now that he has gone, the US needs to fulfil its promises as soon as possible. Iraq lacks a proper air force. Its army is also in disarray and needs international help to make it a sufficiently strong enough force to take on Isis and win. Iraq"s crisis is multiple and intensely complicated – nobody had even heard of the Yazidis until Isis began to massacre them and they escaped into the mountains of northern Iraq. Few can focus on the fact that, in June and July alone, the war against Isis has created half a million more internally displaced Iraqis. UN agencies cannot cope. Imagine what else lies in store. Imagine the consequences for the entire Middle East if Mr Abidi"s new government were to fail. Imagine if Isis were to have a free run of Iraq with all its sensitive borders. It is time for the west to show much greater support for the government in Baghdad.     http://www.ahmedrashid.com/wp-content/archives/pakistan/articles/pdf/iraq-new-leader-will-fail-without-western-support.pdf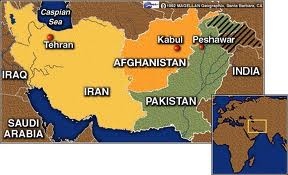 There goes Pakistan—One person was killed and more than 400 wounded in clashes between police and protesters in Pakistan's capital Islamabad   One person was killed and more than 400 wounded in clashes between police and protesters in Pakistan's capital Islamabad, hospital officials said on Sunday (Aug 31), as a fortnight-long political impasse took a violent turn.
The violence, which began late Saturday and continued early Sunday, erupted after around 25,000 people marched from parliament to the prime minister's house, where some attempted to remove barricades around it with cranes, an AFP reporter at the scene said. Police responded with tear gas and rubber bullets.   …Railways minister Khawaja Saad Rafique said protesters tried to uproot the entry gate of the prime minister's house. The protesters, led by cricketer-turned-politician Imran Khan and populist cleric Tahir-ul-Qadri, had been camped outside parliament house since Aug 15 demanding Prime Minister Nawaz Sharif quit amid allegations of vote rigging.    http://www.channelnewsasia.com/news/asiapacific/one-dead-400-injured-in/1338126.html
NYTimes Discovers Civil War in Libya (thanks Susan Rice, Samantha Powers and Obamagogue)  "The fire is inside the airport!" a militiaman cried, as he fired an antiaircraft cannon on the back of a pickup truck toward the runway of Libya's main international airport. "God is great, the flames are rising!"
"Intensify the shooting," responded his commander, Salah Badi, an ultraconservative Islamist and former lawmaker from the coastal city of Misurata.
Captured on video by the proud attackers just one month ago, Mr. Badi's assault on Libya's main international airport has now drawn the country's fractious militias, tribes and towns into a single national conflagration that threatens to become a prolonged civil war. Both sides see the fight as part of a larger regional struggle, fraught with the risks of a return to repressive authoritarianism or a slide toward Islamist extremism. Three years after the NATO-backed ouster of Col. Muammar el-Qaddafi, the violence threatens to turn Libya into a pocket of chaos destabilizing North Africa for years to come.  Libya is already a haven for itinerant militants, and the conflict has now opened new opportunities for Ansar al-Shariah, the hard-line Islamist group involved in the assault on the American diplomatic Mission in Benghazi in 2012.    ttp://www.nytimes.com/2014/08/25/world/africa/libyan-unrest.html
EU Warns Russia–another point of no return (a red line, gone pink)  The European Union has warned that the apparent incursion of Russian troops on Ukrainian soil pushes the conflict closer to a point of no return, with new economic sanctions being drawn up to make Moscow reconsider its position.
The Ukrainian president, Petro Poroshenko, who briefed a summit of the 28-nation EU's leaders in Brussels, said a strong response was needed to the "military aggression and terror" facing his country.
"Thousands of foreign troops and hundreds of foreign tanks are now on the territory of Ukraine," Poroshenko told reporters in English. "There is a very high risk not only for peace and stability for Ukraine, but for the whole peace and stability of Europe."
Earlier, Vladimir Putin was warned that the crisis in Ukraine could be reaching the "point of no return" as European leaders said the EU was ready to defend its principles.
The outgoing European commission president, José Manuel Barroso, said: "We are in a very serious, I would say, dramatic situation … where we can reach the point of no return."
At a joint press conference with Poroshenko in Brussels on Saturday morning, Barroso said it was not too late to find a political solution to the crisis but warned: "If the escalation of the conflict continues, this point can come.    http://www.theguardian.com/world/2014/aug/30/ukraine-russia-crisis-barroso-warns-putin-point-no-return
The International Economic War of the Rich on the Poor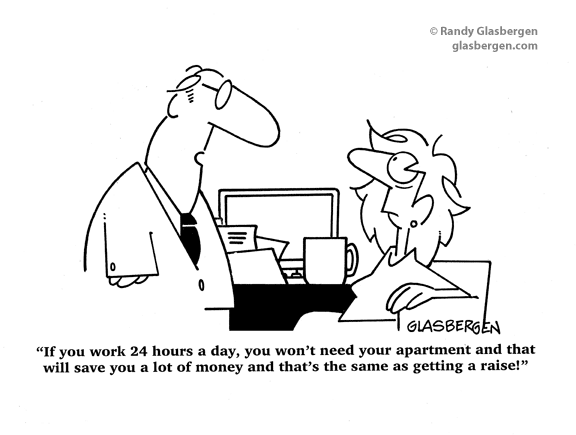 The Long So Long, Bye Bye 40 Hour Week American workers labor the equivalent of nearly an additional day each week, averaging 47 hours instead of the standard 40, according to Gallup poll results released Friday.  Just 42% of full-time employees work 40 hours a week, the traditional total based on five 9 a.m.-to-5 p.m. workdays, Gallup said of findings it released ahead of the Labor Day weekend.
Nearly the same percentage — 39% — say they work at least 50 hours a week. And almost one in five Americans, or 18%, said their workweek stretched 60 hours or more.  "The 40-hour workweek is widely regarded as the standard for full-time employment, and many federal employment laws — including the Affordable Care Act, or 'Obamacare' — use this threshold to define what a full-time employee is," Gallup said.
"However, barely four in 10 full-time workers in the U.S. indicate they work precisely this much," Gallup said. Salaried employees work an average of 49 hours a week, compared with 44 hours for people paid by the hour. A quarter of salaried workers said they spend 60 or more hours a week on the job.    http://www.latimes.com/business/la-fi-average-workweek-gallup-labor-day-20140829-story.html
620,000 Military Families Rely on Food Banks This month, the US military announced that the air force had delivered more than 110,000 meal rations to stranded Yazidi refugees in Iraq, in a mission that prompted President Obama to hail "the skill and professionalism of our military, and the generosity of our people."
Also this month, a new report found that the nation's food pantries serve 620,000 families with a member in the military—another troubling indication that service members battling against poverty must often rely on the generosity of our charities.
The stunning figure, which represents roughly a quarter of the households of military members on active duty, the Reserves or National Guard, shows that even as the United States purports to wind down its operations in Iraq and Afghanistan and soldiers return to civilian life, they are resettling into a hostile economic climate, on a precarious landscape of joblessness and debt.
The data comes from an extensive quadrennial report published by Feeding America,     http://www.thenation.com/blog/181345/620000-military-families-rely-food-pantries-meet-basic-needs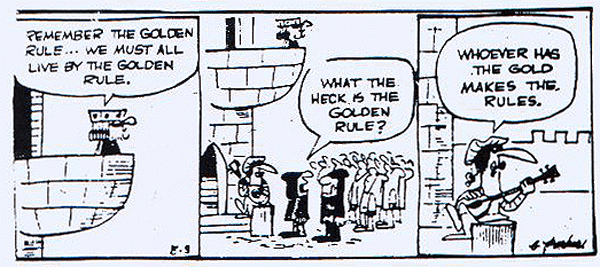 Princeton Discovers US is Not a Democracy (hint–it never was, but this is fascism–try to keep up) A new study from Princeton spells bad news for American democracy—namely, that it no longer exists.
Asking "[w]ho really rules?" researchers Martin Gilens and Benjamin I. Page argue that over the past few decades America's political system has slowly transformed from a democracy into an oligarchy, where wealthy elites wield most power.
Using data drawn from over 1,800 different policy initiatives from 1981 to 2002, the two conclude that rich, well-connected individuals on the political scene now steer the direction of the country, regardless of or even against the will of the majority of voters.
"The central point that emerges from our research is that economic elites and organized groups representing business interests have substantial independent impacts on U.S. government policy," they write, "while mass-based interest groups and average citizens have little or no independent influence."
As one illustration, Gilens and Page compare the political preferences of Americans at the 50th income percentile to preferences of Americans at the 90th percentile as well as major lobbying or business groups. They find that the government—whether Republican or Democratic—more often follows the preferences of the latter group rather than the first.    http://talkingpointsmemo.com/livewire/princeton-experts-say-us-no-longer-democracy
Detroit: The Fires Next Time–Detroit firefighters attacked by rocks, bottles during wild day of arsons  Residents hurled rocks and bottles at Detroit firefighters as they extinguished a suspicious blaze in a vacant house Friday night, accentuating a wild 24-hour period in which fires broke out in 25 homes, nine cars, a school and an apartment building.
Of those 36 fires, at least 29 were suspicious.
Shortly before 9 p.m., firefighters arrived at a vacant house fire at 14519 Robson. Soon after, residents began chucking bottles and rocks at the firefighters and their rigs on a block devoured by blight.
"I need as many police as possible," Chief 7 told dispatchers. "I have civilians attacking firefighters and FEOs, throwing bottles, rocks and whatnot."    http://motorcitymuckraker.com/blog/2014/08/30/detroit-firefighters-attacked-by-rocks-bottles-during-wild-day-of-arsons/
Detroit News Offers Disguised "News" on how to quit the Unions The school year hasn't started yet but teachers may already look beleaguered. The reason has nothing to do with organizing classes, assembling lesson plans and learning students' names. Several dozen public school districts in Metro Detroit don't have contracts with teachers.
And the agreements that have been reached bear unsettling omens for the ongoing negotiations — pay cuts, higher health costs, bigger class sizes. Meanwhile, the teachers' guardians are under fire. The state's right-to-work law, which took effect last year, could weaken unions by allowing members to stop paying dues.
"The law undermines union members. That's why they made it," said Scott Warrow, a social studies teacher in Birmingham. Teacher unions are mounting a furious campaign to hold onto members while conservative groups try just as hard to pry them away.
Anyone wishing to quit the Michigan Education Association, whose 112,000 active members make it the state's largest public-sector union, may do so in August. From The Detroit News:   http://www.detroitnews.com/article/20140829/SCHOOLS/308290038#ixzz3Br1UisXY
The Emergence of Fascism as a Popular Mass Movement

US Military Bans "The Intercept"  The U.S. military is banning and blocking employees from visiting The Intercept in an apparent effort to censor news reports that contain leaked government secrets.
According to multiple military sources, a notice has been circulated to units within the Army, Navy, Air Force, and Marine Corps warning staff that they are prohibited from reading stories published by The Intercept on the grounds that they may contain classified information. The ban appears to apply to all employees—including those with top-secret security clearance—and is aimed at preventing classified information from being viewed on unclassified computer networks, even if it is freely available on the internet. Similar military-wide bans have been directed against news outlets in the past after leaks of classified information.
A directive issued to military staff at one location last week, obtained by The Intercept, threatens that any employees caught viewing classified material in the public domain will face "long term security issues." It suggests that the call to prohibit employees from viewing the website was made by senior officials over concerns about a "potential new leaker" of secret documents.     https://firstlook.org/theintercept/2014/08/20/u-s-military-bans-the-intercept/
Escobar's fave assassin walks free under Police Protection  John Jairo Velasquez has been tied to the murders of at least 3,000 people. He has admitted to killing at least 250 as the head of drug lord Pablo Escobar's terror squad. Among the people he had a hand in killing: His girlfriend, a presidential candidate and all of the passengers and crew on a commercial jetliner.
Now, the notorious Medellin cartel killer is essentially free — out on parole and under police protection.
"Popeye," as Velasquez is widely known, walked out of a high-security prison in Colombia on Tuesday after serving 22 years of his 30-year sentence for his role in the 1989 assassination of presidential candidate Luis Carlos Galan.
It was the only killing for which Velasquez was ever convicted.
"It's really sad that an assassin who committed so many homicides was sentenced for a single murder," Gen. Carlos Mena, the head of Colombia's highway police, told the Associated Press.
As a young officer, Mena helped American officials hunt down Escobar, who was killed by police in 1993.
In the 1980s, "Popeye" helped execute — quite literally — the notorious kingpin's "war" against the Colombian government, with murders, kidnappings and bombings. In 1989, he was involved in the bombing of Avianca Airlines Flight 203, which killed all 107 people on board.
For "El Patron" (the boss), Velasquez even ordered the killing his own girlfriend, who was also Escobar's former lover    http://www.washingtonpost.com/blogs/worldviews/wp/2014/08/27/pablo-escobars-top-assassin-popeye-is-out-of-jail-and-under-police-protection/
Solidarity for Never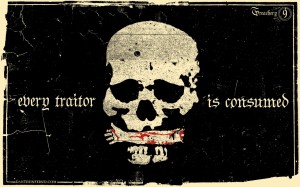 Blowhard Cornel West Proves He's a Fool It's a lot of ground to cover but how do you feel things have worked out since then, both with the economy and with this president? That was a huge turning point, that moment in 2008, and my own feeling is that we didn't turn.
No, the thing is he posed as a progressive and turned out to be counterfeit. We ended up with a Wall Street presidency, a drone presidency, a national security presidency. The torturers go free. The Wall Street executives go free. The war crimes in the Middle East, especially now in Gaza, the war criminals go free. And yet, you know, he acted as if he was both a progressive and as if he was concerned about the issues of serious injustice and inequality and it turned out that he's just another neoliberal centrist with a smile and with a nice rhetorical flair. And that's a very sad moment    http://www.salon.com/2014/08/24/cornel_west_he_posed_as_a_progressive_and_turned_out_to_be_counterfeit_we_ended_up_with_a_wall_street_presidency_a_drone_presidency
Spy versus Spy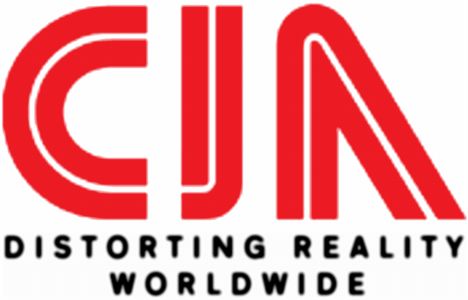 The Media and the Spies The increasing tendency of the Central Intelligence Agency and other U.S. intelligence agencies to disregard previous prohibitions against the use of journalists as agents puts every legitimate reporter around the world in jeopardy. The CIA has a checkered past in the use of journalists as intelligence agents. The practice was common in the 1960s and early 70s but was banned by Presidents Gerald Ford and Jimmy Carter. However, when President Ronald Reagan helped reignite the Cold War, the CIA again began using journalists as intelligence agents. The practice put a number of journalists in jeopardy, especially those taken captive by guerrillas groups during the Lebanese civil war. There is nothing to suggest any president since Reagan has discontinued the practice of using journalists as agents.
Intelligence agents operating under journalistic cover can take a number of forms:
- Journalists who openly work for media operations linked officially to past and current CIA operations. These include Radio Free Europe / Radio Free Liberty, Radio Free Asia, Alhurra, Radio Sawa, Radio and TV Marti, and to some extent, the Voice of America.
- Journalists who work for work for accredited news media companies who agree to work covertly for U.S. intelligence. Such journalists have been known to work for The Washington Post, the International Herald Tribune, and President Barack Obama's one-time employer, Business International Corporation of New York City, publisher of executive business and political newsletters. CIA director Richard Helms had previously worked as a reporter for United Press International.
- Journalists who work for start-up publications linked to the CIA or CIA fronts, including the many publications started and financed by global hedge fund tycoon and political and financial manipulator George Soros and his CIA media associates. Such publications include the Kyiv Post, Cambodia Daily, Burma Daily, Kabul Weekly, and Lidove Noviny of Prague.
- Freelance journalists who become embedded with U.S. military and paramilitary forces and work for one or more media operations having very low profiles.
Journalists working for media operations financed by the U.S. government's Broadcasting Board of Governors have been known to leave legitimate media organizations, where they have already established strong journalistic credentials and high-level contacts, to join government operations like Radio Free Europe and the others to carry out assignments for U.S. intelligence.
One of the CIA's favorite nesting grounds for its journalist-agents during the Cold War was the International Herald Tribune, formerly the Paris Herald Tribune, based in Paris. The paper was eventually jointly owned by The Washington Post and New York Times. The managing editor of the Herald Tribune News Service, Nathan Kingsley, left the paper's Paris headquarters to be the head of Radio Free Europe's news service in Munich. Kingsley replaced Gene Mater who became the public affairs spokesman for the Free Europe Committee in New York. Radio Free Europe and the Free Europe Committee were both connected to the CIA.     http://www.strategic-culture.org/news/2014/08/27/media-spies-put-all-journalists-in-danger.html
They'll be watching You  Makers of surveillance systems are offering governments across the world the ability to track the movements of almost anybody who carries a cellphone, whether they are blocks away or on another continent.
The technology works by exploiting an essential fact of all cellular networks: They must keep detailed, up-to-the-minute records on the locations of their customers to deliver calls and other services to them. Surveillance systems are secretly collecting these records to map people's travels over days, weeks or longer, according to company marketing documents and experts in surveillance technology.
The world's most powerful intelligence services, such as the National Security Agency and Britain's GCHQ, long have used cellphone data to track targets around the globe. But experts say these new systems allow less technically advanced governments to track people in any nation — including the United States — with relative ease and precision.    http://www.washingtonpost.com/business/technology/for-sale-systems-that-can-secretly-track-where-cellphone-users-go-around-the-globe/2014/08/24/f0700e8a-f003-11e3-bf76-447a5df6411f_story.html
The Magical Mystery Tour
Degenerate Archbishop  Protected by Vatican  The boys say he gave them money to perform sexual acts. They called him "the Italian" because he spoke Spanish with an Italian accent.
It was only after he was spirited out of the country, the boys say, his picture splashed all over the local news media, that they learned his real identity: Archbishop Jozef Wesolowski, the Vatican's ambassador to the Dominican Republic.     http://www.nytimes.com/2014/08/24/world/americas/whisked-away-vatican-ambassador-accused-of-sexual-abuse-of-minors.html
Every Year at SDSU, where Student Political organizations must get permission to demonstrate
The Best and Worst Things in the History of the World
http://www.youtube.com/watch?v=AKw651RQvMg