May 1st, 2015 / Author: rgibson
If you seek the April 30th, Mayday! edition it's here www.richgibson.com/blog/?p=16647
We Say Fight Back!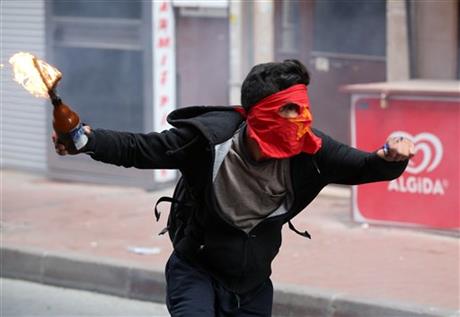 Mayday World Wide: Turkey Fights back Police and May Day demonstrators clashed in Istanbul as crowds determined to defy a government ban tried to march to the city's iconic Taksim Square.
Security forces pushed back demonstrators using water cannons and tear gas. Protesters retaliated by throwing stones and hurling firecrackers at police.
Authorities have blocked the square that is symbolic as the center of protests in which 34 people were killed in 1977.
Turkish newswires say that 10,000 police officers were stationed around the square Friday.
The demonstrations are the first large-scale protests since the government passed a security bill this year giving police expanded powers to crack down on protesters. bigstory.ap.org/article/2e2e4dc1ed9f4756bc66e06e335fba20/may-day-rallies-planned-across-europe-turkey-square-blocked
Bahrain Mayday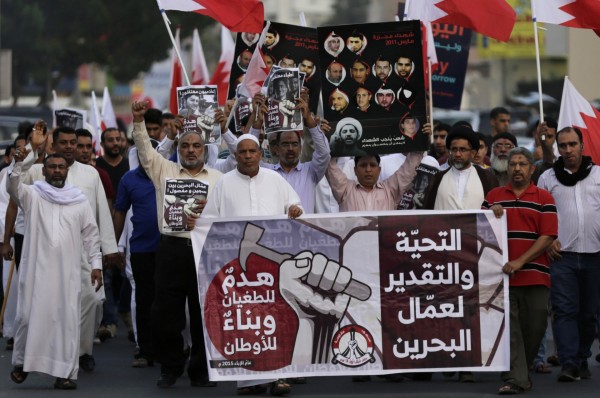 Police patrols were on the lookout for violators of a protest ban, in Manama, Bahrain, but demonstrators in several opposition areas went out in small groups for quick marches when police were out of sight.
The banner reads: "Destroying tyranny and building nations. Greetings and appreciation for Bahraini workers." While the poster in the centre shows the faces of some of the people killed in Bahrain's 2011 pro-democracy uprising.
Indonesia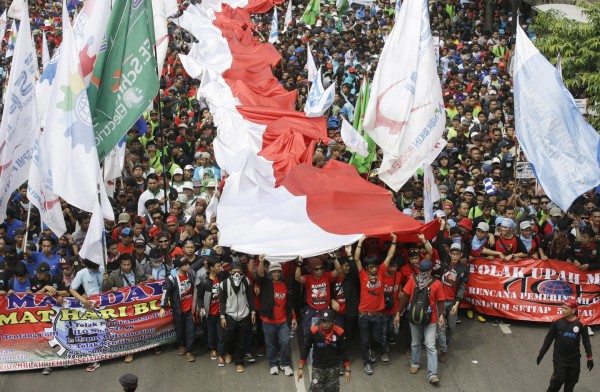 Indonesian workers in Jakarta urged the government to raise minimum wages and improve working conditions.  More images here www.irishexaminer.com/examviral/real-life/14-powerful-pictures-of-may-day-demonstrations-around-the-world-328339.html
Police clashed with May Day protesters in riots across the world as unions and masked labour activists took to the streets with petrol bombs to 'fight capitalism'.
Police fired tear gas at demonstrators as protests overshadowed the start of the Milan Expo, a global fair the government had been hoped would help to put a new face on Italy after years of economic decline.
Turkish police used water cannons and tear gas to disperse protesters in Istanbul as tens of thousands of activists turned out worldwide, claiming to be defending their rights at a time of austerity.
At least 136 protesters were arrested in the city, where furious demonstrators attacked riot police and started fires in the streets.
Police blocked all vehicle access and public transport links to prevent the protesters reaching Taksim Square, a traditional focus for protests in the country's largest city.
Equally violent protests broke out across the world as tens of thousands of angry protesters gathered in Italy, Greece, South Korea, Malaysia, the Philippines and Taiwan to vent their fury at austerity measures, unpopular labour reforms and high taxes.
Activists in Manila burned a huge effigy of Philippine President Benigno Aquino III (pictured) in a violent protest against low wages (below)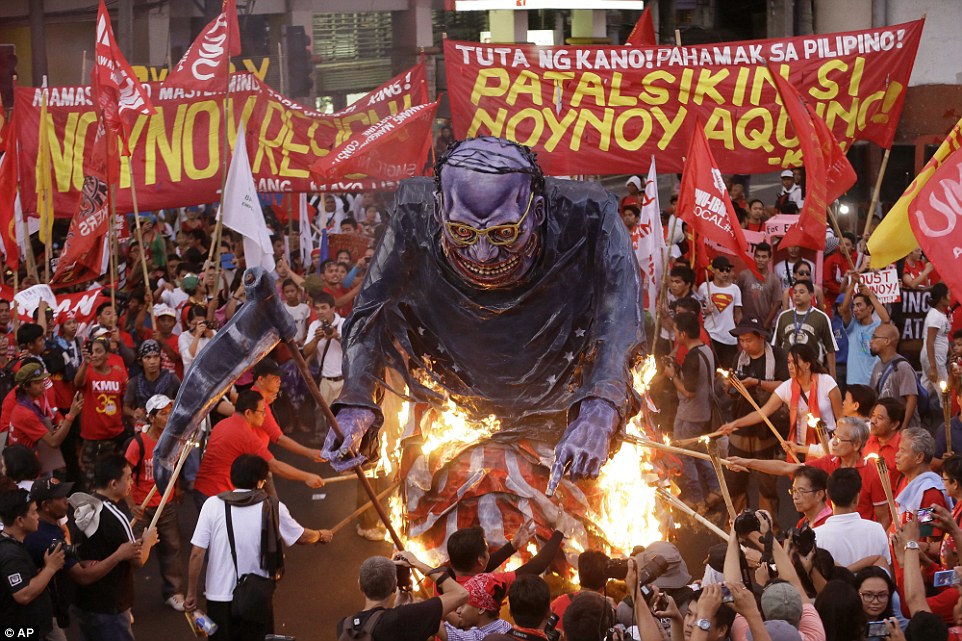 More photos and videos here
www.dailymail.co.uk/news/article-3064272/Riot-police-clash-Day-protesters-world-unions-masked-labour-activists-streets-petrol-bombs-defend-workers-rights.html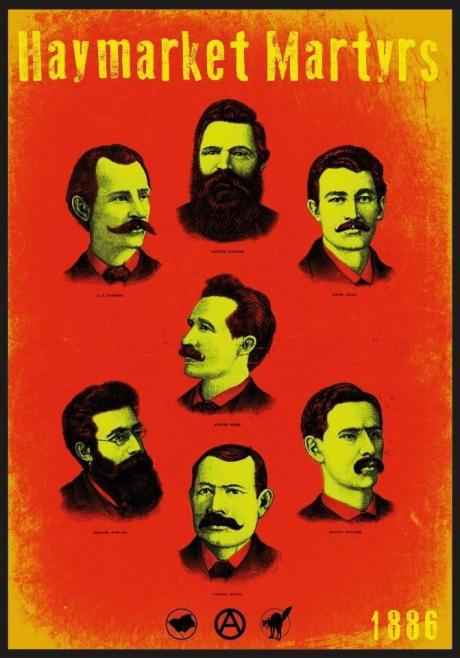 Full autobiographies
libcom.org/history/autobiographies-haymarket-martyrs
The Little Red Schoolhouse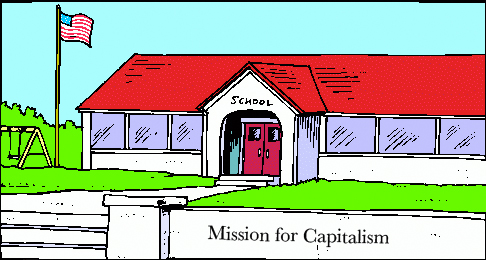 Hugfest of Reactionary Nationalist Cop  Sellouts: Ravitch, Eskelsen, Weingarten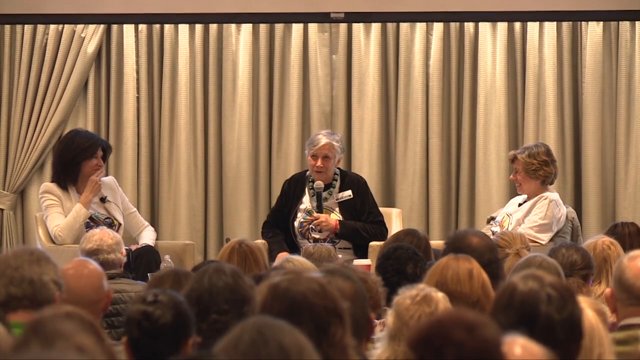 Nationalists Unite! Write the Big Tests. Then decry them, while declaring Arne Duncan a "good man," after NEA rank and file demanded his resignation. Work for the CIA through the National Endowment for Democracy and Education International–deny the education agenda is a war agenda (class and empires') all to the applause of liberals at the Network for "Public" Education. Next: Vote Hillbillary as she is not–well, whoever. And don't forget to contact your congressperson–bring cash.
AFT's Weingarten easily steps to the lead of the nationalist Opt Out Movement which is so Opted In to Empire's and Class Wars. Suddenly merit pay hits the pavement, and Big Tests are immoral child abuse (and of the last 15 years?). But wait, of the 3.7 million teachers in the US, how many of them refused to proctor the big tests, reflecting their moral stand deeply influenced by Opt Out? Do Iraq's kids  matter?  www.google.com/search?q=total+number+of+teachers+us&ie=utf-8&oe=utf-8
San Diego School Gatekeeper Torpedoed by Her Favorite Union
NEA Cited her as a top advocate, then undermined her sole bill: educator.cta.org/i/297225-april-2014/35
NEA Sabotaged Weber's Bill before it got out of committee. Tweedle Dee lost to Dumb
Hey! Didn't NEA vote to Fire this guy? Education Secretary Arne Duncan will deliver the commencement addresses at Georgia Tech University, North Carolina Central University and the Community College of Denver.
Judge Reduces Sentences For Atlanta Over Charged but corrupt test cheat child abusers Admitting that he was "not comfortable" with the seven-year prison terms he had handed down two weeks earlier, the judge in the Atlanta Public Schools cheating case on Thursday called three former administrators back to his courtroom to cut their prison terms to three years each.http://www.latimes.com/nation/la-na-atlanta-teacher-sentence-20150430-story.html#page=1
"When a judge goes home and he keeps thinking over and over that something's wrong, something is usually wrong," said Judge Jerry W. Baxter of Fulton County Superior Court. "And anyway, I want to modify the sentence so that I can live with it."
The Reactionary "Students First" Summary of the Vergara Decision (CA) studentsmatter.org/our-case/vergara-v-california-case-summary/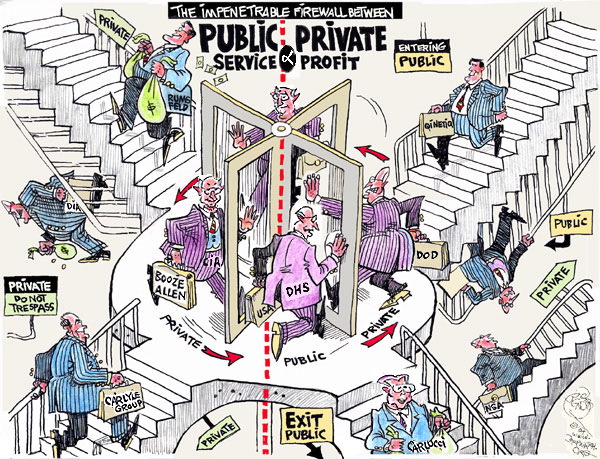 That Notorious DC Revolving Door Former Sen. Mary Landrieu, D-La., has a new gig. She's signed on as a paid "strategic adviser" for the Walton Family Foundation.
In an interview, Landrieu, who lost her bid for a 4th term last December to Republican Bill Cassidy, said the position will enable her to continue advocating for one of her priorities as a senator — helping encourage school reform. Landrieu points to the creation of dozens of charter schools in New Orleans as an example of "positive reform" that generates innovation and more learning options for students.
"I'll be working directly as a strategic adviser for the Walton Education Foundation promoting reforms in public schools, promoting choice and expansion of high quality charter schools," Landrieu said. "Most people are recognizing that New Orleans is one of the most exciting models for variety and choice that are producing new options and opportunities for educational success."http://www.nola.com/politics/index.ssf/2015/04/former_sen_mary_landrieu_is_no.html
NYC Faked Data On School Violence A review of violent episodes at 10 public schools in New York City found that the Education Department failed to report nearly a third of the cases to the state, as required, according to an audit the state comptroller released on Wednesday.
The audit, which examined episodes during the 2011-12 and 2012-13 school years, also found that some were inappropriately classified as less serious than they were.
"When incidents don't get reported or are in effect downgraded, schoolchildren are put potentially in harm's way," the comptroller, Thomas P. DiNapoli, said, adding, "The Department of Education can't risk leaving parents uninformed about what's going on in their child's school."
The more than 400 episodes that went unreported at the 10 schools included 50 assaults resulting in injuries, among them one case at Intermediate School 27 on Staten Island in which a student pushed another student over a desk, knocking him to the floor with the desk landing on top of him; 13 sex offenses; and two instances of confiscated weapons. www.nytimes.com/2015/04/30/nyregion/new-york-city-underreported-school-violence-to-state-audit-shows.html?_r=1
Two Seattle El Ed Staff Suspended for Potential Test Cheating The answers on students' tests were altered, so the scores would come back higher. That's what investigators with Seattle Public Schools say happened at Beacon Hill International School. Two staff members have now been put on leave.
"It's pretty overwhelming," says Lisa Sidelauskas, who has two children who attend Beacon Hill International School. "I haven't talked about this situation that much with our kids because they are younger. I know the parents who have older kids in the school were really upset about what happened."
Investigators with Seattle Public Schools say they've found evidence that standardized tests taken by third, fourth and fifth graders last year were tampered with.  q13fox.com/2015/05/01/two-staff-members-put-on-leave-after-test-tampering-at-seattle-elementary-school/
The International Hot War of the Rich on the Poor
Fearing the Rise of China, US Revises Grand Strategy for War "Because the American effort to 'integrate' China into the liberal international order has now generated new threats to U.S. primacy in Asia—and could result in a consequential challenge to American power globally—Washington needs a new grand strategy toward China that centers on balancing the rise of Chinese power rather than continuing to assist its ascendancy."
The authors argue that such a strategy is designed to limit the dangers that China's geoeconomic and military power pose to U.S. national interests in Asia and globally, even as the United States and its allies maintain diplomatic and economic interactions with China.
Overview
"China represents and will remain the most significant competitor to the United States for decades to come. As such, the need for a more coherent U.S. response to increasing Chinese power is long overdue," write CFR Senior Fellow Robert D. Blackwill and Carnegie Endowment for International Peace Senior Associate Ashley J. Tellis in a new Council Special Report, Revising U.S. Grand Strategy Toward China.
"Because the American effort to 'integrate' China into the liberal international order has now generated new threats to U.S. primacy in Asia—and could result in a consequential challenge to American power globally—Washington needs a new grand strategy toward China that centers on balancing the rise of Chinese power rather than continuing to assist its ascendancy."
The authors argue that such a strategy is designed to limit the dangers that China's geoeconomic and military power pose to U.S. national interests in Asia and globally, even as the United States and its allies maintain diplomatic and economic interactions with China.
Blackwill and Tellis recommend that Washington do the following:
Revitalize the U.S. economy
"Nothing would better promote the United States' strategic future and grand strategy toward China than robust economic growth…This must be the first priority of the president and Congress."
Strengthen the U.S. military
"Congress should remove sequestration caps and substantially increase the U.S. defense budget…Washington should intensify a consistent U.S. naval and air presence in the South and East China Seas," and "accelerate the U.S. ballistic-missile defense posture" in the Pacific.  www.cfr.org/china/revising-us-grand-strategy-toward-china/p36371


Spring is Fighting Season It's springtime, which means blossoming flowers, Opening Day baseball, and the start of the Taliban's annual campaign to violently drive foreigners out of Afghanistan. But instead of calling it spring, NATO calls it "fighting season," which for the allied coalition is one of only two seasons in the country. (The other is "poppy season," when the Taliban and the poppy harvest make it clear that America's plans to counter narcotics in the country are going every bit as poorly as America's plans to counter the insurgency.)
Spring is also when the Special Inspector General for Afghanistan Reconstruction (SIGAR) releases one of his quarterly reports [pdf below]. That happened Wednesday, and it's only slightly less discouraging than the annual resumption of official Taliban hostilities.
This latest report features the usual litany of failed attempts at reconstruction. Most notable are the revelations that the US has no idea how many soldiers are in the Afghan National Army (ANA), and that American efforts to jumpstart Afghan mining are liking going to fail spectacularly. While troop numbers matter in the short term, the ongoing struggle to turn mining into a profitable enterprise has larger long-term ramifications for the quest to create a stable Afghanistan.  news.vice.com/article/phantom-troops-taliban-fighting-and-wasted-money-its-springtime-in-afghanistan
US Warships to Straits of Hormuz as warning to….everybody  The Navy on Thursday began deploying warships to protect American commercial vessels passing through the Strait of Hormuz against any interference from Iran, which this week seized a cargo ship in the narrow waterway, though which about 20 percent of the world's oil passes.
Military officials said American warships and aircraft would maintain a presence in and around the strait and stay in contact with some American cargo ships traversing the sea lane, which separates the Persian Gulf from the Arabian Sea. But the officials drew a distinction between the new effort, which they characterized as "accompanying" commercial vessels, and escorting ships, which would involve convoys led by warships.
Defense Secretary Ashton B. Carter approved the new policy on Thursday, said the officials, who cast it as a show of force intended to discourage Iran from making any aggressive moves against American shipping in the strait. At least one American ship has passed through the strait under the eye of the Navy, they said.  www.nytimes.com/2015/05/01/world/middleeast/iran-maersk-tigris-container-ship-seizure.html
The International Economic War of the Rich on the Poor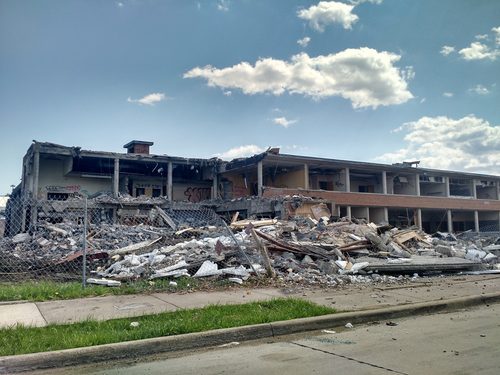 In Brush Park, one of Detroit's more scandal-ridden buildings is quietly being torn down. Shuttered in 2008, the Detroit Police Department Crime Lab ceased operations after it was found routinely committing "serious errors" caused in part by "the deplorable conditions of the facility." The scandal generated a second scandal in 2011, with a Free Press report that opened with this alarming paragraph:
Thousands of rounds of live ammunition, sealed evidence kits and case files — some containing Social Security numbers of rape and assault victims — lay amid rubble in a crime lab abandoned by Detroit police two years ago.
It's been an ugly graffiti magnet ever since. Excavators have been doing their thing for a few days, but the building looks far from disappearing altogether.  detroit.curbed.com/archives/2015/05/abandoned-dpd-crime-lab-begins-to-crumble-in-brush-park.php?utm_campaign=issue-36777&utm_medium=email&utm_source=Curbed+Detroit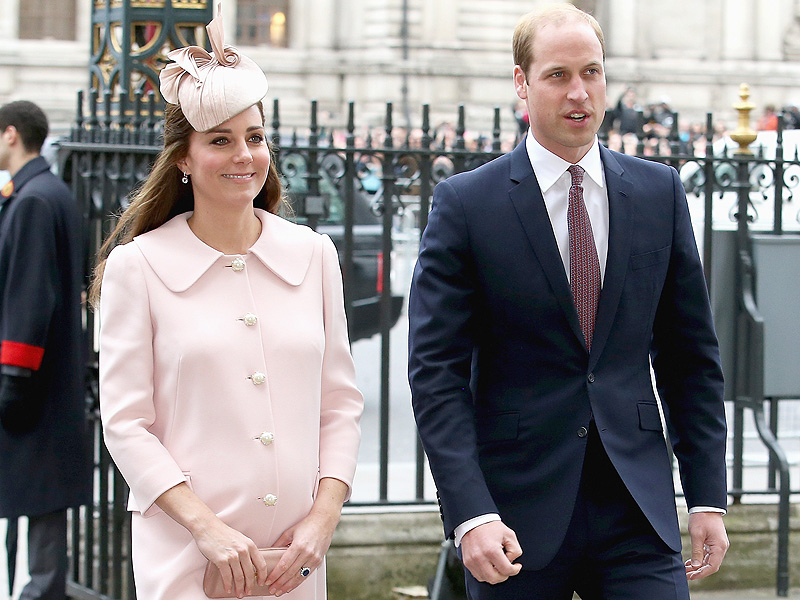 Welfare Princess Procreates www.people.com/people/package/article/0,,20910362_20920139,00.html
Tom Paine: "O! Ye that love mankind! Ye that dare oppose not only the tyranny but the tyrant, stand forth!"
The Emergence of Fascism as a Popular Mass Movement
But wait! Sanders isn't a Democrat! He's an independent the Dems love, so they let him in. Why did he go in? Money. Simple. And nobody ever voted the rich out of it. He's a shill for capital and empire.
Romanian Puppet Approved Black Site, didn't know what it was A former Romanian president has acknowledged approving the CIA's request for a site in Romania, but said he would have refused had he known how it would be used.
Ion Iliescu, president from 2000 to 2004, suggested he believed Romania had hosted CIA "black sites" — prisons outside the U.S. where suspected terrorists were held and subjected to harsh interrogation.
Romanian authorities had long denied reports they hosted a CIA secret prison, but Iliescu said last week he approved a request for a site in 2002-2003. He was widely criticized for his remarks.
Iliescu wrote on this blog Monday that "I would surely have taken another decision" if he had known what the CIA was doing.
He did not mention the location of the site, its size or whether there was more than one.
The Associated Press has reported there were CIA black sites at a U.S. air base near the Black Sea port of Constanta and one in Bucharest. Romanian leaders have denied these reports.
Rights groups, European officials and media have reported there were also CIA sites in Poland and Lithuania.  www.washingtonpost.com/world/europe/ex-president-okd-cia-site-denies-knowing-what-it-was-for/2015/04/27/0d49e57c-ecdd-11e4-8050-839e9234b303_story.html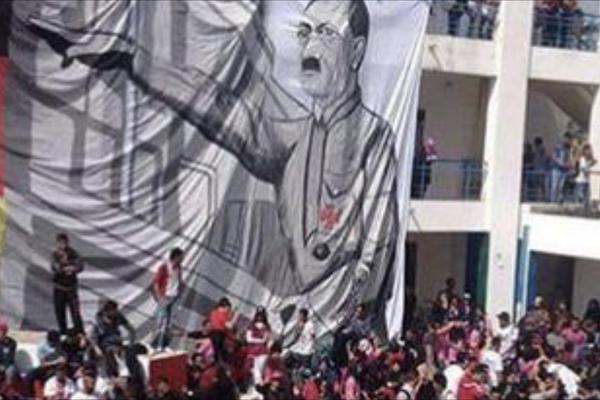 Tunisian Students Rally, Unfurl Huge fascist and IS banner (video inside)
Every year in Tunisia, high school students across the country undergo "sports exams," a sort of rigorous gym class where they are tested on their knowledge and skills in a variety of athletic contests. The exams are followed by a celebration known as "Dakhla," which features huge football stadium-style banners handmade by the future graduates. The festivities are usually innocuous — except when the Islamic State (IS) and Hitler get involved.
Students at an all-girls high school in Kairouan, a city located about 100 miles south of the capital Tunis, put an image of sword-wielding IS executioner on their banner next to drawings of hostages in orange jumpsuits, some with slit throats. The banner also featured an illustration of a man being engulfed in flames, an apparent reference to the Jordanian fighter pilot who was burnt to death by IS in January 2015.  news.vice.com/article/tunisian-students-spark-outrage-by-unfurling-huge-islamic-state-and-nazi-banners-at-school
Solidarity for Never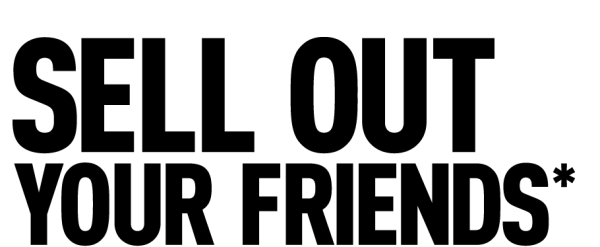 The Next Electoral Farce Coming to Chicago (how did Rahm do?) 
What we propose:
A dialogue for those who are committed to left politics outside of the two-party system
To discuss the "why" goals of running and winning in elections
To share experiences and reflections of campaigning
To share challenges after being elected to office and strategies for opening 
political space for social movement
No talking about imperialist war, capitalist exploitation, the existing state of fascism, etc. We want to join the government, not end it.  leftelect.org/
Spy versus Spy
Abusive CIA boss restored to work–to run drones A top CIA manager who had been removed from his job last year for abusive management has been named to a senior role in the agency department that conducts drone strikes.
Jonathan Bank, 47, has been installed as deputy chief for counterintelligence at the Counter Terrorism Center, or CTC, which conducts the agency's operations against al-Qaida, the Islamic State and other groups. He supervises a team charged with protecting CTC operations by ferreting out spies, double agents, bad tradecraft and other security risks
Bank was ousted as the head of the agency's Iran operations division at headquarters a year ago after an internal investigation found he had created an abusive and hostile work environment that put the crucial office in disarray.
Several key employees had requested transfers, according to current and former U.S. officials who refused to be identified speaking about a sensitive personnel matter. In a move officials said was without precedent, Bank was sent home from CIA headquarters in Langley, Virginia, and transferred to a liaison job at the Pentagon. He was barred from CIA management for a year.  www.washingtonpost.com/world/national-security/cia-manager-who-had-been-removed-from-his-job-is-back/2015/04/28/7c92e572-edb5-11e4-8050-839e9234b303_story.html
The Magical Mystery Tour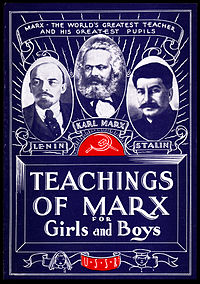 above by Bad Bishop Brown!
Americans are leaving their religions at a faster rate than ever before, and that means more are looking for help with the transition. People who are casually religious may walk away and not look back. But for others religion is at the very heart of their identity, worldview and community, and having a safe place to process doubts can be a metaphorical godsend.
"Reclaimers," people who are actively working to rebuild their lives after a period of religious immersion, may struggle with harmful ideas and emotions from the beliefs they once held or the behavior of fellow believers. Alternately, they may find that leaving is lonely and disorienting. Marlene Winell, a human development consultant who assists people leaving their religion, coined the term Religious Trauma Syndrome to describe a pattern she saw in some clients, in particular those leaving closed, authoritarian, fear-based communities. But even doubters who don't experience this level of distress may find themselves feeling confused, afraid, self-doubting or overwhelmed.  www.rawstory.com/2015/05/i-dont-believe-this-anymore-what-its-like-to-escape-an-abusive-right-wing-religion/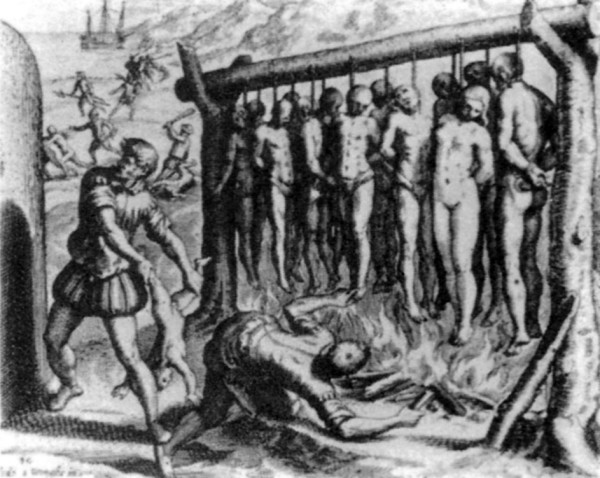 Top Papist (of the Vatican Bank) to Make Genocidal Fanatic a Saint  Francis weighed in on a thorny topic in California history Saturday when he spoke at length at a Rome Mass about Father Junipero Serra, the controversial California mission founder set to become America's first Latino saint later this year.
Addressing an audience that included many American priests, including Los Angeles Archbishop Jose H. Gomez, the pope referred to the 18th century Franciscan priest as "one of the founding fathers of the United States" and praised his willingness to abandon the comforts and privileges of his native Spain to spread the Christian message in the New World.
Francis did not address directly the controversy in his remarks, but he said the priest was among missionaries "who brought the Gospel to the New World and, at the same time, defended the indigenous people against abuses by the colonizers."
Speaking of missionaries in general, he said, "Sometimes we stop and thoughtfully examine their strengths and, above all, their weaknesses and shortcomings."
The Mass was part of a conference sponsored by the Los Angeles archdiocese in Rome that included clergy and California historians. L.A. Archbishop Gomez told the conference that it was time for "a new conversation" about the mission era and insisted that Serra had "a burning love" for native Americans.  www.latimes.com/local/lanow/la-me-ln-pope-francis-praises-junipero-serra-as-us-founding-father-20150502-story.html
The Spanish Requirement of 1513 which Serra Adopted On the part of the King, Don Fernando, and of Doña Juana, his daughter, Queen of Castile and León, subduers of the barbarous nations, we their servants notify and make known to you, as best we can, that the Lord our God, living and eternal, created the heaven and the earth, and one man and one woman, of whom you and we, and all the men of the world, were and are all descendants, and all those who come after us.
Of all these nations God our Lord gave charge to one man, called St. Peter, that he should be lord and superior of all the men in the world, that all should obey him, and that he should be the head of the whole human race, wherever men should live, and under whatever law, sect, or belief they should be; and he gave him the world for his kingdom and jurisdiction.
One of these pontiffs, who succeeded St. Peter as lord of the world in the dignity and seat which I have before mentioned, made donation of these isles and Terra-firma to the aforesaid King and Queen and to their successors, our lords, with all that there are in these territories,
Wherefore, as best we can, we ask and require you that you consider what we have said to you, and that you take the time that shall be necessary to understand and deliberate upon it, and that you acknowledge the Church as the ruler and superior of the whole world,
But if you do not do this, and maliciously make delay in it, I certify to you that, with the help of God, we shall powerfully enter into your country, and shall make war against you in all ways and manners that we can, and shall subject you to the yoke and obedience of the Church and of their highnesses; we shall take you, and your wives, and your children, and shall make slaves of them, and as such shall sell and dispose of them as their highnesses may command; and we shall take away your goods, and shall do you all the mischief and damage that we can, as to vassals who do not obey, and refuse to receive their lord, and resist and contradict him: and we protest that the deaths and losses which shall accrue from this are your fault, and not that of their highnesses, or ours, nor of these cavaliers who come with us.
Tom Paine Again All national institutions of churches, whether Jewish, Christian or Turkish, appear to me no other than human inventions, set up to terrify and enslave mankind, and monopolize power and profit….
The Best and Worst Things in the History of the World
Mayday!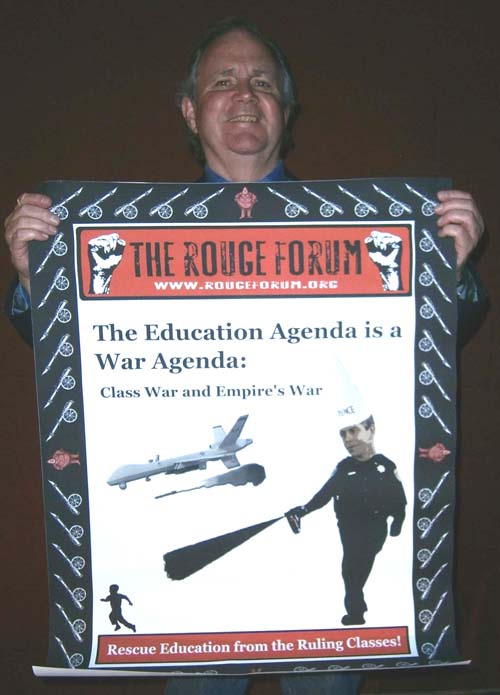 So Long