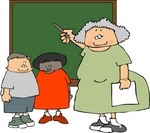 We'll Strike March 4th!
How About You?
Educate! Agitate! Organize Freedom Schools on March 4th's School Strike!
"If any question why we died, Tell them, because our fathers lied." Kipling

On the Little Rouge School Front This Week:
DPS Teachers Sue Union and Boss: "Washington claims the loan violates Michigan's Payment of Wages and Fringe Benefits Act, which forbids an employer from demanding a gift from an employee as a condition of employment. "Bobb does not have the right to extort loans from district employees, and the DFT does not have the right to authorize Bobb to waive the minimum protections of the law," Washington said.
www.detnews.com/article/20100111/SCHOOLS/1110414/DPS-teachers-sue-district–union-over-contract

The Rouge Forum News Latest Edition is Now Available At: www.therougeforum.blogspot.com

The Call For Papers for the Next Edition of the Rouge Forum News:
therougeforum.blogspot.com/2010/01/call-for-papers-rouge-forum-news-issue.html
Teaching Resources on the History of Haiti: canadahaitiaction.ca/?page_id=49
Martin Luther King Speech: Vietnam, A Time to Break the Silence:
www.hartford-hwp.com/archives/45a/058.html
A Surprising List From the CIA: Nations' Percentage Education Expenditures per GDP (US is 57th): www.cia.gov/library/publications/the-world-factbook/rankorder/2206rank.html?countryName=United%20States&countryCode=us&regionCode=na&rank=57#us
Chicago Trib Discovers What Substance News Reported for Years: The Duncan Miracle was a Fraud: " Scores from the elementary schools created under Renaissance 2010 are nearly identical to the city average, and scores at the remade high schools are below the already abysmal city average, the analysis found. The moribund test scores follow other less than enthusiastic findings about Renaissance 2010 — that displaced students ended up mostly in other low-performing schools and that mass closings led to youth violence as rival gang members ended up in the same classrooms. Together, they suggest the initiative hasn't lived up to its promise by this, its target year." www.chicagotribune.com/news/education/chi-renaissance-2010-17-jan17,0,3877012.story
Stephen Krashen on the LEARN Act: "I do not support the LEARN Act. As described in the Senate Bill, the LEARN Act is Reading First expanded to all levels. It is Reading First on steroids." susanohanian.org/show_research.php?id=325
Alfie, "Have They Lost Their Minds?" : " If you read the FAQ page on the common core standards website, don't bother looking for words like "exploration," "intrinsic motivation," "developmentally appropriate," or "democracy."  Instead, the very first sentence contains the phrase "success in the global economy," followed immediately by "America's competitive edge."
If these bright new digitally enhanced national standards are more economic than educational in their inspiration, more about winning than learning, devoted more to serving the interests of business than to meeting the needs of kids, then we've merely painted a 21st-century façade on a hoary, dreary model of school as employee training.  Anyone who recoils from that vision should be doing everything possible to resist a proposal for national standards that embodies it.
www.alfiekohn.org/teaching/edweek/national.htm

Grassroots Education Movement in NYC Protest Jan 21: "We are picketing Bloomberg's residence because he is in charge of these wrongful closings. We need to bring our opposition to his doorstep." grassrootseducationmovement.blogspot.com/2010/01/protest-bloombergs-school-closings.html?utm_source=feedburner&utm_medium=email&utm_campaign=Feed%3A+blogspot%2FMIxM+(GEMnyc)

Randi Weingarten (AFT) Proposes to Abolish Tenure (as in Detroit):
www.nytimes.com/2010/01/13/education/13teacher.html?emc=tnt&tntemail1=y

Joan Roelofs Analysis of the Relationship of Schools and the Military (Click under pages, it's several pdf files well worth the candle): joanroelofs.wordpress.com/military-industrial-complex/4-education-and-culture/
AFL-CIO Goons Open a College: "the online college would charge about $200 a credit, competitive with community colleges and far cheaper than most four-year colleges and for-profit schools." www.nytimes.com/2010/01/15/us/15labor.html?ref=education
The Perpetual Wars and Booming Inequality Front:
On the Ruinous Debt: "When a nation's debt exceeds 60 percent of its GDP, its growth rate slows precipitously, the study found. When that ratio exceeds 90 percent, nations' economies barely grow, and can even contract." www.mcclatchydc.com/227/story/81969.html
("Annual income twenty pounds, annual expenditure nineteen nineteen and six, result happiness. Annual income twenty pounds, annual expenditure twenty pounds ought and six, result misery." Wilkins Micawber). The U.S. national debt is at roughly 84 percent of the country's GDP, and it's projected to cross the authors' 90-percent threshold late this year or early next year.
The implication is stark: The authors don't say that the U.S. economy can't grow briskly despite even higher debt, but if it does, it would be an outlier in roughly 200 years of economic statistics.

Brother Can You Spare a Job? CSMonitor on Endless Unemployment: "in the December unemployment report, the Bureau of Labor Statistics said the number of people out of work for 27 weeks or more hit 6.1 million Americans, or 40 percent of all 15.3 million jobless. This is the most since 1948, when the data was first recorded, according to the Department of Labor. On average, it now takes 20.5 weeks to find a new job – double the amount of time in the 1982-83 recession."http://www.csmonitor.com/USA/2010/0108/Number-of-long-term-unemployed-hits-highest-rate-since-1948

Honest Graft, Per George Washington Plunkett: "Obama Received $20 Million from Healthcare Industry in 2008 Campaign. Almost three times the amount given to McCain" www.commondreams.org/headline/2010/01/12-9

Union Bosses Sell-Out on Health Care Tax: "While politically powerful labor leaders support the plan — which Obama considers crucial to controlling healthcare costs — rank-and-file workers now must be convinced that it is not a betrayal of Obama's campaign promise to oppose any new taxes on their health benefits."http://www.latimes.com/news/nation-and-world/la-naw-health-congress15-2010jan15,0,7559784.story

Wall Street Bonuses to Exceed $145 Billion (compare to the meager $100 million in Haiti aid from the entire USA): "Major U.S. banks and securities firms are on pace to pay their people about $145 billion for 2009, a record sum that indicates how compensation is climbing despite fury over Wall Street's pay culture.An analysis by The Wall Street Journal shows that executives, traders, investment bankers, money managers and others at 38 top financial companies can expect to earn nearly 18% more than they did in 2008—and slightly more than in the record year of 2007. The conclusions are based on an examination of securities filings for the first nine months of 2009 and revenue estimates through year-end."
online.wsj.com/article/SB10001424052748704281204575003351773983136.html

Come Play on My Yemen Web Says OBL: ""Any association with the (Yemeni) regime will only confirm al Qaida's narrative, which is that America is only interested in maintaining corrupt and despotic rulers and is not interested in the fate of Arabs and Muslims," warned Bernard Haykel, a Princeton University professor." www.mcclatchydc.com/227/story/82399.html
Cost of War Update: "These new appropriations bring total war-related spending for Iraq to $747.3 billion and for Afghanistan to $299 billion, with total war costs of $1.05 trillion."
www.nationalpriorities.org/2009/1/11/Cost-of-war-tallies-through-FY2010

California Credit Rating Collapses: "often translate into higher borrowing costs. The latest downgrade leaves California two notches below Illinois, the next lowest among the 50 states, said S&P analyst Gabriel Petek."     http://www.mcclatchydc.com/homepage/story/82323.html
The US Produced Tragedy of Haiti, Again: " It may startle news-hungry Americans to learn that these conditions the American media correctly attributes to magnifying the impact of this tremendous disaster were largely the product of American policies and an American-led development model." www.commondreams.org/view/2010/01/14-2

Escobar on Yeman: "The Strait of Bab el-Mandab between Yemen, Djibouti and Eritrea is a key strategic oil chokepoint between the Horn of Africa and the Middle East, linking the Mediterranean and the Indian Ocean, through which flows at least 3.5 million barrels of oil a day towards the US, Europe and Asia." www.atimes.com/atimes/Middle_East/LA13Ak04.html
Thanks to Joel S., AMG, EWR, Nancye, Shelly, Peter, Doug, Connie, Kathy and Kathie, Sarah and Bill, MM, Bob, TLS, Gerry, Sharon A, Dave, Arturo, Dan, Jackie, Marisol, Sandy, Geno, Pat, Candace, Ruth, Lisa, Sherry, Marc, the Susans and Jack.
Good Luck to us, every one, r