The Parent and Community Occupation at south side Chicago Whittier School continues until the school board finally ratifies a deal that appears to have been reached, that is, to build a library inside Whittier and to leave the community building, now occupied, to the community. The building takeover began on September 15 and is holding strong. More details in next week's update.
Little Red Schoolhouse
Chomsky on Dewey and the Question: Why Have School?
The Collapse of Wayne State University: Why? Located in the heart of one of the nation's most racially segregated areas, Wayne State itself has the biggest white-black gap in graduation rates among public universities with significant numbers of students of both races. From 2006 to 2008, fewer than one in 10 of Wayne State's black students graduated within six years, compared with more than four in 10 of its white students, according to the Education Trust, a Washington-based advocacy and research group.
Wayne State's numbers stood out not only because of the wide gap, but also because of the large number of black students it enrolls. Close to one-third of the university's 20,000 undergraduates are black. No other college on the Education Trust's list of the 25 public institutions with the worst graduation gaps, published this year, had a student body in which more than 14 percent were black, nor did any other institution have a single-digit graduation rate for its black students.
chronicle.com/article/Wayne-State-Us-Stark/124971/
Fans of the Immortal Reverend David Murray of the Detroit School Board Who Distinguished Himself by Excusing the Actions of Former School Board Prezzie Otis Mathis, Public Masturbator, by saying that the 58 year old Mathis is "a young man and some women are more sensitive to this than others…." may enjoy this: " The son of a Detroit Public Schools board member faces charges punishable by life in prison on claims he carjacked a top executive to Mayor Dave Bing this week.
James Murray, 19, of Detroit, the son of Reverend David Murray, was charged Thursday with carjacking and other felonies against Gail Oxendine, the city's director of human resources. Detroit police allege James Murray pointed a gun at Oxendine, demanded her car keys and then drove off with her 2010 Mazda about 9:20 p.m. Monday … detnews.com/article/20101022/METRO/10220375/City-exec-carjacked–DPS-member's-son-accused
Here is what David Murray's sister has to say (honest): Litocompresto Murray Do not be deceived by David. He is a criminal not yet caught by law enforcement. The very idea that he is still deceiving you though Facebook is outrageous. We do not have an alliance. I don't want one
www.facebook.com/litocompresto.murray
Perpetual War
www.youtube.com/watch?v=yGiwcn6FhLI
AlJazeera On the WikiLeaks Release: Working with the Bureau of Investigative Journalism in London for the past 10 weeks, Al Jazeera has analysed tens of thousands of documents, finding facts the US has kept hidden from public scrutiny.
What has been uncovered often contradicts the official narrative of the conflict. For example, the leaked data shows that the US has been keeping records of Iraqi deaths and injuries throughout the war, despite public statements to the contrary.
The latest cache of files pertains to a period of six years – from January 1, 2004, to December 31, 2009 – and shows that 109,000 people died during this time. Of those, a staggering 66,081 – two-thirds of the total – were civilians.
The figures are much higher than previously estimated and they will inevitably lead to an upward revision of the overall death toll of the conflict.
As a result of the information contained in the war logs, the Iraq Body Count (IBC) – an organisation that kept records of the number of people killed – is about to raise its death toll estimates by 15,000: to 122,000 from 107,000.
The new material throws light on the day-to-day horrors of the war. The military calls them SIGACTs – significant action reports – ground-level summaries of the events that punctuated the conflict: raids, searches, roadside bombings, arrests, and more. All of them are classified "secret".
The reports reveal how torture was rampant and how ordinary civilians bore the brunt of the conflict.
The files record horrifying tales: of pregnant women being shot dead at checkpoints, of priests kidnapped and murdered, of Iraqi prison guards using electric drills to force their prisoners to confess.
Equally disturbing is the response of the military to the civilian deaths caused by its troops. Excessive use of force was routinely not investigated and the guilty were rarely brought to book.
english.aljazeera.net/secretiraqfiles/2010/10/2010102217631317837.html
The WikiLeaks Release that the US Did Not Want Seen: At 5pm EST Friday 22nd October 2010 WikiLeaks released the largest classified military leak in history. The 391,832 reports ('The Iraq War Logs'), document the war and occupation in Iraq, from 1st January 2004 to 31st December 2009 (except for the months of May 2004 and March 2009) as told by soldiers in the United States Army. Each is a 'SIGACT' or Significant Action in the war. They detail events as seen and heard by the US military troops on the ground in Iraq and are the first real glimpse into the secret history of the war that the United States government has been privy to throughout.
The reports detail 109,032 deaths in Iraq, comprised of 66,081 'civilians'; 23,984 'enemy' (those labeled as insurgents); 15,196 'host nation' (Iraqi government forces) and 3,771 'friendly' (coalition forces). The majority of the deaths (66,000, over 60%) of these are civilian deaths.That is 31 civilians dying every day during the six year period. For comparison, the 'Afghan War Diaries', previously released by WikiLeaks, covering the same period, detail the deaths of some 20,000 people. Iraq during the same period, was five times as lethal with equivallent population size. wikileaks.org/
Linked below a CBS Video on the Pathetic San Diego Homeless Vets' Stand-down: The VA tells "60 Minutes" that, already, there are more than 9,000 Iraq and Afghanistan vets who've been homeless.
Two million troops have already served in Iraq and Afghanistan. The VA believes there could be thousands more homeless in part because of the combat stress and brain injuries that roadside bombs inflict. Already, a quarter of a million troops have asked for mental health treatment.
"The troops that are gonna come back from Afghanistan and from Iraq, is this country prepared for that?" Pelley asked.
"I don't think so," Nachison said. www.cbsnews.com/stories/2010/10/14/60minutes/main6958101.shtml?tag=contentMain;cbsCarousel
Secret Wars Hidden From Even Corrupt In-bed-with Journalists: A major military operation involving hundreds of American troops, U.S. Special Forces and heavy bombers dropping 2,000-pound bombs on Taliban command and control centers wrapped up last week, concluding a critical phase in the campaign to oust the Taliban from Afghanistan's southern Kandahar province.
But no journalists were there to witness the operation.
U.S. military officials told journalists who had arrived to Kandahar Airfield for embeds in the Arghandab district between Oct. 1 and Oct. 15 that logistical problems had caused their embeds to be canceled. www.npr.org/templates/story/story.php?storyId=130648896
US Construction Way Down–US Construction for Afghan Permanent Bases Way Up: analysis of little-noticed U.S. government records and publications, including U.S. Army and Army Corps of Engineers contracting documents and construction-bid solicitations issued over the last five months, fills in the picture. The documents reveal plans for large-scale, expensive Afghan base expansions of every sort and a military that is expecting to pursue its building boom without letup well into the future. These facts-on-the-ground indicate that, whatever timelines for phased withdrawal may be issued in Washington, the U.S. military is focused on building up, not drawing down, in Afghanistan….
Despite a pledge from the Obama administration to begin its troop drawdowns next July, this ongoing base-construction splurge, when put together with recent signals from the White House, civilians at the Pentagon, and top military commanders, including Afghan war chief General David Petraeus, suggests that the process may be drawn out over many years. During a recent interview with ABC News Senior Foreign Affairs Correspondent Martha Raddatz, for instance, Petraeus affirmed the president's July 2011 timeline, but added a crucial caveat. "It will be a pace that is determined by conditions," he said www.countercurrents.org/turse211010.htm
Who Lost the Sunnis? Members of United States-allied Awakening Councils have quit or been dismissed from their positions in significant numbers in recent months, prey to an intensive recruitment campaign by the Sunni insurgency, according to government officials, current and former members of the Awakening and insurgents.
Although there are no firm figures, security and political officials say hundreds of the well-disciplined fighters — many of whom have gained extensive knowledge about the American military — appear to have rejoined Al Qaeda in Mesopotamia. Beyond that, officials say that even many of the Awakening fighters still on the Iraqi government payroll, possibly thousands of them, covertly aid the insurgency. www.nytimes.com/2010/10/17/world/middleeast/17awakening.html?hp
War Criminal Rice Lauds Obamagogue's BiPartisan Wars: Rice said she and Obama "covered the waterfront." "Despite the fact there are changes and tussles, there is still a foreign policy community that believes that foreign policy ought to be bipartisan," she said. "It was really great that he reached out in that way." www.washingtonpost.com/wp-dyn/content/article/2010/10/15/AR2010101506018.html?hpid=topnews
The Hitler Exhibit is ONLY ABOUT GERMANS: the show focuses on the society that nurtured and empowered him. It is not the first time historians have argued that Hitler did not corral the Germans as much as the Germans elevated Hitler. But one curator said the message was arguably more vital for Germany now than at any time in the past six decades, as rising nationalism, more open hostility to immigrants and a generational disconnect from the events of the Nazi era have older Germans concerned about repeating the past….
…over and over, the point was spelled out clearly in the exhibit's plaques like one, near letters written by children who were sent off to concentration camps, that said: "Hitler was able to implement his military and extermination objectives because the military and economic elites were willing to carry out his war."
The exhibit, with all its photographs of young and old adoring Hitler, also sought to dispel the notion that the Nazi spirit was simply impossible to resist. It held up Johann Georg Elser as proof that "it was possible for an individual to develop into a resistance fighter."
Mr. Elser was a carpenter who tried to kill Hitler at the outset of the war and was hanged for his actions.
His story, however, left some viewers to wonder why their parents and grandparents had not rejected Hitler. Why everyone went mad. www.nytimes.com/2010/10/16/world/europe/16hitler.html?pagewanted=2&ref=homepage&src=me
Tom Brokaw–to the Left of Most Education Reformers: Notice anything missing on the campaign landscape? How about war? The United States is now in its ninth year of fighting in Afghanistan and Iraq, the longest wars in American history. Almost 5,000 men and women have been killed. More than 30,000 have been wounded, some so gravely they're returning home to become, effectively, wards of their families and communities. www.nytimes.com/2010/10/18/opinion/18brokaw.html?_r=1&scp=2&sq=tom%20brokaw&st=cse

A Note Worth Your While: Soldiers Write From Afghanistan: The ride back and forth to work is always a little worrisome, as Kabul has had a fair share of suicide bombers lately. You might imagine that we drive around in tanks or armored cars. You'd be wrong. Still, it is a very interesting job, despite the risks. We are the fortunate few who get to go out and experience Afghan life every day. This immersion into a truly alien culture has been a great experience for me. It also looks like one that more and more Air Force personnel will get to have. This is a totally different Air Force than the one I joined 18 years ago. Never in my wildest imaginings did I think I might end up in an Army position, embedded with the Afghan Army. In an Infinite Universe, anything is possible.
gocomics.typepad.com/the_sandbox/2006/11/index.html
A Reminder of the 40 Top Lies About the Iraq Invasion: motherjones.com/bush_war_timeline
And a Reminder of Days Past:
Stratfor on the Retreat of the Zetas in Mexico's Drug Wars: Since January, the Zetas have suffered significant organizational and territorial losses. By May 2010, Los Zetas reportedly had lost control of the strategic (and very lucrative) border crossing of Reynosa, Tamaulipas state, to the New Federation and had been forced to retreat north toward Nuevo Laredo and west toward the transportation hub of Monterrey, the capital of Nuevo Leon state and Mexico's third-largest city. Reprinted with Stratfor permission….. www.stratfor.com/weekly/20101020_falcon_lake_murder_and_mexicos_drug_wars?utm_source=SWeekly&utm_medium=email&utm_campaign=101021&utm_content=readmore&elq=9ba320c34eca44f683d99439305343f3
Election Shell Game:

Nine Minutes With Baldwin–Worth More than the $500 million Plus Spent on Fake Elections

One Dubois Worth a Billion Obamagogues

There Goes the Economy:

Got A Foreclosure Problem? Fight The Fraudsters! As I have repeatedly pointed out, the failure of the mortgage originators and banks to prepare and record proper documentation has led to an epidemic of fraud. The pledging of the same mortgage again and again to different trusts related to mortgage backed securities is just one result.
And as long-time foreclosure investigator Nye Lavalle writes:
On thousands of occasions I stated to regulators, CEOS, banks, Fannie and Freddie that the practices of the banks were that they were double and multi-pledging assets and pledging paid off and refinance notes to securitizations. This is something April, Max [Gardner] and I have discussed for years now. Now, they come and admit that each of my allegations were true. Without analyzing the deal, as complex as they are, you WILL NEVER KNOW IF THE FORECLOSING PARTY HAS "ANY" RIGHT TO FORECLOSE!!! www.nakedcapitalism.com/2010/10/guest-post-mortgages-were-pledged-to-multiple-buyers-at-the-same-time.html
We Say Fight Back

Thousands of Workers and Students Paralyze France's Supply Chain: Striking French dockworkers, truck drivers and railway employees paralyzed a large swath of the nation's supply chain Oct. 19 amid escalating nationwide protests against government plans to reform the pension system.
Dockworkers at Le Havre, France's top container hub, threw stones and paving slabs at riot police who responded with rounds of tear gas during a demonstration this morning through the streets of the northern port city.
The local branch of the CGT labor union called for a general strike, raising fears the port, which has been strike-bound over the past three weekends in an unrelated dispute, could face a prolonged walkout. www.joc.com/maritime/le-havre-dockworkers-riot-police-clash
UAW Members Picket "Solidarity" House: "I am hoping that they feel some type of embarrassment that we have to come out to Solidarity House in order for them to hear our message," said Nick Waun, who has worked for GM for four years.
The deal, which etablishes a second tier wage for 40% of the workers at the plant, was negotiated based on changes approved by members last year. However, the details of the deal were negotiated this year and workers are angry because they didn't have a chance to vote on it.
Workers who were at the UAW's headquarters came from Indiana, Ohio and across Michigan.
"We must stay united together," Olen Ham, 93, who said he participated in sit down strikes in the 1930s, said in a speech to current members. "Don't back up again."
www.freep.com/article/20101016/BUSINESS01/101016054/1318/Workers-protest–at-UAW-HQ-over-Orion-plant-deal
College of Marin Professors Overwhelmingly Reject Contract
Strike Looms
October 19, 2010
By anonymous
This month professors at College of Marin in Kentfield, California voted 82 to 18 percent (164 to 37) to reject a tentative two year contract offer after about four years of negotiations. Rank and file members were in revolt against the local's leadership, many of whom in elected and unelected positions for decades, for asking the membership to ratify a contract with givebacks in pay, health care coverage and academic freedom.
A group of dissident professors have been outspoken about the tentative contract's provisions that would have worsened the two tiered structure in pay and created one for health care coverage.
The agreement would have given nearly all the full-time professors, most of whom are close to retirement, a small bump in their pay and pensions, in exchange for new premium costs for mostly younger faculty with families. Both full-time and part-time professors teaching at least two classes had their health care covered 100 percent by the college under the old now expired contract. Without a cap on employee contributions, this new premium would have translated into a massive pay cut that grows exponentially over time.
The tentative contract also eroded academic freedom for adjunct professors by removing their right to appeal student complaints. A single written student complaint was to also have triggered an evaluation of faculty. These did not apply to full-time faculty.
The college may now either impose its last best offer or one written by the mediator carrying out fact finding, or go back to the negotiating table. Faculty who have attended recent union meetings report that faculty are pushing the leadership to strike if the college imposes a new contract.
Petition Against Violence On Haitian Education Workers and Students: We the undersigned are responding to a call for international solidarity sent out by the executive committee of a coalition of education organizations in Haiti after the police killing of a protesting teacher, and signed on Oct. 11, 2010, by the coordinators of the coalition François Mario, CNEH (teachers' union), Eugène Jean, UPEPH (parents' organization), and Josué Mérilien, UNNOH (teachers' union). We stand in solidarity with teachers, students, and parents in Port-au-Prince who are organizing for schooling for Haitian children abandoned by the education system, and for decent living and working conditions for teachers and students. We demand an end to the systematic violence against them: www.ipetitions.com/petition/haitisolidarity/
Thousands March Against Israel's Loyalty Oath: Thousands marched in Tel Aviv on Saturday evening in a joint Jewish-Arab protest against the cabinet's approval of a controversial amendment to the citizenship bill, requiring non-Jews seeking citizenship to pledge allegiance to Israel as a Jewish and democratic state. desertpeace.wordpress.com/2010/10/17/thousands-of-israelis-and-palestinians-march-against-loyaly-oath/
Video of Journalists Resisting Alaska Senate Hopeful Joe Miller's Goon Squad: www.pixiq.com/article/video-shows-millers-security-guards
Solidarity Forever
What to Do in a Zombie Attack (do not miss this, especially Canadians):

UAW Members Not Allowed to Vote On $0% Wage Cut Sellout: Instead, they were told, the germ of the idea had been included in the national contract [2] ratified in 2009 when GM was on the verge of bankruptcy and seeking government help. The national contract contained language saying the UAW would help GM produce a small car profitably by "looking for innovative ways to staff the plant," said Mike Dunn, shop chair at UAW Local 5960. The language, in fact, says only that: that company and union "will work together…to arrive at innovative ways ways to staff these operations" (page 100). Lake Orion was chosen as the lucky plant and is now being retooled to produce the subcompact Aveo and compact Verano.
rustbeltradical.wordpress.com/2010/10/18/uaw-workers-picket-the-uaw/
Counterfeit Wobblies Abandon Proud IWW History–Want Fastfood Contracts: Most unions have shied away from trying to organize fast-food workers because the employees tend to be young, with high turnover. But that has not dissuaded the Industrial Workers of the World, which tried to organize workers at Starbucks coffee shops without success. www.nytimes.com/2010/10/21/business/21union.html?src=busln&pagewanted=all
Here's a Reminder, Wobblie Frauds, of The Preamble you Betray: The working class and the employing class have nothing in common. There can be no peace so long as hunger and want are found among millions of the working people and the few, who make up the employing class, have all the good things of life.
Between these two classes a struggle must go on until the workers of the world organize as a class, take possession of the means of production, abolish the wage system, and live in harmony with the Earth. www.iww.org/culture/official/preamble.shtml
The Wobblie Video: video.google.com/videoplay?docid=-582501436157763581#
SEIU's Andy Stern Didn't Switch Sides–He Just Kept Getting Paid: Former SEIU head Andy Stern has gone from leading one of the nation's largest unions to working on behalf of organized labor's historic enemy, private equity.
The Service Employees International Union and its affiliated unions waged an intense war against private equity when Stern was its leader. Today, he sits on the board of SIGA Technologies. Ron Perelman, a high-profile corporate raider ranked by Forbes as one of the richest men in the world, and his private-equity firm MacAndrews & Forbes, are the largest shareholders in SIGA Technologies. Perelman is the sole owner of MacAndrews & Forbes.
Spy vs Spy
www.youtube.com/watch?v=Usw5Alg3Z7Q&feature=related
Obamagogue Seeks Wider Wiretap Rules: An Obama administration taskforce is seeking to overhaul a federal law requiring telephone and broadband carriers to ensure their networks can be wiretapped, The New York Times reported Tuesday.
Law enforcement and counterterrorism officials from the Justice and Commerce Departments, the FBI and other federal agencies told the Times tougher legislation was necessary because some telecommunications firms have launched new services and system upgrades that impede surveillance. economictimes.indiatimes.com/articleshow/6774237.cms
Holy Crap! Our Spy was THEIR Spy Plus Terrorist (ya cannot make this stuff up)
Federal officials acknowledged Saturday that David Coleman Headley, the U.S. businessman who confessed to being a terrorist scout in the 2008 Mumbai attacks, was working as a Drug Enforcement Administration informant while training with terrorists in Pakistan.
Federal officials, who spoke only on background because of the sensitivity of the Headley case, also said they suspect a link between Headley and the al-Qaeda figures whose activities have sparked recent terror threats against Europe.
The revelations came after a report Friday by ProPublica and The Washington Post that the FBI had been warned about Headley's terrorist ties three years before the Mumbai attacks. Headley was arrested 11 months after those attacks.
After he was arrested in a 2005 domestic dispute in New York City, his wife told federal investigators about his long involvement with the terrorist group Lashkar-i-Taiba and his extensive training in its Pakistani camps. She also told them he had bragged about being a paid U.S. informant while undergoing terrorist training.
Despite a federal inquiry into the tip, Headley spent the next four years doing terrorist reconnaissance around the world. Between 2006 and 2008, he did five spying missions in Mumbai scouting targets for the attack by Lashkar that killed 166 people, including six Americans.
Wait! That Guy is Working for Those Guys! Or Did I forget to Tell You That–again? Three weeks before a Jordanian double agent set off a bomb at a remote Central Intelligence Agency base in eastern Afghanistan last December, a C.I.A. officer in Jordan received warnings that the man might be working for Al Qaeda, according to an investigation into the deadly attack.
But the C.I.A. officer did not tell his bosses of the suspicions — brought to the Americans by a Jordanian intelligence officer — that the man might try to lure Americans into a trap, according to the recently completed investigation by the agency.
The internal investigation documents a litany of breakdowns leading up to the attack at the Khost base that killed seven C.I.A. employees, the deadliest day for the spy agency since the 1983 bombing of the American Embassy in Beirut. Besides the failure to pass on warnings about the bomber, Humam Khalil Abu-Mulal al-Balawi, the C.I.A. investigation chronicled major security lapses at the base in Afghanistan, a lack of war zone experience among the agency's personnel at the base, insufficient vetting of the Jordanian, and a murky chain of command with different branches of the intelligence agency competing for control over the operation.
www.nytimes.com/2010/10/20/world/asia/20intel.html?hp
Employee Spies, The Newest Fad: For five years, Mr. Huang was a scientist at a Dow Chemical lab in Indiana, studying ways to improve insecticides. But before he was fired in 2008, Mr. Huang began sharing Dow's secrets with Chinese researchers, authorities say, then obtained grants from a state-run foundation in China with the goal of starting a rival business there.
Now, Mr. Huang, who was born in China and is a legal United States resident, faces a rare criminal charge — that he engaged in economic espionage on China's behalf.
www.nytimes.com/2010/10/18/business/global/18espionage.html?hp
South Korea Claims to Bust N. Korean Spy (don't drink your bathwater): A North Korean agent was arrested Tuesday for plotting to assassinate a top-ranking defector who died earlier this month from natural causes, South Korean prosecutors said.
The 46-year-old is accused of planning to murder Hwang Jang-Yop on orders from the North's Reconnaissance Bureau which oversees espionage operations against the South, the Yonhap news agency quoted prosecutors as saying.
Hwang, a former secretary of the North's ruling party and tutor to current leader Kim Jong-Il, defected in 1997 during a visit to China. news.yahoo.com/s/afp/20101019/wl_asia_afp/nkoreaskoreapoliticsdefector_20101019160058

Can't Keep Em Down!

It May Be that People From Grand Rapids are Just Lousy Spies: Glenn Duffie Shriver, 28, told a federal judge at a court hearing in Alexandria, Va., that he was befriended by Chinese intelligence officers while studying in Shanghai, agreed to spy for them and was in the process of finalizing a job at the Central Intelligence Agency when U.S. authorities found out what he was up to. Although the Chinese paid him $70,000 for his services, prosecutors said, it appears no secrets were passed. Prosecutors didn't explain how he was caught.
He was arrested in June in Detroit while trying to board a plane for South Korea. www.freep.com/article/20101022/NEWS01/101022044/1318/Former-Grand-Rapids-man-pleads-guilty-to-spying-for-China

The Heavens Weep
Water Water And Not a Drop to Drink: Sometime between 11 and noon on Sunday, the water level in Lake Mead, the massive reservoir whose water fills the taps of millions of people across the Southwest, fell lower than it ever has since it was filled 75 years ago.
green.blogs.nytimes.com/2010/10/18/lake-mead-hits-record-low-level/
Magical Mystery Tour

Best Thing in the History of the World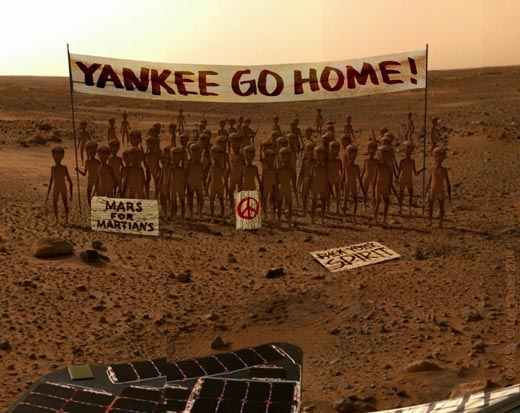 Detroiters Solve Their Own Problems: Police said a 36-year-old man was pumping gas into a black Cadillac Escalade shortly after 7 p.m. at a Citgo gas station on Fenkell near Schaefer when he was attacked by a man who wanted to steal the luxury truck. i to police, the carjacking victim returned fire and killed the man who tried to take his SUV.
www.detnews.com/article/20101020/METRO01/10200400/Detroit-Police–Man-kills-carjacker-in-shootout
NPR's Racist Propagandist Twit Fires Liberal Imposter Williams (Vivian Schiller, the racist propagandist twit, is the daughter of the former publisher of Readers Digest–nice) : Cokie Roberts, another longtime NPR analyst, sat for years on ABC's Sunday morning talk show, cheerfully expressing moderately left-of-center opinions more or less in the same ballpark as most of those offered by Mr. Williams. And Nina Totenberg, NPR's Supreme Court reporter, has long offered left-wing opinion on the show "Inside Washington," not to mention in her own reporting. online.wsj.com/article/SB10001424052702304023804575566431872851918.html
Vivian Schiller, below: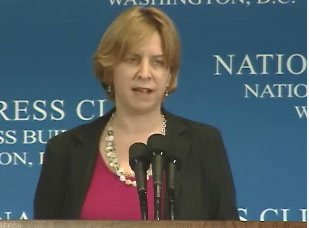 National "Public" Radio (don't say Radio, say NPR)? Bullshit: FAIR found that NPR relies on the same dominant sources as the major media that include government officials, professional experts, and corporate representatives nearly two-thirds of the time. Now, there are zero black people in top positions at the war channel, NPR.
Spokespeople for public interest groups accounted for 7% of total sources, and ordinary people appeared mostly in "one-sentence soundbites."
Male guests outnumbered women about 4:1, and those quoted most often came from the same elite categories as men.
Overall, NPR represents the same dominant interests as the major commercial media – conservative, pro-business, pro-war, pro-Israel, and very much against the public interest while pretending to support it. aconstantineblacklist.blogspot.com/2009/11/npr-pbs-and-national-security-state.html
Worst Thing in the History of the World
A Shootout About Weed: About 10,000 packages of marijuana were hidden inside six cargo containers stored in a warehouse in an industrial area of the border city of Tijuana. The marijuana was discovered after police on routine patrol intercepted a convoy of vehicles escorting a tractor-trailer that had left the warehouse, officials said.
After a shootout, 11 people were arrested. Police and soldiers, acting on information from the suspects, raided the warehouse and two homes near the coast, where smaller amounts of marijuana were found.
Never Forget
Stratfor on the Implications of Collapsed German Multiculturalism: Multiculturalism is profoundly divisive, particularly in countries that define the nation in European terms, e.g., through nationality. What is fascinating is that the German chancellor has chosen to become the most aggressive major European leader to speak out against multiculturalism. Her reasons, political and social, are obvious. But it must also be remembered that this is Germany, which previously addressed the problem of the German nation via the Holocaust. In the 65 years since the end of World War II, the Germans have been extraordinarily careful to avoid discussions of this issue, and German leaders have not wanted to say things such as being committed to a dominant German culture. We therefore need to look at the failure of multiculturalism in Germany in another sense, namely, with regard to what is happening in Germany.
www.stratfor.com/weekly/20101018_germany_and_failure_multiculturalism?utm_source=GWeekly&utm_medium=email&utm_campaign=101019&utm_content=readmore&elq=3849a02c69ab4189aaeedb2d0a39d717 Repubed with Stratfor Permission.
So Long June:

Thanks to Perry, Al, Amber, Donna, Sherry, Marc, Pete M, Ricky C, TC, Dennis B, Ginger H, Kathy K, Betty S, Don S, Mary S, Crystal, Adam and Gina, Mr J and Mr Z, Wes, Wayne and the Beast, Happy Birthday Colin, Lucy W, Sandy and Sally, Van,  Dirty Edd and Weird Eric, Farber, and Big Al.
Good luck to us, every one.
r