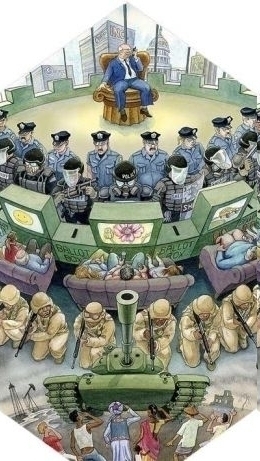 Above, The New Hegemony (from the IWW).

"He who wishes to fight must first count the cost. When you engage in actual fighting, if victory is long in coming, then men's weapons will grow dull and their ardor will be dampened. If you lay siege to a town, you will exhaust your strength. Again, if the campaign is protracted, the resources of the State will not be equal to the strain. Now, when your weapons are dulled, your ardor dampened, your strength exhausted and your treasure spent, other chieftains will spring up to take advantage of your extremity. "
Sun Tzu, The Art of War.
Dear Friends,

Detroit may be the next centerpiece for education struggles soon. The Detroit Federation of Teachers bosses signed a tentative agreement (TA) with the Broad Foundation's Detroit Financial Manager, Bob Bobb who now runs the system, that offers DPS $500 a month from each teacher's check, or $10,000 a year, to be paid back as a no-interest loan when the teacher quits the system.
With about 7000 school workers in DPS (not all classroom teachers), paying the dun for 2 1/2 years of the 3 year contract, that's a $105 million no-interest loan to a school system that claimed it needed about $40 million in concessions from the school workers. More, DPS claims its on the brink of bankruptcy, which would likely dissolve the debt to educators.
The TA also includes huge give-backs in insurances (eliminating Blue Cross), merit pay, teachers evaluating teachers, and worse.
The contract language is murky on what looks like a union bracero program, selling the labor of members to DPS with a specious promise of repayment on the "loan," (blackmail for a job). The TA is here: mi.aft.org/dft231/ although in the past members have complained about not being told of the full measure of TA's.
In a meeting of about 2500 of the DFT members at Cobo Hall on Sunday, most rank and filers agreed that 90% plus rose to oppose the TA that was bargained behind their backs, involving the top national leadership of the AFT, like President Randi Weingarten.
No group of organized educators has been on strike in the last decade more than DFT rank and filers who led a huge wildcat strike, against their union, against the law, and against the employer–and they made gains.
But today the DFT is relatively isolated. The union leadership stayed silent in the face of massive corruption and incompetence that infected nearly every aspect of Detroit school life. Citizens turned against the system as a whole.
When Broad's Bobb arrived, citizens applauded as he rooted out the more obvious small time crooks in the system, but he left aside the contractors who looted the public by stealing millions in no-bid contract during the five year period of the Takeover Board, when the governor wiped out the elected board and replaced them with, mostly, suburban auto execs from the failing Big Three. The Takeover Board left DPS at least $40 million in debt.
Now, there are at least 10 newly built schools that sit empty and stripped of everything of value, schools that were built in the Takeover period–in a system that loses 12,000 students a year.
Bobb "won" a new $500 million bond issue to build more new schools by a 2/3 majority this fall, indicating his newly won clout, and his ability to syphon off more money from a system that claims it will build new schools, but demands blackmail payments from teachers. Bobb has already pulled out millions on no-bid offers to cronies in Broad related companies.
The DFT's sellout Tentative Agreement will appear in urban bargaining tables everywhere next year, if DPS gets away with this. An injury to one really will go before an injury to all.
Every expression of solidarity in opposition to this TA will matter. More, suburban MEA members need to unite with the DFT rank and file, join with parents and kids to create enough educational civil strife that drives the DFT bosses back to the bargaining table, forces them to report out a TA that makes gains, not concessions.
No union is ideologically or structurally prepared to take on the battles ahead–why we formed the Rouge Forum a decade ago. When they say "Cutback," We say "Fight Back!"
More on the Education Agenda is a Class War Agenda Front
By Susan Ohanian: The Education Agenda is a War Agenda: Sequel, Publication Date: December 04, 2009
Quick Summary: The spark for this commentary is a bland article in the New York Times, Panel Criticizes Military's Use of Embedded Anthropologists, Dec. 4, 2009, reprinted below my commentary. This article brought the Rich Gibson & Wayne Ross article The Education Agenda is a War Agenda home to me, helped me see that the LEARN (sic) is indeed a war act. Clearly not all wars are fought on foreign soil. Many are fought right in our public school classrooms, where the corporate politicos have workers embedded to institutionalize their policies and programs. You can read AAA Commission on the Engagement of Anthropology with the
US Security and Intelligence Communities (CEAUSSIC) Final Report on The Army's Human Terrain System Proof of Concept Program
Submitted to the Executive Board of the American Anthropological Association
Five Axioms for the University Resistance, Josh Clover, UC Davis:1. EVERY OFFER OF DIALOGUE AND DISCUSSION FROM THE ADMINISTRATION IS A STRATEGY FOR SILENCING US, AND SHOULD BE RECOGNIZED AS SUCH.2. ONE ACTION, ONE DEMAND
3. COPS OFF CAMPUS4. FACULTY: STAND WITH STUDENTS, PUSH BACK AGAINST THE ADMINISTRATION, OR GET THE HELL OUT OF THE WAY.5. HISTORY IS MADE BY THOSE WHO SAY NO
panicandvomit.blogspot.com/2009/12/five-axioms-for-action-at-uc-davis.html
Gates Buys PTA for $1 Million for Core National Standards: "Forty-eight states have agreed to work on creating more consistent academic standards through the common-core project. The venture is being led by the Council of Chief State School Officers and the National Governors Association, two Washington organizations that work closely with states.The goal is to devise a more coherent and consistent set of academic expectations for students around the country…"
www.edweek.org/ew/articles/2009/12/01/14pta.h29.html?tkn=RSRFKzpLF0o0zD7MzGwhr7ww0h4kgxwAXr+7
Alan Singer in Huff Post: Fire the Teacher (fun!): www.huffingtonpost.com/alan-singer/fire-the-teacher_b_374126.html
Gutting Students in the California State University System: "Out of 44,544 freshman applicants at SDSU, the school plans to admit 3,380. And out of 17,088 transfer students, it intends to enroll 2,611. Systemwide, Cal State received 609,000 undergraduate applications for its 23 campuses. That's up 28 percent from a year ago." www.signonsandiego.com/news/2009/dec/03/undergrad-applicants-set-record-two-schools/
30,000 More Students to be Cut From the CSUs in 2010: www.whittierdailynews.com/education/ci_13861357?source=rss
Educational Opportunity! AFT Opportunities for Civics Teachers [12.2.09]
The AFT Education Foundation is offering exciting professional development opportunities for civics teachers who teach global perspectives and use hands-on learning. Opportunities include civil rights seminars in Birmingham and Boston this March and April. Other opportunities include two-week international studies this summer with seven partner countries, including Poland, Northern Ireland, the Philippines, South Africa, Mongolia, Colombia and Georgia. To apply go to www.civicvoices.org. Click above for more detail. Apply by Dec. 4, 2009.
Statement of Solidarity from the University of the Ryukyus in Okinawa
loudaisei.seesaa.net/article/134161604.html
We stand in solidarity today with the students, staff, and faculty members at the University of California campuses who have been occupying campus buildings in protest of the 32% fee increase, budget cut, laying off of the workers, and loss of quality public education
Hope and Change Becomes Hoax and Chains:
Demagogue and Arne To Slam Shut "Failing" Schools but What Happens to the Next 5000 that are Bottom Schools?: "To get the money, a district must do one of four things:-Fire the principal and at least half the staff and reopen the school with new personnel.-Turn a school over to a charter school operator or other management organization.-Close the school and send students to higher-achieving schools in the district.Replace only the principal and take other steps to change how the school operates. www.google.com/hostednews/ap/article/ALeqM5jEfLzvCMhD6B_TFxCPZ5GHU_O-4QD9CC3RJG5
Troop Withdrawal in 2011? It Depends on What 2011 Is, and What "Troops" Are; and the Old Lie: I Promise I'll Withdraw:
"Defense Secretary Robert M. Gates denied today that President Obama had set an "exit strategy" for Afghanistan, and he forecast that only a "handful" of U.S. troops may leave the country in July 2011, when a withdrawal is due…We will have 100,000 troops there, and they are not leaving in July 2011," he said.Gates also sought to prepare Americans for higher military casualties, which are expected as U.S. troops flood the most hotly contested parts of the country in the south and the east. "
www.latimes.com/news/nation-and-world/la-fg-gates-afghanistan7-2009dec07,0,5275244.story
The Demagogue Did Not Go to the Private Sector for Bailouts, But He Insists the Private Sector Must Produce the Jobs: true recovery will come from the private sector,"he said. latimesblogs.latimes.com/dcnow/2009/12/obama-asks-private-sector-to-create-more-jobs.html
Hope! Change! What Racism? WASHINGTON – President Barack Obama said this morning that it would be a mistake to focus too narrowly on the troubles black Americans face from the recession, rejecting criticism from the Congressional Black Caucus that the government was ignoring the economic plight of minorities. "I will tell you that I think the most important thing I can do for the African-American community is the same thing I can do for the American community, period, and that is get the economy going again and get people hiring again," the president said in an exclusive interview in the White House with the Free Press and USA Today. www.freep.com/article/20091203/NEWS15/91203046/1318/Exclusive-interview-Helping-all-will-help-black-Americans-Obama-says

Meet the New Imperialist Warrior, Same as the Old Imperialist Warrior; The Odd Similarity of the BushBama War Plans and Words: "Ostensible justifications for war are more or less universal, as is the familiar mix of fear, claims of moral necessity (and superiority), and appeals to patriotism and military love that are always hauled out to justify their continuation and escalation.  Beyond that, Bush's escalation was based on many of the same counter-insurgency dogmas in which Obama's escalation is grounded, designed by many of the same people.  So it's anything but surprising that it all sounds remarkably similar.  And it's possible that once we hear the actual speech, rather than the White House's coordinated depiction of it, that there will be new elements."
www.commondreams.org/headline/2009/12/01-4
Demagogue Dems Fail To Extend Cobra: The American Recovery and Reinvestment Act, passed in February, launched a temporary government program to subsidize the often crippling cost of buying health insurance through a former employer's plan after a layoff. However, the so-called COBRA subsidy was designed to last no more than nine months for each person who was unemployed. Hundreds of thousands who got this subsidy when it was first made available in March are slated to roll off the program today.
www.latimes.com/business/la-fi-cobra1-2009dec01,0,6447635.story
NYTimes: Could Iraq Possibly Have Been About Oil?: "More than six and a half years after the United States-led invasion here that many believed was about oil, the major oil companies are finally gaining access to Iraq's petroleum reserves. But they are doing so at far less advantageous terms than they once envisioned."
www.nytimes.com/2009/12/01/world/middleeast/01iraqoil.html?scp=2&sq=iraq%20oil%20&st=cse
Text of the Obamagogue's More War Is For Your Own Good Speech: www.nytimes.com/2009/12/02/world/asia/02prexy.text.html?pagewanted=all
Chris Hedges, Former NYTimes Reporter, Points to the Potential of Fascism as a Mass, Popular Movement:
"Fear and instability have plunged the working class into profound personal and economic despair, and, not surprisingly, into the arms of demagogues and charlatans of the radical Christian right who offer a belief in magic, miracles and the fiction of a utopian Christian nation. Unless we rapidly re-enfranchise these dispossessed workers, insert them back into the economy, unless we give them hope, these demagogues will rise up to take power. Time is running out. The poor can dine out only so long on illusions. Once they grasp that they have been betrayed, once they match the bleak reality of their future with the fantasies they are fed, once their homes are foreclosed and they realize that the jobs they lost are never coming back, they will react with a fury and vengeance that will snuff out the remains of our anemic democracy and usher in a new dark age." www.commondreams.org/view/2009/11/30-7

It's Right to Rebel: On The Resistance Front Worldwide:
To The Left of the Official (and unofficially non-existent) Anti-War Movement (CPUSA's UFPJ, et al): Logistics: "officials thought they'd have until the end of next year to deploy all the additional troops, but even before the president spoke at West Point, some Pentagon officials privately said they were dubious that the military could deploy that many troops so quickly." "
Getting the troops to Afghanistan will be easier than getting all their equipment there and setting up bases in areas where infrastructure is lacking. To get them the housing, equipment and services, the military will likely turn again to private contractors, even though Secretary of Defense Robert Gates conceded on Capitol Hill Wednesday that the Defense Department doesn't have enough people to oversee those contracts. At the Pentagon Wednesday, Army officials began asking what infrastructure exists in various parts of Kandahar province, where many of the new troops will be sent." www.mcclatchydc.com/227/story/79953.html
Greek Workers Knew How To Answer Their Union Sellouts: Take Back the Union Building: "We will either determine our history ourselves or let it be determined without us…To flay and uncover the role of the trade union bureaucracy in the undermining of the insurrection -and not only there. GSEE and the entire trade union mechanism that supports it for decades and decades, undermine the struggles, bargain our labor power for crumblings, perpetuate the system of exploitation and wage slavery."
balkans.puscii.nl/?q=content/workers-assembly-liberated-building-gsse-trade-unions-athens-greece

General Strike, Italy, December 11: These actions are path towards the massive strike of Italian schools and universities on 11 of December:- against cuts of funds of university, school and research- to fight against the law (DDL Gelmini) that reform university
– to break the blackmail of precarity- for a new welfare and guaranteed income – for quality of knowledge:We won't pay for your crisis!
Tempest in the Unionite's Teapot: Gangster SEIU, Campus Cowardice, and the Payoffs to Intellectual Hustlers:
embeddedwol.blogspot.com/2009/11/progressive-quandary-about-seiu-tale-of.html
and the Reality of US "Unions;" Every major labor leader in the US adopts the corporate-state view of unity of Labor Bosses, Government, and Corporations in the national interest. These are hardly "labor" unions in the strict sense of the word. They are the Empire's unions. I assume the connections of Labor and US intelligence are known and do not need to be explained. They are the unions of what now is, surely, the Corporate State." richgibson.com/USUnionism.html
The Coups' Farcical Election in Honduras Parallels the Puppets of Afghanistan: "With complete satisfaction we announce to the Honduran People and the international community that the electoral farce set up by the dictatorship regime has been absolutely defeated due to the low turn-out of voters at the poll sites…Nation-wide monitoring by our organization proved that the level of abstention during the process is at least of 60-75% percent, which is the highest in our national history, and implies that only a maximum of 30 – 35% of registered voters voted. This is the way that the Honduran people are punishing the pro-coup candidates and the dictatorship regime…" hondurasresists.blogspot.com/2009/11/national-resistance-front-elections.html

Note From A Friend: This week was the 150th anniversary of the hanging of the Abolitionist. John Brown. In today's New York Times, I make a plea on the op ed page for President Obama or Gov. Tim Kaine to posthumously pardon John Brown:
www.nytimes.com/2009/12/02/opinion/02reynolds.html?_r=1 If you agree with me, please add your name to the online Pardon John Brown petition at:http://www.petitiononline.com/prdnbrwn/petition.html Forward this note to your friends and encourage them to join this worthy cause by signing the petition too.Let's act in the spirit of Emerson, Thoreau, Douglass, and DuBois.  Let's make Pardon John Brown a national movement! –David Reynolds
Our Week Ahead in History:

December 7th 1931, The First National Hunger March, followed by the Famous Battle at Ford:
www.novelguide.com/a/discover/egd_01/egd_01_00279.html
December 10, 1906, The First Sit-Down Strike in the USA, led by the IWW:
www.workerseducation.org/crutch/pamphlets/ebert/sitdown.html
Reminder: The Rouge Forum Steering Committee Meets December 15. Criticism, Comments and Suggestions all Welcome!
Thanks to Bill T, MrJ, MrZ, Joel, Tanya, Bob, Jim O, MsJtop, Amber, Faith and Craig, Gina and Adam, Kelly, Emily, Susan O and H, The Bobs, Candace, Elvira, Tonya, John W (Hoax and Chains), Betty and Don, Ruth, Lisa, Chris, Agops, Dave, Carol and Bob H in Hi, Joel, Paddy, Kelly, Emily, Gene, Wayne, DCBB and BB, Howard C, Arturo, Marty M, Don A, Jimmy F, Rick C, and Gil.
Good luck to us, every one.
r