We Say Fight Back!
What Defeats the Police' "Kettle and Spray" Tactic?
Naming the Culprit: On Monday, several Web sites identified the supervising officer who used the pepper spray as Deputy Inspector Anthony Bologna, a longtime commander in Manhattan. Like a number of other officers, Inspector Bologna is a defendant in lawsuits claiming wrongful arrests at protests staged during the Republican National Convention in 2004.  www.nytimes.com/2011/09/27/nyregion/wall-street-demonstrations-test-police-trained-for-bigger-threats.html?_r=1&ref=occupywallstreet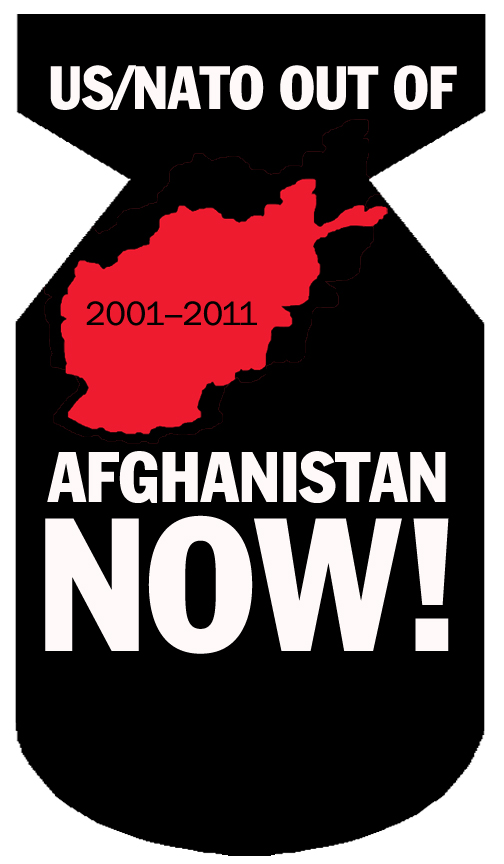 The Classic 10 year old and Good For the Rest of your Life Rouge Forum Got War? Flyer
(as above, year after year we built a small movement, in schools and out, that connected the dots of war, racism, capitalism, class struggle, and mis-education: schools as human munition factories and illusion mills, while simultaneously, we made good, trusting, friendships. You are welcome to join us)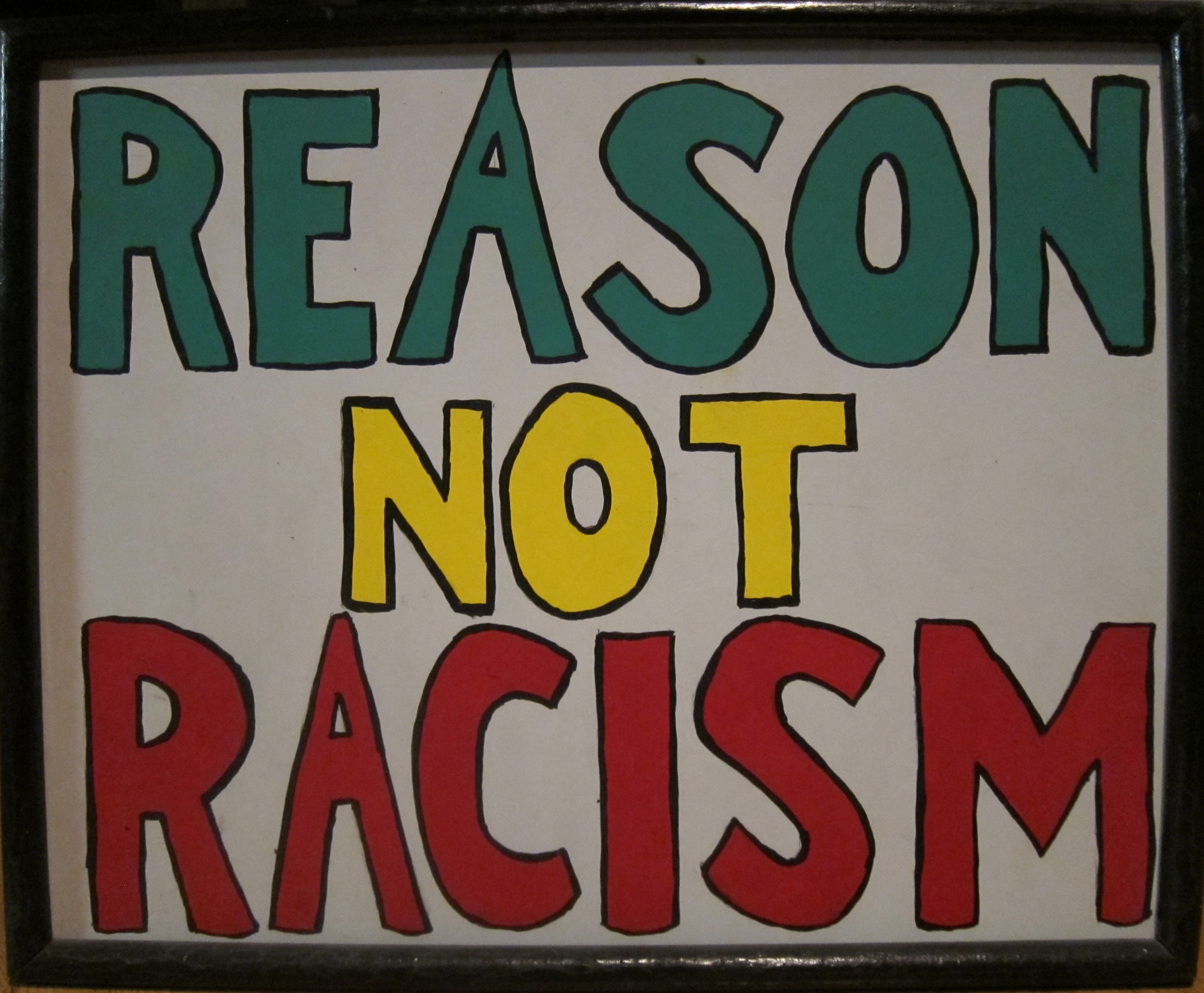 For 8 months after the Sept 11 attacks, we stood vigil at the San Diego Mosque for 6 hours every Friday night, til midnight. A supporter hand made the above sign for us.
New York State Employees Reject Sellout Contract! Time to Storm the Union Office: The second-largest union of New York State employees has rejected a package of wage and benefits concessions negotiated by Gov. Andrew M. Cuomo, dealing a jarring setback to the governor that is likely to prompt several thousand layoffs.
The union, the Public Employees Federation, which represents 56,000 state workers, announced on Tuesday that its members had voted 54 percent to 46 percent against the contract, which would have imposed a three-year freeze on wages and increased health insurance costs. The vote took place by mail over several weeks….The state's largest union of public workers, the Civil Service Employees Association, announced on Aug. 16 that its membership had voted 59 percent to 41 percent to approve a nearly identical five-year agreement that promised job protections in exchange for wage and benefits concessions. cityroom.blogs.nytimes.com/2011/09/27/state-employees-reject-wage-concessions/?hp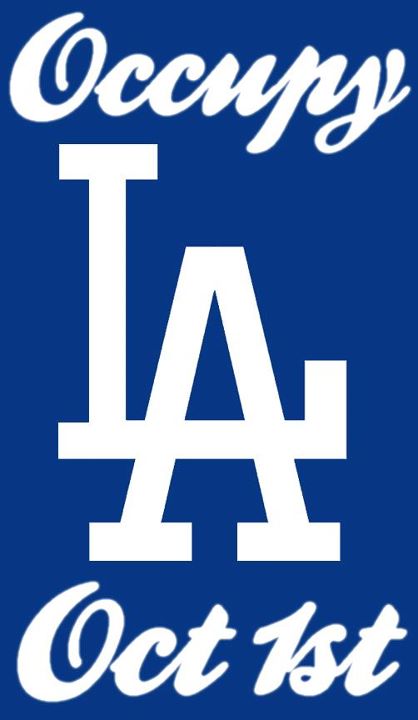 Sample Chants from Boston Occupation: "Crisis! Crisis! What's the Solution?  What do you say to: Revolution!"  :)  And also –this one caught on like wildfire: "How Much Richer Can They Get?  Cancel All Student debt!"
Youth's Initial Analysis, on voting, is right on, but the question of Organization??? "Our parents are grateful because they're voting," said Marta Solanas, 27, referring to older Spaniards' decades spent under the Franco dictatorship. "We're the first generation to say that voting is worthless."  www.nytimes.com/2011/09/28/world/as-scorn-for-vote-grows-protests-surge-around-globe.html?_r=2&nl=todaysheadlines&emc=tha2
It is Read Banned Books Week! How about Read Marx and Make Class War? (is that a drone up there?) www.ala.org/ala/issuesadvocacy/banned/bannedbooksweek/index.cfm
Capitalism Grinds Down, Driving Students out of Community Colleges: Fewer students are enrolling and others are taking lighter class loads at Michigan's community colleges, the result of federal worker retraining money drying up and health care reform that expanded a student exception to insurance rules.
Federal health care law now allows part-time students to stay on their parents' health insurance policies, which could account for a decline in credit hours as students look to save money by paring class loads.
Enrollment at Michigan's 28 community colleges is down 4% compared to last fall, and the number of credit hours taken is down 6%.  www.freep.com/article/20110930/NEWS06/109300434/Community-colleges-taking-hits-Michigan?odyssey=tab|topnews|text|FRONTPAGE
Wrong People, students, Arrested for Cheating on SAT, etc: A college student from New York was paid between $1,500 and $2,500 to stand in for at least a half dozen students attending a prestigious Long Island high school and take the SAT exam for them, a prosecutor said Tuesday in announcing criminal charges in the case. Six students were also arrested Tuesday on misdemeanor charges, although authorities said the investigation remained active and that other high school students in the area may also have been involved. www.usatoday.com/news/education/story/2011-09-27/SAT-cheating/50568922/1
The Fascist Origins of the SAT: The genealogy of the SAT is far more authentic than the importance attached to the test's scores. The SAT was born from the initial IQ tests, written by French psychologist Alfred Binet. In the US, Lewis Terman and Robert Yerkes promoted the IQ test and made it a popular instrument to determine who should be an officer, in a segregated military, during WWI . Their IQ test was designed to prove the genetic advantage of races they had already identified as superior. Terman and Yerkes were executives in the American Eugenics Society (Mehler).
The AES encouraged the linkage of scientifically quantified intelligence test scores, race, and "race hygiene,"to purify the "race" of "low grade" and "degenerate" groups   www-rohan.sdsu.edu/~rgibson/SATFascistOrigins.htm
Exactly what Was the Process Used to Hire the Broad Errand Boy from the Failed KC schools in Mich?
The board that hired Covington has some explaining to do, too. He was hired in a hurry, according to a search process that, to date, has not been publicly defined. If board members knew about the situation in Kansas City, the public — whose tax dollars are paying this guy — is entitled to a full explanation of how its members sorted through his quick exit from Missouri. Did it not matter?
Even worse would be if board members didn't fully understand what was going on in Kansas City; if they hadn't looked closely at the circumstances that Covington was leaving behind.
If they missed something that important, God help them and the children in Michigan who are depending on them to turn lousy schools into good ones. www.freep.com/article/20110921/COL33/110921027/Stephen-Henderson-Covington-needs-explain-troubles-Kansas-City-schools (Covington is being paid $1.5 million by a bankrupt system in a city where children are hungry).
In the book, Philanthropy and Cultural Imperialism: The power of the foundation is not that of dictating what will be studied.  Its power consists in defining professional and intellectual parameters, in determining who will receive support to study what subjects in what settings. And the foundation's power resides in suggesting certain types of activities it favors and is willing to support.
(Robert Arnove).As [political theorist and economist Harold] Laski noted,"the foundations do not control, simply because, in the direct and simple sense of the word, there is no need for them to do so. They have only to indicate the immediate direction of their minds for the whole university world to discover that it always meant to gravitate to that angle of the intellectual compass." [11]
The International Hot War of the Rich on the Poor
Come Celebrate the War Spectacle! Death From Above! Bring the Kids!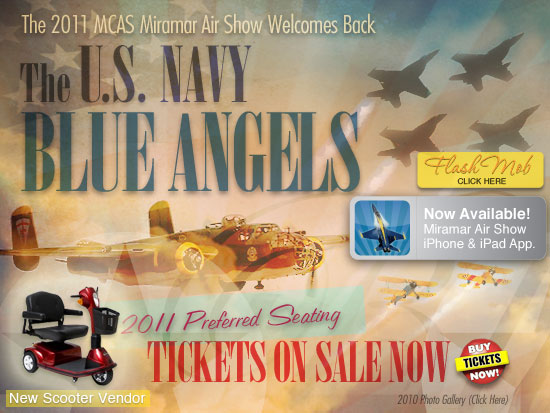 at an earlier air show, mistakes were made….
Obamagogue Assassinates Pride of San Diego State Teacher Education Program: U.S. and Yemeni officials say the U.S.-born al-Qaida cleric Anwar al-Awlaki, who studied and preached in San Diego prior to the Sept. 11 attacks, has been killed by U.S. airstrikes in Yemen today.
The strike was the biggest U.S. success in hitting al-Qaida's leadership since the May killing of Osama bin Laden in Pakistan. But it raises questions that other strikes did not: Al-Awlaki was an American citizen who has not been charged with any crime. Civil liberties groups have questioned the government's authority to kill an American without trial. www.signonsandiego.com/news/2011/sep/30/yemenal-qaida-linked-cleric-san-diego-ties-killed/
Holy Crap! Pakistan's ISI is Running Terrorists and We gave them $2 Billion a year to Do it (oh, yeah, it's India, well, ok then…) Adm. Mullen, who is close to Pakistan's military chief, said in an interview that Islamabad had gotten the message that it needs to do more to battle militants on its territory, and that he expects a Pakistani attack on terrorist havens in North Waziristan and other tribal areas, though he said he didn't know when it would occur. online.wsj.com/article/SB10001424052748703631704575552470080938734.html
Foreign Affairs–How the Haqqani Network is Expanding From Waziristan The network of militants operating in Pakistan's tribal areas are playing an increasingly destabilizing role in NATO's possible negotiations with the Taliban….Here are the basics. Jalaluddin Haqqani was one of the leading Pashtun commanders of the jihad in Afghanistan in the 1980s. From the Zadran tribe, he is one of the few major commanders who made his peace with the Taliban, serving its government in the 1990s as a border affairs minister. The sons of the now aging Jalaluddin front the organization. Although the eldest son, Khalifa Seraj, is meant to be the senior decision-maker, his younger brother, Badruddin, is probably the family member most closely involved in the embassy siege and seems to be more active and accessible. In part, the brothers draw upon fighters from the Zadran tribe in the border provinces who were loyal to Jalaluddin during the 1980s. But the Haqqanis' lethal effectiveness derives from the wide range of Pakistani tribal fighters at their disposal. In effect, they have an unlimited supply of men for small-arms ambushes and attacks on NATO posts and administrative centers.
What is new here, and key to understanding the attack on the embassy (and perhaps even the Rabbani assassination), is that over the last two years the Haqqanis have developed what amounts to a special forces capability.  www.foreignaffairs.com/articles/68292/michael-semple/how-the-haqqani-network-is-expanding-from-waziristan
Incapable of Learning from Past, US Warlords Shocked at Organized Resistance and Betrayals: They are the Sopranos of the Afghanistan war, a ruthless crime family that built an empire out of kidnapping, extortion, smuggling, even trucking. They have trafficked in precious gems, stolen lumber and demanded protection money from businesses building roads and schools with American reconstruction funds.
They safeguard their mountainous turf by planting deadly roadside bombs and shelling remote American military bases. And they are accused by American officials of being guns for hire: a proxy force used by the Pakistani intelligence service to carry out grisly, high-profile attacks in Kabul and throughout the country.
Today, American intelligence and military officials call the crime clan known as the Haqqani network — led by a wizened militant named Jalaluddin Haqqani who has allied himself over the years with the C.I.A., Saudi Arabia's spy service and Osama bin Laden — the most deadly insurgent group in Afghanistan. In the latest of a series of ever bolder strikes, the group staged a daylong assault on the United States Embassy in Kabul, an attack Adm. Mike Mullen, chairman of the Joint Chiefs of Staff, charged Thursday was aided by Pakistan's military spy agency www.nytimes.com/2011/09/25/opinion/sunday/whatever-happened-to-the-american-left.html?pagewanted=1&tntemail0=y&_r=1&emc=tnt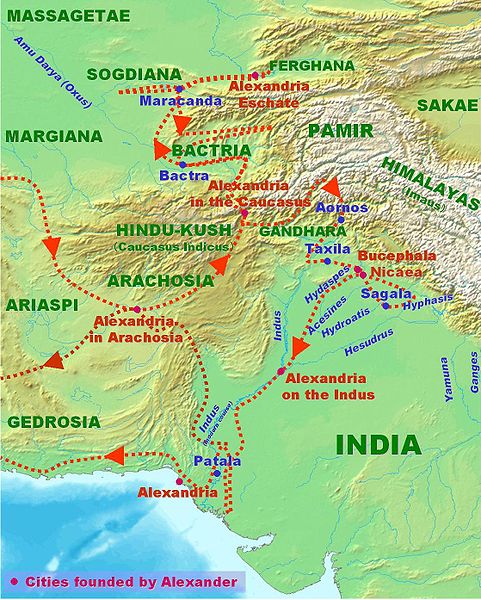 A reminder, Alexander was here. His forces Revolted. He left.
Panetta et al Forge Hysteria re Defense Cuts (but war does mean work, part of the imperial bribe): Panetta has said that a $500 billion defense cut over a decade would raise the unemployment rate by one percent, which would make sense only if money saved on defense disappeared rather than winding up elsewhere in the economy. But that isn't even the silliest claim Panetta made in a recent interview with George Will. Will writes that Panetta is not given to hyperbole before proving the opposite with a fearmongering Panetta quote about cyberattacks so wild that it would make Richard Clarke blush. Expect Panetta to include more threat inflation in the talking points he is working up to help the services lobby Congress against cuts.
Panetta is hardly the only defense official cranking up the fear machine to stave off defense cuts. nationalinterest.org/blog/the-skeptics/growing-hysteria-about-fake-pentagon-cuts-5917
Bahrain Fascists, close US allies (Naval Base, etc) Jail Doctors for treating Wounded: The agency reported that eight people it identified as doctors who worked at a central hospital in the capital, Manama, received 15-year sentences. Other medical personnel at the hospital, the Salmaniya Medical Complex, Bahrain's largest public hospital, were given terms of between 5 and 15 years.The sentences were the latest sign that the country's Sunni monarchy would continue to deal severely with those involved in widespread protests this year, mostly held by members of its repressed Shiite majority. Much of that effort has been focused on the doctors and nurses who treated demonstrators.
At the height of the protests, security forces commandeered the Salmaniya hospital and arrested dozens of doctors and nurses.  www.nytimes.com/2011/09/30/world/middleeast/bahrain-court-hands-down-harsh-sentences-to-doctors-and-protesters.html?_r=1&hpw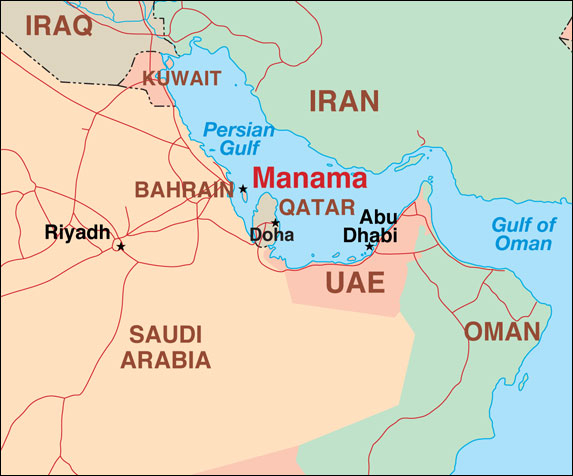 U.S.-Bahraini economic ties have grown steadily since 1932, when Americans began to help develop Bahrain's oil industry. Currently, many American banks and firms use Bahrain as a base for regional operations. In 1986, the United States displaced Japan to become the top exporter to Bahrain.
Since 1948, Bahrain has been the headquarters of U.S. naval activity in the Gulf. Currently, the Naval Support Activity (NSA), occupying 79 acres of land in the center of downtown Manama, is the headquarters of the U.S. Navy's Fifth Fleet. www.globalsecurity.org/military/facility/bahrain.htm
Nearly 8 Months into Obamagogue's CIA-Non-War on Libya, Ghadaffi Fights on, and what do the vaunted Historians against the War say? Nothing. Nada. They are Historians Not Against the War. For it. Nothing like a soothing Imperialist bribe to shut people up. growing concern about armed brigades of former rebel fighters in the Libyan capital who rushed to fill the power vacuum after Colonel Qaddafi's forces fled more than a month ago. In a city with weak central authority and a justice system being rebuilt almost from scratch, the fighters have become detectives, prosecutors, judges and jailers, many of whom answer only to their own commanders, or to no one.
The fighters have detained thousands of people; some are criminal suspects, former officials or Qaddafi soldiers. Others simply come from towns that opposed the revolution. Some are being held in prisons, others at makeshift, and sometimes secret, detention centers.  Some are being tortured  www.nytimes.com/2011/10/01/world/africa/anti-qaddafi-fighters-are-accused-of-torture.html?hp
Turkey Ready for War with Israel? In an interview with Charlie Rose, when Erdogan was asked if he saw the Israeli attack on a Gaza-bound flotilla that killed nine Turkish nationals as "a cause of war," — as the premier had earlier said — Erdogan said "we will do that too if it becomes necessary," Turkey's Vatan newspaper reported on Thursday.
"As you know, Israel attacked three ships, one of which carried over 400 people from 33 countries, in international waters from sea and air. Such an attack in international waters is against international law," Erdogan noted.
The Turkish premier reiterated that Israel should apologize to Turkey for the attack and pay compensation to the families of the victims.
Asked about earlier remark that "Israel is a spoiled child," Erdogan said, "Israel is West's spoiled child. I still say the same thing."  www.presstv.com/detail/200630.html
Look Out Turkey! Obamagogue sole Israelis the Bunker Bombs: President Barack Obama secretly authorized the sale of 55 powerful bunker-busting bombs to Israel, Newsweek magazine reported Friday.
Israel first asked to buy deep-penetrating GBU-28 bombs in 2005, but were rebuffed by then-president George W. Bush. At the time the Pentagon had frozen joint US-Israeli defense projects, fearful that Israel was transferring advanced military technology to China, Newsweek said.
However in 2007 Bush informed then-Israeli prime minister Ehud Olmert that the bombs would be ready for delivery in 2009 or 2010, even though the Israelis wanted them immediately.
Obama released the bombs in 2009, the magazine reports, citing unnamed officials familiar with the still-secret decision.  www.google.com/hostednews/afp/article/ALeqM5g_fbHW-9pGfmTay0V9gyCNrmq2Fg
Blackwater Invades Indian Territory: An American Indian tribe in San Diego County has been engaged in a four-month standoff with a military contractor that refuses to leave its reservation, according to documents recently filed in U.S. District Court.
The story begins in 2010, when the Eagle Rock Training Center (ERTC), a private military training facility established by a former Blackwater executive, signed a 25-year lease agreement to conduct high-level combat training on land near Warner Springs owned by the Los Coyotes Band of Cahuilla and Cupeño Indians. The land approximated the terrain of Afghanistan, and ERTC hoped to train soldiers and law-enforcement officers in everything from explosives to combat-driving techniques. The camp would also function as a location for film and television productions.  obrag.org/?p=46282
The International Economic War of the Rich on the Poor
Why is there No CCC/WPA? (hint, because there is no US left serious about class consciousness +revo)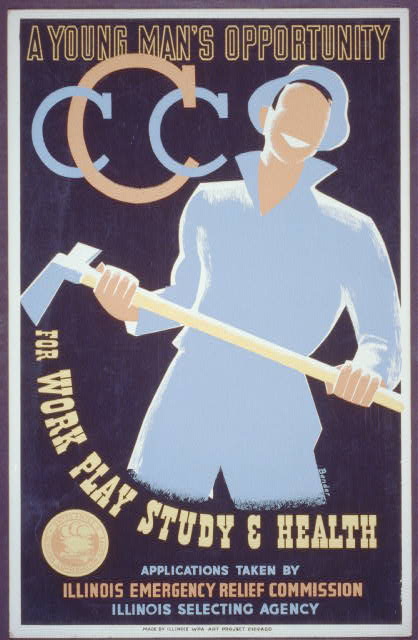 22% of US Kids Live in Poverty (now Hispanic kids take the "lead") www.npc.umich.edu/poverty/#5
Hispanics now make up the largest group of children living in poverty, the first time in U.S. history that poor white kids have been outnumbered by poor children of another race or ethnicity, according to a new study.
In a report released Wednesday, the Pew Hispanic Center said that 6.1 million Hispanic children are poor, compared with 5 million non-Hispanic white children and 4.4 million black children. Pew said Hispanic poverty numbers have soared because of the impact of the recession on the growing number of Latinos. www.washingtonpost.com/local/hispanic-kids-the-largest-group-of-children-living-in-poverty/2011/09/28/gIQArfC54K_story.html?hpid=z3
The "Official" Unemployment Stats are Bad enough: The number of unemployed persons, at 14.0 million, was essentially unchanged in August, and the unemployment rate held at 9.1 percent. The rate has shown
little change since April. (See table A-1.)
Among the major worker groups, the unemployment rates for adult men (8.9
percent), adult women (8.0 percent), teenagers (25.4 percent), whites
(8.0 percent), blacks (16.7 percent), and Hispanics (11.3 percent) showed
little or no change in August. The jobless rate for Asians was 7.1 percent,
not seasonally adjusted. (See tables A-1, A-2, and A-3.)
The number of long-term unemployed (those jobless for 27 weeks and over) was
about unchanged at 6.0 million in August and accounted for 42.9 percent of the
unemployed. (See table A-12.)
The labor force rose to 153.6 million in August. Both the civilian labor force
participation rate, at 64.0 percent, and the employment-population ratio, at
58.2 percent, were little changed. (See table A-1.)
The number of persons employed part time for economic reasons (sometimes
referred to as involuntary part-time workers) rose from 8.4 million to 8.8
million in August.  www.bls.gov/news.release/empsit.nr0.htm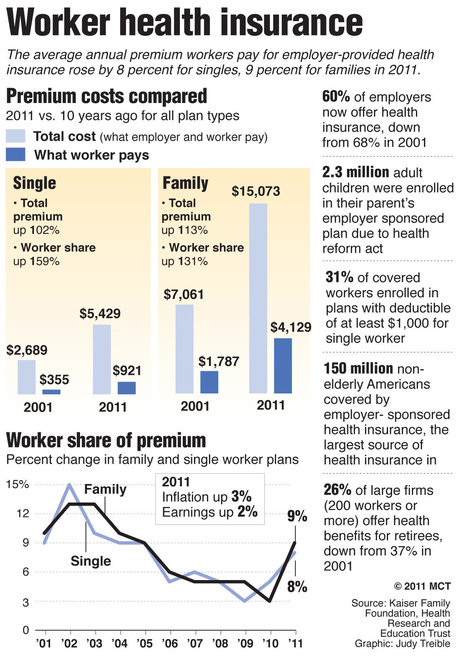 www.mcclatchydc.com/2011/09/27/125423/job-based-health-insurance-premiums.html
41,000 Michiganders Driven off Welfare: Roughly 1 in 10 children in parts of Detroit and Flint will lose welfare benefits Saturday, when cash benefits for families who've been on welfare 48 months or longer are cut off.
Although nearly 41,000 people statewide will lose payments averaging $515 a month, the brunt of the impact will be felt in two of the poorest cities in the state, with Detroit accounting for more than half of those losing benefits, according to ZIP code records obtained by The Detroit News through a Freedom of Information request.  www.detnews.com/article/20110930/METRO/109300392/21-000-Detroiters-losing-welfare-benefits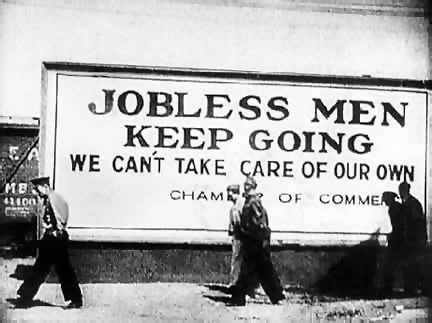 Amazon Workers Discover What it is like to Live the Grapes of Wrath: In a remarkable article published in Allentown, Pennsylvania's Morning Call newspaper, reporter Spencer Soper interviewed more than 20 current and former employees of Amazon's Lehigh warehouse to paint a picture of life in the Lesser Depression that looks more like "The Grapes of Wrath" than anything we expect to see in 21st century America.
The warehouse, Soper reported, is brutally hot in summer. In a nod to modernity, "computers monitored the heat index in the building and Amazon employees received notification about the heat index by email." One day, the index "exceeded 110 degrees on the third floor." A local emergency room doctor treated so many warehouse employees for heat exhaustion this summer that he called federal regulators to report an unsafe work environment. A security guard called the Occupational Safety and Health Administration after seeing two pregnant women taken to nurses. Some workers would break out into a sarcastic chant: "End slavery at Amazon!"  www.bloomberg.com/news/2011-09-29/amazon-workers-rediscover-the-hard-lessons-of-grapes-of-wrath-ezra-klein.html
Brazil, Warning of Currency Wars, Attacks US Fiscal Maneuvers: "If we had expansionist monetary policy combined with more stimulative fiscal policy in place, we wouldn't face this problem with the US economy," he said in an interview on the sidelines of the International Monetary Fund's annual meetings in Washington.
On Wednesday, the Fed announced a further loosening of monetary policy through "Operation Twist", aimed at reducing long-term interest rates.
Mr Mantega said the move represented a shift back towards QE, and had the potential to weaken the dollar and encourage destabilising capital flows to emerging markets.
Brazil has tried taxes and controls over the past year to try to stem the rapid rise of its currency, the real, though on Thursday intervened to hold it up. The dollar rose sharply on Wednesday amid steep declines in global equity markets, while the real dropped.
Financial Times–Banksters Stare into the Abyss (and don't forget to pass the word, run on BofA) The world economy once again stands on a precipice. Finance ministers might want to look straight ahead, but investors are forcing them to peer down to the abyss.
As advanced economies slow sharply and emerging economies wonder whether inflation or recession is the greater threat, the need for finance ministers to find a way to achieve their ambition of "strong, stable and balanced" global growth has rarely been more urgent.
A world expansion must be strong enough to allow adjustment to the stresses that have built in the past decade. It must be stable because any hitches risk an intensification of the crisis. And it must be balanced, because simply putting off the necessary restructuring will only increase the strains causing angst among investors and politicians.
The alternative is another financial and economic crisis, worse perhaps than that of 2008-09.  www.ft.com/intl/cms/s/0/61de6740-e2ad-11e0-897a-00144feabdc0.html#axzz1ZHrP8S00
Who Hired that Guy who lost $2.3 Billion? (Psst! UBS Will Still Hide your Dough) The Swiss banking giant UBS said on Saturday that its chief executive, Oswald J. Grübel, had resigned over a rogue trading scandal that shook the European banking sector and raised new questions about the adequacy of financial regulation.  The resignation was a dramatic fall for Mr. Grübel, who came to be known as "Saint Ossie" for reviving Credit Suisse, another Swiss banking giant, before he was hired out of retirement two and a half years ago to do the same at UBS.
Mr. Grübel decided that the $2.3 billion loss as a result of unauthorized trades by a midlevel employee had made it impossible to run a bank that has lurched from crisis to crisis in recent years and desperately needs to repair its reputation. …The case has added to a global debate about whether there should be more stringent regulations for banks that are so big or interconnected — like UBS — that their problems can spread distress throughout the financial system. In 2008, for instance, UBS required a bailout from Swiss taxpayers after sustaining billions of dollars in losses.
UBS is one of Europe's biggest banks, and the trading scandal provided another shock to a financial system that is already in a fragile state. European banks have been facing increasing difficulty maintaining the trust of investors and international lenders, making it difficult for them to raise the money they need to do business. … Kweku M. Adoboli, was arrested on Sept. 15 and accused of making billions of dollars in unauthorized trades dating to 2008, …During his tenure, Mr. Grübel managed to return UBS to profit by reversing client money outflows at its private banking business and by reducing costs by cutting thousands of jobs.   …He also contended with an investigation by United States authorities that the bank had helped wealthy American clients avoid paying taxes; UBS paid a $781 million fine and agreed to accept probation through a deferred prosecution agreement. In response, Mr. Grübel went on a charm offensive with clients and started a new advertising campaign to help repair the bank's damaged reputation. www.nytimes.com/2011/09/25/business/ubs-chief-oswald-grubel-resigns-over-trading-scandal.html?pagewanted=2&_r=1&hp
The Emergence of Fascism as a Mass Popular and Worldwide Movement
65 years Ago, the Allies Tried Nazis who Killed Millions in Open Court, exposing their Fascist ideals. Now, the US assassinates Punks without Trial, hiding behind drones from Above. Listen to the Charges against the Nazis and learn Why things Are as they Are.
A reminder from the recent past, the 1999 Hart Rudman Report on how rulers plan to hold their world together in the face of many projected crises: Individuals have historically granted their allegiance to the state in return for domestic peace, economic well-being, and security from external threats. Sometimes they have done so in the context of a national political community, where the state is an organic expression of social life among kindred people. More often these days, states are composed of more than one ethnic, social, and religious group, leaving the essential social contract of government to rely either on more abstract contractual arrangements, such as those exemplified by the U.S. Constitution, or on more coercive  means of implementation. Sometimes they survive mainly by the weight of habit. …The growing resentment against Western culture and values in some parts of the world—
as well as the fact that others often perceive the United States as exercising its power with arrogance and self-absorption—is breeding a backlash that can take many forms. Terrorism, …
the United States should assume that it will be a target of terrorist attacks against its homeland using weapons of mass destruction.97 The United States will be vulnerable to such strikes….(this is long but worth the read)  www.au.af.mil/au/awc/awcgate/nssg/nwr_a.pdf
Solidarity Fornever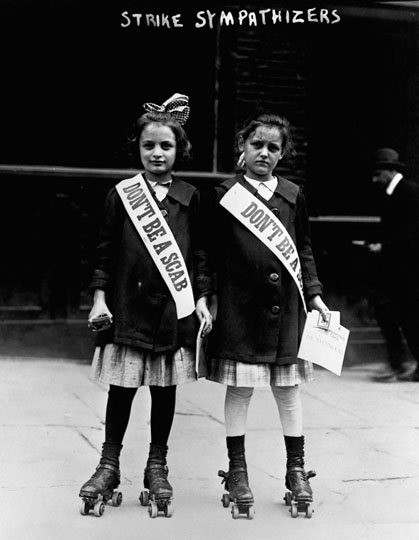 Calif State U Faculty Union Bosses Plan Fake One day Strike (why not strike all the campuses for the duration? Because they don't want the cat out of the bag, and they cannot because the faculty on most campuses would trample them, scabbing) The California State University faculty union announced plans Wednesday to hold one-day strikes at two CSU campuses to protest the administration's decision to withhold negotiated pay raises. The California Faculty Association told The Associated Press that professors, lecturers, coaches, librarians and counselors will strike Nov. 17 at the East Bay and Dominguez Hills campuses. Faculty members also plan to conduct informational picketing at all 23 Cal State campuses on Nov. 8 or 9, said CFA President Lillian Taiz.
The faculty union decided on the job actions after Chancellor Charles Reed decided not to pay any of the salary increases negotiated for the 2008-2009 and 2009-2010 academic years, Taiz said.
The CSU system rescinded the raises after the state cut higher education funding, but a state-appointed fact finding panel recently recommended the university should provide some of the raises.
The faculty union is currently in negotiations for a new contract and isn't satisfied with the administration's proposals, which could lead to pay cuts over the next few years  www.sfexaminer.com/news/california/2011/09/apnewsbreak-csu-faculty-union-plans-1-day-strike
GM Touts Total Victory Over GM UAW Members (and a wink and a nod to good Bob King) General Motors Co.'s new four-year contract with the United Auto Workers union will have "minimal impact on earnings" and increase labor costs by only 1 percent annually over the next four years — the smallest rise in decades, Chief Financial Officer Dan Ammann said Wednesday.
While the contract promises workers bonuses and a richer profit-sharing plan — at a cost of $585 million over the next three years — it also includes buyouts and eliminates some benefits to offset the added expense.
Ammann and other GM executives addressed Wall Street investors Wednesday afternoon in a conference call held just hours after the UAW announced its membership had ratified the contract with a 2-to-1 majority.
The agreement permanently suspends the jobs bank, which extended pay and benefits to workers on layoff, and suspends cost-of-living increases.
GM will also save $290 million in 2012 and 2013 by ending free legal services for its hourly workers.
Another potential $120 million in savings could come from buyouts for skilled trade workers….The pact also holds down retiree pension costs for the first time since 1953 by offering no increases over the next four years.
CEO Dan Akerson called the agreement "a win-win" for the company and the union,  www.detnews.com/article/20110928/AUTO01/109280425/GM-touts-labor-deal's-'minimal-impact-on-earnings'
Another UAW Giveaway Leads to More Jobs Lost: Legal Services–so long pals:
From: Dolores Galea
Sent: Tuesday, September 20, 2011 11:13 AM
To: All UAWLSP users
Subject: UAW-GM Legal Services Plan in Tentative UAW-GM contract
Importance: High
To ALL PLAN Staff:
I am sorry to inform you that we have received news that UAW-GM and GM have reached a tentative agreement to phase out the UAW-GM Legal Services Plan benefit over this coming contract term.  We do not yet have all of the details but we understand that members will be able to open new cases with the Legal Services Plan for a little more than two years — specifically through mid December 2013.  After that, we believe, the Plan will be given up to two years to wind down and complete the work on the open cases.  The tentative agreement must be voted on by the UAW-GM members before it goes into effect.
The UAW-Chrysler and UAW-Ford contract negotiations are on-going so we do not yet know what will happen with those contracts.We know you have many questions and we are in the process of reviewing our work and planning for the next few years. I can assure you that as we learn more details we will share that information with you.
While this result is very disappointing for us, we can be very proud of the work we have completed for UAW-GM members over the last thirty years and I am glad the UAW gave us that opportunity.  During that time we have provided excellent results in a cost effective manner on more than 2 million cases – giving many of our clients access to the legal system for the first time.  I believe that the UAW-GM Legal Services Plan is one of the best pre-paid legal service programs in the county. We have our staff to thank for that and I do thank you and I know that we can continue to count on you to provide high quality work on behalf of our clients in the coming years. Dolores M. Galea Director
NEA Wastes Another $350,000 Backing Obamagogue (and Duncan) but War Means Work so NEA will remain Silent About that Imperial Bribe: A spokesman for the National Education Association tells me it's going up with an ad that makes the case against austerity in the schools and presses for the American Jobs Act, which would fund both repairs to schools and teaching jobs. The spot will air in markets in Massachusetts, Michigan, Ohio, Pennsylvania, Virginia, Texas and the District of Columbia, with about $350,000 behind it, the spokesman, Miguel Gonzalez, said www.politico.com/blogs/bensmith/0911/Teachers_union_ad_backs_jobs_bill.html
After Promising Concessions Would Save Jobs, Detroit FT allows 57 more layoffs The Detroit Public Schools has issued layoffs to 87 teachers, effective Oct. 15  mi.aft.org/dft231/
San Diego EA elected Voting majority to the school board, made concessions, and now laid off teachers are working as low-pay subs while more layoffs await
The San Diego Unified School District had planned to hire back up to 150 of the 400 teachers who were laid off last spring by now. Many of those educators have been working as substitutes in mostly middle and high schools while they wait for a permanent assignment.The district has been slow to rescind layoff notices due to growing uncertainties over student enrollment.
A reduction in school bus service prompted hundreds of students to make last-minute enrollment changes — throwing a wrench in the distribution of teachers. Meanwhile, districtwide student enrollment unexpectedly dropped by more than 1,700 students — a dip that will reduce the number of teachers who get hired back this year. www.signonsandiego.com/news/2011/sep/29/sd-unified-teaching-positions-still-unsettled/
Spy Versus Spy
BFP Breaking News: Confirmed Identity of the CIA Official behind 9/11, Rendition & Torture Cases is Revealed Wednesday, 21. September 2011 by Sibel Edmonds
Alfreda Frances Bikowsky: The Current Director of the CIA Global Jihad Unit
BNBoiling Frogs Post has now confirmed the identity of the CIA analyst at the heart of a notorious failure in the run-up to the September 11th tragedy. Her name is Alfreda Frances Bikowsky and she is the current director of the CIA Jihad Unit. Through three credible sources and documents we have confirmed Ms. Bikowsky's former titles and positions, including her start at the CIA as an analyst for the Soviet Desk, her position as one of the case officers at the CIA's Bin Laden Unit-Alec Station, her central role and direct participation in the CIA's rendition-torture and black sites operations, and her current position as director of the CIA's Global Jihad Unit.
The producers Nowosielski and Duffy have now made both names available at their website. They also identify the second CIA culprit as Michael Anne Casey. We have not been able to obtain confirmation by other sources on this person yet, but we are still working on it.
Alfreda Frances Bikowsky is the person described in New Yorker journalist Jane Mayer's book The Dark Side as having flown in to watch the waterboarding of terrorist Khalid Sheikh Mohammad without being assigned to do so. "Its not supposed to be entertainment," superiors were said to have told her. She was also at the center of "the el-Masri incident," in which an innocent German citizen was kidnapped by the CIA in 2003 and held under terrible conditions without charges for five months in a secret Afghan prison. The AP characterized it as "one of the biggest diplomatic embarrassments of the U.S. war on terrorism."  Both the previous and current administrations appear to have deemed Alfreda Frances Bikowsky's direct involvement in intentional obstruction of justice, intentional cover up, lying to Congress, and overseeing rendition-kidnapping-torture practices as qualifying factors to have kept promoting her. She now leads the CIA's Global Jihad Unit and is a close advisor to the President. cryptome.org/0005/cia-officers.htm
Taiwan: Why Was Top Spy Working for the Commies? Why did a successful and seemingly loyal officer in a military rooted in hostility to the Chinese Communist Party turn against his country, and what secrets did he betray?
Until his arrest in late January, Maj. Gen. Lo Hsien-che ran the army command's communications and electronic information department. This put him at the heart of a command-and-control system built around sophisticated and highly secret American technology that China had been trying to get its hands on for years. www.washingtonpost.com/world/asia-pacific/in-taiwan-military-chinese-spy-stirs-unease/2011/09/20/gIQA9aYm2K_story.html?hpid=z6
Magical Mystery Tour
Profet Names The Beast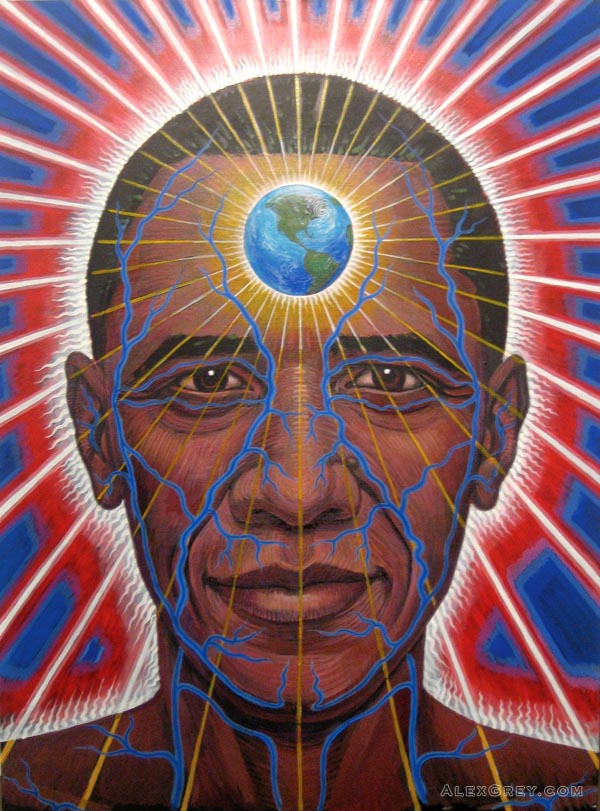 A bizarre Bible-thumping heckler called President Obama "the Antichrist" as the Secret Service dragged him out of a presidential fund-raiser Monday.
The bearded young man, identified by the Secret Service as David Serrano, was standing in the front row closest to the stage at the House of Blues in Los Angeles when he began shouting, "Christian God is the one and only true living God, the Creator of heaven and the universe!"    www.nydailynews.com/news/politics/2011/09/26/2011-09-26_wacko_heckler_in_la_calls_obama_the_antichrist.html
Organized Child Molesters Want $100 million to Keep It Up: Dwindling enrollment and other challenges have decimated urban Catholic schools nationwide, but a high-profile initiative to raise $100 million in tuition assistance may allow thousands of children to continue attending schools in the Los Angeles Archdiocese and save those schools from extinction.
The initiative, headed by former Los Angeles mayor Richard Riordan, will ask supporters to make provisions in their trusts or wills for the archdiocese's Catholic Education Foundation, which already awards thousands of grants annually to needy students. Riordan was the founding president of the foundation in 1987 and is a longtime supporter of education-related causes. (they just spent $189.9 Million on a Cathedral) www.latimes.com/news/local/la-me-catholic-campaign-20110926,0,1314248.story
God Here. I HATE the Red Sox and Damn them To Choke! "I'm a firm believer that God has a plan and it wasn't in his plan for us to move forward."Asked what he saw from the team this month, Gonzalez stayed on his theme.
"God didn't have it in the cards for us," he (Adrian Gonzalex) said.
Entrenched Rapists Denounce Elected Whoremongers: Over the last several years, the Roman Catholic Church in Italy has largely looked the other way as reports emerged of sex and corruption scandals among the country's political elite, many of them centered on Prime Minister Silvio Berlusconi. But a recent published account of a party at Mr. Berlusconi's home, where one female guest was said to have performed a striptease dressed as a nun, might have been more than the church could stand.  This week the church lashed out, issuing its strongest reprimands yet of Italy's ruling class, deploring "behavior that not only goes counter to public decorum but is intrinsically sad and hollow."
Italians "look on their public leaders with consternation, and the image of the country abroad has been dangerously weakened," Cardinal Angelo Bagnasco, the head of the Italian Bishops' Conference, told his fellow bishops on Monday. On Tuesday, he called for an "upright lifestyle," saying that the country needed a "correction of habits and lifestyles" to help it emerge from a "culture of nothingness."
UnderwearBomber, Detained in Detroit, Models and Declares Jihad on Yankees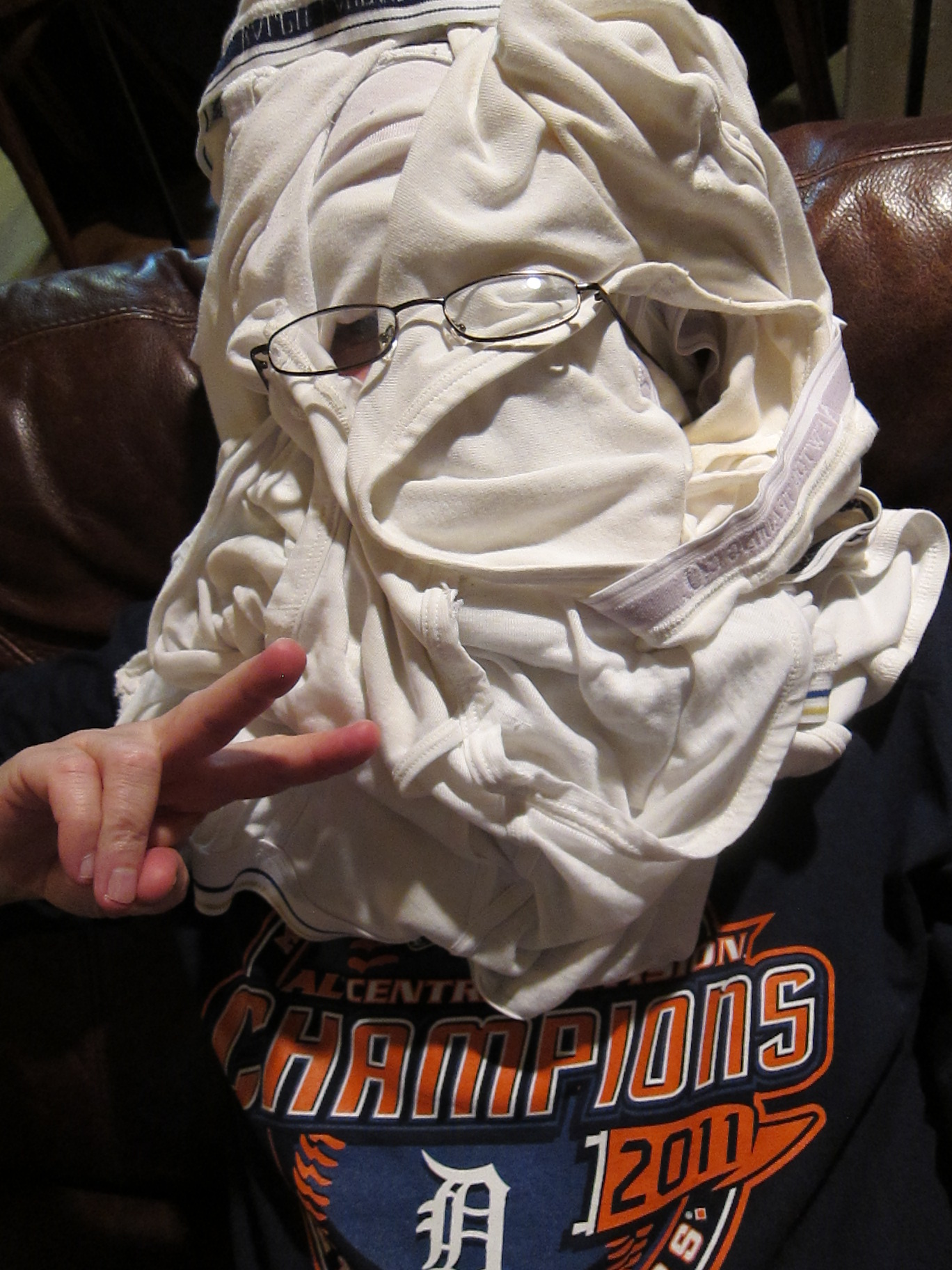 A Reporter inquires, "say, is that a pipebomb in your pants or are you just happy to see me?" Jurors will get to see videos of a bomb expert detonating explosives the government believes were hidden in terrorist suspect Umar Farouk Abdulmutallab's underwear. www.detnews.com/article/20110927/METRO/109270369/Model-underwear-bomb-video-to-be-shown-to-jurors-in-Abdulmutallab-case
The Heavens Weep
BP Will Re-Start Gulf of Mexico Drills: BP Plc (BP/) is preparing its rigs and workers to resume full drilling operations in the Gulf of Mexico, seeking to end a 17-month production slump following the worst U.S. oil spill.
The company has returned two rigs to the region's deep waters and aims to get three more drilling by the end of the year, according to people with knowledge of BP's plans, who declined to be identified because the program hinges on gaining approval from regulators. www.bloomberg.com/news/2011-09-23/bp-plans-full-return-to-gulf-drilling-this-year.html
Worst Thing in the History of the World
Video: Detroit Cop Sucker Punches Unlucky Gambler
Photo Gallery Of Crooked Cops Starts Here www.trutv.com/library/crime/photogallery/bad-cops.html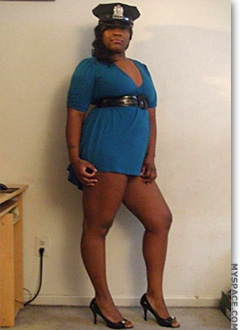 Romulus Mich Cops Indicted! Cops as Crooks? Who Could Imagine? A former Romulus police chief, his wife and five police officers were charged this afternoon with 22 counts including conducting a criminal enterprise and embezzlement stemming from a five-year corruption probe of the department's special investigative unit.Former Romulus Police Chief Michael St. Andre, his wife Sandra Kay Vlaz-St. Andre, Det. Sgt. Richard Balzer, Det. Richard Landry, Det. Donald Hopkins, Det. Jeremy Channells and Det. Larry Droege were charged in what Wayne County Prosecutor Kym Worthy called, "a very sad day for law enforcement."
Michael St. Andre, 50, a 28-year Romulus police veteran faces the most charges. He was charged with conducting a criminal enterprise, acquiring and maintaining a criminal enterprise, criminal enterprise conspiracy, embezzlement by a public official over $50, uttering and publishing, misconduct in office, failure to file taxes by filing a false return, obstruction of justice, bribing and intimidating witnesses and interfering in a case with over 10-year penalty, receiving and concealing stolen property over $20,000. www.freep.com/article/20110927/NEWS02/110927044/Ex-Romulus-police-chief-wife-5-officers-charged-embezzlement?odyssey=tab|topnews|text|FRONTPAGE
Ferndale: Police Chaplin a Dope Fiend: Ferndale police are investigating two drug overdoses in the past week at the residence of the department's former police chaplain: one ending in death and the other landing the chaplain in the hospital.
Lt. William Wilson said the former chaplain, a 52-year-old city resident, was hospitalized about 9:45 p.m. Tuesday after a report of a suspected drug overdose at an address in the 2700 block of Burdette.
On Sept. 21, Steven Fitch, 43, of Lincoln Park, stopped breathing inside the same address after allegedly using drugs with the occupant, a Ferndale police chaplain whom he had met on a gay male website, according to a police report obtained by The Detroit News. www.detnews.com/article/20110928/METRO02/109280414/Ferndale-police-probe-drug-overdoses–one-fatal–at-chaplain's-home
Best Thing in the History of the World
Seventy Years Gone: .406. Teddy Ballgame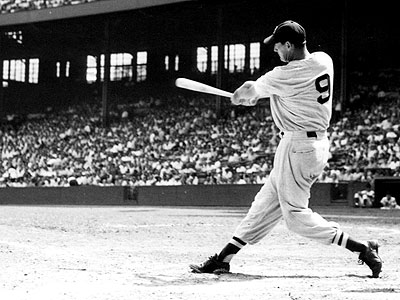 Seventy years ago, on September 27th 1941, Ted Williams achieved something in baseball no one has accomplished since – a season batting average over .400. Actually, Williams could have sat out the final day of the season – a double header in Philadelphia. At .39955, he was statistically at .400, and there was a strong likelihood that the eight or more at bats Williams would see in the two games would cause his average to dip below the .400 mark. The Bosox, already long out of the running, faced two meaningless games against the lowly Athletics, and player-manager Joe Cronin had given his permission for Williams (in only his third year with Boston) to skip the twin bill and preserve his .400. But Williams was not that kind of player, saying "If I'm going to be a .400 hitter, I want more than my toenails on the line." The man who would become known as Teddy Ballgame went 6-for-8 on the day and finished the year at .406 flannelofthemonth.blogspot.com/2011/09/ted-williams-and-400-club.html
Is It Wrong to Ice Zetas? The warnings came after a group calling itself the "Zeta killers" posted a video during the weekend announcing plans to crush the Zetas, which have sown fear in Veracruz with killings, kidnappings and extortion.
Last week, a group calling itself the New Generation claimed responsibility for killing 35 people whose bodies were dumped near the port city of Veracruz, saying those killed were members of the Zetas.The same group is believed to have posted the video warning, which surfaced on a website devoted to the drug trade.
latimesblogs.latimes.com/world_now/2011/09/mexico-warns-zeta-killers-against-violence.html
So Long, Johnny Wright