We Say Fightback!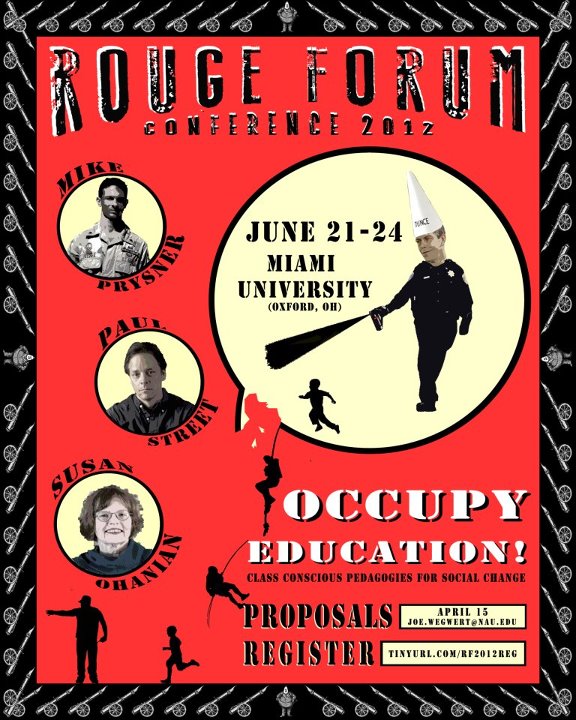 Paul Street will be a keynote Speaker at the Rouge Forum Conference.  Street is a Marxist whose leading influences beyond Marx include Gerrard Winstanley, Edward Palmer Thompson, Eric Hobsbawm, Rosa Luxembourg, Noam Chomsky, and John Pilger. Street is an outspoken critic of pseudo-populism, which is usually engineered with the help of mass media, especially as it perpetuates corporatism and imperialism. Street is also an expert analyst and commentator on contemporary racism in the "post Civil Rights era."
In an October 2008 interview with Little Village magazine, Street said: "We either transcend the corporate-managed profits system or we descend ever further into barbarism, totalitarianism, and ecological ruin over the long haul.
Please Submit Conference Proposals by April 15. And you are welcome to join us!   rougeforum2012.wordpress.com/
Workers of the world, awaken!
Rise in all your splendid might
Take the wealth that you are making,
It belongs to you by right.
No one will for bread be crying
We'll have freedom, love and health,
When the grand red flag is flying
In the Workers' Commonwealth
All out on Mayday! The Classic Rouge Forum Mayday Flyer is here richgibson.com/mayday.htm
Chicago Teachers Union Revives Talk of (what?!!) Strike A visibly angry Karen Lewis, President of the Chicago Teachers Union, held a press conference on April 5, 2012, to announce that straw polls of teachers and other union members at at least 150 real Chicago public schools were running overwhelmingly in favor of a strike some time after the current contracts between the unions and the Board of Education end on June 30, 2012. Although Lewis refused to detail which schools were voting how, she told dozens of reporters assembled at the union's Merchandise Mart headquarters that the teachers' anger was escalating as the Board of Education continued to take actions that were both insulting and professionally unsound.  http://www.substancenews.net/articles.php?page=3187&section=Article
Congratulations to Robert Zieger on the Kindle Publication of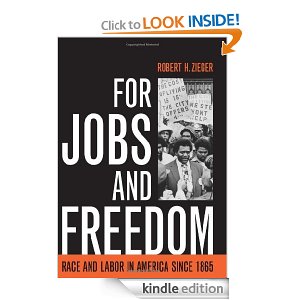 The Little Red Schoolhouse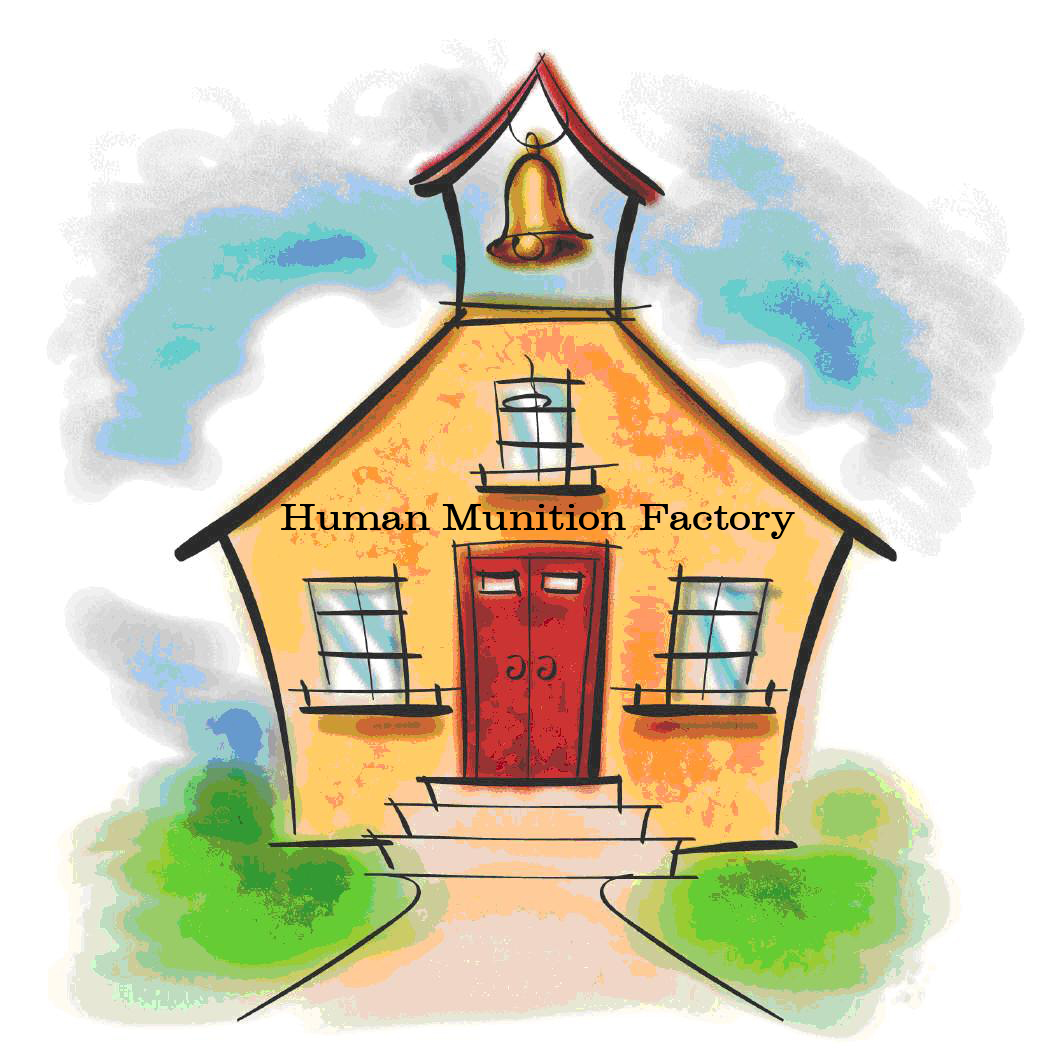 Rouge Forum Keynoter Ohanian's Five Points to Fix School based on PUT THE NEEDS OF THE STUDENTS FIRST.
1: Feed them. (Hire Moms/Aunts/Grandmothers/Cousins to cook real food in the cafeteria.)
2: Fix their teeth.
3: Guarantee their housing.
4: Give them a lot of books. . . books they choose. . . books that come without interrogation.
5: Teachers read aloud something (s)he found interesting/suspenseful/amusing/outrageous/inspiring? At least once a week.
The Arne and Michelle Traveling Salvation Show Tarnished a bit by Cheating Scandal (but not so much, really) Mr. Duncan is the education secretary.
Ms. Rhee was the chancellor of schools in Washington from 2007 to 2010.
Since last summer, the Office of the Inspector General in Mr. Duncan's department has been investigating whether Washington school officials cheated to raise test scores during Ms. Rhee's tenure.
You would think Mr. Duncan would want to keep Ms. Rhee at arm's length during the investigation. And yet there they were, sitting side by side last month, two of four featured panelists at a conference in Washington about the use of education data.
"This is an amazing panel, so I'm thrilled to be part of it," Mr. Duncan said in his opening comment.
If there is any hope of getting to the bottom of what went on in the Washington schools — whether Ms. Rhee is as amazing as Mr. Duncan said, or whether test scores were inflated by cheating — it is through the inquiry by the inspector general. (Catherine Grant, a spokeswoman for the office, confirmed that an investigation was under way, but would not give details.)    http://www.nytimes.com/2012/02/27/education/duncan-and-rhee-on-panel-amid-dc-schools-inquiry.html?_r=2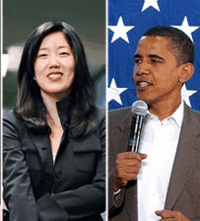 NOT ATTENDED by Obamagogue's Kids, DC Schools Graduate about 3/5s of Students Less than 60 percent of D.C. high school students graduated on time in 2011, according to a new and more rigorous calculation of completion rates announced Thursday.
Figures released by the Office of the State Superintendent of Education show that 58.6 percent of students in the Class of 2011 obtained high school diplomas within four years. That's a nearly 20 percent decline over the 73 percent rate reported for 2010.   www.washingtonpost.com/local/education/in-dc-schools-59-percent-of-students-get-diploma-on-time/2012/04/05/gIQAMtuTyS_story.html
Highland Park School Boss Indicted Highland Park school board member Robert Davis, an activist who repeatedly challenged the state's attempted restructuring of Detroit's finances, was indicted Thursday on charges he stole more than $125,000 from the cash-strapped district.
The 16-count grand jury indictment alleges Davis pocketed the money between 2004 and 2010.
The indictment was filed one day after the city of Detroit reached a consent deal with the state over its finances, which Davis actively opposed by filing numerous lawsuits alleging violations of the state's Open Meeting Act.    http://www.detroitnews.com/article/20120406/METRO01/204060376/Highland-Park-School-Board-member-Davis-indicted-does-not-plan-resign?odyssey=tab|topnews|text|FRONTPAGE
Occupy the DOE? Not. Enough Said. Or not. What if you gave an occupation, that had no plan to occupy, and nobody came? That might mean opportunism flops.
The International Hot War of the Rich on the Poor
The Last British Soldier in the Retreat from Kabul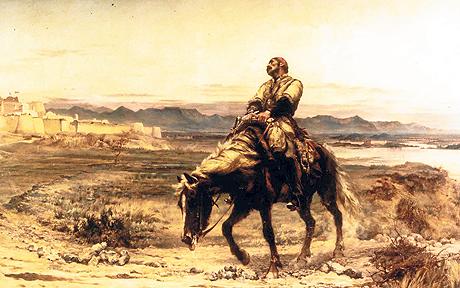 One of Many Liars (remember Judith Miller) who Provoked the Iraq War, Confesses A man whose lies helped to make the case for invading Iraq – starting a nine-year war costing more than 100,000 lives and hundreds of billions of pounds – will come clean in his first British television interview tomorrow.
"Curveball", the Iraqi defector who fabricated claims about Iraq's weapons of mass destruction, smiles as he confirms how he made the whole thing up. It was a confidence trick that changed the course of history, with Rafid Ahmed Alwan al-Janabi's lies used to justify the Iraq war.
He tries to defend his actions: "My main purpose was to topple the tyrant in Iraq because the longer this dictator remains in power, the more the Iraqi people will suffer from this regime's oppression."
The chemical engineer claimed to have overseen the building of a mobile biological laboratory when he sought political asylum in Germany in 1999. His lies were presented as "facts and conclusions based on solid intelligence" by Colin Powell, US Secretary of State, when making the case for war at the UN Security Council in February 2003.
But Mr Janabi, speaking in a two-part series, Modern Spies, starting tomorrow on BBC2, says none of it was true. When it is put to him "we went to war in Iraq on a lie. And that lie was your lie", he simply replies: "Yes."   US officials "sexed up" Mr Janabi's drawings of mobile biological weapons labs to make them more presentable, admits Colonel Lawrence Wilkerson, General Powell's former chief of staff. "I brought the White House team in to do the graphics," he says, adding how "intelligence was being worked to fit around the policy".    http://www.independent.co.uk/news/world/politics/man-whose-wmd-lies-led-to-100000-deaths-confesses-all-7606236.html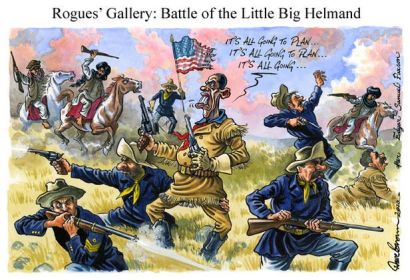 General Allen, the Next to Fail in Afghanistan, Says War Brings more Violence ahead! "As I look to reduce the numbers of U.S. forces … I will use significant combat power in the east, anticipating we are going to have some good bit of fighting in the east this year," U.S. General John Allen said Wednesday in an interview.
The unwelcome warning comes as support for the war has hit all time lows after successive high-profile failures, including and especially the unprovoked massacre of 17 Afghan civilians. The debacle in Afghanistan, to the detriment of the Obama administration who is still trying to sell the war and save face, has carried zero good news of late. Predictions of a "good bit of fighting" this summer doesn't help the case.   news.antiwar.com/2012/04/05/gen-allen-afghanistan-will-see-significant-increase-in-fighting-this-summer/
Bill Blum–why Syria and Why Now? The Holy Triumvirate — The United States, NATO, and the European Union — or an approved segment thereof, can usually get what they want. They wanted Saddam Hussein out, and soon he was swinging from a rope. They wanted the Taliban ousted from power, and, using overwhelming force, that was achieved rather quickly. They wanted Moammar Gaddafi's rule to come to an end, and before very long he suffered a horrible death. Jean-Bertrand Aristide was democratically elected, but this black man who didn't know his place was sent into distant exile by the United States and France in 2004. Iraq and Libya were the two most modern, educated and secular states in the Middle East; now all four of these countries could qualify as failed states.  http://killinghope.org/bblum6/aer104.html
Hersh: Our Men in Iran? the Joint Special Operations Command (JSOC) conducted training, beginning in 2005, for members of the Mujahideen-e-Khalq, a dissident Iranian opposition group known in the West as the M.E.K. The M.E.K. had its beginnings as a Marxist-Islamist student-led group and, in the nineteen-seventies, it was linked to the assassination of six American citizens. It was initially part of the broad-based revolution that led to the 1979 overthrow of the Shah of Iran. But, within a few years, the group was waging a bloody internal war with the ruling clerics, and, in 1997, it was listed as a foreign terrorist organization by the State Department. In 2002, the M.E.K. earned some international credibility by publicly revealing—accurately—that Iran had begun enriching uranium at a secret underground location. Mohamed ElBaradei, who at the time was the director general of the International Atomic Energy Agency, the United Nations' nuclear monitoring agency, told me later that he had been informed that the information was supplied by the Mossad. The M.E.K.'s ties with Western intelligence deepened after the fall of the Iraqi regime in 2003, and JSOC began operating inside Iran in an effort to substantiate the Bush Administration's fears that Iran was building the bomb at one or more secret underground locations. Funds were covertly passed to a number of dissident organizations, for intelligence collection and, ultimately, for anti-regime terrorist activities. Directly, or indirectly, the M.E.K. ended up with resources like arms and intelligence. Some American-supported covert operations continue in Iran today, according to past and present intelligence officials and military consultants.
Despite the growing ties, and a much-intensified lobbying effort organized by its advocates, M.E.K. has remained on the State Department's list of foreign terrorist organizations—which meant that secrecy was essential in the Nevada training. "We did train them here, and washed them through the Energy Department because the D.O.E. owns all this land in southern Nevada," a former senior American intelligence official told me. "We were deploying them over long distances in the desert and mountains, and building their capacity in communications—coördinating commo is a big deal." (A spokesman for J.S.O.C. said that "U.S. Special Operations Forces were neither aware of nor involved in the training of M.E.K. members.")   www.newyorker.com/online/blogs/newsdesk/2012/04/mek.html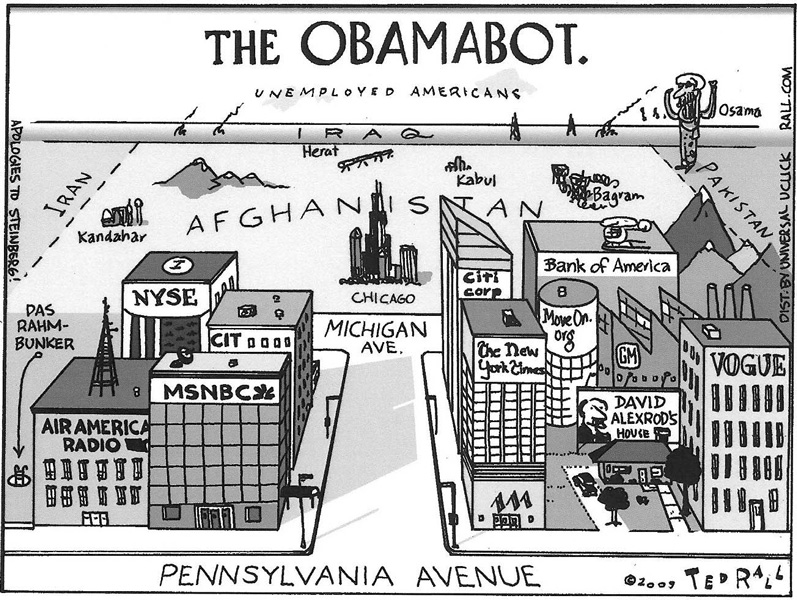 above by Ted Rall
Cold War Redux. Russia Defends War Lord Arms Dealer A Federal District Court judge in Manhattan sentenced the arms trafficker, Viktor Bout, on Thursday. Mr. Bout was convicted last fall of conspiring to kill Americans after trying to sell weapons to undercover American agents posing as members of the Revolutionary Armed Forces of Colombia.
"The American justice system, clearly carrying out a political order, ignored the arguments of lawyers and multiple appeals from different spheres made in the defense of this Russian citizen," Russia's Foreign Ministry said in a statement.
Russia has vocally opposed every stage of Mr. Bout's four-year legal drama, which began in March 2008 when agents from the Drug Enforcement Administration arrested him in Thailand. There, American agents had reportedly enticed him with an offer to buy millions of dollars worth of military equipment, including AK-47s, missiles, and ultralight airplanes, a deal to which he apparently agreed.
Russian officials have described the case as a conspiracy that involved government collusion with the courts, the American media and even Hollywood. Mr. Bout is said to have been the inspiration behind the 2005 film "Lord of War," staring Nicolas Cage.   www.nytimes.com/2012/04/07/world/europe/russia-denounces-us-sentencing-of-arms-dealer.html?_r=1&ref=global-home
After Fake spring in Egypt, Muslim Bros out of Closet The Egyptian Muslim Brotherhood named its chief strategist and financier as a candidate for president on Saturday, a surprising reversal of an earlier pledge to stay out of the race.   news.antiwar.com/2012/03/31/libya-pm-announces-ceasefire-after-tribal-clashes-kill-over-150/
The International Economic War of the Rich on the Poor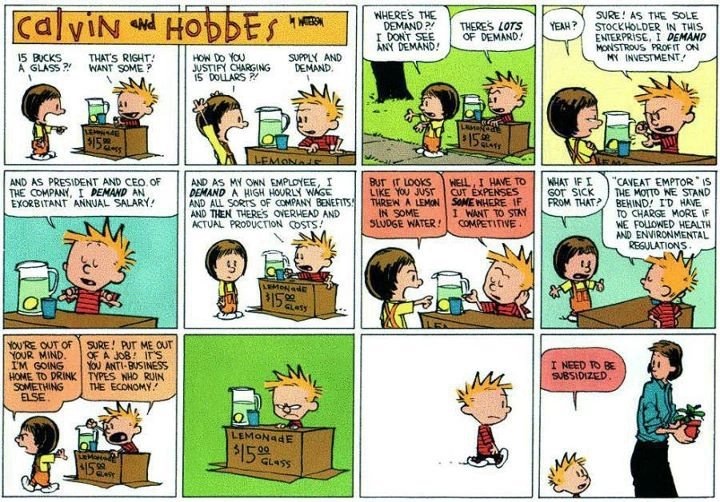 Poor Students Shoved out of SAT by Rising Costs Because of a federal budget cut, tens of thousands of low-income high school students will face steeper price tags for their Advanced Placement exams this May — forcing many to scramble to meet costs and others to forgo exams that could save thousands in college tuition.
At El Rancho High School in Pico Rivera, where nearly two-thirds of would-be test takers are from low-income families, anxiety over passing is being replaced by worries that students will not be able to afford the college-level exams they have studied for all school year.    http://www.latimes.com/news/local/la-me-ap-test-20120331,0,2533838.story
Greek Pensioner Suicides Outside Parliament The government had "annihilated any hope for my survival and I could not get any justice. I cannot find any other form of struggle except a dignified end before I have to start scrounging for food from the rubbish"," the note said.
The tragedy quickly took on a political dimension, as small, anti-bailout parties gearing up for elections next month pinned the blame on bigger parties and on austerity measures prescribed by European partners and the International Monetary Fund.
"When people start committing suicide in Syntagma square, then it is the final straw that tears apart social cohesion," far-right leader George Karatzaferis told parliament.    http://www.reuters.com/article/2012/04/04/us-greece-suicide-idUSBRE8330OB20120404
Bubble bubble, Little toil, lots of Trouble, as Clouds Roll back in Some offer outright dire predictions. There is the Economic Cycle Research Institute, a New York-based forecasting firm, which foresees a new recession. There is A. Gary Shilling & Company, a consulting firm in Springfield, N.J., which argues that the economy will weaken through the rest of the year.
There is also the asset manager John P. Hussman. Last month, he wrote in a research note that "while investors and the economic consensus has largely abandoned any concern about a fresh economic downturn, we remain uncomfortable," given the deterioration of certain leading measures, like consumption growth.
Others — call them the baby bears, perhaps — simply offer what they say are more realistic assessments of both the weakness of the economy and the tepid pace of the recovery, despite a few months in which a spate of reports surprised to the upside.
"The recovery is anemic, subpar, below trend, below potential," said Nouriel Roubini, the New York economist whose consistently dour predictions (including calling the collapse of the housing bubble) have won him the nickname "Dr. Doom," and who might fall into that latter camp.
"If we avoid a major external or internal shock," like a military confrontation with Iran or a major default in the euro zone, "we may avoid another recession and that might be good news. But that's where the good news ends," said Professor Roubini,    …The bears point to weakness underlying current numbers. Disposable personal income, a measure of how much money Americans have left over once they have paid their taxes, has barely been increasing of late, raising questions about how much spending the debt-soaked American consumer can contribute to the recovery. The shock of growth at the end of 2011, which gave a shot in the arm to economic confidence this spring, came mostly from wholesalers restocking their inventories as well.
"Final sales are barely growing," Professor Roubini said. "So I don't see a sustainable recovery coming from that."
On top of that, the bears note that some trends could be making the job gains and economic growth of the last few months seem more robust than they really are. One factor is the warm winter, which might have pulled forward economic activity from the spring. In a research note entitled "Sticking With Sluggish," the relatively pessimistic analysts at Goldman Sachs argued that the "exceptionally mild" winter stole commerce and hiring from March and April.
Moreover, the surge of hiring in the winter, which was unexplained by growth in economic output, could have been from employers who had laid off too many workers during the recession and were swinging the other way by adding too many workers, meaning hiring might slow down again.
Those trends were perhaps borne out in the lower-than-expected jobs number released on Friday,     www.nytimes.com/2012/04/07/business/economy/some-dreary-forecasts-from-recovery-skeptics.html?_r=1&emc=tnt&tntemail0=y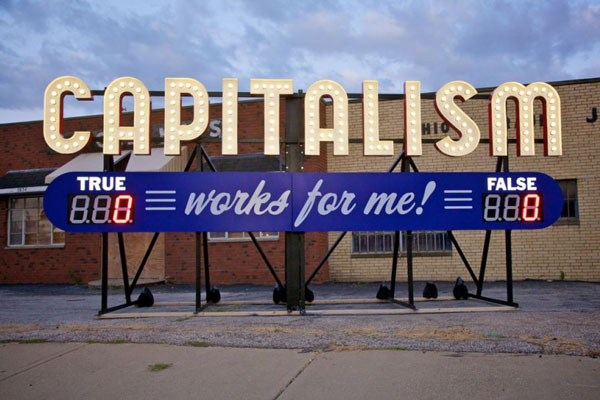 Reminder about that 400 million Dollar Exxon Golden Parachute Soaring gas prices are squeezing most Americans at the pump, but at least one man isn't complaining.
Last year, Exxon made the biggest profit of any company ever, $36 billion, and its retiring chairman appears to be reaping the benefits.
Exxon is giving Lee Raymond one of the most generous retirement packages in history, nearly $400 million, including pension, stock options and other perks, such as a $1 million consulting deal, two years of home security, personal security, a car and driver, and use of a corporate jet for professional purposes.
Last November, when he was still chairman of Exxon, Raymond told Congress that gas prices were high because of global supply and demand.
"We're all in this together, everywhere in the world," he testified.     Raymond, however, was confronted with caustic complaints about his compensation.
"In 2004, Mr. Raymond, your bonus was over $3.6 million," Sen. Barbara Boxer said.
That was before new corporate documents filed with the Securities and Exchange Commission that revealed Raymond's retirement deal and his $51.1 million paycheck in 2005. That's equivalent to $141,000 a day, nearly $6,000 an hour. It's almost more than five times what the CEO of Chevron made.
"I think it will spark a lot of outrage," said Sarah Anderson, a fellow in the global economy program at the Institute for Policy Studies, an independent think tank. "Clearly much of his high-level pay is due to the high price of gas."
Exxon defends Raymond's compensation, pointing out that during the 12 years he ran the company, Exxon became the largest oil company in the world and that the stock price went up 500 percent.   abcnews.go.com/GMA/PainAtThePump/story?id=1841989#.T4CmuGLD59m
Black Unemployment and the Jobless Picture now The unemployment rate for Blacks was 14.0% last month. This is according to the latest report on the nation's employment situation released Friday morning by the Bureau of
Labor Statistics in its monthly Employment Situation report. This rate was virtually unchanged from February, when unemployment in the Black community stood at 14.1%. For the nation as a whole, unemployment was 8.2% in the month of March; this was virtually unchanged from February when the national unemployment rate stood at
8.3%. Among whites, unemployment was 7.3%; among Latinos, unemployment was 10.3%. Comparable February 2011 figures were 7.3% and 10.7% respectively. Overall, total non-farm payroll employment increased by 120,000 jobs from last month.   laborcenter.berkeley.edu/blackworkers/monthly/bwreport_2012-04-06_46.pdf
The hell with the Monroe Doctrine, China Buying the Caribbean! China's economic might has rolled up to America's doorstep in the Caribbean, with a flurry of loans from state banks, investments by companies and outright gifts from the government in the form of new stadiums, roads, official buildings, ports and resorts in a region where the United States has long been a prime benefactor.
The Chinese have flexed their economic prowess in nearly every corner of the world. But planting a flag so close to the United States has generated intense vetting — and some raised eyebrows — among diplomats, economists and investors.   www.nytimes.com/2012/04/08/world/americas/us-alert-as-chinas-cash-buys-inroads-in-caribbean.html?pagewanted=2&_r=1&ref=global-home
US and Chinese Empires Clash in Burma As Chinese workers in hard hats and red overalls bulldoze deep trenches into the orange soil across northern Myanmar for gas and oil pipelines to China, China's largest energy conglomerate is paying cash for land and trees in the pipelines' path, and building schools and health clinics for some of the poorest people on earth.   The compensation offered by the China National Petroleum Corporation reflects a bitter lesson China learned about doing business in the new, more democratic Myanmar when construction on a major Chinese hydroelectric dam there was suspended last year after a groundswell of outrage erupted over what was seen as China's imperious attitude toward Myanmar's people and its environment.
The gentler approach also reflects hard calculations in an escalating battle with the United States for regional influence. As Myanmar loosens the grip of decades of military dictatorship and improves ties with the United States, China fears a threat to a strategic partnership that offers access to the Indian Ocean and a long-sought shortcut for oil deliveries from the Middle East.   www.nytimes.com/2012/03/31/world/asia/myanmar-reforms-set-us-and-china-in-race-for-sway.html?nl=todaysheadlines&emc=edit_th_20120331
Solidarity ForNever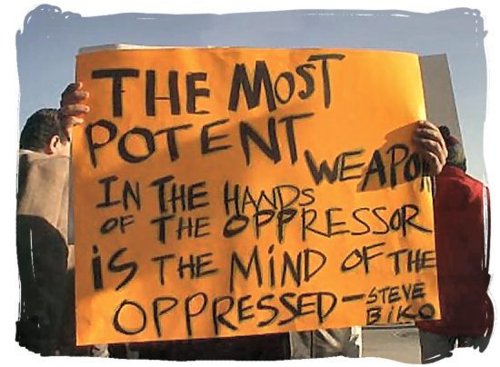 Harry Kelber:   Corrupt Labor Bosses Control AFL-CIO Money and Policies
For more than 100 years, no officer or member of a State Federation or Central Labor Council has ever held a single position on the AFL-CIO Executive Council, whose membership has ranged from 33 to 51 over the years.
Today, Richard Trumka and a small group of international union presidents still effectively control the AFL-CIO, lock stock and barrel. They run fraudulent elections, ban opposition candidates and guarantee their own re-election for as many terms as they desire.
They spend our dues money as they wish, without consulting the millions of union dues-payers, and they do not issue financial reports. They do not have to worry that the wages of their members are stagnant or worse, and that they have little to show for the tens of millions of dollars they spend on political and economic campaigns.
They are not troubled that the AFL-CIO's membership and bargaining power is less than it was 50 years ago. Win or lose, the Trumka group is guaranteed their 6-figure salaries and lavish pension deals when they retire. And they use whatever tactics are necessary to prevent interlopers from challenging their power.
How does this small group of mostly white, middle-to-elderly men get away with this colossal power grab? How do they manage to bamboozle 12 million unionists into accepting this outrageously undemocratic, corporatist takeover? Where are the labor activists to challenge them? The Source of Power Lies in the AFL-CIO Constitution…   www.laboreducator.org/

Uprising in Palm Beach Fla EA over Firing of Exec Hernandez The president of the union that represents Palm Beach County School District teachers is offering few details about the removal of the union's executive director, a move that has upset some members .
"The Palm Beach Classroom Teachers Association executive board recently decided to return Tony Hernandez to his previous position as labor relations consultant," Debra Wilhelm said in a statement issued Monday.
Wilhelm denied that Hernandez, the union's interim director for 14 months, was fired when the board voted March 5 to remove him effective Friday . His contract "was fully honored," she said.
Hernandez said he was never given a reason for his removal and was told by Wilhelm to work at home through this week.
The board has not chosen a new director, but member Jane Kirkland said it authorized Wilhelm to approach former director Helene Samango as a possible fill-in .
The union's executive board " decided it was in the best interests of CTA and its members to seek a permanent, full-time executive director," Wilhelm's statement said .
Teachers last week stormed out of a representatives meeting, saying they had not been told of Hernandez's ouster. Two teachers, Les Kozlow and Susan Wein, said their colleagues were upset that Wilhelm did not allow them to discuss it at the meeting. Wein said teachers plan to attend Monday's executive board meeting to ask it to reinstate Hernandez.   She also wants to explore recalling Wilhelm as president.     www.palmbeachpost.com/news/cta-president-mum-about-leaders-ouster-2280797.html#.T3xpa4P9aQo.email
The Emergence of Fascism as a Popular Mass Movement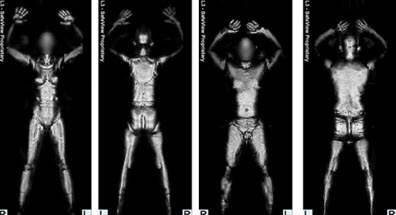 Millionaire Supremes Okay Strip Searches for No Cause The Supreme Court ruled Monday that those arrested for even minor violations may be strip-searched before being admitted to jail, saying safety concerns outweigh personal privacy rights.
The court's conservatives ruled against a New Jersey man who was strip-searched after being mistakenly arrested on an outstanding warrant.  …More than 13 million people are admitted to jails each year, Kennedy wrote.   www.washingtonpost.com/politics/supreme-court-upholds-jail-strip-searches–even-for-minor-offenses/2012/04/02/gIQAsZB4qS_story.html
Godfather of Social Fascism, Uncle Joe, Makes a Comeback in Putin's Russian Textbooks In his generalissimo uniform with a chest full of medals, Stalin now proudly stares from notebook covers on a shelf of the Pedagogical Book House store in downtown Moscow less than a mile from the Kremlin. Customers, mostly adults, are snatching up so many copies that the store runs out of stock each day.
"This edition of notebooks comes in the series of great personalities in the history of Russia like Peter the Great, [composer Sergei] Rachmaninoff, space designer [Sergei] Korolyov and many others," said Olga Utesheva, deputy commercial director of the Moscow Book House, a chain of popular bookstores that runs the pedagogical books retailer too. "Stalin is one of the most popular figures among the people who left a trace in the history of our country and there is no propaganda here."   www.latimes.com/news/nationworld/world/la-fg-russia-stalin-notebook-20120406,0,7261891.story
Next Step, American Gulags? Bush Official Says they Were doing War Crimes A top adviser to former Secretary of State Condoleezza Rice warned the Bush administration that its use of "cruel, inhuman or degrading" interrogation techniques like waterboarding were "a felony war crime."
What's more, newly obtained documents reveal that State Department counselor Philip Zelikow told the Bush team in 2006 that using the controversial interrogation techniques were "prohibited" under U.S. law — "even if there is a compelling state interest asserted to justify them."   Zelikow argued that the Geneva conventions applied to al-Qaida — a position neither the Justice Department nor the White House shared at the time. That made waterboarding and the like a violation of the War Crimes statute and a "felony," Zelikow tells Danger Room. Asked explicitly if he believed the use of those interrogation techniques were a war crime, Zelikow replied, "Yes."
Zelikow first revealed the existence of his secret memo, dated Feb. 15, 2006, in an April 2009 blog post, shortly after the Obama administration disclosed many of its predecessor's legal opinions blessing torture. He briefly described it (.pdf) in a contentious Senate hearing shortly thereafter, revealing then that "I later heard the memo was not considered appropriate for further discussion and that copies of my memo should be collected and destroyed."   www.wired.com/dangerroom/2012/04/secret-torture-memo/
For those who think They Can Social Network a Revo, Look to China China started a sweeping crackdown of its vibrant social networking media over the weekend, detaining six people, closing 16 Web sites and shutting off the comment function for two gigantic microblog services.   www.nytimes.com/2012/04/01/world/asia/china-shuts-down-web-sites-after-coup-rumors.html?ref=global-home
The Electoral Shell Game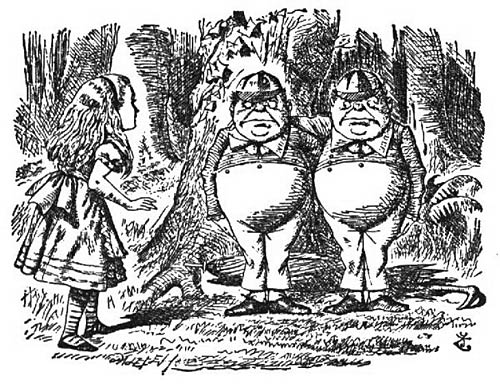 Tweedledum and Tweedledee
Agreed to have a battle;
For Tweedledum said Tweedledee
Had spoiled his nice new rattle.
Just then flew down a monstrous crow,
As black as a tar-barrel;
Which frightened both the heroes so,
They quite forgot their quarrel
Students to Obamagoge: We won't Be Fooled Again (maybe) Obama's approval rating among college students dropped to 46 percent last December from 58 percent in November 2009, according to a Harvard University poll. Fifty percent of people between the ages of 18 and 24 said they would "definitely" be voting, an 11 percentage-point decrease from the fall of 2007. A third of respondents said they approved of Democrats in Congress, and 24 percent approved of Republicans. Just 12 percent said the nation was headed in the right direction
"The turnout will not be great," Curtis Gans, director of the Center for the Study of the American Electorate in Washington, said in a phone interview. The war in Afghanistan, a lack of progress on closing Guantanamo Bay and a dismal job picture taint Obama's prospects, he said. The unemployment rate among 18- to 24-year-olds was 16.3 percent at the end of last year, the highest since record-keeping began in 1948, according to a February Pew Research Center report.
"There's not the sense that four more years of Obama will change the world for the better,"   www.bloomberg.com/news/2012-03-30/obama-campus-fervor-losing-to-apathy-as-students-sour-on-2012.html
Ann Romney: Mitt isn't a Stiffy : "And one of the things, Ann Romney, that folks talk about with your husband, Mitt Romney, and I've seen him in casual conversation-He comes off very smooth and okay. But sometimes he comes off stiff. Do you have to fight back some criticism, like 'My husband isn't stiff, OK?'"
Ann Romney responded, laughing, "Well, you know, I guess we better unzip him and let the real Mitt Romney out because he is not!"   distriction.com/2012/04/ann-romney-on-stiff-husband-we-better-unzip-mitt-let-real-romney-out/
Unzip Mitt! Tiger Mitt!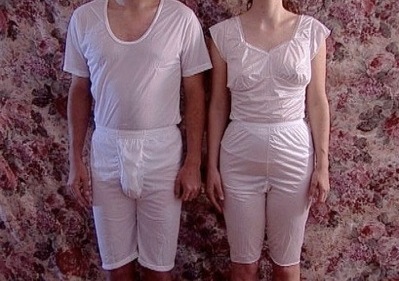 Mexico, Pick one of the Three Heads of the Snake It is essentially a battle, cynical commentators joke, between the Pretty Boy, the Quinceañera Doll and the Tired Has-Been.  Mexico's presidential campaign has begun, and the disdain seeping from these common descriptions of the three main candidates reflects what experts say are low expectations. Mexican voters, polls show, have been losing faith in democracy as their nation teeters between modern success and violent failure.
This is a country of conflicting messages, of economic growth and decapitated heads. It is the United States' third-largest trading partner and a majority middle-class country, but one held back by corruption, impunity, poverty, red tape, monopolies and a culture of discomfort with confrontation.
Whoever wins on July 1 will inherit a Mexico disillusioned and stuck, caught between forces of the past that resist change and the frustration of those who have begun to expect more from their leaders.   www.nytimes.com/2012/04/01/world/americas/mexicos-presidential-race-could-be-pivotal.html?ref=global-home
Spy Versus Spy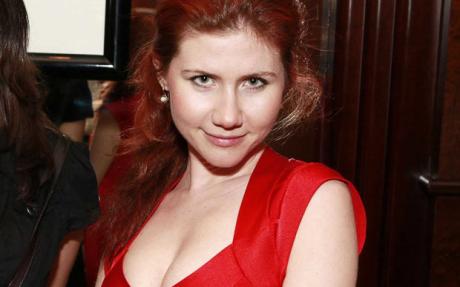 above, Russian Spy Anna Chapman
Russian Agent, about to Sleep With Obamagogue's Pal, Busted and Deported in Honeypot Scam Another revelation in the series is the real reason why the FBI swooped on Russian spy Anna Chapman in 2010. Top officials feared the glamorous Russian agent wanted to seduce one of US President Barack Obama's inner circle. Frank Figliuzzi, the FBI's head of counterintelligence, reveals how she got "closer and closer to higher and higher ranking leadership… she got close enough to disturb us".
The fear that Chapman would compromise a senior US official in a "honey trap" was a key reason for the arrest and deportation of the Russian spy ring of 10 people, of which she was a part, in 2010. "We were becoming very concerned," he says. "They were getting close enough to a sitting US cabinet member that we thought we could no longer allow this to continue." Mr Figliuzzi refuses to name the individual who was being targeted.    http://www.independent.co.uk/news/world/politics/man-whose-wmd-lies-led-to-100000-deaths-confesses-all-7606236.html
Three Cups of Bullshit Author (liberal fave, and likely Spy) To Repay Charity For Money he Ripped Kansas City, Mo.— The road to hell is typically paved with good intentions. For Greg Mortenson, it was laid down with two New York Times bestsellers, hundreds of public appearances and the idea that Afghanistan and Pakistan could be saved if you built enough schools in them.
Hidden beneath those efforts appear to have been "significant lapses in judgment" involving charity money. Those lapses have led the Montana state attorney general to toss Mortenson out of his own charity, the Central Asia Institute, and now to force him to pay back $1 million, according to the results of an investigation announced Thursday…  That "way" involved donor money — given to promote education and literacy in war-torn and impoverished Central Asia — being spent on charter flights for family vacations, clothing and Internet downloads, the report said. The charismatic Mortenson, whose personal wealth "multiplied significantly" as the charity grew more popular, also took inappropriate speaking fees from the charity for his promotional work, the investigation found.  …"The image of Mortenson that has been created for public consumption is an artifact born of fantasy, audacity, and an apparently insatiable hunger for esteem," wrote Krakauer, a former Central Asia Institute donor who became one of the charity's most dogged critics.
"Mortenson has lied about the noble deeds he has done, the risks he has taken, the people he has met, the number of schools he has built. 'Three Cups of Tea' has much in common with 'A Million Little Pieces,' the infamous autobiography by James Frey that was exposed as a sham."   www.latimes.com/news/nation/nationnow/la-na-nn-greg-mortenson-central-asia-institute-20120405,0,3566022.story
CIA Agent Arrested for Leaking — A former CIA officer has been indicted on charges that he leaked classified secrets to journalists. A federal grand jury in Alexandria, Va., on Thursday returned a five-count indictment against John Kiriakou, who was arrested in January.   The indictment charges Kiriakou with leaking the identity of a covert CIA officer. It also accuses Kiriakou of disclosing the name and contact information of an officer who worked with him on the capture of suspected al-Qaida financier Abu Zubaydah in the months after the Sept. 11, 2001 terrorist attacks.
Kiriakou is charged with making false statements and with violating the Intelligence Identities Protection Act and the Espionage Act.   www.washingtonpost.com/local/former-cia-officer-indicted-on-charges-of-leaking-classified-information/2012/04/05/gIQApho6xS_story.html
The Vile History of the FBI (and an Obamagogue Sidelight) On Dec. 31, President Obama signed the National Defense Authorization Act, which allows for the indefinite military detention, without trial, of any American citizen "who was a part of or substantially supported Al Qaeda, the Taliban or associated forces that are engaged in hostilities against the United States or its coalition partners." This act effectively abrogates the Bill of Rights and removes one of the cornerstones of Western liberty.   But not to worry. In a signing statement, Obama pledged that he would not authorize any such detentions. What a curious position for a former constitutional scholar to take: the promise of one man substituted for the rule of law.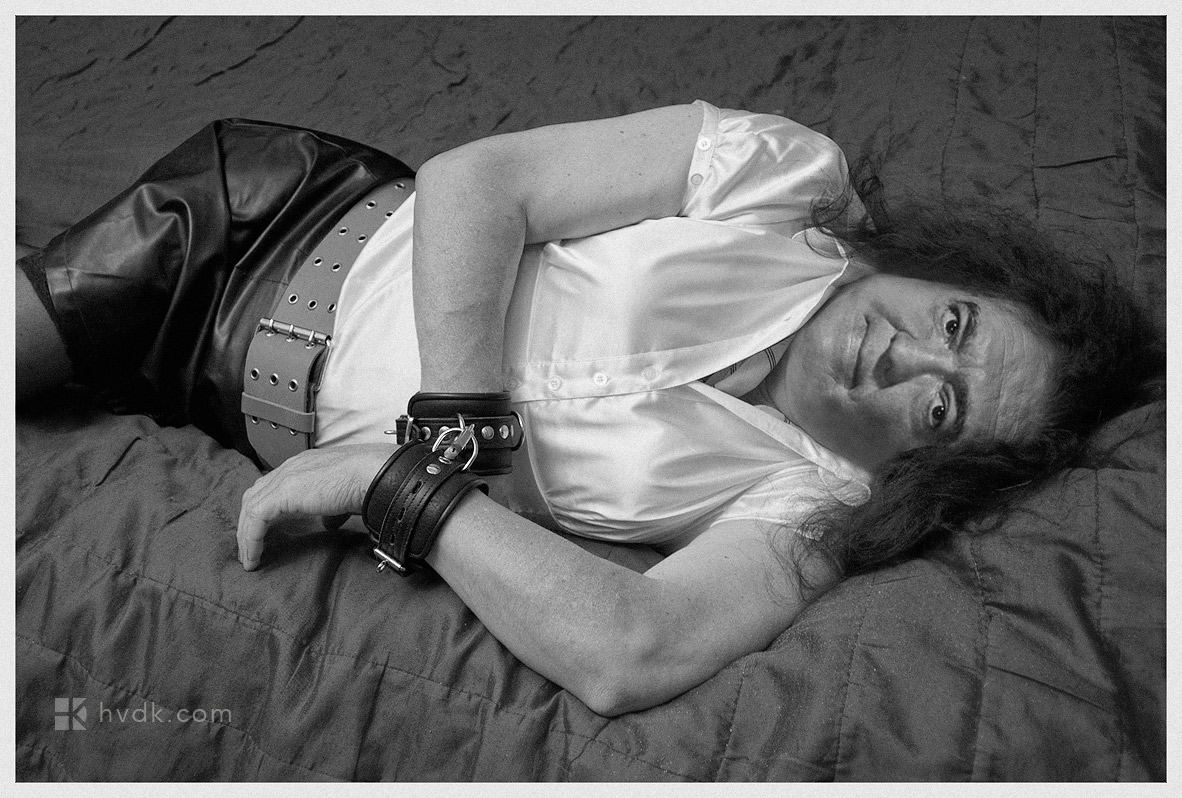 It is just such presidential hubris, Tim Weiner makes clear in his important and disturbing new book, "Enemies: A History of the FBI," that bears much of the blame for the worst violations of our freedoms in this century.  …Botched confrontations with cults and right-wing radicals left a trail of blood from Whidbey Island to Ruby Ridge to the Branch Davidian compound in Waco. The bureau was penetrated again and again by double agents from Russia, China, Cuba, even Al Qaeda. (The Chinese spy Katrina Leung, truly a double agent, seduced both the special agent in charge of her case and "a leading F.B.I. counterintelligence expert on China.") F.B.I. turncoats like Robert Hanssen and Earl Pitts went undetected for years, costing "hundreds of millions of dollars" and the lives of a "dozen or more foreign agents who worked for the bureau and the C.I.A."
The best terror informant the bureau actually had was dropped for fear that he might be a double agent, while as late as 2002, only eight agents could speak Arabic. The F.B.I. remained a "pyramid of paper," mysteriously unable to create a decent computer system; by 2000, "the average American teenager had more computer power than most F.B.I. agents," according to Weiner, and agents "could not perform a Google search or send e-mails outside their offices."
Hoover's successors were mostly clueless bunglers; save for the current director, Robert S. Mueller III, none completed their terms of office. It's infinitely depressing to read once again the epic of that ultimate loose cannon, Louis Freeh, who decided that his main enemy was the Clinton White House. He did not speak to President Clinton for nearly four years, and ultimately resigned without notice, three months shy of 9/11. It's infuriating to read of how F.B.I. agents investigating Al Qaeda were stymied from stopping the 9/11 attack on the World Trade Center, thanks to a bureau misinterpretation of a Justice Department directive about sharing evidence.    http://www.nytimes.com/2012/04/01/books/review/enemies-a-history-of-the-fbi-by-tim-weiner.html?pagewanted=2&ref=books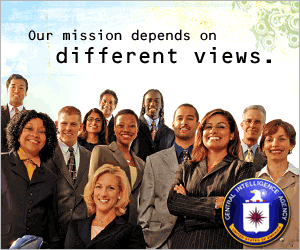 Salon on those Fake NGO's being Banned in the Middle East the Reagan administration and a bipartisan majority of Congress created the National Endowment for Democracy (NED) in 1983. The new law stipulated that NED would work largely through three newly created "core grantees" – the Center for International Private Enterprise (CIPE), International Republican Institute (IRI) and National Democratic Institute (NDI) – and the AFL-CIO's Free Trade Union Institute, which had a long history of working closely with the CIA.
Would the CIA continue to run the new apparatus under cover of the State's Department's "democracy bureaucracy?" It certainly looked that way in November 1985, when the Center for Investigative Reporting teamed up with the French daily Liberation to reveal that NED had secretly intervened against France's socialist President Francois Mitterrand. As confirmed by the New York Times, NED gave $833,000 to Force Ouvrière and $575,000 to the right-wing National Inter-University Union, which the original exposé described as "the student arm of a banned paramilitary organization linked to political bombings and assassinations." NED passed the money through the Free Trade Union Institute (now the Solidarity Center), and the AFL-CIO official handling the grant in Paris was the 74-year-old Irving Brown….Flash forward to the present. Both IRI and NDI claim to be private and independent of the U.S. government. But both receive Congressional funding through the Endowment and directly from the State Department and U.S. Agency for International Development. According to their websites, IRI gets less than 1 percent of its funding from private donors, while NDI gets some additional funding from private foundations as well as multilateral organizations and foreign governments, from the U.K. and Germany to Yemen and Namibia.
Freedom House, the third NGO facing charges in Egypt, appears marginally less dependent on taxpayer money. According to its latest available financial report, the U.S. government provided over 75 percent of its funding. But its independence remains suspect. To cite only one example among many, the Financial Times reported in 2006 that Freedom House was "one of several organizations selected by the State Department to receive funding for clandestine activities inside Iran." Freedom House confirmed the funding for activities in Iran, but declined to give details.   www.salon.com/2012/04/07/the_ngos_that_spooked_egypt/singleton/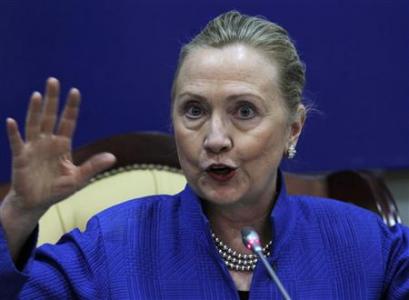 UAE Shuts Down Fake Democracy Group Connected to National Endowment for Democracy So far, the U.A.E. have not publicly explained their actions against the organization, the National Democratic Institute, which only recently was one of several nonprofits prosecuted in Egypt amid concerns about what many Egyptians perceive as foreign meddling.
The move by the U.A.E. was not as shocking as that by the Egyptians — in that case, the son of a Cabinet member was charged in criminal court. But it was especially provocative, coming just before Mrs. Clinton arrived in the region for talks with the U.A.E. and other members of the Gulf Cooperation Council.    http://www.nytimes.com/2012/04/01/world/middleeast/uae-shuts-american-democracy-building-group.html?_r=1&ref=global-home
We Want Our War and We Want it Now! For both the House of Saud and Qatar (the other GCCs are just extras), what's goin' on in Syria is not about Syria; it's always been about Iran.
This especially applies to the Saudi pledge to flood the global oil market with a spare oil production capacity that any self-respecting oil analyst knows they don't have – or rather wouldn't use; after all, the House of Saud badly needs high oil prices to bribe its restive eastern province population into not even thinking about that Arab Spring nonsense.
Clinton got the pledge from the House of Saud in person, before landing in Istanbul. Washington's return gift was of the Pentagon kind; the GCC soon will be protected from "evil" Iran by a US-supplied missile shield. That implies that an attack on Iran may have been discarded for 2012 – but it's certainly "on the table" for 2013.
Asian nations – especially BRICS members China and India – will keep buying oil from Iran; the problem is what the European poodles will do. Other real problems are that the Kurds in northern Iraq are taking their oil off the market until Baghdad pays them the share they had agreed upon. And then there are Syria's 400,000 barrels a day, which have been dwindling over the past few months.
Still, the Saudis will keep playing the make-believe oil scenario as a gift to Washington – as the US pressures compliant European Union poodle economies and extremely wary Asians they have no reason to keep buying Iranian oil.
But then into this mess in Istanbul Iraqi Prime Minister Nuri al-Maliki – whose power is a direct consequence of Washington's invasion and destruction of Iraq – steps in with quite a bang.
Here it is, in his own words:
We reject any arming [of Syrian rebels] and the process to overthrow the [Assad] regime, because this will leave a greater crisis in the region … The stance of these two states [Qatar and Saudi Arabia] is very strange … They are calling for sending arms instead of working on putting out the fire, and they will hear our voice, that we are against arming and against foreign interference … We are against the interference of some countries in Syria's internal affairs, and those countries that are interfering in Syria's internal affairs will interfere in the internal affairs of any country … It has been one year and the regime did not fall, and it will not fall, and why should it fall?"
Maliki knows very well that the ongoing and already escalating weaponizing of Sunni Syrians – many of the Salafi and jihadi kind – will inevitably spill over into Iraq itself, and threaten his Shi'ite-majority government. And that irrespective of the fact that his administration supports the close Iran-Syria relationship.   www.atimes.com/atimes/Middle_East/ND06Ak03.html
Best Things (and some worst sometimes) in the History of the World
Vonnegut's 8 Tips for Short Story Writing 1. Use the time of a total stranger in such a way that he or she will not feel the time was wasted.
2. Give the reader at least one character he or she can root for.
3. Every character should want something, even if it is only a glass of water.
4. Every sentence must do one of two things—reveal character or advance the action.
5. Start as close to the end as possible.
6. Be a Sadist. No matter how sweet and innocent your leading characters, make awful things happen to them—in order that the reader may see what they are made of.
7. Write to please just one person. If you open a window and make love to the world, so to speak, your story will get pneumonia.
8. Give your readers as much information as possible as soon as possible. To hell with suspense. Readers should have such complete understanding of what is going on, where and why, that they could finish the story themselves, should cockroaches eat the last few pages.   www.huffingtonpost.com/2012/04/06/kurt-vonnegut-writing-tips_n_1408289.html