We Say Fight Back!
False Flags Flying: Fake Unions Plan Faux Mayday
The Rouge Forum is interested in teaching and learning for a democratic society. You are invited to join us.
Resist.

June 23-24, 2017
Saint Louis University
St. Louis, Missouri
Congratulations on the publication of:
Rethinking Social Studies challenges readers to reconsider conventional thought and practices that sustain the status quo in classrooms, schools, and society by critically engaging with questions and issues such as: neutrality in the classroom; how movement conservatism shapes the social studies curriculum; how corporate‐driven education affects schools, teachers, and curriculum; ways in which teachers can creatively disrupt everyday life in the social studies classroom; going beyond language and inclusive content in social justice oriented teaching; making critical pedagogy relevant to everyday life and classroom practice; the invisibility of class in the social studies curriculum and how to make it a central organizing concept; class war, class consciousness and social studies in the age of empire; what are your ideals as a social studies education and how do you keep them and still teach?; and what it means to be a critical social studies educator beyond the classroom.  www.infoagepub.com/products/Rethinking-Social-Studies
The Little Red Schoolhouse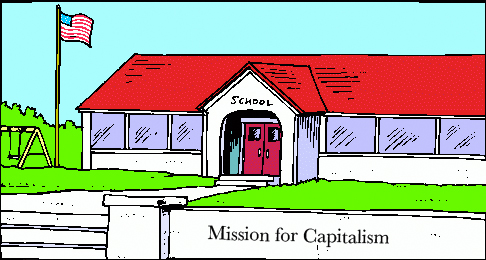 Faux May Day and historical revisionism are part of a long tradition of duplicity in AFT… UFT has always censored words the leadership didn't like…
Susan Ohanian – April 24, 2017
I have my own small experience with the AFT shunning of information. For several years I wrote book reviews for the New York State United Teachers (NYSUT) monthly publication. The staff sent me free unreadable books along the lines of The History of Concrete. So I bought and reviewed books of more interest and importance to the lives of teachers. My reviews were long and contentious–and a whole lot of fun.
First the editor complained that I was reviewing books he hadn't sent. Then he complained they were too long. Then he informed me "No more reviews." He said book reviews just didn't meet the needs of teachers.  More: www.substancenews.net/articles.php?page=6744&section=Article
Panicked Borrowers, and the Education Department's Unsettling Silence
It was bad enough late last month when the Education Department, in a legal filing, informed the nation's public servants that they shouldn't trust its administrator's word about whether their student loans qualify for its debt forgiveness program.
But the panic among borrowers that the newfound uncertainty unleashed helps illuminate an additional problem with the public service loan forgiveness program: Many people who believe that they qualify — and entered graduate school, borrowed piles of money and chose employers accordingly — may not realize that they are not making qualifying payments or that certain loans are not eligible for forgiveness.
The program, which began in 2007, was enacted with what was supposed to be a clear-cut proposition: People who worked for 10 years in public service jobs and made regular payments would have the remainder of their federal student loans forgiven. A wide variety of jobs were supposed to qualify, from nonprofit work to teaching in a public school or practicing medicine at a public hospital.
But now, 10 years later, the legal filing has sown all manner of confusion — which itself comes in the wake of a disheartening amount of misdirection given to borrowers. The Consumer Financial Protection Bureau receives plenty of complaints about loan servicers offering incorrect information. And well-meaning employers may also pass along bad advice. www.nytimes.com/2017/04/07/your-money/student-loans/panicked-borrowers-and-the-education-departments-unsettling-silence.html?_r=0
A Teachers' Union Against the Teachers–
Organized Labor and the Crisis at City College of San Francisco
In the years after the financial crisis of 2008–09, educational institutions across the country were starved of funds. From 2007 to 2012, when demand was soaring, California's community colleges faced cuts of $1.5 billion, while an estimated "500,000 students were shut out of the system."7 However, CCSF Chancellor Don Griffin did not respond to the budget crisis by reducing class offerings and laying-off employees, as might be expected. Griffin and other college administrators instead sought to limit cuts by drawing on the college's reserves, deferring facilities maintenance, and not replacing administrators who had recently left. As a result, CCSF's student population dropped by less than 10 percent from 2008 to 2011–12, while other urban districts in the state experienced much steeper declines. In Los Angeles, community college enrollment dropped by 15.5 percent, or over 42,000 students. In San Diego, the figure was almost 20 percent. Until 2012, CCSF's student population remained comparatively stable.8    monthlyreview.org/2017/04/01/a-teachers-union-against-itself/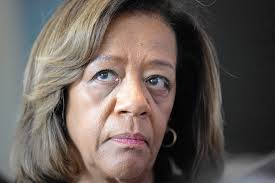 Ex-Chicago schools chief gets 4-½ years in prison for bribery scheme
The former chief executive of the cash-strapped Chicago public school system was sentenced on Friday to 4-½ years in prison for her part in a scheme to steer more than $20 million in taxpayer money to a former employer in exchange for hundreds of thousands of dollars in kickbacks.
The sentencing of Barbara Byrd-Bennett comes more than 17 months after she pleaded guilty to conspiring with two executives from an educational consulting company to help them win lucrative contracts with the school system.
It marks the coda to the downfall of Byrd-Bennett, who started her career as a teacher working in a troubled New York City public school and went on to become a prominent figure in urban education. Before her time in Chicago, she served as the head of the Cleveland Metropolitan School District and as the chief academic and accountability officer for Detroit Public Schools.     www.usatoday.com/story/news/2017/04/28/ex-chicago-schools-chief-faces-sentencing-kickback-scheme/101021272/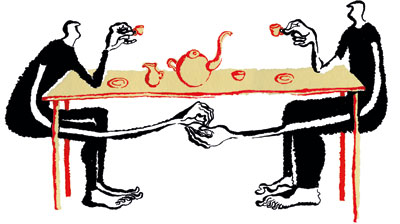 Blast from the Past:
Ex-schools chief Deasy's next step: build alternative juvenile prisons
John Deasy, the controversial former superintendent who led the Los Angeles Unified School District for three-and-a-half turbulent years, is embarking on a new venture that could prove just as challenging: keeping juvenile offenders from returning to jail.
Deasy wants to do that by opening alternative juvenile prisons in Los Angeles and Alameda counties that could include activities such as yoga, meditation, art, counseling, athletics and education. His goal is to reduce recidivism by 50%.
The vehicle, he said, will be a new nonprofit he is creating called New Day, New Year. He plans to begin working on the project full-time in October. He is "just beginning to think through" the details and is working to line up funding, he said.  www.latimes.com/local/education/la-me-deasy-juvenile-prison-reform-20160726-snap-story.html
The International Hot War of the Rich on the Poor
For the anniversary of the US rout in Vietnam, and the temporary victory of the Vietnamese People:
With the April 29/30th anniversary of the victory of Vietnam over the US in 1975 approaching, the lessons from that war apply today, especially the fact that the US government lied incessantly. This is a brief video, made by a colleague, about the collapse and final rout of the US Military, perfect for classrooms.
The link below is a fast review of the history of the wars on Vietnam, with live connections to video, music, etc.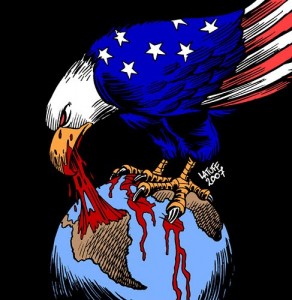 The Winter Soldier video is about 1 1/2 hours, and worth every minute
…
CBS News investigation exposes drug abuse among Navy SEALs
The Navy SEALs, one of the most elite special forces, has not been immune to the drug crisis — but the leadership has ignored the abuse for years, CBS News has learned.
A CBS News investigation exposes drug use among the Navy SEALs and reveals exclusive video in which a SEAL commander addresses the drug problem within their ranks in a two-part series that begins on Tuesday on the "CBS Evening News" and continues on Wednesday on "CBS This Morning."…
With their identities disguised, three current and former SEALs tell Martin that multiple members of SEAL teams have tested positive for illegal drugs such as cocaine, marijuana and ecstasy and that SEAL leadership has ignored the abuse for years.
"The drug use, it's growing," one SEAL tells Martin.
After five SEALs were kicked off the teams for drugs this past fall, the East Coast SEAL Commander Capt. Jamie Sands halted all training and ordered a "safety stand down" to address the problem. Every SEAL under his command — even those deployed around the world — were required to watch a meeting that addressed the drug problem. The Navy provided CBS News with an edited recording of the meeting after it was described to CBS News by multiple SEALs who attended or watched it. www.cbsnews.com/news/drug-use-growing-among-navy-seals-leadership-ignored-problem/?utm_source=Sailthru&utm_medium=email&utm_campaign=EBB%2004.12.2017&utm_term=Editorial%20-%20Military%20-%20Early%20Bird%20Brief
Crow Hopping to WWIII
or:
Stephen Cohen: This is Most Dangerous Moment in U.S.-Russian Relations Since Cuban Missile Crisis
Secretary of State Rex Tillerson has wrapped up a visit to Moscow, where he met with Russian President Vladimir Putin and Russian Foreign Minister Sergey Lavrov. The meetings come at a time of increased tension between Washington and Moscow. On Wednesday during a press conference, President Trump said relations with Russia had reached a new low point. Trump's comments came a day after the White House accused Russia of attempting to cover up the role of the Syrian government in the recent chemical attack in Syria that killed 87 people. Russia has rejected the claim, saying the U.S. has been too quick to blame Syrian President Bashar al-Assad. 
www.democracynow.org/2017/4/13/stephen_cohen_this_is_most_dangerous
US Special Forces 'Monitor' Situation After Turkish Attacks
Officially, US commanders say the troops are there "monitoring the situation," though Syrian Kurds say that in practice the US deployment is an attempt to establish a "buffer" to try to limit fighting between the two sides,, which has been raging since Turkey's airstrikes were carried out.
From Turkey's perspective, there are two trains of thought on their recent push to attack the Kurdish YPG, who they consider "terrorists." On the one hand, there seems to be some hope that if they can displace the Kurds enough during the buildup to the invasion of the ISIS capital of Raqqa, the US might agree to change it to a joint US-Turkey operation.
On the other hand, there is talk that this amounts to Turkey being more forceful about their objections to the US backing the Kurds, and that this might be the start of a "collision course" which brings Turkey and the US into direct competition over Syria.  news.antiwar.com/2017/04/28/us-deploys-troops-in-ne-syria-as-buffer-between-kurds-turkey/
George W. Bush on Trump's Inaugural Address: "That was some weird shit," in a most interesting and long New Yorker article here.  www.newyorker.com/magazine/2017/05/01/a-hundred-days-of-trump
Cannon Fodder–4th Worst Job in US –an annual worst-jobs report has ranked enlisted service member as the fourth-worst occupation in the country — a step down from last year.
CareerCast put enlisted troops ahead of only newspaper reporters, broadcasters and loggers in its  2017 list, which factors in salary, hours, stress, work environment and  multiple other data sets.
Last year, the career site ranked enlisted personnel as fifth-worst, a position held in 2017 by pest control workers. Troops slid behind disc jockeys, who rose from fourth-worst in 2016 to the No. 6 spot in the countdown this year.
Thinking of going officer to improve your lot? CareerCast ranks "military general" as the 170th-best job among the 200 occupations listed, despite the attached median salary of more than $200,000. www.militarytimes.com/articles/report-enlisted-service-member-is-the-fourth-worst-job-in-america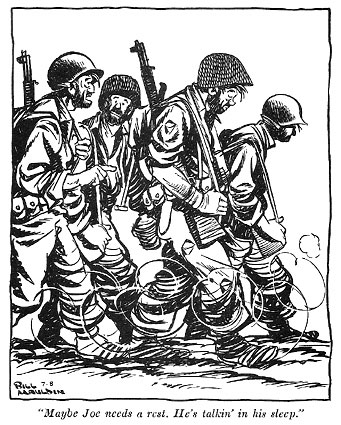 Army Rangers killed in Afghanistan were possible victims of friendly fire
U.S. officials are investigating whether the two Army Rangers killed this week battling Islamic State loyalists in Afghanistan were victims of a friendly fire incident, the Pentagon said Friday.
Sgt. Joshua Rodgers, 22, and Sgt. Cameron Thomas, 23, were hit by small-arms fire during a high-stakes raid on the headquarters of Abdul Hasib, whom U.S. officials identified as ISIS Khorasan's emir. The hellish, hours-long firefight occurred in Achin, a restive district along the Pakistan border where in recent weeks American and Afghan forces have dramatically escalated their campaign to crush the terror group.
"This was a dangerous mission. We knew this going in," said Navy Capt. Jeff Davis, a Pentagon spokesman. "This was the leader of ISIS in Afghanistan. We knew he would be heavily protected." www.armytimes.com/articles/two-army-rangers-killed-fighting-isis-in-aghanistan-identified
The International Economic War of the Rich on the Poor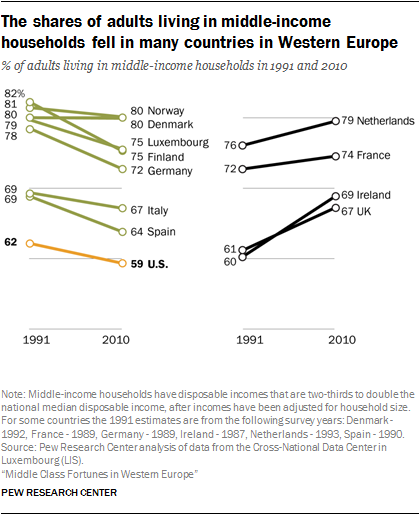 Middle Class Fortunes in Western Europe
From 1991 to 2010, the middle class expands in France, the Netherlands and the United Kingdom, but, as in the United States, shrinks in Germany, Italy and Spain
The fortunes of the middle classes in Western Europe's largest economies are moving in opposite directions. From 1991 to 2010, the shares of adults living in middle-income households increased in France, the Netherlands and the United Kingdom, but shrank in Germany, Italy and Spain.1
The divergent trajectories are linked to differences in how the incomes of households overall in these countries have evolved. France, the Netherlands and the UK experienced notable growth in disposable (after-tax) household income from 1991 to 2010. Meanwhile, incomes were either stagnant or falling in Germany, Italy and Spain.  www.pewglobal.org/2017/04/24/middle-class-fortunes-in-western-europe/
New York City's richest residents gained most in the recovery from the 2007 financial crisis, while the bottom half lost ground.
The Independent Budget Office, a nonpartisan public fiscal monitor, said it examined annual samples of 770,700 personal tax returns to determine income distribution among New Yorkers from 2006 to 2014, adjusting the data for inflation.
During that nine-year span, median income among the top 50 percent of New York earners remained about $65,000, while that of the bottom half dropped 13 percent to $12,360. The top 1 percent took home 41 percent of the city's income distribution in 2014, a slight increase from 2006. Income from the bottom half totaled 5.6 percent, a decline of 1.8 percentage points.  www.bloomberg.com/politics/articles/2017-04-19/nyc-s-richest-people-benefited-most-from-recovery-study-shows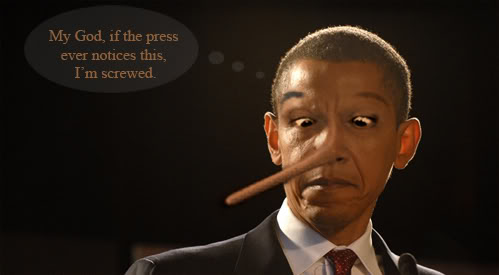 Obamagogue Cashes In Two post-presidential Barack Obamas emerged this week.
The first was the civic-minded one, seated on a stage in Chicago, where he talked about the importance of community organizing and told a student audience that he had succeeded in politics because people believed "my values were not so different from theirs."
The other was the one set to cash a $400,000 check from Wall Street — the same amount as his yearly salary during his time in the White House — when he delivers a speech in September at a health care conference run by Cantor Fitzgerald, a trading and investment firm. www.nytimes.com/2017/04/26/us/politics/obama-speech-fee.html?_r=0
The Emergence of Fascism as a Popular Mass Movement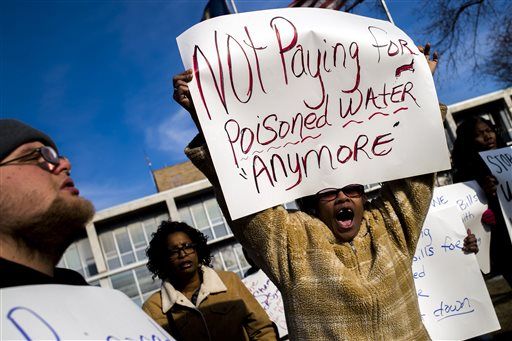 6 Arrested for Wearing Hats, Cussing At Flint Water Meeting
Six people were arrested Thursday in Flint in a disturbance that erupted after police stopped men who hadn't removed their hats and denied their entrance to a church sanctuary where a town hall meeting on whether the city should begin drawing water again from the Flint River, a move three years ago that resulted in dangerously high levels of lead in the city drinking water supply, or continue getting it from Detroit. Some people who were "cussing in the church" during the emotionally raw town hall meeting were also escorted out of the House of Prayer Missionary Baptist Church by police, according to media reports.
The police actions angered many in the crowd of about 100 people who argued that when the church opened its doors for government purposes, traditional decorum shouldn't apply. At the onset of the meeting, Flint Police Chief Tim Johnson asked the men to remove their hats and warned that anyone who was disruptive would be removed.   patch.com/michigan/detroit/6-arrested-wearing-hats-cussing-flint-water-meeting#email-in-article-id
Solidarity for Never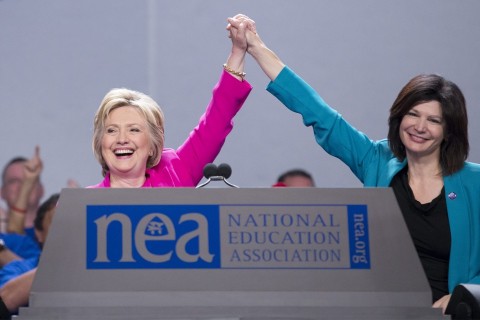 Above, NEA's Garcia rigged NEA's internal processes to give an early endorsement to the failed Democratic Party hack. Then, Garcia backed the wrong candidate for the Democratic Party chair. Garcia and Weingarten got NEA and AFT to spend more than $30 million on Clinton's flop.
National Education Association and American Federation of Teachers Officials' Pay
In 2016, NEA president Lily Garcia took a total of $512,504. Not bad, and well up from the approximately $466,000 her predecessor, Dennis Van Roekel made, but not nearly the $686,949 the bulbous empty suit and former NEA president Reg Weaver made in his last year in office.
NEA Vice President, Becky Pringle, made $434,738, in total.
Pringle may be unhappy as the Secretary-Treasurer Princess (sic) Moss took home slightly more at $436,423…
Despite being half NEA's size, AFT boss Randi (Rhonda) Weingarten made $497,311 in 2016, nearly matching her NEA counterpart.
NEA has term limits. Weingarten, whose mother joined in the racist New York Ocean-Hill Brownsville strike, may be president for life.
AFT Secretary Treasurer Loretta Johnson took home $358,225.
These salaries, about ten times the average teacher wage (labor bosses representing many school workers who live in trailers, support personnel who must bunk up with others, etc.), are fruits of the empire and made possible by the empire.   www.richgibson.com/MayDay/faux/
Below, Clinton, perhaps made up with the $30 million NEA and AFT gave her, and Weingarten
Downtrodden Yalies Seek a New layer of enemies with hunger strike  (though they say they will eat if they get too hungry) 
As a union push stalls at Yale University, organizers are stepping up pressure to bring the administration to the negotiating table, including a vow by some graduate students to go on a hunger strike until talks begin.
Graduate assistants in eight departments at the Ivy League school voted in February to unionize, and they appeared to be on track to become among the first to do so since the National Labor Relations Board ruled last year that those assisting in teaching and research at private universities have a right to union representation.
But Yale is challenging the union strategy of voting by individual departments, as opposed to the graduate school as a whole, and has said the requests by Local 33-UNITE HERE for collective bargaining are premature.
Hundreds of graduate students and their supporters participated in a march Tuesday evening to the home of Yale's president, Peter Salovey, and demonstrators announced that eight graduate students would begin a fast  www.washingtonpost.com/business/yale-grad-students-pledge-hunger-strike-to-press-union-bid/2017/04/26/19dc7fda-2a9c-11e7-9081-f5405f56d3e4_story.html?utm_term=.3c0a1a1c813d
Spy versus Spy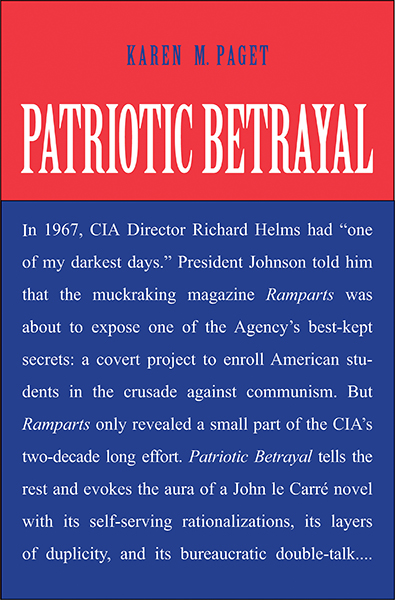 "The creation of the CIA in 1947 specifically barred it from domestic activities.  We might as well believe in the tooth fairy.  In 1967, Ramparts magazine published news that the CIA had infiltrated the National Student Association, manipulating its leaders and programs in behalf of the Cold War.  But now Karen Paget has taken the story to almost unbelievable behind-the-scenes revelations.  The extent and breadth of the CIA's activities is filled with illegal domestic activities, fraught with duplicity, stupidity, and self-serving explanations.  Never mind that it corroded innocent activities and did significant harm to the US's reputation and international standing. Patriotic Betrayal  is an insightful, incredulous tale; it should leave you shaking your head, at the true and appalling story this essential book tells."
—Stanley Kutler, author of  Abuse of Power: The New Nixon Tapes and The Wars of Watergate: The Last Crisis of Richard Nixon
"A dramatic insider's account of how the CIA turned the National Student Association– unknown to most of its young, idealistic members– into a covert operational arm of the agency financed secretly through a web of foundation fronts.  Patriotic Betrayal is an important and impressively documented contribution to the history of the Cold War." —David Wise, author of Tiger Trap: America's Secret Spy War with China, and coauthor of The Invisible Government   karenmpaget.com/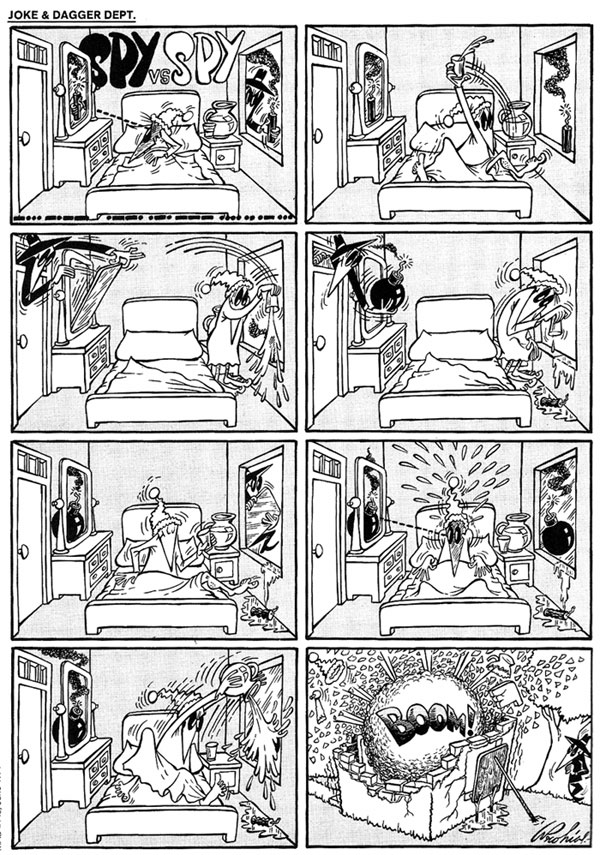 Honest! This time the NSA promises not to spy on us!  The National Security Agency has halted one of the most disputed practices of its warrantless wiretapping program: collecting Americans' emails and texts to and from people overseas that mention foreigners targeted for surveillance, according to officials familiar with the matter.
National security officials have argued that such surveillance is lawful and helpful in identifying people who might have links to terrorism, espionage or otherwise are targeted for intelligence-gathering. The fact that the sender of such a message would know an email address or phone number associated with a surveillance target is grounds for suspicion, these officials argued.
The decision is a major development in American surveillance policy. It brings to an end a once-secret form of wiretapping that privacy advocates have argued overstepped the Fourth Amendment's ban on unreasonable searches — even though the Foreign Intelligence Surveillance Court upheld it as lawful — because the government was intercepting communications based on what they say, rather than who sent or received them.
The Magical Mystery Tour
Cardinal Dolan contemplates selling NY chancery in biting letter to priests
New York Cardinal Timothy Dolan smiles after celebrating a Mass for young adults Dec. 7, 2016, at St. Patrick's Cathedral in New York City. (CNS/Gregory A. Shemitz)
New York Cardinal Timothy Dolan has informed his clergy he is considering moving his archdiocese's headquarters out of the building it now occupies in midtown Manhattan in a bid to save money and to correct what he says is an "unfair and inaccurate perception of the archdiocese as some bloated, money-grabbing corporation.
"The cardinal revealed the possible move in a highly charged letter to his priests and deacons in late November in which he also takes the clergy to task for complaining about how the archdiocese collects money from its parishes and exhorts them to challenge parishioners to donate more frequently and abundantly.
Throughout the four-page letter, obtained by NCR, Dolan takes a biting tone, lamenting that his priests reportedly either complain about the archdiocese interfering in their parishes' affairs or that his administration is not doing enough to support their particular favored areas of ministry.Pushing his priests to encourage their parishioners to give more money to the archdiocese, the cardinal asks at one point: "Why are we afraid to urge our people to sacrificial generosity?""The Evangelicals sure demand stewardship!" he exhorts. "The Mormons sure do! Our Jewish Synagogues do! Planned Parenthood sure pushes its donors! The secular causes sure do!"
At another point in the document, titled Pastores Dabo Vobis ("I will give them shepherds,") the cardinal identifies that one "overarching problem" he is facing is "a mistrust of, and antagonism towards, the archdiocese."  www.ncronline.org/news/vatican/cardinal-dolan-contemplates-selling-ny-chancery-biting-letter-priests
Cardinal Dolan  has a poor track record when it comes to responding to the cries of those who suffered, as children, at the hands of predator priests. While archbishop of Milwaukee (2002-2009) Timothy Dolan was credibly accused of hiding diocese money to insulate it from seizure in clerical sex abuse cases. His Milwaukee diocese went bankrupt two years after he departed it. He has been accused of paying predator priests to disappear, has strenuously opposed New York's Child Victims Act in all of its iterations, and he has joined forces with the lunatic Catholic fringe to publicly degrade victims traumatized by sexual abuse by Catholic clerics.   www.huffingtonpost.com/michele-somerville/a-good-first-step-cardina_b_12393742.html
NM–Clergy sex victims blast the Archdiocese of Santa Fe's new secrecy move
Santa Fe's Catholic archbishop is doing the "same old, same old," – fighting in court to keep clergy sex crimes and cover ups covered up.
Several years ago, when speaking of the crisis, the then Pope told Irish bishops, "It is important to establish the truth of what happened." And under intense international pressure, the Pope pledged to "do everything possible" to prevent future child sex crimes. But apparently, Archbishop John Wester wasn't listening or disagrees. He's battling to prevent the truth from being exposed and potentially enable future child sex crimes by keeping secret about those who committed and concealed such horrors.
www.abqjournal.com/994164/judge-asked-to-review-gag-order-sought-by-church.html
Wester continues the same, devastating and reckless practices that Catholic officials have engaged in for decades. We hope he'll read and heed his boss' promises and then reconsider his aggressive and expensive legal maneuvers.  www.snapnetwork.org/clergy_sex_victims_blast_the_archdiocese_of_santa_fe_s_new_secrecy_move
A Georgia-based pastor and anti-gay activist who called victims of the Orlando nightclub shooting "sinners" has been convicted of child molestation.
It took a Brunswick, Georgia, jury only an hour to find Kenneth Adkins guilty of two counts of aggravated child molestation, five counts of child molestation and one count of enticing a child, The Washington Post reported.
Adkins, 57, was arrested in August, two months after saying the 49 victims shot to death inside Pulse, a gay nightclub, "got what they deserve."  nypost.com/2017/04/12/pastor-who-called-nightclub-shooting-victims-sinners-found-guilty-of-child-molestation/
The Best Things in the History of the World
Rachel is Pregnant!!!
Beau and Noi had a baby: Brooke–9 lbs+!!!!
39–again! Happy happy Merry Merry and don't forget to smash the state
April 29/30, 1945: Mass Suicide of Nazis —Nazi Germany was the large-scale deaths of civilians, government officials and military personnel during the final weeks of the Third Reich and the war in Europe. Aside from high-ranking Nazi officials like Adolf Hitler, Joseph Goebbels and Philipp Bouhler, many others chose  Selbstmord (German: Self-murder) rather than accept the defeat of Germany.[1] Studies have shown that the suicides were influenced through Nazi propaganda (reaction to the suicide of Adolf Hitler), the tenets of the Nazi Party, and the anticipated reprisals following the Allied occupation of Nazi Germany. For example in April 1945, at least 1,000 people killed themselves and others within 72 hours as the Red Army neared the East German town of Demmin.  en.wikipedia.org/wiki/Mass_suicides_in_1945_Nazi_Germany
.
Detroit. Flint. Compton. The Wall(s). Again.
So Long
Radical Detroit Attorney Marsha Baliff
Royal Oak's police chief is criticizing Warren's mayor after he commented on a fatal house fire in Royal Oak and alleged the woman who lived there was murdered.
The cause of the woman's death and the fire are still under investigation.
"We have no indication at this point it was a homicide," Police Chief Corrigan O'Donohue said Tuesday. "But the investigation is ongoing and we won't know (definitively) until the investigation is completed."
The body of Royal Oak attorney Marsha Baliff, 72, was found in a hallway after a fire destroyed most of her house early March 11 in the 300 block of South Minvera.  www.dailytribune.com/article/DT/20170321/NEWS/170329890