We Say Fight Back!
It is Not Just Bankers. It is Capitalism. The core issue of our time is the potential of a mass, activist, class conscious movement to transcend capitalism met by the reality of a corporate state, fascism, conducting perpetual war on workers world-wide.
Chilean Students Hit the Streets Again: Thousands of students have marched in the streets of the Chilean capital after talks between their representatives and government officials failed to meet students' demands.
Several people, including reporters, were injured in Thursday's march after police tried to disperse the protesters in Santiago's Plaza Italia using water cannons and tear gas.
Camila Vallejo, the spokeswoman for leaders of students at 25 state universities, called the violence unprecedented, even after five months of confrontations between students and police. english.aljazeera.net/news/americas/2011/10/2011106181758485239.html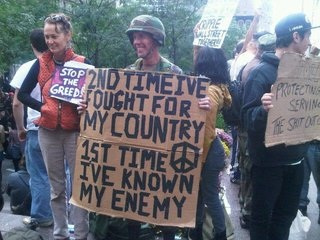 Above, Marines and other vets join Occupation Past time to talk to the Troops!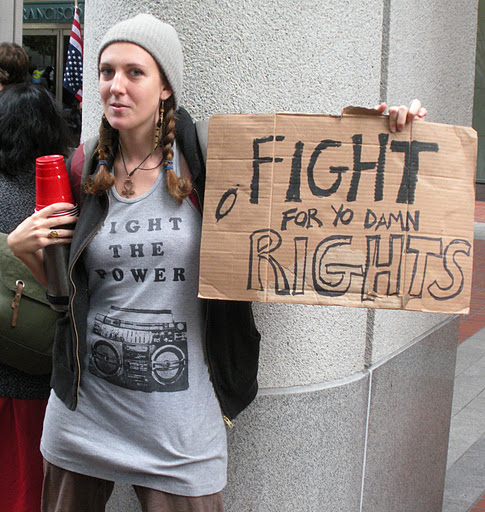 Above, San Fran Occupier, photo by Brook
Fox News Maced at NYC Occupation (hold the applause): While covering the Occupy Wall Street protests on Wednesday night, Fox 5 photographer Roy Isen was hit in the eyes by pepper spray from a police officer and Fox 5 reporter Dick Brennan was hit by an officer's baton.
The protests on Wall Street continued to grow all day. The rallies and their participants are showing no signs of slowing down. www.myfoxny.com//dpp/news/occupy-wall-street-protest-broadens-scope-20111005
www.youtube.com/watch?v=hFHlDdGs0pI
McGill University Support Staff on Strike while Profs (typically) scab: McGill University has won a Quebec Superior Court injunction that dramatically limits the ability of striking support staff from speaking to students and faculty about their concerns.
"We are deeply disappointed that Principal Heather Munroe-Blum has established the equivalent of a 'No Free Speech Zone' at McGill," said Kevin Whittaker, President of McGill University Non-Academic Certified Association (MUNACA).
"It is disturbing when the head of McGill University, who professes to promote inquiry and discussion, uses her substantial resources to silence views that question her commitment to fairness," added Whittaker. The union will abide by the injunction, while continuing to inform students and faculty about our core issues with respect to protections for our pensions, benefits and the implementation of a proper wage scale.  http://www.munaca.com
Vermont School Bargaining Stalls: Negotiations between teachers and local school boards are teetering on collapse after a three-hour meeting Wednesday failed to produce agreement on basic ground rules for continued talks.
The two sides remain divided on major issues. They also disagree on the starting point for renewed negotiations, after the Southwestern Vermont Education Association, a branch of the Vermont National Education Association, rejected a "final" contract offer in resounding fashion last month.
Union officials said they attempted to propose contract terms at the Wednesday meeting. Board negotiators did not consider the offer, though. Instead, according to union officials, negotiators representing the Southwest Vermont Regional Technical School District and five school boards in the Southwest Vermont Supervisory Union presented "a long list of restrictive conditions on future meetings."  http://www.benningtonbanner.com/ci_19059100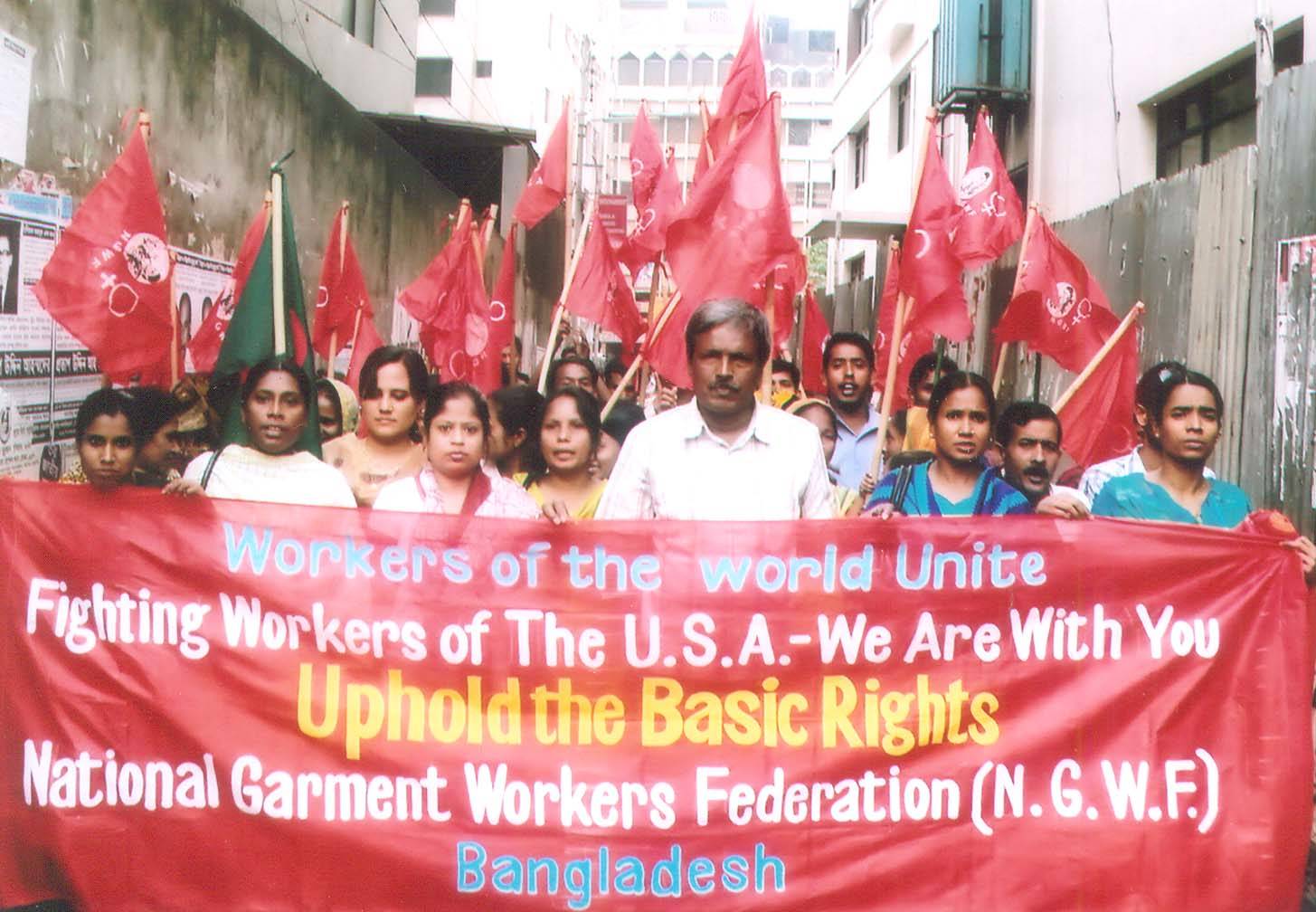 Congratulations to Dave Stratman on the Publication of "Thinking about Revolution" (pdf)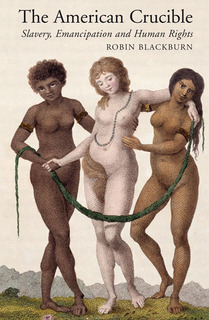 Congratulations to Robin Blackburn on the Publication of "American Crucible" by the late eighteenth century the Atlantic boom had sown far and wide the seeds of subversion, provoking colonial rebellion, slave conspiracy and popular revolt, the aspirations of a new black peasantry and 'picaresque proletariat', and the emergence of a revolutionary doctrine: the 'rights of man'. The result was a radicalization of the principles of the Enlightenment, with the Haitian Revolution rescuing and reshaping the ideals memorably proclaimed by the American and French revolutions.
Blackburn charts the gradual emergence of an ability and willingness to see the human cost of the heedless consumerism and to challenge it. The anti-slavery idea, he argues, brought together diverse impulses—the 'free air' doctrine maintained by the common people of Europe, the critique of the philosophes and the urgency of slave resistance and black witness. The anti-slavery idea made gains thanks to a succession of historic upheavals. But the remaining slave systems—in the US South, Cuba and Brazi—were in many ways as strong as ever. They were only overturned thanks to the momentous clashes unleashed by the American Civil War, Cuba's fight for independence and the terminal crisis of the Brazilian Empire.  http://www.versobooks.com/books/126-the-american-crucible
Computer Virus Eating US' Hellbound Drones: A computer virus has infected the cockpits of America's Predator and Reaper drones, logging pilots' every keystroke as they remotely fly missions over Afghanistan and other warzones.
The virus, first detected nearly two weeks ago by the military's Host-Based Security System, has not prevented pilots at Creech Air Force Base in Nevada from flying their missions overseas. Nor have there been any confirmed incidents of classified information being lost or sent to an outside source. But the virus has resisted multiple efforts to remove it from Creech's computers, network security specialists say. And the infection underscores the ongoing security risks in what has become the U.S. military's most important weapons system.
"We keep wiping it off, and it keeps coming back,"  http://www.wired.com/dangerroom/2011/10/virus-hits-drone-fleet/
The Little Red Schoolhouse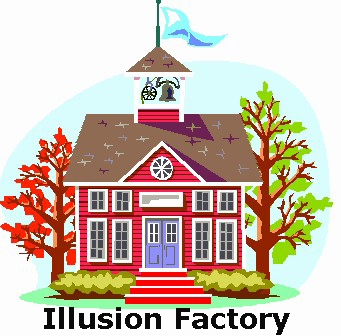 Bet on it. Teacher Ed Profs Will Trample Each other and Students for Obamagogue's Bribe: The Obama administration announced a new $185 million competition Friday that would reward colleges for producing teachers whose students perform well on standardized tests.
The competition would require states to provide data linking collegiate teaching programs inside their borders to the test scores of their graduates' students. Under the proposal, to be eligible for the money, states would have to ratchet up teacher-licensing exams and close persistently low-performing teacher-training programs.
The competition is part of the administration's planned broad overhaul of teachers' colleges of education, which have come under attack recently for failing to properly train teachers. online.wsj.com/article/SB10001424052970204138204576602992880869786.html
SAT Scores Down: SAT reading scores for the high school class of 2011 were the lowest on record, and combined reading and math scores fell to their lowest point since 1995, dropping 18 points in 5 years. Read on to learn what the College Board recommends to reverse this trend.
The College Board, which released the scores Wednesday, said the results reflect the record size and diversity of the pool of test-takers. As more students aim for college and take the exam, it tends to drag down average scores. tweentribune.com/teachers/sat-scores-hit-all-time-low
"I am a History Teacher Teaching Lies" On Sept. 30, 2011, I woke up and began my daily routine, preparing for another day of teaching history to high school students. In the course of an average school year, I literally teach the history of the world — ancient history, the Middle Ages, the Renaissance, the Enlightenment, and modernity. My 11th-grade students take U.S. history, a required course for any student who plans to graduate.
In that class, we spent a great amount of time going, nearly line by line, through the Constitution and the Bill of Rights. I tell them that nothing else in U.S. history matters as much as their understanding of these documents. The Constitution is what protects us, guides us, and rules us as a people. The Bill of Rights, I say, guarantees that government does not overstep the bounds laid out for it by the Founding Fathers. Those amendments help protect our dignity, our liberty, and our lives.  I am lying to them…http://original.antiwar.com/bphillips/2011/10/04/i-am-a-history-teacher-and-i-lie-to-my-students/
Michigan State, like most US campuses, a hometown for Racists: As many as 1,000 students attended an emergency town hall at Michigan State University this evening to protest what they called racial discrimination on campus, including slurs scrawled on doors and a black doll hung from the ceiling in a classroom.
"The N-word is being written on our doors … confederate flags are being hung," MSU student Jasmine Fountain said. "Meanwhile, the university sits by and does nothing."
Brittany Harvey said somebody drew a swastika on her dorm room door last week, and wrote offensive words two days later.
"This year my picture was torn down in the hallway," Harvey said. Hundreds of hands went up when Black Student Association president Mario Lemons asked students how many had experienced racism on the MSU campus.   www.detnews.com/article/20111004/METRO/110040397/1026/MSU-president-decries-racist-incidents-on-campus–police-investigating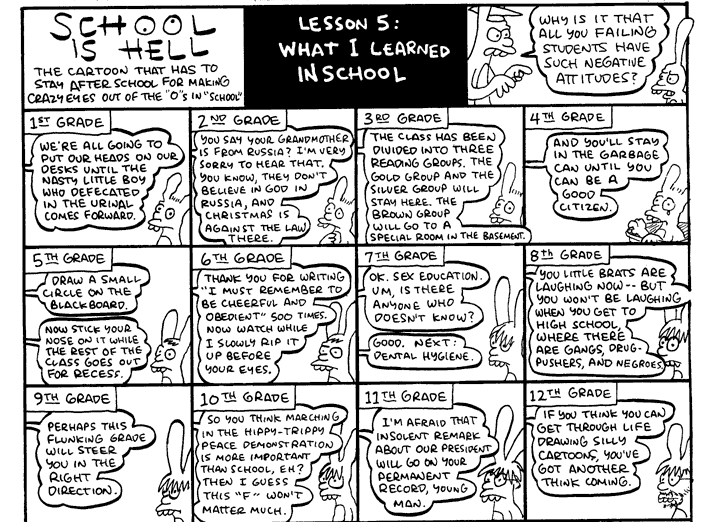 Ford (descendent of Nazi Henry) Would Like to Buy Your Child's Brain, if you will buy a Ford: Ford Motor Co. is joining the General Mills Box Tops for Education program, which raises millions of dollars for U.S. schools.
Starting this month, the Dearborn automaker hopes to help raise more than $1 million for schools during a 60-day program that also promotes Ford vehicles.
The Box Tops program has brought in more than $400 million since it started in 1996. Box Top collectors can raise more money for the school of their choice if they buy a Ford by the end of November, order a brochure from the FordDrivesBoxTops.com or watch a product video on that website.Ford is the first automaker to participate in the program, which is among its education-related initiatives. The automaker has donated more than $100 million to education over the past 15 years. www.detnews.com/article/20111003/SCHOOLS/110030346/1026/schools/Ford-joins-drive-to-boost-schools
Coppers File More Charges vs Orange County Schools Boss: Prosecutors are seeking additional criminal charges against the Newport-Mesa Unified School District's chief.
Supt. Jeffrey Hubbard, 54, faces two felony counts of misappropriation of funds related to his previous job as superintendent of the Beverly Hills Unified School District.
The Los Angeles County district attorney's office plans to take recently acquired evidence to a grand jury in hopes of securing additional charges and possibly joining them with the first two felony charges. www.latimes.com/news/local/la-me-superintendent-charges-20111003,0,4230059.story
Detroit Principal Charged with Fraud, again: investigators found that Miller used public funds to purchase a furnace for $804.95 from a school supplier for use at her home. She paid for the furnace herself only after the school's forensic auditor and certified fraud examiner began to investigate the school's financial records, according to court documents.
The panel also wrote that evidence showed that between 2007 and 2009, Miller obtained $642.28 worth of goods from a school store on a line of credit, which went unpaid until after an investigation of the school's financial records had begun.  http://www.detnews.com/article/20111006/METRO01/110060455/1408/local
Fed Up With Lunch (lots of lunches) Exposes, again, School Food: In January of 2010, an elementary school teacher decided to eat school lunch every day for a year and write about it anonymously as Mrs. Q. on her blog, Fed Up With Lunch.  She secretly photographed the meals, ate them and then described the taste and texture of heavily processed chicken nuggets, an unusual peanut butter and jelly sandwich that made her sick, mystery meats and reheated vegetables. She developed a following of thousands of people. yourlife.usatoday.com/fitness-food/diet-nutrition/story/2011-10-05/School-lunch-investigation-One-teacher-exposes-the-worst-meals/50665110/1
The International Hot War of the Rich on the Poor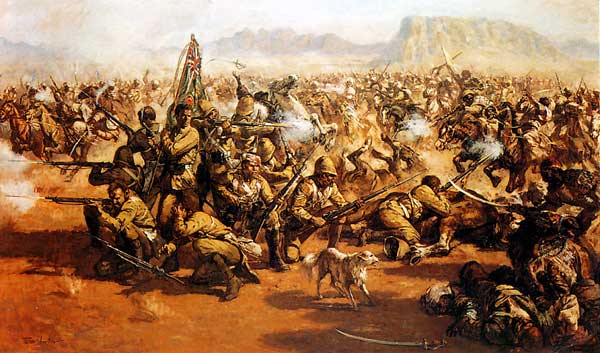 The Battle of Maiwand, 1880, during the Second Afghan War between Great Britain and Afghanistan In 1842 British troops laid waste to Kabul's bazaar as punishment for the destruction of a 10,000-man British army a year earlier, from which there was only one survivor. In 1879 the British destroyed much of the main fortress in Kabul, the Bala Hissar, this time in punishment for their defeat at the Battle of Maiwand.
"Perhaps part of what we are doing here is redressing some of those historic grievances," said Mr Stewart.
Hey Troops! While your Pols and Officers Bargain with the Taliban, Who Will be the Last to die For the Empire? Insurgents attacked four American outposts simultaneously near the border with Pakistan on Friday, striking the positions with multiple rockets and, at one base, a suicide bomber who exploded his vehicle near one of the base's walls.  t it underscored the frustrating complexities of a war entering its second decade. Most of the high-explosive 107-millimeter rockets striking the outposts were fired from just inside Afghanistan, suggesting that the attack had been prepared and launched from Pakistan, and the rocket crews withdrew there as the Americans fired back.
It also highlighted the relative weakness of Afghan soldiers and police officers living and working on the American-built bases. As the attacks escalated in the morning, only the United States military possessed the firepower, communications and skills to fight back in what developed into a long-range, artillery-and-rocket duel.
While the American soldiers organized and coordinated their part of the battle on the outpost here, the Afghan soldiers did not participate. Some simply sat and watched….One noncommissioned officer pulled aside a reporter and vented about the origins of the attacks.
"You know where it all comes from," he said, and nodded toward a nearby ridge. "Pakistan.". www.nytimes.com/2011/10/08/world/asia/attacks-rock-us-outposts-near-afghanistan-pakistan-border.html?hp
Ten Years On: "American Military Deaths in Afghanistan, and the Communities from Which These Soldiers, Sailors, Airmen, and Marines Came–Our findings contradict several aspects of conventional wisdom.
Blacks and Latinos are underrepresented among casualties compared with their share of the population as a whole. Americans who have died in Afghanistan are disproportionately white and Native American working-class young people with no more than a high school education. Twenty-three women were among the dead. They were nearly three times as likely as men to be college graduates and nearly five times as likely as men to begraduates of West Point or another of the military academies.
The greatest burden of casualties in numbers fell on the south and Midwest, but the highest casualty rates were in rural and micropolitan counties in the northeast.We find that nearly half of all casualties came from large metropolitan core cities and their surrounding suburbs, not from rural areas. Rural areas and small towns
have disproportionately high casualty rates (compared with the number of people living in those places), but relatively few casualties come from those communities because so few people live there. While 98 percent of core counties in metropolitan areas with more than one million people (all but one of 58) contributed at least one
death to the total, only 41 percent of suburban counties in these major metropolitan areas, and just 7 percent of rural counties experienced an Afghan war death in the study period. Casualties came not from the poorest cities and counties but disproportionately from counties with somewhat lower than median income typical of
solidly working-class communities…  www.stonybrook.edu/workingclass/publications/Casualty%20study%20main%20report%20Oct%202011.pdf
Ten years on, Taliban says "victory is with us" The Taliban vowed to keep fighting until all foreign forces left Afghanistan in a statement on Friday to mark the 10th anniversary of the U.S. military campaign in the country.
The group's fight in the last decade, "even with scarce weapons and equipment…forced the occupiers, who intended to stay forever, to rethink their position," Taliban spokesman Zabihullah Mujahid said in an English-language statement.
President Hamid Karzai and his Western backers agreed all foreign combat troops would return home by the end of 2014, but the West has promised continued support beyond then in the form of funds and training for Afghan securityforces.  …Even before 2001, Pakistan's economic health was shaky because of global sanctions imposed after it detonated nuclear bombs in 1998. Experts say that the economy was beginning to stabilize by 2000 as improved access to credit gave Pakistanis more purchasing power.
All that came to a halt after the U.S. launched the war in Afghanistan, which destabilized the region and sent investors packing. In the past 10 years, inflation has jumped from 4.4 percent to 16 percent, while Pakistan's national debt has climbed from $30 billion to $60 billion.
Mohmand blamed the "disastrous policy" adopted by Pakistan's former military ruler, Pervez Musharraf, to join the U.S. war effort. When Musharraf seized power in a 1999 military coup, Pakistan lost its membership in the Commonwealth of Nations, a grouping of more than 50 former members of the British Empire.
To help repair his image — or, as Mohmand put it, "legitimize his illegal regime" — Musharraf backed the Afghan war.
"In the 1980s when the Soviet Union occupied Afghanistan, millions migrated to Pakistan, hundreds of thousands perished — but there was no insurgency or collapse of order," Mohmand said. "This time around (Musharraf) plunged Pakistan into a war that it should never be fighting." www.reuters.com/article/2011/10/07/us-afghanistan-anniversary-taliban-idUSL3E7L729X20111007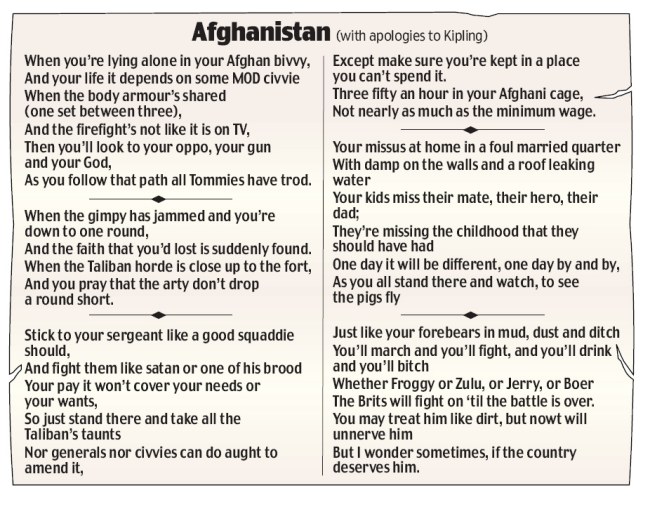 Ten Years On: Pakistan a Basket Case: Ten years into the U.S.-led war in Afghanistan, neighboring Pakistan, despite receiving billions of dollars in U.S. military and financial support, continues to be gripped by an economic crisis and persistent terrorist attacks.
Former U.S. and Pakistani diplomats say that Pakistan's decision to support the war has worsened its own security, dampened exports, reduced foreign investment and tourism and slowed the privatization of its heavily state-controlled industries. All that has led to lower tax revenue, bloated security spending, damage to roads and basic infrastructure and huge costs to care for millions of Pakistanis who have fled the volatile tribal areas and become refugees in their own country.
"Result: a broken country," said Rustam Shah Mohmand, formerly Pakistan's ambassador to Afghanistan.
When the United States invaded Afghanistan on Oct. 7, 2001, Pakistan was already plagued by economic problems and its government accused of supporting Islamist militants fighting Indian rule in the disputed Kashmir region. www.mcclatchydc.com/2011/10/06/126396/10-years-into-afghan-war-pakistan.html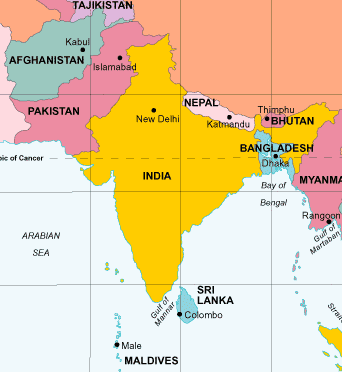 Libya's CIA Led Fake Rebels Cannot Gei their Stories Straight (this is the war the Historians Against the War likes): Libya's interim rulers were busy this week: They cheered the imminent fall of Moammar Gadhafi's hometown, ordered trigger-happy revolutionary fighters out of the capital, formed a new caretaker Cabinet and announced the discovery of 900 corpses in two mass graves.
Only problem was, all those moves turned out to be premature, exaggerated or patently false.
The National Transitional Council, the interim body recognized by the United States and most U.N. members as Libya's highest authority, suffers serious credibility problems. Political grandstanding and the lack of clear military command have fueled a pattern of disinformation that exposes cracks in the council's veneer of leadership. www.mcclatchydc.com/2011/10/06/126444/six-weeks-after-gadhafis-fall.html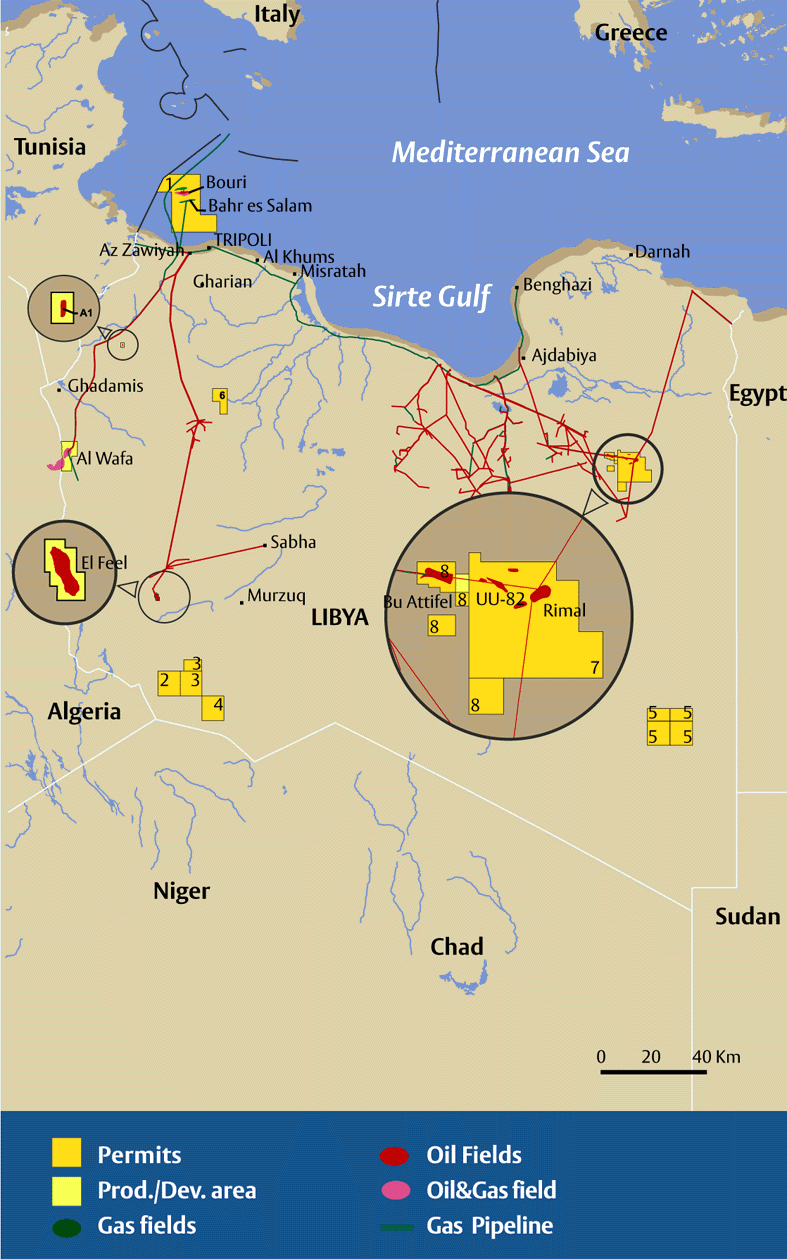 State Department (home to Cuckold Hillbillary) Plans to send 16,000 more Mercs to Iraq: The scale of the operation has raised concerns among lawmakers and government watchdogs, who fear the State Department will be overwhelmed by overseeing so many people, about 80 percent of them contractors. There is a risk, they say, of millions of dollars in waste and limited supervision of bodyguards.
"We're very, very worried," said Christopher H. Shays, a former Republican member of Congress who served on the Commission on Wartime Contracting  http://www.washingtonpost.com/world/national-security/state-department-readies-iraq-operation-its-biggest-since-marshall-plan/2011/10/05/gIQAzRruTL_story.html?hpid=z1
Nobel Peace Prize Champ Obamagogue: It's Ok to use Poor Kids to Kill Other Kids on My Behalf (and Goldman Sachs):For the second year in a row, U.S. President Barack Obama has waived a Congressionally-mandated ban on military aid for four countries that use child soldiers. The four countries that will continue to receive military assistance despite the use of child soldiers in their armed forces include Chad, the Democratic Republic of Congo (DRC), Yemen, and the newly independent nation of South Sudan, according to a memo released by the White House late Tuesday. original.antiwar.com/lobe/2011/10/05/obama-waives-aid-curbs-on-militaries-using-child-soldiers/
The International Economic War of the Rich on the Poor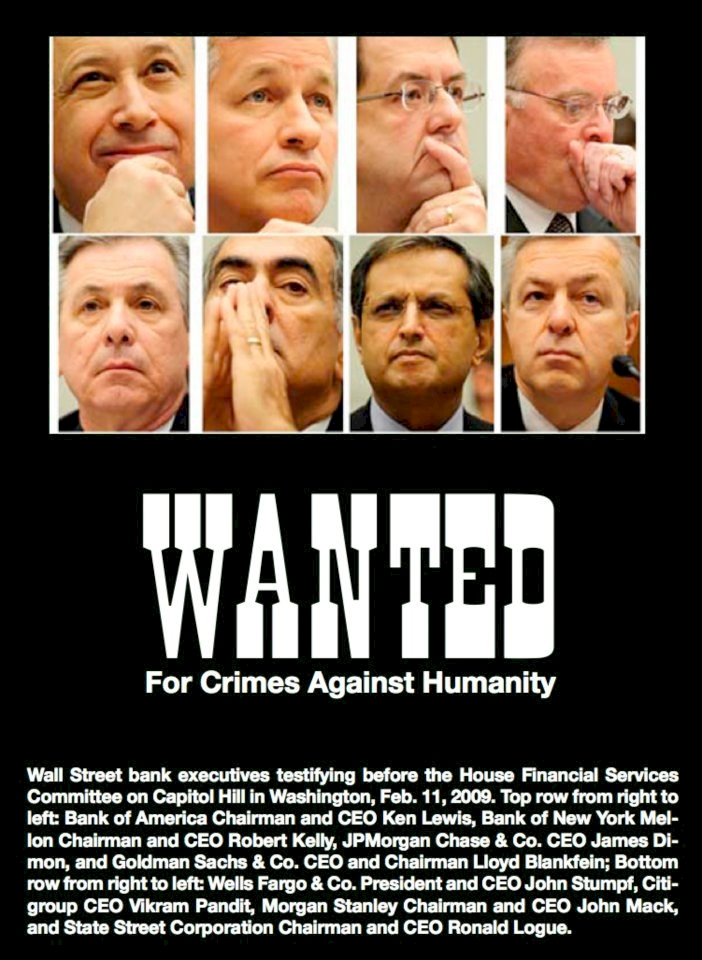 Greece (youth unemployment over 40 percent) to Slash 30,000 more Jobs: After marathon talks with foreign auditors, the Greek government said Sunday that it had reached a deal on how to slash its unwieldy public sector by putting 30,000 workers on a scheme that would lead to early retirement for some and dismissal for others, in a bid to meet conditions set by foreign lenders for the release of crucial emergency loans.  http://www.nytimes.com/2011/10/03/world/europe/greeks-move-to-slash-state-jobs-for-30000.html?_r=3&hpw
The Fannie Mae Share of the Great Financial Crisis (remember Countrywide?) Fannie Mae, the mortgage finance giant, learned as early as 2003 of extensive foreclosure abuses among the law firms it had hired to remove troubled borrowers from their homes. But the company did little to correct the firms' practices, according to a report issued Tuesday.http://www.nytimes.com/2011/10/04/business/fannie-mae-ignored-foreclosure-misdeeds-report-says.html?_r=4&hp
China's Capitalism Shaking–a Meltdown at Hand? Chinese officials are well aware of the problems their country faces. As Premier Wen Jiabao famously put it back in 2007, the country's growth is "unstable, unbalanced, uncoordinated and unsustainable."
The government's aim, as laid out in its latest five-year plan, is to move away from reliance on exports and spur Chinese consumers to spend more — an outcome that would benefit the entire global economy by boosting China's demand for other countries' goods and easing the trade imbalances that have contributed to the developed world's debt troubles.
The implementation will be tricky. Getting people to spend requires the Chinese government to eliminate many of the subsidies — including cheap labor, low interest rates and an undervalued currency — that have fueled growth so far. Consumers need more income, so companies will have to pay their workers more. Consumers also need a stronger currency to boost their buying power, so exporters will lose some of their competitive edge. Savers need to earn a high enough return to guarantee their retirements, so banks' and companies' borrowing costs will rise.
Unprofitable Industry
As a result, vast swaths of Chinese industry could be rendered unprofitable. Bad loans could force the government to step in and recapitalize banks. Fixed investment, which makes up 46 percent of the Chinese economy compared with only 12 percent in the U.S., could fall sharply, undermining the employment growth needed to boost spending. …There is very little the leaders of the developed world can do to influence China's fate. Trade wars, such as the one the U.S. Senate may be on the verge of launching, will only make the situation worse.  http://www.bloomberg.com/news/2011-10-04/china-s-fall-not-its-rise-is-the-real-threat-to-the-global-economy-view.html
JP Morgan Bribes NYPD with $4.6 Million to Protect Itself: JP Morgan Chase Bank just gave a $4.6 million "donation" to the New York Police Department to further tighten security around the ever-growing protest on Wall Street.
Known as the "Occupy Wall Street" movement by most, the bankers are finding themselves increasingly in the spotlight. What better way to try to protect their system than buy off the local police department. You can bet that the police will be getting more and more heavy handed with the likes of the bank filling their coffers. utahwearechange.org/2011/10/jp-morgan-chase-donates-4-6-million-to-nypd-to-shunt-protest-movement/
Solidarity Fornever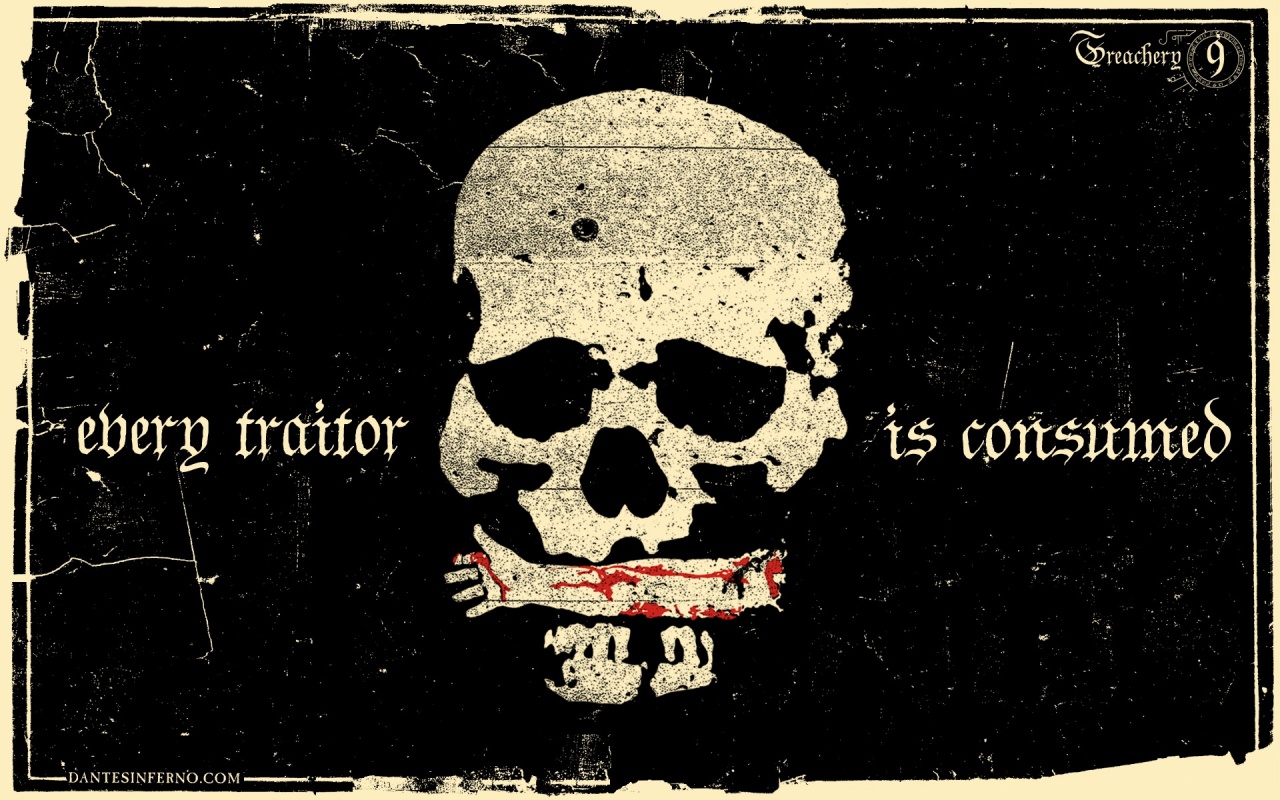 How Long Will it be from "No Leaders!" to "Mis-lead Us!"? Here come the unionites, the Moveon scum, the NGOs, Obamagogue goons, Postmodernists, and Poverty Pimps to Turn a Latent Movement into what it hoped to Oppose: on Wednesday, several prominent unions, struggling to gain traction on their own, made their first effort to join forces with Occupy Wall Street. Thousands of union members marched with the protesters from Foley Square to their encampment in nearby Zuccotti Park.
"The labor movement needs to tap into the energy and learn from them," Mr. Appelbaum, president of the Retail, Wholesale and Department Store Union, said. "They are reaching a lot of people and exciting a lot of people that the labor movement has been struggling to reach for years."
In fact, the unexpected success of Occupy Wall Street in leveling criticism of corporate America has stirred some soul-searching among labor leaders … many leaders have decided to embrace Occupy Wall Street. On Wednesday, for example, members of the A.F.L.-C.I.O.'s executive council had a conference call in which they expressed unanimous support for the protest. One A.F.L.-C.I.O. official said leaders had heard from local union members questioning why organized labor was absent.
The two movements may be markedly different, but union leaders maintain that they can help each other — the weakened labor movement can tap into Occupy Wall Street's vitality, while the protesters can benefit from labor's money, its millions of members and its stature.
Merit Pay Kicks for Miami School Workers (smooth move FEA!): In their latest paychecks, thousands of Miami-Dade teachers got an extra bump based on their students' or schools' FCAT scores. Some 120 teachers are poised to receive even bigger bumps — $4,000 to $25,000 — for their students' gains.
The bonuses mark Miami-Dade's foray into performance pay, a controversial policy that is part of the Obama Administration's education reform agenda. s the first district in Florida to implement such a plan, Miami-Dade has a head start on what will become a state requirement in 2014.
As the nation's fourth-largest school district, it is also trying to succeed where others have failed. Places like New York and Texas have scrapped or deeply slashed their merit-pay systems because of a lack of money or results — or both.
Miami-Dade County Public Schools hopes to build its own success over time by taking it slowly, renegotiating the system each year with the teachers union, which helped create the initial plan.
The transition begins with the bonuses, financed with federal dollars, tied to last school year's performance. But the new state law requires school districts to eventually tie salaries www.miamiherald.com/2011/09/30/2432013/miami-dade-schools-debut-merit.html
UAW Ford Sellout (still two tier, soon the members will vote on their own slavery and the UAW will count the votes—note the UAW could have struck Fords but bargained with GM First in order to lower the bar even further) The UAW and Ford's tentative agreement creates 5,750 entry-level U.S. jobs, raises hourly wages for workers hired after September 2007 to $19.28 and pulls forward a profit-sharing payment that, when added to a $6,000 ratification bonus, will give veteran workers about $10,000 by the end of the year in addition to their regular pay.
The agreement raises the hourly wage for workers hired after 2007 to $19.28 by the end of the contract, the UAW said today in a contract summary released to reporters. Those workers currently make about $15.50 an hour. Ford will also offer buyouts of $50,000 to production workers and $100,000 to skilled-trades workers, in an attempt to open jobs for more entry-level employees. www.freep.com/article/20111004/BUSINESS0102/111004010/UAW-Ford-deal-highlights-5-750-jobs-entry-level-raises-6-000-bonus-plus-profit-sharing?odyssey=tab|topnews|text|FRONTPAGE
Q and A about Why the California Faculty Association Won't organize or Call a Real Strike: In addition to informational picketing on November 8 or 9 on all CSU campuses, CFA is calling for faculty from all over the state to join us at CSU Dominguez Hills and CSU East Bay on November 17 to send the Chancellor a strong message of faculty solidarity and our commitment to fairness.
Depending on several factors (CFA members' vote on question #3 and the state of further discussions on 2008-2009 and 2009-2010 raises, for example), the CFA Board of Directors may call for the action on November 17 to be a one-day strike on CSU Dominguez Hills or CSU East Bay or both.
If CFA calls a one-day strike at CSU Dominguez Hills or CSU East Bay, then CFA would ask faculty on those campuses to refrain from teaching and from any other work they would normally do on that day.  http://www.calfac.org/nov17questions#–q8-why-isnt-cfa-announcing-now-whether-the-novem
The Emergence of Fascism as a Popular Mass Movement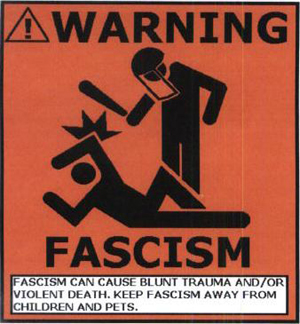 The US Death Panels that Can Kill YOU: American militants like Anwar al-Awlaki are placed on a kill or capture list by a secretive panel of senior government officials, which then informs the president of its decisions, according to officials.
There is no public record of the operations or decisions of the panel, which is a subset of the White House's National Security Council, several current and former officials said. Neither is there any law establishing its existence or setting out the rules by which it is supposed to operate. www.reuters.com/article/2011/10/05/us-cia-killlist-idUSTRE79475C20111005
Banksters Walk Free While Coppers Declare War on Plant Owners: Federal prosecutors on Friday launched a significant crackdown on commercial marijuana operations, announcing legal action against several marijuana operations as part of a new statewide enforcement effort.
According to a statement, the action focused in part on an Orange County building "that houses eight marijuana stores and a trafficking ring that sold marijuana at its San Fernando Valley storefront, and sent marijuana to customers as far away as New York state."
Additionally, six people were charged in alleged marijuana trafficking in a operation that authorities said generated $15 million in eight months.
Officials also issued warning letters to operators of 38 marijuana stores. latimesblogs.latimes.com/lanow/2011/10/federal-officials-begin-major-crackdown-marijuana-operations.html
Spy versus Spy
www.youtube.com/watch?v=lYvQT9eECro
Judge Approves CIA Destruction of Torture Videos; A federal judge declined Wednesday to find the CIA in contempt for destroying videotapes of Sept. 11 detainee interrogations, saying to do so would serve no beneficial purpose and the CIA had put in place new procedures to prevent such destruction from happening again.
U.S. District Judge Alvin Hellerstein said in a written ruling that the CIA has since remedied its failure to produce videotapes in response to requests by the American Civil Liberties Union. He wrote that the people processing the ACLU's Freedom of Information Act request may not have been aware of the videotapes' existence before they were destroyed.
The government has acknowledged destroying 92 videotapes, including those containing interrogations of a high-level al-Qaida lieutenant who claimed he suffered physical and mental torture at the hands of the CIA. The tapes were destroyed in 2005.  http://abcnews.go.com/US/wireStory/ny-judge-find-cia-contempt-tapes-14678200
Pakistan Doctor To Be Tried For Treason (what of the Americans Who Used him?) A Pakistani doctor who ran a vaccination program for the C.I.A. to help track down Osama bin Laden should be put on trial for high treason, a government commission said Thursday, a move likely to anger American officials pushing for his release. American and Pakistani officials have said that the doctor, Shakil Afridi, ran a vaccination program in Abbottabad, where Bin Laden was living, in an effort to obtain a DNA sample from him. Dr. Afridi was detained days after the American raid that killed Bin Laden by the Inter-Services Intelligence agency. The Pakistani commission investigating the raid said in a statement that that Dr. Afridi should be charged with "conspiracy against the state of Pakistan and high treason" on the basis of the evidence it had gathered. It was not clear whether the recommendation would lead to charges being filed. The charge would carry the death penalty.
Sarkis the Gunster is Gone: Sarkis G. Soghanalian, a larger-than-life arms dealer who provided weapons to Saddam Hussein and many other dictators and rebels, worked closely with American intelligence and later told his story on television, died early Wednesday in Hialeah, Fla. He was 82.  Mr. Soghanalian (pronounced SAHG-ah-NAY-lee-an) became a major arms supplier to Mr. Hussein during the Iran-Iraq war in the 1980s, operated a fleet of cargo planes around the world and owned homes in a dozen countries.
In 1981, he pleaded guilty to fraud in the sale of .50-caliber machine guns to Mauritania. But a judge granted him probation, saying the case "involved international affairs conducted by the State Department."
In 1993, he was sentenced to six and a half years in prison for smuggling 103 helicopters to Iraq in violation of United Nations sanctions. But he managed to have his sentence reduced to two years after informing American officials of a place in Lebanon where high-quality counterfeit $100 bills were being printed.  …He worked with the Central Intelligence Agency off and on for years; after a falling out with that agency, he cooperated with the Federal Bureau of Investigation, drawing on a huge stock of information about the dark corners of the global weapons trade, said Lowell Bergman, professor of investigative reporting at the University of California, Berkeley, and an acquaintance of his for more than 30 years.
"He's one of those characters who emerged out of the cold war and played a critical role in clandestine activities on behalf of the United States, while providing deniability," said Mr. Bergman, a reporter www.nytimes.com/2011/10/06/world/middleeast/sarkis-g-soghanalian-arms-dealer-dies-at-82.html?_r=1&emc=tnt&tntemail1=y
Ray Davis is at it Again: A former CIA contractor who set off a diplomatic furor after killing two men in Pakistan earlier this year is now facing felony assault charges in the U.S. after getting into a fight over a parking spot.
The altercation took place Saturday morning, when Raymond Davis, 37 years old, began to argue with another man about a parking space outside a bagel … online.wsj.com/article/SB10001424052970203791904576609273833183198.html
Magical Mystery Tour
Hey Pope! Exorcise Capitalism!
Columbus Day Special: The Requiremento—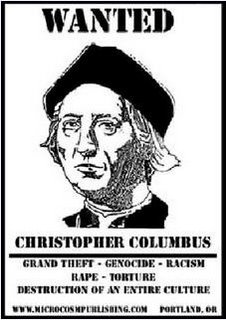 "On the part of the King, Don Fernando, and of Doña Juana, his daughter, Queen of Castile and León, subduers of the barbarous nations, we their servants notify and make known to you, as best we can, that the Lord our God, living and eternal, created the heaven and the earth, and one man and one woman, of whom you and we, and all the men of the world, were and are all descendants, and all those who come after us.
Of all these nations God our Lord gave charge to one man, called St. Peter, that he should be lord and superior of all the men in the world, that all should obey him, and that he should be the head of the whole human race, wherever men should live, and under whatever law, sect, or belief they should be; and he gave him the world for his kingdom and jurisdiction.
One of these pontiffs, who succeeded St. Peter as lord of the world in the dignity and seat which I have before mentioned, made donation of these isles and Terra-firma to the aforesaid King and Queen and to their successors, our lords, with all that there are in these territories,
Wherefore, as best we can, we ask and require you that you consider what we have said to you, and that you take the time that shall be necessary to understand and deliberate upon it, and that you acknowledge the Church as the ruler and superior of the whole world,
But if you do not do this, and maliciously make delay in it, I certify to you that, with the help of God, we shall powerfully enter into your country, and shall make war against you in all ways and manners that we can, and shall subject you to the yoke and obedience of the Church and of their highnesses; we shall take you, and your wives, and your children, and shall make slaves of them, and as such shall sell and dispose of them as their highnesses may command; and we shall take away your goods, and shall do you all the mischief and damage that we can, as to vassals who do not obey, and refuse to receive their lord, and resist and contradict him: and we protest that the deaths and losses which shall accrue from this are your fault, and not that of their highnesses, or ours, nor of these cavaliers who come with us ". en.wikipedia.org/wiki/Spanish_Requirement_of_1513
The Worst Thing tn the History of the World
New York Fire Department Union Racist to the Core: The FDNY systematically discriminated against minorities in recruiting, applicant screening and the investigation of discrimination complaints, a federal judge ruled Friday.
Judge Nicholas Garaufis' conclusion that the Vulcan Society of black firefighters had proven its claims set the stage for the appointment of a court-ordered monitor to oversee changes in the Fire Department.
Garaufis' findings came after a three-week civil trial in Brooklyn Federal Court during which it became increasingly clear that the FDNY remains 93% white largely due to what the judge termed "an informal friends-and-family recruitment network."
"The underrepresentation of black firefighters in the FDNY – a direct result and vestige of the city's pattern and practice of discrimination against black firefighter candidates – is responsible for making blacks significantly less likely to apply to become New York City firefighters in the absence of a formal recruitment program," Garaufis wrote. www.nydailynews.com/ny_local/2011/10/01/2011-10-01_fdny_all_about_who_you_know_judge_finds_bravest_discriminate.html
The Best Thing in the History of the World
The Best And Worst Thing in the History of the World
West Side Story is Fifty! Gangsters, Stop throwing Signs! Up the (integrated) rebels! Learn Something.
So Long Marv