We Say Fight Back!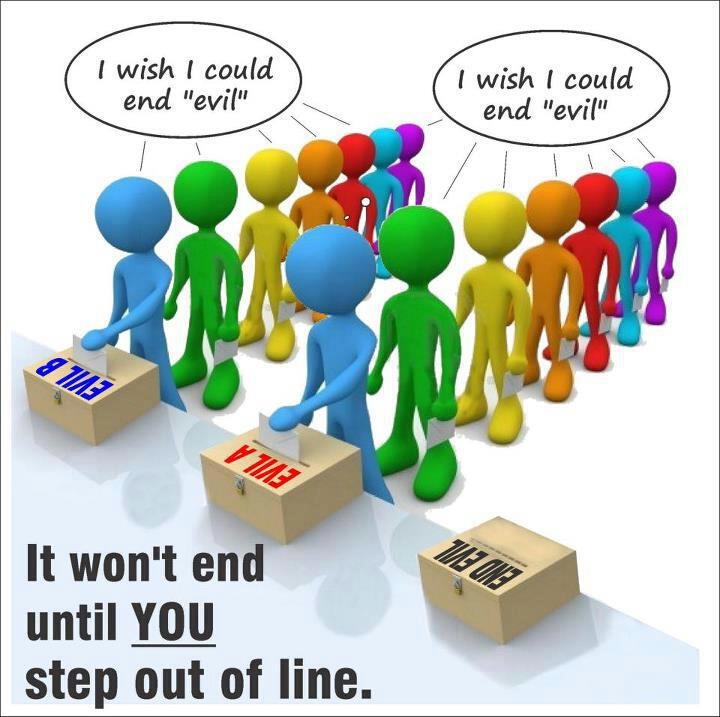 Susan Ohanian: Against Obedience This article was originally delivered as the Second Annual Adam Renner Education for Social Justice Lecture at the Rouge Forum's Occupy Education! Class Conscious Pedagogies and SocialChange Conference held at Miami University in Oxford, OH, June 22-24, 2012. Starting with a personal journey in learning that political activism isn't as scary as many teachers believe, the article highlights the highly political nature of press coverage of Race to the Top and the Common Core State Standards initiative, zeroing in on the quisling nature of teacher union and professional organization antics to keep a seat at the political table. Questioning the silence on critical issues of higher education providers of educational products to consumers—aka professors—the author insists that whining isn't the same as doing. The article concludes withseveral points on how educators can take action.  ojs.library.ubc.ca/index.php/criticaled/article/download/183270/183511
Mexico: Students and Workers Rise A tense raid took place yesterday in Mexico's Michoacan state, as student protesters faced off against police after repeated hijackings and more than a week of protests against curriculum changes.
Police stormed three campuses, where students held buses and delivery trucks hostage, according to the BBC. Over 100 people were arrested and both protesters and police were injured.
According to the Latin American Herald Tribune, students also set 13 vehicles on fire in the latest and most violent of the many protests sweeping across Mexico since late September.
The students were protesting a planned change in the curriculum of their schools, known as normal schools, which prepare students for careers in teaching. They say learning English and computer science shouldn't be priorities for the rural areas they'll be working in, and had taken control of three sister campuses earlier this month. Yesterday's events included the arrest of teachers union head Secretary General Juan Jose Ortega Madrigal, of CNTE Local 18, the union representing most of the teachers in the area. In response to the police action, most of the elementary schools in the state were closed today.
The teachers unions have also joined the ongoing protests against a labor reform bill that debuted in the Senate this week, that would allow more hiring flexibility for employers and mandate unions to be more transparent about their finances.   www.globalpost.com/dispatches/globalpost-blogs/rights/protests-mexico-labor-reform-bill
South Africa: Fight Still on! The National Union of Mineworkers has informed us that workers organising their own strikes are being covertly 'manipulated' and their strikes and protests 'orchestrated' by 'dark forces' and other 'elements' that amount, of course, to another manifestation of the infamous 'third force'. 'Backward' and even 'sinister' beliefs in magic consequent to the rural origin of many of the workers are, we've been told by an array of elite actors, including the Communist Party, central to this manipulation. Frans Baleni, horrified at the insurgent power of self-organisation, has not just informed us that his union is trying to "narrow the demands" and persuade workers to "return to work". He has also called for "the real force behind the upheavals" to be "unearthed" by the state on the grounds that "It is completely untrue [that] the workers are responsible" for the ongoing revolt.
Neither Baleni nor anyone else demanding a witch-hunt to penetrate the depths of an elaborate conspiracy and dig up the real source of the miners' rebellion seems able to realise that they're on a hunt for nothing other than their own paranoid fantasies. And we've yet to see a statement pointing out that there is no part of society in which people don't look towards some sort of magic to strengthen themselves against the vicissitudes of life. Middle class people are, for instance, often fanatically wedded to all kinds of belief in magic ranging from prosperity cults organised, oddly enough, in the name of a Palestinian carpenter who scorned wealth to various kinds of quackery, the fantasy that the possession of commodities can miraculously transform us at the level of our essential being and actual belief in concepts as entirely divorced from reality as the fiction that we inhabit an ongoing 'national democratic revolution', that there could be a 'Zuma moment' to match the 'Lula moment' or that 'the free market' could liberate us all.    sacsis.org.za/site/article/1456
www.youtube.com/watch?v=7rKVwtiwSgY
Tens of thousands of Greeks joined a second nationwide strike in three weeks on Thursday, moving to bring the country to a near standstill in a bid to show European Union leaders meeting in Brussels that new austerity cuts being demanded by Greece's lenders would cripple society and further depress the economy.  Protest rallies began peacefully but were disrupted when demonstrators broke away from the crowd near Syntagma Square outside Parliament and threw rocks, bottles and firebombs at the police, who responded with tear gas.
A police spokesman said 40,000 people joined rallies in central Athens, while organizers said the figure was around double that. Smaller rallies were held in other cities, including the ports of Salonika and Patra, in northern and western Greece.    www.nytimes.com/2012/10/19/world/europe/greek-workers-hold-national-strike-to-protest-austerity.html?emc=tnt&tntemail0=y
The Little Red Schoolhouse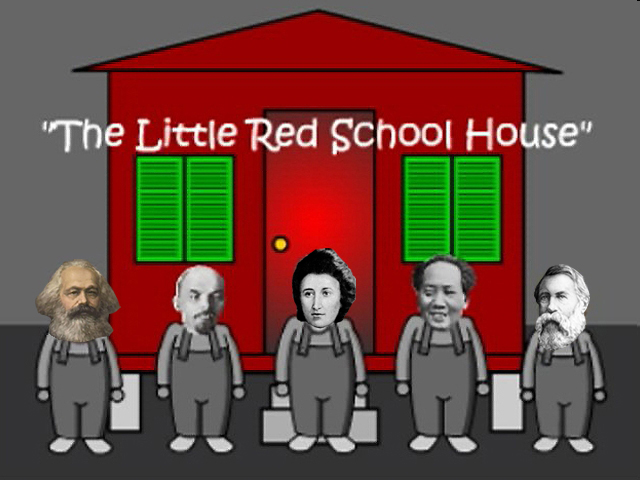 On to the National Standards and Tests with Teachers as Bureaucrat Desk Nazis These Common Core State Standards, which spell out what students need to know to graduate ready for college or careers, provide, for the first time, a common barometer of what students in the participating states should learn. Tests to be implemented in the 2014-15 school year will make it easier to compare students from state to state.
"We're not in the 19th Century anymore, where you live your life in your own community and everything you need to learn and know, your local school board can determine. We're in a global economy," said John Austin, president of the state Board of Education.
And that global economy, Austin said, dictates that there be consistent, common expectations for all students.
Adoption of the standards means some math concepts are being introduced a grade or two earlier or later than usual. In English language arts, there will be more focus on informational text — such as nonfiction writing and explanatory writing — and on requiring students to interpret that text, as well as more emphasis on writing.
The standards will test students and teachers in ways they've rarely been tested. That's because there's a heavier emphasis on critical thinking, students having a deeper understanding of the material, and students being able to demonstrate that knowledge.    www.freep.com/article/20121015/NEWS06/310150046/Controversial-standards-place-more-emphasis-on-students-critical-thinking-skills
Noosing The National Standards (surprise), School Worker Evaluations = Test Scores (merit pay) Fueled in part by efforts to qualify for the Obama administration's Race to the Top federal grant program or waivers from the toughest conditions of No Child Left Behind, the Bush-era education law, 36 states and the District of Columbia have introduced new teacher evaluation policies in the past three years, according to the National Center on Teacher Quality, a nonprofit research and advocacy group. An increasing number of states are directing districts to use these evaluations in decisions about how teachers are granted tenure, promoted or fired.
Proponents say that current performance reviews are superficial and label virtually all teachers "satisfactory." "When everyone is treated the same, I can't think of a more demeaning way of treating people," Arne Duncan, the secretary of education, said in a telephone interview. "Far, far too few teachers receive honest feedback on what they're doing."
So far, attention has focused mainly on one element of the new evaluation systems, the requirement that districts derive a portion of a teacher's rating from student performance on standardized tests. Anger over the use of test results exploded during the strike by the Chicago Teachers' Union last month. But most of the new state policies also include a component based on classroom observations by principals, peers or outside evaluators.    www.nytimes.com/2012/10/16/education/seeking-aid-more-districts-change-teacher-evaluations.html?emc=tnt&tntemail0=y&_r=1&
Chicago: Old Boss Out, with full years salary extension; New Boss in, Worse than the Old Boss Departing Chicago Public Schools CEO Jean-Claude Brizard will get a full year's salary as part of his severance package, district officials said today.
The school board gave Brizard a two-year contract at $250,000 a year when it hired him in April 2011. The contract was set to expire next May.
That news came as Mayor Rahm Emanuel formally introduced Barbara Byrd-Bennett as the district's new CEO.  Byrd-Bennett, who was the interim chief education officer, takes control following a seven-school-day strike.
Byrd-Bennett said she had a "very, incredibly productive conversation" with Chicago Teachers Union President Karen Lewis Thursday night.
"I'm looking forward to two things: a collaborative and productive relationship with Karen and the members of the CTU, as well as the rank and file teachers," Byrd-Bennett said.
Emanuel called Bennett's strong working relationship with Lewis "an aspect" of why he thinks Bennett will be successful as CPS considers closing schools.      www.chicagotribune.com/news/politics/clout/chi-departing-brizard-to-get-full-years-salary-20121012,0,804291.story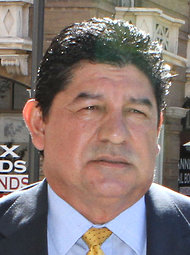 above, Lorenzo Garcia, Jailed Test Pimp and Boss
More School Cheaters–Test Pimp Garcia off to Hoosegow (El Paso's Desaparecidos ) It sounded at first like a familiar story: school administrators, seeking to meet state and federal standards, fraudulently raised students' scores on crucial exams.  But in the cheating scandal that has shaken the 64,000-student school district in this border city, administrators manipulated more than numbers. They are accused of keeping low-performing students out of classrooms altogether by improperly holding some back, accelerating others and preventing many from showing up for the tests or enrolling in school at all.
It led to a dramatic moment at the federal courthouse this month, when a former schools superintendent, Lorenzo Garcia, was sentenced to prison for his role in orchestrating the testing scandal. But for students and parents, the case did not end there. A federal investigation continues, with the likelihood of more arrests of administrators who helped Mr. Garcia.
Federal prosecutors charged Mr. Garcia, 57, with devising an elaborate program to inflate test scores to improve the performance of struggling schools under the federal No Child Left Behind Act and to allow him to collect annual bonuses for meeting district goals.  … Students identified as low-performing were transferred to charter schools, discouraged from enrolling in school or were visited at home by truant officers and told not to go to school on the test day. For some, credits were deleted from transcripts or grades were changed from passing to failing or from failing to passing so they could be reclassified as freshmen or juniors. www.nytimes.com/2012/10/14/education/el-paso-rattled-by-scandal-of-disappeared-students.html?ref=education&_r=0
Corruption is Systematic within Capital and its Schools The director of a Los Angeles recreation center is facing felony charges after allegedly stealing up to $15,000 from the facility, including lunch money from children in her care.
Carol Brandt, who served as the director of the Montecito Heights Recreation Center, was arrested Tuesday and charged with embezzlement and misappropriation of public funds, according to Los Angeles Deputy Dist. Atty. Dana Aratani. Brandt was released without having to post bail Wednesday afternoon.
She is accused of pocketing more than $10,000 from members of several basketball and soccer teams who paid to use the recreation facility's courts and fields between 2009 and 2010. She also is accused of stealing from the facility's snack bar and from young participants in a summer day camp.    latimesblogs.latimes.com/lanow/2012/10/los-angeles-recreation-and-parks.html
When A Gunman Arrives in Your Classroom, Throw. Scream. Yell. Get the Gun. Then…Greg Crane, a former teacher and SWAT officer, notes that even trained police officers miss roughly three-quarters of their shots fired in the line of duty. In contrast, he says, school shooters "don't miss at that high a rate. In fact, they almost hit at that high a rate.
"[Gunman Seung-Hui] Cho at Virginia Tech, he was over a 100-to-1 numerical disadvantage," Crane says. "One person should not be able to do what these single shooters are able to do."
They are able to hit so many people, he says, in part because the staff and students are just too easy to shoot. "We've conditioned them to go sit in a corner, go sit under a table."
So Crane developed a training program that teaches potential victims to make themselves harder to target — and that includes ways to fight back. He dubbed the program "A.L.i.C.E. training": alert, lockdown, inform, counter, evacuate.
"We don't tell [students and staff] what to do. We tell them what they can do," Crane says. "Ultimately, they're going to be the ones experiencing this danger, and we want them to be the ones to decide, 'What is it that I can do that will increase my chance of survival?'
Crane and other A.L.i.C.E. proponents want to empower the people in a shooting situation — even children — to make those life-and-death decisions. At least 1.6 million students in almost 300 school systems, from elementary schools to colleges and universities, have had A.L.i.C.E. training. Crane says he's even taught it to kindergarteners.
'Throwing, Screaming, Yelling'
Auburn University in Alabama is a more typical setting for A.L.i.C.E. training. On a recent afternoon, emergency manager Chance Corbett is analyzing school shootings for about 30 staff and students.
Corbett points out huge differences in room-to-room survival rates based on what occupants did. At Virginia Tech, a professor was killed, but not before he saved students' lives by getting them to jump out windows.
When it gets to the point that [the shooters] are there to do the harm, do you really want your kid just to hide under the desk?
– Chance Corbett, emergency manager, Auburn University–In one school building, Corbett says, 12 students were killed in one room and eight in another. But in a classroom where students barricaded the door, "it was zero," he says. "They made a decision that day, it saved their lives. How many of you want to be in that classroom?"    www.npr.org/2012/10/11/162712905/to-survive-a-shooting-students-learn-to-fight-back
Boom and Bust in Capitalist Schooling: U Phoenix, So Long! Apollo Group Inc. said Tuesday that its fiscal fourth-quarter net income tumbled 60 percent, hurt by higher costs and declining enrollment at the University of Phoenix. To cope, the for-profit education company plans to close 115 of the university's mostly smaller locations, a move that will affect 13,000 students.Shares in the Phoenix-based company tumbled nearly 9 percent in after-hours trading.
The closings include 25 main campuses and 90 smaller satellite learning centers. At least one location in 30 states is slated to be shuttered.   www.detroitnews.com/article/20121016/SCHOOLS/210160456/1026/SCHOOLS/University-Phoenix-closing-115-locations-30-states
The International Hot War of the Rich on the Poor
The US War on Nato Spills Over into Lebanon A prominent Lebanese intelligence official opposed to President Bashar al-Assad was killed in a huge car bomb in Beirut in another sign that Syria's civil war is dragging its volatile neighbor into the conflict.
Wissam al-Hassan, who led an investigation that implicated Syria and Hezbollah in the assassination of former prime minister Rafik al-Hariri, and seven other people were killed when the bomb exploded in central Beirut on Friday afternoon  Hassan, a Sunni Muslim who was close to Hariri, also helped uncover a bomb plot that led to the arrest and indictment in August of a pro-Assad former Lebanese minister, in a setback for Damascus and its Lebanese allies including Hezbollah.    www.chicagotribune.com/news/sns-rt-us-lebanon-explosionbre89i0n6-20121019,0,655386.story
Insane US Ruling Class Arming AQ In Syria and Libya and Mali and Most of the arms shipped at the behest of Saudi Arabia and Qatar to supply Syrian rebel groups fighting the government of Bashar al-Assad are going to hard-line Islamic jihadists, and not the more secular opposition groups that the West wants to bolster, according to American officials and Middle Eastern diplomats…."The opposition groups that are receiving the most of the lethal aid are exactly the ones we don't want to have it," said one American official familiar with the outlines of those findings, commenting on an operation that in American eyes has increasingly gone awry.
The United States is not sending arms directly to the Syrian opposition. Instead, it is providing intelligence and other support for shipments of secondhand light weapons like rifles and grenades into Syria, mainly orchestrated from Saudi Arabia and Qatar. The reports indicate that the shipments organized from Qatar, in particular, are largely going to hard-line Islamists.    www.nytimes.com/2012/10/15/world/middleeast/jihadists-receiving-most-arms-sent-to-syrian-rebels.html?emc=tnt&tntemail1=y&_r=0
Armed by USA: Libya Embassy Attacker Hides in Plain Sight Witnesses and the authorities have called Ahmed Abu Khattala one of the ringleaders of the Sept. 11 attack on the American diplomatic mission here. But just days after President Obama reasserted his vow to bring those responsible to justice, Mr. Abu Khattala spent two leisurely hours on Thursday evening at a crowded luxury hotel, sipping mango juice on a patio and scoffing at the threats coming from the American and Libyan governments.    www.nytimes.com/2012/10/19/world/africa/suspect-in-benghazi-attack-scoffs-at-us.html?ref=global-home&_r=0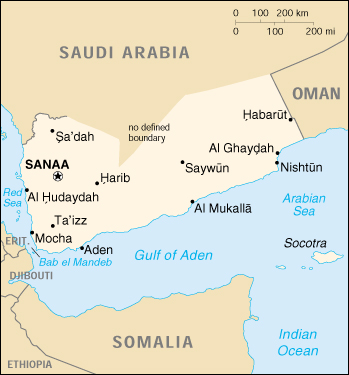 Yemen: AQ Rising Al Qaeda killed 16 soldiers in an attack on an army base in south Yemen on Friday, medical and military sources said, in a further show of strength by Islamist militants despite a U.S. campaign of drone strikes to neutralize them.
Militants tightened their hold on parts of Yemen during an uprising that ousted veteran president Ali Abdullah Saleh in February, raising concern for the security of top oil exporter Saudi Arabia next door and nearby shipping lanes.
Violence has intensified in the past few weeks with Washington stepping up drone, or pilotless aircraft, operations and militants carrying out retaliatory attacks on state and military targets.
Two militants disguised in army uniforms drove an explosives-laden car into the military base in Shuqra, a town in the southern province of Abyan, and detonated them inside, a military official said. Moments later, other militants assaulted the base from the sea and a fierce battle ensued. news.yahoo.com/al-qaeda-attack-yemen-army-kills-24-164138577.html
Syria Boobytrapping Fake Rebels Ammo and Weapons  (no fair!) The government of Syria, trying to contain a rapidly expanding insurgency, has resorted to one of the dirty tricks of the modern battlefield: salting ammunition supplies of antigovernment fighters with ordnance that explodes inside rebels' weapons, often wounding and sometimes killing the fighters while destroying many of their hard-found arms.   www.nytimes.com/2012/10/20/world/middleeast/syrian-government-booby-traps-rebels-ammunition.html?emc=tnt&tntemail0=y&_r=0
Romney/Obamagogue Prepping Americans for Trade Wars (then real wars) with China In the aftermath of a U.S. presidential debate that included blistering accusations about unfair Chinese economic practices, a commentary carried by China's state Xinhua newswire on Wednesday warned that targeting its country's products or currency would risk a trade war.
While the analysis was far from a statement of intent by senior Chinese leadership, and stopped well short of past media tirades sparked by foreign policy issues, it signaled fraying patience in Beijing with a U.S. presidential campaign that's featured criticism of China by both President Barack Obama and Republican challenger Mitt Romney.
"If 'President Romney' was determined to keep his words by throwing punitive tariffs against Chinese products exported to the U.S. market on Day One, then China perhaps would be forced to fight back, and then his administration would be very likely to be on its way to a global trade war," said the item, which was attributed to a writer named Liu Chang and posted on the news service's English-language website. "Such a scenario would ultimately bury his other promises, not least the one to jumpstart the sluggish U.S. economic growth."
Chinese news organizations have published several pieces lately complaining about U.S. "China- bashing" this election season.
During Tuesday night's debate, the word "China" came up 21 times, according to a transcript, as Obama and Romney alternated between pledging to confront the nation and criticizing each other for having failed to do so. www.mcclatchydc.com/2012/10/17/171726/after-debate-bashing-by-both-obama.html
Sailors back Raping Okinawans The commander of United States forces in Japan, Lt. Gen. Salvatore A. Angelella, apologized for the case, saying that American military personnel will also be required to take "core values training." Earlier Friday, the United States ambassador to Japan, John V. Roos, told the Japanese defense minister and the governor of Okinawa that the United States would cooperate "in every way possible" with the investigation of the two sailors, who are in Japanese custody.
General Angelella told a news conference at the United States Embassy in Tokyo, "I want to personally apologize for the grief and trauma the victim has endured and the anger it has caused among people on Okinawa." He said the curfew, from 11 p.m. to 5 a.m., would take effect immediately at bases in Okinawa and the rest of Japan.
The Japanese police say the two sailors in the latest case had been out drinking when they attacked the woman, who is in her 20s, as she walked home before dawn on Tuesday. The sailors, Seaman Christopher Browning and Petty Officer Third Class Skyler Dozierwalker, were arrested soon after by Japanese police officers. The Navy has also begun its own investigation.
The case, with its uncomfortable echoes of the 1995 gang rape of a schoolgirl by three American servicemen, struck a nerve in Okinawa. The earlier crime prompted huge demonstrations that for a time seemed to threaten the entire American military presence on the island. www.nytimes.com/2012/10/20/world/asia/curfew-imposed-on-american-troops-in-japan.html?ref=global-home
A Little Better Late than Never, Human Rights Watch Admits Ghaddaffi and Many others Assassinated Libyan rebels abused and mass murdered Colonel Gaddafi, his son Mutassim, and 66 loyalists, after their capture a year ago, Human Rights Watch says. It calls for an investigation and prosecution of those responsible for what they slam as a war crime.
The 50-page report "Death of a Dictator: Bloody Vengeance in Sirte" details the last hours of Muammar Gaddafi's life on October 20, 2011, when he was caught trying to leave the city with his remaining supporters.
HRW admits difficulty in reconstructing the final days of Libya's ex-leader since "he was surrounded by a small circle of trusted confidants and bodyguards, most of whom were killed in the attempted escape from Sirte," stated the report.
The report relies heavily on interviews with Mansour Dhao, a senior security official and head of the pro-Gaddafi People's Guard, and other surviving witnesses of the event. The interviews took place in Libya two days after Gaddafi's death.   rt.com/news/libya-gaddafi-execution-hrw-608/
Who Lost the Bin Laden Driver Case!? Everybody Back to Gitmo!! A federal appeals court's decision to toss the conviction of Osama bin Laden's former driver could have implications for future prosecutions of terrorism suspects.
The driver, Salim Ahmed Hamdan, was detained by U.S. troops in Afghanistan in November 2001 and sent to Guantanamo. In the first U.S. military war crimes trial since World War II, a jury of six military officers found Hamdan guilty in 2008 of providing material support to terrorism and sentenced him to five and a half years in prison.
But the U.S. Court of Appeals for the District of Columbia on Tuesday threw out that conviction, stating in a 3-0 decision that material support for terrorism was not proscribed as an international war crime until Congress passed the Military Commissions Act in 2006. Since Hamdan worked for bin Laden from 1996 to 2001, he cannot be punished retroactively, the court concluded.
"Indeed the Executive Branch acknowledges that the international law of war did not – and still does not – identify material support for terrorism as a war crime," wrote Judge Brett Kavanaugh.    www.mcclatchydc.com/2012/10/16/171642/appeals-court-tosses-out-conviction.html
The Cuban missile crisis—known as the October crisis in Cuba and the Caribbean crisis (Russian: Kарибский кризис) in the USSR—was a 13-day confrontation between the Soviet Union and Cuba on one side and the United States on the other; the crisis occurred in October 1962, during the Cold War. In August 1962, after some unsuccessful operations by the US to overthrow the Cuban regime (Bay of Pigs, Operation Mongoose), the Cuban and Soviet governments secretly began to build bases in Cuba for a number of medium-range and intermediate-range ballistic nuclear missiles (MRBMs and IRBMs) with the ability to strike most of the continental United States. This action followed the 1958 deployment of Thor IRBMs in the UK (Project Emily) and Jupiter IRBMs to Italy and Turkey in 1961 – more than 100 US-built missiles having the capability to strike Moscow with nuclear warheads. On October 14, 1962, a United States Air Force U-2 plane on a photoreconnaissance mission captured photographic proof of Soviet missile bases under construction in Cuba.
Not only does the ensuing crisis rank with the Berlin Blockade, the Suez Crisis and the Yom Kippur War as one of the major confrontations of the Cold War, it is generally regarded as the moment in which the Cold War came closest to turning into a nuclear conflict,[2] or possibly World War III, with an American research center estimating that 100 million Americans and over 100 million Russians would have perished.[3] The crisis served as the first documented instance of the threat of mutual assured destruction (MAD) being discussed as a determining factor in a major international arms agreement.[4][5]   en.wikipedia.org/wiki/Cuban_missile_crisis
The International Economic War of the Rich on the Poor
Bloomberg: 25 Years after Black Monday, What Changed (hint–it is worse) www.youtube.com/watch?v=rb7XaF1rs1E
The Emergence of Fascism as a Popular Mass Movement
Spain's Fascists Back at It Spain's government is drafting a law that bans the photographing and filming of members of the police. The Interior Ministry assures they are not cracking down on freedom of expression, but protecting the lives of law enforcement officers.
The draft legislation follows waves of protests throughout the country against uncompromising austerity cuts to public healthcare and education.
The new Citizen Safety Law will prohibit "the capture, reproduction and editing of images, sounds or information of members of the security or armed forces in the line of duty," said the director general of the police, Ignacio Cosido. He added that this new bill seeks to "find a balance between the protection of citizens' rights and those of security forces."
The dissemination of images and videos over social networks like Facebook will also be punishable under the legislation.    rt.com/news/spain-ban-photos-police-794/
Guatemala Back to Murdering Protestors — The Guatemala military, once one of the most brutal and feared in Central America, is resurging to take on violent crime, forging closer ties with American troops and law enforcement even as worry over human rights abuses and corruption intensifies.  Those concerns deepened in recent weeks with the revelation of ties between former soldiers and drug gangs, and the fatal shooting of several indigenous demonstrators by soldiers on patrol with the police, an event critics of the militarized approach to policing seized on as an example of what can go wrong.
Allegations of corruption and killings by the military have also raised questions about the partnership with the American antidrug program here, just as the United States is reassessing its collaboration with security forces in neighboring Honduras after their role in several deadly episodes there.
"The army should take care of security of the country against attacks from a foreign power and never for citizen security," said Francisco Dall'Anese, the former Costa Rica attorney general who now heads a United Nations commission investigating crime and corruption in Guatemala. He added, "When the military intervenes in conflicts of a civil nature, danger is increased without reaching solutions."    www.nytimes.com/2012/10/21/world/americas/guatemala-shooting-raises-concerns-about-militarys-expanded-role.html?ref=global-home
Solidarity for Never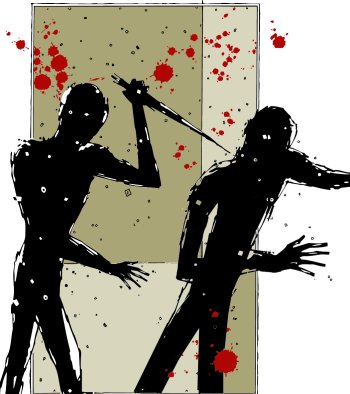 Like NEA, AFT Silences Opposition to Obamagogue The centerpiece of the rally (which masqueraded as a delegate assembly) was the performance by AFT president (and Democratic National Committee member) Weingarten. She went on at great length about if Obama is not elected, the Romneys, Michelle Rhees and the PACs "are all privatizers," that the election is all about "the heart and soul of public education." (Hello!? Rahm Emanuel? Arne Duncan? For the past four years, Barak Obama and his team have been spearheading the privatization of public education and attacks on teachers unions, from Central Falls, RI to Chicago, IL.) In fact, the assault on public education is a bipartisan offensive backed by both capitalist parties, Democrats and Republicans alike.
After the meeting had gone on an hour and a half and delegates were beginning to leave, the floor was finally opened for "Motions directed to the agenda." I rose to say I had a motion in opposition to the AFT endorsement of Obama. At this point in the past, they usually declare that whatever I'm raising (such as occupying closing schools) is "illegal," banned under the Taylor Law, or whatever. This time, they kept interrupting me every time I tried to say a word, calling out from the stage that I was not allowed to motivate the motion, I couldn't summarize the motion, I couldn't even the read the "Resolved." UFT secretary Michael Mendel declared from on high that I could only read the title, claiming that this was according to "Robert's Rules."
I responded that "I understand from this that there will be no criticism of Obama allowed at this meeting," and sat down. Mendel then became irate and went on a protracted tantrum from the stage claiming that this was not true, that his censorship was fully in accordance with Robert's Rules of Order, that it was democratic because I had been able to distribute the motion (a strange notion of democracy indeed). Mulgrew then took over and asked the body to vote on whether or allow the motion on the floor. Even though they had still not heard a single word from the motion, hundreds of Unity Caucus delegates dutifully raised their voting cards to prevent it from coming to the floor. ednotesonline.blogspot.com/2012/10/how-opposition-to-uft-endorsement-of.html?showComment=1350612686810
Spy versus Spy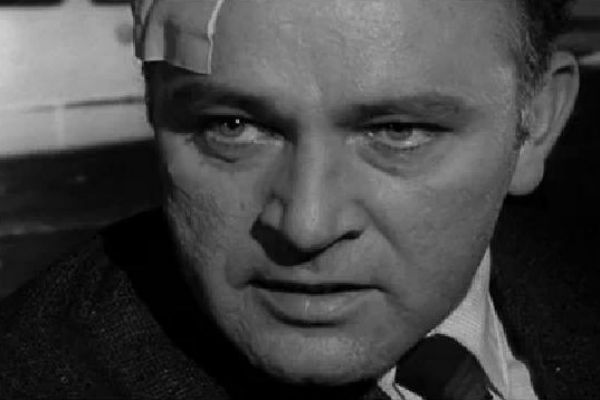 The Double Crossed Spy Who Helped Murder American Awlaki Mr. Storm's tale shows the lengths to which American intelligence officials went to hunt down Mr. Awlaki, a leader of Al Qaeda's affiliate in Yemen who some counterterrorism officials believed posed a greater threat to the United States than Osama bin Laden did. Their method was a variation on the traditional so-called honey trap, in which spy services use the lure of sex to ensnare male targets. Mr. Awlaki had been arrested during his years as an imam in the United States for hiring prostitutes; his two Arab wives lived apart from him in 2010, and he had asked Mr. Storm to find him a European woman willing to stay with him in hiding.His eloquent calls for violence, scattered across the Web, helped radicalize dozens of young, English-speaking Muslims. He was added to the Obama administration's "kill list" after intelligence officials concluded that he had helped plan the failed bombing of a Detroit-bound airliner on Dec. 25, 2009.His influence has survived his death. A 21-year-old Bangladeshi man, charged Wednesday with trying to blow up the Federal Reserve Bank of New York in a sting operation by the F.B.I., told an undercover agent that he had formed his jihadist views listening to Mr. Awlaki's sermons.The killing of Mr. Awlaki, an American citizen, without a trial and based on secret intelligence, set off a legal and ethical debate in the United States. Now, in Denmark, the articles in Jyllands-Posten have prompted some Danes to ask whether their government was complicit in Mr. Awlaki's death and, if so, whether that violated Danish law. www.nytimes.com/2012/10/20/world/middleeast/danes-wild-tale-of-ruse-to-find-anwar-al-awlaki.html?ref=global-home
Another CIA Bites Dust in Afghanistan An officer for the Central Intelligence Agency was killed on Saturday in a suicide bombing in southern Afghanistan, American officials said Tuesday.  The attack, which was carried out in a remote area of Kandahar Province, occurred when a guard working for the Afghan intelligence service detonated a suicide vest as a delegation of American coalition members and Afghan intelligence officials arrived at the intelligence office in the Maruf District.
The blast killed Ghulam Rasool, the deputy intelligence director for Kandahar Province, two of his bodyguards, another Afghan intelligence official, and some Americans, including the C.I.A. officer.    www.nytimes.com/2012/10/17/world/asia/cia-officer-among-dead-in-bombing-by-afghan.html?emc=tnt&tntemail1=y&_r=1&
ACLU: Holy Crap! The Coppers are Watching! According to this intelligence report," compiled by the Boston police under the heading "Criminal Act–Groups-Extremists," among them will be Cindy Sheehan and a "BU professor emeritus/activist" whose name is redacted–it was the late Howard Zinn.
These excerpts come from one of several documents and videotapes obtained through a lawsuit brought against the Boston Police Department by the ACLU of Massachusetts and Massachusetts Chapter of the National Lawyers Guild. We are making these criminal "intelligence" reports public today, along with a report analyzing its significance–and avideo of some of the peace activists who have been targeted.
We now have proof of what peace groups and activists have long suspected: Boston Police officers have worked within the local fusion spying center, the Boston Regional Intelligence Center (BRIC), to monitor the lawful political activity of local peace groups and track their movements and beliefs. This information has been retained in searchable electronic "intelligence" reports bearing labels such as "Groups – Civil Disturbance," "Groups–Extremists," "HomeSec-Domestic" under the heading "Criminal Act."   www.aclu.org/blog/national-security-technology-and-liberty-free-speech/when-boston-police-spy-free-speech
The Magical Mystery Tour
Obamagogue and Romney, Plus Fanatic Mystic, Laugh at the People together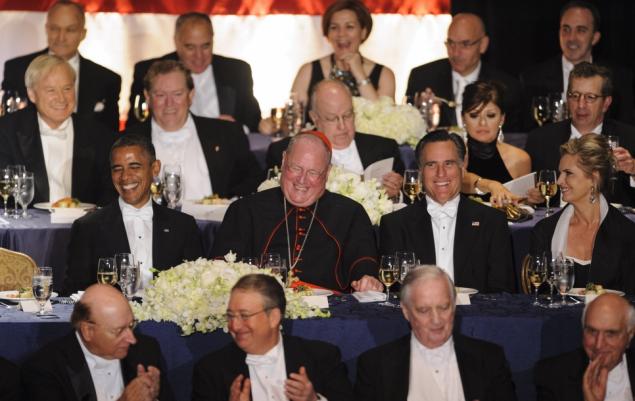 With Timothy Cardinal Dolan seated between them, Obama and Romney dined on poached lobster tail, rack of lamb with risotto and baby zucchini before taking turns at the podium to poke fun at each other and at themselves.     www.nydailynews.com/news/election-2012/obama-romeny-share-laughs-al-smith-gala-article-1.1187248?localLinksEnabled=false
Texas Judge: Cheeleaders can Do Jesus, Scream O God! and More! The decision by the judge in state district court in Hardin County came the day after Gov. Rick Perry and Attorney General Greg Abbott came to the cheerleaders' defense. They called the efforts by the Kountze school district to prohibit the banners "a great insult" that was out of step with a state law requiring districts to treat student expression of religious views in the same manner that secular views are treated.
The case has galvanized Christians in this small town in East Texas as well as around the state and the country. The cheerleaders painted Bible verses on run-through banners, the large paper signs the Kountze Lions tear through as they enter the field for a game. Last month, the district superintendent, Kevin Weldon, ordered a ban on such signs after consulting with lawyers. A group of cheerleaders and their parents sued the district in response. www.nytimes.com/2012/10/19/us/court-says-texas-cheerleaders-can-use-bible-verses.html?ref=education&_r=0
The Boy Scout (begun By Nazis) Pervo Files www.utsandiego.com/scoutfiles/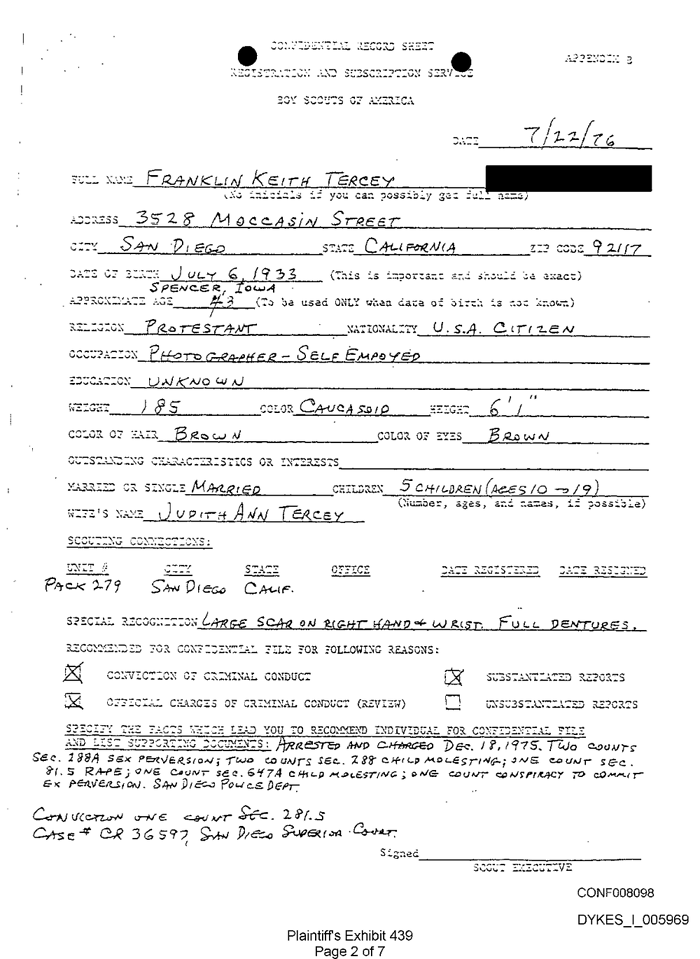 The Best and Worst Things in the History of the World
Yanquis Suck!
For the second consecutive playoff game, swaths of empty seats filled Yankee Stadium, entire rows without a single fan. And on Saturday night, instead of letting them sit embarrassingly open for Game 1 of the ALCS, ushers were told to fill them with fans from other sections.
So Long
Mr O Stanford Ovshinsky, a self-taught inventor whose innovations have been incorporated in many high-tech developments, from flat-screen televisions to laptop computers, died Oct. 17 at his home in Bloomfield Hills, Mich. He was 89.  http://www.washingtonpost.com/local/obituaries/stanford-ovshinsky-innovative-designer-of-energy-conversion-devices-dies-at-89/2012/10/20/c6779f8c-1ae7-11e2-988c-288facba7e16_story.html