We Say Fight Back!
The Classic Rouge Forum Mayday Flyer (125 years on)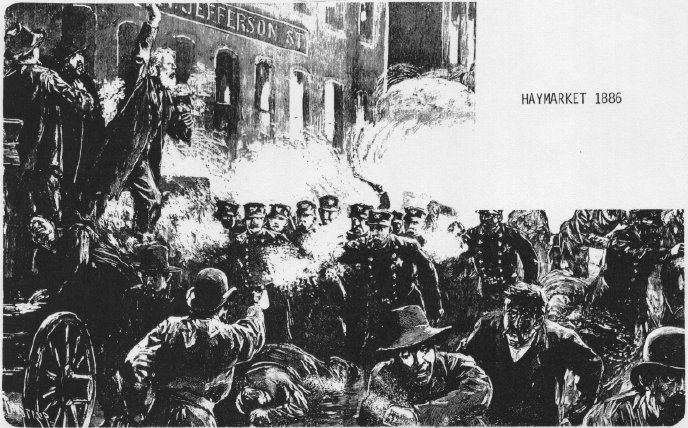 richgibson.com/mayday.htm
China's Truckers Fight Back! Truck drivers disrupted operations at Shanghai's seaport on Friday, the third day of a violence-marred protest that underscores the growing anger among Chinese over rising inflation…Hundreds of demonstrators gathered at a container-handling facility at the city's Baoshan port, news reports stated, monitored by dozens of police officers. On Thursday, thousands of drivers staged a noisy protest at the huge Waigaoqiao port, smashing truck windows of drivers who had refused to join them, and officers arrested several drivers who tried to overturn a police car.
The protests threatened to snarl operations at the world's busiest harbor, but analysts said that any impact was likely to be small. China's state-controlled newspapers ignored the strike, and censors removed reports on the disturbance from Web sites.
Online reports quoted by the Chinese newspaper Economic Observer said that the truckers intended the blockage of the Shanghai ports to last three days.
The drivers were protesting low wages, increased fuel prices — the government recently raised diesel prices by five percent — and higher fees imposed by port operators. "The various fees they have to pay leave them no profit," said Liu Cheng, a law professor and labor specialist at Shanghai Normal University. "This kind of conflict is hard to resolve because it's the government that is collecting those fees." www.nytimes.com/2011/04/23/world/asia/23shanghai.html?_r=1&emc=tnt&tntemail0=y
Congratulations to Brad Porfilio and Heather Hickman on the Publication of: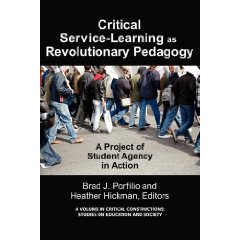 www.amazon.com/Critical-Service-Learning-Revolutionary-Pedagogy-International/dp/1617354325/ref=sr_1_1?ie=UTF8&s=books&qid=1303621797&sr=8-1
The Counterfeit and Reactionary Movement to Defend the Middle Class (or Save "our" Schools): The contention that the middle class is suddenly under attack – and by implication should be defended – is thoroughly flawed. For one, this trend goes back at least 30 years to the savaging of private-sector unionism and the social welfare state combined with deregulation, reloaded militarism and tax breaks for the rich. The current attack on public-sector unions and the remnants of welfare is just the latest stage. Additionally, the attack on the public sector is by not an attack on the middle class as a whole. After all, the Tea Party movement, the right's shock troops, is solidly middle class. Its ideals are captured in the saying "Equality of opportunity does not guarantee equality of outcome." The right rejects public-sector jobs that guarantee incomes, benefits, tenure and pensions because they violate the market, the wellspring of freedom and liberty…
Yet the 1960s youth and counterculture rebellions were in reaction to the banality of the middle class. The New Left critiqued a society where basic material needs seem to have been satisfied by American capitalism, European social democracy and the Soviet's "bureaucratic collectivism," but work was alienating, racism institutionalized, community nonexistent, sexual mores repressive, and daily life atomizing, meaningless and suffocating.
The revolt was also against the link between the middle-class lifestyle and the warfare state that spawned the terror of imminent nuclear war and U.S.-backed coups, vicious dictators, assassinations and wars in the developing world that kept commodities – copper from Chile, bananas from Guatemala, sugar from Cuba, oil from Iran, rubber from Indonesia and tin from Bolivia – inexpensive so as to subsidize American businesses and the middle class.
Liberals conveniently forget that middle-class labor was a full partner in the Cold War. It worked with the CIA through the AFL-CIO's Americorporatism was uncritically, and unconsciously, revived by gooey-eyed liberals and lefties who backed Obama in 2008. A "New" New Deal was based on the fallacy that we could re-create a national capitalism by spending trillions on green jobs and energy. Obama would bring together capital and labor to fund and build the factories that would manufacture electric cars, solar panels, green homes, wind farms, hi-speed rail and a nationwide smart electrical grid.can Institute for Free Labor Development to destroy independent labor movements in the Third World… www.indypendent.org/2011/04/05/the-case-against-the-middle-class/
The Little Red Schoolhouse
Detroit Students and Faculty Occupy School–busted: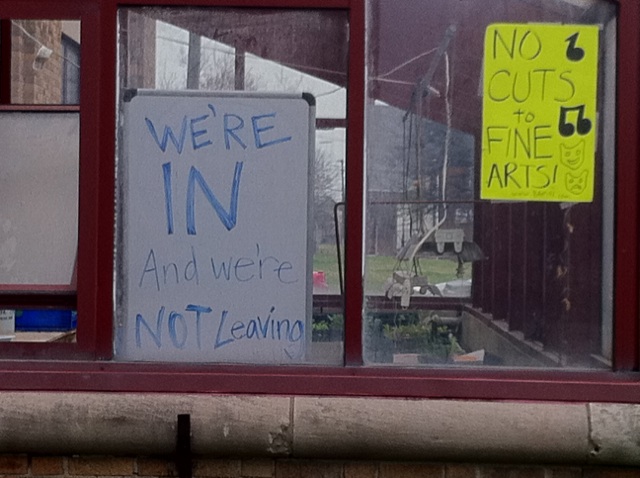 About eight students, several faculty members and supporters have taken over Catherine Ferguson Academy in a attempt to save the Detroit public school from closure.
Students began their occupation at the end of classes Friday, as the school was let out for a week-long April break.
Speaking by phone from inside the school library, science teacher Nicole Conaway said students and their supporters had agreed to stay in the building as long as possible, with the aim being to remain there for the coming week. Conaway said the occupation was the students' idea. "We've done petitioning, we've done letter writing. This is the sit-in portion."
CFA is the city's only public school specifically designed for pregnant teens and teen mothers. It was slated for closure last year as part of DPS Emergency Financial Manager Robert Bobb's plan to downsize the school system, but protests from students and community members kept it open.
NY Times' List of Ed Reformers who Attended (very fine) Private Schools: But there is one thing that characterizes a surprisingly large number of the people who are transforming public schools: they attended private schools.
Which raises the question: Does a private school background give them a much-needed distance and fresh perspective to better critique and remake traditional public schools? Does it make them distrust public schools — or even worse — poison their perception of them? Or does it make any difference?
Your call.
Following is a list of some of these national leaders and the private schools they attended: www.nytimes.com/2011/04/18/education/18winerip.html?pagewanted=1
Outline of California Education Cuts' History: ca.defendpubliceducation.org/?page_id=816
All Detroit Federation of Teachers Members Get Pink Slips: Detroit Public Schools administrators have mailed layoff notices to the 5,466 members of the teachers union as they prepare to scale back the workforce and jettison as many as 25 schools in June.
The district said it expects to revise union contracts next month, using authority granted by the state's new emergency manager law. www.detnews.com/article/20110415/SCHOOLS/104150347/Detroit-Public-School-teachers-union-members-get-pink-slips
Respectable Fascist (genetics determinist) Ed Ideas Rise Again (plus twin studies!) To support his arguments, Mr. Caplan leans heavily on recent studies of identical twins. Comparing the outcomes of twins raised together in a family with those of twins raised apart, these studies conclude that nature matters far more than nurture. In terms of the person you become once you've grown up, what genes you inherited matter a lot more than how you were raised. online.wsj.com/article/SB10001424052748703806304576242661295724864.html?mod=WSJ_Opinion_MIDDLESecondBucket
Internatinal Hot War of the Rich  on the Poor
Yippee! War Means Work! 27,000 Jobs in San Diego! The defense industry created almost 26,600 jobs in San Diego County in fiscal 2009, helping the region get through a devastating recession, says a new economic analysis by UC San Diego.
While jobs were vanishing in construction and other sectors, defense-related employment grew to 354,367. The finding appears in a report commissioned by the San Diego Military Advisory Council, a booster group.
"The impact of the recession would have been a lot worse if not for growth in the defense industry," said Marney Cox, chief economist at the San Diego Association of Governments.
"This was good news that didn't get a lot of attention because people were so focused on overall job losses and foreclosures."http://www.signonsandiego.com/news/2011/apr/20/defense-created-27000-jobs-during-height-recession/
Obamagogue, Sarkozy, Cameron: "No Let up til We Get the Oil" President Obama today signals the return of America to the forefront of the international effort in Libya, writing a joint article with David Cameron and Nicolas Sarkozy in which the three leaders commit their countries to pursue military action until Colonel Gaddafi has been removed.
In the joint article, Obama reverses America's earlier cautious approach to the conflict – which saw the US hand control to Nato and withdraw fighter planes just days after the intervention began – and signs up his country to the more muscular intervention of his European colleagues. www.guardian.co.uk/world/2011/apr/15/obama-sarkozy-cameron-libya
US Intelligence Front Groups Sponsored Fake Arab "Uprisings' A number of the groups and individuals directly involved in the revolts and reforms sweeping the region, including the April 6 Youth Movement in Egypt, the Bahrain Center for Human Rights and grass-roots activists like Entsar Qadhi, a youth leader in Yemen, received training and financing from groups like the International Republican Institute, the National Democratic Institute and Freedom House, a nonprofit human rights organization based in Washington, according to interviews in recent weeks and American diplomatic cables obtained by WikiLeaks.
The work of these groups often provoked tensions between the United States and many Middle Eastern leaders, who frequently complained that their leadership was being undermined, according to the cables.
The Republican and Democratic institutes are loosely affiliated with the Republican and Democratic Parties. They were created by Congress and are financed through the National Endowment for Democracy, which was set up in 1983 to channel grants for promoting democracy in developing nations. The National Endowment receives about $100 million annually from Congress.
US Intel Backed Counterfeit Syrian Rebels: Barada TV is closely affiliated with the Movement for Justice and Development, a London-based network of Syrian exiles. Classified U.S. diplomatic cables show that the State Department has funneled as much as $6 million to the group since 2006 to operate the satellite channel and finance other activities inside Syria. The channel is named after the Barada River, which courses through the heart of Damascus, the Syrian capital.
The U.S. money for Syrian opposition figures began flowing under President George W. Bush after he effectively froze political ties with Damascus in 2005. The financial backing has continued under President Obama  www.washingtonpost.com/world/us-secretly-backed-syrian-opposition-groups-cables-released-by-wikileaks-show/2011/04/14/AF1p9hwD_story.html?hpid=z1
Shocker! After McChrystal Pleads Guilty, Defense Department Finds Him Innocent: Pentagon investigators said they were unable to confirm the events as reported in the June 2010 article in Rolling Stone, and found the evidence "insufficient" to demonstrate a violation of Defense Department standards.
The inspector general's report, released Monday, also challenged the accuracy of the profile of General McChrystal, who was the top commander in Afghanistan. The article, with the headline "The Runaway General," quoted people identified as senior aides to the general making disparaging statements about members of President Obama's national security team.
The profile prompted a furious debate about whether the commander's staff had used insubordinate language, and about the professionalism of General McChrystal's team. He was recalled by the president, accepted responsibility for his staff's actions and resigned.  www.nytimes.com/2011/04/19/us/politics/19military.html
Secret Docs Show Iraq Really Really Was About Oil! Plans to exploit Iraq's oil reserves were discussed by government ministers and the world's largest oil companies the year before Britain took a leading role in invading Iraq, government documents show. ..Five months before the March 2003 invasion, Baroness Symons, then the Trade Minister, told BP that the Government believed British energy firms should be given a share of Iraq's enormous oil and gas reserves as a reward for Tony Blair's military commitment to US plans for regime change.
The papers show that Lady Symons agreed to lobby the Bush administration on BP's behalf because the oil giant feared it was being "locked out" of deals that Washington was quietly striking with US, French and Russian governments and their energy firms.
Minutes of a meeting with BP, Shell and BG (formerly British Gas) on 31 October 2002 read: "Baroness Symons agreed that it would be difficult to justify British companies losing out in Iraq in that way if the UK had itself been a conspicuous supporter of the US government throughout the crisis."
The minister then promised to "report back to the companies before Christmas" on her lobbying efforts.
The Foreign Office invited BP in on 6 November 2002 to talk about opportunities in Iraq "post regime change". Its minutes state: "Iraq is the big oil prospect. BP is desperate to get in there and anxious that political deals should not deny them the opportunity." www.independent.co.uk/news/uk/politics/secret-memos-expose-link-between-oil-firms-and-invasion-of-iraq-2269610.html
Obamagogue (still no war-vote) Hits Libya with Drones: Marine General James Cartwright, vice chairman of the Joint Chiefs of Staff, said the drones can help counteract Gaddafi forces' tactic of travelling in civilian vehicles.
"What they will bring that is unique to the conflict is their ability to get down lower, therefore to be able to get better visibility on targets that have started to dig themselves into defensive positions.
"They are uniquely suited for urban areas."
It comes as Libyan rebels claimed the capture of the Wazin border crossing following fighting outside the desert town of Nalut – about 140 miles southwest of the capital Tripoli. news.sky.com/skynews/Home/World-News/Video-Libya—US-President-Approves-Use-Of-Armed-Predator-Drones-In-Libya/Article/201104315977157
ObamaSkank: "We Love General McChrystal and, like, the Hell with Pat and Mary Tillman: Michelle Obama stands by the appointment of embattled General Stanley McChrystal to co-chair her White House commission on military families.
"He is the best choice, decades of service. We wanted to find someone that would have the respect of the community and he does, who understands the issues, and he does," First Lady Michelle Obama said today on ABC's "The View" today. "General McChrystal has served his country well. He knows these issues, and we're proud to have him on board."
Mrs. Obama was asked if she has had a conversation with Pat Tillman's mother, Mary Tillman who, angered by McChrystal's appointment, told ABC's Jake Tapper that he was part of the propaganda effort pushing the false tale that Tillman had been killed by the enemy, and keeping the truth from the world  — and their family.
"No, we haven't' had one. We haven't had one," the First Lady answered. Mrs. Obama added that McChrystal is part of a "broader board of three – including Patty Shinseki, wife of the Secretary of Veterans Affairs.
"We're looking for someone from the private sector because we want to continue to get those collaborations," she said.
blogs.abcnews.com/politicalpunch/2011/04/michelle-obama-stands-by-mcchrystal-appointment-were-proud-to-have-him-on-board.html
International Economic War of the Rich on the Poor
Obama Becomes Bush in the Corporate State of US Fascism

Obamagogue Becomes Bush (he always was): He ran as the anti-Bush.
Silver-tongued, not tongue-tied. A team player on the world stage, not a lone cowboy. A man who'd put a stop to reckless Bush policies at home and abroad. In short, Barack Obama represented Change.
Well, that was then. Now, on one major policy after another, President Barack Obama seems to be morphing into George W. Bush.
On the nation's finances, the man who once ripped Bush as a failed leader for seeking to raise the nation's debt ceiling now wants to do it himself.
On terrorism, he criticized Bush for sending suspected terrorists to Guantanamo Bay, Cuba, and denying them access to U.S. civilian courts. Now he says he'll do the same.
On taxes, he called the Bush-era tax cuts for the wealthy wrong, and lately began calling again to end them. But in December he signed a deal with Republicans to extend them for two years, and recently he called the entire tax cut package good for the country.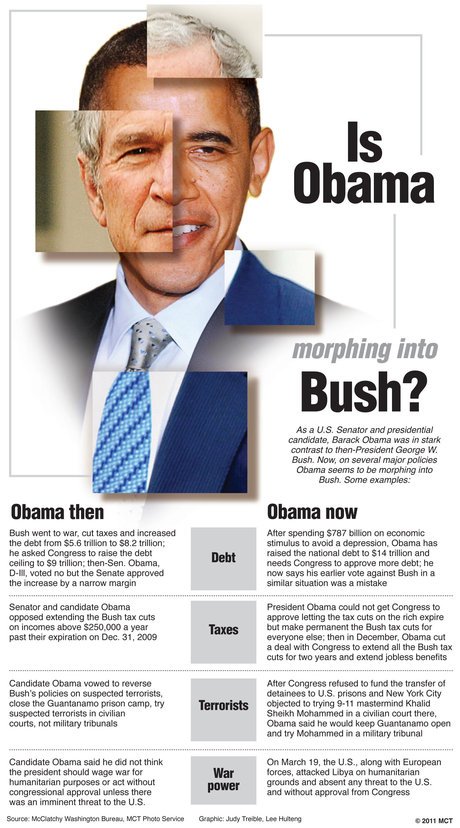 www.mcclatchydc.com/2011/04/18/112346/obama-ran-against-bush-but-now.html
Muni Bankruptcy Threat Makes Michigan Train Financial-Emergency SWAT Teams: Michigan is giving hundreds of financial professionals and public employees a crash course in advising troubled municipalities, building an army of emergency managers that may become a model for other U.S. states.
As many as 400 accountants, lawyers, school employees and city workers will start classes in Lansing today on topics including "Dealing with the Unionized Workforce," navigating municipal bankruptcy and negotiating contracts for sewer, water and other utilities. It's a "rare" example of preparing people in advance for potential fiscal difficulties, said Michael Imber, a principal in Grant Thornton LLP's corporate advisory and restructuring services group.
"Management is usually in denial and waits until it's too late before they reach out, and here was a state saying, 'We need help,'" Imber said. He is on the international executive board of the Turnaround Management Association and was among about 50 initial graduates of Michigan's February course. "It enables qualified professionals to walk around cities and towns in Michigan and say, 'How can I help?'"
States face projected deficits totaling $112 billion in the next fiscal year because revenue hasn't bounced back from the recession while spending on unemployment and Medicaid has swelled. Vallejo, California, the largest municipal bankruptcy case currently in the courts, sought protection in May 2008. In Michigan, where unemployment hasn't been less than 10 percent since October 2008, manufacturing employment remains more than 400,000 jobs, or 46 percent, below the last peak in 2000….Michigan has emergency managers running the schools in Detroit as well as the cities of Pontiac, Ecorse and Benton Harbor. Flint, Hamtramck, Highland Park and Three Oaks Village have had managers in the past. Hamtramck has sought to reorganize under Chapter 9 of the U.S. Bankruptcy Code, which the state has refused to permit. www.bloomberg.com/news/2011-04-18/muni-bankruptcy-threat-makes-michigan-train-financial-emergency-swat-teams.html
Standard and Poors: The US Economic Sky is Falling: A few weeks back, Pimco, the world's biggest bond fund, said it was eliminating its holdings of U.S. government debt.
Then the International Monetary Fund lectured the United States in a tone that sounded more suited to a teetering Third World country than the fund's largest shareholder. A "credible strategy" to stabilize the U.S. national debt is "urgently needed," the IMF warned.
Now comes Standard & Poor's to lower its assessment of U.S. Treasury securities from "stable" to "negative" — meaning at least a one-in-three chance the U.S. debt rating could be lowered within two years.http://www.washingtonpost.com/opinions/standard-and-poors-financial-storm-warning/2011/04/19/AF4DPi7D_story.html
Spy Versus Spy
Michigan State Police Cracking Cell Phones: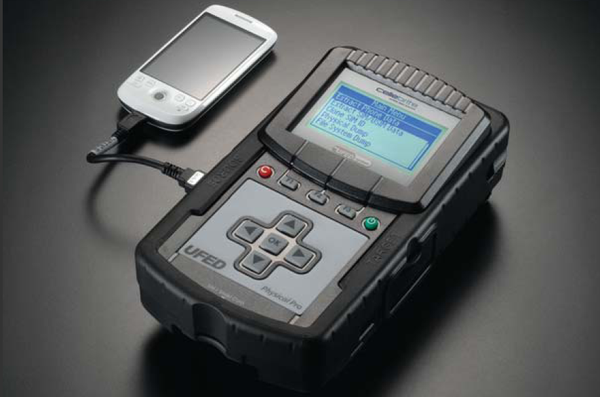 Michigan State Police officers, equipped with forensic cellphone analyzers, have extracted data from cellphones during their police work, and the American Civil Liberties Union wants to know more about it.
The ACLU has raised concerns over the legality of the cellphone scanners (which can scan both regular cellphones and smartphones) and whether the 4th Amendment, which prohibits unreasonable searches and seizures, is being violated by the state police. latimesblogs.latimes.com/technology/2011/04/aclu-concerned-over-michigan-state-police-extracting-phone-data.html
CIA Sued For Refusing to Release Bay of Pigs History: A group in Washington sued the C.I.A. on Thursday over its failure to release its history of the Bay of Pigs invasion, the United States-sponsored effort to topple Fidel Castro in 1961. The group, the National Security Archive, filed a Freedom of Information Act request for the five-volume history in 2005, but says it never received the required response. Only one volume has been released. www.nytimes.com/2011/04/15/world/americas/15briefs-ART-Cuba.html?emc=tnt&tntemail1=y
Solidarity Forever
Airport Screeners in Runoff Between Two Unions (who will oppress us best?) : Federal officials said 8,369 security screeners, who are employees of the Transportation Security Administration, had voted to join the American Federation of Government Employees, while 8,095 had voted to join the National Treasury Employees Union. The vote against unionizing was 3,111. www.nytimes.com/2011/04/21/business/21screener.html?hp
Magical Mystery Tour
Mystic Mess: Terry Jones Arrested, Stopped from Dearborn Mosque Protest: www.freep.com/article/20110423/NEWS02/110423012/Pastor-Terry-Jones-now-says-he-plans-protest-City-Hall-may-file-lawsuit?odyssey=tab|topnews|text|FRONTPAGE
Best things in the History of the World
April 22 (1870) is Lenin's Birthday: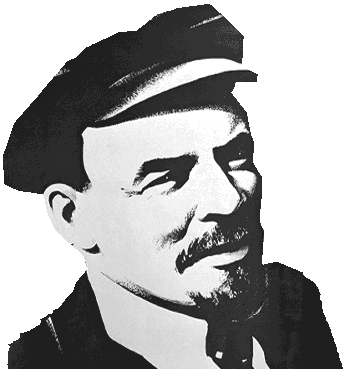 " In falsifying Marxism in opportunist fashion, the substitution of eclecticism for dialectics is the easiest way of deceiving the people. It gives an illusory satisfaction; it seems to take into account all sides of the process, all trends of development, all the conflicting influences, and so forth, whereas in reality it provides no integral and revolutionary conception of the process of social development at all."
Three Bowls of Bullshit Exposed at Last: The CBS News report questioned, in particular, a central anecdote of the book that was as dramatic as it was inspirational: in 1993, Mr. Mortenson was retreating after failing to reach the summit of K2, the world's second highest mountain, when, lost and dehydrated, he stumbled across the small village of Korphe in northeast Pakistan. After the villagers there nursed him back to health, he vowed to return and build a school.
The CBS report, broadcast on "60 Minutes" Sunday night and citing sources, said that Mr. Mortenson had actually visited Korphe nearly one year after his K2 attempt. Mr. Mortenson said on Sunday that he did reach Korphe after his climb in 1993, and that he visited again in 1994…The charity's tax forms list the locations of its schools and how many students it serves. In the 2009 fiscal year, it reported 54 schools in Afghanistan serving 28,475 students, of which 21,165 were girls.
"60 Minutes" said it went to almost 30 of the schools and that roughly half were empty, built by someone else or not receiving any support. www.nytimes.com/2011/04/18/business/media/18mortenson.html?h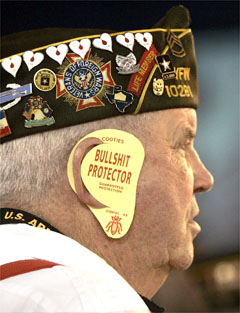 Krakauer on Three Bowls of Bullshit: Afghanistan, Graveyard Of Lies: A Tribute To Jon Krakauer's 'Three Cups of Deceit.'
"The first eight chapters of Three Cups of Tea are an intricately wrought work of fiction presented as fact. And by no means was this an isolated act of deceit. It turns out that Greg Mortenson's books and public statements are permeated with falsehoods. The image of Mortenson that has been created for public consumption is an artifact born of fantasy, audacity, and an apparently insatiable hunger for esteem. Mortenson has lied about the noble deeds he has done, the risks he has taken, the people he has met, the number of schools he has built. Three Cups of Tea has much in common with A Million Little Pieces, the infamous autobiography by James Frey that was exposed as a sham. But Frey, unlike Mortenson, didn't use his phony memoir to solicit tens of millions of dollars in donations from unsuspecting readers, myself among them. Moreover, Mortenson's charity, the Central Asia Institute, has issued fraudulent financial statements, and he has misused millions of dollars donated by schoolchildren and other trusting devotees. 'Greg," says a former treasurer of the organization's board of directors, "regards CAI as his personal ATM. . .' " transmontanus.blogspot.com/2011/04/exerpt-from-jon-krakauers-three-cups-of.html
Worst Things in History of the World
War Crimes Ok but DO NOT Cuckold your best Friend, Pay Him Off, and Hang Out with Ethical Senators: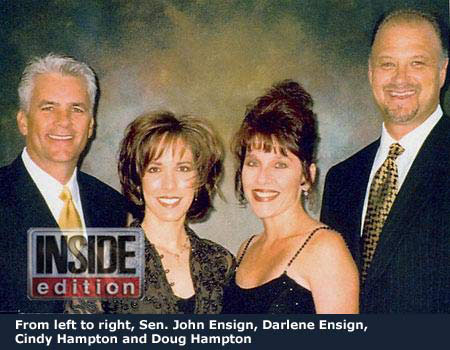 After learning of the affair in 2008, Mr. Hampton confronted the senator. Soon after, he and his family were given $96,000 by the senator's parents, described by Mr. Ensign as a gift, and Mr. Hampton left the senator's staff.
Senate ethics investigators have been examining whether that payment may in fact have been an illegal campaign contribution by Mr. Ensign's parents as part of an effort to buy Mr. Hampton's silence. In a series of interviews with The New York Times in 2009, Mr. Hampton also said the senator had helped him get started in his new career as a lobbyist, pushing prominent Nevada executives to hire him, with the understanding that Mr. Hampton would be able to influence Mr. Ensign.http://www.nytimes.com/2011/04/22/us/politics/22ensign.html?_r=1&hp
So Long, Cuban Socialism: For months, Cubans have been treated to an uncharacteristically blunt assessment of their future by none other than their president, Raúl Castro. They do not work hard enough and live too much off the state dole, he has said. The economy has been based on an unworkable math in which two plus two "equals six or eight," as he put it in a speech on Saturday. And the leadership has failed to groom a young generation to take over, leaving the upper echelon of the party dominated by standard-bearers of the revolution who are as old as 87.
No longer, he has promised, pushing forward a battery of changes, vastly expanding small businesses and, for the first time since the 1959 revolution, allowing Cubans to buy and sell private homes, something now done only through a bustling underground market. www.nytimes.com/2011/04/19/world/americas/19cuba.html?emc=tnt&tntemail0=y