eWe Say Fight Back!

Yossarian: If he raises the number of missions again, I swear to God, I'll help you kill him.
Dobbs: Really?
Yossarian: I swear.
Dobbs: Well, that's very reasonable of you. (Joseph Heller, Catch 22)
www.youtube.com/watch?v=_uZp_iHc5Ag
Congratulations on the Pubication of
Resisting Pearson and the Taylorites The idea that a handful of college instructors and student teachers in the school of education at the University of Massachusetts could slow the corporatization of public education in America is both quaint and ridiculous.  Sixty-seven of the 68 students studying to be teachers at the middle and high school levels at the Amherst campus are protesting a new national licensure procedure being developed by Stanford University with the education company Pearson.
The UMass students say that their professors and the classroom teachers who observe them for six months in real school settings can do a better job judging their skills than a corporation that has never seen them.
They have refused to send Pearson two 10-minute videos of themselves teaching, as well as a 40-page take-home test, requirements of an assessment that will soon be necessary for licensure in several states.
"This is something complex and we don't like seeing it taken out of human hands," said Barbara Madeloni, who runs the university's high school teacher training program. "We are putting a stick in the gears."  http://www.nytimes.com/2012/05/07/education/new-procedure-for-teaching-license-draws-protest.html?pagewanted=all
"A.L.i.C.E. training": alert, lockdown, inform, counter, evacuate. ALICE teaches potential victims "how to barricade, how to lock down, how to run," Corbett says. And while he says escape is always best, "when it gets to the point that [the shooters] are there to do the harm, do you really want your kid just to hide under the desk?"
Corbett says "countering," or fighting back, is a last resort, but he feels strongly that people should know how.
He illustrates one "counter" technique with a drill using tennis balls. Shooters can't help but look at flying objects, he says. That can buy students time to flee or charge.
Corbett also stresses the need to work together.
"Teamwork. Strength in numbers, guys. You don't want two things going at his head, you want 34 things going at his head," Corbett says. "You're gonna be fighting, throwing, screaming, yelling and swarming, getting out of the way, moving."   www.npr.org/2012/10/11/162712905/to-survive-a-shooting-students-learn-to-fight-back
Shen versus the Landlord's Goons The men who barged through Shen Jianzhong's door probably thought it was a routine assignment: Break in and beat Shen's family into submission. Forced evictions to make way for real estate development are an everyday occurrence in China, and the family may have seemed no different from any in that situation.
It was only after they forced open the door, threw Shen's wife to the ground and began to beat her that they learned the 38-year-old Shen and his 18-year-old son are kung fu masters.
"I take Bruce Lee very seriously," said Shen in a telephone interview a month after the incident.
Shen says he does not recall exactly what happened during the fight, but an eight-minute video of the aftermath shows seven of the hired hands piled in a motionless heap in Shen's doorway. Blood pools around the cheek of one; another lies halfway through the doorway, crumpled on the curb. Survivors mill about unsteadily on the street, glaring at the camera.
The video, shot by Shen's wife, has attracted nearly a million views and many admiring comments since it was posted online Oct. 30   www.latimes.com/news/nationworld/world/la-fg-china-land-disputes-20121230,0,5651064.story
The Little Red Schoolhouse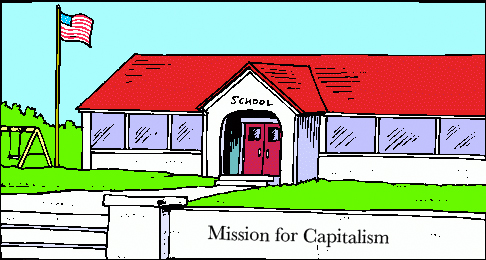 Class War Campus … the growing role that education plays in preserving class divisions. Poor students have long trailed affluent peers in school performance, but from grade-school tests to college completion, the gaps are growing. With school success and earning prospects ever more entwined, the consequences carry far: education, a force meant to erode class barriers, appears to be fortifying them.
"Everyone wants to think of education as an equalizer — the place where upward mobility gets started," said Greg J. Duncan, an economist at the University of California, Irvine. "But on virtually every measure we have, the gaps between high- and low-income kids are widening. It's very disheartening."    http://www.nytimes.com/2012/12/23/education/poor-students-struggle-as-class-plays-a-greater-role-in-success.html?ref=jasondeparle
Who Lost All the Kiddies for the Schools of SE Michigan? Every Kid a Dollar Sign Swift declines in school enrollment across metro Detroit are increasingly driving school districts into debt and forcing administrators to sharpen their knives to make the cuts needed to avoid greater financial disaster — or a state takeover.
New data out this month shows that over the last five years — from fall 2008 to fall 2012 — enrollment has declined 17% in Macomb, Oakland and Wayne county school districts. Some have seen staggeringly high losses: 69% in Highland Park, 46% in Detroit, 29% in Pontiac and 26% in Romulus and Inkster.
Among the 10 districts that had the biggest percentage declines, nine are operating with a deficit.
"There's no doubt we would be out of a deficit if our enrollment would remain stable," said Jim Meisinger, superintendent for Hazel Park Schools, where enrollment has dropped 19%.
But that's not likely to happen, said demographer Kurt Metzger, director of the nonprofit Data Driven Detroit. He said Michigan Department of Community Health data show the number of live births in Michigan was down nearly 16% from 2000 to 2010. During that same time period, the number of births was down 11.8% in Macomb, 19.4% in Oakland and 22.3% in Wayne. In Detroit, that number was down 31%. Overall, 20 districts in the region saw double-digit enrollment losses. …Detroit Public Schools (Wayne): $72,003,336 www.freep.com/article/20121226/NEWS05/312260083/Fewer-students-means-more-money-woes-for-state-s-school-districts?odyssey=mod|newswell|text|FRONTPAGE|p
Michigan Turns CCs into BA Diploma Mills to Warehouse and Delude Youth a Few More Years A bill to allow community colleges to offer four bachelor's degrees is among 22 bills signed into law Friday.
Public Act 495 will allow the state's 28 community colleges to offer baccalaureate degrees in energy production, concrete technology, maritime technology and culinary arts. Nursing was originally on the list but was dropped in an amended version of the bill.   From The Detroit News: www.detroitnews.com/article/20121229/POLITICS02/212290346#ixzz2GTqinLlT
The Common Core Is Good For You/Good For YOU/GOOD FOR YOU! Best! Very Best! Swell!
Capital's School's Cram and Drop Method Would you like the perspective from our students? My son is a high achiever. He has high grades, takes AP classes and has already been accepted by the colleges to which he applied.
He and his friends call our system of education the "cram and drop method." They cram as much information into their brains as they can so they can ace the test, then quickly drop everything from their memory so they can cram the next bit of information for the next test.
They are so overwhelmed with tests and essays that they have no time to absorb anything, let alone develop critical thinking or a love of learning. Good job, education experts.
Wendy Velasco
Whittier  http://www.latimes.com/news/opinion/letters/la-le-fiction-vs-nonfiction-20121228,0,6493872.story
Italy Don't Need No New Teachers… in 1999. That was the last time Italy held open examinations to fill teaching positions in its public schools. So when the exams opened this week, it set off something of a nationwide frenzy among Italy's despairing underemployed educators, drawing more than 321,000 hopefuls for just about 11,500 openings.
The ratios said as much about the dim job prospects facing Italians with unemployment now topping 11 percent — and nearly 14 percent for people age 24 to 35 — as they did about the rigidities and turf-mindedness of a public education sector that has for years been dented by hiring freezes and job cuts.
The teaching exam is supposed to take place every three years. But the Education Ministry has continued to postpone the costly process, while aspiring teachers and unions have fumed. Hiring teachers on temporary contracts, in the meantime, has cost the state less than hiring full-time employees, critics charge.   www.nytimes.com/2012/12/21/world/europe/a-frenzy-in-italy-over-teaching-jobs.html?ref=global-home&_r=1&
The International Hot War of the Rich on the Poor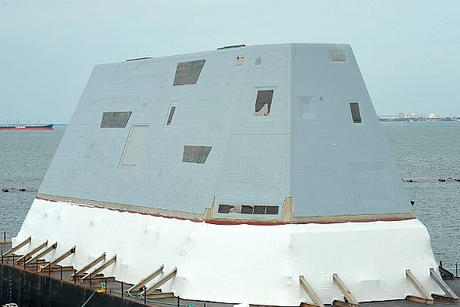 WooHoo! War Means Work! New Old Ironsides! A futuristic class of destroyers that will be homeported in San Diego reached a key development milestone earlier this month at a shipyard in Maine, where the 900-ton deckhouse of the Zumwalt was added to its hull, creating a ship that strongly resembles some of the "Ironclad" vessels of the American Civil War.
General Dynamics' Bath Iron Works (BIW) is building three of the ships — the Zumwalt, Michael Monsoor and Lyndon B. Johnson — in a program that represents a major technological leap for the Navy. At 610-feet, the Zumwalts will be 105 feet longer than the modern Burke-class destroyers. In fact, they'll be the largest destroyers ever built for the Navy and the first to be propelled entirely by electric drive systems. The Burkes have gas turbine engines, and the old Ironclads were steam powered.  On Dec. 13-14, BIW used four cranes to lift the Zumwalt's deckhouse into place. The deckhouse is low and slanted and fits atop a hull that is long, narrow and somewhat shaped like a knife. The low profile is meant to make it hard to detect the ship by radar and sonar, and to enable the vessel to perform a variety of missions in shallow coastal waters, including land attack. The Navy might equip the Zumwalt ships with railguns, an experimental weapon that's meant to use electromagnetic energy to fire projectiles about 100 miles. General Atomics in San Diego is one of the lead contractors on the railgun.
With the addition of the deckhouse, the first Zumwalt is 70 percent complete. The Navy says the ship will be christened and commissioned next year, and delivered to the fleet in fiscal 2014. It's not yet clear when the ship will make the transfer to San Diego, which is also home to the Navy's new littoral combat ships. Construction also is underway on the two other ships, the Navy says.  http://www.utsandiego.com/news/2012/dec/27/back-future-navy-warship-taking-shape/?sciquest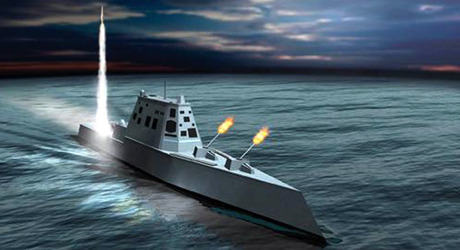 above–war-art is normal in barbarized societies–an artist's rendering of the Zumwalt class destroyer–pretty!
Part of the Still Classified Benghazi Report "Systemic failures and leadership and management deficiencies at senior levels within two bureaus," the report said, resulted in security "that was inadequate for Benghazi and grossly inadequate to deal with the attack that took place."  http://www.nytimes.com/interactive/2012/12/18/us/19benghazi-report.html?ref=politics
The Real Defense Budget is more than One Trillion Dollars and There goes the NDAA Again The U.S. House of Representatives approved the final version of the annual defense policy bill on Thursday, authorizing $633.3 billion in defense spending for 2013, easing limits on satellite exports and providing more Marines for embassy security.
The Republican-controlled House approved the 2013 National Defense Authorization Act by a vote of 315-107. The measure must still be approved by the Senate before it can go to President Barack Obama to be signed into law. The measure authorizes a Pentagon base budget of $527.5 billion, plus $88.5 billion for overseas operations, primarily the war in Afghanistan. The base budget includes $17.4 billion for defense-related nuclear programs at the Energy Department.
The NDAA sets defense policy for the year. While it authorizes spending levels for different military programs, it does not appropriate the money. That is done under separate legislation in the House and Senate.  http://www.chicagotribune.com/business/sns-rt-us-usa-defense-policybre8bj1fq-20121220,0,4837003.story
Patrick Cockburn on the Civil War in Syria (begun by  USA terrorists) It is true that there is the rumble of artillery in Damascus, but the city is not besieged. The roads north to Homs and south to Deraa are open, as is the road to Beirut. When the rebels do capture a district, government artillery pounds it, killing some and forcing others to flee. For those living in undamaged areas of the capital, there is an ever-growing fear of what the future holds, combined with increasing difficulties in day-to-day living because of cuts in electricity and a shortage of bread and cooking gas.
The rebels are making some progress on the ground but, overall, Syrians face a political and military stalemate. The rebels' assaults on Aleppo and Damascus have faltered, but the government forces do not have the strength to push them out of enclaves they have taken over. In the north, in particular, the rebels are making ground in the countryside around Hama, Idlib and Aleppo, but their advance is still slow.
The revolution has turned into a civil war. The uprising of Syrians against a cruel police state that started in March 2011 increasingly looks to Alawites, Christians, Druze and other minorities like a sectarian campaign aimed at their elimination. They watch YouTube pictures of Alawite officers being ritually decapitated and wonder what fate awaits them if Assad is defeated.
On top of this, there is a simple fear of anarchy on the part of middle-class urban Syrians who have seen Aleppo devastated and believe the same will happen to Damascus. When I arrived in the capital at the start of the month I asked a friend about the mood and he said: "Fifteen per cent for the government, 15 per cent against and 70 per cent want this war over before it ruins us all."
Can the present stalemate be broken? It does not really look like it unless the rebels receive a massive transfusion of money, training and guns, and this would not immediately have a decisive impact. Alternatively, Washington and London have long been hoping for a split in the Syrian leadership, but this has not happened.    http://www.independent.co.uk/voices/comment/syria-is-many-conflicts-rolled-into-one-it-is-also-at-the-centre-of-two-regional-struggles-8433199.html
333 Drone Strikes in 2012 in Afghanistan alone, winning hearts and minds again The United States carried out more drone strikes in Afghanistan this year than it has done in all the years put together in Pakistan since it launched the covert air war there eight years ago, it has been revealed.
The statistics, published by the U.S. Air Force and published by Wired's Danger Room blog, show that there were 333 drone strikes in Afghanistan in 2012 alone, up from 294 in the previous year and 278 in 2010.
It is far more than an estimated 338 strikes carried out by the CIA in Pakistan since it began hunting down remnants of al Qaeda, the Taliban and other militant groups in the Federally Administered Tribal Areas eight years ago. Read more: www.dailymail.co.uk/news/article-2251418/Revealed-U-S-carried-333-drone-strikes-Afghanistan-year–entire-drone-strikes-Pakistan-past-years-COMBINED.html#ixzz2Fx4Ucc7O
Yemen Coverup–US Drones Murdering Civilians Within seconds, 11 of the passengers were dead, including a woman and her 7-year-old daughter. A 12-year-old boy also perished that day, and another man later died from his wounds.
The Yemeni government initially said that those killed were al-Qaeda militants and that its Soviet-era jets had carried out the Sept. 2 attack. But tribal leaders and Yemeni officials would later say that it was an American assault and that all the victims were civilians who lived in a village near Radda, in central Yemen. U.S. officials last week acknowledged for the first time that it was an American strike.
"Their bodies were burning," recalled Sultan Ahmed Mohammed, 27, who was riding on the hood of the truck and flew headfirst into a sandy expanse. "How could this happen? None of us were al-Qaeda."    http://www.washingtonpost.com/world/middle_east/when-us-drones-kill-civilians-yemens-government-tries-to-conceal-it/2012/12/24/bd4d7ac2-486d-11e2-8af9-9b50cb4605a7_story.html?hpid=z2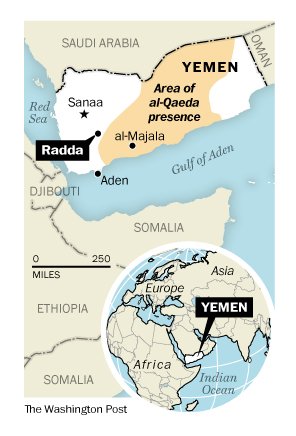 Pakistan–Drone Blowback They are dead men talking, and they know it. Gulping nervously, the prisoners stare into the video camera, spilling tales of intrigue, betrayal and paid espionage on behalf of the United States. Some speak in trembling voices, a glint of fear in their eyes. Others look resigned. All plead for their lives.  "I am a spy and I took part in four attacks," said Sidinkay, a young tribesman who said he was paid $350 to help direct C.I.A. drones to their targets in Pakistan's tribal belt. Sweat glistened on his forehead; he rocked nervously as he spoke. "Stay away from the Americans," he said in an imploring voice. "Stay away from their dollars."
Al Qaeda and the Taliban have few defenses against the American drones that endlessly prowl the skies over the bustling militant hubs of North and South Waziristan in northwestern Pakistan, along the Afghan border. C.I.A. missiles killed at least 246 people in 2012, most of them Islamist militants, according to watchdog groups that monitor the strikes. The dead included Abu Yahya al-Libi, the Qaeda ideologue and deputy leader.
Despite the technological superiority of their enemy, however, the militants do possess one powerful countermeasure.
For several years now, militant enforcers have scoured the tribal belt in search of informers who help the C.I.A. find and kill the spy agency's jihadist quarry.  http://www.nytimes.com/2012/12/30/world/asia/drone-war-in-pakistan-spurs-militants-to-deadly-reprisals.html?emc=tnt&tntemail1=y
The Barbarous Allies of the USA in Syria set up Religious Police The Syrian opposition groups that have taken control of Aleppo's countryside are deploying a religious police force to enforce new laws, such as barring women from driving and making prayer compulsory.  http://english.al-akhbar.com/content/syria-religious-police-patrol-aleppo's-countryside
The International Economic War of the Rich on the Poor
Peter Maddoff's Wrist Slap After Stealing Billions Peter B. Madoff was sentenced on Thursday to 10 years in prison for crimes that helped his brother, Bernard L. Madoff, swindle investors out of billions of dollars in a Ponzi scheme that collapsed four years ago this month.
A lawyer by training, Peter Madoff is the second figure in the scandal to be sentenced. His older brother, Bernard, pleaded guilty in March 2009 and is serving a prison term of 150 years. dealbook.nytimes.com/2012/12/20/peter-madoff-is-sentenced-to-10-years-for-his-role-in-fraud/?ref=global-home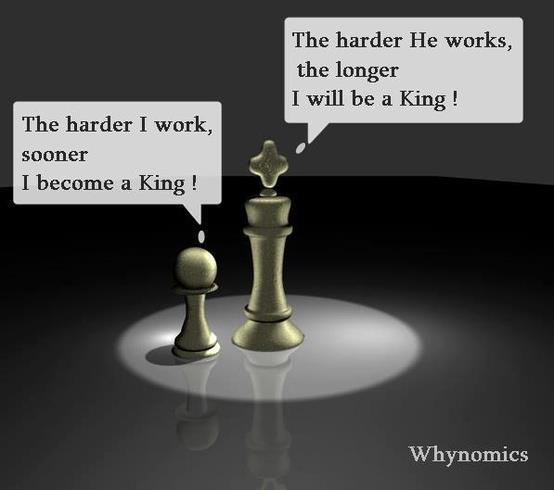 More Details on the BiPartisan Auto Ripoff The Treasury Department is exiting its stake in General Motors Co., and the biggest losers may be the real people who provided the cash.
Four years to the day after President George Bush tossed a taxpayer-financed lifeline to the Detroit automaker, the feds said Wednesday they are taking their losses, selling 200 million shares of the government's remaining stake back to the automaker and will soon begin peddling its remaining stake on the open market.
The reality of this transaction, announced barely a month after President Barack Obama heavily touted the auto bailout in his successful bid for re-election, is that the president, GM, the Detroit auto industry and the state of Michigan are emerging winners. But American taxpayers? Not so much, in either the narrow financial sense or the broader implications for government intervention in (failing) private industry.
Treasury will take a substantial loss on its $49.5 billion bailout of the nation's No. 1 automaker — estimated to be roughly $13 billion at the current share price. And the president will begin his second term knowing his controversial decision to bail out GM and Chrysler Group LLC helped him secure four more years in the White House, even if it isn't proving to be a shrewd investment decision. www.detroitnews.com/article/20121220/OPINION03/212200395#ixzz2FvqtmrqT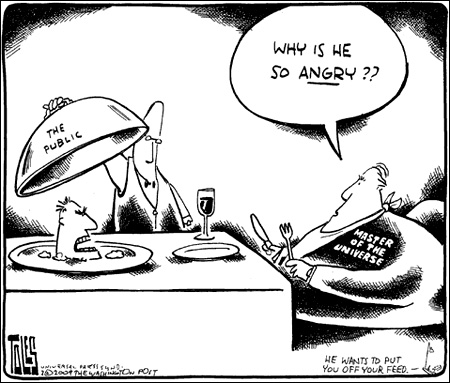 No Criminal Charges but UBS $5 billion Fine Swiss bank UBS was hit with a $1.5 billion bill and admitted to fraud on Wednesday in order to settle charges of manipulating global benchmark interest rates.
The penalty agreed with US, UK and Swiss regulators is more than three times the $450 million fine levied on Britain's Barclays in June for rigging the Libor benchmark rate used to price financial contracts around the globe.
It is the second-largest fine paid by a bank and comes a week after Britain's HSBC agreed to pay the biggest ever penalty — $1.92 billion — to settle a probe in the United States into laundering money for drug cartels.   world.einnews.com/article/128663924/usBhMxoq204FwLu3?afid=777&utm_source=MailingList&utm_medium=email&utm_campaign=Breaking+News%3A+world238-wednesday
The Emergence of Fascism as a Popular Mass Movement
January 3-1925 – Benito Mussolini announces he is taking dictatorial powers over Italy.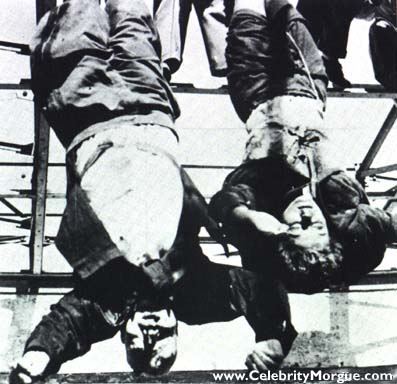 above, Mussolini and paramour on April 28th, !945. Fascists do not win over time.
Banksters, FBI, Coppers and Universities Co-ordinated Attacks on the OWS Ghost Dance It was more sophisticated than we had imagined: new documents show that the violent crackdown on Occupy last fall – so mystifying at the time – was not just coordinated at the level of the FBI, the Department of Homeland Security, and local police. The crackdown, which involved, as you may recall, violent arrests, group disruption, canister missiles to the skulls of protesters, people held in handcuffs so tight they were injured, people held in bondage till they were forced to wet or soil themselves –was coordinated with the big banks themselves.
The Partnership for Civil Justice Fund, in a groundbreaking scoop that should once more shame major US media outlets (why are nonprofits now some of the only entities in America left breaking major civil liberties news?), filed this request. The document – reproduced here in an easily searchable format – shows a terrifying network of coordinated DHS, FBI, police, regional fusion center, and private-sector activity so completely merged into one another that the monstrous whole is, in fact, one entity: in some cases, bearing a single name, the Domestic Security Alliance Council. And it reveals this merged entity to have one centrally planned, locally executed mission. The documents, in short, show the cops and DHS working for and with banks to target, arrest, and politically disable peaceful American citizens.
The documents, released after long delay in the week between Christmas and New Year, show a nationwide meta-plot unfolding in city after city in an Orwellian world: six American universities are sites where campus police funneled information about students involved with OWS to the FBI, with the administrations' knowledge (p51); banks sat down with FBI officials to pool information about OWS protesters harvested by private security; plans to crush Occupy events, planned for a month down the road, were made by the FBI – and offered to the representatives of the same organizations that the protests would target; and even threats of the assassination of OWS leaders by sniper fire – by whom? Where? – now remain redacted and undisclosed to those American citizens in danger, contrary to standard FBI practice to inform the person concerned when there is a threat against a political leader (p61).
As Mara Verheyden-Hilliard, executive director of the PCJF, put it, the documents show that from the start, the FBI – though it acknowledges Occupy movement as being, in fact, a peaceful organization – nonetheless designated OWS repeatedly as a "terrorist threat":  http://seattleducation2010.wordpress.com/2012/12/30/the-fbi-coordinated-the-crackdown-of-occupy-with-big-banks/
Wrongful Convictions, the Upshot of the Systematic FBI Lies (don't talk to them) Thousands of criminal cases at the state and local level may have relied on exaggerated testimony or false forensic evidence to convict defendants of murder, rape and other felonies.
The forensic experts in these cases were trained by the same elite FBI team whose members gave misleading court testimony about hair matches and later taught the local examiners to follow the same suspect practices, according to interviews and documents.    http://www.washingtonpost.com/local/crime/review-of-fbi-forensics-does-not-extend-to-federally-trained-state-local-examiners/2012/12/22/b7ef9c2e-4965-11e2-ad54-580638ede391_story.html?hpid=z1
www.youtube.com/watch?v=sm_2ZQ8ZXeg
Rights? Rights? We don't need to give you no Stinkin Rights. The 4th Ammendment The US Senate on Friday voted to reauthorize the FISA Amendments Act of 2008, a spying bill that critics say violates the Fourth Amendment and gives vast, unchecked surveillance authority to the government.
The move extends powers of the National Security Agency to conduct surveillance of Americans' international emails and phone calls.
The FISA Amendments Act Reauthorization Act (H.R. 5949), passed on a 73-23 vote.
"It's a tragic irony that FISA, once passed to protect Americans from warrantless government surveillance, has mutated into its polar opposite due to the FISA Amendments Act," said Michelle Richardson, legislative counsel at the ACLU. "The Bush administration's program of warrantless wiretapping, once considered a radical threat to the Fourth Amendment, has become institutionalized for another five years."   www.commondreams.org/headline/2012/12/28
Mexico: Back to the Torture Under the government of President Felipe Calderon, whose six-year term ended Dec. 1, the use of torture by state security forces soared to unprecedented levels, according to several Mexican and international human rights organizations, as well as testimony collected by The Times.
Various forms of torture, including the "waterboarding" familiar to Americans after Sept. 11, sexual assault and electrical shocks to genitals, have been inflicted by state security agencies on Mexicans detained on sometimes specious suspicion.
The technique described by Hernandez Silva is an old one in Mexico, known in slang as the tehuacan, for the brand of carbonated water often forced up the victim's nose (spiked, sometimes, with chili powder).
Human rights organizations are especially critical of the Calderon administration for failing to stop or investigate what they term "systematic" torture, long after the practice was exposed.
One group, the New York-based Human Rights Watch, this year forwarded a report on torture and other abuses to prosecutors at the International Criminal Court, or ICC, at The Hague, as the tribunal considers whether to open an investigation into Calderon on possible crimes against humanity. Although it is unlikely that the court would prosecute a former head of state from a country that has functioning institutions, the case would nevertheless embarrass Calderon and put pressure on his successor, President Enrique Peña Nieto, to change course.   www.latimes.com/news/nationworld/world/la-fg-mexico-torture-20121231,0,7355136.story
Solidarity for Never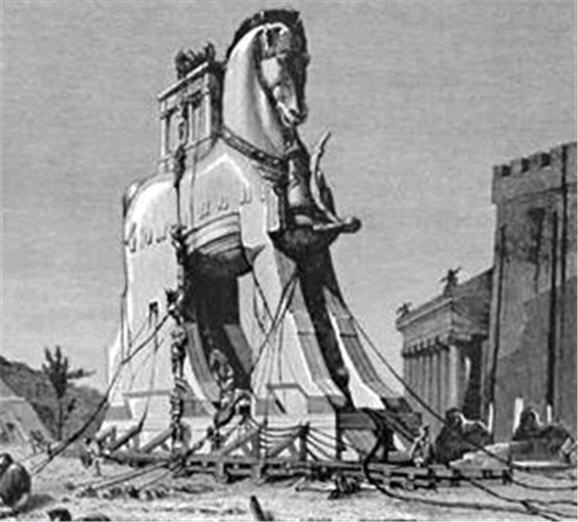 Unionite Reformers is Mornin'glories — I operated on the assumption that, if you just kept
winning in a principled way, the work you were doing would create the conditions for its own continued existence. The people at the top might not like you, they might not understand what you were trying to do, they might consider you a big pain in the ass, but if you consistently succeeded at the assignments they gave you, ultimately they would give you more assignments
and the work would go forward.
I was wrong….Past a certain point, winning actually becomes a liability, because the people at the top will feel threatened by the power you're accumulating unless they can control it; they cannot imagine that your ambition would not be to use that power in the same way they use theirs. It took ten years of banging my head on a wall to finally knock that into it." lists.portside.org/cgi-bin/listserv/wa?A2=PORTSIDELABOR;2007e4e9.1211d
AFGE Washington St Boss Charged with Corruption On November 16, David Currie, former president and treasurer of Local 2583 of the American Federation of Government Employees, was charged in the Superior Court of Washington, County of Clark, with two counts of theft in an unspecified amount from the Vancouver, Wash.-based union. The charges follow an investigation by the U.S. Labor Department's Office of Labor-Management Standards.
PA Letter Carriers On November 16, Frank Rysz, former secretary-treasurer for National Association of Letter Carriers Local Branch 1124, pleaded guilty in U.S. District Court for the Western District of Pennsylvania to one count of embezzling $12,514.91 in funds from the New Stanton, Pa. union. Rysz had been indicted in March. The indictment and guilty plea follow an investigation by the U.S. Labor Department's Office of Labor-Management Standards.
CWA Treasurer and Ex Prezzie On November 14, James Killingsworth and Bobbie Jo Killingsworth, respectively, former president and treasurer of Communications Workers of America Local 84555, were charged in U.S. District Court for the Eastern District of Michigan with aiding and abetting each other in the embezzlement of $19,197.02 in funds from the Weberville, Mich. (southeast of Lansing) union. The defendants allegedly made unauthorized ATM and cash withdrawals from the union bank account. The charges follow an investigation by the Labor Department's Office of Labor-Management Standards.
UFCW Bosses Anthony Fazio Sr., his son, Anthony Fazio Jr., and his nephew, John Fazio were sentenced to 151 months, 5 years, and 135 months, respectively, in federal prison for their roles in a massive criminal scheme that included charges of racketeering, money laundering, and witness tampering. The Fazios were longtime leaders of the United Food and Commercial Workers Union Local 348-S. "For decades, the Fazios sold out their union members, and got rich off the backs of the working men and women they were supposed to represent," Manhattan U.S. Attorney Preet Bharara said of the case. 1.usa.gov/Yndff0
Spy versus Spy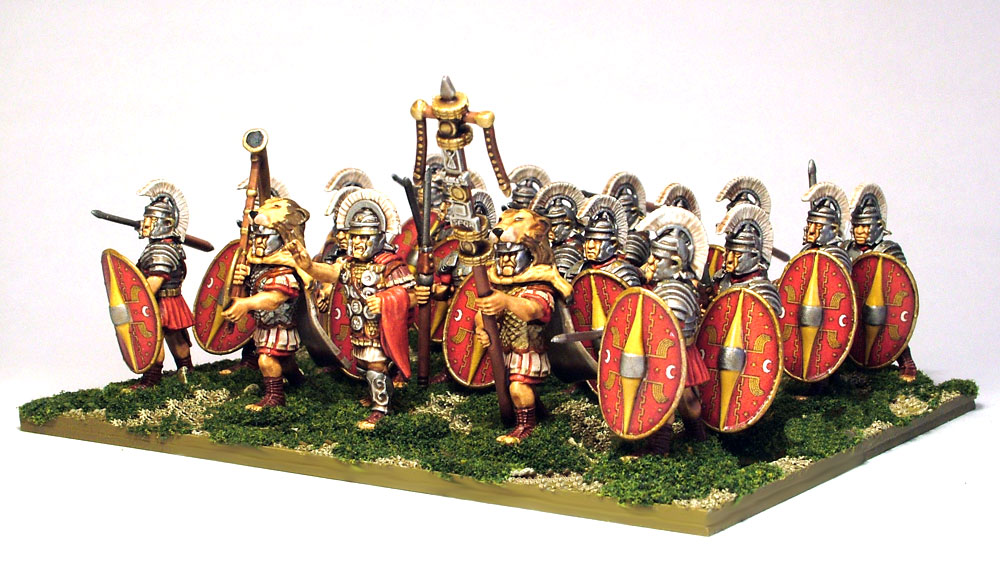 Presidential Praetorian Guard Expands Two of the Americans killed in Benghazi were members of the CIA's Global Response Staff, an innocuously named organization that has recruited hundreds of former U.S. Special Forces operatives to serve as armed guards for the agency's spies.  The GRS, as it is known, is designed to stay in the shadows, training teams to work undercover and provide an unobtrusive layer of security for CIA officers in high-risk outposts.
But a series of deadly scrapes over the past four years has illuminated the GRS's expanding role, as well as its emerging status as one of the CIA's most dangerous assignments.
Of the 14 CIA employees killed since 2009, five worked for the GRS, all as contractors. They include two killed at Benghazi, as well as three others who were within the blast radius on Dec. 31, 2009, when a Jordanian double agent detonated a suicide bomb at a CIA compound in Khost, Afghanistan.
GRS contractors have also been involved in shootouts in which only foreign nationals were killed, including one that triggered a diplomatic crisis. While working for the CIA, Raymond Davis was jailed for weeks in Pakistan last year after killing two men in what he said was an armed robbery attempt in Lahore.
The increasingly conspicuous role of the GRS is part of a broader expansion of the CIA's paramilitary capabilities over the past 10 years. Beyond hiring former U.S. military commandos, the agency has collaborated with U.S. Special Operations teams on missions including the raid that killed Osama bin Laden and has killed thousands of Islamist militants and civilians with its fleet of armed drones…… The security apparatus relies heavily on contractors who are drawn by relatively high pay and flexible schedules that give them several months off each year. In turn, they agree to high-risk assignments in places such as Benghazi and are largely left on their own to take basic precautions, such as finding health and life insurance.     http://www.washingtonpost.com/world/national-security/cias-global-response-staff-emerging-from-shadows-after-incidents-in-libya-and-pakistan/2012/12/26/27db2d1c-4b7f-11e2-b709-667035ff9029_story.html?hpid=z2
Eyes on the Movement, and Movement Resists In a potentially precedent-setting decision, the Ninth Circuit Court of Appeals ruled Monday that a Guild lawyer's challenge to military spying on peace activists can proceed. The ruling marks the first time a court has affirmed people's ability to sue the military for violating their First and Fourth Amendment rights.
"This has never been done before," said NLG member attorney Larry Hildes, who is handling the case. "The U.S. government has spied on political dissidents throughout history and this particular plot lasted through two presidencies, but never before has a court said that we can challenge it the way we have."
The ruling is the latest development in the lawsuit, Panagacos v. Towery, first brought by Hildes in 2009 on behalf of a group of Washington state antiwar activists who found themselves infiltrated by John Towery, an employee at a fusion center inside a local Army base. Fusion centers are multi-jurisdictional intelligence facilities which house federal and local law enforcement agencies alongside military units and private security companies. Their operations are largely secret and unregulated. There are currently 77 fusion centers in the United States.  http://www.activistpost.com/2012/12/court-rules-peace-activists-can-sue-us.html?m=1
CNN's Fake Reporting On Weaponry The error was a rather colossal one. The goal of a May 15, 2003, segment by CNN's Miami bureau chief John Zarrella was to tee up the coming year's debate over the possible renewal of the ban on assault weapons. Some visuals were in order, CNN decided. So Zarrella and Broward County Sheriff Ken Jenne ventured out to a shooting range to demonstrate the varying impacts of banned assault weapons vs. legal assault weapons. A deputy fired a banned weapon at a cinder block; injured cinder block resulted. Then said deputy fired a legal one; pretty much nothing happened.
Following the demonstration, Zarrella said to anchor Kyra Phillips: "Kyra, a pretty powerful demonstration of the firepower of these weapons that police, at least Sheriff Ken Jenne and the Broward sheriff's office, want to see kept off the streets."
'Cept it wasn't a powerful demonstration of anything aside from bad reporting. The discrepancy in results between the two weapons, as it later turned out, owed to a mistake in execution. The bullets from the legal weapon had actually hit the ground instead of the target. As the Miami Herald reported at the time  http://www.washingtonpost.com/blogs/erik-wemple/wp/2012/12/24/cnn-responds-to-nra-attack/?hpid=z9
The Magical Mystery Tour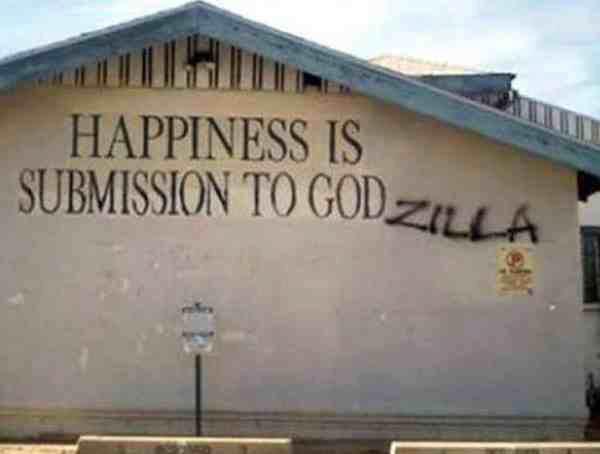 Boy Scouts Attack Victims of their Perversions When a lawsuit alleged that two young brothers in Michigan had been molested "hundreds of times" by a troop leader, the Boy Scouts denied responsibility and pointed the finger at someone else — the boys' recently widowed mother.
The Scouts faulted the woman "for her failure to provide adequate parental supervision," suggesting in court papers that she was responsible for any harm to her sons.
One of the boys' lawyers called that argument excessive.
"The day their dad died, the perpetrator began to befriend the boys," Kelly Clark said. "Then the Boy Scouts turn around and file papers saying Mom was the problem?"  http://www.latimes.com/news/local/la-me-scouts-victims,0,5985818.story
Beware Scissor Wielding Terrorist Amish The farmhouse yard bustles with giddy children's play, but the air is burdened with a shared dread of what will happen on Feb. 8. On that day, a federal judge is scheduled to announce punishments for the assaults by Bergholz residents in the fall of 2011 that spread terror through the Amish of eastern Ohio and led federal prosecutors to file felony hate-crime charges, arguing that the victims were harmed for religious reasons. Sixteen residents of this insular community of 137 — 10 men, 1 of them out on bail, and 6 women — were convicted this fall.
"It's getting scary," said Elizabeth Miller, 38, as she cradled one of her 11 children. She and her husband, Lester Miller, took part in the assault on his parents in September 2011, shearing the father's beard and the mother's hair, both treasured symbols of Amish identity; he is among the men being held without bail.  http://www.nytimes.com/2012/12/30/us/braced-for-hardship-an-amish-clan-awaits-sentences-in-shearing-attacks.html?ref=global-home&_r=0
The Best and Worst Things in the History of the World
Former Detroit Police Chief of Detroit Robbed at Home A former Detroit police chief was robbed in his yard on Tuesday, according to police.
Stanley Knox was approached by two men — one armed — outside his home on Marlowe at 3:10 p.m. Tuesday, Detroit Police Sgt. Eren Stephens said today. He struggled with the attackers, who escaped with some personal items.
His wife said today that Knox was unharmed but unavailable for comment because he was attending a workout class.
Stephens said no arrests have been made.
Knox, a 27-year veteran, retired in 1993 when incoming Mayor Dennis Archer passed him over for chief.  http://www.freep.com/article/20120509/NEWS01/120509020/Former-Detroit-police-chief-Stanley-Knox-robbed
Detroit: Biden's Secret Service Truck Stolen The Secret Service says a truck rented to carry equipment for Vice President Joe Biden's Labor Day visit to Detroit was stolen outside a downtown Detroit hotel.  http://abclocal.go.com/wls/story?section=news/national_world&id=8796151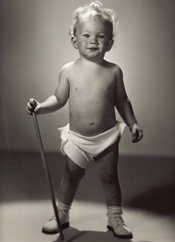 So Long