We Say Fightback!
www.youtube.com/watch?v=-b3hvBd9PYI
The Cop attack on Occupy Oakland Authorities beat and violated the rights of people arrested Saturday during Occupy Oakland demonstrations, supporters said Wednesday in front of City Hall, where four days earlier police armed with rubber bullets and tear gas clashed with protesters hurling projectiles and rocks.
The melee led to the largest mass arrest in Alameda County since an anti-nuclear demonstration in 1982.
None of the people who said they were injured over the weekend appeared Wednesday. But videos online showed police firing into the crowds and slugging protesters with batons. Several police officers were injured.   www.mercurynews.com/breaking-news/ci_19872394
Video  Occupy London's army veterans –
Many more people have been involved in the Occupy camp at St Paul's than just 'hemp-smoking, fornicating hippies', as described by Boris Johnson. Among the protesters have been many army veterans – some members of organisations such as Veterans for Peace UK and some who have been living on the streets    http://www.guardian.co.uk/uk/video/2012/jan/18/occupy-london-army-veterans-video?newsfeed=true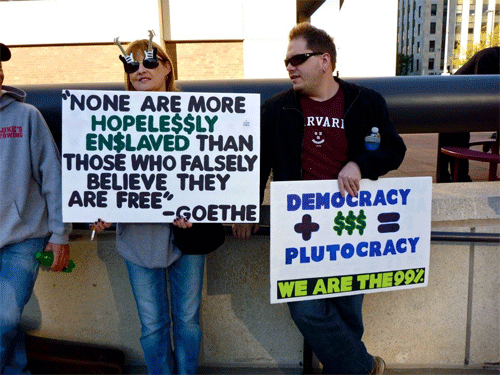 above, Occupy Omaha perseveres
Toronto Strike/Lockout Could start Feb 5 The Ontario Ministry of Labour has issued what is called a 'no board' report, setting the stage for a possible strike or lockout of municipal workers in Toronto.
The report means there is now a 17-day deadline for Canada's largest city to reach an agreement with one of its unions — CUPE Local 416, which represents about 6,000 key outside workers who collect garbage, remove snow and do other road and park maintenance.    http://www.cbc.ca/news/canada/toronto/story/2012/01/19/toronto-municipal-cupe.html
The Stella Doro Strike Loss "Things aren't going well in the working class. The news says unemployment is going down, but I don't see no sign of it. Many people I know can't find a job. Even worse is coming–a tidal wave that will wipe out more peoples' jobs. You go lower and lower til you're not in the system anymore. Nobody from my job at Bimbo Bakery wanted to come down to Occupy Wall Street but for one guy. They still got their jobs. They do not want to struggle yet. But I think little by little, more people will understand."   archives.newyorker.com/?i=2012-02-06#folio=060
The Rouge Forum Conference 2012, Join Us!
OCCUPY EDUCATION! Class Conscious Pedagogies for Social Change
June 22-24, 2012
Miami University
Oxford, OH   rougeforum2012.wordpress.com/rf-2012-call-for-proposals/
The Little Red Schoolhouse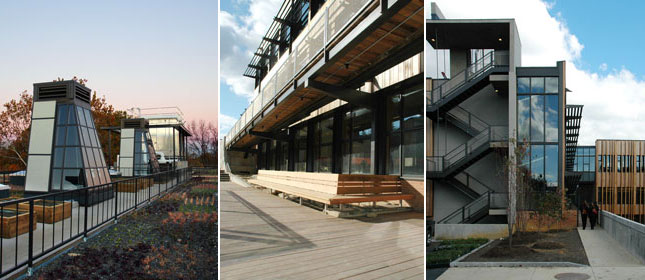 Above, the Sidwell Friends (0f the really, really rich) School
Ruling Class Sidwell Kids (Obamagogue's) get to learn about War, Ethnicity, Oppression, Alienation and More (no Marx, Freud, Einstein Darwin—this is America after all!) so How Come Tucson's Kids Cannot? The Sidwell Reading List www.sidwell.edu/upper-school/library/favorite-senior-books/index.aspx
More on the bottomless Corruption of the Detroit Public Schools—$530,000 gone A Denby High School teacher was in federal court this afternoon on charges she and her mother raided more than $500,000 from the cash-strapped Detroit Public Schools through a sham book program.
Domonique Campbell, 37, who is charged with money laundering and program fraud, was released on bond and is due back in court tomorrow to complete her arraignment. Besides answering yes or no to the judge's questions, she said nothing during her initial court appearance, in which she wore a turquoise "Love Pink" sweatshirt from Victoria's Secret and a pair of grey yoga pants.
Campbell, who was released on bond, also said nothing to reporters as she left the courtroom. When asked for comment, she said, "Absolutely not." And when asked if she had any message for her students, she said, "How about you don't put anything in there if you're upset about my kids."
Campbell's mother, Sandra Campbell, 56, a former DPS contract accountant and school board candidate, also was in federal court this afternoon for an initial appearance. Her arraignment will continue tomorrow.
According to the nine-count indictment, the Campbells bilked more than $530,000 from the DPS between 2004 and 2008 through a scheme in which orders were placed with the Campbells' sham company for books and educational materials that were never provided to the schools. www.freep.com/article/20120201/NEWS01/120201030/DPS-teacher-and-former-accountant-indicted-on-money-laundering-and-program-fraud-charges?odyssey=tab|topnews|text|FRONTPAGE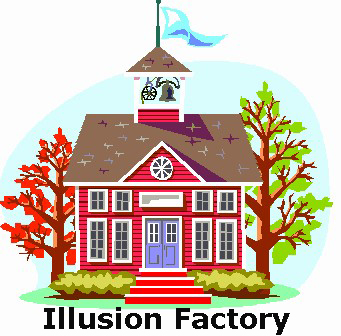 And the Bottomless Corruption in South San Diego (fraud is important to capital) The corruption investigation and scandal that's engulfed the Sweetwater Union High School District, which educates 42,000 South Bay children, has been slowly unfolding for months.
Most recently, prosecutors charged four current and former district officials with felonies, alleging that they failed to disclose lavish gifts and traded their influence for expensive meals, show tickets and campaign donations. A contractor has also been charged with bribery.
But the scandal has been building for years, and it's not just about one person.
Taken together, the allegations paint a picture of a mismanaged district, one that's rife with problems beyond its elected leadership. Prosecutors have alleged that corruption was systemic. Here's a guide to understanding exactly what's happening at the public agency that oversees middle and high schools for students who hail from National City to San Ysidro.  http://www.voiceofsandiego.org/education/article_01b5a2f4-4949-11e1-a7e9-0019bb2963f4.html
Education farce on the USS Midway (yes, the education agenda is a war agenda) Hundreds of teachers, administrators, parents and community members interested in education plan to meet Thursday aboard the USS Midway to network and share ideas about how to transform and improve public education in San Diego County.
The Re-energizing Education event, which is co-sponsored by the county Office of Education, will be held from 5:45 p.m. to 9 p.m. It is open to the public.
Registration information can be found at online at this site. General admission is $25. VIP tickets are $100.
The keynote speaker is author Steve Farber, who wrote a book called Radical Leap Re-Energized, which will be distributed to those attending the discussion. The book has been warmly received by educators, who find his message inspirational, said Jim Esterbrooks, a spokesman for the county Office of Education.   web.utsandiego.com/news/2012/jan/31/educators-network-uss-midway/
Highland Park Mich Schools Vanish under EFM Parents and students of Highland Park schools learned Monday evening how the newly appointed emergency manager will change the troubled district, starting with a closure that will leave only two schools.
The moves follow a Highland Park school board member asking a judge Monday to void the recommendations of a state-led financial review team that resulted in the appointment of Jack Martin.   www.detroitnews.com/article/20120131/SCHOOLS/201310360/1026/schools/Highland-Park-EM-shuts-Barber-Focus-School
The International Hot War of the Rich on the Poor
Ray McGovern on the Bodyguard of Lies about the Iran Bomb and more You will almost never see in a major U.S. newspaper the assessment — backed by the 16 U.S. intelligence agencies — that Iran is NOT building nuclear weapons. At most, you'll see a boilerplate phrase about Iran denying that it is. You're also not likely to see references to the fact that Israel has a sophisticated nuclear arsenal of its own.   original.antiwar.com/mcgovern/2012/02/01/divining-the-truth-about-iran/
Shocker to the NYTIMES–the Taliban think they are Winning (note, when guerrillas fight you to a standstill, supertecnopower, you lose. Remember Vietnam?) More Taliban insurgents are being killed or captured than ever before, yet when the captives are interrogated by the American military, they remain convinced that they are winning the war.    That is because the Taliban believe that their own hearts-and-minds campaign is winning over Afghans — or so they tell their interrogators — and even converting a growing number of Afghan government officials and soldiers.
Those are among some of the findings of a NATO report, "State of the Taliban 2012," based on 27,000 interrogations of 4,000 Taliban and other captives that portrays a Taliban insurgency that is far from vanquished or demoralized even as the United States and its allies enter what they hope will be the final phase of the war. A copy of the document, which was first reported by the BBC and The Times of London, was given to The New York Times by a Western official, on the condition of anonymity because it was classified.   www.nytimes.com/2012/02/02/world/asia/nato-plays-down-report-of-collaboration-between-taliban-and-pakistan.html?ref=global-home
The Unmatched US Airforce Plans to spend $2.8 Billion on Fighter Upgrade (so long, school $ but war means work so Hooray!) The U.S. Air Force said Thursday it plans a $2.8 billion upgrade of about 350 of its aging F-16 multi-role fighter planes to help offset slower purchases of the next-generation F-35 Joint Strike Fighter.   The work, running into the 2020s, will extend the service life of select F-16 airframes. Other upgrades include advanced radar, sensors, cockpit display, electronic warfare and communications capabilities, the service said.
"We have worked through the implications of the delays in the F-35 Joint Strike Fighter program," Air Force Secretary Michael Donley told the Air Force Association earlier in the day. "And we have made a further commitment this year to modernize about 350 F-16s in the fleet going forward."    …The Air Force has just over 1,000 F-16s in its current inventory, of which about 640 are Block 40/50s, distributed among active, Guard and Reserve components. None has yet undergone the structural "service life extension program" or capability upgrades now planned, the service said.
Lockheed Martin Corp builds both the F-16 and three versions of the radar-evading F-35, which is in low-rate initial production in a program co-financed by the United States and eight partner nations.
More than 4,450 F-16s have been delivered to 26 nations since the program started more than 30 years ago, including 54 follow-on buys by 15 customers, according to Lockheed, the Pentagon's No. 1 supplier by sales.
The U.S. F-16 modernization could point the way for modernization of many such F-16 fleets worldwide.    http://www.nytimes.com/reuters/2012/02/02/world/asia/02reuters-exclusive-usa-fighters-lockheedmartin.html?ref=global-home
Klare on the Strait of Hormuz, Oil Wars, and World $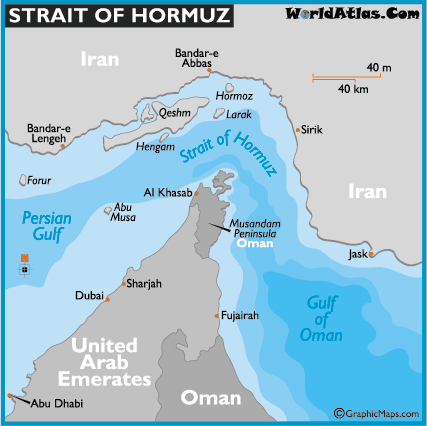 Ever since December 27th, war clouds have been gathering over the Strait of Hormuz, the narrow body of water connecting the Persian Gulf with the Indian Ocean and the seas beyond. On that day, Iranian Vice President Mohammad Reza Rahimi warned that Tehran would block the strait and create havoc in international oil markets if the West placed new economic sanctions on his country.
"If they impose sanctions on Iran's oil exports," Rahimi declared, "then even one drop of oil cannot flow from the Strait of Hormuz." Claiming that such a move would constitute an assault on America's vital interests, President Obama reportedly informed Iran's supreme leader Ayatollah Ali Khamenei that Washington would use force to keep the strait open. To back up their threats, both sides have been bolstering their forces in the area and each has conducted a series of provocative military exercises.
All of a sudden, the Strait of Hormuz has become the most combustible spot on the planet, the most likely place to witness a major conflict between well-armed adversaries. Why, of all locales, has it become so explosive?
Oil, of course, is a major part of the answer, but — and this may surprise you — only a part.
Petroleum remains the world's most crucial source of energy, and about one-fifth of the planet's oil supply travels by tanker through the strait. "Hormuz is the world's most important oil chokepoint due to its daily oil flow of almost 17 million barrels in 2011," the U.S. Department of Energy noted as last year ended. Because no other area is capable of replacing these 17 million barrels, any extended closure would produce a global shortage of oil, a price spike, and undoubtedly attendant economic panic and disorder.
No one knows just how high oil prices would go under such circumstances, but many energy analysts believe that the price of a barrel might immediately leap by $50 or more. "You would get an international reaction that would not only be high, but irrationally high," says Lawrence J. Goldstein, a director of the Energy Policy Research Foundation. Even though military experts assume the U.S. will use its overwhelming might to clear the strait of Iranian mines and obstructions in a few days or weeks, the chaos to follow in the region might not end quickly, keeping oil prices elevated for a long time. Indeed, some analysts fear that oil prices, already hovering around $100 per barrel, would quickly double to more than $200, erasing any prospect of economic recovery in the United States and Western Europe, and possibly plunging the planet into a renewed Great Recession.    http://www.tomdispatch.com/post/175496/tomgram%3A_michael_klare%2C_no_exit_in_the_persian_gulf/#more
Farcical Arab Spring Offers 73 Dead in Soccer Riot/murder Egyptian police have fired tear gas at thousands of demonstrators outside the interior ministry offices in the capital, Cairo, protesting against the security forces' failure to prevent a football riot that killed more than 70 people.
Nearly 10,000 protesters, including sports fans, rallied on Thursday demanding retribution for the deadly violence in Port Said, which most blamed on police inaction.   www.aljazeera.com/news/middleeast/2012/02/201222174712848617.html
Unit Leader Among Troops Pissing on Corpses  (barbarism rising)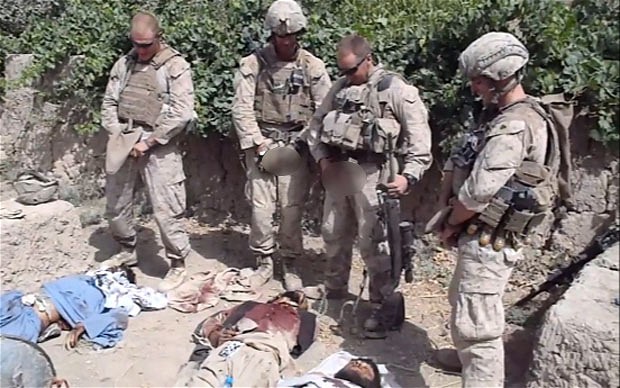 One of the Marines shown urinating on three corpses in Afghanistan in a widely distributed Internet video was the unit's leader, two U.S. military officials have told McClatchy, raising concerns that poor command standards contributed to an incident that may have damaged the U.S. war effort.
Even before the unit deployed to southern Afghanistan last year, it suffered from disciplinary problems while the troops were based at Camp Lejeune, N.C., the officials said.
As Pentagon officials investigate the incident — the latest in a string of high-profile cases of U.S. troops abusing Afghans and Iraqis on the battlefield — the revelations renew questions about whether the U.S. military will hold commanders responsible when their troops misbehave or commit crimes.
Despite U.S. military doctrine stating that commanders ultimately are responsible for their units' behavior in combat — and Geneva conventions barring the desecration of dead bodies — the Pentagon rarely has charged commanders   www.mcclatchydc.com/2012/02/01/137592/unit-leader-among-marines.html
30 Years after the Contra War—Por Que? "The Nicaraguan war of resistance was one of the last battles of the Cold War," said Luis Moreno, known as Comandante Mike Lima, one of the top Contra leaders. Today he works as an accountant in Jacksonville. "The legacy of the war in Nicaragua, together with the wars in Afghanistan and El Salvador, contributed to the defeat of communism and put an end to the Soviet Union."
But another former Contra, Noel Castillo, known as Comandante Trampas, expressed disappointment with the result of the war and the peace accords because Sandinista leader Daniel Ortega is once again leading Nicaragua.
"Sometimes it seems that all we did was useless," Castillo said.    http://www.mcclatchydc.com/2012/02/01/137518/former-contras-fighters-differ.html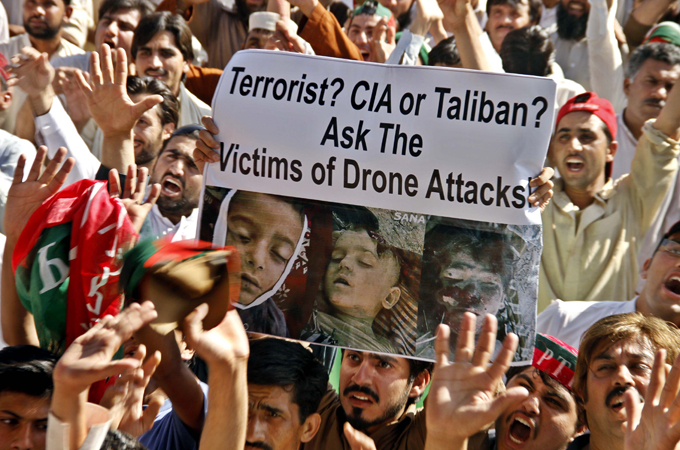 Obamagogue: Hey, Civilian Dead. Suck it up. We only use Good Drones President Obama on Monday defended the use of drones to strike suspected terrorists in Pakistan and elsewhere, saying the clandestine program was "kept on a very tight leash" and enabled the United States to use "pinpoint" targeting to avoid more intrusive military action.    http://www.nytimes.com/2012/01/31/world/middleeast/civilian-deaths-due-to-drones-are-few-obama-says.html?_r=1&emc=tnt&tntemail1=y
Even the Wapo to Obamagogue: If the US is Leaving Afghanistan, Why Should US Troops Die? (that's a better question to the troops) In our view that theory is badly mistaken. A rapid U.S. drawdown in Afghanistan will most likely lead to a renewed civil war in which the Taliban could again gain the upper hand. That would endanger U.S. interests throughout the region — starting with a nuclear-armed Pakistan — and mean an unforgivable breach of faith with the Afghan women and men the United States promised to enfranchise and defend.
But if President Obama has decided to pursue that course, there's an inevitable next question. If the goal of a stable and democratic Afghanistan is to be subordinated — if timetables are to be accelerated, regardless of conditions — why should U.S. ground troops fight and die this year?   www.washingtonpost.com/opinions/the-administrations-muddled-message-on-afghanistan/2012/02/02/gIQALZLVlQ_story.html
US Psyops to Capitalist Press and Citizens: Watch Out! Iranians are After You Now! An assessment by U.S. spy agencies concludes that Iran is prepared to launch terrorist attacks inside the United States, highlighting new risks as the Obama administration escalates pressure on Tehran to halt its alleged pursuit of an atomic bomb.
In congressional testimony Tuesday, U.S. intelligence officials indicated that Iran has crossed a threshold in its adversarial relationship with the United States. While Iran has long been linked to attacks on American targets overseas, U.S. officials said they see troubling significance in Tehran's alleged role in a plot to assassinate the Saudi ambassador in Washington last year.     http://www.washingtonpost.com/world/national-security/iran-is-prepared-to-launch-terrorist-attacks-in-us-intelligence-report-finds/2012/01/30/gIQACwGweQ_story.htm
The International Economic War of the Rich on the Poor
Too big to Investigate, SEC Still Coddles Big Banks and Banksters Even as the Securities and Exchange Commission has stepped up its investigations of Wall Street in the last decade, the agency has repeatedly allowed the biggest firms to avoid punishments specifically meant to apply to fraud cases.  By granting exemptions to laws and regulations that act as a deterrent to securities fraud, the S.E.C. has let financial giants like JPMorganChase, Goldman Sachs and Bank of America continue to have advantages reserved for the most dependable companies, making it easier for them to raise money from investors, for example, and to avoid liability from lawsuits if their financial forecasts turn out to be wrong.   www.nytimes.com/2012/02/03/business/sec-is-avoiding-tough-sanctions-for-large-banks.html?scp=1&sq=SEC%20is%20avoiding%20tough%20sanctions&st=cse
Underwear Showing, Mitt Says He is not concerned about the Very Poor (now, who could he mean?) "I'm not concerned about the very poor," he told CNN's Soledad O'Brien in an interview the morning after beating rival Newt Gingrich.
"I'm in this race because I care about Americans," Romney said. "I'm not concerned about the very poor. We have a safety net there. If it needs a repair, I'll fix it."     www.nydailynews.com/news/politics/mitt-romney-i-m-concerned-poor-article-1.1015303
Class War? What Class War? American Airlines Plans to Lose 13,500 workers and Abolish Pensions The parent of American Airlines wants to eliminate about 13,000 jobs — 15 percent of its workforce — as the nation's third-biggest airline remakes itself under bankruptcy protection.
The company proposes to end its traditional pension plans, a move strongly opposed by the airline's unions and the U.S. pension-insurance agency, and to stop paying for retiree health benefits.   www.washingtonpost.com/national/american-airlines-tells-employees-it-wants-to-cut-labor-costs-by-20-percent/2012/02/01/gIQAoL33hQ_story.htmlEurozon Unemployment Highest Ever Unemployment in the 17-nation eurozone ended 2011 at 10.4 per cent, a new record high for the single currency since its launch at the start of 1999, official figures showed today.
Eurostat, the EU's statistics office, said the rate in December was unchanged, as November's was revised upwards from a previous estimate of 10.3%.
Unemployment has been steadily rising over the past year – in December 2010, it stood at 9.5% – largely because of Europe's debt crisis.
The biggest increases over 2011 were recorded in Greece, Cyprus and Spain.
All three, to various degrees, have had to impose tough austerity measures – such as public sector layoffs and spending cuts – in an effort to regain investor confidence lost during the crisis.
The agency said just under 16.5 million people were unemployed in the eurozone, up 751,000 on the year before.
The highest unemployment rate remains in Spain, where 22.9 % of the working population were without work, though Greece is nearing with 19.2 % rate. The lowest rate in the eurozone is Austria's 4.1 %.     www.independent.co.uk/news/world/europe/eurozone-unemployment-at-new-record-high-6297441.html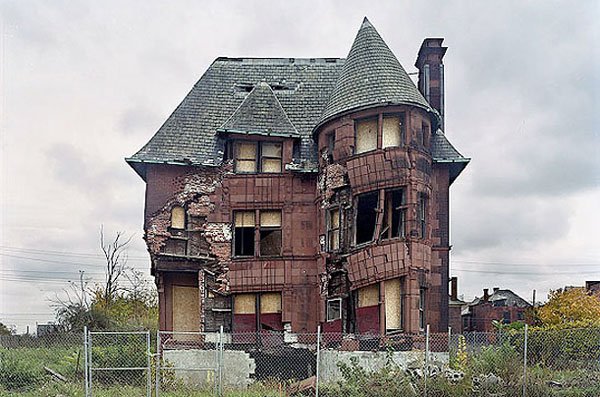 above, mansion in post-foreclosure crisis Detroit
Case Schiller: Home Prices Still Down and More than 1 Million Foreclosed on Hold Residential real estate prices fell more than forecast in November, showing distressed properties are hampering improvement in the U.S. housing market.
The S&P/Case-Shiller index of property values in 20 cities declined 3.7 percent from November 2010 after decreasing 3.4 percent in the year ended in October, the group said today in New York. Economists projected a 3.3 percent drop, according to the median estimate in a Bloomberg News survey.   www.bloomberg.com/news/2012-01-31/home-prices-in-20-u-s-cities-fell-3-7-from-year-ago-case-shiller-says.html
146.4 Million, nearly 1/2 the USA, in poverty A new U.S. census report reveals the alarming news that nearly 1 in 2 Americans have fallen into poverty or have earnings that would classify them as low income.
About 97.3 million Americans now fall into a low-income category, commonly defined as those earning between 100 and 199 percent of the poverty level, the census reports.
Together with the 49.1 million who fall below the poverty line and are counted as poor, they number 146.4 million, or 48 percent of the U.S. population.    http://www.phillytrib.com/commentaryarticles/item/2109-alarming-growth-in-us-poverty.html
Forbes: Michigan Cities in Ruins Proving that it's a company that loves misery, Forbes Magazine has listed Detroit, Flint, Warren and Lansing as the second, third, 10th and 13th dreckiest burgs on its annual Most Miserable Cities list.
Miami nailed down first place because of foreclosures with 47 percent of homeowners "sitting on underwater mortgages."    http://www.detroitnews.com/article/20120203/METRO/202030414/Michigan-cities-misery-cornered-Forbes-report-says?odyssey=tab|topnews|text|FRONTPAGE
In Michigan–So Long Unemployment Bennies Roughly 29,500 Michigan workers will receive their last unemployment checks Feb. 18, according to state officials.
A federal program that provides 20 extra weeks of unemployment benefits is ending in Michigan because the state's jobless numbers have improved, state officials announced Friday.
Michigan fell below the unemployment rate required for the Extended Benefits program Jan. 28, according to a press release issued Friday by the state Department of Licensing and Regulatory Affairs.     www.detroitnews.com/article/20120203/BIZ/202030431/Michigan-workers-receive-last-unemployment-checks?odyssey=tab|topnews|text|FRONTPAGE
Holy Crap! LATimes Ferrets Out Relationship of Money and Politics!  Joe Kennedy giggles Seventeen people or companies gave at least $1 million each to super PACs last year, according to an analysis by the Los Angeles Times data desk. The infusion ushered in an era of Texas-style unlimited donations at the national level. The organizations have emerged as heavyweights in this year's presidential contest, at times outstripping the influence of the candidates' own campaigns.   www.latimes.com/news/nationworld/nation/la-na-big-donors-20120202,0,3986284.story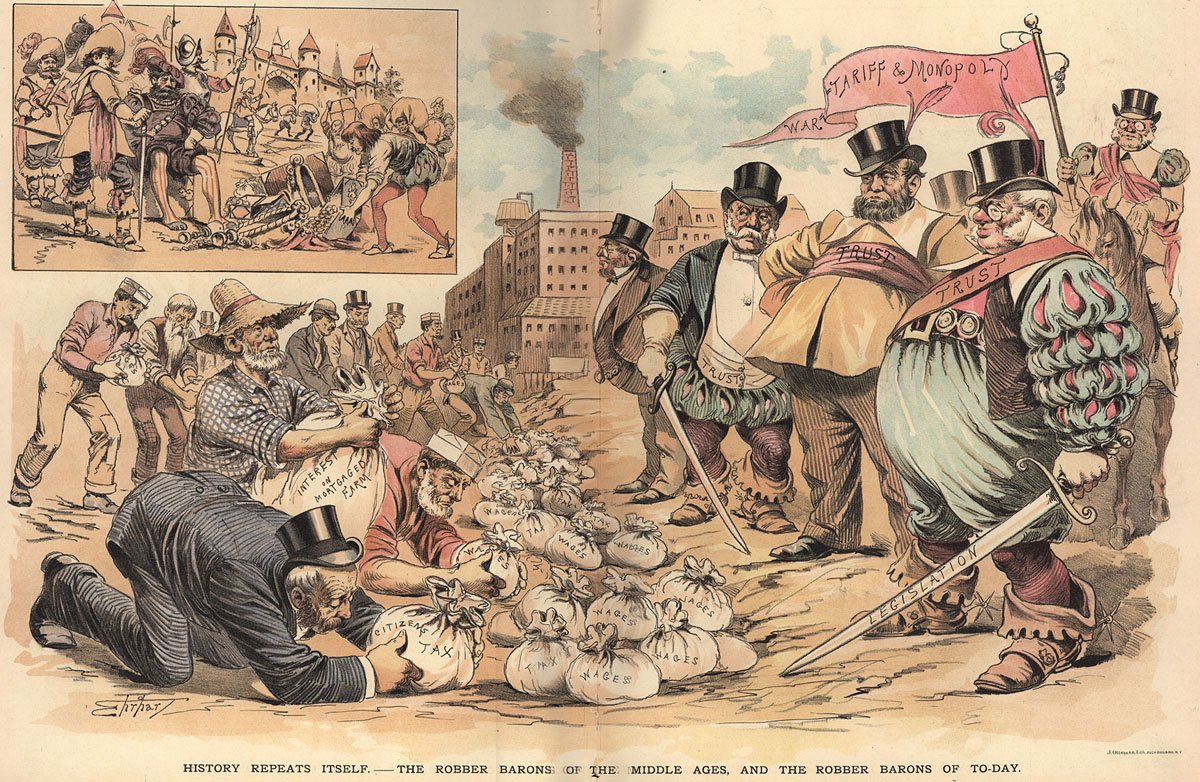 Solidarity Fornever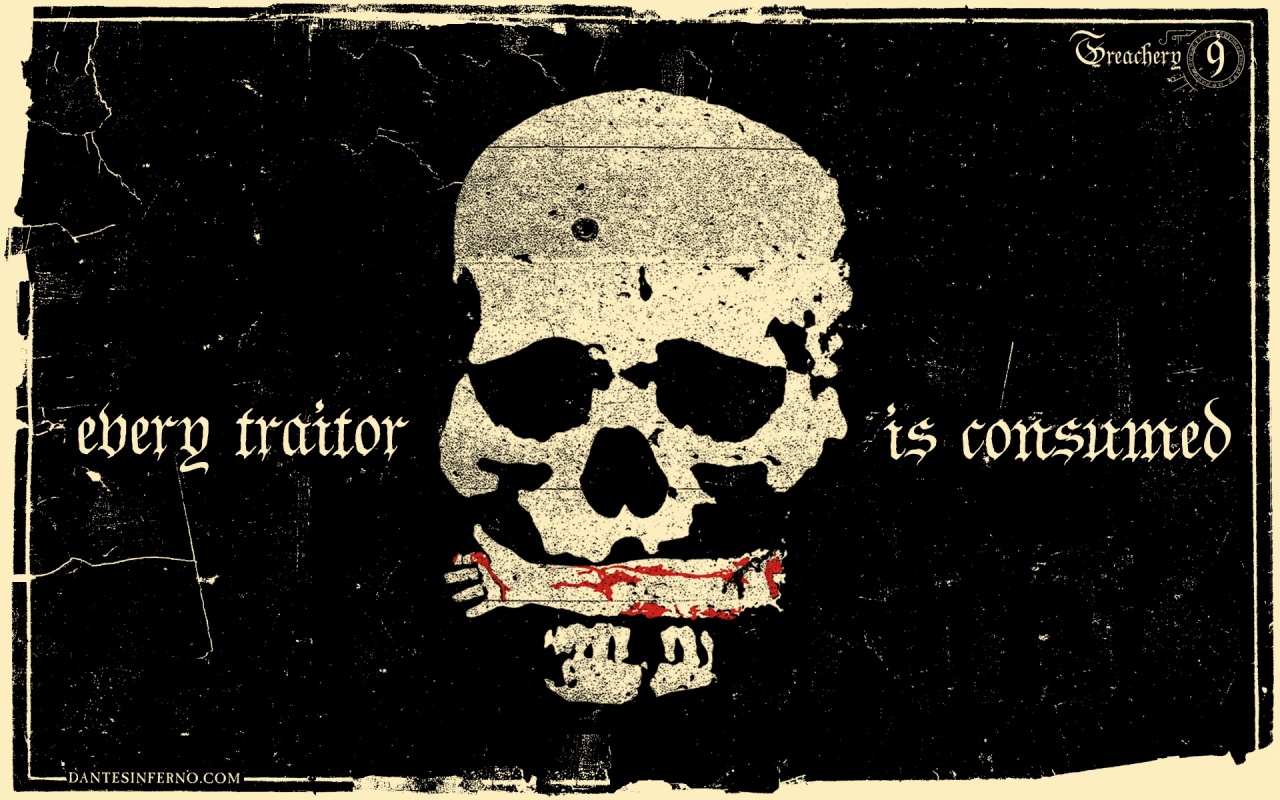 Quisling "union"  California Teachers Assn backs Gov Brown's Planned Sales Tax (the tax the rich part won't happen and any fool knows it) – The CTA State Council of Education, comprised of nearly 800 democratically elected educators from across the state, endorsed the governor's tax plan at their quarterly meeting in Los Angeles today. The following statement can be attributed to Dean E.Vogel, president of the 325,000-member California Teachers Association:
"Educators know that California cannot continue to cut its way out of ongoing budget problems. We also know that not everyone in California is paying their fair share, and that's why we are supporting the governor's tax proposal, which taxes the wealthiest Californians in order to bring additional revenue to our schools, colleges and other essential public services.
"The governor's initiative is the only initiative that provides additional revenues for our classrooms and closes the state budget deficit, and guarantees local communities will receive funds to pay for the realignment of local health and public safety services that the Legislature approved last year. It's time to put California back on track and this initiative is the best way to do that. It's the right choice for our students and their families, our communities and our state."   The 325,000-member CTA is affiliated with the 3.2 million-member National Education Association   www.cta.org/About-CTA/News-Room/Press-Releases/2012/20120129_1.aspx
In a Slow Year, 2011, CTA spent $6.5 Million of Member Money, lobbying Common Cause reports the California Teachers Association topped the lobbying list last year, spending more than six-point-five million dollars. Other top spenders included a mix of interests, like the Service Employees International Union, the Western States Petroleum Association and the City of Vernon-which was fighting legislation to dissolve its local government.     www.kpbs.org/news/2012/feb/02/lobbying-money-hits-new-record/
The CTA Ballot Scam for 2012 (besides millions for Obamagogue) Heading into the November 6, 2012 ballot measure election in California, the union has indicated that it will:
Support Jerry Brown's Tax Increase Initiative. Dean Vogel, who is the president of the union, contrasted the Brown tax increase proposal to other tax increase proposals that may qualify for the 2012 ballot, saying, "The governor's initiative is the only initiative that provides additional revenues for our classrooms and closes the state budget deficit, and guarantees local communities will receive funds to pay for the realignment of local health and public safety services that the Legislature approved last year."[9]
Oppose the "Paycheck Protection" Initiative, which has qualified for the ballot.[2]
Oppose a Government Spending Limit Initiative, if it qualifies for the ballot.[2]
In 2005, CTA imposed a $60 annual surcharge on its members to raise $50 million to defeat the spending restraint measures supported by Arnold Schwarzenegger. The surcharge was assessed for 3 years. In 2012, union president Vogel indicated that it is unlikely that the union will impose a similar surcharge: "The last time in this position, we did a special assessment to get more money, but we're not in a position to get more money right now."    http://ballotpedia.org/wiki/index.php/California_Teachers_Association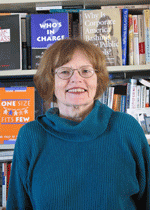 See Susan Ohanian's Thoughts on the Unionites, Bosses, and School Boarders who Joined to screw school workers via test score evaulations Years of disagreement have stalled efforts to grade teachers and dismiss those who are ineffective. That all changed Wednesday when a group of educators — including teachers' unions, superintendent and school board groups — agreed on how to properly evaluate teachers so those who are struggling are identified and put on a path to improve or be dismissed.
"Districts are really going to embrace this," said Diane Ullman, Superintendent of Schools in Simsbury and a member of the state panel responsible for creating an evaluation process districts must follow. "We've been waiting for this."
The plan calls for student performance and testing to count for half of the grade the state's 50,000 teachers receive. The remaining share will be linked to teacher observations and parent and peer feedback surveys.
"I think we are 100 percent there," Education Commissioner Stefan Pryor told the Performance Evaluation Advisory Council as he pointed to the presentation on display outlining the plan. "That's our system."     susanohanian.org/outrage_fetch.php?id=1179
Detroit Unionites Cave Under EFM Threat (hint, 35 years of history says concessions don't save jobs) City officials say they have reached a deal with a coalition of employee unions to help to stave off the possibility of an emergency manager.
The agreement, reached Wednesday night, includes a majority of the city's 48 unions but not police and fire, which have been a sticking point in bargaining. City leaders want until April 1 to continue reaching an agreement with public safety unions.
Mayor Dave Bing said he believes concessions, combined with layoffs and others cuts, will generate enough savings to hold off a state takeover of the city's finances.
"The tentative agreement we've reached is not just about concessions. It's about how labor and management can work together in a fair and constructive way," Bing said in a statement. "The agreement provides checks and balances that hold both unions and my administration accountable."
Earlier, via Twitter, Bing said: "This agreement is the first meaningful step in achieving the necessary concessions and structural changes." AFSCME leadership will present the tentative agreement to members to review and ratify before a final agreement can be reached, Bing said. The union coalition plans a meeting Friday to work out the next steps of presenting the deal to membership.
The three-year deal calls for health care, pension and wage concessions. It calls for a 10 percent across-the-board wage cut and ends the controversial furlough day program, which required most city workers to take one day off a week twice a month.    http://www.detroitnews.com/article/20120202/METRO01/202020450/Bing-Concessions-from-most-Detroit-unions-should-keep-EM-bay?odyssey=tab|topnews|text|FRONTPAGE
Bill Blum on the Forever Vile CPUSA and its Mouthpiece, Angela Angela Davis, star of the 1960s, like most members of the Communist Party, was/is no more radical than the average American liberal. Here she is recently addressing Occupy Wall Street: "When I said that we need a third party, a radical party, I was projecting toward the future. We cannot allow a Republican to take office. … Don't we remember what it was like when Bush was president?" 12
Yes, Angela, we remember that time well. How can we forget it since Bush, by all important standards, is still in the White House? Waging perpetual war, relentless surveillance of the citizenry, kissing the corporate ass, police brutality? … What's changed? Except for the worse. Where's our single-payer national health insurance? Nothing even close. Where's our affordable university education? Still the most backward in the "developed" world. Where's our legalized marijuana — I mean really legalized? If you think that's changed, you must be stoned. Where's our abortion on demand? What does your guy Barack think about that? Are the indispensable labor unions being rescued from oblivion? Ha! The ultra-important minimum wage? Inflation adjusted, equal to the mid-1950s.
Has the American threat to the environment and the world environmental movement ceased? Tell that to a dedicated activist-internationalist. Has the 50-year-old embargo against Cuba finally ended? It has not, and I can still not go there legally. The police-state War on Terror at home? Scarcely a month goes by without the FBI entrapping some young "terrorists". Are more Banksters and Wall Street Society-Screwers (except for the harmless insider-traders) being imprisoned? Name one. The really tough regulations of the financial area so badly needed? Keep waiting. How about executives of the BP Oil Spill Company being arrested? Or war criminals, mass murderers, and torturers with names like … Oh, I don't know, let's see … maybe like Cheney or Bush or Rumsfeld or Wolfowitz or someone with a crazy name like Condoleezza? All walking completely free, all celebrated.      http://killinghope.org/bblum6/aer102.html
Spy versus Spy
How Did the Mighty Techno USA Find OBL? A snitch (natch) Defense Secretary Leon E. Panetta has confirmed publicly for the first time that an imprisoned doctor in Pakistan was working with the C.I.A. to gain access to Osama bin Laden's compound in the months before American troops killed Bin Laden last May.    …Mr. Panetta is the first American official to publicly confirm that a Pakistani doctor imprisoned by Pakistan's intelligence service in the days after the Bin Laden raid had been working for the C.I.A., collecting intelligence in Abbottabad.
American officials have said that the doctor, Shikal Afridi, had been running a phony hepatitis B vaccination program as a ruse to obtain DNA evidence from members of Bin Laden's family, who were thought to be holed up in the Abbottabad compound.
Obtaining DNA at the compound would have allowed Americans to match the samples with Bin Laden family DNA evidence on file at the C.I.A., providing evidence that Bin Laden was hiding in Abbottabad.
American officials have said that the doctor gained access to the compound but never saw Bin Laden and was not successful in getting any DNA samples.
Still, Mr. Panetta said in the "60 Minutes" interview that Mr. Afridi had provided intelligence to the C.I.A. that was "very helpful" to the Bin Laden operation, and he expressed anger that Pakistan had charged the doctor with treason.  http://www.nytimes.com/2012/01/29/world/asia/panetta-credits-pakistani-doctor-in-bin-laden-raid.html?emc=tnt&tntemail1=y
The Preposterous Zeta-to-Kill-Saudi-Ambassador-so-lets-war-on-Iran scheme "Did an elite branch of Iran's military handpick a divorced, 56-year-old Iranian-American used-car salesman from Texas to hire a hitman from a Mexican drug cartel to assassinate the ambassador to Saudi Arabia by blowing up a bomb in a crowded restaurant in Washington?"  Reza Sayyah
Selling an Iran War to American Rubes Iran's top officials now may be more willing to sponsor attacks in the United States, the top U.S. intelligence official said Tuesday in a warning that reflected rising tensions over Tehran's suspected nuclear weapons program.    http://www.mcclatchydc.com/2012/01/31/137428/new-us-intelligence-assessment.html
Who Us! Nah! Not Us! Pakistan Denies Role With Taliban Pakistan's foreign minister on Wednesday brushed aside claims made by Afghan insurgents in a secret NATO report that Pakistan has been directing the Taliban's battle to regain power in Afghanistan.
"We have no hidden agenda in Afghanistan," Hina Rabbani Khar said in Kabul, where she expressed support for the Afghan government's nascent peace negotiations with the Taliban. "These claims have been made man many times. Pakistan stands behind any initiative that the Afghan government takes for peace."       www.washingtonpost.com/world/nato-report-pakistan-spy-service-still-aiding-taliban-in-afghan-war/2012/02/01/gIQACr5XhQ_story.htmly,
Fascism Emerging as a Popular Mass Movement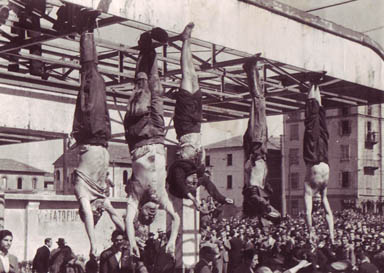 Thousand police officers deployed on streets of Indianapolis as massive Super Bowl security operation swings into gear A massive security operation involving 1,000 police officers has been launched in Indianapolis as the city's first Super Bowl rolls into town this week.
Super Bowl fever has already hit the city and 150,000 NFL fans are expected to descend on downtown Indianapolis in one of the most high-security events in the U.S.  The city has invested millions of dollars to keep spectators safe, including most bizarrely the installation of 150 new manhole covers after a series of underground explosions.   www.dailymail.co.uk/news/article-2093800/Super-Bowl-fever-1-000-police-officers-1-200-manhole-covers-Indianapolis-gears-biggest-Earth.html
Even the CFR Sees the NDAA as Retrograde and Reactionary Despite his earlier threat of a veto, President Barack Obama signed the National Defense Authorization Act (NDAA) of 2012 into law on the last day of 2011. The bill, which was sponsored by Senators Carl Levin (D-Mich.) and John McCain (R-Ariz.), had bipartisan support, passing in the Senate by 86 to 13 with one abstaining. The vote reflected the determination of Congress to confirm the president's authority to detain terrorists already in military custody, prevent their being transferred from Guantánamo to federal prisons on the U.S. mainland, and increase the role of the military in future counterterrorist efforts.
But the law has angered libertarians and conservatives, who see its authorization of indefinite detention without trial and military custody of terrorist suspects as a frontal assault on the Bill of Rights. Opponents of the new law fear that it will further increase executive authority at the expense of the courts, prevent the United States from ever closing Guantánamo, and expose Americans to arbitrary arrest and indefinite detention. Indeed, such fears are founded.   www.foreignaffairs.com/articles/137070/brian-michael-jenkins/the-ndaa-makes-it-harder-to-fight-terrorism?cid=nlc-this_week_on_foreignaffairs_co-020212-the_ndaa_makes_it_harder_to_fi_3-020212
Magical Mystery Tour
Is it better to vote for a fake religious fanatic, or a real one?
Christian Fanatical Spy Blown Up by Jihadiest, but All are In heaven Now (barbarisim rises…) A Jordanian double agent's suicide bombing of the CIA base received days of media coverage. The CIA had been tricked into welcoming one of al-Qaeda's own onto the agency's base, enabling him to detonate a vest laden with explosives. On television, pundits and agency retirees called the incident a catastrophe, Langley's "Pearl Harbor." Initially, commentators did not utter Matthews's name, but they did describe the Khost base chief as a "mother of three." Anderson felt that his wife, however anonymously, was bearing all the blame.   www.washingtonpost.com/local/for-cia-family-a-deadly-suicide-bombing-leads-to-painful-divisions/2012/01/20/gIQAyJGVYQ_print.html
Indiana, Dissing the Flying Spaghetti Monster's True Reign, Introduces Creationist Slop in School | In addition to learning the scientific origins of life, Hoosier public school students soon may be taught life was created by God, Allah, Brahma, Vishnu, Shiva, the human mind and/or Xenu, dictator of the Galactic Confederacy.
The Republican-controlled Indiana Senate on Tuesday voted 28-22 to allow school corporations to teach "various theories of the origin of life .       Senate Bill 89 requires a school choosing to teach creationism to use multiple religious perspectives and suggests, but does not require, teaching the beliefs of Christianity, Judaism, Islam, Hinduism, Buddhism and Scientology.http://www.nwitimes.com/news/local/govt-and-politics/ind-senate-votes-for-schools-to-teach-creationism/article_fab659bf-98ce-53b4-af5d-836dac998c89.html
Got Rapes In Milwaukee? Not if the Encrusted Mystics have a say More than 550 people who say they were sexually abused by Roman Catholic priests or church employees have filed claims against the Archdiocese of Milwaukee in bankruptcy proceedings, the largest group of claimants against any of the eight dioceses that have declared bankruptcy since 2004… The seven other dioceses besides Milwaukee to file for bankruptcy are Davenport, Iowa; Fairbanks, Alaska; Portland, Ore.; San Diego; Spokane, Wash.; Tucson; and Wilmington, Del.     www.nytimes.com/2012/02/03/us/milwaukee-archdiocese-angers-many-by-contesting-abuse-claims.html?scp=1&sq=milwaukee%20catholic&st=cse
Best or Worst Thing in History of the World
Evan Longoria has one, how about you? It's not surprising that a burglar would steal a gun. But some may find it surprising that the gun was owned by Rays superstar Evan Longoria.
It was an AK-47 rifle, plucked along with a couple of iPads, watches, and cash from a Port Charlotte home that Longoria and two teammates were renting for spring training.   www.myfoxtampabay.com/dpp/news/local/evan-longoria-ak-47-032911
The Best Thing in the History of the World
The Alan Lomax Collection Online and FREE  (below, Billie Holiday)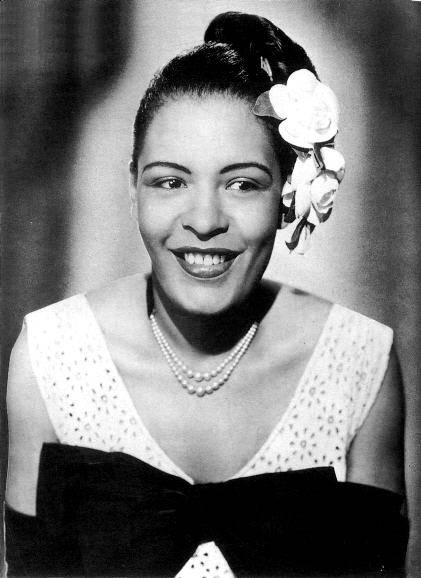 Selections recorded by the ethnomusicologist Alan Lomax that are included on a new album, "The Alan Lomax Collection From the American Folklife Center," and will be part of the Global Jukebox, a huge online digital collection of traditional music dating to the 1930s.    http://www.nytimes.com/interactive/2012/01/30/arts/music/20120131-lomax-interactive.html?ref=music
100th Anniversary of the IWW San Diego Free Speech Fight! The San Diego Free Speech Fight began on February 1, 1912, but confrontation with the San Diego's "old guard" began as early as 1910. On November 10, 1910, Local 13 of the I.W.W. held a meeting to celebrate the martyrs of the Chicago Haymarket Riot. The police closed down the Wobbly meeting place, Germania Hall, before the event could take place. In response, the I.W.W. took their grievances to the streets and began their soapbox free speech campaign. Afterwards, Wobblies who spoke "on the soapbox" were jailed, "fingerprinted, photographed in jail and then released."[1],,,from the July 11, 1912 edition of the IWW's Little Red Songbook, the first stanza of "We're Bound For San Diego":
In that town called San Diego when the workers try to talk,
The cops will smash them with a sap and tell them "take a walk",
They throw them in a bull pen and they feed them rotten beans,
And they call that "law and order" in that city, so it seems.[10]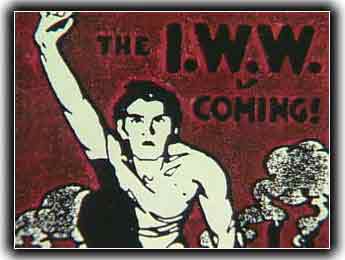 /p