We Say Fight Back!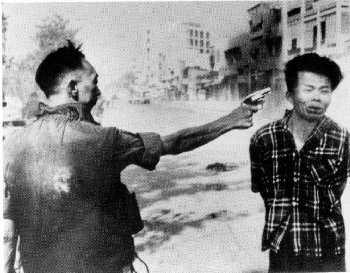 Boomers Teach the Grandbabies
More Lies Ahead About the Wars on Vietnam
They are at it again. They need to beat their own dead horse to death once more.
The US rout in Vietnam must be mystified again–to unite a nation reeling from the promise of endless war, the obvious reality of booming color-coded inequality, a flatly failed political system and ruling class, and increasing repression.
And to fashion the possibility that a similar war could become popular in the future–even World War III.  …
Why Vietnam now?
Perhaps because it is the looming 50th anniversary of the Tet Offensive of January, 1968; that turning point when the quantitative work of the mass of Vietnamese people, leading a peoples' war against yet another invader empire (in order, the French, the Japanese–and the Chinese Kuomintang–the French again, and then the US), and the efforts of the US anti-war movement, came together to prove to the majority of Americans that the war could not be won–and that the nations' leaders had lied about everything important.
Now it is Ken Burns' turn on PBS–that not-so-public broadcasting system so dependent on corporate sponsors (like Bank of American, feverishly boosting Burns) who, clearly, paid for his work as well as the massive advertising campaign promoting it…. more here: www.richgibson.com/vietnam/burns-vietnam/
I found the 9th and 10th episodes to  be the most egregiously wrong and sometimes disgusting.  For example:
The war criminal who participated in Operation Phoenix, a massive, illegal action within an illegal war, that killed somewhere far more than the 20 thousand Vietnamese, supported his actions–and is now a judge.
William Colby led Phoenix, remained respectable, and became head of the CIA. Later, he revealed the "Family Jewels." www.vvaw.org/veteran/article/?id=1659
Among the Jewels, but left out of Burns' Vietnam, was Cointelpro, an intelligence operation that included murder, drugging unsuspecting people, black propaganda, targeting radicals and leftist in the US. www.nytimes.com/2007/06/26/washington/26cia-timeline.html
The hysteric MD who was held as a POW was, indeed, a war criminal, as were the bomber pilots.
The notion that people living in the South, under the US' created and controlled puppet government were "freer" than those in the North is preposterous (as is the endlessly repeated lie that the North and South were real, separate and distinct countries–the north communists).
Obviously, for example, conscripts in the puppet Southern army did not want to be there, and fled when they could. NLF and VC troops were overwhelmingly committed to the ideology the NLF leadership put forward–peasant nationalism with a small dose of "equality" that was, to a considerable degree, practiced in the Ho/Giap led military.
It's simply wrong to overplay a divide between Ho Chi Minh, Giap, and Le Duan.
The only fundamental truth presented in episode nine: We were fighting on the wrong side.
Episode ten was, notably, worse. (More at www.richgibson.com/vietnam/lies/)

Congratulations on the publication of (now 40% off at Monthly Review)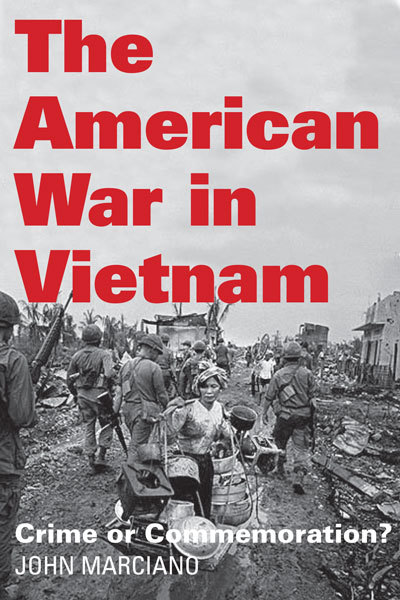 and the publication of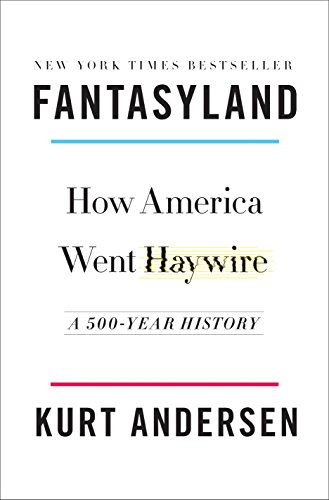 The Little Red Schoolhouse
School Is Back! Rescue Education from the Ruling Classes!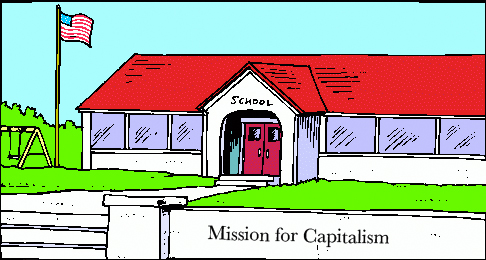 It's all over, all over–back to school, again. Sing along, if you remember.
Otherwise, what is now my other yearly ritual: the rarely asked question–why have school?
But first, that ever-present school ice-breaker: What did you do on your summer vacation?
Well, instead let us ask about the semi-vacations held at the National Education Association's Representative Assembly (RA), an annual event held, this time, in Boston.
Leaders at what they call the largest annual "democratic" gathering in the US had a headache.
The problem?
How would the NEA top officials divert the 7000-member body, most of them rank and file school workers, from what those people already knew:
That wikileaks revealed NEA President Lily Garcia had rigged NEA's own internal, traditional, small "d" democratic processes to offer an early endorsement of Hillary Clinton,
that Garcia, who made $512,504 last year while representing thousands of people who live in trailers, then joined Randi Weingarten, a millionaire and President of the American Federation of Teachers to waste $40 million on the failed election and then the pair
endorsed the losing candidate to be chair of the Democratic National Committee? What to do?
It's unclear whether most NEA members would have preferred the man who later came out as Clinton's fishhook, Bernie Sanders (many, many NEA members are Republicans), but there can be no doubt a sizeable, and angry, minority did.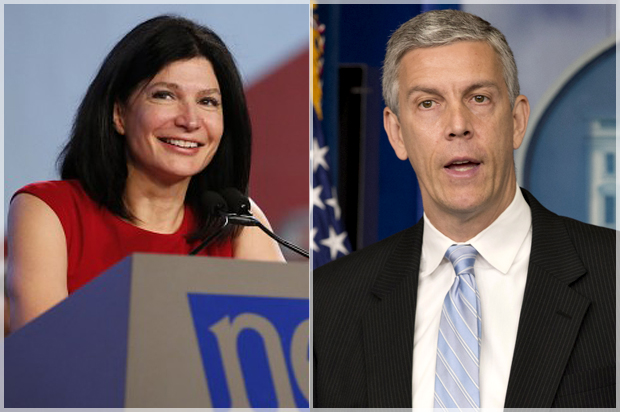 above, Lily Garcia with her friend and ally, Arne Duncan, feited at an NEA RA
NEA with Garcia as a Vice President, had wildly backed Barack Obama, meaning support for what most teachers bitterly opposed: the regimented curricula and high-stakes standardized exams of Race to the Top, an extension of the Bush-era No Child Left Behind. Arne Duncan, Obama's education secretary, was featured on posters all over a 2012 NEA RA, but later NEA's bosses set him up as a whipping boy–letting Obama and, most importantly, imperialist wars off the hook.
Another problem: Some NEA staff threatened to picket the assembly, feeling underappreciated. Indeed, the California Teachers' Union staff did set up an informational picket line and distributed a leaflet to delegates which, in part, charged:
"CTA Management's salary proposal does not match the cost of living increases in even some of the more affordable locations in California," the flier states. "This, despite the fact that CTA continues to fund full-time release for Board Members as well as allowances for yard maintenance, house cleaning, child care, and more perks that CSO and CTA members do NOT receive."
Secretaries working for the NEA national office typically make more than the average teacher, with vastly superior benefits. The teacher average was $56,383 in 2016.
Rigging, losing, exposed-not a good year for highly paid NEA bosses….  www.richgibson.com/blog/school-is-back/

Shocker! Test Scores Still Measure Parental Income, Race, and Home Language!
Every year, state education officials release standardized test scores — and every year they say the same thing: The achievement gap persists.
This year's scores are no different.
Education officials across California released their scores Wednesday, each highlighting what they saw as positive news in the data while lamenting the stubborn, and in some cases widening, achievement gap.
Despite decades of effort and billions of dollars in funding, test scores for white, Asian American and wealthier students are much higher than those of their black, Latino and low-income peers. On computerized tests administered in the spring, for example, just 19 percent of African American students were proficient in math, compared with 73 percent of Asian American students.  www.sfgate.com/education/article/California-releases-annual-test-scores-12232610.php
Severance pay for Julio Fonseca called
"illegal"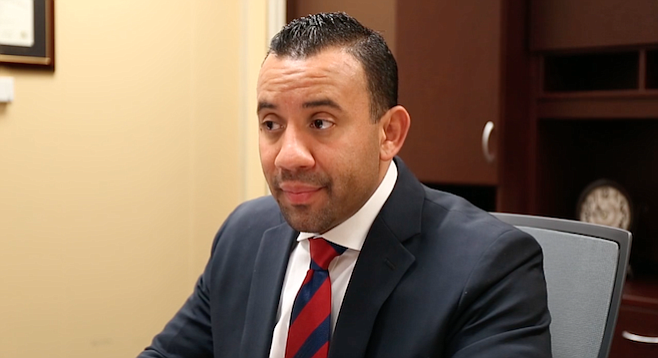 Attorney Briggs says San Ysidro School District needs to recover $400,000
 San Diegans for Open Government attorney Cory Briggs has threatened to sue San Ysidro School District if district officials do not recover the $400,000 in severance pay it awarded to former superintendent Julio Fonseca after he resigned last month amid a personnel scandal.
The International Hot War of the Rich on the Poor
The Next Fight: The commandant is pushing the Corps to be ready for a 'violent, violent fight'
He says the next fight will be far more complex and deadly than the campaigns in Iraq and Afghanistan that have shaped the force and its leadership over the past 16 years.
"I don't think the next fight is going to be a stability op/counterinsurgency: It's going to be a violent, violent fight," Neller said in May, while speaking at the 2017 Innovation Symposium awards ceremony.
In June, Neller told Congress that, right now, the Marine Corps is "not currently organized, trained and equipped to face a peer adversary in the year 2025."
The commandant has good reason to worry. Military planners expect future enemies to have advanced air and shore defenses. They will have ­effective aircraft and indirect fire. They will use cyber and electronic warfare to jam or confuse Marines' networks, communications systems and global positioning systems.
The opening salvos of future wars will likely be fired in space, Neller believes.
"In my view, the recon/counterrecon fight is going to start not by taking out recon teams and shooting down surveillance aircraft. It's going to start in cyber and space — to blind the enemy, or to blind us," Neller said in May.
"The center of gravity that we have to protect is the network, and the network is dependent on space. We lose space, we're back to [high frequency] radio and yellow stickies on the map."…..
The advantages that the U.S. military has enjoyed in the decades following the 1991 Operation Desert Storm may simply not exist in the next battlespace. Future adversaries will be armed with deadlier technology — some of which may be better than what U.S. troops are armed with.
For the past 20 years, U.S. adversaries — from low-tech Iraqi insurgents to sophisticated military planners in Russia and China — have honed their own combat capabilities to undermine the American military and how it operates.
Many "attacks" that the Marines must prepare for will not be traditional kinetic strikes, Singer said. For example, the Chinese strategy calls for mounting a cyberattack on logistical support structures so that Marines in combat can't get needed supplies. That could include ­hacking into the supply system to change bar codes so that Marines get toilet paper instead of ammunition.  www.marinecorpstimes.com/news/your-marine-corps/2017/09/18/the-next-fight-the-commandant-is-pushing-the-corps-to-be-ready-for-a-violent-violent-fight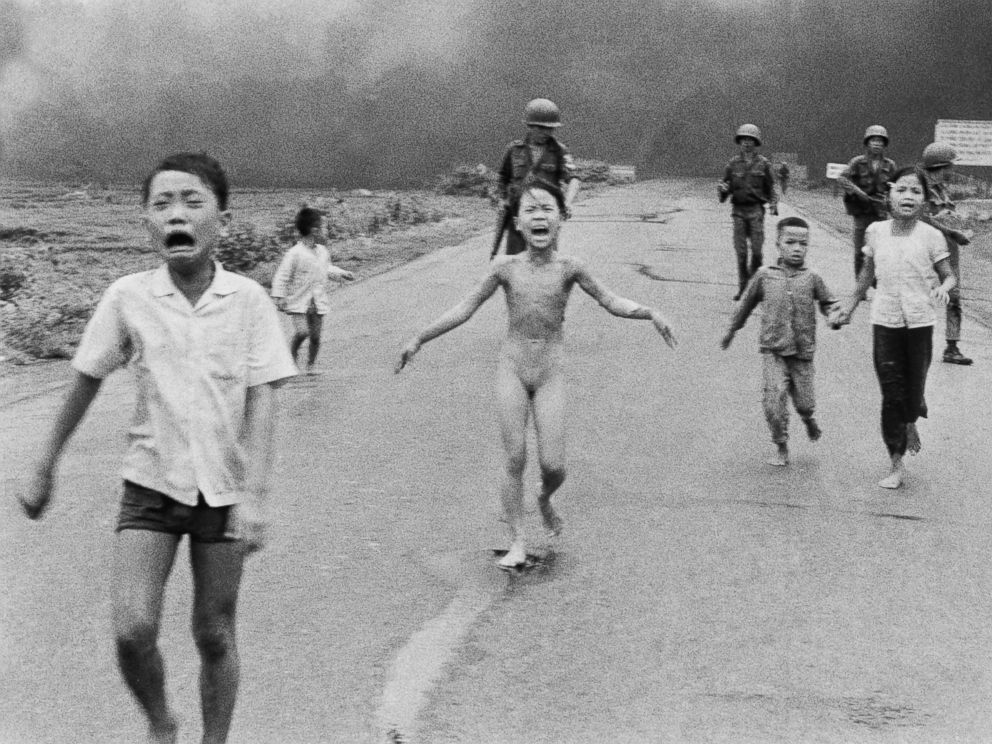 Every other year, the Air Show includes a "Wall of Fire." 700,000 people come watch. They bring children, even toddlers. The Wall of Fires is…napalm.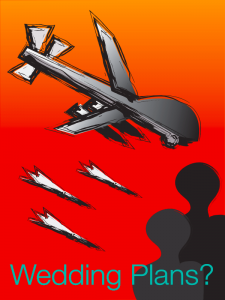 Ex-Drone Warrior: Don't Give the CIA Authority to Deploy Killer Robots in Afghanistan
Since the drone program began, the U.S. military has been keen on keeping data related to it under wraps. Due to the near-absence of official information, drone strike statistics answer few questions and raise many more. For example, when the Obama administration released the first official estimates of those killed in strikes during President Obama's presidency, they only included those that took place outside the conventional wars in Iraq, Syria, and Afghanistan, leaving human rights advocates and media organizations trying to fill in the blanks.
Under President Trump, whose stated opinions on transparency vary from negative to non-existent, the problem is only getting worse. However, the incredible work of accountability organizations such as The Bureau of Investigative Journalism in recent years allows us to fill in some of the blanks. Looking at drone strike data from Afghanistan, starting at the beginning of Trump's presidency nine months ago, there have been a minimum of 2,353 confirmed strikes in Afghanistan, with between 684 and 1081 people reported killed in them, including anywhere between 51 and 116 civilians and children.
Earlier this month, The New York Times reported that the White House appears to be in favor of giving the Central Intelligence Agency unprecedented authority to conduct drone strikes in Afghanistan. To place this secret killing power in the hands of the CIA, a civilian agency known for its long history of participating on behalf of U.S. interests in foreign conflicts, is irresponsible and immoral. It might even be illegal.  www.thedailybeast.com/ex-drone-warrior-dont-give-the-cia-authority-to-deploy-killer-robots-in-afghanistan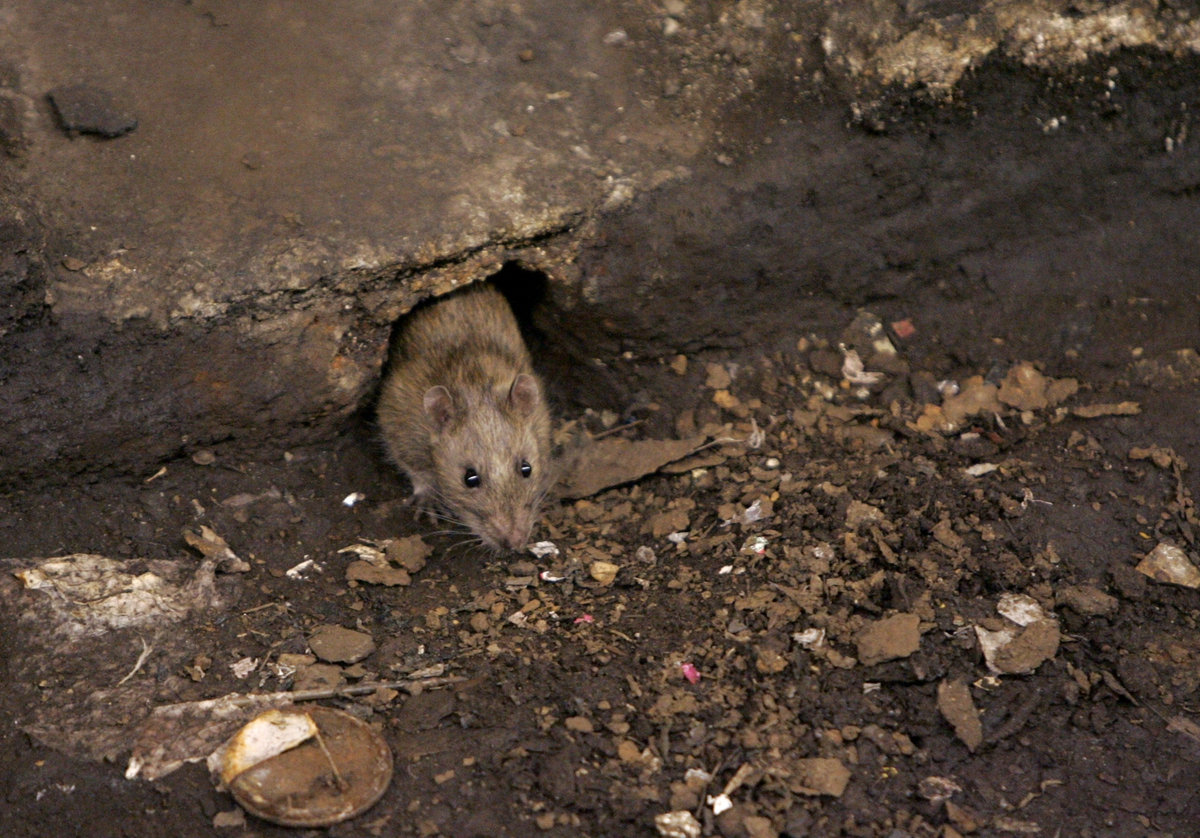 Dead rats and frogs discovered in Camp Pendleton water supply
Rat and frog carcasses were discovered by water safety inspectors visiting Camp Pendleton, the San Diego Union-Tribune reports.
Rats rotting on a reservoir gate, a dead frog clinging to a ladder and a rodent carcass floating in treated water were found by inspectors during a June visit to the Marine Corps bas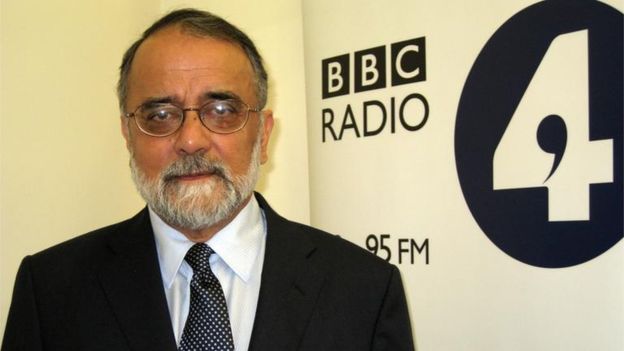 A H M E D R A S H I D
Afghanistan: What Troops Can't Fix
The New York Review of Books.
26 September 2017.
For Presidents George W. Bush and Barack Obama, Afghanistan was "the just war," but
for President Donald Trump it is just a war he didn't want to deal with. Reluctant from the start of his term to send more US troops to Afghanistan,after taking eight months to decide what to do, Trump has finally been persuaded to send 3,900 more troops by a military high command that is getting anxious about the possibility of failure. There is no timeline for American troops to come home.
The war has gone on for sixteen years, and as recent meetings at the United Nations General Assembly demonstrated,it has become even more complicated than the one fought by Bush or Obama. Afghanistan faces a number of growing internal threats: terrorist a
ttacks, loss of territory to the Taliban, economic collapse, corruption, growing public
disenchantment, and an internal political crisis as warlords and ethnic politicians challenge the government ofPresident Ashraf Ghani. But the gravest new threat is regional. At least three nearby states—Pakistan, Iran, and Russia—are now helping the Taliban, according to US generals, Western diplomats, and Afghan officials I have spoken to.
The International Economic War of the Rich on the Poor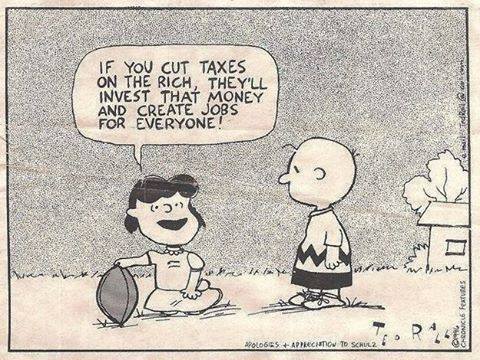 Debt boom in India and China threatens new financial crisis, warns World Economic Forum
Banks across the world are more vulnerable to a crisis now than they were in the build up to the credit crunch, the World Economic Forum has warned.
Bad loans in India have more than doubled in the past two years, while in China's financial system "business credit is building up similarly to the United States pre-crisis, and could be a new source of vulnerability."
China's credit boom has been the subject of several warnings from global finance groups and regulators in recent months. Last week the Bank of International Settlements warned that higher interest rates in the US could have a knock on effect in the world's second-largest economy, forcing rates higher in China, making the debt mountain more expensive to maintain and hitting the economy hard….
"In general, there is still too much debt in parts of the private sector, and top global banks are still 'too big to fail'," the WEF's Global Competitiveness Report said.
"The largest 30 banks hold almost $43 trillion in assets, compared to less than $30 trillion in 2006, and concentration is continuing to increase in the US, China, and some European countries.
"In Europe, banks are still grappling with the consequences of 10 years of low growth and the enduring non-performance of loans in many countries."
President Trump's plans to cut back some of the post-crisis era regulation could also make the system less safe, the WEF said.
"This may lead to the re-emergence of fragilities that post-crisis regulation aimed to tackle," the analysts warned.   www.telegraph.co.uk/business/2017/09/26/debt-boom-india-china-threatens-new-financial-crisis-warns-world/
Obama Goes From White House to Wall Street in Less Than One Year
Ex-president speaks to Carlyle, Cantor, Northern Trust

'If someone is willing to pay him to give a speech, God bless'
Hillary Clinton says she made a mistake when she gave speeches on Wall Street after leaving government. Taking money from banks, she writes in her new memoir, created the impression she was in their pocket.
Her old boss doesn't seem to share her concern.
Last month, just before her book "What Happened" was published, Barack Obama spoke in New York to clients of Northern Trust Corp. for about $400,000, a person familiar with his appearance said. Last week, he reminisced about the White House for Carlyle Group LP, one of the world's biggest private equity firms, according to two people who were there. Next week, he'll give a keynote speech at investment bank Cantor Fitzgerald LP's health-care conference.
Obama is coming to Wall Street less than a year after leaving the White House, following a path that's well trod and well paid.  www.bloomberg.com/news/articles/2017-09-18/obama-goes-from-white-house-to-wall-street-in-less-than-one-year
The Emergence of Fascism as a Popular Mass Movement
Sanctuary' cities targeted by ICE in immigration raids as nearly 500 arrested
A federal operation to arrest undocumented immigrants this week netted nearly 500 people in cities and states that have openly opposed the Trump administration's deportation initiatives.
Immigration and Customs Enforcement officials said Thursday that its four-day "Operation Safe City" targeted people in New York, Los Angeles, Philadelphia, Denver, Washington and Baltimore as well as Cook County, Illinois; Santa Clara County in California's Bay Area; Portland, Oregon; and Massachusetts. https://www.aol.com/article/news/2017/09/29/sanctuary-cities-targeted-by-ice-in-immigration-raids-as-nearly-500-arrested/23227488/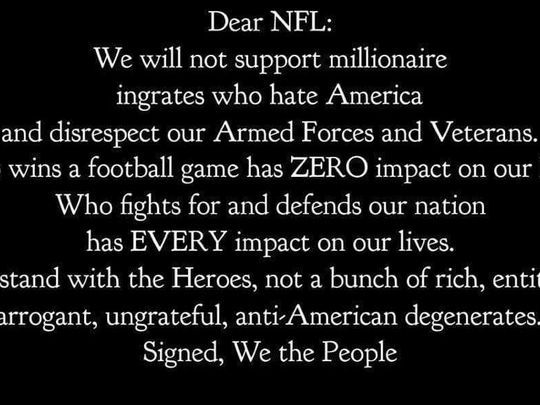 above written by the Chief of the Michigan State Police
Solidarity for Never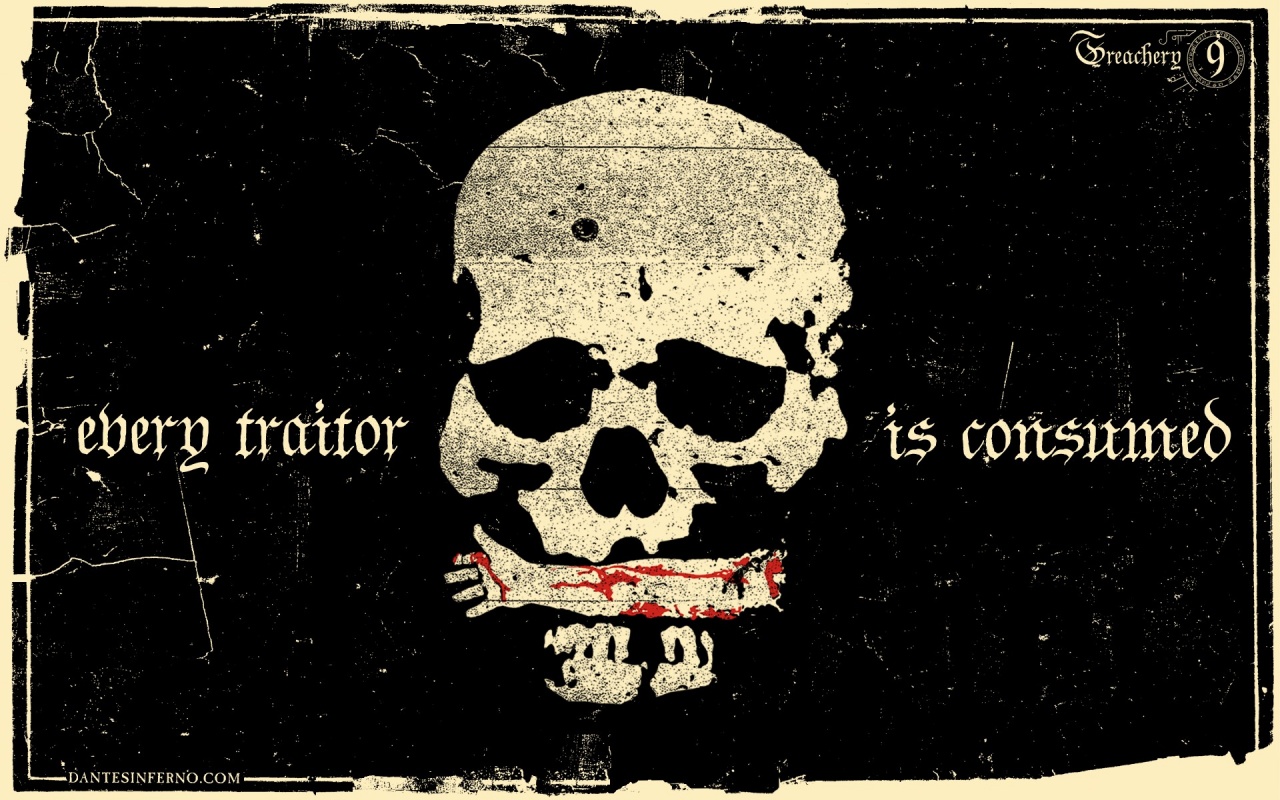 Classroom teachers: Your union leaders are gouging you | Moran
If you find a flat rock on a muddy riverbank, and flip it over, the slimy little critters that live underneath scurry away to hide in the muck, as if caught red-handed.
I thought of that the other day when I dug up tax records showing the obscene salaries and benefits that the leaders of the state's largest teachers union pay themselves.
Brace yourself: The top five officers earned an average of $764,000 in compensation in 2015. The big winner was the executive director, Ed Richardson, who pulled in $1.2 million, roughly twice what the national union pays its executive director.
These are union folks, remember, the same ones who rail about economic injustice. The middle-class teachers they represent earn $70,000 on average, and pay about $900 of that in annual dues to this crowd.
I wanted to ask Richardson how he can justify this money grab, so I called, over and over, and sent e-mails. But like those little critters, he slithered into the muck to escape the sunlight.
In fact, no one at this feast would stop chewing long enough to discuss these high salaries, including the new president of the union, the New Jersey Education Association, Marie Blistan.
It's a puzzle, especially now. Because these same leaders are making the stupidest political mistake of the decade in this election, throwing millions of dollars behind a Trump candidate for a Senate seat in South Jersey, and infuriating the entire Democratic Party in the process.   www.nj.com/opinion/index.ssf/2017/09/classroom_teachers_your_union_leaders_are_gouging.html
U.S. Supreme Court to Scrutinize Mandatory Union Fees Again
The U.S. Supreme Court said it will try for a second time to decide whether 5 million government workers can refuse to pay union fees, accepting a case that could deal a major blow to the labor movement's finances and clout.
Getting a head start on a term that formally opens Monday, the justices Thursday said they will revisit an issue that deadlocked them in March 2016. The court will consider overturning a 1977 ruling that lets public-sector unions in 22 states demand fees from workers who aren't members. Those so-called agency fees are designed to pay for union representation on such matters as pay negotiations.
Union critics say the mandatory fees violate the Constitution's First Amendment, forcing workers to support unions that don't share their priorities on matters of public importance. The court will hear an appeal from Mark Janus, an Illinois government employee challenging a state law that allows agency fees.  www.bloomberg.com/news/articles/2017-09-28/mandatory-union-fees-again-draw-u-s-supreme-court-scrutiny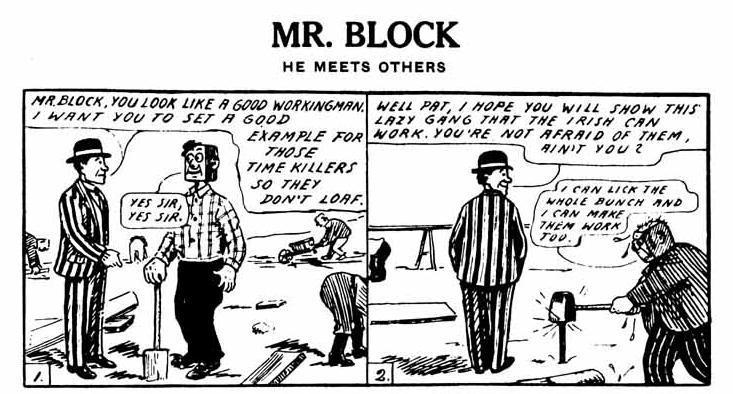 Maine state union members vote to accept LePage's 'right to work' contract language
(Who's Afraid of Right-toWork?)  Two of Maine's largest public-sector labor unions have agreed to eliminate the requirement that all employees pay union fees whether or not they are members.
The votes represent a significant victory for Republican Gov. Paul LePage in his years-long power struggle with organized labor in Maine, a key ally of Democrats and rank-and-file state workers who have resisted some of his efforts to shrink or change state government.
David Heidrich, a spokesman for the Department of Administrative and Financial Services, said Thursday morning that the Maine State Employees Association, which represents more than 9,000 executive branch employees, and the American Federation of State, County and Municipal Employees, which represents approximately 800 corrections officers and mental health workers, notified the state Wednesday that they have ratified two-year contracts.
Both unions eliminated agency fees in exchange for higher raises than the state was offering otherwise, and both unions will receive raises of 6 percent spread over the next two years, according to Heidrich.  bangordailynews.com/2017/08/31/politics/maine-state-union-members-vote-to-accept-lepages-right-to-work-contract-language/
Spy versus Spy
Cold War Redux: NYTimes vs Kim Philby, again.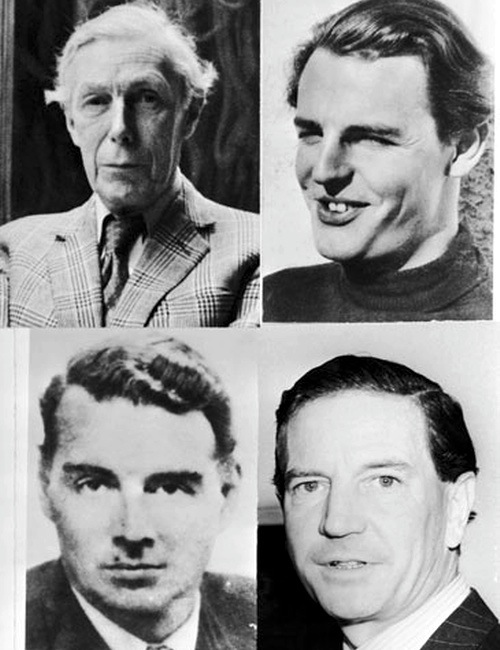 above, four ot the 5 Cambridge spies. Philby lower right
Mr. Philby, highly educated, well spoken and driven by hostility to fascism rather than by greed, fits perfectly with the image that Soviet and Russian intelligence operatives have of themselves. "He was an idealist," said Mikhail P. Lyubimov, a former K.G.B. officer in London who saw Mr. Philby frequently in Moscow after his defection. "I knew him quite well. His idea was that he was not serving Stalin but the people."
The Philby exhibition, which opened just a few days after the unveiling in Moscow of a giant statue in honor of the inventor of the Kalashnikov automatic rifle, is "all part of the drive to create a national idea that revolves around the military and special services," said Mark Galeotti, a researcher on Russian security and intelligence issues at the Institute of International Relations in Prague.   www.nytimes.com/2017/10/01/world/europe/russia-kim-philby-spy-defector.html?hp&action=click&pgtype=Homepage&clickSource=story-heading&module=second-column-region&region=top-news&WT.nav=top-news&_r=0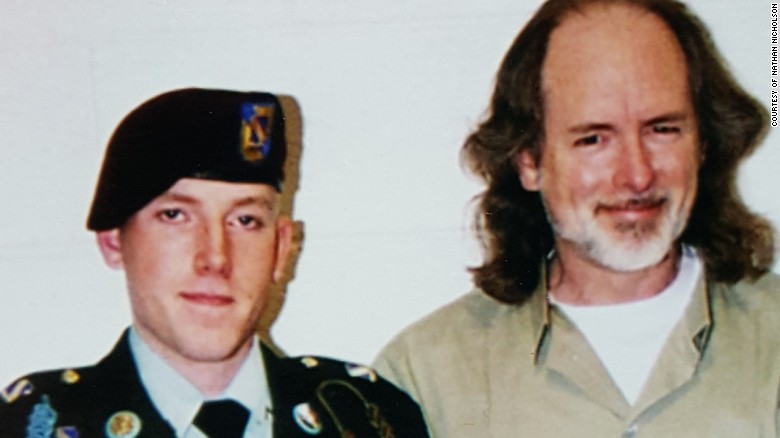 How a CIA traitor turned his son into a Russian spy
Surrounded by FBI agents and US marshals, Bryan Denson's first encounter with an ex-CIA spy nicknamed "Batman" came in 2009 in a Portland, Oregon, courtroom.
But as Jim Nicholson faced the judge, Denson noticed the ex-spy's expression bore little of the hero-like confidence that earned him his nickname during his 26 years serving the US government.
Denson says in 1997, Nicholson became the highest-ranking CIA officer ever convicted of espionage, after selling the identities of hundreds of CIA trainees and troves of highly classified files to Russia's foreign spy service.
On this January day, though, Nicholson entered court to answer new charges: that he had not only reconnected with the Russians from inside prison, but had enlisted his son, Nathan Nicholson, to serve as his intermediary.
Both father and son pleaded guilty to conspiracy charges. Nathan avoided prison, but was sentenced to five years of probation and 100 hours of community service. Meanwhile, Jim received an eight-year sentence to be served consecutively with the 23 years he was already serving for his previous crimes.
I screwed up royally' accused leaker confessed to FBI agent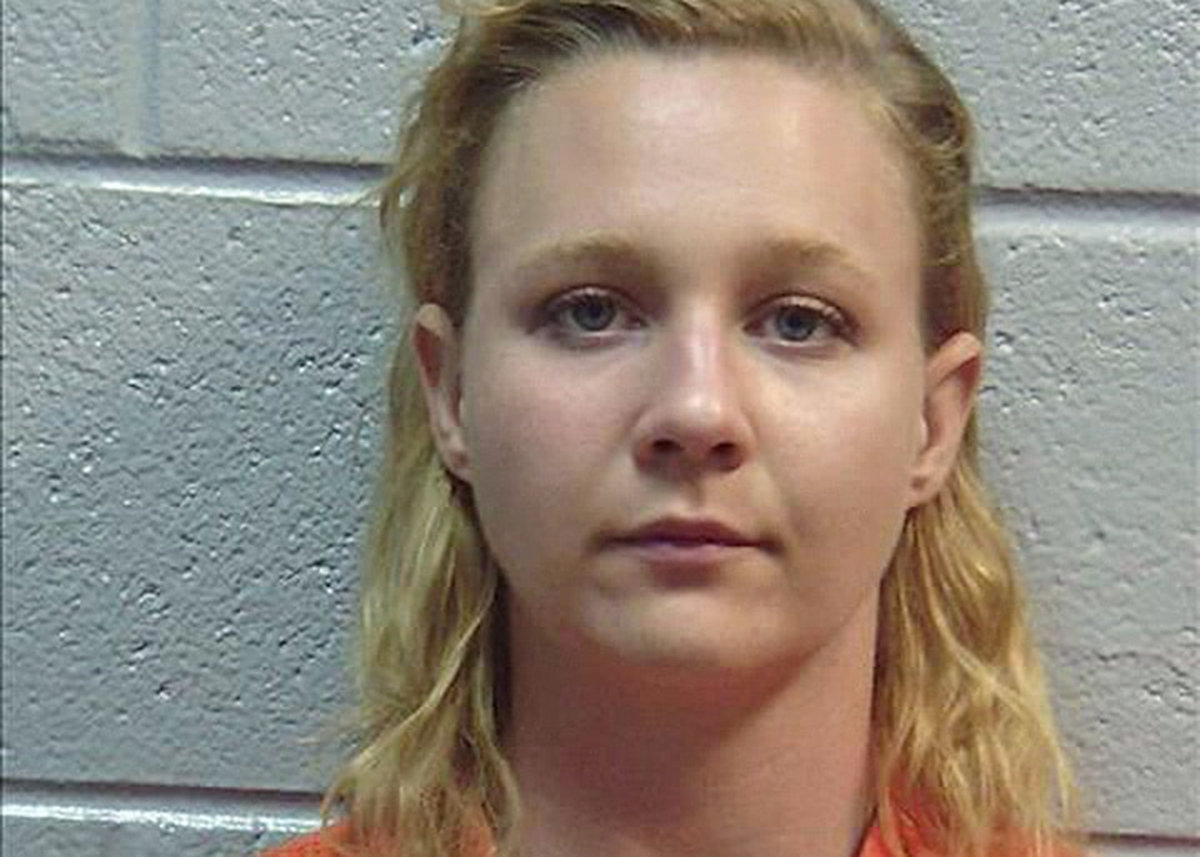 A young woman charged with leaking U.S. secrets to a news organization told FBI agents she was frustrated with her job as a government contractor when she tucked a classified report into her pantyhose and smuggled it out of a National Security Agency office in Georgia, according to court records.
Prosecutors are using Reality Winner's own words against her as they urge a federal judge to keep the former Air Force translator jailed until her trial. In a court filing Wednesday, prosecutors attached a 77-page transcript of Winner's interview with FBI agents before her arrest in June.
"Yeah, I screwed up royally," Winner, 25, told the agents in a transcript that makes public the details of her confession, which prosecutors have alluded to in prior court hearings. (FB to Sister)
"Look, I only say I hate America like 3 times a day," Winner wrote. "I'm no radical. It's mostly just about Americans obsession with air conditioning."
Her sister asked: "But you don't actually hate America, right?"
Winner replied: "I mean yeah I do it's literally the worst thing to happen on the planet. We invented capitalism the downfall of the environment."
The Magical Mystery Tour
Roy Moore Wins Senate G.O.P. Runoff in Alabama
More Fantasy Friends to Head to Delusional US Senate ?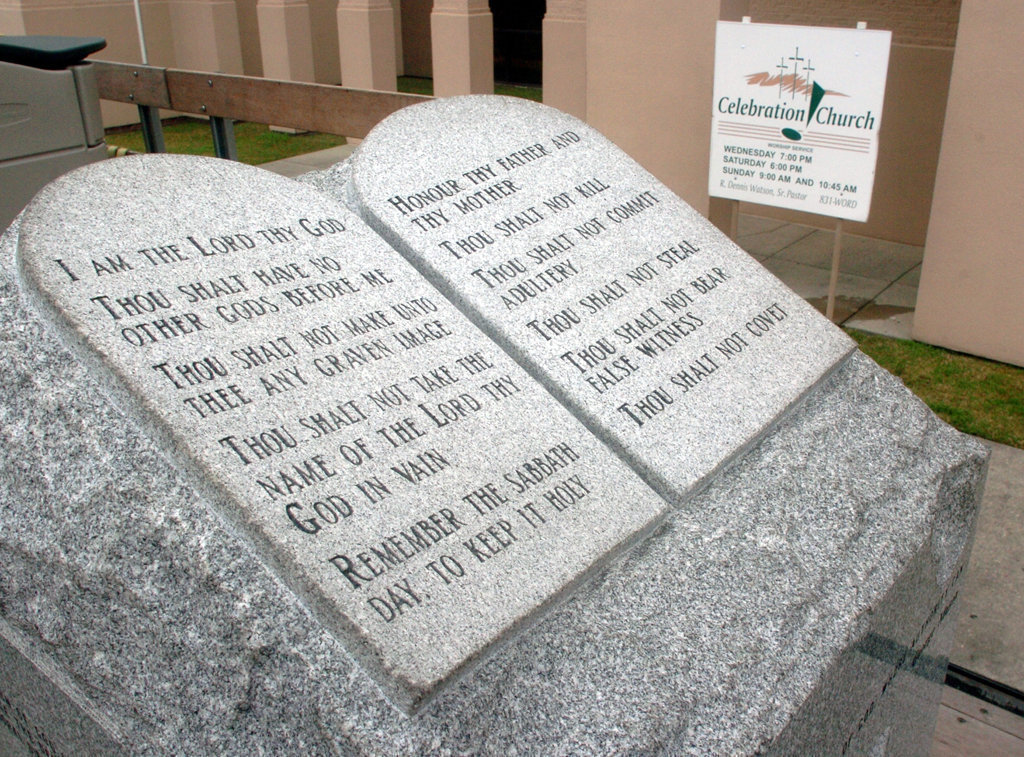 Propelled by the stalwart support of his fellow evangelical Christians, Mr. Moore survived a multimillion-dollar advertising onslaught, in the eight figures, financed by allies of Senator Mitch McConnell, the majority leader. His victory demonstrated in stark terms the limits of Mr. Trump's clout.  https://www.nytimes.com/2017/09/26/us/politics/roy-moore-alabama-senate.html?hp&action=click&pgtype=Homepage&clickSource=story-heading&module=first-column-region&region=top-news&WT.nav=top-news&_r=0
Fabulous Roy Moore Quotes:
"God is sovereign over our government, over our law. When we exclude 'Him' from our lives, exclude 'Him' from our courts, then they will fail We've forgotten that God is intimately connected with this nation. Without God there would be no freedom to believe what you want."
"There is no such thing as evolution," he said at one point as he waited for his lunch. Species might adapt to their environment, he continued, but that has nothing to do with the origins of life described in the Bible. "That we came from a snake?" he asked rhetorically. "No, I don't believe that."
The Catholic Crunch: Inside the Shortage of Catholic Military Priests
If almost any member of the Joint Chiefs of Staff were visiting Naval Submarine Base Kings Bay in Georgia during the recent government shutdown, they would not have been able to attend Mass there. Nor would any other service member within a quarter of the military that identifies themselves as Roman Catholic.
The shortage of Catholic priests, or "chaplains" as the military calls its spiritual leaders, is an ongoing issue within the Department of Defense. The Pentagon still faces a lawsuit from the Thomas More Law Center after learning that the small base in Georgia had to furlough its Catholic priest because he is a contractor, while the active duty uniformed Protestant chaplains were able to continue their ministry. This is a common trend for a military with roughly 35 percent declared Protestants and a comparable percentage of chaplains, according to the latest Defense numbers. Catholics, however, make up 25 percent of all troops but only 8 percent of the chaplain corps – not enough to go around.
The Best and Worst Things in the History of the World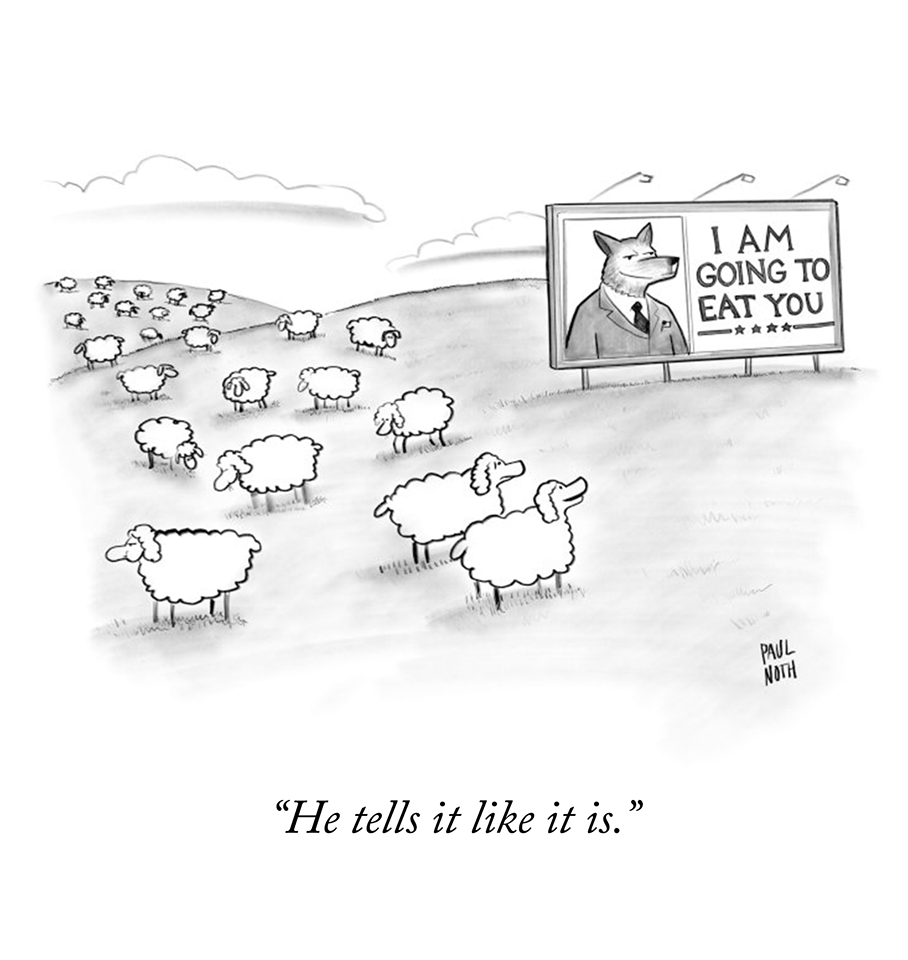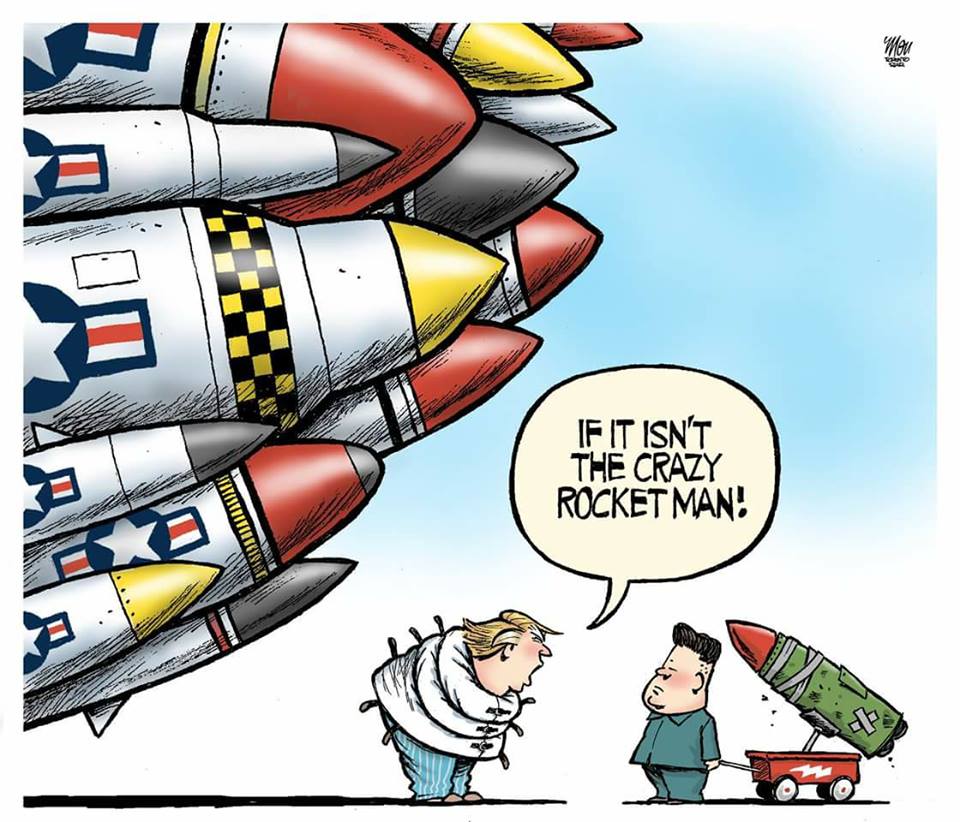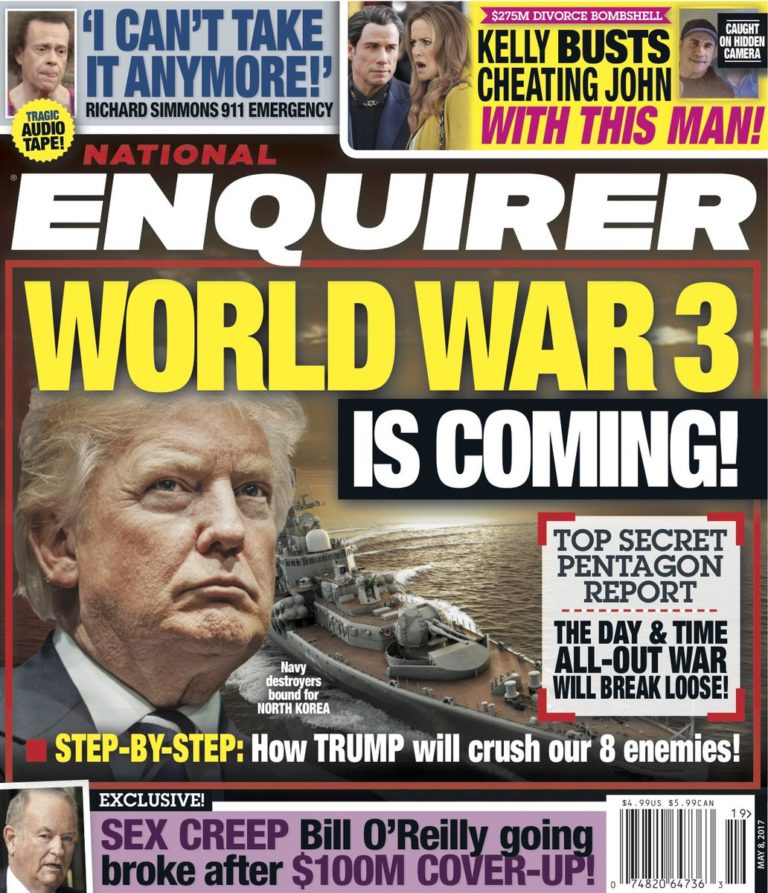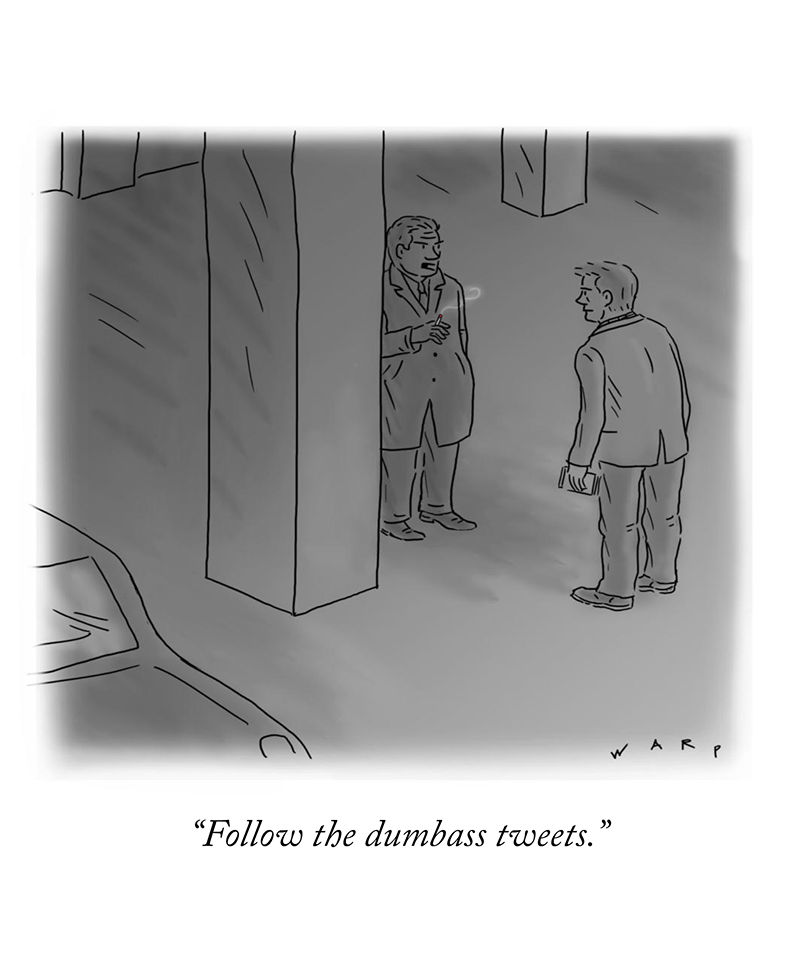 Trump Names Sarah Palin Ambassador to Nambia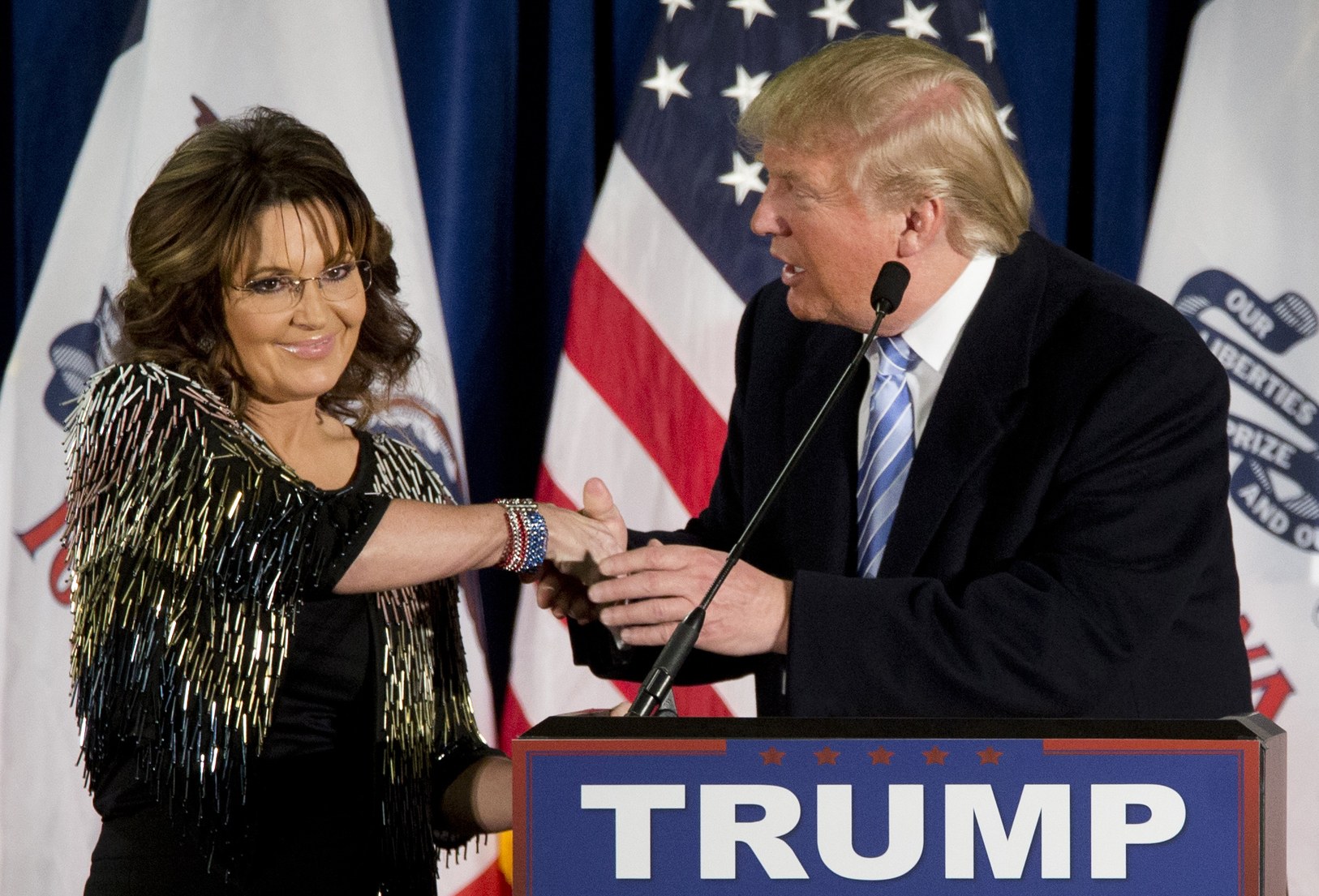 Donald J. Trump on Friday capped a busy week of diplomatic activity by naming the former Alaska governor Sarah Palin the United States Ambassador to Nambia.
By naming Palin to this diplomatic post, the United States has become the first nation in the world to formally recognize Nambia's existence.
In a joint appearance with Trump at the White House, Palin acknowledged that she "didn't know a lot about Nambia" but said that she was looking forward to receiving a comprehensive briefing on the nation's history, culture, and customs from the Education Secretary, Betsy DeVos.  www.newyorker.com/humor/borowitz-report/trump-names-sarah-palin-ambassador-to-nambia
So Long