We Say Fight Back!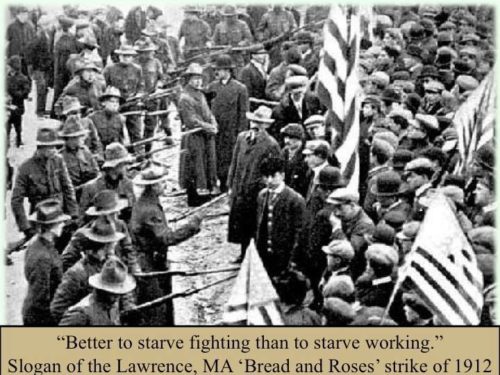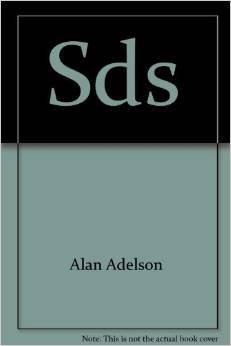 Adelson's "SDS" is now online, free  www.sds-1960s.org/books/sds.pdf
THE WAR OF THE PARIS COMMUNE, 1871
by Mark Jacobsen
USMC Command & Staff College
---
I asked Professor Jacobsen to prepare this case study a few years ago for a course at the USMC Command & Staff College. He has graciously permitted me to post it here.  www.clausewitz.com/readings/Jacobsen-Commune.htm

The Little Red Schoolhouse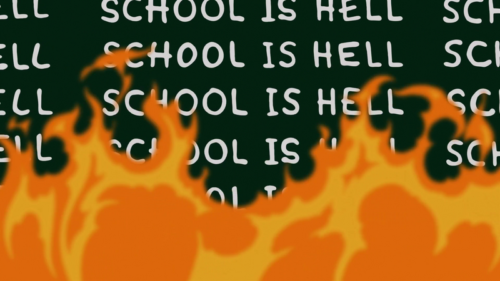 Their Pledges Die. So Should Fraternities. (add football)
Following a night of heavy drinking at a fraternity at Texas State University, a 20-year-old was found dead. Another 20-year-old died at Florida State University in nearly identical circumstances.
At Penn State University, the victim was 19. Security cameras and text messages documented the fumbling attempts by fraternity members to revive him and then to cover up the link between his unconscious condition and the 18 or so drinks that they forced on him in a roughly 90-minute span. As he moaned and thrashed and blood from a lacerated spleen filled his abdomen, they waited about 12 hours to summon medical help, by which point it was too late.
At Louisiana State University, the victim was 18, with a blood alcohol content of .496 percent. That's more than six times the legal limit for driving and about two and a half times the amount of alcohol that can cause someone to black out.
All of these incidents occurred this year — the Texas and Florida ones in the last two weeks — and yet 2017 isn't some nadir. At least six young men died in connection with fraternity hazing rituals in 2014, according to Hank Nuwer's Hazing Clearinghouse, a website with a ghastly, heartbreaking tally. Two years before that, seven died.
Across decades, the toll of deaths related to fraternity revelry and recklessness is surely in the hundreds. And while physical stress plays a role in some fatalities, most reflect the kind of extreme drinking that's in the DNA of so-called Greek life.  www.nytimes.com/2017/11/17/opinion/pledges-fraternities-violence-deaths.html
State auditor finds top aides to UC President Napolitano interfered in audit, recommends reforms (not prosecution)
State Auditor Elaine Howle wants University of California regents to consider disciplining university employees who repeatedly interfered with a state audit, tried to hide their actions, misled investigators and withheld requested information until threatened with court action, according to a private report by her office obtained by The Times.
Howle's office began investigating UC interference in a state audit on the performance of UC President Janet Napolitano's office after a whistleblower complaint early this year. Like a separate inquiry commissioned by regents whose results were released last week, Howle's investigation
determined that Napolitano approved a plan instructing the UC system's 10 campuses to submit responses to confidential questionnaires about her office for review by her aides before sending them on to the state auditor.
Both investigations found that Napolitano's aides asked campuses to tone down or delete criticisms. But neither found sufficient evidence that Napolitano knew her aides planned to do this. Napolitano told investigators that had she known, she would not have approved their plan.
Both reports primarily blamed Napolitano's Chief of Staff Seth Grossman and Deputy Chief of Staff Bernie Jones for the interference. Howle's report cited additional evidence of wrongdoing by Jones, including intentional failures at least twice to provide requested documents to the auditor and an inappropriate effort to identify the whistleblower.  www.latimes.com/local/lanow/la-me-uc-audit-interference-20171122-story.html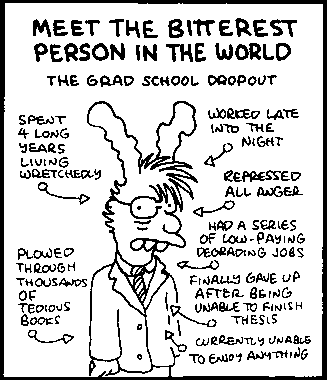 Universities wage last-minute fight against grad student tax hike
University leaders and education groups are urging Congress to reconsider provisions in the House GOP tax bill that would mean huge tax hikes for graduate students — and that they warn could cripple graduate education in America.
Under the House plan, H.R. 1 (115), tuition discounts that schools offer to graduate students would be taxed as income, on top of the stipends the students make working as teaching or research assistants. At some schools — where the tuition breaks run upwards of $40,000 — that could more than triple students' taxable income, causing some to spend huge portions of their stipends on massive tax bills. The plan would also eliminate a lifetime learning credit worth about $2,000 that many grad students depend upon.  www.politico.com/story/2017/11/15/universities-wage-last-minute-fight-against-grad-student-tax-hike-in-house-gop-plan-244951
This month, a report by the American Association of University Professors showed that adjuncts now constitute 76.4 percent of U.S. faculty across all institutional types, from liberal-arts colleges to research universities to community colleges.
Apr 28, 2014
Absences, Trauma, and Orphaned Children: How the Opioid Crisis Is Ravaging Schools
David Cox is the superintendent in Allegany County in western Maryland. For the past five years, Cox and his staff have been responding to an opioid epidemic that has ravaged their community, leaving in its wake orphaned children and others facing emotional trauma. "We have kids who have lost their parents, and, unfortunately, there have been situations where the parents have overdosed with the kids watching," he said.
Cox testified before Congress this month, and spoke to Education Week's Denisa R. Superville about what his district of 74,000 students needs to deal with the crisis. The conversation has been edited for clarity and length.
---
When did you first start noticing the impacts of the opioid epidemic in Allegany County Schools?
COX: About five years ago, our principals started talking to me about their concerns with attendance. We've had, historically, a very high elementary attendance rate—something like 96 or 97 percent. The number of kids who began to develop more chronic absenteeism was one of the first signs. We have positions that are called PPW—Pupil Personnel Workers—who work with the schools and with the counselors and make home visits whenever there are [attendance] issues.
In establishing contacts with some of our families, some of the principals learned that we had an increasing number of parents who were addicted to opioids and were using opioids. They noticed that the chronic attendance issues were linked to parents' use of opioids:  www.edweek.org/ew/articles/2017/11/20/absences-trauma-and-orphaned-children-how-the.html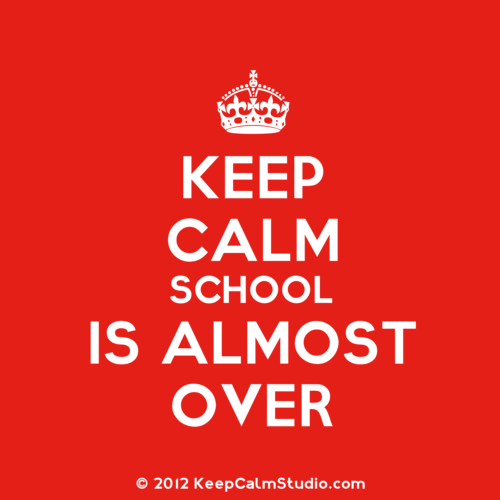 San Diego Unified Has Slashed Its Busing Program
For an increasing number of students, buses aren't available to take them to school at all. In 2010-2011, the district ran 2,300 bus routes and transported 17,500 students daily. This year, it's down to 1,439 routes moving 9,330 students a day. And the district continues to cut busing.
Buses no longer run from Michelle Huffaker's neighborhood in University City to the magnet school her daughter attends, more than 20 miles away in Paradise Hills. So in the mornings, Huffaker drives her daughter two miles to Clairemont, where she catches the bus to school.
Now, on top of the $500 bill she pays to the school district for busing each year, she also pays bus fees for the MTS bus her daughter has to catch when neither parent is available to pick her up from school. Those cost $2.50 a ride, or $36 for a monthly pass.
"It's not free and equal access to education if you can't afford to get your child to school. Part of going to school is getting to school," Huffaker said. "It should be illegal to charge for that."
Bus fees are fairly common in California, one of 12 states that allows school districts to charge parents fees for the school bus. San Diego Unified started charging in the 2010-2011 school year. www.voiceofsandiego.org/topics/education/san-diego-unified-dramatically-whittled-away-busing-program/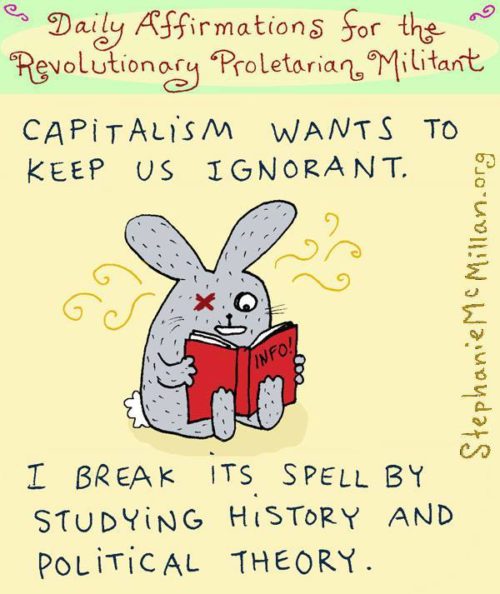 College Access is Still a Problem (capitalist schooling is Always segregated schooling)
Low-income students have consistently attended college at lower rates than those from high-income families. But over the last 30 years, the percentage of low-income high school students pursuing a degree immediately after graduation has almost doubled. Though this figure may encourage some to dismiss college access as a challenge of yesteryear, new research demonstrates that we are still a long way from declaring "mission accomplished." The continued problem of college access depends a great deal on how it's defined.
Research from Raj Chetty and his colleagues, Mobility Report Cards: The Role of Colleges in Intergenerational Mobility, confirms what many have already assumed to be true: While more low-income students are going to college, they are generally not attending the same institutions as their well-off peers. The majority are enrolling in community colleges and for-profit institutions, where they tend to have lower graduation rates and diminished economic returns. Meanwhile, wealthier students are far more likely to attend elite public and private four-year universities and continue to ascend the top rungs of the income ladder.
…College enrollment by institution type is highly segregated according to parental income. In particular, access rates for low-income students have an inverse relationship with selectivity and prestige. At the top of the food chain, Chetty et al. found that students with families in the top one percent of the income distribution are 77 times more likely to attend an Ivy League university than those students whose families have incomes in the bottom quintile. Similar disparities exist at elite public universities, where only about six percent of students come from a family in the bottom income quintile. (charts and more www.newamerica.org/education-policy/edcentral/college-access-still-problem/)
The International Hot War of the Rich on the Poor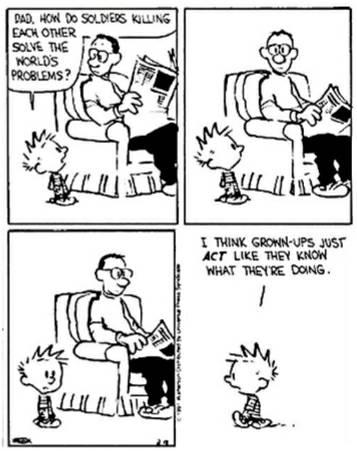 Observatory Estimates 340,000 Killed in Syrian War
 
The Syrian Observatory for Human Rights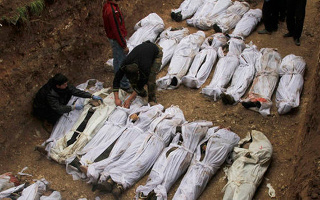 The split on the figures shows that pro-government forces are taking the biggest brunt among combatants, with 119,000 pro-government fighters killed, including Syrian troops, militia members, and Hezbollah fighters. news.antiwar.com/2017/11/24/observatory-estimates-340000-killed-in-syrian-war/
Conservative Estimate: Cost of Iraq War: Timeline, Economic Impact
The War added more than $1 trillion to the U.S. debt.
Timeline of Iraq War Costs
Here's a timeline of what happened each year. Costs are taken from the 2014 Congressional Budget Services Report and Federal government spending reports. A table that summarizes these costs is below.
 FY 2003 – $90.3 billion: On March 19, the United States invaded Iraq with "Shock and Awe." Massive bombing and a ground invasion toppled the Hussein regime the next month.
FY 2004 – $90.9 billion: In April, the U.S. laid siege to the Sunni-held city of Falluja. That same month, photos of torture at the Abu Ghraib prison further incited insurgents.
  In June, the U.S. appointed Shiite leader Iyad Allawi as Prime Minister. Despite this, Shia radicals turned on the United States in Najaf two months later. In November, the U.S. military launched a major offensive against Sunni insurgents in Falluja. For more on the internal politics, see 
Sunni-Shia Split
.
FY 2005 – $105.8 billion: In April, Iraq named Kurdish leader Jalal Talabani as president, and Shiite Ibrahim Jaafari as Prime Minister. In May, Sunni insurgents killed 672 people in car bombings, double the 364 killed in April. In October, voters approved a new constitution. It aimed to create an Islamic federal democracy. In December, they elected a new Parliament.
FY 2006 – $108.3 billion: The United States responded to escalating violence between Shiites, Sunnis, and Kurds that killed more than 34,000 civilians. In February, Sunnis bombed an important Shia shrine in Samarra. In April, newly re-elected President Talabani asked Shia candidate Nouri al-Maliki to form a new government. An al-Qaida leader, Abu Musab al-Zarqawi, was killed in Iraq. In November, Iraq and Syria restored diplomatic relations after nearly 25 years. In the Shia area of Sadr City in Baghdad, more than 200 died in car bombings.
In December, Saddam Hussein was quietly executed.
FY 2007 – $155.9 billion: Bush announced a surge of 20,000 additional U.S. troops to help transition power to Iraq leaders. In  February, more than 130 troops were killed by bombs in Baghdad's Sadriya market. In March, hundreds more were killed when Sunnis exploded three trucks filled with toxic chlorine gas in Falluja and Ramadi. In April, 200 people died from bombs in Baghdad. In August, 250 people were killed by truck and car bombs in two Kurdish villages. Shia and Kurdish leaders formed an alliance to support Prime Minister Maliki. U.S-contractors Blackwater security guards killed 17 civilians in Baghdad. By December, Britain handed over security of the Basra province to Iraqi forces.
FY 2008 – $196.8 billion: In January, the Iraqi Parliament allowed former officials from Saddam Hussein's Baath party to return to public life.
In March, Iranian President Mahmoud Ahmadinejad visited. Hundreds were killed when Prime Minister Maliki cracked down on Moqtada Sadr's Mehdi Army in Basra. In September, the United States handed over the Sunni province of Anbar to the Shia-led government. Bush signed the Status of Force agreement which promised to remove all U.S. troops from Iraq by 2011. (Source: "Did Obama Withdraw From Iraq Too Soon?" NPR, December 19, 2015.)
FY 2009 – $132.9 billion: In January, Iraq took control of security in Baghdad's Green Zone. In June, U.S. troops withdrew from all towns and cities, handing over security duties to Iraq. In July, Masoud Barzani (KDP) was re-elected as President. In December, the Islamic State group claimed responsibility for suicide bombings in Baghdad that killed at least 367 people that year. Tension flared with Iran when its troops briefly occupied an oilfield in Iraqi territory. In November, President Obama agreed to pull out troops by 2011.
FY 2010 – $83.4 billion:  Troops withdrew, leaving 50,000 to advise Iraqi forces and protect U.S. interests until 2011.
FY 2011 – $50.9 billion: All U.S. troops left Iraq by end of December. The Shia government suppressed the Sunni minority. The Iraq military became weak. Both fueled the rise of the Islamic State group.
2012-2014 – $7.8 billion: The United States supported contractors who stayed in Iraq to protect U.S. interests.
2015-2016 – $38.7 billion: Troops returned to Iraq to train local soldiers to defeat the Islamic State group.  (Source: "The Cost of Iraq, Afghanistan, and Other Global War on Terror Operations Since 9/11," Table A1. Amy Belasco, Congressional Research Service, March 29, 2014. "Iraq ProfileTimeline," BBC.)  www.thebalance.com/cost-of-iraq-war-timeline-economic-impact-3306301
The International Economic War of the Rich on the Poor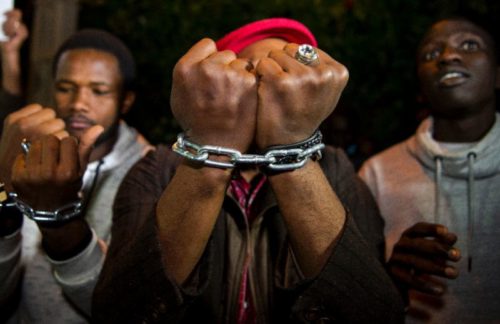 Libya Is Home to a 21st-Century Slave Market and the UN Security Council Won't Act
CNN recently aired a powerful report from Libya, where the reporters went into a house and shot footage of an auction of human beings. Yes, this is a 21st-century slave market. The journalists – Nima Elbagir, Raja Razek, Alex Platt and Bryony Jones – brought to the world's attention something grotesque: evidence of how terrible the situation is these days not only in Libya, but also in the Sahel region of Africa…
n the last years of Obama's presidency, he often referred to the 'mistakes in Libya' – in 2015, he bemoaned the 'leadership vacuum' created after the overthrow of the Qaddafi regime and in 2016, he said that the aftermath of the NATO war was the 'worst mistake' of his presidency. Obama told Chris Wallace last year that while he still thought the NATO war was the 'right thing to do,' he felt that 'failing to plan for the day after' was the catastrophe. Libya, Obama said, is a 'mess.' www.alternet.org/world/libya-home-21st-century-slave-market-and-un-security-council-wont-act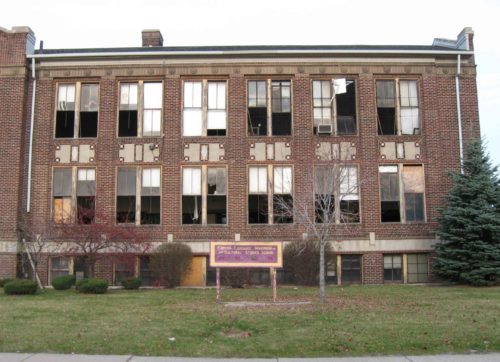 above, Detroit school
Detroit: The Most Exciting City in America?
Regarding "Detroit, the Most Exciting City in America?
Your advertisement for what is really the re-colonization of Detroit misses the fact that about 9 square miles are converted into a veritable Green Zone, but not quite as safe despite the massive surveillance and armed guards everywhere. Most of the rest of the city's 149 square miles is in ruins, and will remain so.
Dogs in Detroit eat children. Children are burned alive in house fires caused by space heaters when the gas is shut off. The water supply in many areas competes with Flint. The city returned to its lead as the most violent city in the country last year.
The bankrupt city gave a pizza magnate over $200 million to build a downtown sports arena. Spectacles are not recovery. And, to pile on, re-colonizer and owner of most of the Green Zone, multi-billionaire Dan Gilbert of Quicken Loans, was just given another $250 million gift from the city coffers to do a bit more building.
The schools, key to any recovery, will never recover. Incompetence and rampant corruption–12 principals recently convicted of stealing more than a million dollars–are not cured.
You say, "As capitalism returns to Detroit's downtown in all its feverish forms, you can see the city materialize before your eyes. "
Capitalism never left Detroit. Capital's relentless desire for technology to replace humans combined with empire (outsourcing) and their sister, racism, to wreck my hometown.
We know what happened to the original inhabitants when the colonizers arrived. It's similar today, but this time the Green Zone is completely surrounded.
Dr Rich Gibson
Emeritus Professor San Diego State University
Not Fit to Rule: Congress paid $17 million in workplace violation settlements
The government has paid more than $17 million in taxpayer money over the last 20 years to resolve claims of sexual harassment, overtime pay disputes and other workplace violations filed by employees of Congress.
The Office of Compliance released the numbers amid a wave of revelations of sexual misconduct in the worlds of entertainment, business and politics that consumed Capitol Hill this past week. Two female lawmakers described incidents of sexual harassment, one in explicit detail, and Minnesota Sen. Al Franken apologized to a woman who said he forcibly kissed her and groped her during a 2006 USO tour.
Franken faces a likely investigation by the Senate Ethics Committee.
In a statement on the office's website on Friday, it said "based on the volume of recent inquiries about settlements reached under the Congressional Accountability Act, the executive director is releasing awards and settlement figures for 2015, 2016 and 2017 that would have been released as part of the OOC Annual Report early."  abcnews.go.com/Politics/wireStory/congress-paid-17-million-workplace-violation-settlements-51233774
Water should belong to all of us!

Privatised water companies have hiked our bills, polluted rivers, killed fish and dodged tax.Scotland and France show that public ownership works!SHARE if you want to take back our water.

Posted by We Own It on Friday, November 17, 2017
Seattle hits record high for income inequality, now rivals San Francisco
In short, the rich are getting richer in Seattle. The top 20 percent of income earners took home more than half the city's total income — and the richest saw a $40,000 pay raise in 2016.
In 2016, Seattle hit an all-time high for a commonly used measure of income inequality, known as the Gini index. And if you're worried about Seattle turning into the next San Francisco, this won't set your mind at ease: Last year marks the first time we've matched the City by the Bay for this particular statistic.
The U.S. Census Bureau has been calculating the Gini index for every place in the nation since 2006. The index is expressed as a number from 0 to 100, with a higher number indicating a more unequal distribution of household incomes.
For example, a place with perfect equality — if such a place existed — would score 0, meaning every household had the exact same income. Conversely, an index of 100 would mean total inequality — one household earned all the income.
Seattle's Gini index had always been between 48 and 49, without much change from year to year. And, in fact, it had seemed to be trending slightly downward since 2011.
www.seattletimes.com/seattle-news/data/seattle-hits-record-high-for-income-inequality-now-rivals-san-francisco/?utm_source=facebook&utm_medium=social&utm_campaign=article_title_1.1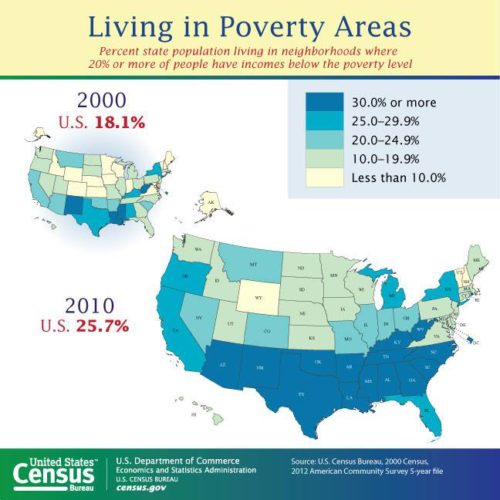 Rising inequality charted across millennia
Researchers discover what Engels knew 100 years ago!
November 15, 2017Source:Washington State UniversitySummary:Researchers have found that the arc of prehistory bends towards economic inequality. In the largest study of its kind, the researchers saw disparities in wealth mount with the rise of agriculture, specifically the domestication of plants and large animals, and increased social organization.
Their findings, published this week in the journal Nature, have profound implications for contemporary society, as inequality repeatedly leads to social disruption, even collapse, said Tim Kohler, lead author and Regents professor of archaeology and evolutionary anthropology at Washington State University. The United States, he noted, currently has one of the highest levels of inequality in the history of the world.
"Inequality has a lot of subtle and potentially pernicious effects on societies," Kohler said.
The study gathered data from 63 archaeological sites or groups of sites. Comparing house sizes within each site, researchers assigned Gini coefficients, common measures of inequality developed more than a century ago by the Italian statistician and sociologist Corrado Gini. In theory, a country with complete wealth equality would have a Gini coefficient of 0, while a country with all the wealth concentrated in one household would get a 1.
The researchers found that hunter-gatherer societies typically had low wealth disparities, with a median Gini of .17. Their mobility would make it hard to accumulate wealth, let alone pass it on to subsequent generations. Horticulturalists — small-scale, low-intensity farmers — had a median Gini of .27. Larger scale agricultural societies had a media Gini of .35.
To the researchers' surprise, inequality kept rising in the Old World while it hit a plateau in the New World, said Kohler. The researchers attribute this to the ability of Old World societies "to literally harness big domesticated mammals like cattle and eventually horse and water buffalo," Kohler said.
www.sciencedaily.com/releases/2017/11/171115130853.htm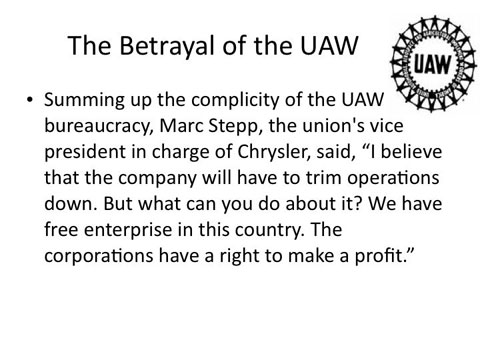 While UAW Howls "Buy American!"Ford opens first proving ground in China
Ford Motor Co. is opening its first vehicle testing facility in China, the company announced Friday.
The new test center in Nanjing, China, where Ford already runs a research and engineering center, is the automaker's first in the world's largest auto market. The Nanjing Test Center and accompanying MakeSpace creative hub represent $100 million of the company's roughly $200 million investment in Nanjing.
The opening of the test center comes as Ford and other automakers scramble to expand in the rapidly growing Chinese auto market. The Dearborn-based automaker is also partnering with Chinese electric-vehicle giant Anhui Zotye Automobile Co. in a $756 million joint venture to sell all-electric vehicles there.
The roughly 160-acre proving ground in Nanjing will allow Ford to more quickly develop cars for the Chinese market. It features 80 different types of road surfaces conditions, a nearly two-mile-long test track and an emissions testing facility. www.detroitnews.com/story/business/autos/ford/2017/11/24/ford-opens-first-proving-ground-china/107989006/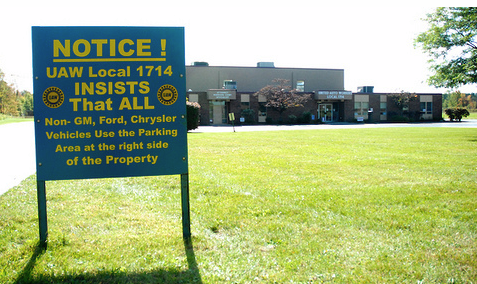 The Emergence of Fascism as a Popular Mass Movement and The War on Reason
White Nationalist Richard Spencer Gets His Money From Louisiana Cotton Fields—and the US Government
America's rise was "not through black people" and "has nothing to do with slavery," Spencer retorted. "White people could have figured out another way to pick cotton," he said. "We do it now."
He is in a position to know. Spencer, along with his mother and sister, are absentee landlords of 5,200 acres of cotton and corn fields in an impoverished, largely African American region of Louisiana, according to records examined by Reveal from The Center for Investigative Reporting. The farms, controlled by multiple family-owned businesses, are worth millions: A 1,600-acre parcel sold for $4.3 million in 2012.
The Spencer family's farms are also subsidized by the federal government. From 2008 through 2015, the Spencers received $2 million in US farm subsidy payments, according to federal data.  www.motherjones.com/politics/2017/03/richard-spencer-cotton-farms-louisiana-subsidies/#
Solidarity for Never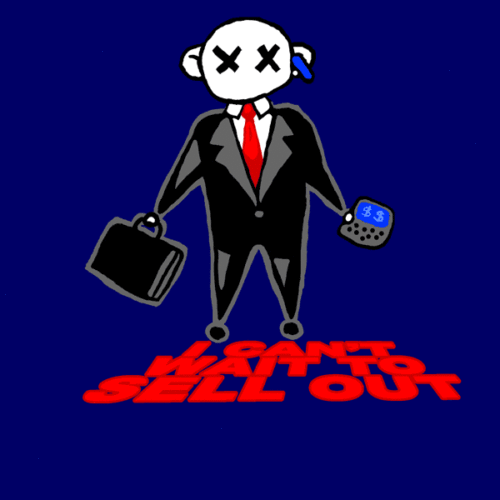 Does AFGE Rank #1 as the most corrupt  union in the USA?
Office of Labor-Management Standards (OLMS)
Criminal Enforcement Actions 2017 (11 AFGE bosses pled guilty or were convicted in 2017–so far)

On November 7, 2017, in the United States District Court for the District of Arizona, Patrick Remigio, former President of American Federation of Government Employees (AFGE) Local 2859 (located in Phoenix, Ariz.), was sentenced to 18 months of imprisonment followed by three years of supervised release.  Remigio was also ordered to pay restitution in the amount of $95,000 and a special assessment of $100.  On October 19, 2016, Remigio pled guilty to wire fraud, in violation of 18 U.S.C. 1343.  The sentencing follows an investigation by the OLMS Phoenix Resident Investigator Office, Department of Homeland Security's Office of Professional Responsibility, and the Federal Bureau of Investigation.
On November 7, 2017, in the United States District Court for the District of South Carolina, Columbia Division, Gordon Cairns, former President of United Steelworkers Local 1089 (located in Harrisburg, N.C.), was charged with one count of embezzlement in the amount of $63,999, one count of failure to maintain records, one count of making false statements, and one count of destruction of records, in violation of 29 U.S.C. 501(c), 439(a), 439(b), and 439(c), respectively.  The indictment follows an investigation by the OLMS Atlanta-Nashville District Office.
On November 1, 2017, in the United States District Court for the Northern District of Ohio, Western Division, Ronald Coldren, former Financial Secretary of Steelworkers Local 207 (located in Findlay, Ohio), was indicted for one count of embezzlement in the amount of $30,639.  The charge follows an investigation by the OLMS Cincinnati-Cleveland District Office.
On October 31, 2017, in the United States District Court for the Middle District of Pennsylvania, Stephen A. Royer, former Secretary-Treasurer of Machinists Lodge 243 (located in East Prospect, Pa.), was sentenced to one year and one day of incarceration followed by three years of supervised release.  Royer was also ordered to pay restitution in the amount of $130,869 and a special assessment of $100.  On June 19, 2017, Royer pled guilty to one count of embezzlement, in violation of 29 U.S.C. 501(c).  The sentencing follows an investigation by the OLMS Philadelphia-Pittsburgh District Office.
On October 31, 2017, in Rush County Circuit Court, Rushville, Indiana, David Maddy, former Financial Secretary-Treasurer of United Auto Workers (UAW) Local 2339 (located in Rushville, Ind.), pled guilty to Theft, a Class D Felony, in violation of I.C. 35-43-4-2(a), for embezzling union funds in the amount of $37,197.  Maddy was then sentenced to 30 months of imprisonment (suspended) and 30 months of probation, and he was ordered to pay a $500 fine (suspended) and $950 in probation fees and court costs.  Maddy was also ordered to pay the remaining restitution of $12,197 owed after Local 2339's successful claim for the full $25,000 amount of the union's bond.  He paid the ordered amount following the sentencing.  The guilty plea and sentencing follow an investigation by the OLMS Cincinnati-Cleveland District Office. Much more here www.dol.gov/olms/regs/compliance/enforce_2017.htm
Spy versus Spy
After one year of advising the CIA who AFT President Randi Weingarten is, the CIA denies they know her.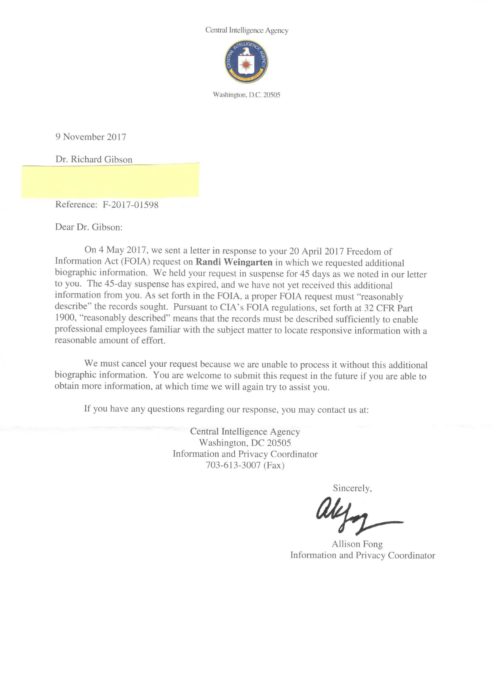 U.S. Government Planned False Flag Attacks to Start War With Soviet Union, JFK Documents Show
The U.S. government once wanted to plan false flag attacks with Soviet aircraft to justify war with the USSR or its allies, newly declassified documents surrounding the assassination of President John F. Kennedy show.  In a three-page memo, members of the National Security Council wrote, "There is a possibility that such aircraft could be used in a deception operation designed to confuse enemy planes in the air, to launch a surprise attack against enemy installations or in a provocation operation in which Soviet aircraft would appear to attack US or friendly installations to provide an excuse for U.S. intervention.
The memo shows that the department, along with the CIA, considered buying Soviet aircraft to stage the attacks, even getting estimates from the Air Force on how long it would take and how much it would cost to produce the planes domestically and covertly. Costs ranged from $3.5 million to $44 million per plane, depending on the model, most taking several months to build.  www.newsweek.com/us-soviet-aircraft-jfk-docs-cover-operations-717460
The Magical Mystery Tour
Superstitious "Militants" Kill 305 in Attack on Sufi Mosque in Egypt
Militants detonated a bomb inside a crowded mosque in the Sinai Peninsula on Friday and then sprayed gunfire on panicked worshipers as they fled, killing at least 235 people and wounding at least 109 others. Officials called it the deadliest terrorist attack in Egypt's modern history.
The scale and ruthlessness of the assault, in an area racked by an Islamist insurgency, sent shock waves across the nation — not just for the number of deaths but also for the choice of target. Attacks on mosques are rare in Egypt, where the Islamic State has targeted Coptic Christian churches and pilgrims but avoided Muslim places of worship.
The attack injected a new element into Egypt's struggle with militants because most of the victims were Sufi Muslims, who practice a mystical form of Islam that the Islamic State and other Sunni extremist groups deem heretical. And it underscored the failure of President Abdel Fattah el-Sisi, who has justified his harsh crackdown on political freedom in the name of crushing Islamic militancy, to deliver on his promises of security. www.nytimes.com/2017/11/24/world/middleeast/mosque-attack-egypt.html?hp&action=click&pgtype=Homepage&clickSource=story-heading&module=a-lede-package-region&region=top-news&WT.nav=top-news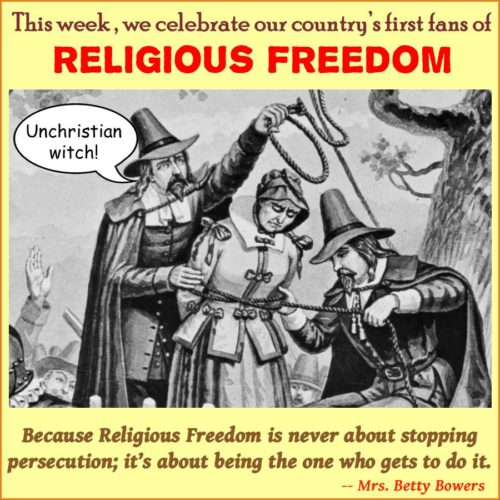 The Best and Worst Things in the History of the World
So Long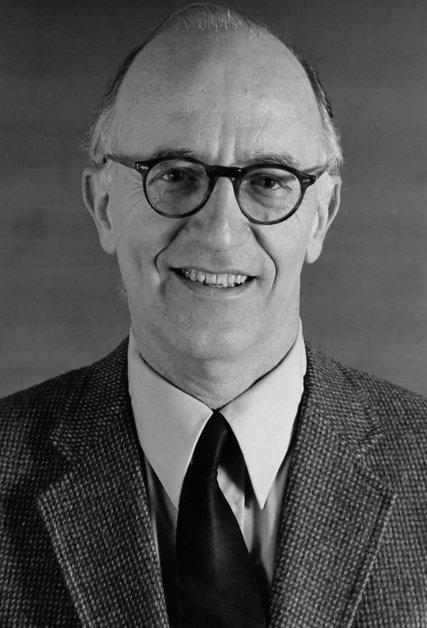 Ed Herman (key author "Manufacturing Consent"