August 16th, 2014 / Author: rgibson
We Say Fight Back!
Interview of Prabhat Patnaik on Marxist Theory
SR: What according to your view are the distinguishing features of Marxist theory vis-a vis other liberal schools of thought or critical theories?
PP: To me what is central is Marx's discovery that capitalism constitutes a "spontaneous" system which is subject to immanent tendencies of its own independent of human will and consciousness. The system of course works through the actions of individual human beings, but these individuals lack authentic "agency". They act in particular ways because if they did not do so, then they would lose their place within the system. Even the capitalists are engaged in a Darwinian struggle among themselves and are coerced into accumulating capital. Marx in fact referred to the capitalist as "capital personified" underscoring the fact that even the capitalists lacked "agency".
The "spontaneity" of the system does not get negated by a change in the balance of class forces. What happens at the most in certain conjunctures is a shift in the point of origin from where it begins to operate. The immediate post-war period for instance was one such conjuncture in my view.
Capitalism in short is not just an anarchic system; it is not just an exploitative system; it is in addition a "spontaneous" system, where every participant is unfree and alienated. Human freedom therefore is impossible without transcending capitalism, not just in the sense that nobody can be genuinely free if someone else is unfree, i.e. if exploitation persists, but in the even stronger sense that everybody is unfree under capitalism, and hence nobody can be free without transcending the system.
The quest for freedom is an essential characteristic of human beings. In this quest therefore there is no escape from Marxism. This quest moreover acquires particular urgency in the contemporary epoch since capitalism rapidly commoditizes all aspects of life and brings mankind to an impossible historical denouement which again is an expression of its immanent tendency. The choice before mankind therefore is either to continue to suffer this denouement at incalculable cost to itself, or to break out of it by making use of Marx's discovery.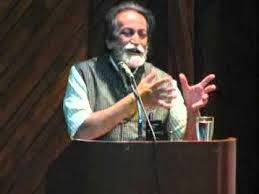 SR: The working class is often mystified by the 'phantom of objectivity' and a large section of the middle class has become votaries of neo-liberalism. How do you envisage the future of the Left in India?
PP: Significant sections of the middle class in India have been beneficiaries of neo-liberalism. And precisely for this reason those of the middle class who have been excluded till now nurture illusions about it. With neo-liberalism in a crisis, I believe that it is a matter of time before middle class disenchantment turns into anti-neo-liberal radicalism, as it has done in Latin America.
There is however a danger here. In several countries at this moment, such as Ukraine, Thailand, and Venezuela there are right-wing urban middle class movements which are out to destroy democratic institutions. Many of them, notably the one in Venezuela, are financed and supported by U.S. imperialism; some of them are openly led by fascists like in Ukraine; some like in Thailand are anti-peasant. And a lot of them use "corruption" as the peg on which they hang heir right-wing ideologies. Neo-liberalism breeds "corruption"; but "corruption" itself is made an excuse for strengthening neo-liberalism and pushing the State in a fascist direction with support from the corporate-financial elite and U.S. imperialism.
Something of this sort is happening in India as well.
World-Wide Protests vs Zionists' Attacks on their Concentration Camps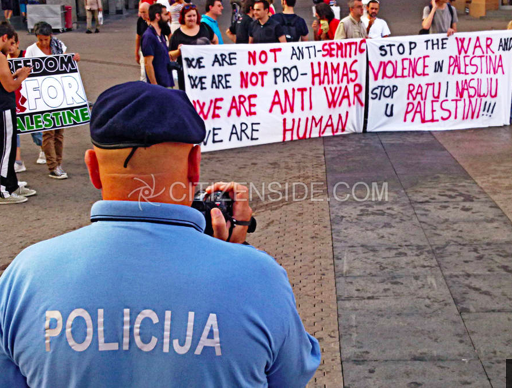 above, NYC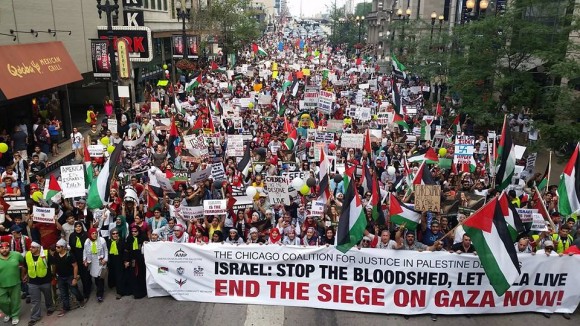 above, Chicago—and many, many more here http://mondoweiss.net/2014/07/worldwide-protest-israeli.html
Poverty Pimp Snitch Al Sharpton Get Heckled In Ferguson, MO for showing up  
"Reverend Sharpton, the term 'Snitches Get Stitches' was spray painted on the burned out QuikTrip. Since you are a federal snitch, sir, do you fear for your life?"
"Al Sharpton: "I'm not a snitch. (Not true) But today I want to tell the feds about a cop that needs to go to jail."
"Adam Sharp: "Are you in fear for your life being a federal informant and…"
"Sharpton: "I want to inform on this policeman today."
"Sharp: "Are you here to snitch on the rioters?… Are you here to work with your FBI partners?"
"Sharpton: (no response)
"Sharp: "Are you here to work with your FBI partners…since you are a federal informant, sir?"  http://newsninja2012.com/poverty-pimp-snitch-al-sharpton-get-heckled-in-ferguson-mo-for-showing-up/
Al Sharpton's Secret Work As FBI Informant  When friends and family members gathered recently at the White House for a private celebration of Michelle Obama's 50th birthday, one of the invited partygoers was a former paid FBI Mafia informant.
That same man attended February's state dinner in honor of French President Francois Hollande. He was seated with his girlfriend at a table adjacent to President Barack Obama, who is likely unaware that, according to federal agents, his guest once interacted with members of four of New York City's five organized crime families. He even secretly taped some of those wiseguys using a briefcase that FBI technicians outfitted with a recording device.
The high-profile Obama supporter was also on the dais atop the U.S. Capitol steps last year when the president was sworn in  http://www.thesmokinggun.com/documents/investigation/al-sharpton-764312
Hundreds rally downtown to honor Michael Brown, others  Hundreds of people gathered at Hart Plaza in downtown Detroit to pay tribute to Michael Brown, an unarmed teenager who was shot to death by police in Ferguson, Missouri.
The rally was part of coordinated gatherings across the U.S. for a moment of silence at 7 p.m. to honor Brown and others whose lives were cut short because of discrimination. About 500 people turned out.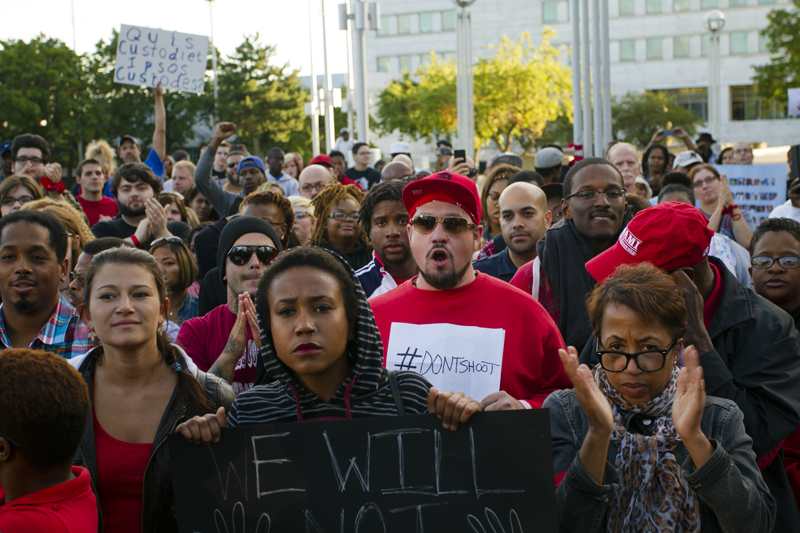 steve nearing photo
Historians vs the Wars Petition Historians' Letter to President Obama and Members of Congress
In the face of the ongoing carnage in Gaza, members of Historians Against the War are circulating the letter below, with an initial list of signatories. We encourage you to sign it and to quickly forward this message to fellow historians. As our numbers grow, we will seek opportunities to publicize and to forward to relevant officials.
We deplore the ongoing attacks against civilians in Gaza and in Israel. We also recognize the disproportionate harm that the Israeli military, which the United States has armed and supported for decades, is inflicting on the population of Gaza.
We are profoundly disturbed that Israeli forces are killing and wounding so many Palestinian children. Desperate conditions in Gaza resulting from Israeli policies have made effective evacuation of war zones virtually impossible. We regard as unacceptable the failure of United States elected officials to hold Israel accountable for such acts.
As we watch the death toll mount and observe the terror of the trapped inhabitants in Gaza, we call upon you to demand a cease-fire, the immediate withdrawal of Israeli troops from Gaza, and a permanent end to the blockade so that its people can resume some semblance of normal life. We urge you to suspend US military aid to Israel, until there is assurance that this aid will no longer be used for the commission of war crimes.
As historians, we recognize this as a moment of acute moral crisis in which it is vitally important that United States policy towards the Israeli-Palestinian conflict change direction.
Please add your name to this letter.  http://historiansagainstwar.org/gazapetition.html
CFP: International Conference on Race at Monmouth  Call for Proposals:
Fourth Biennial Interdisciplinary International Conference on Race
Thursday, April 16 – Saturday, April 18, 2015
Monmouth University, West Long Branch, NJ
Conference theme: The Criminalization of Race in History and Global Societies: Social Activism and Equal Justice
The criminalization of race, mass incarceration, and the emergence of the prison industrial complex have been significant occurrences in modern world history. The U.S. has incarcerated more people (primarily men of color) than any other society in history with a current prison population of 2.3 million. The increase in the prison population in places such as the U.S., Brazil, and China has made mass incarceration a global social crisis.
This conference asks scholars from multiple disciplinary perspectives to explore race and criminal justice throughout history and across global societies with an emphasis on social activism and equal justice.   https://networks.h-net.org/node/7753/discussions/37325/cfp-international-conference-race-monmouth
Steven Salaita's Firing from UI Petition–More Than 275 Scholars Declare They Will Not Engage With University of Illinois  As members of history departments from around the world we are deeply concerned by the recent decision to prevent Steven Salaita from assuming his appointment to the Department of American Indian Studies at the University of Illinois at Urbana Champaign. We believe that the university's revocation of an already accepted offer due to the tone and content of political statements on social media about recent events in Gaza is a violation of academic freedom and sets a very negative precedent for intellectual diversity in academia. Until such time as the University of Illinois at Urbana Champaign decides to allow Dr. Salaita to take the position he was offered and accepted we refuse to participate in any events on its campus including academic conferences. Listed institutions are for identification purposes. The individual scholars signing this petition represent only their own personal views and not those of their employers.  If you are a historian and wish to sign it, please email Otto Pohl at jopohl@ug.edu.gh or leave a comment on his blog post. (Soc and others see here http://coreyrobin.com/2014/08/13/more-than-275-scholars-declare-they-will-not-engage-with-university-of-illinois/)
The Little Red Schoolhouse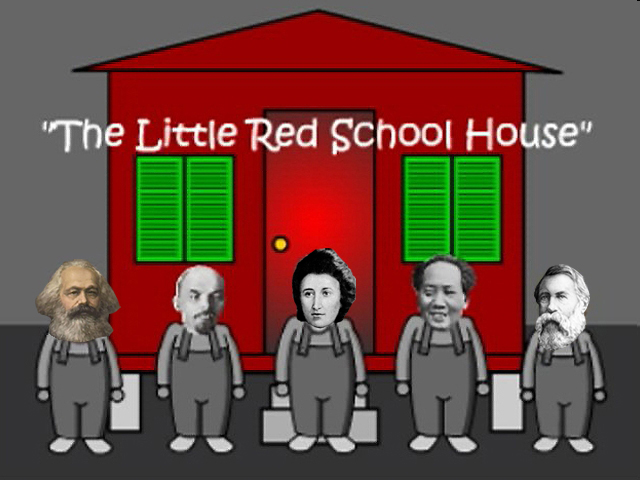 Susan Ohanian on Combat-Ready Kiddies The Mission: Readiness Military Leaders for Kids website features the National Council on Teacher Quality ranking of top teacher education institutions–with the admonition No service member can enter the battlefield without extensive training, and while schools are not combat zones, no teacher should enter the classroom without a great education.
#1 Western Governor's [sic] University
#2 Lipscomb University (Tennessee)
#3 Fort Hays State University
#4 College of William and Mary
#5 TIE: Furman University, Henderson State
University and Miami University of Ohio (more here http://susanohanian.org/core.php?id=735)
Too Little not to Prosecute–Atlanta test cheating on trial (total accused 179) The trial of a dozen former Atlanta educators charged in one of the nation's largest school test-cheating scandals began on Monday, a case receiving wide attention as similar cheating accusations blemish schools across the United States.
Lawyers say it could take several months to try the group of former teachers, principals and administrators, accused of conspiring to alter students' standardized test scores after a state investigation uncovered cheating at 44 Atlanta public schools in 2009.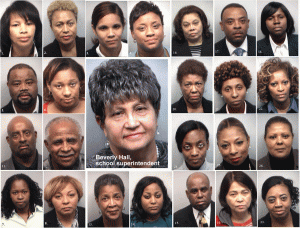 above, Atlanta booking photos of alleged cheaters. Beverly Hall, Sptdt, (center) excused from trial: "illness." http://www.amren.com/news/2013/04/booking-photos-atlanta-superintendent-and-teachers-indicted-in-school-cheating-scandal/
Investigators said the educators inflated test results to boost their bonuses in a data-driven environment.
The high-profile Atlanta case is one in a string of cheating cases affecting 39 states over the last five years, said Bob Schaeffer, education director at the National Center for Fair and Open Testing, known as FairTest, which seeks to end the misuse of standardized tests.  http://www.reuters.com/article/2014/08/11/us-usa-education-atlanta-idUSKBN0GB1EE20140811
Even Elite Education Creates Excellent Sheep Are you a HYPSter? That's William Deresiewicz's term, in his new book, for Harvard, Yale, Princeton and Stanford, though it seems more idiomatic to apply that acronym to these schools' graduates. With HYPSters, and with the recent graduates of the tier of elite American colleges a rung or two below them, he is unimpressed.
Far too many are going into the same professions, notably finance or consulting. He detects a lack of curiosity, of interesting rebellion, of moral courage, of passionate weirdness. We've spawned a generation of polite, striving, praise-addicted, grade-grubbing nonentities — a legion of, as his title puts it, "Excellent Sheep."  http://www.nytimes.com/2014/08/13/books/excellent-sheep-william-deresiewiczs-manifesto.html?smprod=nytcore-ipad&smid=nytcore-ipad-share&_r=0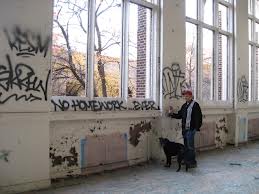 Detroit school with Rouger Bill Boyer and Blue Dog–writing says "No Homework–Ever"
In Detroit's Failed capitalist schools, class size means Money  Many of us are shocked to learn that DPS plans to cut costs in the coming year by further increasing class sizes. Already at an unmanageable target of 38 per classroom in grades 6 through 12, Emergency Manager Jack Martin's fiscal year 2015 budget allows class sizes in those grades to expand to 43….
But the dramatic decline in funds for the classroom has not just come from upwardly creeping administrative costs. Classroom money has also been diverted to debt service. Whereas the elected board only needed to allocate 1.7 percent to meet its debt obligations, the fiscal 2015 budget raises spending on debt service to a new height of 7.8 percent.
This means that debt service payments have gone from costing just $212 per pupil in 2008 to $1,109 today.
Why was this five-fold increase in debt service necessary? There is a direct relationship between the legacy deficit the district carries and its annual debt service obligations. EM Robert Bobb, imposed by the state to address the district's financial emergency, actually presided over the ballooning of the legacy deficit to a record $327 million.
Faced with the task of managing this legacy deficit, Gov. Snyder's newly appointed EM in 2011, Roy Roberts, undertook measures that quickly lowered the legacy deficit — but mostly through acquiring new long-term debt, rather than through cost savings or increased enrollment.
This and other new borrowing, overlooked by most press accounts, coupled with enrollment decline, have directly contributed to the increased loss of classroom dollars to debt service. And new deficit spending since then — which has raised the legacy deficit back to $125 million — has only compounded the financial misery.
As Robert Bobb argued correctly throughout his tenure, finances and academics are intimately related. If the district continued to bleed students because of poor academics, he argued, the financial picture would continue to grow bleaker.   https://www.evernote.com/shard/s185/sh/2db8ddb4-602d-4616-b059-038baedfddfc/c743ac2bfe87ba42b6e00c2971e872e8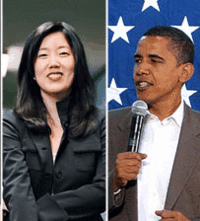 DC's Corrupt former Boss Runs off From Students First to Hustle her Husband Michelle Rhee, the prominent and controversial education figure who is the wife of Mayor Kevin Johnson, revealed in a statement to The Sacramento Bee on Wednesday that she is stepping down from her post as chief executive of StudentsFirst, the national advocacy organization she founded in 2010.
Her new role appears aimed at focusing on Johnson's future. Rhee has provided counsel to Johnson on political and policy issues since he first ran for office in 2008, including writing key speeches and vetting appointments to the mayor's staff. At the same time, Johnson has played an active role with StudentsFirst, helping to launch the organization and open its headquarters in downtown Sacramento.  Read more here: http://www.sacbee.com/2014/08/13/6626720/michelle-rhee-stepping-down-as.html#storylink=cpy
The Top Ten Lowest Paying College Majors (ed grads, you're not number one) http://www.freep.com/article/20140813/BUSINESS07/308130159/lowest-paying-college-majors
Skyy Fisher: Compton School Official Who Made Controversial Trayvon Martin Comments Charged With Sexual Assault  Skyy Fisher, the controversial Compton Unified school board member who called slain teenager Trayvon Martin a "fa**ot Black dude" and school Superintendent Karen Frison a "b**ch" in 2012, was arrested and charged Thursday in connection with the sexual assault of an unconscious victim, reports the LA Times.
RELATED: School Board Member Will Not Be Fired For Calling Trayvon a "F**got"
Fisher was arrested by the Pacific Southwest Regional Fugitive Task Force at the Los Angeles World Trade Center after a warrant was issued for his arrest.
He was held on $100,000 bail and released Thursday.
As previously reported by NewsOne, Fisher's homophobic remarks about Martin and misogynist statement about Frison led to colleagues and some in the community to call for his resignation.
Fisher's comments, which start at minute 7:22 in the video below, include:  http://newsone.com/3041198/skyy-fisher-compton-school-board-arrested-sexual-assault/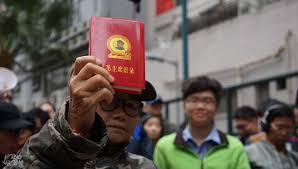 Big Fish Battle Little Fish in China's Capitalist Schools–An Academy for the Elite Stirs a Culture Clash
With most students gone for the summer, the campus of Peking University is relatively quiet in August, save for the busloads of awe-struck adolescents on organized tours who hope to be among the 2,600 freshmen admitted each year to the Harvard of China, as it is widely known here.
But beneath the tranquillity is a brewing tempest that is pitting the administration against many of the university's students and a number of professors over plans to establish a gleaming new school intended largely for foreigners, most of whom will be taught in English, not Mandarin.
In recent months, opponents of Yenching Academy, as it is known, have been waging a noisy campaign against the one-year, all-expense-paid graduate program in Chinese studies. Although roughly a third of the incoming class of 100 students will be Chinese nationals, the academy is being heavily marketed overseas, which appears to have intensified the outcry.
The academy, which seeks to produce "an elite class of future leaders," is planned to be built around a grassy quad that once served as imperial gardens, a place that many consider the historic and symbolic heart of China's first modern university, founded in 1898.
"Yenching Academy will provide its students and teachers a great number of privileges, something that's clearly unfair to other Peking University students," said Gao Fengfeng, dean of the English department, who has been one of the project's most adamant critics.  http://www.nytimes.com/2014/08/11/world/asia/an-academy-for-the-elite-stirs-a-culture-clash.html?_r=2
The International Hot War of the Rich on the Poor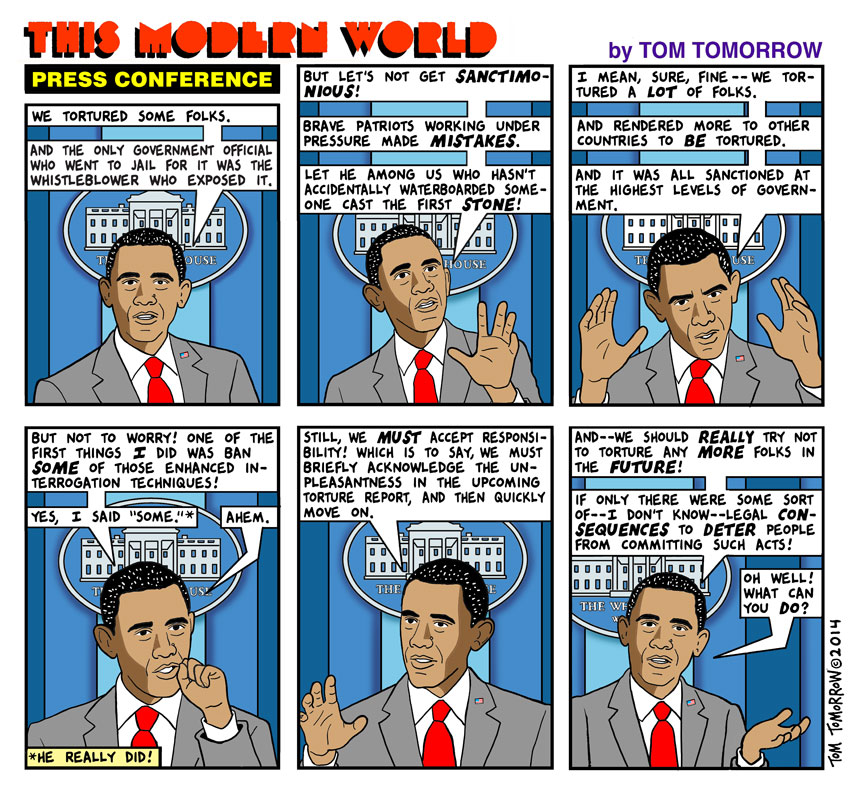 The history of U.S. "Humanitarian" Bombing of Iraq: A Redundant Presidential Ritual  https://firstlook.org/theintercept/2014/08/08/us-bombing-iraq-redundant-presidential-ritual/
Shocker! More Boots on the Ground in Iraq  About 130 more American troops have arrived in Iraq to help with its humanitarian crisis in the north, but administration officials insist they're not there for combat and the American mission remains "limited."
Defense Secretary Chuck Hagel said the new detachment arrived Tuesday in the Kurdish capital of Erbil, where it will help develop options to rescue a large group of civilians besieged by the Sunni terrorists of the Islamic State of Iraq and the Levant.  Read more: http://www.politico.com/story/2014/08/chuck-hagel-military-assessors-arrive-in-erbil-109966.html#ixzz3AEP8RT89
Pentagon says U.S. airstrikes won't break Islamic State's ability to wage war  The United States' senior military officer in charge of operations said Monday that U.S. airstrikes in Iraq have not affected the overall military effectiveness of the Islamic State and aren't likely to, as long as protecting American lives and rescuing a trapped minority sect are the primary U.S. missions there.
Army Lt. Gen. William Mayville Jr., the director of operations for the Joint Staff, said the United States has mounted 17 U.S. airstrikes over four days. But he used words such as "temporary effect" and "slowed" to describe the impact of those strikes.
"These strikes are unlikely to affect ISIL's overall capabilities or its operations in other areas of Iraq and Syria," Mayville said, using the government's preferred acronym for the Islamic State, which also is called the Islamic State of Iraq and the Levant or the Islamic State of Iraq and Syria. "In the immediate areas where we have focused our strikes, we've had a very temporary effect and we may have blunted some tactical decisions to move in those directions, further east to Irbil." Read more here: http://www.mcclatchydc.com/2014/08/11/236005/pentagon-says-us-airstrikes-wont.html#emlnl=Morning_Newsletter#storylink=cpy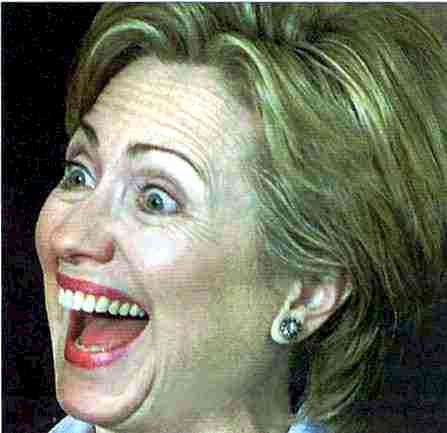 HillBillary: "I am a much better fascist than Obamagogue" Distancing herself from President Barack Obama's foreign policy, potential 2016 presidential candidate Hillary Clinton said in an interview published on Sunday that the US decision not to intervene early in the Syrian civil war was a "failure".
Republican critics and others have faulted Obama for doing too little to support Syrians who rose up against President Bashar al-Assad. Syria has been torn apart by a civil war for three years, with Assad staying in power and Islamic militants among the opposition gaining strength.
"The failure to help build up a credible fighting force of the people who were the originators of the protests against Assad – there were Islamists, there were secularists, there was everything in the middle – the failure to do that left a big vacuum, which the jihadists have now filled," Clinton said in an interview with The Atlantic.
Clinton was Obama's secretary of state during his first term as president, stepping down in early 2013, so she was part of the administration during the start of the Syria uprising. Seen as a possible strong contender for the 2016 Democratic presidential nomination, she ran unsuccessfully against Obama for the party's nomination in 2008.
Asked about Obama's slogan of "Don't do stupid stuff" to describe his foreign policy thinking, Clinton said: "Great nations need organizing principles, and 'Don't do stupid stuff' is not an organising principle."
In the interview, Clinton also offered strong support for Israel and for Prime Minister Benjamin Netanyahu, who has a tense relationship with Obama.  http://www.theguardian.com/world/2014/aug/10/hillary-clinton-barack-obama-policy-syria-israel
NYT Discovers Ukraine's Neo-Nazis at War  hroughout the Ukraine crisis, the U.S. State Department and mainstream media have downplayed the role of neo-Nazis in the U.S.-backed Kiev regime, an inconvenient truth that is surfacing again as right-wing storm troopers fly neo-Nazi banners as they attack in the east, Robert Parry reports.
The New York Times reported almost in passing on Sunday that the Ukrainian government's offensive against ethnic Russian rebels in the east has unleashed far-right paramilitary militias that have even raised a neo-Nazi banner over the conquered town of Marinka, just west of the rebel stronghold of Donetsk.
That might seem like a big story – a U.S.-backed military operation, which has inflicted thousands of mostly civilian casualties, is being spearheaded by neo-Nazis. But the consistent pattern of the mainstream U.S. news media has been – since the start of the Ukraine crisis – to white-out the role of Ukraine's brown-shirts.  http://consortiumnews.com/2014/08/10/nyt-discovers-ukraines-neo-nazis-at-war/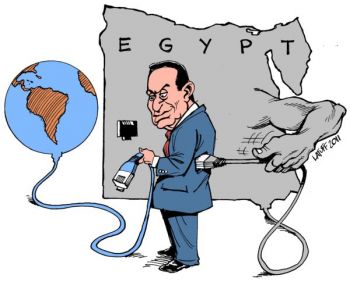 US Ally in Egypt: Mass Murderers (Human Rights Watch might point the scope to home)  Egyptian authorities refused to allow Human Rights Watch Executive Director Kenneth Roth and Middle East and North Africa Director Sarah Leah Whitson to enter Egypt on August 10, 2014. Roth and Whitson were to brief diplomats and journalists in Cairo on a 188-page Human Rights Watch report on the mass killings in Egypt in July and August 2013.
When Roth and Whitson arrived at Cairo International Airport, authorities refused to allow them into the country without giving an explanation for the decision. This is the first time that Egyptian authorities have denied Human Rights Watch staff members entry to the country, including during the Mubarak government.
"We came to Egypt to release a serious report on a serious subject that deserves serious attention from the Egyptian government," Roth said. "Instead of denying the messenger entry to Egypt, the Egyptian authorities should seriously consider our conclusions and recommendations and respond with constructive action."  http://www.hrw.org/news/2014/08/11/egypt-human-rights-watch-delegation-refused-entry
The report, "All According to Plan: The Rab`a Massacre and Mass Killings of Protesters in Egypt," documents how Egyptian police and army methodically opened fire with live ammunition on crowds of demonstrators opposed to the military's July 3 ouster of President Mohamed Morsy at six demonstrations in July and August 2013, killing at least 1,150 people, and how no one has been held to account one year later. Human Rights Watch conducted a year-long investigation into the killings, including interviews with over 200 witnesses, visits to each of the protest sites, and review of video footage, physical evidence, and statements by public officials.
Marine Sniper who pissed on Dead Enemies is Dead   A Marine Corps combat veteran who endured a long, public legal battle with the service's senior leadership was found dead Wednesday night.
Retired Cpl. Robert Richards, 28, died at his home in Jacksonville, North Carolina, according to Guy Womack, Richards' attorney and friend. An autopsy is being conducted to determine the cause of death, Womack said, adding that it does not appear to be self-inflicted. A medical examiner will look at the mix of medication Richards was taking, he said.
Richards was a scout sniper with multiple deployments to Afghanistan, including one in 2010 during which he sustained severe injuries. Peers and superiors alike praised him for his combat prowess and leadership skills, evidenced by his being hand-selected to serve as the scout sniper platoon team leader for 3rd Battalion, 2nd Marines, during its 2011 tour.
It was during that deployment when Richards and three other Marines made a video of themselves urinating on Taliban corpses. The video surfaced online in January 2012, causing an international uproar. But the Marine Corps' prosecution of Richards and others connected to the incident would become overshadowed by allegations that the service's commandant, Gen. Jim Amos, and his legal advisers manipulated the military justice process to ensure they were punished harshly. A Pentagon investigation did not substantiate those claims…
Richards despised being at the center of the controversy resulting from the video, he told Marine Corps Times last year. He expressed remorse only for causing hardship for other Marines in his unit.
"When you're under that much stress and in that environment, your whole mental being changes," Richards said then. "You're no longer Joe the Family Man. You're a warrior, and if you read back to biblical wars and wars since the dawn of time, men have been doing this to men for millennia."
Richards is expected to be buried at Arlington National Cemetery with full military honors, Womack said. Complete arrangements are pending.  http://www.marinecorpstimes.com/article/20140814/NEWS/308140051/Marine-sniper-involved-controversial-video-found-dead
The International Economic War of the Rich on the Poor
The arsenal of democracy becomes this:
Third World America  Although you would never know it from the reports from the US financial press, the poor job prospects that Americans face now rival those of India 30 years ago. American university graduates are employed, if they are employed, not as software engineers and managers but as waitresses and bartenders. They do not make enough to have an independent existence and live at home with their parents. Half of those with student loans cannot service them. Eighteen percent are either in collection or behind in their payments. Another 34% have student loans in deferment or forbearance. Clearly, education was not the answer.
Jobs off-shoring, by lowering labor costs and increasing corporate profits, has enriched corporate executives and large shareholders, but the loss of millions of well-paying jobs has made millions of Americans downwardly mobile. In addition, jobs off-shoring has destroyed the growth in consumer demand on which the US economy depends with the result that the economy cannot create enough jobs to keep up with the growth of the labor force.
Between October 2008 and July 2014 the working age population grew by 13.4 million persons, but the US labor force grew by only 1.1 million. In other words, the unemployment rate among the increase in the working age population during the past six years is 91.8%.
Since the year 2000, the lack of jobs has caused the labor force participation rate to fall, and since quantitative easing began in 2008, the decline in the labor force participation rate has accelerated.
Clearly there is no economic recovery when participation in the labor force collapses.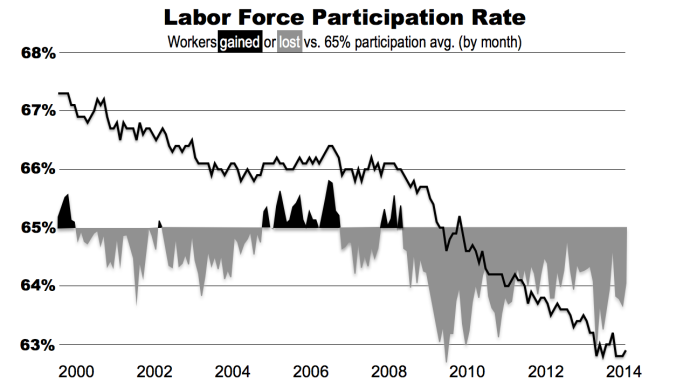 http://www.paulcraigroberts.org/2014/08/11/de-industrialization-america/
Burned-down houses become tombs for countless squatters in Detroit; city can't afford excavation  An untold number of bodies are buried beneath the charred rubble of burned-down houses and buildings in Detroit.
Even when neighbors tell investigators that squatters are living in vacant buildings ravaged by fire, the city rarely does more than a cursory search. Police are charged with the task of searching for bodies after a fire is out, but for whatever reason, they rarely excavate for a more detailed inspection, the Muckraker has learned in interviews with firefighters and after six months of documenting fire scenes.
On Friday night, Ronnie Owens saw the familiar face of a squatter walking into a nearby abandoned apartment building on 14th Street on the west side. It was the same man who had been sleeping there for the past six months, he said.
Then came the orange glow of flames.
"Man, there's no way he got out of there," Owens said, checking out the brick rubble Saturday for any sign of the middle-aged man. "This place went up. Poof."  http://motorcitymuckraker.com/blog/2013/01/27/burned-down-houses-become-tombs-for-countless-squatters-in-detroit-city-cant-afford-excavation/
In Nepal, a Better Life With a Steep Price
KATMANDU, Nepal — Picking up coffins at Tribhuvan International Airport here was once part-time work. Only a few arrived each week, not enough for a hearse driver to make a decent living.
Now, at least five turn up daily, the bodies shoehorned into white plastic-wrapped boxes. So, in 2009, Dipendra Prasad Acharya quit his job driving trucks to work full time in one of Nepal's few growing industries — transporting the bodies of emigrant workers.
Mr. Acharya knows that his job is assured. At each pickup, he navigates around hordes of rangy young Nepali men and a growing number of women who mob the second-class departure terminal — some of whom are bound to return shrink-wrapped.
"The number of dead bodies keeps increasing," he said, waiting for another coffin. "We ferry the dead to their home villages free of cost. The government pays me for my work."
Nepal is a political and economic mess. A 10-year Maoist insurgency ended in 2006, but political leaders have since been unable to agree on a constitution. Despite vast hydropower potential, electricity is in such short supply that lights are extinguished for up to 14 hours each day. Manufacturing has declined for years, and now represents a paltry 6 percent of the country's economy. Poverty is endemic, air pollution is choking, and health statistics are terrible.
With few jobs at home, the country's youths have responded by leaving. The scale of emigration has astonished development economists, yet it continues to grow, increasing 37 percent in just the past two years.
On average, about 1,500 Nepalis officially left for jobs abroad each day in the 2014 fiscal year, up from six in 1996….backbreaking labor in Kuwait, Malaysia, Qatar and Saudi Arabia, the most popular destinations outside of neighboring India, has resulted in a troubling number of deaths. An investigation last year by the British newspaper The Guardian said that Nepalis were being used as slaves in Qatar to build facilities for the 2022 World Cup, and returnees have been found to have higher rates of H.I.V. and AIDS.  http://www.nytimes.com/2014/08/15/world/asia/in-nepal-a-better-life-with-a-steep-price.html?hp&action=click&pgtype=Homepage&version=HpSumSmallMediaHigh&module=second-column-region&region=top-news&WT.nav=top-news
The Emergence of Fascism as a Popular Mass Movement
Missouri governor imposes curfew in Ferguson, declares emergency  Missouri Gov. Jay Nixon on Saturday declared a state of emergency and implemented a midnight to 5 a.m. curfew in Ferguson, where the police shooting of an unarmed black teenager sparked a week of protests and sporadic looting.
"I'm committed to making sure the forces of peace and justice prevail," Nixon said at a community meeting. "If we're going to achieve justice, we first must have and maintain peace."
But the meeting at a local church at times was tumultuous.
People repeatedly interrupted Nixon, shouting, "You need to charge the police with murder!" and "We want justice!"
And some residents said law enforcement officers had instigated the violence with their military-like tactics.  http://www.cnn.com/2014/08/16/us/missouri-teen-shooting/index.html
The Wars Have Been at Home for Years–Police Face Civilian Protesters–Dressed for Military Combat  In Radley Balko's important book, "The Rise of the Warrior Cop," he writes that since the 1960s, "law-enforcement agencies across the U.S., at every level of government, have been blurring the line between police officer and soldier. Driven by martial rhetoric and the availability of military-style equipment—from bayonets and M-16 rifles to armored personnel carriers—American police forces have often adopted a mind-set previously reserved for the battlefield. The war on drugs and, more recently, post-9/11 antiterrorism efforts have created a new figure on the U.S. scene: the warrior cop—armed to the teeth, ready to deal harshly with targeted wrongdoers, and a growing threat to familiar American liberties."
Before this transformation, even the most egregiously abusive police officers were dressed and outfitted like civilian lawmen. The image above, for example, is a statue in Birmingham, Alabama, meant to capture the essence of Civil Rights-era police abuses.
With that in mind, take a look at the powerful photograph that Whitney Curtis took for The New York Times in the Missouri towns where residents are protesting the killing of an 18-year-old shot to death by police as he walked to a convenience store. As I write this item, the image is leading the newspaper's Web site:
Pentagon supplied St. Louis County police with military-grade weapons (PHOTOS, VIDEOS)  mages coming from a tense Ferguson, Missouri this week show local police armed to the teeth and appearing as an occupying force in attempts to suppress citizen outrage over the fatal shooting of an unarmed teenager by a police officer.
Through its 1033 program, the Pentagon offers hundreds of millions of dollars of surplus military equipment to police forces throughout the US. St. Louis County, which encompasses Ferguson, is part of the program, according to Michelle McCaskill, media relations chief at the Defense Logistics Agency.
"St. Louis County law enforcement agencies received twelve 5.56 millimeter rifles and six .45 caliber pistols from the Department of Defense between Aug. 2, 2010, and Feb. 13, 2013," a Missouri public safety official confirmed to USA Today.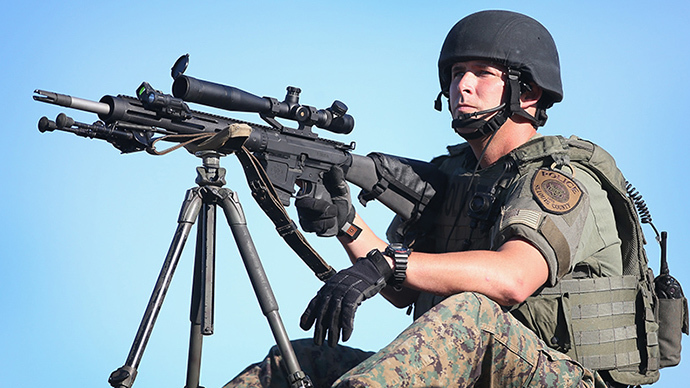 Ferguson Fascist Militarized "Marksman" Copper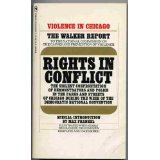 Chicago 1968 "During the week of the Democratic National Convention, the Chicago police were the targets of mounting provocation by both word and act. It took the form of obscene epithets, and of rocks, sticks, bathroom titles, and even human feces hurled at police by demonstrators. Some of these acts had been planned; others were spontaneous or were themselves provoked by police action. Furthermore, the police had been put on edge by widely published threats of attempts to disrupt both the city and the Convention.
That was the nature of the provocation. The nature of the response was unrestrained and indiscriminate police violence on many occasions, particularly at night.
That violence was made all the more shocking by the fact that it was often inflicted upon persons who had broken no law, disobeyed no order, made no threat. These included peaceful demonstrators, onlookers, and large numbers of residents who were simply passing through, or happened to live in, the areas where confrontations were occurring.
Newsmen and photographers were singled out for assault, and their equipment deliberately damaged. Fundamental police training was ignored; and officers, when on the scene, were often unable to control their men. As on police officer put it: "What happened didn't have anything to do with police work." http://chicago68.com/ricsumm.html
 National Advisory Commission on Civil Disorders (The Kerner Report), 1967 - The summer of 1967 again brought racial disorders to American cities, and with them shock, fear and bewilderment to the nation. The worst came during a two-week period in July, first in Newark and then in Detroit. Each set off a chain reaction in neighboring communities. On July 28, 1967, the President of the United States established this Commission and directed us to answer three basic questions: What happened? Why did it happen? What can be done to prevent it from happening again? To respond to these questions, we have undertaken a broad range of studies and investigations. We have visited the riot cities; we have heard many witnesses; we have sought the counsel of experts across the country. . This is our basic conclusion: Our nation is moving toward two societies, one black, one white–separate and unequal. Reaction to last summer's disorders has quickened the movement and deepened the division. Discrimination and segrega­tion have long permeated much of American life; they now threaten the future of every American. – See more at: http://www.blackpast.org/primary/national-advisory-commission-civil-disorders-kerner-report-1967#sthash.4BN1lxcr.dpuf
Imperial Failures bring War Even More to Home  Don't think, however, that the military mentality and equipment associated with SWAT operations are confined to those elite units. Increasingly, they're permeating all forms of policing.  As Karl Bickel, a senior policy analyst with the Justice Department's Community Policing Services office, observes, police across America are being trained in a way that emphasizes force and aggression. He notes that recruit training favors a stress-based regimen that's modeled on military boot camp rather than on the more relaxed academic setting a minority of police departments still employ. The result, he suggests, is young officers who believe policing is about kicking ass rather than working with the community to make neighborhoods safer. Or as comedian Bill Maher reminded officers recently: "The words on your car, 'protect and serve,' refer to us, not you."..police recruiting videos, as in those from California's Newport Beach Police Department and New Mexico's Hobbs Police Department, actively play up not the community angle but militarization as a way of attracting young men with the promise of Army-style adventure and high-tech toys. Policing, according to recruiting videos like these, isn't about calmly solving problems; it's about you and your boys breaking down doors in the middle of the night.  http://www.tomdispatch.com/blog/175881/
Ousted Chief Accuses Border Agency Of Shooting Cover-Ups, Corruption  More than two dozen people have died in violent clashes with U.S. Customs and Border Protection since 2010. Despite public outrage over some of the killings, no agent or officer has faced criminal charges — or public reprimand — to date.
Yet at least a quarter of the 28 deaths were "highly suspect," said James F. Tomsheck, the agency's recently removed head of internal affairs. In a sweeping and unauthorized interview with The Center for Investigative Reporting, he said the deaths raised serious questions about whether the use of lethal force was appropriate. http://www.kpbs.org/news/2014/aug/14/ousted-chief-accuses-border-agency-shooting-cover-/
Solidarity for Never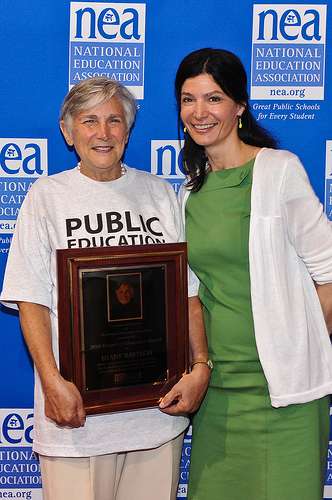 Pals–Vacillating Reactionary Patriots alike–Ravitch and NEA's $500,ooo a year new prezzie, Eskelsen
Intelligence Agency Mouthpiece WAPO loves NEA's rich top boss–why? To call the woman who is about to take the helm of the National Education Association "outspoken" would be something of an understatement. Lily Eskelsen García, who will take over next month as president of the largest teachers union in the country (and, for that matter, the largest union of any kind in the country), is nauseatingly sick of what she calls "factory school reform" and she doesn't mind telling everybody about it in clear, challenging words. "Stop doing stupid," she says.
That's not all. Acknowledging that sometimes it is hard for her to be diplomatic, García says she wants to shake things up: "The revolution I want is 'proceed until apprehended.'" Translation: Teachers, administrators and everybody else involved should ignore bad school reform policy and do "the right thing" for kids  http://www.washingtonpost.com/blogs/answer-sheet/wp/2014/08/11/new-nea-leader-to-nations-educators-revolt-ignore-stupid-reforms/
Carolina Raises Split School Workers–and Aren't Raises–thanks NEA http://www.edweek.org/ew/articles/2014/08/13/01carolina.h34.html?
Spy versus Spy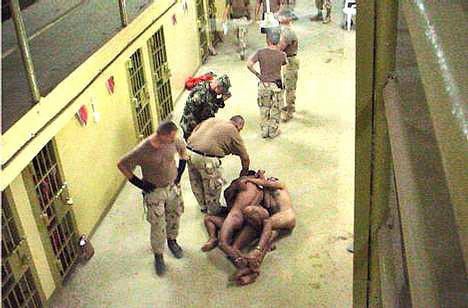 Doctor Complicity in Torture  To the Editor: Re "Stop the C.I.A. Spin on Torture," by Antonio M. Taguba (Op-Ed, Aug. 6):
The Senate's report on torture by the Central Intelligence Agency is expected to shed further light on the complicity of health professionals in the systematic torture and ill treatment of detainees. Much of this information is already public and documented in reports by Physicians for Human Rights and others.
Before lawyers wrote memos distorting the definition of torture, psychologists worked in concert with interrogators to develop methods intended to exploit the vulnerabilities of detainees and to inflict physical and mental pain. Psychologists and doctors monitored the application of torture techniques and calibrated the level of pain.
As detainees suffered — and in some cases, died — health professionals routinely failed to report, document or stop the abuse.
Doctors, psychologists and other medical professionals played a central role in conferring a facade of safety and legitimacy to the C.I.A.'s illegal, immoral and unethical practices. In doing so, they betrayed the core ethical principle of the healing professions: Do no harm.
To ensure that these violations are never repeated, we must hold accountable the people complicit in these acts, as well as those who ordered them.
VINCENT IACOPINO
Senior Medical Adviser
Physicians for Human Rights
Henderson, Nev., Aug. 6, 2014  http://www.nytimes.com/2014/08/13/opinion/doctor-complicity-in-torture.html?emc=edit_tnt_20140813&nlid=2254121&tntemail0=y
British Woman, and Spy, who helped forge the Middle East A picture of Gertrude Bell, the British diplomat and spy, still hangs on a wall in the Alwiya Club, the Baghdad clubhouse for the social elite that she established, and black-and-white photographs of her can be found in the collections of the city's old families.
More than anyone else, she is credited with creating modern Iraq — drawing its borders, choosing its king — after the upheavals of World War I. She also died here, and her raised tomb surrounded by jasmine bushes in a British cemetery has been tended for decades by a man named Ali Mansour.
"We love her around here," Mr. Mansour said. "She brought Iraqis together."
Today, though, her legacy, which has always been fragile, is at risk of being undone amid the renewed sectarian violence that has already seen Sunni militants effectively erase the border she drew between Iraq and Syria and raised the possibility of Iraq fracturing into Sunni, Shiite and Kurdish territories.  http://www.nytimes.com/2014/06/27/world/middleeast/gertrude-bell-sought-to-stabilize-iraq-after-world-war-i.html?ref=todayspaper&_r=1
The Best and Worst Things in the History of the World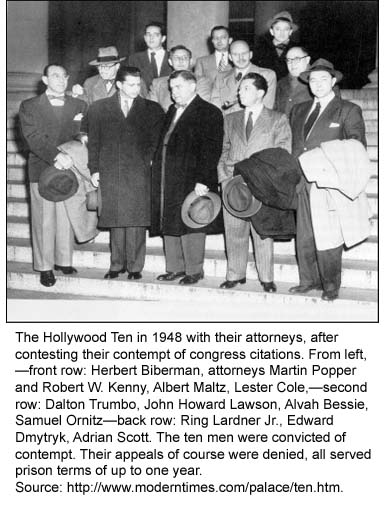 Red Hollywood  Working from extensive original research, this revelatory documentary—newly remastered and re-edited—offers a unique perspective on Hollywood filmmaking from the 1930s to the 1950s, when "Red" screenwriters and directors worked within the studio system to make films that challenged issues of class, war, race, and gender. Andersen and Burch use clips from 53 different films spanning numerous genres in order to demonstrate how this network of filmmakers' ideology affected the meaning and reception of their work, as well as interviews with many of the artists (such as Paul Jarrico, Ring Lardner, Jr., Alfred Levitt, and Abraham Polonsky) who were blacklisted by the House Un-American Activities Committee. A 2014 Art of the Real selection.
Don't miss our series of films by blacklisted writers and directors, curated by Thom Andersen.  http://www.filmlinc.com/films/on-sale/red-hollywood
National City!
North County
and beautiful downtown Detroit
official song of Bay City
So Long