October 25th, 2014 / Author: rgibson
We Say Fight Back!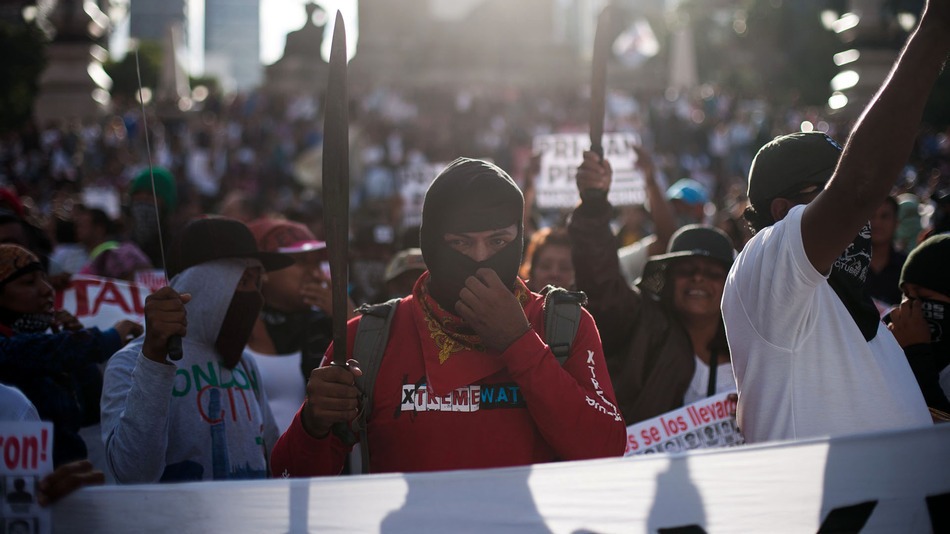 Thousands Protest in Mexico as Investigation Reveals Depth of Corruption   Protesters in Mexico have taken to the streets this week, striking at universities and setting fire to government buildings as the anger surrounding the disappearance of 43 students from a rural teaching college continues to mount. Thousands of people marched in demonstrations throughout Wednesday in Mexico, in cities including Iguala, Guadalajara and Mexico City in a "Global Day of Action for Ayotzinapa."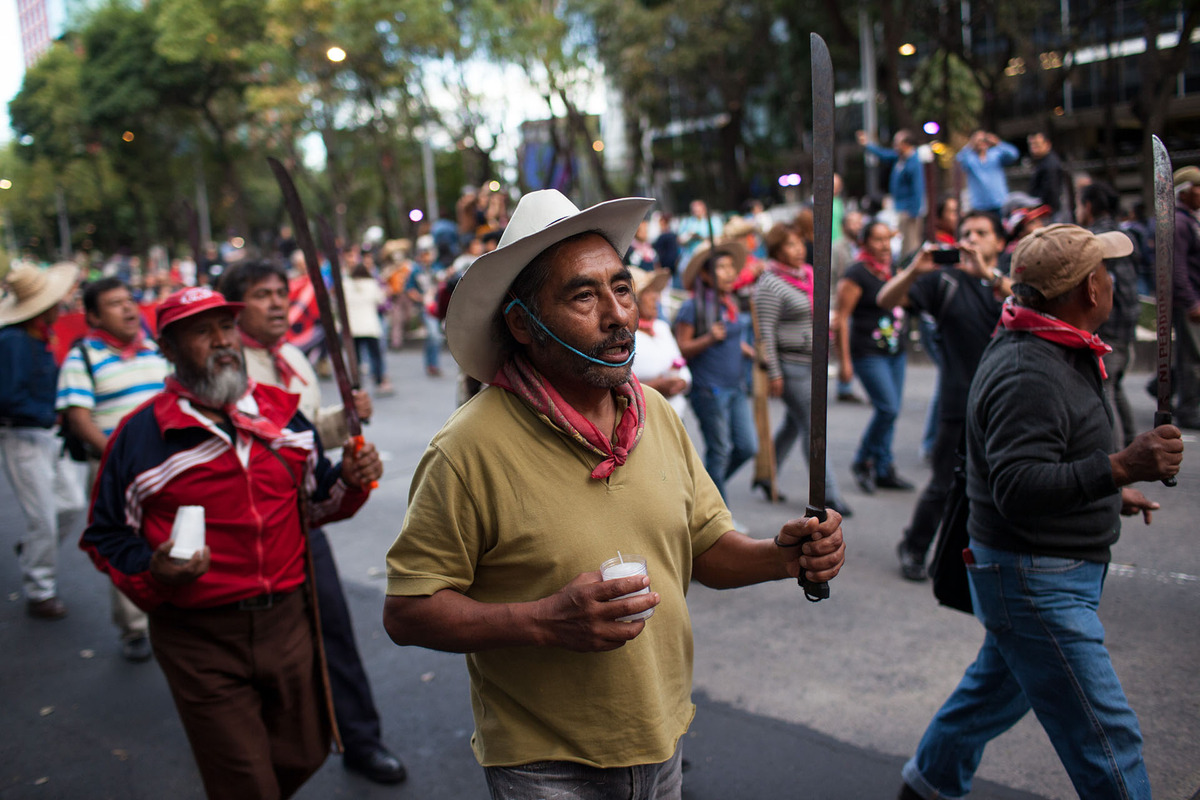 http://mashable.com/2014/10/23/protests-mexico-missing-students/
Video Within–Protest sweeps Mexico as Students fight back! http://weknowwhatsup.blogspot.com/2014/10/protests-throughout-mexico-today.html
Students set capital building on fire in Guerrero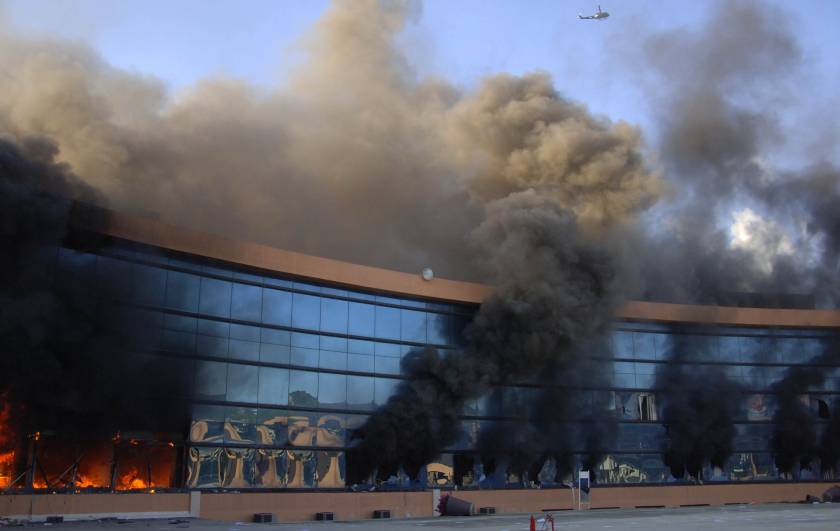 http://mic.com/articles/101594/powerful-photos-capture-the-student-protests-barely-anyone-is-talking-about
Mexico: Student Actions Force Governor to Resign  The governor of the southern Mexico state where 43 college students have gone missing in a case that the authorities say has exposed the deep ties among local politicians, the police and organized crime stepped down on Thursday under pressure from his own party.
The governor, Ángel Aguirre of Guerrero State, agreed to leave his post after leaders of his party, the Party of the Democratic Revolution, publicly said they would otherwise try to push him out in order to quell growing civil unrest in the state.
On Wednesday, protesters burned the city hall of Iguala, where the students went missing on Sept. 26 after a violent clash with the police. Last week, the State Capitol building in Chilpancingo was heavily damaged by fire in demonstrations demanding that the governor step down.  http://www.nytimes.com/2014/10/24/world/americas/in-mexico-an-embattled-governor-resigns.html?hp&action=click&pgtype=Homepage&version=HpHeadline&module=second-column-region&region=top-news&WT.nav=top-news&_r=0
First-Ever National Adjunct Walkout Day Planned For February  If you've ever wondered what a college campus would be like without adjuncts on staff, you'll soon find out come National Adjunct Walkout Day.
Planned for February 25, 2015, the protest was proposed by an adjunct professor of writing at San Jose State University – who has chosen to remain anonymous – to call for fair wages and better working conditions. The protest would help bring attention to a segment of college faculty members normally neglected when it comes to work benefits, even though they make up the majority of professors employed by higher education institutions today.
Response has been "enormous" for the event "because an action like this is long overdue," the adjunct behind the protest told Inside Higher Ed. She went on to say that the organized rallies would likely vary depending on the school and highlight "educational or administrative issues impacting adjuncts within that particular campus, across the country, or [the] plights of individual adjuncts." The adjunct added that the main idea behind the movement is that "no adjunct or campus must face these shared issues alone."
A quick glance at the National Adjunct Walkout Day Facebook page will tell you that this event is gaining traction, with adjunct faculty across the country pledging their support for the movement. A quote from Miranda Merklein, an adjunct who teaches between six and seven English composition, literature and developmental courses per semester at Northern New Mexico College and Santa Fe Community College, stands out most on the page. In response to the proposal for National Adjunct Walkout Day, she said:   http://inthecapital.streetwise.co/2014/10/07/first-national-adjunct-walkout-day-planned-for-february/
Congratulations on the new edition of Wayne Ross's Edited: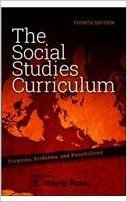 The Little Red Schoolhouse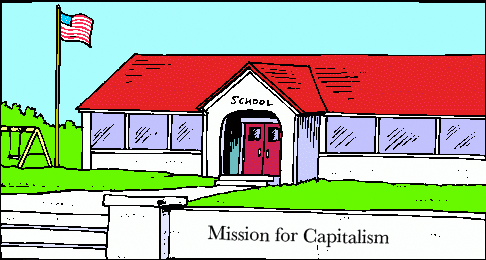 NYTimes discovers Capitalist Schools are dominated by Capital–Nation's Wealthy Places Pour Private Money Into Public Schools, Study Finds  In Coronado, Calif., a wealthy enclave off the coast of San Diego, for example, local education groups, which support about 3,200 students in five schools, raised more than $1,500 per student in 2010. These private funds helped pay for arts and music classes at all grade levels, sports medicine courses at the high school and a digital media academy at the middle school, where students are learning animation and designing buildings with 3-D printers.
By contrast, the combined fund-raising of groups affiliated with schools in the San Diego Unified School District — where the median household income is about two-thirds that of Coronado — amounted to $19.57 per student.  http://www.nytimes.com/2014/10/22/us/nations-wealthy-places-pour-private-money-into-public-schools-study-finds.html?_r=0
Capitalist Schooling IS Cheating –Failures in oversight worsened UNC academic fraud  An alarming lack of institutional oversight at the University of North Carolina allowed an academic fraud scandal to run unchecked for nearly two decades and has the school reeling from the scandal's fallout.
The latest investigation found that university leaders, faculty members and staff missed or just ignored flags that could've stopped the problem years earlier. More than 3,100 students — about half of them athletes — benefited from sham classes and artificially high grades in the formerly named African and Afro-American Studies department (AFAM) in Chapel Hill.  http://www.washingtonpost.com/national/higher-education/probe-unc-academic-fraud-was-shadow-curriculum/2014/10/22/3d298588-5a4b-11e4-9d6c-756a229d8b18_story.html
Kazoo's Western Michigan U Tries to Silence Boots Riley   A Western Michigan University (WMU) student organization has filed a First Amendment lawsuit against the university today with assistance from the Foundation for Individual Rights in Education (FIRE).
The lawsuit stems from WMU's demand that the Kalamazoo Peace Center (KPC), a registered student organization, pay a hefty security fee before hosting rapper and social activist Boots Riley for a speech on campus last spring. The suit is the seventh First Amendment lawsuit filed as part of FIRE's Stand Up For Speech Litigation Project.
"Western Michigan University's censorship relied on an old trick: Having realized that it could not outright ban Boots Riley from campus, WMU tried to tax him away," said FIRE President Greg Lukianoff. "WMU is about to learn that such transparent censorship doesn't fly under the First Amendment."  http://www.thefire.org/lawsuit-student-group-sues-western-michigan-u-taxes-controversial-speech/
A Learning Moment from 90 Years Back
THE SOULS OF WHITE FOLK by W. E. B. Dubois
High in the tower, where I sit above the loud complaining of the human sea, I know many souls that toss and whirl and pass, but none there are that intrigue me more than the Souls of White Folk.
Of them I am singularly clairvoyant. I see in and through them. I view them from unusual points of vantage. Not as a foreigner do I come, for I am native, not foreign, bone of their thought and flesh of their language. Mine is not the knowledge of the traveler or the colonial composite of dear memories, words and wonder. Nor yet is my knowledge that which servants have of masters, or mass of class, or capitalist of artisan. Rather I see these souls undressed and from the back and side. I see the working of their entrails. I know their thoughts and they know that I know. This knowledge makes them now embarrassed, now furious. They deny my right to live and be and call me misbirth! My word is to them mere bitterness and my soul, pessimism. And yet as they preach and strut and shout and threaten, crouching as they clutch at rags of facts and fancies to hide their nakedness, they go twisting, flying by my tired eyes and I see them ever stripped,—ugly, human.
The discovery of personal whiteness among the world's peoples is a very modern thing,—a nineteenth and twentieth century matter, indeed. The ancient world would have laughed at such a distinction. The Middle Age regarded skin color with mild curiosity; and even up into the eighteenth century we were hammering our national manikins into one, great, Universal Man, with fine frenzy which ignored color and race even more than birth. Today we have changed all that, and the world in a sudden, emotional conversion has discovered that it is white and by that token, wonderful!
This assumption that of all the hues of God whiteness alone is inherently and obviously better than brownness or tan leads to curious acts; even the sweeter souls of the dominant world as they discourse with me on weather, weal, and woe are continually playing above their actual words an obligato of tune and tone, saying:
"My poor, un-white thing! Weep not nor rage. I know, too well, that the curse of God lies heavy on you. Why? That is not for me to say, but be brave! Do your work in your lowly sphere, praying the good Lord that into heaven above, where all is love, you may, one day, be born—white!"
I do not laugh. I am quite straight-faced as I ask soberly:
"But what on earth is whiteness that one should so desire it?" Then always, somehow, some way, silently but clearly, I am given to understand that whiteness is the ownership of the earth forever and ever, Amen!
Now what is the effect on a man or a nation when it comes passionately to believe such an extraordinary dictum as this? http://www.gutenberg.org/files/15210/15210-h/15210-h.htm#Chapter_II
BBC Podcasts on the Haitian Revolution, Kipling, and more  http://www.bbc.co.uk/podcasts/series/iot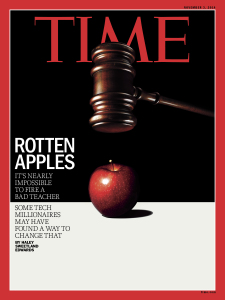 Time takes sides in tenure pr battle while unionites twaddle rather than make national strike plans
The International Hot War of the Rich on the Poor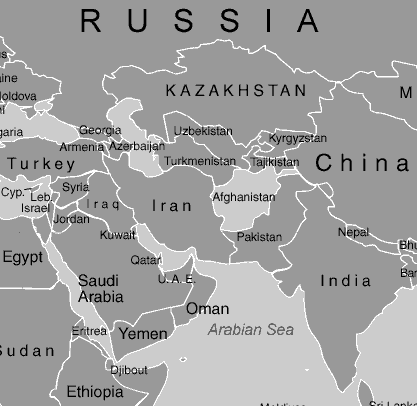 A Vivid Indictment of the US' Afghan Wars Anand Gopal's No Good Men Among the Living shows that everything has not been said. His new and shocking indictment demonstrates that the failures of the intervention were worse than even the most cynical believed. Gopal, a Wall Street Journal and Christian Science Monitor reporter, investigates, for example, a US counterterrorist operation in January 2002. US Central Command in Tampa, Florida, had identified two sites as likely "al-Qaeda compounds." It sent in a Special Forces team by helicopter; the commander, Master Sergeant Anthony Pryor, was attacked by an unknown assailant, broke his neck as they fought and then killed him with his pistol; he used his weapon to shoot further adversaries, seized prisoners, and flew out again, like a Hollywood hero.
As Gopal explains, however, the American team did not attack al-Qaeda or even the Taliban. They attacked the offices of two district governors, both of whom were opponents of the Taliban. They shot the guards, handcuffed one district governor in his bed and executed him, scooped up twenty-six prisoners, sent in AC-130 gunships to blow up most of what remained, and left a calling card behind in the wreckage saying "Have a nice day. From Damage, Inc." Weeks later, having tortured the prisoners, they released them with apologies. It turned out in this case, as in hundreds of others, that an Afghan "ally" had falsely informed the US that his rivals were Taliban in order to have them eliminated. In Gopal's words:
The toll…: twenty-one pro-American leaders and their employees dead, twenty-six taken prisoner, and a few who could not be accounted for. Not one member of the Taliban or al-Qaeda was among the victims. Instead, in a single thirty-minute stretch the United States had managed to eradicate both of Khas Uruzgan's potential governments, the core of any future anti-Taliban leadership—stalwarts who had outlasted the Russian invasion, the civil war, and the Taliban years but would not survive their own allies.
Gopal then finds the interview that the US Special Forces commander gave a year and a half later in which he celebrated the derring-do, and recorded that seven of his team were awarded bronze stars, and that he himself received a silver star for gallantry.
Gopal's investigations into development are no more encouraging. I—like thousands of Western politicians—have often repeated the mantra that there are four million more children, and 1.5 million more girls, in school than there were under the Taliban. Gopal, however, quotes an Afghan report that in 2012, "of the 4,000 teachers currently on the payroll in Ghor, perhaps 3,200 have no qualifications—some cannot read and write…80 percent of the 740 schools in the province are not operating at all." And Ghor is one of the least "Taliban-threatened" provinces of Afghanistan.  http://www.nybooks.com/articles/archives/2014/nov/06/afghanistan-shocking-indictment/?insrc=hpma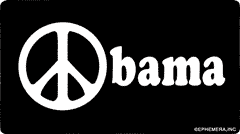 That Problem of Obama believing "in American exceptionalism in every fiber of my being" (thanks again, Obamgogueites)  We're #1 in investment in our military and our national security state! No other country comes within a light year of us! In 2011, the defense budgets of the next 13 countries combined didn't quite equal ours and we've been dumping up to a trillion dollars yearly into the national security budget since 9/11. The best news of all: with a new war on our hands and those budgets sure to rise, we're guaranteed #1 status into the distant future!
We're #1 in "renditions" (called "kidnappings" when done by the security forces of less noble governments)! Post-9/11, at least 136 "terror suspects" (some certifiably innocent) were taken by the CIA and other American outfits off the streets of global cities and from the backlands of the planet! Who in the world can equal that?
We're #1 in knocking off wedding parties from the air! At least eight of them in three countries (Iraq, Afghanistan, and Yemen) in a little more than a decade! Bridal parties, brides and grooms, hundreds of wedding goers obliterated by American air power! You tell me: What other country could brag of such a feat?
We're #1 in military bases on foreign soil! We have hundreds of them across the planet, some the size of small American towns. There's never been anything like it, not from the Romans, nor the British at their imperial heights, and no other country today has more than a handful. When it comes to bases, we've got history by the throat!
We're number #1 in invading, occupying, and/or bombing Muslim countries, 14 of them since 1980! I challenge you, find me another country with such an accomplishment — and for the record, it's never been a "crusade," just what needed to be done to keep order on our planet!
We're number #1 in investing in militaries that won't "stand up"! At least $25 billion for the Iraqi military alone (and you know how successful we were there, since it recently collapsed, allowing us to rearm it and stand it up again). And that's nothing compared to the Afghan military into which our country had poured $51 billion by 2011 and billions more thereafter — and don't tell me that wasn't a success, since that force's desertion rate has long hovered at or near 25% annually! High fives all around!
High Fives All Around?!!!!  At Least 500 Militants Killed in U.S.-Led Strikes in Syria, Observer Group Says   Air and missile strikes in Syria by the United States and its allies over the last month have killed more than 500 extremist fighters as well as at least 32 civilians, a Syrian monitoring group said on Thursday.
The tally compiled by the group, the Syrian Observatory for Human Rights, provides one of the first measures of the impact of the American-led military campaign against the extremist group known as the Islamic State, which has seized territory in Syria and Iraq.
But the numbers also hint at ways in which the strikes have made life harder for civilians in some areas administered by the Islamic State, which is also known as ISIS or ISIL.   http://www.nytimes.com/2014/10/24/world/middleeast/syria-us-strikes-death-toll.html?hp&action=click&pgtype=Homepage&version=LargeMediaHeadlineSum&module=photo-spot-region&region=top-news&WT.nav=top-news
Massive Explosion in Ukraine Said to Be Donetsk Chemical Factory  A powerful explosion hit the eastern Ukrainian city of Donetsk on Monday, the latest sign that the cease-fire between government forces and pro-Russian separatists is more of an aspiration than a reality. But it's the exact location of this particular blast that is worrying most Ukrainians: It reportedly hit the Donetsk State Chemical Products Factory.
Ukrainians are no strangers to explosions with long-ranging side effects — and to not getting the full story from their leaders. (Ahem, Chernobyl.) In videos, residents can be heard shouting at one another to get indoors as they film the ongoing explosion and commenting on the spread of the cloud.
According to the Interpreter, the secondary explosions seen on film are likely "to be caused by explosive chemicals igniting due to the fire ignited by some prior cause, which may be shelling or indeed a missile strike."  http://nymag.com/daily/intelligencer/2014/10/massive-explosion-rocks-ukraine-chemical-factory.html
Cluster bombs used in eastern Ukraine, says human rights group  Evidence collected by the New York-based Human Rights Watch suggests both government forces and pro-Russian separatists have used cluster munitions in eastern Ukraine.
A spokesman for the Kiev government's military operation against the uprising in the east denied the accusations. The rebels were not available to comment.
Cluster bombs explode in the air, scattering dozens of smaller bombs over an area the size of a sports field. Most countries have banned them under a convention that became international law in 2010, but Ukraine has not signed it.
Human Rights Watch (HRW) said in a statement it had carried out a week-long investigation in eastern Ukraine, where more than 3,700 people have been killed in fighting since April, and documented widespread use of cluster munitions.
It said it could not conclusively determine responsibility for many of the attacks but "the evidence points to Ukrainian government forces' responsibility for several cluster munition attacks" this month on Donetsk, the rebels' main stronghold.  http://www.theguardian.com/world/2014/oct/21/cluster-bombs-ukraine-human-rights-watch
From the Halls of Montezuma to—Libyan Parliament Pairs Up With Gen. Hifter: Attack Planned on Tripoli   A sign of the growing desperation of the official Libyan parliament, the cabinet has announced a deal with General Khalifa Hifter, who only months ago was trying to depose the pre-election parliament in a military coup, hoping Hifter's forces can actually install them back in power.
Gen. Hifter managed to successfully recruit much of Libya's military, such as it is, over to his side, but the capital has since fallen to the Misrata militia, which has installed its own pretender government in power there, and the elected parliament is stuck running out of a hotel in the border town of Tobruk.
The cabinet, and Prime Minister Abdullah al-Thinni, are pushing Gen. Hifter and the Army, which is really just Hifter's forces anyhow, to attack and "liberate" Tripoli, returning it to parliamentary control.   http://news.antiwar.com/2014/10/22/libyan-parliament-pairs-up-with-gen-hifter-attack-planned-on-tripoli/
Jim Loewen –The Pentagon's Commemorating the Vietnam War. So Should We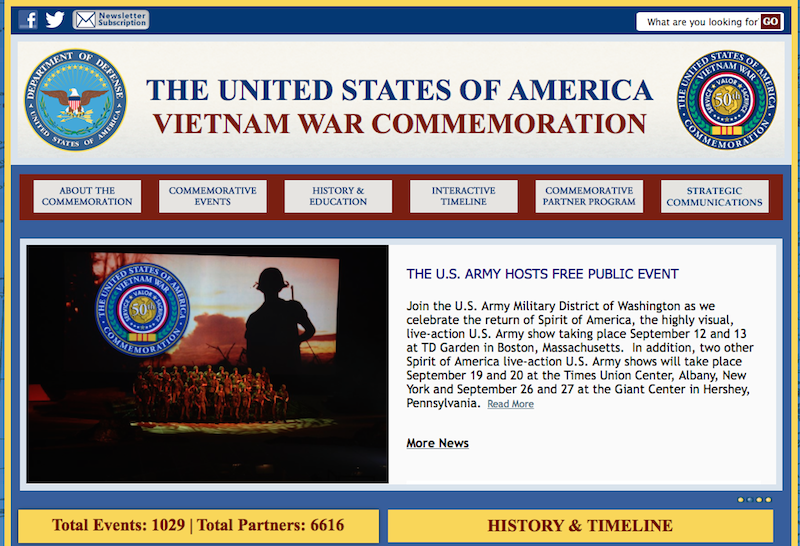 According to the "DOD Vietnam War Commemoration Program," the 2008 National Defense Authorization Act authorized the Department of Defense "to conduct a program to commemorate the 50th anniversary of the Vietnam War." DOD is spending $30,000,000 to do so. Its "activities and ceremonies" are intended to "achieve the following objectives: To thank and honor veterans of the Vietnam War, including personnel who were held as prisoners of war (POW), or listed as missing in action (MIA), for their service and sacrifice on behalf of the United States and to thank and honor the families of these veterans. To highlight the service of the Armed Forces during the Vietnam War and the contributions of Federal agencies and governmental and non-governmental organizations that served with, or in support of, the Armed Forces. To pay tribute to the contributions made on the home front by the people of the United States during the Vietnam War. To highlight the advances in technology, science, and medicine related to military research conducted during the Vietnam War. To recognize the contributions and sacrifices made by the allies of the United States during the Vietnam War." Here are some objectives that these commemorations are not intended to achieve: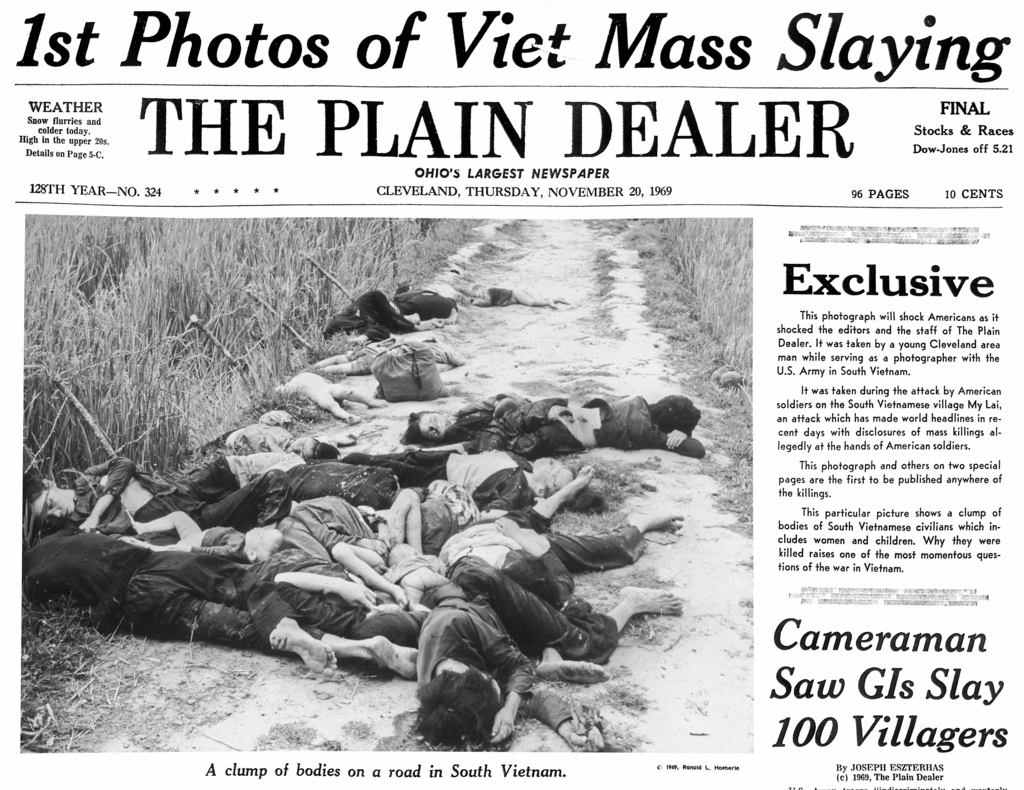 ● To tell the truth about the war, including the fact that killing civilians was part of our national policy, even though it is a war crime. ● To explain why we fought. (These reasons are no more obvious than the reasons for George W. Bush's Iraq War. I believe I listed all the likely possibilities in my paragraph on "why" in Lies My Teacher Told Me: Some people still argue that the United States fought in Vietnam to secure access to its valuable natural resources. Others still claim that we fought to bring democracy to its people. Perhaps more common are analyses of our internal politics: Democratic Presidents Kennedy and Johnson, having seen how Republicans castigated Truman for "losing" China, did not want to be seen as "losing" Vietnam. Another interpretation offers the domino theory: while we know now that Vietnam's communists are antagonists of China, we didn't then, and some leaders believed that if Vietnam "fell" to the communists, so would Thailand, Malaysia, Indonesia, and the Philippines. Yet another view is that America felt its prestige was on the line, so it did not want a defeat in Vietnam, lest Pax Americana be threatened in Africa, South America, or elsewhere in the world. Some conspiracy theorists go even further and claim that big business fomented the war to help the economy. Other historians take a longer view, arguing that our intervention in Vietnam derives from a cultural pattern of racism and imperialism that began with the first Indian war in Virginia in 1622, continued in the nineteenth century with "Manifest Destiny," and is now winding down in the "American century" of the present. A final view might be that there was no clear cause and certainly no clear purpose, that we blundered into the war because no later administration had the courage to undo our 1946 mistake of opposing a popular independence movement. "The fundamental blunder with respect to Indochina was made after 1945," wrote Secretary of State John Foster Dulles at the time of the Geneva Convention, when "our Government allowed itself to be persuaded" by the French and British "to restore France's colonial position in Indochina." The historical evidence for some of these explanations is much weaker than for others, but the Department of Defense is unlikely to hold seminars to tease out which seems likeliest. – See more at: http://historynewsnetwork.org/blog/153517#sthash.WBK9tB0D.dpuf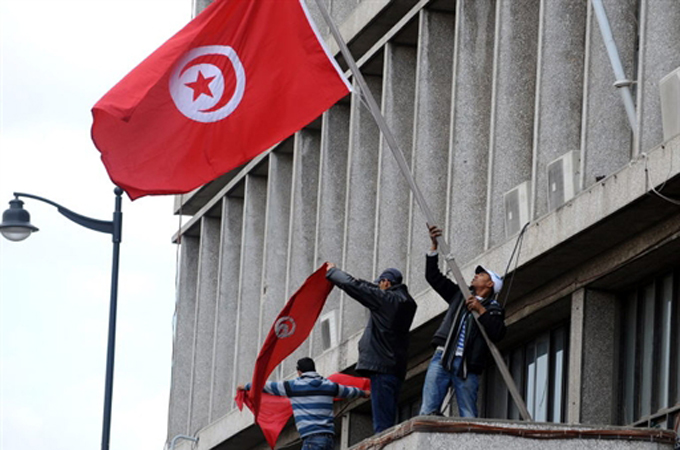 above, celebrating Tunisia's US backed fake Arab Spring
Islamist Party in Tunisia Appears Set to Rebound and who lost Tunisia other than Obamagogue, Susan Rice, and Samantha Power?   A year ago, Tunisia's main Islamist party, Ennahda, feared for its future. Political assassinations, an emerging insurgency and economic discontent had battered its coalition government.
When the Islamist government in Egypt was overthrown and the leaders of the Muslim Brotherhood imprisoned, Ennahda's members worried about a similar fate. Their coalition held on for several more months before negotiating a face-saving exit and eventually ceding power to a caretaker government in January.
Now, as Tunisians vote Sunday in national legislative elections, Ennahda has shown itself a nimble survivor. It enters the election as a front-runner and is expected to win 25 to 30 percent of seats, which may give it a chance to govern yet again.  http://www.nytimes.com/2014/10/25/world/africa/islamist-party-in-tunisia-appears-set-to-rebound.html?hp&action=click&pgtype=Homepage&version=LargeMediaHeadlineSum&module=photo-spot-region&region=top-news&WT.nav=top-news
Putin (still laughing) Accuses U.S. of Backing 'Neo-Fascists' and 'Islamic Radicals President Vladimir V. Putin of Russia on Friday unleashed perhaps his strongest diatribe against the United States yet, using an international meeting of Russia experts to sell Moscow's view that American meddling has sparked most of the world's recent crises, including those in Ukraine and the Middle East.
Instead of supporting democracy and sovereign states, Mr. Putin said during a three-hour appearance at the conference, the United States supports "dubious" groups ranging from "open neo-fascists to Islamic radicals."
"Why do they support such people," he asked the annual gathering known as the Valdai Club, which met this year in the southern resort town of Sochi. "They do this because they decide to use them as instruments along the way in achieving their goals, but then burn their fingers and recoil."
The goal of the United States, he said, was to try to create a unipolar world in which American interests went unchallenged.  http://www.nytimes.com/2014/10/25/world/europe/vladimir-putin-lashes-out-at-us-for-backing-neo-fascists-and-islamic-radicals.html?hp&action=click&pgtype=Homepage&version=HpSum&module=first-column-region&region=top-news&WT.nav=top-news
The International Economic War of the Rich on the Poor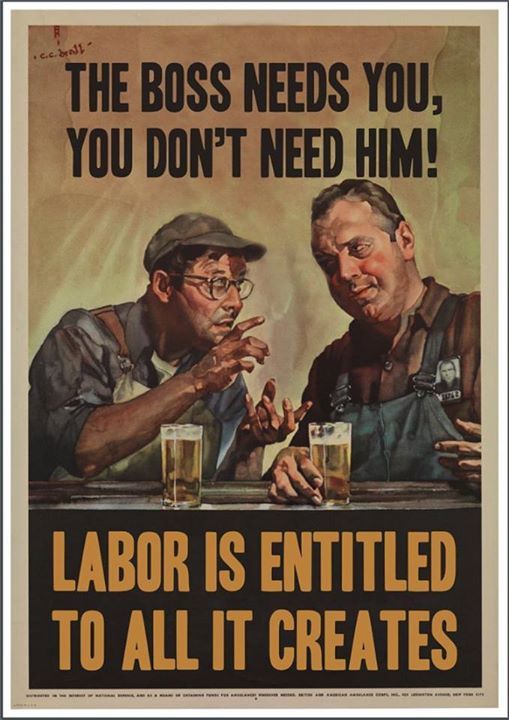 ReColonizing: One-fifth of Detroiters May lose their homes  As Detroit seeks to leave bankruptcy behind and get back on its feet—ramping up development with construction of a light rail and a new hockey arena that will cost the city hundreds of millions of dollars—it is simultaneously bearing witness to a process that could evict up to 142,000 of its residents, many of whom are too poor to pay their property taxes. Detroit is 83 percent African-American, and 38 percent of its population lives below the poverty line. But the older, blacker Detroit starkly contrasts with a whiter, wealthier new Detroit that's been wooed in by tax breaks and living incentives—which gives these evictions a heavily racial subtext.  This year in Detroit, there have been 22,000 foreclosures on properties whose owners failed to pay property taxes three years in a row. Of those, 10,000 are estimated to be occupied, meaning this year's foreclosures are set to oust about 27,000 Detroiters from their homes. That's a large number in a dwindling city with fewer than 700,000 residents, but the figures are set to get even worse. In the next couple of months, Wayne County's treasurer will be serving foreclosure notices on 110,000 more properties, 85,000 of which are in Detroit, according to its chief deputy treasurer David Szymanski. With half of those Detroit properties estimated to be occupied, this means a further 115,000 Detroiters might lose their homes next year. In a city supposedly trying to attract residents rather than lose them, this means a potential 142,000 Detroiters—one-fifth of the city's population—will be shown the door within the next year and a half. The city has yet to announce plans for accommodating those who get evicted. – See more at: http://portside.org/2014-10-22/one-fifth-detroits-population-could-lose-their-homes#sthash.OAxBwWAW.dpuf
California, the Golden State, is Actually the Poorest of All –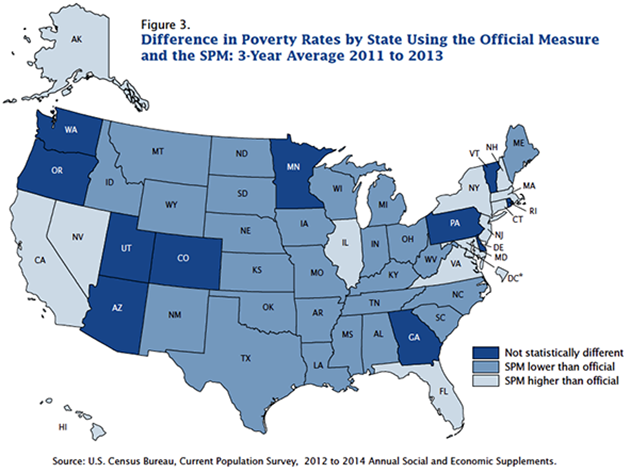 California, the home of Silicon Valley and more billionaires than any other state, is the poorest state in the country. That's according to an Oct. 16 report from the Census Bureau, which also finds that Mississippi – typically ranked among the poorest states – has a poverty rate below the national average. The report out last week is not the official census poverty measure, which came out a month earlier. But after decades of criticism that the official measure is broken and outdated, federal officials in 2011 began quietly piloting an alternative approach to measuring poverty. Called the Supplemental Poverty Measure (SPM), the report has no official bearing on policy. The latest SPM report puts the 2013 national poverty rate at 15.5 percent, one point higher than the official measure. But the regional differences are dramatic, upending some long-held notions about the distribution of poverty in the U.S. Those notions are based largely on the official poverty measure, a formula that has changed little since the 1960s. "It is antiquated," said Mark Levitan, the former director of poverty research for New York City, which in 2008 threw out the official federal measure and devised an alternative for city poverty reports. – See more at: http://www.equalvoiceforfamilies.org/california-the-golden-state-is-actually-the-poorest-of-all/#sthash.cMzaKHWH.dpuf
After Bailout, With Sold Out UAW Members working for 1/2 pay, Government Motors Bosses doing swell (but for killing all those people)  General Motors earned $1.4 billion in the third-quarter, nearly doubling its year-earlier performance, and beat Wall Street expectations as North America remains consistently profitable and sales grew in China.
The net income translated to 97 cents per share while the consensus of analyst estimates was for 95 cents.
Revenue rose slightly (0.7%) to $39.3 billion from $39 billion a year earlier.
GM shares rose in early trading this morning, but slipped in the afternoon to close down 1.2% to $30.93.
"We reaffirmed our near term financial targets and we are aiming for 9.5% to 10% (profit) margins," CEO Mary Barra said. "I know there's a show-me attitude out there. We understand we have a lot of work to do and we are on it."  http://www.freep.com/story/money/cars/general-motors/2014/10/23/general-motors-earnings-third-quarter/17762883/
above by Rouge Keynoter Mike Konapacki http://huckkonopackicartoons.com/the-immigration-debate/
Goldman Makes It Official That the Stock Market is Manipulated, Buybacks Drive Valuations It's remarkable that this Goldman report, and its writeup on Business Insider, is being treated with a straight face. The short version is current stock price levels are dependent on continued stock buybacks. Key sections of the story:
Goldman Sachs' David Kostin believes a temporary pullback may explain why the S&P 500 has tumbled from its all-time high of 2,019 on Sept. 19.
"Most companies are precluded from engaging in open-market stock repurchases during the five weeks before releasing earnings," Kostin notes. "For many firms, the beginning of the blackout period coincided with the S&P 500 peak on September 18. So the sell-off occurred during a time when the single largest source of equity demand was absent. Buybacks dip during earnings reporting months, which have seen 1.2 points higher realized volatility than in other months during the past 25 years."…
"We expect companies will actively repurchase shares in November and December," he writes. "Since 2007, an average of 25% of annual buybacks has occurred during the last two months of the year."   http://www.nakedcapitalism.com/2014/10/goldman-makes-it-official-that-the-stock-market-is-manipulated-buybacks-drive-valuations.html
IRS Whistleblowers: Agency Executives Behind Multibillion-Dollar Corporate Tax Giveaways   A 10-year veteran Internal Revenue Service (IRS) attorney has demanded a congressional audit of the IRS to investigate the agency's alleged role in allowing US corporations to illegally avoid paying billions of dollars in taxes even as it cracks down on individuals and small businesses.
In a letter to Treasury secretary Jacob Lew, IRS commissioner John A. Koskinen and IRS chief counsel William Wilkins, Jane J. Kim, an attorney in the IRS Office of the Chief Counsel in New York, accused IRS executives of "deliberately" facilitating multibillion-dollar tax giveaways. The letter, dated October 19, will add further pressure on the agency, which is under fire for allegedly targeting conservative and Tea Party groups.
Kim, who has previously blown the whistle on "gross waste of government resources" in the IRS New York field offices, wrote in her new letter that senior IRS officials have "intentionally undermined the authority of the IRS Whistleblower Office (WO)" to avoid taking action "in cases involving billions in corporate taxes due." The IRS also refuses to enforce laws for "large corporate taxpayers," resulting in giveaways of further billions, despite applying the same laws with "draconian strictness to small business, the self-employed, and wage-earning individuals."  http://www.truth-out.org/news/item/26996-irs-whistle-blowers-agency-executives-behind-multibillion-dollar-corporate-tax-giveaways#14141173190251&action=collapse_widget&id=5642158
The Emergence of Fascism as a Popular Mass Movement
Blackwater Mercs Convicted But Eric Prince, Bush, Obama and the tops go free  Four former Blackwater Worldwide security guards were convicted and immediately jailed Wednesday for their roles in a deadly 2007 shooting in Baghdad's Nisour Square that marked a bloody nadir in America's war in Iraq.
A jury in Federal District Court found that the deaths of 17 Iraqis in the shooting, which began when a convoy of the guards suddenly began firing in a crowded intersection, was not a battlefield tragedy, but the result of a criminal act.
The convictions on murder, manslaughter and weapons charges represented a legal and diplomatic victory for the United States government, which had urged Iraqis to put their faith in the American court system. That faith was tested repeatedly over seven years as the investigation had repeated setbacks, leaving Iraqis deeply suspicious that anyone would be held responsible for the deaths.   http://www.nytimes.com/2014/10/23/us/blackwater-verdict.html?_r=0
Obamagogue Could Reaffirm a Bush-Era Reading of a Treaty on Torture  When the Bush administration revealed in 2005 that it was secretly interpreting a treaty ban on "cruel, inhuman or degrading treatment" as not applying to C.I.A. and military prisons overseas, Barack Obama, then a newly elected Democratic senator from Illinois, joined in a bipartisan protest.
Mr. Obama supported legislation to make it clear that American officials were legally barred from using cruelty anywhere in the world. And in a Senate speech, he said enacting such a statute "acknowledges and confirms existing obligations" under the treaty, the United Nations Convention Against Torture.
But the Obama administration has never officially declared its position on the treaty, and now, President Obama's legal team is debating whether to back away from his earlier view. It is considering reaffirming the Bush administration's position that the treaty imposes no legal obligation on the United States to bar cruelty outside its borders, according to officials who discussed the deliberations on the condition of anonymity.  The administration must decide on its stance on the treaty by next month, when it sends a delegation to Geneva to appear before the Committee Against Torture, a United Nations panel that monitors compliance with the treaty. That presentation will be the first during Mr. Obama's presidency….military and intelligence lawyers are said to oppose accepting that the treaty imposes legal obligations on the United States' actions abroad. They say they need more time to study whether it would have operational impacts. They have also raised concerns that current or future wartime detainees abroad might invoke the treaty to sue American officials with claims of torture, although courts have repeatedly thrown out lawsuits brought by detainees held as terrorism suspects.   http://www.nytimes.com/2014/10/19/us/politics/obama-could-reaffirm-a-bush-era-reading-of-a-treaty-on-torture.html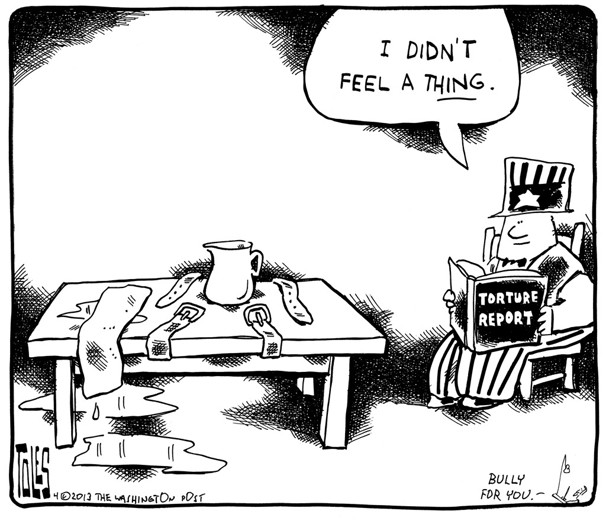 The Obamagogue and Torture  To the Editor:
Re "Obama Could Reaffirm a Bush-Era Reading of a Treaty on Torture" (news article, Oct. 19):
The fact that President Obama is considering a reaffirmation of the Bush administration's interpretation of the Geneva Conventions against torture is very troubling.
It would appear to arise from either the wish to retain torture as a future option for the Central Intelligence Agency and perhaps the military or as a protection for those hirelings (in or out of government) who tortured prisoners in the past, believing that they were acting under presidential orders.
It may be inconvenient not to torture, and it may be inconvenient to admit to torturing in the past, but being a "nation of laws" isn't about convenience. In fact, it is only when it is really inconvenient that there is any honor in the claim to be a nation of laws.
I voted for President Obama. I wish that he would make me proud that I did.
ELIOT R. LONG
Brooklyn, Oct. 19, 2014  http://www.nytimes.com/2014/10/23/opinion/obama-and-torture.html?emc=edit_tnt_20141023&nlid=2254121&tntemail0=y&_r=0
Poland Appeals European Court of Human Rights Ruling on C.I.A. 'Black Site'  The Polish government has appealed a ruling by the European Court of Human Rights that the country violated the rights of two terrorism suspects by transferring them to a so-called "black site" in northeast Poland run by the Central Intelligence Agency, the Ministry of Foreign Affairs said on Friday.
The court ruled in July that the two men had suffered "torture and inhuman or degrading treatment" while they were held at the site. It was the first such ruling involving a European country that had participated in the C.I.A.'s "extraordinary rendition" program, in which terrorism suspects were interrogated secretly at facilities outside the United States and beyond the reach of American constitutional protections.
Mateusz Martyniuk, a spokesman for the Polish chief prosecutor's office, said the country would also appeal a ruling that it had not cooperated with the European court's investigation of the case.  http://www.nytimes.com/2014/10/25/world/europe/extraordinary-rendition-ruling-appealed-by-poland.html?emc=edit_tnt_20141025&nlid=2254121&tntemail0=y&_r=0
Surprise: U.S. Drug War In Afghanistan Not Going Well   A new report has found the war on drugs in Afghanistan remains colossally expensive, largely ineffective and likely to get worse. This is particularly true in the case of opium production, says the U.S. Office of the Special Inspector General for Afghanistan Reconstruction.
In a damning report released Tuesday, the special inspector general, Justin F. Sopko, writes that "despite spending over $7 billion to combat opium poppy cultivation and to develop the Afghan government's counternarcotics capacity, opium poppy cultivation levels in Afghanistan hit an all-time high in 2013," hitting 209,000 hectares, surpassing the prior, 2007 peak of 193,000 hectares. Sopko adds that the number should continue to rise thanks to deteriorating security in rural Afghanistan and weak eradication efforts.   https://firstlook.org/theintercept/2014/10/21/surprise-u-s-drug-war-afghanistan-going-well/
Though the figures it reports are jarring, the inspector general's investigation highlights drug policy failures in Afghanistan that have been consistently documented for years. Indeed, Sopko himself has been raising concerns over the failing drug war in Afghanistan for some time. In January, he testified before the Senate Caucus on International Narcotics Control and described a series of discouraging conversations with counternarcotics officials from Afghanistan, the U.S., and elsewhere.
"In the opinion of almost everyone I spoke with, the situation in Afghanistan is dire with little prospect for improvement in 2014 or beyond," Sopko told the lawmakers.
Solidarity for Never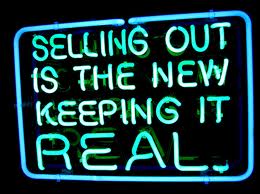 One More Time Unionites: Counterfeit unions of the empire  With respect to nearly anyone who is trying to fight back in our current context, I differ from what most people think about the current state of US unionism.
Of course, none of that can be split away from an analysis of our current circumstances which I believe is an international hot war, and economic war, of the rich on the poor and the rapid emergence of fascism as a popular movement.
It does not have to be that way.
Let us hope that another scenario is possible if we take on the hard tasks of the immediate future and connect them to a vision of what can be. One of those tasks is to determine the role of the unions and the relationship of radicals to them.
Labor bosses at all levels are the nearest and most vulnerable of workers' enemies. Rather than "move unions to the left," better, "demolish the labor quislings, take their treasuries, seize their buildings, as we build a mass class conscious movement to transcend the system of capital."
Why does that make better sense?
Since the Industrial Workers of the World (a grand vision but fatally flawed practice) were nearly demolished in the Palmer Raids of 1919, American unionism has been a false flag operation: not what most people think of as unionism.
*Every major labor leader in the US adopts the corporate-state view of unity of Labor Bosses, Government, and Corporations in the national interest. These are hardly "labor" unions in the strict sense of the word. They are the empire's unions. I assume the connections of labor and US intelligence are fairly well known and do not need to be explained. They are the unions of what now is, surely, the US corporate state.
*It follows that the Labor Bosses deceive people from the moment they join a union, the key lie being that none of labor's elites believe that workers and employers have contradictory interests–the very reason most people agree to send them money.  http://www.counterpunch.org/2013/10/23/counterfeit-unionism-in-the-empire/
Spy versus Spy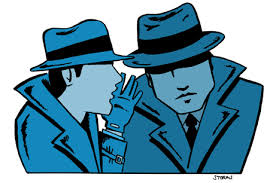 "Color Revolution": Hong Kong's Umbrellas are "Made in USA"   The Washington neo-cons and their allies in the US State Department and Obama Administration are clearly furious with China, as they are with Russia's Vladimir Putin. As both Russia and China in recent years have become more assertive about defining their national interests, and as both Eurasian powers draw into a closer cooperation on all strategic levels, Washington has decided to unleash havoc against Beijing, as it has unleashed the Ukraine dis-order against Russia and Russian links to the EU. The flurry of recent deals binding Beijing and Moscow more closely—the $400 billion gas pipeline, the BRICS infrastructure bank, trade in rubles and renminbi by-passing the US dollar—has triggered Washington's response. It's called the Hong Kong 'Umbrella Revolution' in the popular media.
In this era of industrial globalization and out-sourcing of US industry to cheap-labor countries, especially to China, it's worth taking note of one thing the USA—or more precisely Washington DC and Langley, Virginia—are producing and exporting to China's Hong Kong. Hong Kong Special Administrative Region of the People's Republic of China has been targeted for a color revolution, one that has been dubbed in the media the Umbrella Revolution for the umbrellas that protesters use to block police tear gas.
The "umbrellas" for Hong Kong's ongoing Umbrella Revolution are made in Washington. Proof of that lies not only in the obscenely-rapid White House open support of Occupy Central just hours after it began, following the same model they used inUkraine. The US State Department and NGOs it finances have been quietly preparing these protests for years. Consider just the tip of the Washington Hong Kong "democracy" project.
Same dirty old cast of characters…
With almost by-now-boring monotony, Washington has unleashed another of its infamous Color Revolutions. US Government-steered NGOs and US-trained operatives are running the entire Hong Kong "Occupy Central" protests, ostensibly in protest of the rules Beijing has announced for Hong Kong's 2017 elections. The Occupy Central Hong Kong protest movement is being nominally led by a 17-year-old student, Joshua Wong, who resembles a Hong Kong version of Harry Potter, a kid who was only just born the year Britain reluctantly ended its 99-year colonial occupation, ceding the city-state back to the Peoples' Republic. Wong is accompanied in Occupy Central by a University of Minnesota-educated hedge fund money man for the protests, Edward Chin; by a Yale University-educated sociologist, Chan Kin-man; by a Baptist minister who is a veteran of the CIAs 1989 Tiananmen Square destabilization, Chu Yiu-ming; and by a Hong Kong University law professor, Benny Tai Yiu-ting, or Benny Tai.
Behind these Hong Kong faces, the US State Department and its favorite NGO, the US Congress-financed National Endowment for Democracy (NED), via its daughter, the National Democratic Institute (NDI), is running the Occupy Central operation. Let's look behind the nice façade of peaceful non-violent protest for democracy and we find a very undemocratic covert Washington agenda.  http://www.globalresearch.ca/hong-kongs-umbrellas-are-made-in-usa/5409780
The Best and Worst Things in the History of the World
Counterpunch AntiKissinger Fundraiser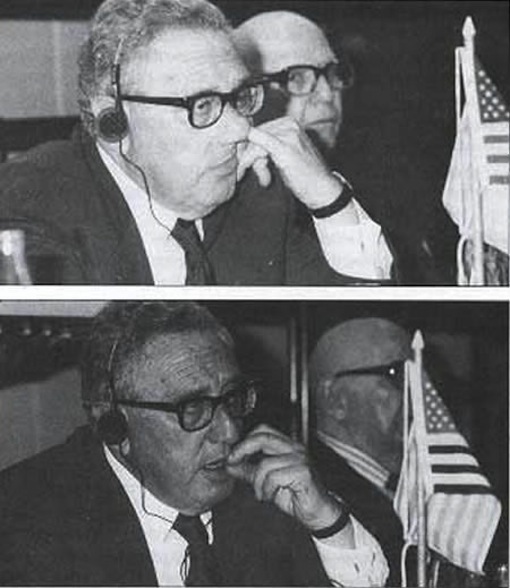 http://www.counterpunch.org/
So Long
Fred Branfman dies at 72; exposed U.S. bombing of Laos  In 1969, Fred Branfman, a young American aid worker, wandered into an ancient pagoda in the Laotian capital of Vientiane. Instead of a tranquil sacred site, however, he found it packed with refugees whose stories horrified him.
They told Branfman that they had fled the country's northern plains because American bombs were turning whole villages to ash, killing thousands of Laotian civilians.
Branfman had been in Laos for more than two years. How, he wondered, had he not known about this?
As he soon discovered, the war in Laos had been an exceedingly well-kept secret. In the United States, no one outside the highest levels of President Lyndon Johnson's administration knew that the Vietnam War had expanded into this small landlocked nation in Southeast Asia.  When he left the temple, Branfman later said, he was no longer the "careless adventurer" ambling through life in a foreign land but was driven by a cause: drawing public attention to the Laotians' suffering and the U.S. officials responsible for it….After the initial encounters at the temple, Branfman interviewed more than 1,000 people in refugee camps, "and every single one told the same story" about homes destroyed and loved ones killed by American munitions, he recalled in the 2008 documentary "The Most Secret Place on Earth."
http://www.latimes.com/local/obituaries/la-me-raphael-ravenscroft-20141023-story.html