November 22nd, 2015 / Author: rgibson
We Say Fight Back!
Over four decades of public life, Bill and Hillary Clinton have built an unrivaled global network of donors while pioneering fundraising techniques that have transformed modern politics and paved the way for them to potentially become the first husband and wife to win the White House.
The grand total raised for all of their political campaigns and their family's charitable foundation reaches at least $3 billion, according to a Washington Post investigation.
Their fundraising haul, which began with $178,000 that Bill Clinton raised for his long-shot 1974 congressional bid, is on track to expand substantially with Hillary Clinton's 2016 White House run, which has already drawn $110 million in support….After Bill Clinton's unsuccessful, labor-backed race for Congress, the couple hewed toward monied interests, courting banks and corporate leaders in Arkansas. It was a pattern that would repeat itself throughout their careers as they drew support from groups often in opposition: union leaders and corporate chiefs, trial lawyers and tech titans, top industrialists and liberal activists…Today, the two major national teachers' unions rank among the Clintons' biggest supporters. The National Education Association has contributed at least $1.3 million to bolster their races, while the American Federation of Teachers has given more than $756,000 to support them politically and at least $1 million to their foundation…
In her current campaign, Clinton has pledged to rein in Wall Street. She has proposed higher taxes on high-frequency traders and an end to special tax breaks for hedge fund managers, and recently called for more aggressive enforcement of criminal statutes that govern the finance industry.https://www.washingtonpost.com/graphics/politics/clinton-money/
But her rhetoric has not alarmed her backers in the financial sector. So far, donors in the banking and insurance industries have given $6.4 million to her campaign and allied super PACs, behind only those in communications and technology, The Post found.
Hillary Clinton is drawing enthusiastic support from Silicon Valley, one of the first industries to rally around her husband nearly a quarter-century ago.
Hillary Clinton said something remarkable and out of the blue during the second Democratic Party presidential debate in Des Moines, Iowa, last Saturday – something that ought to lead to the suspension of her quest for the White House. The comment came in response to a CBS debate moderator and Bernie Sanders pointing out that her campaign had received millions of dollars in election contributions and speaking fees from leading Wall Street financial institutions while Sanders relies on small contributions from ordinary middle- and working-class Americans. Here's what Hillary said:
"Oh, wait a minute, senator. You know, not only do I have hundreds of thousands of donors, most of them small, I am very proud that for the first time a majority of my donors are women, 60 percent. So I – I represented New York. And I represented New York on 9/11 when we were attacked. Where were we attacked? We were attacked in downtown Manhattan where Wall Street is. I did spend a whole lot of time and effort helping them rebuild. That was good for New York. It was good for the economy. And it was a way to rebuke the terrorists who had attacked our country."
How's that for a wild comment out of the blue – out of the tragic blue skies over New York City fourteen years and two months ago? It's good that most of Hillary's individual donors are female and that she has a large number of donors. But leading major party presidential candidate typically get donations from hundreds of thousands of people. The fact remains that Mrs. Clinton is very heavily and disproportionately funded by predominantly male Wall Street elites, who back her because she is (quite reasonably) understood by them to be a good friend of the corporate and financial elite.  www.counterpunch.org/2015/11/17/out-of-the-blue-hillarys-sociopathy-revealed-in-des-moines/
The Clinton Foundation released its 2014 tax return as well as amended returns for the previous four years and an audit of its finances. That fulfilled a pledge made last April by Clinton Foundation acting CEO, Maura Pally, who acknowledged that the foundation had previously made a few unfortunate accounting "mistakes."
Journalists are going to be scouring through this new financial information and pumping out "balanced" stories that evade what is already evident, namely that the Clintons have used their foundation for crass profiteering and influence peddling.
If the Justice Department and law enforcement agencies do their jobs, the foundation will be closed and its current and past trustees, who include Bill, Hillary, and Chelsea Clinton, will be indicted. That's because their so-called charitable enterprise has served as a vehicle to launder money and to enrich Clinton family friends.
It is beyond dispute that former President Clinton has been directly involved in helping foundation donors and his personal cronies get rich. Even worse, it is beyond dispute that these very same donors and the Clintons' political allies have won the focused attention of presidential candidate Hillary Clinton when she served as Secretary of State. Democrats and Clinton apologists will write these accusations off as conspiracy mongering and right-wing propaganda, but it's an open secret to anyone remotely familiar with accounting and regulatory requirements for charities that the financial records are deliberately misleading. And not coincidentally, those records were long filed by a Little Rock–based accounting firm called BKD, a regional auditor with little international experience.
It's odd that a small Arkansas-headquartered firm would handle the books for a giant entity like the Clinton Foundation, and even odder given that BKD has been implicated in a variety of misconduct. For example, last year the Securities and Exchange Commission sanctioned BKD for "violating auditor independence rules when they prepared the financial statements of brokerage firms that were their audit clients." harpers.org/blog/2015/11/shaky-foundations/
The Little Red Schoolhouse
Rather than Social + economic Reform, developers will get rich on San Diego School Re-build (add more segregation) It's happening. The district will build and revamp Memorial Prep, a long-struggling middle school in Logan Heights. Officials plan to spend at least $100 million on the effort.
In addition to a middle school, the district also plans to create a new high school on the same campus. The money for the renovations will come from Props. S and Z, two voter-approved school construction bonds passed in 2008 and 2012.
Councilman David Alvarez and school board member Richard Barrera announced the plans at a town hall meeting this past weekend at the Logan Heights library.
District officials believe the new school, which they hope will open by fall 2019, will give parents the option of sending their kids to a high-quality middle school without busing them to more affluent neighborhoods.  www.voiceofsandiego.org/topics/education/memorial-prep-rebuild-gets-a-vision-and-a-price-tag-100-million/?utm_source=Voice+of+San+Diego+Master+List&utm_campaign=2cd55cccbc-Learning_Curve&utm_medium=email&utm_term=0_c2357fd0a3-2cd55cccbc-81862829&goal=0_c2357fd0a3-2cd55cccbc-81862829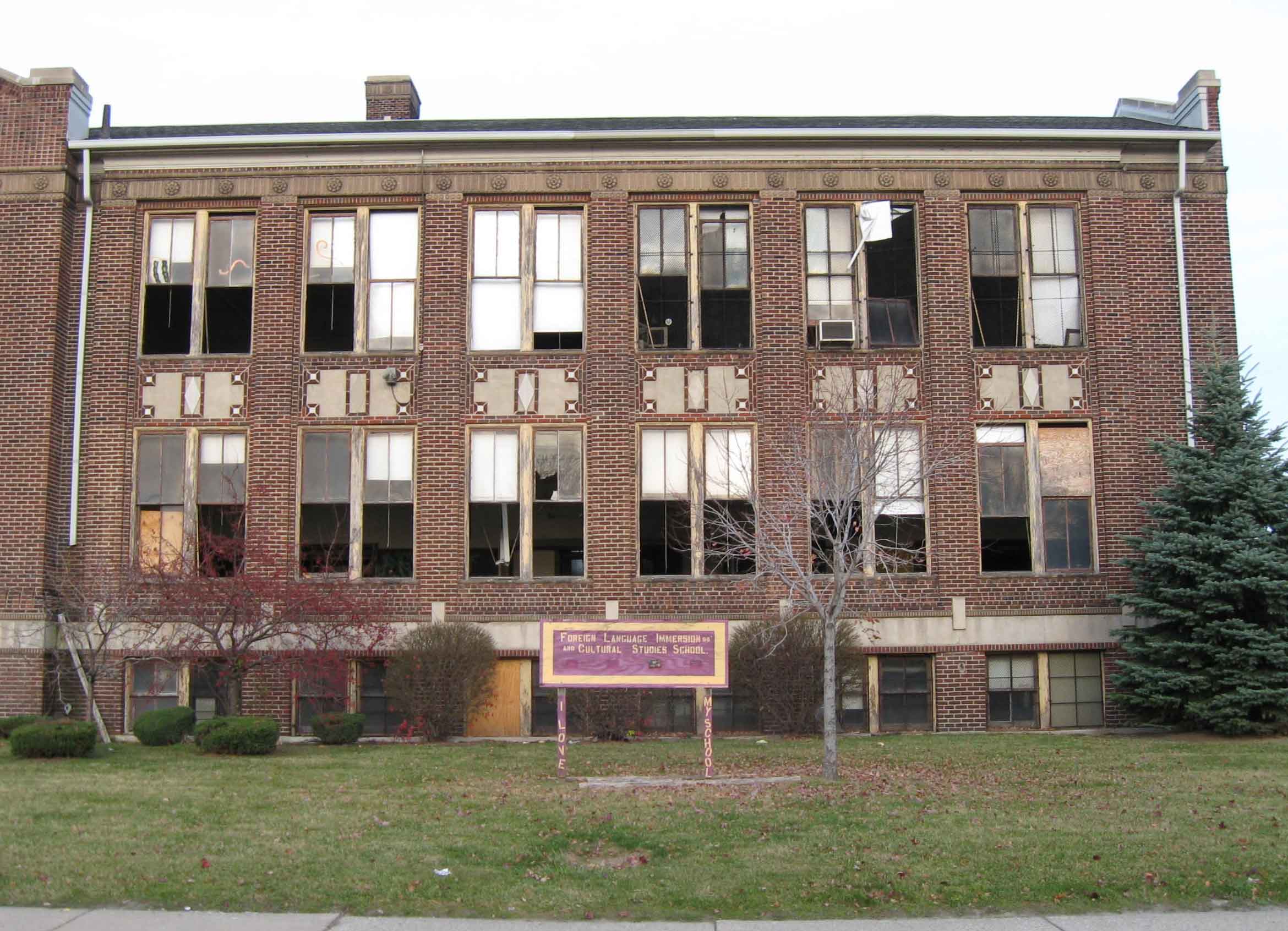 Want a job in Detroit where all the teachers were fired 3 years ago and the union did nothing but sue to collect dues and kids still don't have books/teachers?
The Detroit Public School District says it knows there is a teacher shortage impacting kids and teachers. The question is, how long will it take to fill about 170 openings?
As the district tries to fill positions, burned out teachers are leaving. One of them is the only math teacher at the Detroit Institute of Technology, a school with 300 kids.
'The math will tell you, it doesn't add up," said Carrie Russell, the only math certified math teacher at DIT.
She says next week is her last. She is quitting.
She says she is tired of struggling to get by financially in a district that assigns one math teacher to a school of 300 students. She says she can't succeed to her own personal standards under the circumstances.
She also says she makes only about $37,000 and hasn't had a raise in years.
There is talk that teachers could face more cuts. She has a Bachelor's degree in Engineering, and Master's degrees in Business and Education.  www.wxyz.com/news/fix-my-schools/detroit-public-schools-working-to-address-teacher-shortfall-as-educators-continue-to-leave-district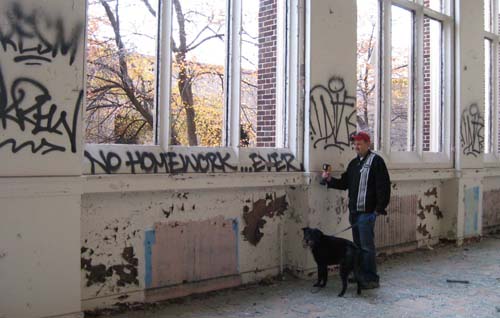 Detroit: No Books/No Teachers teachers are underpaid, facing uncertainty under Emergency Manager Darnell Earley, and can't even get books for the kids.
"How can they teach, if they don't have the materials?" asked Perez.
"I don't have math books," said Kelly Davis, a 4th grade teacher who still works at Maybury.
"I just try to do what I can with the kids in my classroom, and that number just almost doubled yesterday morning," said Davis.
This happened because the third grade teacher left.
Some teachers and kids were shuffled into different classes, increasing class size for some. Other students are in one of three classes without a certified teacher.
"There are parents, a lot of them don't know their teachers are a substitute, uncertified, teaching your kids," said Perez.
She says the instability and lack of teachers and resources is impacting kids. Her daughter is not where she wants her to be academically. www.wxyz.com/news/fix-my-schools/parents-call-on-governor-snyder-to-act-as-their-children-face-classes-without-certified-teachers
The strings attached to SDSU's Confucius cash
Iron lady of Chinese government calls tough shots in education war
DSU's Confucius expansion is taking place against a backdrop of debate on U.S. campuses regarding the untoward influence of a well-heeled foreign government on traditional Western academic values and independence.
Last year, the University of Chicago, one of the first American universities to host a Confucius Institute, pulled the plug on the operation amid controversy over its aims and methods, as portrayed in remarks made by Madame Xu Lin, director of Hanban, the Chinese government agency that runs the Confucius program.
"The university and Hanban have engaged in several months of good faith efforts and steady progress toward a new agreement," the school said in a September 25, 2014, statement. "However, recently published comments about UChicago in an article about the director-general of Hanban are incompatible with a continued equal partnership. The University is therefore suspending negotiations for the renewal of the agreement at this time."
The story in the Chinese-language daily Jiefang said, "Many people have experienced the inflexibility and toughness of Xu Lin," according to a translation by Inside Higher Ed.
Xu Lin's showdown with Chicago occurred after more than 100 faculty members signed a petition demanding that the university close the institute because it was under the thumb of the Chinese government.
www.sandiegoreader.com/news/2015/nov/12/ticker-strings-attached-sdsus-confucius-cash/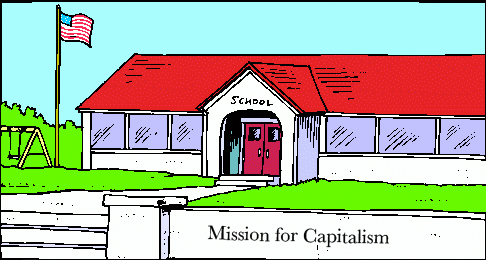 Mass. and the Capitalist School Shell Game At a dinner with colleagues in 2009, Mitchell Chester, Massachusetts's commissioner of education, hatched what seemed like an obvious answer — a national test based on the Common Core standards that almost every state had recently adopted.
Now Dr. Chester finds himself in the awkward position of walking away from the very test he helped create.
On his recommendation, the State Board of Education decided last week that Massachusetts would go it alone and abandon the multistate test in favor of one to be developed for just this state. The move will cost an extra year and unknown millions of dollars.  Across the country, what was once bipartisan consensus around national standards has collapsed into acrimony about the Common Core, with states dropping out of the two national tests tied to it that had been the centerpiece of the Obama administration's education strategy.
San Ysidro (SoCal) District: 30% Kids Homeless According to board members, 30 percent of San Ysidro School District students lead nomadic lifestyles without stable living conditions.
"The misconception is that when you hear 'homeless' you think someone who lives on the streets. In reality, a lot of our children are transitional homeless. They live in motels, in cars, move back and forth, in garages or on their aunts' and uncles' couches," said Antonio Martinez, board president
Martinez says more than 1,500 students live in such conditions. Half of those attend Willow Elementary fox5sandiego.com/2015/11/19/san-ysidro-school-district-says-30-percent-of-its-students-are-homeless/
The International Hot War of the Rich on the Poor
Obama's drone war a 'recruitment tool' for Isis, say US air force whistleblowers  Four former US air force service members, with more than 20 years of experience between them operating military drones, have written an open letter to Barack Obama warning that the program of targeted killings by unmanned aircraft has become a major driving force for Isis and other terrorist groups.
The group of servicemen have issued an impassioned plea to the Obama administration, calling for a rethink of a military tactic that they say has "fueled the feelings of hatred that ignited terrorism and groups like Isis, while also serving as a fundamental recruitment tool similar to Guantánamo Bay".In particular, they argue, the killing of innocent civilians in drone airstrikes has acted as one of the most "devastating driving forces for terrorism and destabilization around the world"The letter, addressed to Obama, defense secretary Ashton Carter and CIA chief John Brennan, links the signatories' anxieties directly to last Friday's terror attacks in Paris. They imply that the abuse of the drone program is causally connected to the outrages. "We cannot sit silently by and witness tragedies like the attacks in Paris, knowing the devastating effects the drone program has overseas and at home," they wrote.http://www.theguardian.com/world/2015/nov/18/obama-drone-war-isis-recruitment-tool-air-force-whistleblowers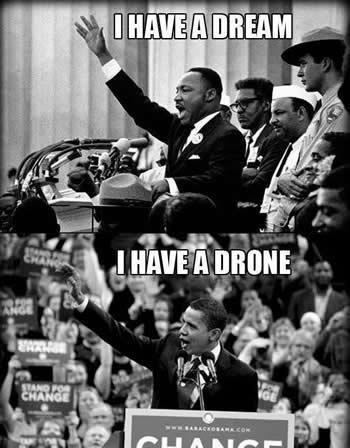 Experts: Terrorists learning from one another and going after soft targets (like W. Ukraine?)
Counterterrorism experts liken the Paris attacks to what happened in Mumbai in November 2008, when a team of 10 Islamist militants, pledged to fight to the death, terrorized the city for four days and killed 164 people.
"The Paris and Mumbai attacks both used small, well-armed bands of terrorists striking simultaneously and sequentially against multiple soft targets in an urban area. The Paris attackers added suicide vests to increase the carnage," former CIA analyst Bruce Riedel wrote on a Brookings Institution blog devoted to Middle East politics.
The similarity isn't by accident, said Peter Bergen, vice president at the think tank New America.
"In the United States, school shooters study other school shooters, in particular Columbine. This is true of terrorists as well. They study tactics that have worked before," Bergen said. www.washingtonpost.com/national/health-science/experts-terrorists-learning-from-one-another-and-going-after-soft-targets/2015/11/15/68405564-8bb2-11e5-acff-673ae92ddd2b_story.html?hpid=hp_hp-top-table-high_suicidebomb-6pm%3Ahomepage%2Fstory
Tiptoeing to WWIII  The purpose of war is to give yourself a strong position at a peace conference. In the days when warfare was state versus state, that is what generals used to remind politicians: we can bring the enemy to its knees, but it is you who has to design the peace. Sometime between 1991 and 2003, the US forgot this principle and the result is the situation we have now.
Iraq is effectively dismembered into Shi'a, Kurdish and Isis-run territories. Parts of Afghanistan are being reconquered by the Taliban. Syria's disintegration has propelled millions of refugees into Europe, Turkey and Lebanon. And the Islamic-fascist regime of Isis has staged the first sophisticated "marauding attack" on European soil, killing people who had assumed, like the rest of us, that the disintegration of the Middle East was somebody else's problem.
Now it is Nato's problem. In British security circles, there is tacit acceptance that, if it wanted to, France could invoke Article 5 of the North Atlantic treaty, which requires Britain to render military support to an ally under attack. Article 5 is the political deterrent designed into Nato at conception. It gives all signatories the right to wage war legally, as an act of self defence, under principles recognised by the UN charter. It has only once been invoked: by the US after 9/11.  Obviously, there are legal difficulties: Isis is not recognised as a state, though it claims to be one and controls a defined geographic area. Nevertheless, the Paris attack clearly breached "the security of the North Atlantic area" – the phrase used in Article 5 to define the objective of any retaliation. If the French requested it, and major states refused, it would mark the end of the alliance's credibility. Either way, British military planners will be right now exploring options for what to do if France requests military aid. www.theguardian.com/commentisfree/2015/nov/16/isis-military-france-paris-attacks-nato-article-5?CMP=share_btn_fb
Over the last few days, as the United States has stepped up its bombing campaign against ISIS in Syria, it has been hard to escape another reality: the US is still looking for a coherent strategy against the Islamic State. Along with its relentless drive across the deserts of Syria and Iraq, and its continued massacre of civilians and members of endangered minorities, ISIS can now also claim its first victim in Washington with the sacking of Defense Secretary Chuck Hagel. His departure—prompted in part by divisions with the White House over Syria policy—highlights the deep problems of an air offensive against ISIS that has alienated Arab states and other allies in NATO, even as it has failed to bring tangible results.
The crisis ISIS has created for the West and the Arab world cannot be effectively addressed until there is a broader understanding of what ISIS wants. The first thing we need to recognize is that ISIS is not waging a war against the West. In view of the staggering growth in the number of ISIS's international recruits—there are now estimated to be some 18,000 foreign fighters from 90 countries—the growing possibility that some who have joined the group may return home to carry out acts of terrorism must be taken seriously. There is also a risk that others who never went to Syria, like the shooter in the Canadian parliament in October, will be inspired by ISIS to carry out such attacks.
In contrast to al-Qaeda, however, ISIS has not made the US and its allies its main target. Where al-Qaeda directed its anger at the "distant enemy," the United States, ISIS wants to destroy the near enemy, the Arab regimes, first. This is above all a war within Islam: a conflict of Sunni against Shia, but also a war by Sunni extremists against more moderate Muslims—between those who think the Muslim world should be dominated by a single strand of Wahhabism and its extremist offshoot Salafism and those who support a pluralistic vision of Muslim society. The leaders of ISIS seek to eliminate all Muslim and non-Muslim minorities from the Middle East—not only erasing the old borders and states imposed by Western powers, but changing the entire ethnic, tribal, and religious composition of the region.  www.nybooks.com/blogs/nyrblog/2014/dec/02/isis-what-us-doesnt-understand//
From Mumbai to Paris
The New York Review of Books. November 16 2015.
Ahmed Rashid Changes His Mind
The massacre of innocents in Paris has brought to the forefront a dramatic shift in ISIS's tactics and strategy. For
some time it has been widely believed that ISIS's overriding aim is to capture and hold territory and create a single
caliphate out of the present borders of the Middle East, rather than trying to bomb the West or pull off spectacular
attacks like the toppling of the Twin Towers in New York. Such raids on the so-called "far enemy," aimed at bringing
down the capitalist order, have long been the mission of al
-Qaeda; whereas the much newer ISIS, in seeking to
conquer the "near enemy" in the Levant, has given priority
to establishing its caliphate now
.
Yet the recent string of ISIS attacks across the Middle East and now in Europe suggests that its aims, and methods, are
more complicated. In October a bombing in Ankara that killed 102 people was blamed on ISIS by the Turkish
government. A few weeks later, ISIS's Sinai affiliate claimed to have brought down a Russian airliner, killing 224
people. On November 12, ISIS claimed responsibility for a double-suicide bombing of a busy shopping street in a
Hezbollah stronghold in Beirut that left forty-four people dead. There were bombings in Baghdad. And then there was
Paris.
In fact none of these targets is random. What they show is that ISIS is now determined to launch attacks against those
states that are waging war against it. Turkey has just given the US government permission to use some of its airbases
for strikes against ISIS; Hezbollah is helping Bashar al
-Assad fight ISIS. The Russians are now bombing ISIS and other groups, while the French are crucial partners in the anti
-ISIS coalition. French warplanes bombing ISIS from runways in the Gulf states are about to get a fresh boost as the French government sends its only aircraft carrier to the Gulf.
ISIS's message is thus clear —the group is waging an all-out deliberate war against all those countries that are lining up
to fight it. Again, this is not an attempt to take down the Western order, in the way that al-Qaeda was trying to do,
nor is it a reaction to the evils of Western heathens.
It is a direct reaction to what is being done to ISIS by coalition
forces. ISIS is trying to weaken and divide the coalition into those countries that may now act more cautiously or even
pull out of the coalition, and those that will stay and will continue to be targeted by ISIS. There is already evidence
that the Arab Gulf countries—including Saudi Arabia, which has the largest air force in the region—have drastically
reduced their contribution to the bombing campaign in Syria. Instead they have focused on their war in Yemen, which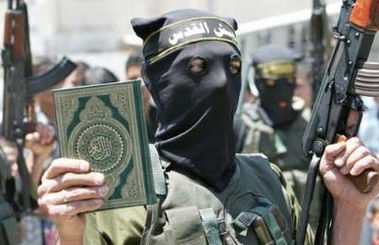 You Can't Understand ISIS If You Don't Know the History of Wahhabism in Saudi Arabia
The dramatic arrival of Da'ish (ISIS) on the stage of Iraq has shocked many in the West. Many have been perplexed — and horrified — by its violence and its evident magnetism for Sunni youth. But more than this, they find Saudi Arabia's ambivalence in the face of this manifestation both troubling and inexplicable, wondering, "Don't the Saudis understand that ISIS threatens them, too?"
It appears — even now — that Saudi Arabia's ruling elite is divided. Some applaud that ISIS is fighting Iranian Shiite "fire" with Sunni "fire"; that a new Sunni state is taking shape at the very heart of what they regard as a historical Sunni patrimony; and they are drawn by Da'ish's strict Salafist ideology.
Other Saudis are more fearful, and recall the history of the revolt against Abd-al Aziz by the Wahhabist Ikhwan (Disclaimer: this Ikhwan has nothing to do with the Muslim Brotherhood Ikhwan — please note, all further references hereafter are to the Wahhabist Ikhwan, and not to the Muslim Brotherhood Ikhwan), but which nearly imploded Wahhabism and the al-Saud in the late 1920s.
Many Saudis are deeply disturbed by the radical doctrines of Da'ish (ISIS) — and are beginning to question some aspects of Saudi Arabia's direction and discourse.
THE SAUDI DUALITY
Saudi Arabia's internal discord and tensions over ISIS can only be understood by grasping the inherent (and persisting) duality that lies at the core of the Kingdom's doctrinal makeup and its historical origins.
One dominant strand to the Saudi identity pertains directly to Muhammad ibn ʿAbd al-Wahhab (the founder of Wahhabism), and the use to which his radical, exclusionist puritanism was put by Ibn Saud. (The latter was then no more than a minor leader — amongst many — of continually sparring and raiding Bedouin tribes in the baking and desperately poor deserts of the Nejd.)
The second strand to this perplexing duality, relates precisely to King Abd-al Aziz's subsequent shift towards statehood in the 1920s: his curbing of Ikhwani violence (in order to have diplomatic standing as a nation-state with Britain and America); his institutionalization of the original Wahhabist impulse — and the subsequent seizing of the opportunely surging petrodollar spigot in the 1970s, to channel the volatile Ikhwani current away from home towards export — by diffusing a cultural revolution, rather than violent revolution throughout the Muslim world.
But this "cultural revolution" was no docile reformism. It was a revolution based on Abd al-Wahhab's Jacobin-like hatred for the putrescence and deviationism that he perceived all about him — hence his call to purge Islam of all its heresies and idolatries.
MUSLIM IMPOSTORS
The American author and journalist, Steven Coll, has written how this austere and censorious disciple of the 14th century scholar Ibn Taymiyyah, Abd al-Wahhab, despised "the decorous, arty, tobacco smoking, hashish imbibing, drum pounding Egyptian and Ottoman nobility who travelled across Arabia to pray at Mecca."
In Abd al-Wahhab's view, these were not Muslims; they were imposters masquerading as Muslims. Nor, indeed, did he find the behavior of local Bedouin Arabs much better. They aggravated Abd al-Wahhab by their honoring of saints, by their erecting of tombstones, and their "superstition" (e.g. revering graves or places that were deemed particularly imbued with the divine).
All this behavior, Abd al-Wahhab denounced as bida — forbidden by God. www.huffingtonpost.com/alastair-crooke/isis-wahhabism-saudi-arabia_b_5717157.html
How 'Fat Leonard' fleeced the fleet
Everything about Leonard Glenn Francis is big, too.
He stands 6-foot-3 and once weighed well over 350 pounds, with an ear-to-ear grin that creased his jowly face. His stature earned him the memorable nickname of "Fat Leonard" among the scores of Navy personnel who came to know him during the two decades his company, Glenn Defense Marine Asia or GDMA, provided services and support to Navy ships visiting ports across southeast Asia.
The oversized businessman and the huge fleet — the largest numbered fleet in the entire Navy — partnered to create the largest and potentially most far-reaching bribery and fraud scandal in the service's history.
n January, Francis pleaded guilty to bribery and fraud charges in federal court in San Diego. He's agreed to forfeit $35 million to the government, a portion of the gross proceeds from the scheme. He's been cooperating extensively with prosecutors and investigators ever since, court records show.
Six others, including a Navy captain and a commander, have also pleaded guilty. Sources connected to the case expect more indictments to come.  www.sandiegouniontribune.com/news/2015/nov/14/fat-leonard-seventh-fleet/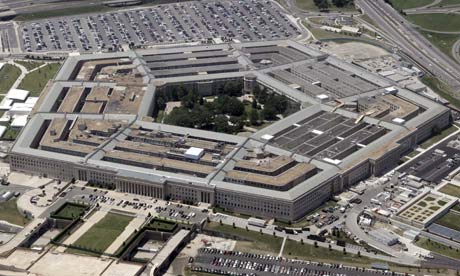 The Pentagon Knew These Gun Parts Were Bad — But Shipped Them to Soldiers Anyway
An investigation by Motherboard found that the US Department of Defense shipped thousands of defective gun parts to US soldiers — and that many of those parts exploded, wounding service members in the line of duty.
Motherboard poured over thousands of pages of DoD audits, quality-deficiency reports, and contracts, and interviewed dozens of current and former military officials and weapons experts to map out a disturbing pattern of neglect and abuse in the defense establishment.
The investigation reveals that the DoD did not conduct the proper tests on several guns used in the field, and did not respond in a timely fashion to reports of defective equipment. In fact, the Pentagon repeatedly awarded new contracts to companies with bad records. It even waived quality testing in some cases.
The scandal centers around two widely-used machine guns: the M249 light machine gun and the M2 heavy machine gun. The latest audit shows 54,000 M2s in the military's inventory. And about 80,000 M249s had been made as of 2008, according to the latest data from its maker, FN Manufacturing. Both guns are known to explode in the hands of soldiers when they jam — an occurrence that is made much more likely when the gun is fitted with defective parts. https://news.vice.com/article/the-pentagon-knew-these-gun-parts-were-bad-but-shipped-them-to-soldiers-anyway
The International Economic War of the Rich on the Poor
Re-Colonizing Detroit: The Rich Continue to Loot The City (Leduff video embedded)
The City of Detroit says it's busting blight block by block. The city's goal is 100 a week but the numbers aren't even close. During the big Angels' Night blitz in the last week of October, they took down just 29 structures. Last week, it was 40. In those two weeks combined, it's not even 100.
The city said everything was great about demolition and the $100 million in federal bucks used to pay for it. At least, they did until Charlie called Mayor Mike Duggan on his minions on the skyrocketing costs of demolition.  When Charlie found out about secret negotiations between the city and preferred contractors – some of whom donate thousands to Duggan – the Mayor admitted to those secret meetings.  www.fox2detroit.com/the-americans-with-charlie-leduff/51530993-story
California–Poverty in the land of plenty From a quick glance at the headline numbers, California's economy looks to be in its strongest shape in years.
Over the past four years, California has added jobs at a rate faster than all but six other states, and faster than the U.S. overall.
The state unemployment rate is at 5.9 percent, the lowest since November 2007, and significantly below the 25-year average of 7.5 percent.
But that swift economic growth hasn't improved the fortunes of California's poorest. The state's official poverty rate (based on a federal threshold of $24,230 for a family of four) is at 16.4 percent, according to the most recent census data from 2014, up from 12.4 percent in 2007. That puts California in about the top third of all states across the country.
The gap between 2007 and 2014 is higher than all but three other states (Nevada, Florida and New Mexico).
Moreover, many experts say the official poverty rate fails to account for variations in public benefits and costs of living. A separate federal benchmark, known as the Supplemental Poverty Measure, shows a much higher poverty rate for California: 23.4 percent, the highest in the nation, according to the most recent data. www.sandiegouniontribune.com/news/2015/nov/19/tp-poverty-in-a-land-of-plenty-booming-recover/
Water Means Life so Capitalism in Ca. Soaks the Poor  Outside her two-story tract home in this working-class town, Debbie Alberts, a part-time food service worker, has torn out most of the lawn. She has given up daily showers and cut her family's water use nearly in half, to just 178 gallons per person each day.
A little more than 100 miles west, a resident of the fashionable Los Angeles hills has been labeled "the Wet Prince of Bel Air" after drinking up more than 30,000 gallons of water each day — the equivalent of 400 toilet flushes each hour with two showers running constantly, with enough water left over to keep the lawn perfectly green.
Only one of them has been fined for excessive water use: Ms. Alberts.  Four years into the worst drought in California's recorded history, the contrast between the strict enforcement on Californians struggling to conserve and the unchecked profligacy in places like Bel Air has unleashed anger and indignation — among both the recipients of the fines, who feel helpless to avoid them, and other Californians who see the biggest water hogs getting off scot-free.   www.nytimes.com/2015/11/22/us/stingy-water-users-in-fined-in-drought-while-the-rich-soak.html?hp&action=click&pgtype=Homepage&clickSource=story-heading&module=photo-spot-region&region=top-news&WT.nav=top-news&_r=0
Obamagogue Care Obamacare in trouble? This week, UnitedHealth Group, America's largest health insurer, announced that it had sustained heavy losses in selling insurance on the Obamacare exchanges and that it might be forced to pull out of the exchanges altogether. The news from other insurers is not much better. Aetna, Anthem, and Cigna, three of UnitedHealth's biggest competitors, will no longer offer exchange coverage in a number of counties across the country, which could be a sign that they'll retrench even further in the future. You might have heard that insurance premiums on the exchanges are rising substantially, which isn't exactly welcome news. But the bigger problem is arguably that insurers have been trying to hold down premium increases by narrowing the range of providers in their networks and hiking deductibles as high as they can. The result has been a spate of stories about disgruntled insurance beneficiaries, many of whom blame Obamacare for their woes. www.slate.com/articles/news_and_politics/politics/2015/11/unitedhealth_group_sustaining_heavy_losses_is_obamacare_doomed.html
The Emergence of Fascism as a Popular Mass Movement
After Paris Attacks, C.I.A. Director Rekindles Debate Over Surveillance
A diabolical range of recent attacks claimed by the Islamic State — a Russian airliner blown up in Egypt, a double suicide bombing in Beirut and Friday's ghastly assaults on Paris — has rekindled a debate over the proper limits of government surveillance in an age of terrorist mayhem.
On Monday, in unusually raw language, John Brennan, the C.I.A. director, denounced what he called "hand-wringing" over intrusive government spying and said leaks about intelligence programs had made it harder to identify the "murderous sociopaths" of the Islamic State.
Mr. Brennan appeared to be speaking mainly of the disclosures since 2013 of the National Security Agency's mass surveillance of phone and Internet communications by Edward J. Snowden, which prompted sharp criticism, lawsuits and new restrictions on electronic spying in the United States and in Europe   www.nytimes.com/2015/11/17/us/after-paris-attacks-cia-director-rekindles-debate-over-surveillance.html?emc=edit_tnt_20151117&nlid=2254121&tntemail0=y&_r=0
Chicago Cop Kills Kid For months, leaders here watched as other cities faced angry demonstrations over police conduct, shootings and relations with black people, often captured in painful videos. As cities like Ferguson, Mo., Baltimore and New York have been consumed by fatal encounters involving the local police that have fueled national attention since 2014, this city managed to keep a lower profile.
But Chicago now finds itself grappling with the prospect of having its own moment. The city has been ordered to release, within days, a police video of the fatal shooting of a black 17-year-old by a white police officer. Even the officer's lawyer has described the video, which the city sought for months to block from public view, as "graphic" and "violent" and "difficult to watch at some points
With the memories of discord in other cities so fresh, leaders in Chicago, which has a history of tension over race and policing, have been holding urgent private talks with community activists. Law enforcement officials are trying to anticipate what response the video may bring, and how best to prepare police forces here for that. And the mayor, Rahm Emanuel, appeared to try to calm the city, taking the unusual steps of condemning the police officer and urging prosecutors to take action in the case before the release of the video.  www.nytimes.com/2015/11/22/us/chicago-set-for-protests-over-shooting-by-the-police.html?hp&action=click&pgtype=Homepage&clickSource=story-heading&module=second-column-region&region=top-news&WT.nav=top-news
Solidarity for Never
Gangster Dues Collecting Machine for Hillbillary
UAW Bosses Ram Through Big 3 Contracts UAW talks are finally complete with Ford workers narrowly voting to approve their new four-year agreement late Friday after a nail-biting process that kept everyone guessing until the final ballots were cast and counted.
UAW production members voted 51% in favor; skilled trades were 52% in favor and almost 92% of salaried workers voted yes.
The results came hours after General Motors formally ratified its agreement and months after the arduous negotiating session began to replace the outgoing four-year contracts for all three Detroit automakers. Those contracts were to expire Sept. 14 but were extended.
With the new contracts in place, GM, Ford and Fiat Chrysler Automobiles can look forward to four years of labor peace and prosperity as the industry heads to record U.S. sales and healthy profits margins with consumers buying more expensive trucks and crossovers. www.freep.com/story/money/cars/ford/2015/11/20/ford-workers-approve-uaw-contract-slim-margin/76136322/
Spy versus Spy
Jonathan J. Pollard, the American convicted of spying on behalf of Israel, will walk out of prison on Friday after 30 years, but the Obama administration has no plans to let him leave the country and move to Israel as he has requested.
Mr. Pollard, who as a Navy intelligence analyst passed classified documents to Israeli handlers, was due to be released from a federal prison in Butner, N.C., after receiving parole on a life sentence, ending a long imprisonment that has been a constant irritant in relations between the United States and Israel.
Under federal parole rules, Mr. Pollard cannot leave the country without permission for at least five years. But his wife, Esther, lives in Israel and he has asked to be reunited with her there. Prime Minister Benjamin Netanyahu of Israel personally raised the request in a meeting with President Obama earlier this month, but the president was unmoved, according to American officials and the Israeli news media.  www.nytimes.com/2015/11/20/us/politics/after-30-years-in-prison-jonathan-pollard-to-be-freed-but-not-to-israel.html?hp&action=click&pgtype=Homepage&clickSource=story-heading&module=first-column-region&region=top-news&WT.nav=top-news
The Magical Mystery Tour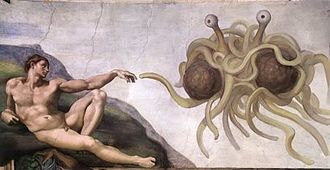 Lowell, Massachusetts, resident Lindsay Miller recently won a legal battle to allow her to wear the traditional Pastafarian colander head covering in her driver's license photo. www.people.com/article/pastafarian-wins-right-wear-colander-dmv-photo
Massachusetts 'Pastafarian' Wins Right to Wear Colander on Her Head in License Photo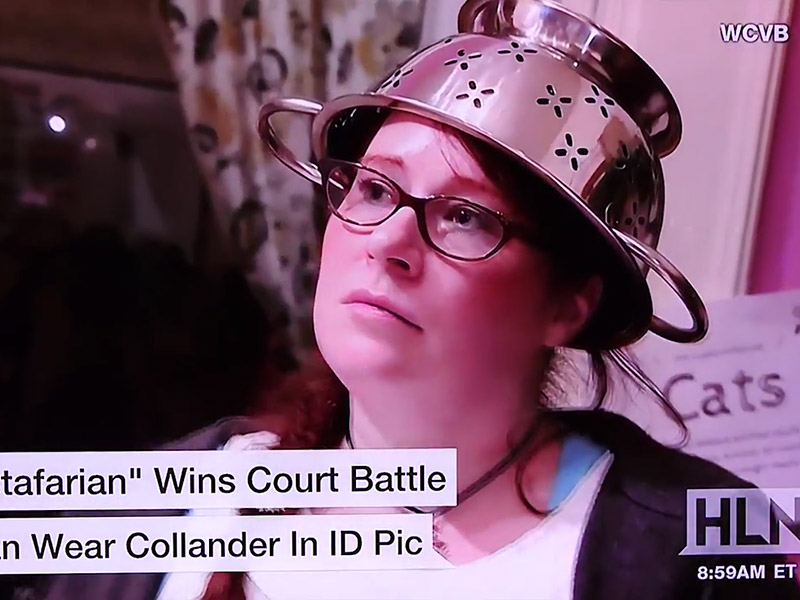 Long Island Family Sues Catholic Order and Diocese in Molestation Case
In 2009, Augusto Cortez, a Roman Catholic priest, pleaded guilty to forcible touching of a 12-year-old girl in Brooklyn. He was sentenced to six years of probation but was allowed to remain a member of his religious order.
Last year, a couple in Hampton Bays, on Long Island, who had known Mr. Cortez for years, accused him of molesting one of their daughters, now 8. He was interviewed by the Southampton Town Police and released, but he quickly vanished and became a fugitive, the authorities said.
On Monday, the Hampton Bays family sued Mr. Cortez's Catholic order as well as the Roman Catholic Diocese of Rockville Centre, where he had worked, alleging they had been "negligent, careless and reckless" in failing to properly train and supervise Mr. Cortez, 52, and to warn the family about his "propensity to sexually molest youth."
The family's lawyer, Michael Dowd, said in an interview: "To let this guy run around is crazy. It points to the fact that they're still not taking this stuff seriously."
Augusto Cortez, a priest. Credit U.S. Department of Justice
A spokeswoman for the regional division of the order, the Congregation of the Mission, denied the allegations of negligence and said, "We will respond to these issues in court."  www.nytimes.com/2015/11/17/nyregion/long-island-family-sues-catholic-order-and-diocese-after-alleged-molestation.html?hp&action=click&pgtype=Homepage&clickSource=story-heading&module=second-column-region&region=top-news&WT.nav=top-news&_r=0
The Best and Worst Things in the History of the World
So Long