September 20th, 2014 / Author: rgibson
We Say Fight Back!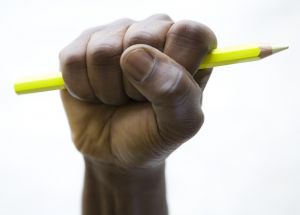 Modern Transformations and the Challenges of Inequality in Education in India
Delhi, 27th-29th November, 2014
Conference organized by the Department of History, Delhi University in Collaboration with Ramjas College, Delhi University
Venue: Ramjas College, Delhi University, (North Campus), Delhi 110007.
The Department of History, Delhi University in collaboration with Ramjas College, Delhi University is organizing an international conference on 'Modern Transformations and the Challenges of Inequalities in Education in India' on 27th-29th November 2014 in Delhi University. The conference is sponsored by Indian Council for Historical Research (ICHR) and Indian Council of Social Science Research (ICSSR). It broadly intends to deliberate on the following areas:
History of education and Struggle for Equality;
Education and Neoliberalism: Historical roots and Contemporary Perspectives;
Curricular Knowledge and Natural and social Sciences: Colonial Trajectories and Contemporary Perspectives and Transformations;
Questioning the Curricular Divide: The Context of Arts and Physical Education;
Language and inequality;
Perspectives on Exclusion and Education: Class, Caste, Tribal and Other Socio-Religious Groups; Gender and Disability;
Teachers and Teacher Education: The Question of Transformation;
Visions of Counter Hegemony: Resources for Reconstructing Education.
For details, please see—
Concept Note
Abstracts of Papers
Conference Organizing Team  http://www.vikasinterventions.in/educationconference2014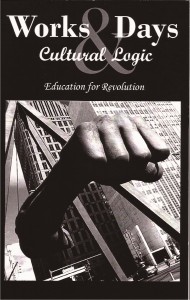 See inside for Alan Spector on SDS and More: SDS, the 1960s, and Education for Revolution: Alan Spector  —http://clogic.eserver.org/2013/Spector.pdf
For all the righteous indignation it inspired, the Ferguson turmoil has become the latest in a series of flash-in-the-pan causes that peter out without inspiring lasting movements for racial justice. As an organizer for the Student Nonviolent Coordinating Committee (SNCC) in Mississippi during the '60s, what I learned was the importance of organizing at the grass-roots and how even small actions at this level can have national impact. That is why I cannot help but notice that many black leaders, in their efforts to drive change, are ignoring some of the great lessons of the Southern Freedom Movement. For one, the black leaders we most often see in the public eye have become experts at complaining about what the white man does to black people. Al Sharpton and others fill their rhetoric with fury about the white power structure, but ultimately serve messages that are superficial and myopic. To be clear, I am no right-wing ideologue blaming black people for the oppression that has beset them for generations. At 71 years old, I have experienced my share of brutal and dismissive racism. But this one-track approach will not generate change. Perhaps the great lesson of the southern Civil Rights Movement is that as much as it challenged white supremacy, it was the challenges that black people made to one another that truly empowered the movement. For example, the Rev. Martin Luther King Jr. emerged as a leader in 1955 only after he was challenged in his own church in Montgomery, Ala. People had gathered there to consider extending the successful one-day bus boycott until the city agreed to desegregate its buses. Several ministers raised concerns and gave excuses for why the boycott should end. E.D. Nixon, a leader in the Brotherhood of Sleeping Car Porters, accused the ministers of cowardice. It was then that the 26-year-old King stood up and proclaimed, "I am not a coward." The now-embarrassed group agreed to extend the boycott, established the Montgomery Improvement Association, and made King its leader. – See more at: http://www.portside.org/2014-09-20/ferguson-forgotten-lessons-civil-rights-movement#sthash.ZECjpJc5.dpuf  Charles Cobb is the author of This Non-Violent Stuff'll get you Killed.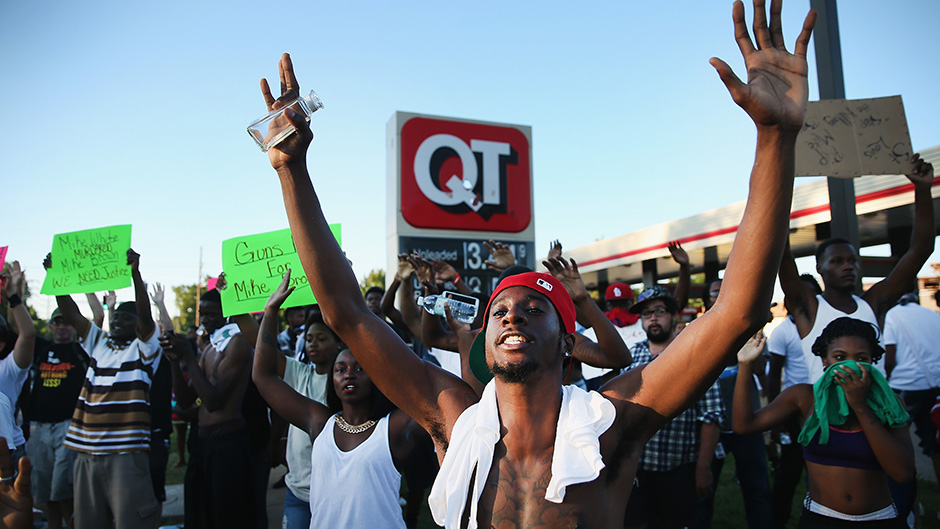 Protests force reactionary Ravitch's Fave Superintendent to Return Mrap But San Diego Supt. Cindy Marten, in announcing the decision to return the vehicle, said that "some members of our community are not comfortable with the district having this vehicle.  http://www.latimes.com/local/lanow/la-me-ln-san-diego-military-vehicle-20140918-story.html
Colbert on Cindy Marten's Mrap http://thecolbertreport.cc.com/videos/arckqm/viggo-mortensen
Four Arrows: "False Doctrine" and the Stifling Of Indigenous Political Will  there is a correlation between the failure of Indigenous politics to achieve its goals and the sway of what Thomas Paine refers to as the false doctrine of Christian dogma. Unremitting evangelism and Christian hegemony has led to silencing or compromising authentic grassroots voices of too many Indigenous people. High conversion rates have weakened opportunities for resistance to colonialism and the loss of vital traditional values…more at http://ojs.library.ubc.ca/index.php/criticaled/article/view/184496
Florida Teacher Halts State Exams Education Commissioner Pam Stewart ended the Florida Assessments for Instruction in Reading, known as the FAIR test, in kindergarten through second grade. In its place, teachers will observe children's reading abilities in a more informal setting than the online exam, which recently experienced glitches.
Stewart announced the change in a memo to superintendents.
"It's amazing," said Susan Bowles, the Alachua County kindergarten teacher whose widely publicized refusal to administer FAIR this fall sparked the state's move. "I am very grateful that they have seen that the test was not a good thing for children."
Unlike other tests, FAIR is used solely to monitor students' progress and has no impact on school grades or funding. But Bowles and other advocates expressed hope that the next step would be a wider discussion about testing in Florida schools.
"There is a yearning from teachers and parents that the whole testing structure and mentality get looked at and changed," she said.   http://www.tampabay.com/news/education/testing/florida-suspends-a-controversial-exam-as-debate-widens-over-school-testing/2197837
Call for Chapters: My colleagues and I are working on new and exciting book project investigating the intersection of educational technology and social justice.
We welcome submissions critically interrogating the role of technology in schools and reframing its use in classrooms.  
Please see attached document for more detailed information.  http://goo.gl/ZFqRA2
Please submit brief descriptions of chapters through September 24, 2014 to
elmiller@csufresno.edu
with "Educational Technology and Social Justice" in the subject line.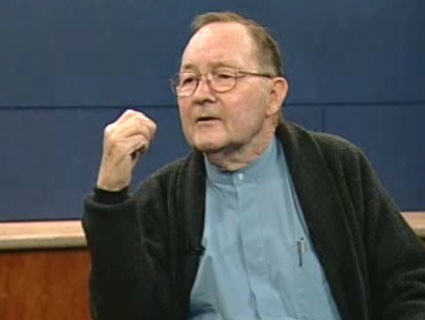 Chalmers Johnson: On Revolution—Causes:
*power deflation, dependence on more and more force.
*loss of authority, use of force seen as illegitimate
* accelerators: events that make armies mutiny, revolutionary leaders decide to move,
much more http://richgibson.com/johnsonquotes.htm
The Little Red Schoolhouse
San Diego's New MRAP was Contracted by Diane Ravitch's Fave Superintendent and Her alone  At a Wednesday news conference held in response to media coverage of the vehicle, San Diego Unified School District Police Chief Ruben Littlejohn said it doesn't mean the military is moving into San Diego's education system.
"It's not police militarizing schools," he said at the school's district headquarters in Normal Heights.  http://www.kpbs.org/news/2014/sep/10/san-diego-unified-new-mrap-not-tank/
LAUSD Police Arsenal Includes Armored Vehicle, Grenade Launchers, Chief Confirms  Prompting criticism, the head of LAUSD's school police department has confirmed that the agency obtain a mine-resistant vehicle, three grenade launchers and 61 assault rifles under a Pentagon program, the Los Angeles Times reported.
The arsenal was provided by the Department of Defense's excess property program, also known as the 1033 Program, which supplies surplus military weapons to local law enforcement. The program has distributed more than $5 billion worth of equipment since its inception in 1997, according to its website.
The "militarization" of police agencies under the 1033 Program has come under the spotlight in recent weeks in part due to the police response to protests in Ferguson, Missouri, after an officer's fatal shooting of unarmed teen Michael Brown on Aug. 9. Officers holding rifles were seen clad in military gear and gas masks while armored vehicles rolled along streets.  http://ktla.com/2014/09/15/lausd-police-arsenal-includes-armored-vehicle-grenade-launchers-chief-confirms/
Listing the Military Surplus Weapons now in California Schools  https://www.muckrock.com/news/archives/2014/sep/08/california-releases-1033-program-data/
Erased from Liberal and Radical Education Theory: the Capitalism to School to Capitalism and Empire Pipelines
The Bottomless LA IPad Scandal  an evaluation of the iPads-for-all project in Los Angeles schools found that only 1 of 245 classrooms surveyed even used the costly curriculum.
The analysis, conducted by an outside firm, also highlighted other problems, including the pace of the rollout last year at 47 schools in the Los Angeles Unified School District. It found that district staff was so focused on distributing devices that little attention could be paid to using iPads effectively in the classroom.
The early goal "was to just get the devices out, that was basically it, just get the devices out, use them as quick as possible … there were other goals … they were talked about but they really didn't get implemented," the report quoted one technical specialist as saying.
A "district leader" commented: "We didn't have enough people so everyone was working on deployment … that really, really impacted our professional development rollout, in fact we barely had one because of that."  …All told, the nation's second-largest school system has purchased 109,000 iPads so far; 62,000 contain the Pearson curriculum. It was left off devices purchased late last year for use in state standardized testing. To date, the district has spent $61 million on the iPads, including carts to charge them.  http://www.latimes.com/local/lanow/la-me-ln-la-unified-ipad-curriculum-20140917-story.html#navtype=outfit
UTLA Switches Tactics: "FIRE DEASY" (of the fake degree) The Los Angeles teachers union has given up one of its oldest and loudest refrains, calling on LA Unified chief John Deasy to resign. Instead, UTLA appears to be changing tactics; it is urging the school board to fire the superintendent.
In a press statement, UTLA says it wants the board to downgrade Deasy's performance to "unsatisfactory" at his annual evaluation, scheduled to take place behind closed doors on October 21. That would effectively spell the end to the superintendent's contract which – at his own insistence – stipulates he meet performance targets set by the board.
"Deasy must be held accountable for the iPad fiasco and MiSiS crisis……[he] holds teachers accountable for their classroom programs, yet he cries foul when serious questions are raised by his supervisors," UTLA said in a statement yesterday.  http://laschoolreport.com/teachers-union-changes-tactics-urges-board-to-fire-deasy/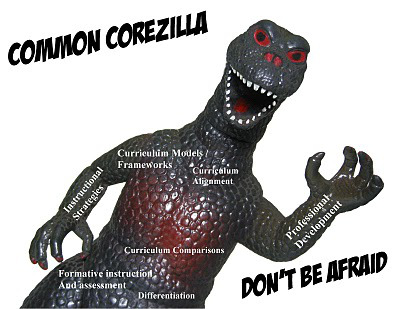 Common Core math standards add up to big money for education companies  A few companies are using the Common Core craze as a reason to sell more stuff and make more money. Stacy Monsman, a math coach in an Ohio school district, noticed a glut of products almost immediately.
"When Common Core comes out, literally within a few weeks you saw materials with that sticker on it and there's no way, the Common Core just came out," she said. "There's no way that a good thorough job could have been done to truly incorporate everything into some kind of material."
But Gojak and others say most vendors really want to align their products with the Common Core — whether they are textbook publishers who are rewriting lesson plans, or the creators of MOOCs aimed at explaining the standards to teachers. But all this change takes time.
So in the short term, at least, teachers need to be cautious consumers, said Greta Anderson, the chair of the math department at New Orleans' Dibert elementary school.
"Everything is saying right now that they are 'Common Core-aligned' and some things are really top notch and others aren't," Anderson said. "It takes deeply knowing the standards. It takes looking at the whole package and not just the best sample unit that's out there."
One red flag that Anderson and Monsman have spotted? Math programs with too many gimmicks and shortcuts.   http://hechingerreport.org/content/common-core-math-standards-add-big-money-education-companies_17348/
US Government Discovers a particularly capitalist school he U.S. Consumer Financial Protection Bureau sued Corinthian Colleges Inc. on Tuesday, alleging that the ailing Orange County for-profit college operator deceived tens of thousands of students through an "illegal predatory lending scheme."
The lawsuit adds to a lengthy list of legal and regulatory woes for Corinthian, which announced in July that it would sell 85 of its campuses and close more than a dozen others amid a crackdown by the U.S. Education Department.   http://www.latimes.com/business/la-fi-corinthian-predatory-lending-20140917-story.html#navtype=outfit\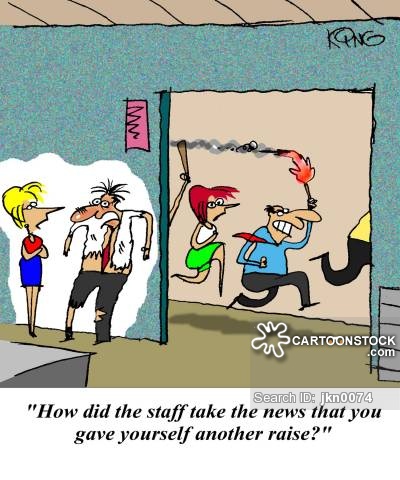 Regents OK raises up to 20% for UC chancellors  UC regents Thursday awarded pay increases of as much as 20% to the leaders of the Santa Barbara, Santa Cruz, Merced and Riverside campuses and set the annual salary of the new UC Irvine chancellor, Howard Gillman, at $485,000. 
The regents said the raises were a first step over the next three years to bring the 10-campus heads up to nationally competitive rates of rival research institutions. Some UC chancellors had not had increases in seven years until July, when they received a 3% hike. The pay scale is now awkwardly structured so that some veteran chancellors are paid significantly less than those who were more recently hired, the regents said…..
Gillman's $485,000 is $93,000 higher than that of predecessor Michael Drake, who recently left Irvine to head Ohio State University. Gillman, who won unanimous regents' approval as chancellor Thursday, had been UC Irvine's interim chancellor since June and came to the 29,000-student campus in Orange County as provost and executive vice chancellor a year before that.
The regents also focused on chancellors with the lowest annual salaries. They brought three of them up to $383,160, which meant 20% raises for George Blumenthal of UC Santa Cruz and Dorothy Leland of UC Merced and 5.1% for UC Riverside's Kim Wilcox; a 20% increase gives UC Santa Barbara's Henry Yang $389,340.c Comments
Clark Kerr kept his salary low when he was chancellor at UC Berkeley. This is what he said: Quote: I did not want to become too attached to any perquisites of the office. I never wanted to feel compelled to conform against my will. I wanted to feel independent, to be able to say "no" as well as…
UC San Francisco's Sam Hawgood, who started in July, is the highest-paid UC chancellor, at $750,000. In hoping to erase disparities, regents noted that Gene Block, who came to UCLA in 2007, is paid $428,480, which is below what Gillman will be paid at a smaller campus. (In addition to salaries, chancellors receive housing or housing allowances.)  UC President Janet Napolitano (fascist)/…..http://www.latimes.com/local/education/la-me-uc-pay-20140919-story.html
Ex-Red, Now Community College Boss, Turns College over to JP Morgan  Macomb Community College teams with JPMorgan Chase to push Metro jobs, internships—Macomb Community College and JPMorgan Chase will announce Tuesday a program to promote economic development and job growth in Metro Detroit.Called the Innovation Fund, the program will award entrepreneurs seed money in exchange for providing college students with internships.
"We're delighted to have JPMorgan support this program," said Jim Jacobs, the college's president. "It's a real vote of confidence for us."College and JPMorgan officials plan to unveil the program at a 2 p.m. news conference Tuesday at the school's Center Campus in Clinton Township.    From The Detroit News: http://www.detroitnews.com/article/20140916/METRO03/309160023#ixzz3DvaYHTWP
The International Hot War of the Rich on the Poor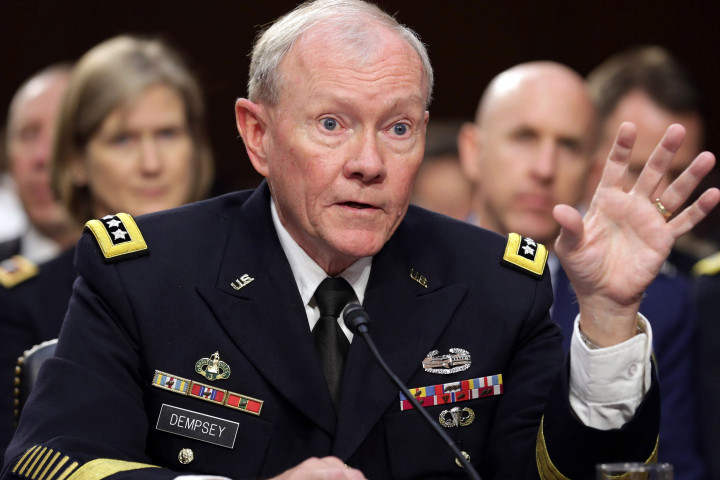 Top General Suggest US Troop Invasion Part 3: Iraq/Syria  The nation's top military leader told Congress on Tuesday that if President Obama's expanded military campaign to destroy Islamic extremists fails, he would recommend that the United States consider deploying American ground forces to Iraq.
Army Gen. Martin Dempsey, chairman of the Joint Chiefs of Staff, told a Senate panel that the goal for American advisers is to help Iraqi forces with planning, logistics and coordinating military efforts by coalition partners to take out members of ISIS.
"To be clear, if we reach the point where I believe our advisers should accompany Iraqi troops on attacks against specific ISIL targets, I will recommend that to the president," Dempsey told the Senate Armed Services Committees, using an alternative name for the group.  Pressed during questioning, Dempsey said he "would go back to the president and make a recommendation that may include the use of ground forces."
Obama has maintained that American forces will not have a combat mission in Iraq.  http://nypost.com/2014/09/16/army-general-to-congress-if-airstrikes-fail-us-should-deploy-ground-troops-in-iraq/
Rift widens between Obama, U.S. military over strategy to fight Islamic State  Flashes of disagreement over how to fight the Islamic State are mounting between President Obama and U.S. military leaders, the latest sign of strain in what often has been an awkward and uneasy relationship.
Even as the administration has received congressional backing for its strategy, with the Senate voting Thursday to approve a plan to arm and train Syrian rebels, a series of military leaders have criticized the president's approach against the Islamic State militant group.
Retired Marine Gen. James Mattis, who served under Obama until last year, became the latest high-profile skeptic on Thursday, telling the House Intelligence Committee that a blanket prohibition on ground combat was tying the military's hands. "Half-hearted or tentative efforts, or airstrikes alone, can backfire on us and actually strengthen our foes' credibility," he said. "We may not wish to reassure our enemies in advance that they will not see American boots on the ground."  http://www.washingtonpost.com/world/national-security/rift-widens-between-obama-us-military-over-strategy-to-fight-islamic-state/2014/09/18/ebdb422e-3f5c-11e4-b03f-de718edeb92f_story.html
You Can't Understand ISIS If You Don't Know the History of Wahhabism in Saudi Arabia  The dramatic arrival of Da'ish (ISIS) on the stage of Iraq has shocked many in the West. Many have been perplexed — and horrified — by its violence and its evident magnetism for Sunni youth. But more than this, they find Saudi Arabia's ambivalence in the face of this manifestation both troubling and inexplicable, wondering, "Don't the Saudis understand that ISIS threatens them, too?"
It appears — even now — that Saudi Arabia's ruling elite is divided. Some applaud that ISIS is fighting Iranian Shiite "fire" with Sunni "fire"; that a new Sunni state is taking shape at the very heart of what they regard as a historical Sunni patrimony; and they are drawn by Da'ish's strict Salafist ideology.
Other Saudis are more fearful, and recall the history of the revolt against Abd-al Aziz by the Wahhabist Ikhwan (Disclaimer: this Ikhwan has nothing to do with the Muslim Brotherhood Ikhwan — please note, all further references hereafter are to the Wahhabist Ikhwan, and not to the Muslim Brotherhood Ikhwan), but which nearly imploded Wahhabism and the al-Saud in the late 1920s.
Many Saudis are deeply disturbed by the radical doctrines of Da'ish (ISIS) — and are beginning to question some aspects of Saudi Arabia's direction and discourse.  http://www.huffingtonpost.com/alastair-crooke/isis-wahhabism-saudi-arabia_b_5717157.html
Free Syrian Army will not join US-led coalition against IS -  The Free Syrian Army has announced that it will not sign up to the US-led coalition to destroy Islamic State (IS) militants in Iraq and Syria. The group's founder, Colonel Riad al-Asaad, stressed that toppling Syrian President Bashar al-Assad is their priority, and that they will not join forces with US-led efforts without a guarantee that the US is committed to his overthrow. "If they want to see the Free Syrian Army on their side, they should give assurances on toppling the Assad regime and on a plan including revolutionary principles." The announcement appears to be reversing an earlier satement on Thursday by the National Coalition opposition, the Free Syrian Army's political wing, which said it was ready to work with the coalition against IS. Saying they had "long called for this action", the coalition called on US politicians to authorise the training and equipping of the Free Syrian Army "as soon as possible". – See more at: http://www.middleeasteye.net/news/syria-1651994714#sthash.e4edSMnU.dpuf
David Ignatius: U.S. boots are already on the ground against the Islamic State  Let's be honest: U.S. boots are already on the ground, and more are coming. The question is whether Obama will decide to say so publicly, or remain in his preferred role as covert commander in chief.   http://www.washingtonpost.com/opinions/david-ignatius-us-boots-are-already-on-the-ground-in-iraq-and-syria/2014/09/16/4fd35ace-3de5-11e4-b0ea-8141703bbf6f_story.html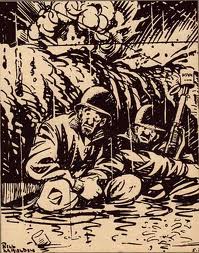 Obamagogue Begs Iran. Iran Just Says NO.   Iran on Monday spurned an American offer to cooperate in the fight against Islamic State militants, but the United States said the door remains open.
Iran's rebuff came as world powers meeting in the French capital agreed to use "any means necessary" to combat the militant force surging in Iraq and Syria.  http://www.washingtonpost.com/world/iran-wont-team-with-us-against-islamic-state/2014/09/15/92ea7648-3cd8-11e4-a430-b82a3e67b762_story.html?hpid=z1
In the cities and towns across the desert plains of northeast Syria, the ultra-hardline al Qaeda offshoot Islamic State has insinuated itself into nearly every aspect of daily life.  The group famous for its beheadings, crucifixions and mass executions provides electricity and water, pays salaries, controls traffic, and runs nearly everything from bakeries and banks to schools, courts and mosques.
While its merciless battlefield tactics and its imposition of its austere vision of Islamic law have won the group headlines, residents say much of its power lies in its efficient and often deeply pragmatic ability to govern.
Syria's eastern province of Raqqa provides the best illustration of their methods. Members hold up the province as an example of life under the Islamic "caliphate" they hope will one day stretch from China to Europe.
In the provincial capital, a dust-blown city that was home to about a quarter of a million people before Syria's three-year-old war began, the group leaves almost no institution or public service outside of its control.
"Let us be honest, they are doing massive institutional work. It is impressive," one activist from Raqqa who now lives in a border town in Turkey told Reuters.  http://news.yahoo.com/northeast-syria-islamic-state-builds-government-053326996.html?soc_src=mediacontentstory
The modern US army: unfit for service?  Gone are the days of the all-American army hero. These days, the US military is more like a sanctuary for racists, gang members and the chronically unfit  http://www.theguardian.com/world/2012/aug/31/us-army-racism-iraq-afghanistan
Idiot US General who used troops as cannon fodder–the good gossip is never ending  A federal judge Monday ruled that a Tampa businesswoman can go forward with a lawsuit alleging that the federal government violated her privacy in the investigation that led to the resignation of retired Gen. David H. Petraeus as CIA director in 2012.
U.S. District Judge Amy Berman Jackson threw out most of Jill Kelley's suit, including allegations that officials violated the Constitution by improperly releasing information about her in investigating threatening e-mails she received from Paula Broadwell, Petraeus's biographer and a former Army officer who was having an extramarital affair with him.
But Jackson ruled that Kelley and her husband, Scott, could pursue a claim under the Privacy Act that the FBI, Defense Department and as-yet unnamed government officials improperly leaked their names to the media, seeking damages and an apology.  http://www.washingtonpost.com/world/national-security/lawsuit-by-jill-kelley-socialite-involved-in-petraeus-case-allowed-to-go-forward/2014/09/15/ff7919be-3cfa-11e4-9587-5dafd96295f0_story.html?hpid=z5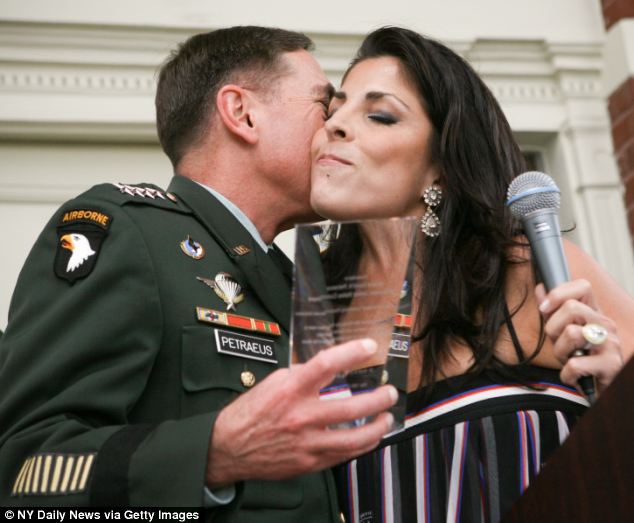 Robert Fisk on Isis campaign: Bingo! Here's another force of evil to be 'vanquished'  Resurrection, reinvention and linguistics. Barack Obama did the lot. And now he's taking America to war in Syria as well as Iraq. Oh yes, and he's going to defeat Isis, its "barbarism", "genocide", its "warped ideology" – until the bad guys are "vanquished from the earth". What happened to George W Bush?
But let's go through this with a linguistic comb. First, Obama is going to resurrect the Sunni "Awakening Council" militias – a creature invented by a certain General David Petraeus – who were paid to fight al-Qaeda by the Americans during the US occupation of Iraq, but who then got blasted by al-Qaeda and betrayed by the Shia-dominated Iraqi government. Obama has even invented a new name for these militias: he called them "National Guard Units" who will "help Sunni communities secure their own freedom from Isil". National Guard indeed!
Then there's the reinvention of the "moderate" Syrian opposition which was once called the Free Syrian Army – a force of deserters corrupted and betrayed by both the West and its Islamic allies – and which no longer exists. This ghost army is now going to be called the "Syrian National Coalition" and be trained – of all places – in Saudi Arabia, whose citizens have given zillions of dollars to al-Qaeda in Iraq, Isis, Isil, IS (you decide on the acronym), Jabhat al-Nusra and sundry other bad guys whom Obama now wants to "vanquish from the earth".
And then the linguistics. Obama "will not hesitate to take action against Isil in Syria". But that means that he is going to "vanquish" the enemies of the Syrian President, Bashar al-Assad, whom Obama was also going to "vanquish" last year – until he got cold feet and decided to leave him alone. So if the enemy of my enemy is my friend – as the Arabs supposedly tell each other – Assad can regard Washington as his new ally. (DO READ THE REST  http://www.independent.co.uk/voices/comment/robert-fisk-on-isis-campaign-bingo-heres-another-force-of-evil-to-be-vanquished-9727423.html)
But no. For then came the dodgy little explanations: America "cannot rely on an Assad regime that terrorises its people", a regime that "will never regain the legitimacy it has lost". But the US has never been asked to "rely" on Assad – it's Assad who relies for support on Russia. And Assad's legitimacy is accepted by China, Iran – with whom the Americans are having cosy nuclear talks – and Russia, whose armies clearly do not "hesitate to take action" in Ukraine.
There are 5o,000 homeless vets in the USA. Every summer, thousands of them come to San Diego for Stand-down–a tent city where they can get haircuts, counseling, a wash, etc. At the end of this, they parade…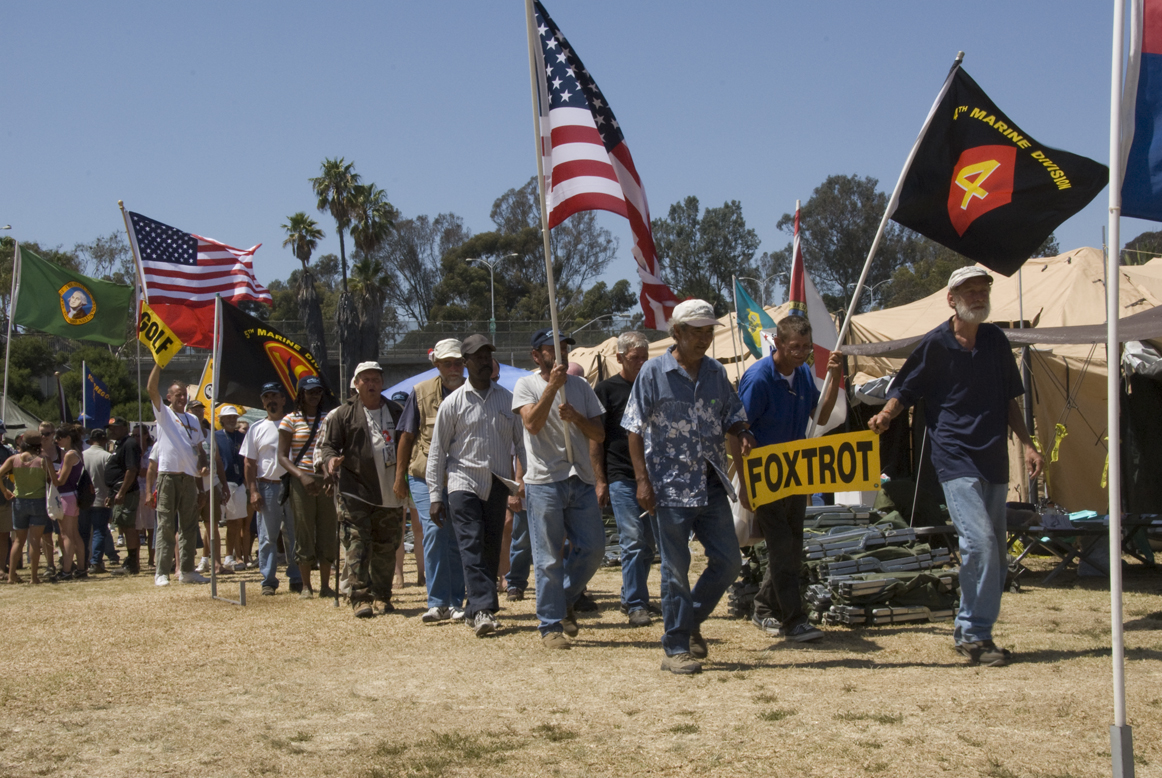 Bill Blum: Why do Americans love the Empire?  The American people are very much like the children of a Mafia boss who do not know what their father does for a living, and don't want to know, but then wonder why someone just threw a firebomb through the living room window.
This basic belief in America's good intentions is often linked to "American exceptionalism". Let's look at how exceptional US foreign policy has been. Since the end of World War 2, the United States has:
Attempted to overthrow more than 50 foreign governments, most of which were democratically-elected.
Dropped bombs on the people of more than 30 countries.
Attempted to assassinate more than 50 foreign leaders.
Attempted to suppress a populist or nationalist movement in 20 countries.
Grossly interfered in democratic elections in at least 30 countries.
Led the world in torture; not only the torture performed directly by Americans upon foreigners, but providing torture equipment, torture manuals, lists of people to be tortured, and in-person guidance by American teachers, especially in Latin America.  http://williamblum.org/aer/read/132
Interactive Map–Areas under Boko Haram Control (and on the attack) https://mapsengine.google.com/map/viewer?mid=zFRhTwLcBvyk.kmcXT1OC3zeM
The International Economic War of the Rich on the Poor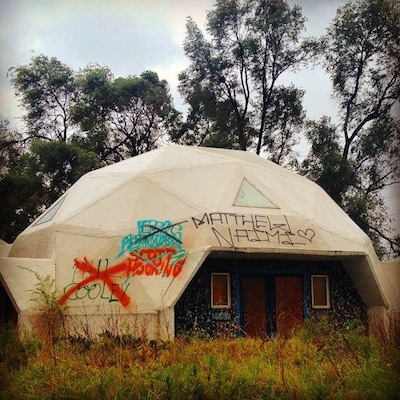 One fool said dome homes could save Detroit  http://www.metrotimes.com/Blogs/archives/2014/09/12/detroits-newest-unwanted-savior-dome-homes
Russell Sage/UMich: Wealth Inequality–in Depth Analysis of the rich richer/poor poorer and Marx was right  http://web.stanford.edu/group/scspi/_media/working_papers/pfeffer-danziger-schoeni_wealth-levels.pdf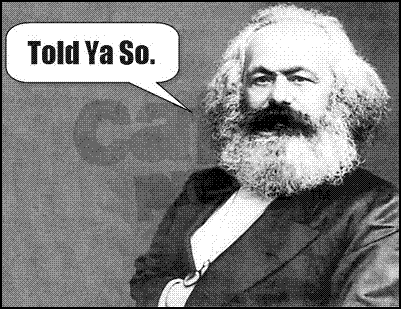 CIA Insider: The End of the World Is Nigh  You will want to remember this date March 17, 2015.
According to one of the top minds in the U.S. Intelligence Community, that is when the United States will enter the darkest economic period in our nation's history. A 25-year Great Depression.
And alarmingly, he and his colleagues believe the evidence they've uncovered proves this outcome is impossible to avoid.
In an exclusive interview with Money Morning, Jim Rickards, the CIA's Financial Threat and Asymmetric Warfare Advisor, has stepped forward to warn the American people that time is running out to prepare for this $100 trillion meltdown.
"Everybody knows we have a dangerous level of debt. Everybody knows the Fed has recklessly printed trillions of dollars. These are secrets to no one," he said.
"But all signs are now flashing bright red that our chickens are about to come home to roost."
During the discussion, Rickards shared a series of dangerous signals he fears reveals an economy that has reached a super critical state.
One of the signals the CIA is most concerned with is the Misery Index.
Decades back this unique warning sign was created for determining how close our country was to a social collapse. It simply adds the true inflation rate with the true unemployment rate.
However, the Federal Reserve has repeatedly changed the way the Misery Index has been calculated over the years. Which Rickards believes is now being used to cover up the true scope of the problem.   "Today you rarely hear the government talk about the Misery Index with the public," Rickards said. "The reason is they may not want you to know the truth. And the truth is, the Misery Index has reached more dangerous levels than we saw prior to the Great Depression. This is a signal of a complex system that's about to collapse."
Census Bureau on Poverty 2013  In 2013, the official poverty rate was 14.5 percent, down from 15.0 percent in 2012. This was the first decrease in the poverty rate since 2006.
In 2013, there were 45.3 million people in poverty. For the third consecutive year, the number of people in poverty at the national level was not statistically different from the previous year's estimate.
The 2013 poverty rate was 2.0 percentage points higher than in 2007, the year before the most recent recession.  https://www.census.gov/hhes/www/poverty/about/overview/
Food Stamp Cuts Hit States As of now, the cuts will only affect Michigan, Wisconsin, New Jersey and New Hampshire. All but New Hampshire have Republican governors.
There are about 1.8 million households that receive food stamps in those four states, out of almost 23 million households nationwide.
It's unclear exactly how many people will be affected. Officials in Wisconsin, New Jersey and New Hampshire said they don't track that number. Michigan officials say around 20 percent of the state's recipients, or around 170,000 households, participated in the "heat and eat" program and will see cuts.  From The Detroit News: http://www.detroitnews.com/article/20140917/POLITICS02/309170047#ixzz3Dcmh7D9i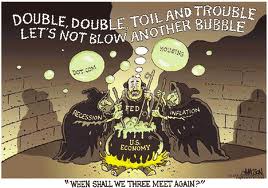 Bubble, Bubble…..Dow, S&P 500 at records as Fed-driven rally continues  U.S. stocks rose on Thursday, a day after the U.S. Federal Reserve kept intact its pledge to keep interest rates low, providing a backstop for investors that helped lift both the Dow and S&P to record highs.
The Fed said Wednesday at the conclusion of a two-day policy meeting it would keep interest rates near zero for a "considerable time," language supportive of equities which some had expected to be dropped from the statement.
The central bank's outlook on Wednesday included forecasts for higher-than-expected rates in 2015 and 2016, which helped financial stocks .SPSY rise 1.1 percent, leading the day's gains on Wall Street. Goldman Sachs (GS.N) rose 1.7 percent to $187.89, the biggest boost to the Dow.  http://www.reuters.com/article/2014/09/18/us-markets-stocks-idUSKBN0HD1B420140918
Six Years Ago this week, Lehman collapsed, lending further proof that capitalism does not work, leading to the finalization of the corporate state (bailouts–which cannot, unlike wars, be halted).  Nothing is in place to halt this from happening again. Next time will be worse. "Lehman Files for Bankruptcy; Merrill Is Sold"   In one of the most dramatic days in Wall Street's history, Merrill Lynch agreed to sell itself on Sunday to Bank of America for roughly $50 billion to avert a deepening financial crisis, while another prominent securities firm, Lehman Brothers, filed for bankruptcy protection and hurtled toward liquidation after it failed to find a buyer.
The humbling moves, which reshape the landscape of American finance, mark the latest chapter in a tumultuous year in which once-proud financial institutions have been brought to their knees as a result of hundreds of billions of dollars in losses because of bad mortgage finance and real estate investments.
But even as the fates of Lehman and Merrill hung in the balance, another crisis loomed as the insurance giant American International Group appeared to teeter. Staggered by losses stemming from the credit crisis, A.I.G. sought a $40 billion lifeline from the Federal Reserve, without which the company may have only days to survive.  http://www.nytimes.com/2008/09/15/business/15lehman.html?pagewanted=all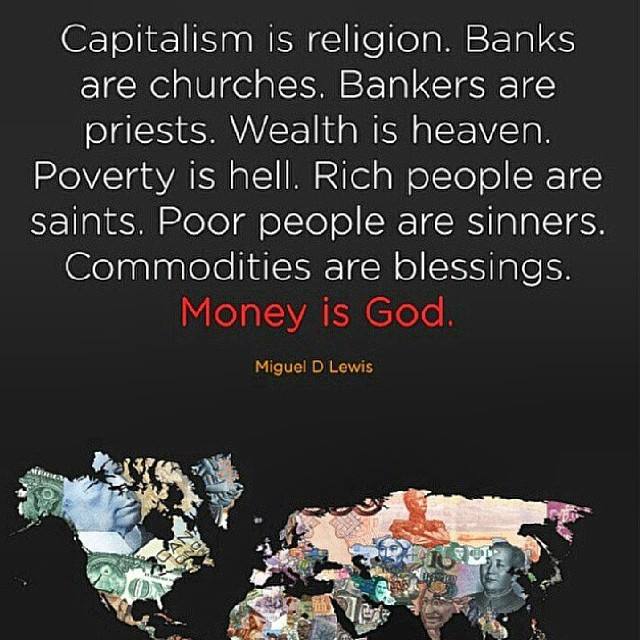 The epitome of capitalist patriotism: In the midst of the Great Financial Collapse, Hank Paulson approached Jamie Dimon (boss, JP Morgan) for help with a bailout. "Hank, I would do anything for the USA, but not at the expense of JP Morgan). 
Detroit in Ruins–Mexico becoming a major force in world's automotive industry  It might be a stretch to describe Aguascalientes in north-central Mexico as the new Detroit. But it wouldn't be a huge stretch.
Mexico's automotive sector is at full throttle, and Aguascalientes is one of several cities primed by foreign car manufacturers to rev its engines. Once a sleepy railway crossroads, Aguascalientes now has two massive auto plants and a third on the way. This is making it what one national newspaper called a "mini-Detroit."
"We're going to produce 1.1 million vehicles just in Aguascalientes by 2020," said Rodolfo Esau Garza de Vega, head of economic development in the state.  http://www.mcclatchydc.com/2014/09/17/240150/mexico-becoming-a-major-force.html#emlnl=Most_Popular_This_Week
Nearly every major global automaker now either builds in Mexico or plans to erect an assembly plant in the country. Billions in investment have arrived.
Mexico has leapfrogged other auto producing nations. In 2009, Mexico was the world's 10thlargest auto producer. But it's soared past Spain and France, and earlier this year it surged by Brazil to become the world's No. 7 automaker and the fourth largest exporter. Read more here: http://www.mcclatchydc.com/2014/09/17/240150/mexico-becoming-a-major-force.html#emlnl=Most_Popular_This_Week#storylink=cpy
Kingdom of Slaves  In the smallest Gulf kingdoms, upwards of 90 percent of residents are immigrant laborers. Many face unspeakable abuse.  Since FIFA picked Qatar to host the 2022 World Cup, the tiny and uber-rich Gulf emirate has increasingly come under scrutiny for its failure to protect the human rights of its burgeoning foreign workforce.
Qatar's 1.8 million foreign workers—who vastly outnumber the country's 300,000 native citizens—are frequently deprived of wages, trapped into permanent debt, exposed to hazardous working conditions, and denied the right to unionize. Approximately 1,000 foreign workers have died in Qatar since 2012, according to Qatar's government. Independent human rights organizations claim that the figure is even higher.
Amid growing international calls to pull the Cup from Qatar, Emir Sheikh Tamim bin Hamad Al Thani has promised new reforms aimed at safeguarding workers' rights. It remains to be seen whether he is serious.                      The physical toll on these workers is brutal. Between 2010 and 2012 alone, an estimated 700 Indian workers died in Qatar, and Nepali authorities say that hundreds of their own nationals have perished there as well. According to estimates by the International Trade Union Confederation (ITUC), without reforms to the region's labor laws and proper enforcement, some 4,000 workers could die on construction projects related to the 2022 World Cup alone. The ITUC reports that workers are often denied access to water and shade, and that the shelter reserved for them is unsanitary and dehumanizing.   http://fpif.org/kingdom-slaves/
The Emergence of Fascism as a Popular Mass Movement
The Partnership for Civil Justice Fund is pleased to announce an important victory in the ongoing case of peace activist Ray McGovern, the former CIA analyst, who was brutalized and arrested by officers in 2011 for standing in silent protest during a speech given by then Secretary of State Hillary Clinton.
The PCJF filed a civil rights lawsuit on behalf of Mr. McGovern, challenging the arrest and brutality, and seeking an injunction against the State Department related to its issuing a "Be On the Look-Out" (BOLO) alert against Mr. McGovern which directed agents to stop and question him on sight.
We have obtained the relief sought in the litigation against the Department of State and confirmed that the BOLO alert is now rescinded and that the U.S. State Department has advised other law enforcement that it is non-operational.
The reasons cited for issuing a BOLO alert against Ray included his "political activism, primarily anti-war" — a clearly unconstitutional basis.
Mr. McGovern's constitutional rights lawsuit against George Washington University and the officers who assaulted and arrested him is still going forward.
Solidarity for Never
Counterfeit Unionism in the Empire—It's a War Agenda   Since the Industrial Workers of the World (a grand vision but fatally flawed practice) were nearly demolished in the Palmer Raids of 1919, American unionism has been a false flag operation: not what most people think of as unionism.
*Every major labor leader in the US adopts the corporate-state view of unity of Labor Bosses, Government, and Corporations in the national interest. These are hardly "labor" unions in the strict sense of the word. They are the empire's unions. I assume the connections of labor and US intelligence are fairly well known and do not need to be explained. They are the unions of what now is, surely, the US corporate state.
*It follows that the Labor Bosses deceive people from the moment they join a union, the key lie being that none of labor's elites believe that workers and employers have contradictory interests–the very reason most people agree to send them money.
*The remarkable salaries of US Labor Bosses (past National Education Association president Reg Weaver made $696,949 in his last year in office) come directly from the fruits of US imperialism and war. They know that. They have been war hawks for decades, using the unions to promote the Empire's desires. They sit on the boards of the Social Democrats USA, the National Endowment for Democracy, The Albert Shanker Institute, The George Meany Center, and other fronts for the Central Intelligence Agency. Following the history of the American Federation of Labor, which sought to organize white men into craft (skill based) unions, and exclude most of the working class, the international operations of the AFL-CIO seek to demolish indigenous workers' struggles so, in theory, American workers will do better. Clearly, this failed.
*Union tops sell a pacified or disciplined work force for money from employers. That is the nucleus of "collective bargaining."  http://www.counterpunch.org/2013/10/23/counterfeit-unionism-in-the-empire/
Spy versus Spy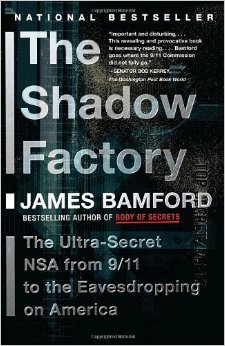 James Bamford on Snowden Bamford writes that Snowden's motivation to expose secret government documents, as a form of whistle-blowing on government abuses, grew as he learned about the NSA's tremendous capabilities and about a number of irresponsible U.S. spying programs.
For example, the NSA sent information on the communications of people in the United States — including personally identifiable information — to Israeli intelligence. In some cases, Bamford said Tuesday, the Israelis used the information to pressure relatives of Palestinian Americans to become collaborators and informants.
Snowden also discussed the agency's efforts to gather information about the personal vulnerabilities of government critics, not terrorists, which reminds Bamford of how the FBI tried to use Martin Luther King Jr.'s infidelity against him.
The NSA, writes Bamford, has an ability to map the movement of everyone in a city by monitoring their MAC address, a unique identifier emitted by every cellphone, computer and other electronic device
Bamford's article in Wired reports that Snowden says he decided to take action soon after he learned about the NSA's use of special computer software that detects a foreign cyberattack and then automatically counterattacks, with no human decision-making.
Bamford writes that Snowden told him that an initial cyberattack, which can be a spoof, is often routed through computers in innocent third countries and that he fears that such a counterattack could start a war someday.
Bamford's article says an NSA spokesperson declined to comment on that matter and other specifics.
Bamford worked for the NSA in Hawaii, as Snowden did. During his stint in the 1970s, he came across a program that involved illegally eavesdropping on U.S. citizens. He testified about the program during proceedings before Congress' Church Committee, which led to sweeping reforms of U.S. intelligence abuses in the 1970s.  http://www.providencejournal.com/breaking-news/content/20140917-journalist-james-bamford-recounts-interview-with-fugitive-edward-snowden-at-uri-honors-colloquium.ece
New sparks fly between CIA, Senate Intelligence Committee  Tensions between the CIA and its congressional overseers erupted anew this week when CIA Director John Brennan refused to tell lawmakers who authorized intrusions into computers used by the Senate Intelligence Committee to compile a damning report on the spy agency's interrogation program.
The confrontation, which took place during a closed-door meeting on Tuesday, came as the sides continue to spar over the report's public release, providing further proof of the unprecedented deterioration in relations between the CIA and Capitol Hill.
After the meeting, several senators were so incensed at Brennan that they confirmed the row and all but accused the nation's top spy of defying Congress.  Read more here: http://www.mcclatchydc.com/2014/09/12/239712_new-sparks-fly-between-cia-senate.html?rh=1#storylink=cpy
What explains the preponderance of High Mass Catholics and Opus Dei in CIA? Jack Devine: The Spymaster Who Goes to Mass  Speaking about life after the Central Intelligence Agency, Jack Devine became nostalgic. "I'm having a lot of fun," he said, "but I'm not allowed to overthrow governments." Mr. Devine, 73, who chronicles his 32 years at the C.I.A. in the memoir "Good Hunting: An American Spymaster's Story," had a role in the Iran-contra affair, the arming of Islamist rebels against the Soviets in Afghanistan, and the capture of Pablo Escobar. After leaving the C.I.A. in 1999, he helped start a corporate intelligence firm, the Arkin Group. He and his wife, Patricia, split their time between the East 70s and Ocean City, N.J., where he rows competitively in summers. Does he miss overthrowing governments? "I'm lying if I say I didn't," he said.   http://www.nytimes.com/2014/09/21/nyregion/jack-devine-the-spymaster-who-goes-to-mass.html?emc=edit_tnt_20140920&nlid=2254121&tntemail0=y&_r=0
FBI Loses Millions of Files from Cointelpro, Detroit, the Klan, and much more  The destruction of such historically significant files raises a number of serious questions about the FBI's archival practices.
One obvious question is why FBI archives were susceptible to flooding, and whether the flooding has exposed weaknesses in the FBI's records management practices more broadly.
A more important question, however, is: why are these archives in the possession of the FBI at all? Why does the FBI continue to retain millions of pages of historically significant files, many of which are over 50 years old, that have no relevance to its contemporary law enforcement mission? Why have these files not already been transferred to the National Archives?
Many of the historically significant files destroyed in the Virginia flooding included a series of files that were supposed to have been transferred to the National Archives during George W. Bush's second term— "44 series" files on the civil rights movement. Almost ten years later, these files should not still be in the FBI's possession.
Other files of major significance to the study of racial justice, the left, and U.S. foreign policy— particularly the FBI's 105 series files, which include hundreds of thousands of pages of files on the Black Panther Party— remain in the FBI's possession and decades away from ever being declassified or transferred to the National Archives.
These and other historically significant files that sit in secret FBI warehouses are vulnerable to more than just flooding.  http://nsarchive.wordpress.com/2014/09/16/archival-neglect-flooding-of-fbi-archives-destroyed-hundreds-of-thousands-of-pages-of-files-related-to-civil-rights-movement-history/
The Magical Mystery Tour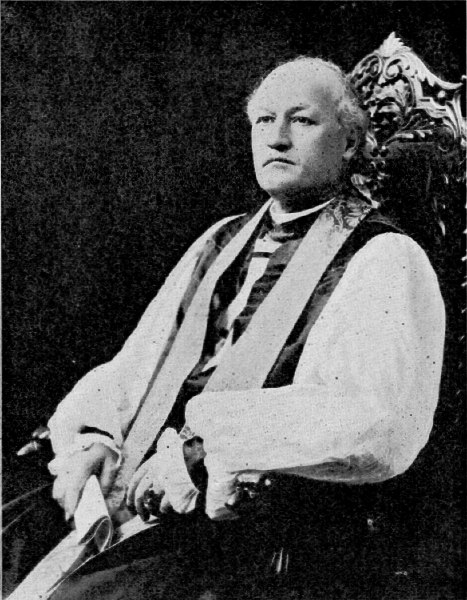 above, the Bad Bishop WIlliam Montgomery Brown  http://richgibson.com/BadBishop.htm
Victims worry about new head of Chicago Archdiocese    We hope that Chicago's next Catholic Archbishop will do more to prevent future clergy sex crimes and cover-ups. But we're not optimistic. Pope Francis, like his predecessors, keeps promoting bishops who have concealed or are concealing heinous sexual violence against kids. Cupich is another prelate like this.
Earlier today, the Spokesman Review reported that more than 200 victims have come forward in Spokane.
http://www.snapnetwork.org/wa_hundreds_more_wa_clergy_sex_victims_come_forward_snap_responds
Cupich acted irresponsibly by exploiting bankruptcy law to avoid embarrassing disclosures about the complicity of the Spokane church hierarchy in dreadful crimes against kids.
In a 2010 interview with a Washington newspaper, Cupich made some startling comments about the church's child sex abuse and cover up crisis. Cupich's remarks endanger kids, hurt victims and mislead Catholics by mischaracterizing and minimizing the horrific scandal.
In the interview, Cupich makes three stunning and patently ridiculous claims.
1) "Sexual abuse of children is not happening in the church today."
2) "The scandal is that, 30 years ago, the world of psychology, criminal law and the church didn't handle the situation well. Society didn't handle the situation well."
3) "Various institutions that work with kids that don't have in place codes of conduct and training that we have in place."  http://www.snapnetwork.org/il_victims_worry_about_new_head_of_chicago_archdiocese
The Best and Worst Things in the History of the World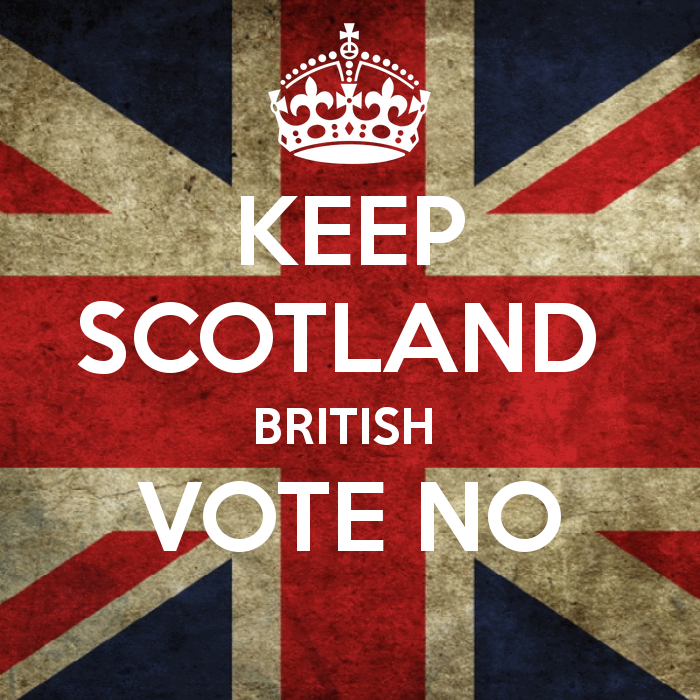 Pinhead Nationalists Defeated by Decayed Monarchy  Voters in Scotland rejected independence from Britain in a referendum that had threatened to break up the 307-year union between them, according to projections by the BBC and Sky News early Friday.
Before dawn after a night of counting that showed a steady trend in favor of maintaining the union, Nicola Sturgeon, the deputy head of the pro-independence Scottish National Party, effectively conceded defeat for the "yes" campaign that had pressed for secession.  http://www.nytimes.com/2014/09/19/world/europe/scotland-independence-vote.html?_r=0
White House intruder was an Army vet with PTSD, family says  The intruder who scaled a White House fence and made it through the front doors was an Army veteran diagnosed with combat trauma, but authorities said Saturday the case was still under investigation.
A family member in California said Omar J. Gonzalez, 42, of Copperas Cove, Texas, near Ft. Hood, has been homeless and living alone in the wild and in campgrounds with his two pet dogs for the last two years.  http://www.latimes.com/nation/nationnow/la-na-nn-white-house-arrest-20140920-story.html
National (non profit) Felon League–730 Arrests–the list http://www.usatoday.com/sports/nfl/arrests/
So Long
Andy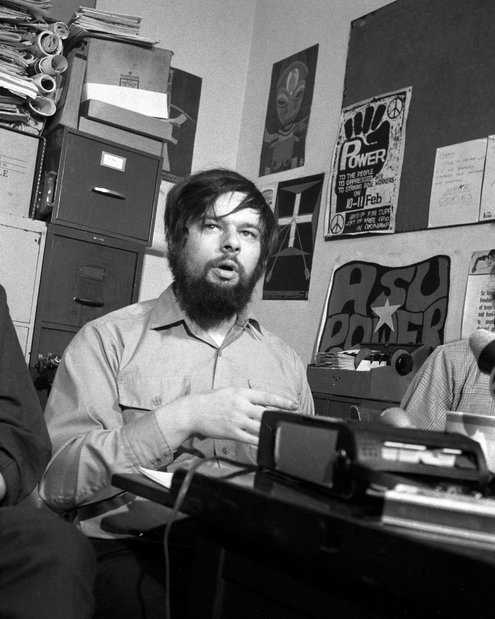 Andy Stapp, who expressed his opposition to the Vietnam War by joining the Army and proceeding to do a very unmilitary thing — form a union among soldiers that demanded, among other things, the right to elect officers and reject what they viewed as illegal orders — died on Sept. 3 in Manhattan. He was 70.
His wife, Deirdre Griswold, said the cause was complications of a lung infection.
At its peak in the early 1970s, the union that Mr. Stapp formed, the American Servicemen's Union, claimed to have tens of thousands of members. It issued membership cards, published a newspaper and helped form chapters at military bases, on ships and in Vietnam.
Although the Army never came close to recognizing the union formally, it certainly recognized it as a problem. Mr. Stapp brought colorful idealism to his counterintuitive cause, and the Army did what it could to silence him.
In 1967, while stationed at Fort Sill, in Lawton, Okla., Mr. Stapp twice faced court-martial. The first time was for refusing an order to open his footlocker, which served as his unit's library of leftist literature. (Officers broke it open with an ax.) He was convicted and served 45 days of hard labor. The second was based on charges that he had left his barracks when he was forbidden to do so. He was acquitted in late 1967.
The Army discharged him the next spring for engaging in what it called subversive activity. Later, through appeal, his discharge status was changed from dishonorable to honorable. Through it all, Mr. Stapp remained popular in the ranks.
"A remarkable aspect of Stapp's siege of Fort Sill is that the self-proclaimed Communist has never been lynched by his fellow G.I.'s," Robert Christgau wrote in a 1968 profile of Mr. Stapp in Esquire magazine. "G.I.'s are taught to kill Communists. But they like Stapp. When he won his second court-martial, they cheered. You just don't win courts-martial."
The Esquire article was briefly banned from the post exchange at Fort Hood, Tex.  http://www.nytimes.com/2014/09/15/us/andy-stapp-soldier-who-tried-to-unionize-the-military-dies-at-70.html?emc=edit_tnt_20140915&nlid=2254121&tntemail0=y&_r=0
Piecard, Rat, Sellout Detroit Fed Of Teachers Boss, who let every teacher be fired, then sued to collect dues, retires  Detroit Federation of Teachers president Keith Johnson does not plan to spend much time resting during his retirement.
He's already writing two books and plans to return to college in the fall to take classes with the ultimate goal of becoming an arbitrator."I want to stay involved in the labor movement," said Johnson, 59.
Johnson announced last week he would retire when his term ends in January after six years as president of the union that represents 4,000 members, including teachers in Detroit Public Schools. All told, he has been a DFT officer for 21 years.
He said it was time.  From The Detroit News: http://www.detroitnews.com/article/20140914/SCHOOLS/309140009#ixzz3DYEbEdal
Boblo Boat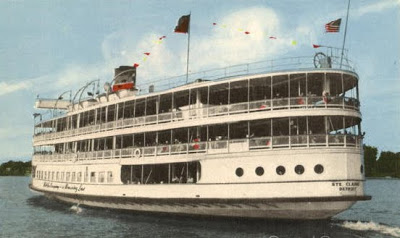 It is hard to believe that something so treasured, so important to the memories of so many, could be left to rot. Then again, when you drive around the city abandoned by so many over the past 50 years, perhaps it is no surprise. This is not to say that there haven't been people who tried to save the Columbia. Indeed, historian and boat lover Bill Worden fought hard to save the boat for future generations — but you can't always win a battle without reinforcements and cooperation. At the end of the day, people in New York are doing what we, as a region, could not.  http://www.freep.com/story/opinion/columnists/2014/09/17/dan-austin-boblo-boat-columbia-shipped-detroit/15748429/