October 18th, 2014 / Author: rgibson
We Say Fight Back!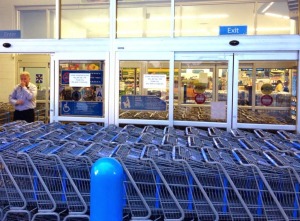 above, Ferguson's Walmart prepped for "looters" by blocking most doors. 
Ferguson Storms Heaven Protesters staged #FergusonOctober events all around the St. Louis area Monday as the fourth and final day of a weekend of civil disobedience.
A group of 40 to 50 people from the group Millennial Activists United went to Plaza Frontenac Monday afternoon. Right before 4 p.m. the protesters met at the center of the mall and began chanting. After five to 10 minutes the group was asked to leave, which they did. They took to the sidewalks outside the mall chanting and holding up signs.
Another protest started around 5:30 p.m. Monday night when a group tried to go inside a Walmart on West Florissant Avenue in Ferguson. Police said six people were arrested in Ferguson at the Walmart and protesters were kicked off the property, pushed to the sidewalks near the main entrance.
After an hour of protesting in Ferguson, the group headed to the Maplewood Walmart. Their object was to shut down both stores, and they did just that.
A Maplewood Walmart employee said protesters went inside the store chanting and holding up signs. They were in there for about five minutes when the store closed and was evacuated, including customers and employees. A few people were arrested.
Protesters said they're targeting Walmarts to raise awareness for the police shooting of John Crawford in Ohio, which happened at a Walmart. That shooting occurred just days before Michael Brown was shot in Ferguson.  http://www.ksdk.com/story/news/local/2014/10/14/protesters-storm-walmart-in-maplewood/17236489/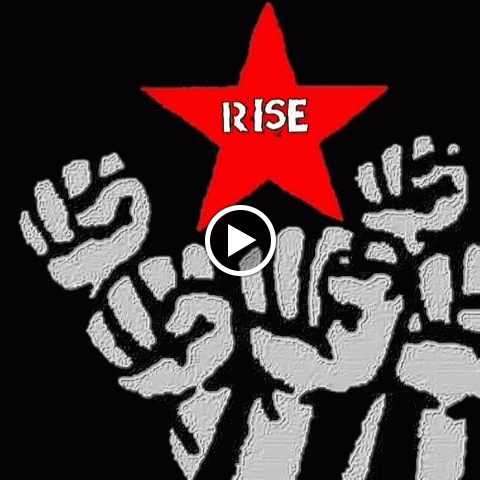 Mexico universities call strike in solidarity with missing students  Students from major Mexico City universities have called a two-day strike and were set to hold a rally Wednesday at the national attorney general's office to call for the safe return of dozens of rural students who disappeared after clashes with police in Guerrero state last month, leading to public outrage.
"We are on strike for 48 hours in support of the disappeared students in Guerrero," Silvia Caballero, a 21-year-old student at the National Autonomous University of Mexico (UNAM), told Al Jazeera.
Survivors of the Sept. 26 violence joined Mexico City protesters in informal campus activities and rallies demanding justice for their missing classmates. Several other universities joined the UNAM strike on Tuesday and Wednesday. Family members of the missing students were to attend the protest at the attorney general's office in the capital, organizers said.
Caballero said the strike was also in support of students and teachers protesting government education reforms, saying the two issues are linked because the Guerrero students were initially protesting those same reforms when police attacked them.  http://america.aljazeera.com/articles/2014/10/15/mexico-guerrero-strike.html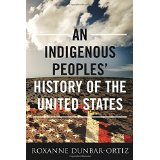 Congratulations to Roxanne Dunbar Ortiz on the publication of the book featured above
The Little Red Schoolhouse

Sleezy Deasy is Gone–Meet the New Boss–he IS the old Boss  The Los Angeles Unified school board on Thursday officially accepted the resignation of Supt. John Deasy and voted to appoint his predecessor, Ramon Cortines, to fill the post on an interim basis.
The board voted 6 to 1 to ratify Deasy's separation agreement…http://www.latimes.com/local/lanow/la-me-ln-lausd-board-terminates-deasy-contract-20141016-story.html#navtype=outfit
In LA–Ipads + Common Core = No Books Something was missing last week from a seventh-grade math class at Palms Middle School in West Los Angeles.
It wasn't the students; they were at their desks.
It wasn't teacher Bruce Kravets; he was eager to dive in, as he has been for 45 years.
But there were no textbooks.
With the conversion to Common Core standards, L.A. Unified purchased new math books for eighth grade, but not for sixth or seventh. The reason was lack of funding.
"We're left to fend for ourselves," said Kravets, who, like other math teachers has scoured the Internet for materials and made copies for students.
"We're chained to the copy machines," said Larry Rubin, another Palms Middle School math teacher. Rubin said he spends more than an hour on lesson plans in the evening and as much as 45 minutes at the copy machine the next day.
"
They're concerned about this reform and that reform. But they don't seem to be concerned about what's happening at the teacher level."
Yep, you can add this little problem to the many woes of L.A. Unified.   http://www.latimes.com/local/la-me-1015-lopez-math-20141014-column.html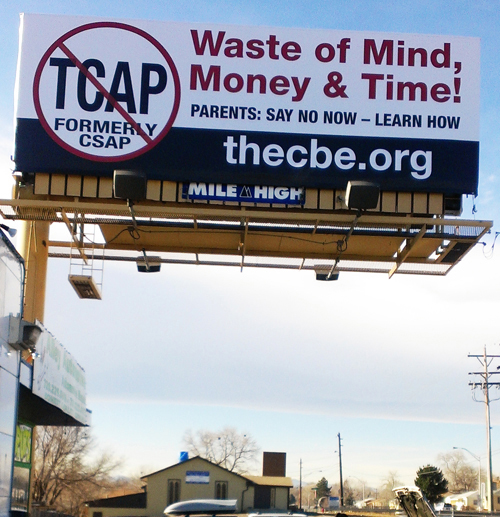 above–Colorado opt out led by Don Perl  (thanks Susan Ohanian and Substance News http://www.substancenews.net/articles.php?page=4916)
How The NSA plans to Recruit your Teens    Kids across America no longer have to wait until college to plan on being a part of the National Security Agency. In fact, they could start preparing for their NSA careers as early as age 13.
The NSA has begun sponsoring cybersecurity camps for middle and high school students, agency recruiter Steven LaFountain told CNBC's Eamon Javers in a recent interview. Six prototype camps launched this past summer, and the NSA hopes to eventually have a presence in schools in all 50 states.
The camps, LaFountain told CNBC, teach "low-level programming… where most cybersecurity vulnerabilities are" and sponsor activities like a "wireless scavenger hunt" in which 10th graders were dispatched to hunt down "rogue access points." The general idea is to eliminate "threats out there on the Internet"
"The students are really, really into it," LaFountain added.
This isn't the first time the NSA has reached out to the youth of America. In 2010, the NSA introduced CryptoKids, animated characters tasked with the vital mission of informing kids about cybersecurity. And unlike Saturday morning cartoons, the CryptoKids are still going strong.
If the NSA wants to give its summer camp program the same longevity, it might think about bulking up the curriculum. Somehow, despite training kids in sophisticated techniques to defeat computer and network attacks, the agency's curriculum is silent on one of the simplest, and highest profile, data breaches in NSA history. "I typically don't talk to them about" Edward Snowden, the former NSA contractor who leaked a vast trove of secrets, LaFountain said.
No word yet on if the curriculum offers students an Intro to Executive Order 12333 or gives them spark notes on using FISA warrants to surveil American activists.   https://firstlook.org/theintercept/2014/10/09/nsa-plans-recruit-teenagers/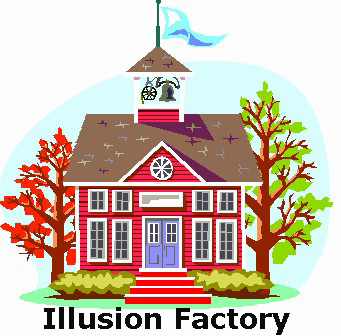 Test Cheating in Seattle (there must be a better way than erasures)   State tosses out test results for entire Seattle elementary school…For the first time in the history of high-stakes testing in Washington, the state has thrown out the math and reading scores of an entire school — Seattle's Beacon Hill International — after finding so many answers changed from wrong to right that nearly every student passed the exams.
The state isn't calling it cheating, a determination officials say the Seattle Public Schools must make about what happened with the elementary school's tests.  http://seattletimes.com/html/localnews/2024780212_beaconhillcheatingxml.html
Academic Absolution—wrong to right in Seattle  we hired an independent investigator to help determine what might have happened. OSPI conducted a review of the Beacon Hill test booklets – paper and pencil – for grades 3-5 and found heavy erasures in the booklets. OSPI believes the test responses were altered in such a way as to significantly increase total scores of students taking the state reading and math tests. OSPI notified SPS last week that they will invalidate those test scores. The district's outside investigator is continuing to work on determining what happened. In the meantime, I want the public to know that we support our Beacon Hill students, staff and teachers.  http://saveseattleschools.blogspot.com/2014/10/beacon-hill-state-test-scores-thrown-out.html
Atlanta's through and through test cheats (rather like school lunch for poor kids so they will be fit enough to kill other nation's poor kids)  Some students at Benjamin Carson Middle School couldn't read. Some couldn't write, former principal Patricia Wells testified Tuesday in the Atlanta schools cheating trial.
But their state test results suggested otherwise, she said.
In August 2007, Wells gathered a group of students and asked them why their performance in class didn't match their state test performance.
Wells was shocked by what they told her.
It was cheating, she confirmed Tuesday in response to prosecutor John Floyd's questions.
Wells immediately told then-regional executive director Tamara Cotman.
Cotman asked her one question: "Do you have any proof?," Wells said.
"I said well, 'Yeah, I have what the children said,'" Wells told her.
After that meeting, Wells' relationship with Cotman deteriorated, Wells said.  http://www.ajc.com/news/news/local/aps-trial-more-testimony-in-prosecutions-case-agai/nhh22/
The International Hot War of the Rich on the Poor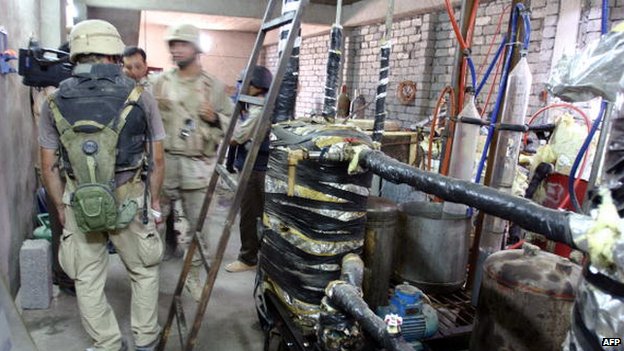 US (supplier of Saddam's poison gas)  'hid Iraq chemical weapons incidents'  US troops and Iraqi police were wounded by exposure to abandoned chemical weapons in 2004-11 in a series of incidents largely kept quiet by the Pentagon, a US newspaper has reported.
The New York Times said the weapons were built by Saddam Hussein's regime during the 1980s Iran-Iraq war.
Soldiers and police uncovered about 5,000 warheads, shells or bombs.
The Times based its report on dozens of pages of classified documents, and interviews with soldiers and officials.
The newspaper tracked down 17 US soldiers and seven Iraqi police officers who said they had been wounded during at least six separate incidents.
Some of the weapons were reportedly designed in the US and manufactured in Europe.
They were filled with chemical agents produced in Iraq from ingredients purchased in some cases in the US.  http://www.bbc.com/news/world-us-canada-29631829
Those Pesky Chemical Weapons the US lied about for years–a new/old threat  The United States government says the abandoned weapons no longer pose a threat. But nearly a decade of wartime experience showed that old Iraqi chemical munitions often remained dangerous when repurposed for local attacks in makeshift bombs, as insurgents did starting by 2004.
Participants in the chemical weapons discoveries said the United States suppressed knowledge of finds for multiple reasons, including that the government bristled at further acknowledgment it had been wrong. "They needed something to say that after Sept. 11 Saddam used chemical rounds," Mr. Lampier said. "And all of this was from the pre-1991 era."  Others pointed to another embarrassment. In five of six incidents in which troops were wounded by chemical agents, the munitions appeared to have been designed in the United States, manufactured in Europe and filled in chemical agent production lines built in Iraq by Western companies.  http://www.nytimes.com/interactive/2014/10/14/world/middleeast/us-casualties-of-iraq-chemical-weapons.html?hp&action=click&pgtype=Homepage&version=HpSumMediumMediaFloated&module=second-column-region&region=top-news&WT.nav=top-news&_r=0
Who Lost those billions in one hundred dollar bills (shrink wrapped) the US sent to Iraq?  Not long after American forces defeated the Iraqi government of Saddam Hussein in 2003, caravans of trucks began to arrive at Andrews Air Force Base outside Washington on a regular basis, unloading an unusual cargo — pallets of shrink-wrapped $100 bills. The cash, withdrawn from Iraqi government accounts held in the United States, was loaded onto Air Force C-17 transport planes bound for Baghdad, where the Bush administration hoped it would provide a quick financial infusion for Iraq's new government and the country's battered economy.
Over the next year and a half, $12 billion to $14 billion was sent to Iraq in the airlift, and an additional $5 billion was sent by electronic transfer. Exactly what happened to that money after it arrived in Baghdad became one of the many unanswered questions from the chaotic days of the American occupation, when billions were flowing into the country from the United States and corruption was rampant.  http://www.msn.com/en-us/news/us/investigation-into-missing-iraqi-cash-ended-in-lebanon-bunker/ar-BB8Prc5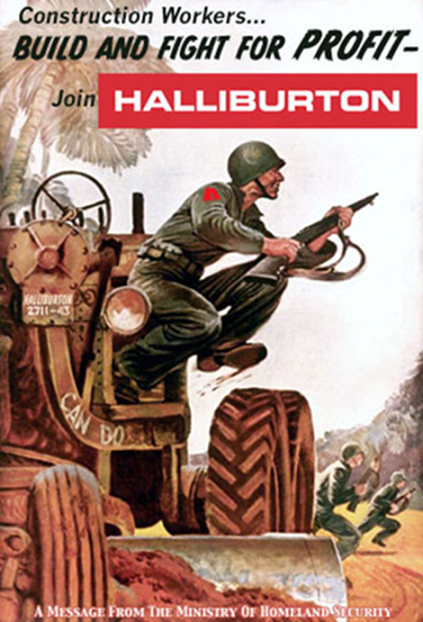 Obama Knew Arming Rebels Was Useless, But Did It Anyway  What's worse: Launching a disastrous military campaign under false pretenses to achieve goals you wrongly believe are attainable? Or launching a disastrous military campaign you know is doomed in order to help your party win an election?
I ask in light of today's New York Times story about how President Obama asked the CIA a while back whether arming rebel forces – pretty much the agency's signature strategy — had ever worked in the past.
He was told that it almost never has.
But then in June, once the political pressure for intervention in Syria got too great, he did just that — sending weapons to rebels fighting the Syrian military.
Yes: He knew better, but he did it anyway.
Political (and media) pressure was also a major factor behind last month's shifting of those gun-running efforts to counter the Islamic State, instead of the Syrian military – and the launch of ineffective if not counter-productive strikes by U.S. planes and missiles.   https://firstlook.org/theintercept/2014/10/15/obama-knew-arming-rebels-useless-anyway/
Islamic State photos highlight group's grip on Ramadi   The Islamic State has released two separate photo collections detailing its presence in Ramadi, the provincial capital of Anbar. More than half of Ramadi is said to be under the control of Islamic State.
The photographs were disseminated on Twitter by Islamic State supporters after being posted elsewhere on the Internet. The jihadist group has taken to releasing its propaganda via its supporters on Twitter as the majority of its official accounts are continuously being suspended by the social media site.
The photos bear the title of Wilayat Anbar, one of the Islamic State's 18 declared provinces.
The first set of photographs shows Islamic State technicals, or armed pickup trucks, moving along a road into Ramadi. The photographs are taken in the 7 Kilo area, a neighborhood on a highway west of Ramadi, near the Ramadi West Train Station. Other photos detail the group moving in convoys to the city, with at least four heavily armed technicals present. Islamic State fighters are also photographed while manning a checkpoint in the 7 Kilo area to keep track of who is entering and leaving the city.
The second set of photographs details the Islamic State giving a "tour" of an Iraqi military base in Albu Aytha, an area just north of the city, that has been abandoned. The Islamic State, in these pictures, refers to the base as having been "liberated". The group had previously routed an Iraqi armored column and taken control of a police station more than two weeks ago.
The photographs show many destroyed and burned out vehicles, such as Humvees, M113 armored personnel carriers, what appears to be an AMZ Dzik (a Polish infantry mobility vehicle used by the Iraqi Army under the designation "Ain Jaria 1″), and several Ford F-350 pickup trucks. The jihadists are seen inspecting what is salvageable and what can be left behind. The last picture shows the Islamic State blowing the base up after leaving.
Ramadi is currently being besieged by the Islamic State. The jihadist group is said to control 60 percent of the city. Long War Journal online.
Probe of silencers leads to web of Pentagon secrets The mysterious workings of a Pentagon office that oversees clandestine operations are unraveling in federal court, where a criminal investigation has exposed a secret weapons program entwined with allegations of a sweetheart contract, fake badges and trails of destroyed evidence.
Capping an investigation that began almost two years ago, separate trials are scheduled this month in U.S. District Court in Alexandria, Va., for a civilian Navy intelligence official and a hot-rod auto mechanic from California who prosecutors allege conspired to manufacture an untraceable batch of automatic-rifle silencers.
The exact purpose of the silencers remains hazy, but court filings and pretrial testimony suggest they were part of a top-secret operation that would help arm guerrillas or commandos overseas.
The silencers — 349 of them — were ordered by a little-known Navy intelligence office at the Pentagon known as the Directorate for Plans, Policy, Oversight and Integration, according to charging documents. The directorate is composed of fewer than 10 civilian employees, most of them retired military personnel.
Court records filed by prosecutors allege that the Navy paid the auto mechanic — the brother of the directorate's boss — $1.6 million for the silencers, even though they cost only $10,000 in parts and labor to manufacture.   http://www.washingtonpost.com/world/national-security/probe-of-silencers-leads-to-web-of-pentagon-secrets/2014/10/12/12c8d110-4fea-11e4-aa5e-7153e466a02d_story.html?hpid=z4
The Pentagon's Shabby Attempt to Re-write the History of the Lost Wars on Vietnam  http://www.vietnamwar50th.com/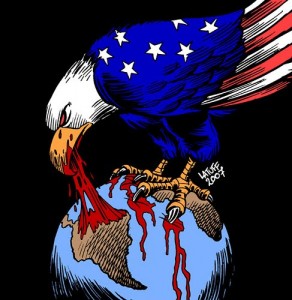 Free Online Vietnam Wars Outline  http://www.richgibson.com/vietnam/
Association of the US Army's modestly named Annual Meeting  What is the "Foundational Force"? (it's a brand name).
"The Army is the foundational force for our national defense…because it provides capabilities that are used by all the services and indeed by our coalition partners and civilian agencies," Swan said. "You see Gen. [David] Perkins talking about this, and [Lt. Gen. H.R.] McMaster," he added, citing the commander of TRADOC and the head of TRADOC's flagship Army Capabilities Integration Center (ARCIC) respectively. "When you start downsizing the Army…you are now undercutting those capabilities that everyone else relies upon."
"If you're a Marine artillery lieutenant, newly commissioned out of the Naval Academy, and you go for your artillery training, you go to the US Army Fires Center and School at Fort Sill, Oklahoma," Swan said. "If you are a Navy petty officer on a ship and you're issued a nine-millimeter Beretta pistol, that weapon came through the Army's acquisition system. If you are a National Guard soldier, you go to active component-run schools and educational institutions. If you are a German soldier in Afghanistan, chances are your fuel is coming through the US Army logistics system."  http://breakingdefense.com/2014/10/armys-message-at-ausa-dont-cut-foundational-force/
The International Economic War of the Rich on the Poor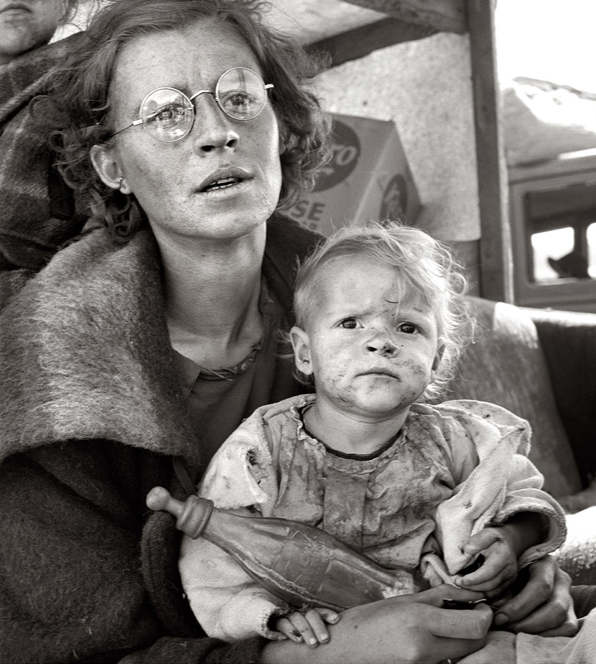 Detroit Still Number One (children in poverty) Today, just one city of at least 250,000 people has a higher poverty rate than Cleveland. Detroit's poverty stands at 40.7 percent, up
The Census Bureau on Thursday released 2013 estimates for all places of at least 65,000 people. Cleveland ranked ninth. Camden, N.J. led at 42.6 percent.
Other cities with higher poverty rates than Cleveland, in order, were Flint, Mich.; Gary, Ind.; Detroit, Bloomington, Ind. (heavily populated by college students); Youngstown, Reading, Pa.; and Macon, Ga.  http://www.cleveland.com/datacentral/index.ssf/2014/09/decade_after_being_declared_na.html
Yellen–inequality–and part of what's not said 
First, there is a growing body of evidence — far from proven, but certainly gaining traction — that income inequality could be a significant force behind disappointing overall economic growth over the last 15 years.
The story goes like this: The wealthy tend to save a large proportion of their income, whereas middle and lower-income people spend almost all of what they earn. Because a rising share of income is going to the wealthy, spending — and hence aggregate demand — is rising more slowly than it would if there were more even distribution of income. Skyrocketing debt levels papered over this disconnect in the mid-2000s, but now we could be feeling its effect.
If true, this would help account for why the economy has notched mediocre growth since the turn of the century, with the exception being a brief period of the housing bubble.
It would also have big implications for Fed policy. It would imply that, under the current economic arrangement, the nation's potential economic growth is lower than it might otherwise be. Which implies that it would be dangerous for the Fed to try to seek growth much faster than that using monetary policy, as doing so might unleash inflation, financial bubbles or both.
A second area in which monetary policy interacts with inequality — and which Ms. Yellen also leaves unaddressed — is the role of the Fed's easy money policies in encouraging inequality.  http://www.nytimes.com/2014/10/18/upshot/what-janet-yellen-said-and-didnt-say-about-inequality.html?_r=0&abt=0002&abg=0
The Emergence of Fascism as a Popular Mass Movement
'Hostile to privacy': Snowden urges internet users to get rid of Dropbox   Edward Snowden has hit out at Dropbox and other services he says are "hostile to privacy," urging web users to abandon unencrypted communication and adjust privacy settings to prevent governments from spying on them in increasingly intrusive ways.
"We are no longer citizens, we no longer have leaders. We're subjects, and we have rulers," Snowden told The New Yorker magazine in a comprehensive hour-long interview.
There isn't enough investment into security research, into understanding how metadata could better be protected and why that is more necessary today than yesterday, he said.
The whistleblower believes one fallacy in how authorities view individual rights has to do with making the individual forsake those rights by default. Snowden's point is that the moment you are compelled to reveal that you have nothing to hide is when the right to privacy stops being a right – because you are effectively waiving that right.
"When you say, 'I have nothing to hide,' you're saying, 'I don't care about this right.' You're saying, 'I don't have this right, because I've got to the point where I have to justify it.' The way rights work is, the government has to justify its intrusion into your rights – you don't have to justify why you need freedom of speech."
In that situation, it becomes OK to live in a world where one is no longer interested in privacy as such – a world where Facebook, Google and Dropbox have become ubiquitous, and where there are virtually no safeguards against the wrongful use of the information one puts there.   http://rt.com/news/195244-snowden-rid-dropbox-privacy/
Bidenn's cokehead son gets nice gig for Ukrainian Company  
Balkanize Redux
Solidarity for Never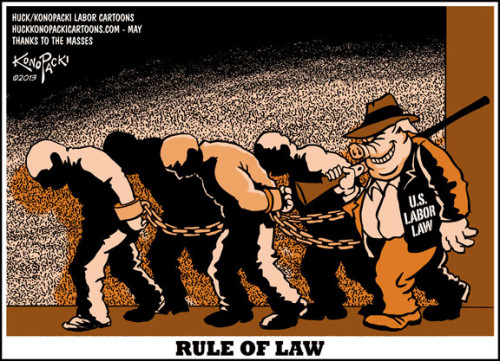 American Federation of Teachers to spend $20 million on one of the War Parties  The American Federation of Teachers is on track to spend $20 million on midterm elections this year – more than ever before – to target conservative governors and to help Democrats in Senate races that may determine control of the upper chamber.
The Senate races include those of Democrats Mark Begich bid in Alaska, Gary Peters in Michigan, and Al Franken's tighter-than-expected contest in Minnesota, BuzzFeed reports.
Read Latest Breaking News from Newsmax.com http://www.Newsmax.com/Politics/teachers-union-spend-midterms/2014/09/29/id/597623/#ixzz3GHlvzt2z
The National Education Association has been more coy about its spending; national political director Karen White will say only that the total is likely to fall between $40 million and $60 million. NEA members are mobilizing by the thousands to knock on doors and call voters in states including Kansas, Maine, North Carolina and Alaska. "It's absolutely key to have the kind of effort we are mounting, because people don't necessarily watch all those TV ads," White told Morning Education. "Those personal contacts are so important." The union is targeting labor households and "dropoff voters" who tend to vote Democratic in presidential years but don't show up consistently for midterms. NEA President Lily Eskelsen García has hit the trail, too; she recently held events with Democratic gubernatorial candidates Mark Schauer in Michigan and Mary Burke in Wisconsin.
NEA Spends Big on War Party Shell Game For starters, the NEA Advocacy Fund, the union's "super PAC," gave $900,000 to the Democratic Governors Association, according to its Federal Election Commission filing Tuesday, which covers funds raised and disbursed from July 1 through Sept. 30.
In addition, the PAC directed $580,000 to PA Families First, the mission of which is to oust Pennsylvania's Republican Gov. Tom Corbett, whose re-election hopes have all but evaporated after a months-long fiscal fight over funding the cash-strapped and beleaguered Philadelphia school system.
The NEA Advocacy Fund also pushed $550,000 to Kentucky Family Values, which mainly plays in state legislative races, but also supports the Democratic U.S. Senate challenger in Kentucky, Alison Lundergan Grimes, who is attempting to unseat Senate Minority Leader Mitch McConnell, the Republican incumbent.
The increased emphasis on state races continues a 2012 trend set in motion by the rise of new and influential education reform groups, like StudentsFirst, that often come down on the opposite of education policy debates from teachers' unions and whose main goal is to impact policy at the local and state level.
The teachers' union spent on House and Senate races too, including $250,000 to North Carolina Citizens for Protecting Our Schools, in an effort to prop up Democratic incumbent U.S. Sen. Kay Hagan who is running against Republican state House speaker Thom Tillis.
The 3 million-member union spent big on media and advertising this quarter. It sent $3.6 million to Waterfront Strategies, a media buying firm that serves primarily Democratic-aligned super PACs and nonprofits, according to the Center for Public Integrity. That money was used, in part, for TV ads opposing Tillis. It also directed more than $580,000 to Patriot Majority, which has conducted independent political communications for mayoral, gubernatorial, state legislative, and federal races in more than 30 states.
Overall, the union's super PAC brought in $7.5 million since July in the run-up to the mid-term elections, and with $1.3 million in cash on hand at the beginning of the filing period, it had a whopping $8.8 million to spend with just weeks left before Nov. 4.
The NEA Advocacy Fund emptied most of its bank account over the three-month period—a total of $8.3 million—leaving it with just a little over $500,000 in cash on hand as of Sept. 30.
[UPDATE (7:48PM): So far this year, the group has grown its coffers to $12.8 million, significantly more than its entire 2012 election cycle war chest, which totaled $9.3 million through Dec. 30. This year's figures also dwarf those from the last mid-term election cycle in 2010, when super PACs first came into play. At that time, the NEA Advocacy Funds' receipts totaled $3.3 million and its disbursements totaled $4.9 million.
Overall, the super PAC has spent more than $11 million, again surpassing the 2012 and 2010 election cycles figures by about $2 million and $6 million, respectively.]  http://blogs.edweek.org/edweek/campaign-k-12/2014/10/nea_spends_big_on_state_races.html
UTLA Did Not want Deasy fired Our September 15th news release does not state that UTLA is urging the school board to fire John Deasy. …You may speculate on what you think the statement means, but to report that as fact coming from UTLA is simply wrong. … We also did not state we want the school board to downgrade Deasy's performance to "unsatisfactory." We stated that the board has the opportunity to evaluate Deasy " to determine if his work is satisfactory." As a long-time journalist I believe you realize that both the headline and the story posted by LA School Report on September 16th are misleading.
UTLA requests an immediate retraction so that your readers and the LAUSD school community will be informed of UTLA's actual position on this issue.
Sincerely ,
Suzanne Spurgeon, Director of Communications, UTLA http://laschoolreport.com/teachers-union-changes-tactics-urges-board-to-fire-deasy/
Spy versus Spy
The holder of secrets–Poitras and Snowden
Poitras was the first person to learn of Snowden's trove of files, in early 2013, and for months it remained their secret. From the beginning, the language of their correspondence was heightened. Snowden wrote to Poitras, "You asked why I chose you. I didn't. You chose yourself." He was referring to films of hers that were critical of the war on terror—in particular, a short piece on an N.S.A. whistle-blower named William Binney. That June, they met in a hotel in Hong Kong, and Poitras made and released a twelve-minute video in which Snowden introduced himself to the world. Since then, he has given numerous interviews, and the journalist Glenn Greenwald, Poitras's reporting partner on the story, has published a book. But Poitras, guarding her privacy, has said very little while she has finished work on her film. Anticipation kept building, and it was global news when the Film Society of Lincoln Center announced that it would present the première, on October 10th. (A wider release follows, on October 24th.)  http://www.newyorker.com/magazine/2014/10/20/holder-secrets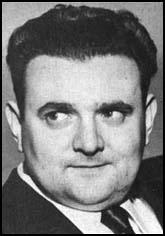 David Greenglass, (rat) central figure in Cold War atomic spy case, dies at 92  David Greenglass, confessed member of the infamous Rosenberg atomic spy ring, died July 1 at 92, more than a half-century after his better-known sister, Ethel Rosenberg, went to the electric chair in part for what he later claimed was his false testimony against her…..
In the epic Cold War espionage case that transfixed America amid frenzied anti-communist fervor, both Ethel Rosenberg and her husband, Julius, were executed in 1953 after being convicted of conspiracy to pass atomic bomb secrets to the Soviet Union during and after World War II.
Mr. Greenglass, portrayed by many who knew him as hard-nosed and pragmatic, pleaded guilty in exchange for testifying against the more ideological Rosenbergs. He served 10 years of a 15-year sentence and was released from federal prison in 1960. Another defendant, Morton Sobell, was convicted and served 18 years of a 30-year term.
Mr. Greenglass's wife, Ruth, also testified against the Rosenbergs and — as an unindicted co-conspirator — avoided prison time.  http://www.washingtonpost.com/national/david-greenglass-central-figure-in-cold-war-atomic-spy-case-dies-at-92/2014/10/14/6339be3e-5094-11e4-8c24-487e92bc997b_story.html
CIA Study Covert Aid and the US' Jihadists
But in April 2013, President Obama authorized the C.I.A. to begin a program to arm the rebels at a base in Jordan, and more recently the administration decided to expand the training mission with a larger parallel Pentagon program in Saudi Arabia to train "vetted" rebels to battle fighters of the Islamic State, with the aim of training approximately 5,000 rebel troops per year.
So far the efforts have been limited, and American officials said that the fact that the C.I.A. took a dim view of its own past efforts to arm rebel forces fed Mr. Obama's reluctance to begin the covert operation.
"One of the things that Obama wanted to know was: Did this ever work?" said one former senior administration official who participated in the debate and spoke anonymously because he was discussing a classified report. The C.I.A. report, he said, "was pretty dour in its conclusions."
The debate over whether Mr. Obama acted too slowly to support the Syrian rebellion has been renewed after both former Secretary of State Hillary Rodham Clinton and former Defense Secretary Leon E. Panetta wrote in recent books that they had supported a plan presented in the summer of 2012 by David H. Petraeus, then the C.I.A. director, to arm and train small groups of rebels in Jordan.
Mr. Obama rejected that plan, but in the months that followed, Obama administration officials continued to debate the question of whether the C.I.A. should arm the rebels. Mr. Petraeus's original plan was reworked until Mr. Obama signed a secret order authorizing the covert training mission after intelligence agencies concluded that President Bashar al-Assad of Syria had used chemical weapons against opposition forces and civilians.  http://www.nytimes.com/2014/10/15/us/politics/cia-study-says-arming-rebels-seldom-works.html
The Magical Mystery Tour
The Best and Worst Things in the History of the World
Hey Potential NPR PBS Doners! You're not Members! You're not "part of the team! You're suckers!  '(Bill Noyers and CJR on Corporate/spy rule) " Night after night,' Moyers told me, 'the realities of life for the vast majority of Americans rarely show up on public television — neither on its public-affairs programming nor its prime-time fare. There has been one documentary all year on the flailing middle class and the forgotten poor. Our Washington coverage, by design or not, serves up 'news' the way the butler serves tea on Downton Abbey, so as not to disturb the master class. Even my friends at WETA, our flagship station in Washington, passed up the award-winning documentary Alice Walker: Beauty in Truth to air instead another episode of Antiques Roadshow and a program about the British royal family. And PBS has commissioned a series for next year, using U.S. taxpayer funds, on the 'great homes' of Great Britain. Not on homelessness in America. Unbelievable!' – See more at: http://www.cjr.org/behind_the_news/pbs_pulls_ads_from_harpers_mag.php?utm_source=CJR+New+Sign+Ups&utm_campaign=22d91d6391-7_25_CJR1&utm_medium=email&utm_term=0_c6de9a59ea-22d91d6391-145479605&ct=t(10_14_CJR)#sthash.klk3Bm0K.dpu)
Job! Associate Dean with Brad P!  
CALIFORNIA STATE UNIVERSITY, EAST BAY
ADMINISTRATIVE EMPLOYMENT OPPORTUNITY
Associate Dean, College of Education and Allied Studies
THE UNIVERSITY: California State University, East Bay is known for award-winning programs, expert instruction, diverse student body, and a choice of more than 100 career-focused fields of study. There are two scenic campuses – one in the Hayward Hills overlooking San Francisco Bay and the other in the concord foothills of Mt. Diablo – plus a professional center in dynamic downtown Oakland. The two campuses' proximity to the major Bay Area cities provides unique cultural opportunities including museums, art galleries, aquariums, planetariums, plays, musicals, sports event, and converts.  http://www.higheredjobs.com/executive/details.cfm?JobCode=175965725&Title=Associate+Dean%2C+College+of+Education+and+Allied+Studies
So Long
Fred Branfman, exposer of America's secret war in Laos, died on September 24th, aged 72
THE peasant refugees, camped outside Vientiane in Laos, did not want to speak to him when he first approached them, in 1969. They were wary of the big, earnest, bespectacled young American. And they were wretched. They had left behind their paddy fields, pigs and buffalo, their fresh air and forests, and pined for them. Many were injured, too: blinded, or missing limbs, or riddled with metal pellets that showed through their skin.
Over the months, as Fred Branfman gently urged them, they began to talk of war planes over their home region, the Plain of Jars. At first, in 1964, they had watched them with interest, much as they watched the rockets at the spring festival of boun bang fai. Then the planes dived close and aimed at them directly. They went on doing so, flying up to 200 sorties a day, for five years. When Mr Branfman visited the plain at last in 1993 (pictured), droplets from cluster bombs were still exploding.
The thatch-and-timber houses burned like candles, the villagers told him. All that was left was the red, bare earth. The paddies and ponds were poisoned, so the ducks died. Children picked up bombs, and their arms blew off. Everyone dug holes to creep into during the day, emerging at night to try to plant rice unseen, but bombs fell into the holes too. An old woman was struck as she carried food to market, and a boy found his father killed, alongside his buffalo, in a field he was ploughing. Imagine, Mr Branfman thought, if that was his own father, the gentle textile sales executive from Great Neck, Long Island, whose toil and sweat and ambition for his sons had been instantly snuffed out by a plane that, in the repeated mantra of the villagers, "didn't stop".  http://www.economist.com/news/obituary/21625649-fred-branfman-exposer-americas-secret-war-laos-died-september-24th-aged-72