May 23rd, 2015 / Author: rgibson
We Say Fight Back!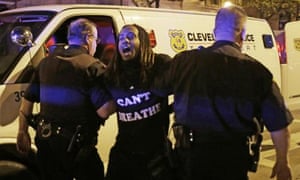 Multiple Arrests in Cleveland as protests of another cop murder continue
Police in riot gear arrested more than a dozen people in Cleveland on Saturday night as peaceful protests turned unruly after the acquittal of a patrolman charged in the deaths of two unarmed suspects.
Demonstrations had been tense but calm in the hours after Judge John P O'Donnell found police officer Michael Brelo not guilty on two counts of voluntary manslaughter in connection with the deaths of two unarmed African Americans in November 2012. Malissa Williams and Timothy Russell were killed when officers fired 137 shots at their vehicle, after a 20-minute car chase.Brelo fired 49 times at the victims' 1979 Chevy Malibu, including 15 shots while he was standing on its hood.
But the protests boiled over as the night wore on. Deputy police chief Wayne Drummond says the protesters were arrested for failing to disperse from an alley in the city's Warehouse district on downtown's west side. www.theguardian.com/us-news/2015/may/23/cleveland-protesters-michael-brelo-police-officer
Congratulations on the publication of
"…everyone but an idiot knows that the lower classes must be kept poor, or they will never be industrious."—Arthur Young; 1771
And the publication, free online, of Capitalism and Class Consciousness, The Ideas of Georg Lukacs by Chris Nineham www.counterfire.org/index.php/theory/37-theory/6368-capitalism-and-class-consciousness-the-ideas-of-georg-lukacs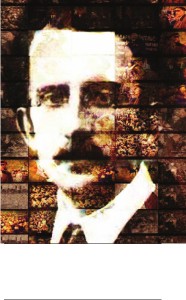 DOCTORAL SCHOLARSHIPS: PHILOSOPHY AND SOCIOLOGY OF EDUCATION Appointment: Liverpool Hope University, UK
Please circulate this around your professional networks, and to any MA students who may be interested
There has arisen an opportunity for a fully-funded Doctoral scholarship working with philosophers and sociologists of education in the area of 'spiritual, moral, social and cultural' education. The project, which is also the subject of a UK ESRC Large Grant proposal currently under review, aims to explore the complex plurality of structures which set the ethos and value of publicly funded schools in England. Working with colleagues in the philosophy and sociology of education, there is broad scope for the doctoral student to explore questions such as:  rikowski.wordpress.com/2015/05/22/doctoral-scholarships-philosophy-and-sociology-of-education/
The Little Red Schoolhouse
Fully opted in to patriotism and capital, Fake Opt out Movement (smelling of DSA) hits Page 1, NYT  By the first day of testing in April, two of every three students in the district who were expected to take the exams were refusing to lift their pencils.
Across New York State, a small if vocal movement urging a rejection of standardized exams took off this year, maturing from scattered displays of disobedience into a widespread rebuke of state testing policies. Next step–opting in to home schooling and charters  www.nytimes.com/2015/05/21/nyregion/opt-out-movement-against-common-core-testing-grows-in-new-york-state.html?_r=1
Cuckoldette Hillbillary is on Jeb Bush's Education Payroll Democratic presidential candidate Hillary Clinton received nearly a quarter of a million dollars last year for a speaking engagement on behalf of Academic Partnerships, a for-profit education company in which Jeb Bush held an ownership stake and on whose board he served.
Clinton's newly filed personal financial disclosure shows that she was paid $225,500 on March 24, 2014 by Academic Partnerships. At the invitation-only event in Dallas, Texas, Clinton reportedly said, "today a student doesn't need to travel to Cambridge, Mass., or Cambridge, England, to get a world-class education."
Academic Partnerships assists universities in converting their academic degree programs into online versions that can be taken by students around the world.
In 2011, Bush joined Academic Partnerships as an investor and as a paid advisor. He helped the company host multiple conferences and has appeared in online videos encouraging others to consider the Academic Partnership business model.  firstlook.org/theintercept/2015/05/18/hillary-clinton-paid-jeb-bushs-education-company/
Capitalism beats on the door of every classroom: Rural Districts chase foreign tuition payers to enhance budgets Cash-strapped rural school districts are increasingly recruiting tuition-paying international students. Some foreign students hope that by attending school in the U.S., an American high school diploma and better English will improve their chances of getting into top U.S. colleges and universities. Rural schools are using those tuition dollars to stay afloat. www.congress.gov/bill/113th-congress/house-bill/1139
Hey NEA Delegates! Arne Duncan is not fired, your prezzie hugged him, and he is in Philly giving directions: Go Get a Summer Job! US education secretary Arne Duncan visited West Philadelphia today to take part in a roundtable discussion about the importance of summer employment for young people.
At a Free Library branch at 34th and Haverford Avenue, Duncan was joined by Mayor Nutter and schools superintendent William Hite.
But the adults turned the microphone over to the young folks for a while, to hear first-person accounts of the positive impact that summer jobs can have. http://philadelphia.cbslocal.com/2015/05/22/us-education-secretary-visits-philadelphia-touting-summer-jobs-for-youth/
The International Hot War of the Rich on the Poor
Memorial Day does not mask the fact that children of the poor fight other children of the poor on behalf of the rich in their homelands. Troops are cannon fodder. An Arizona widow has filed a federal lawsuit against the Phoenix VA Medical Center, claiming that the hospital mistakenly gave her husband a false diagnosis that led to his suicide.
In the suit, Shirley Fobke claims that her cancer-stricken veteran husband, Gene Spencer, killed himself after the Phoenix VA Medical Center erroneously told him he did not have long to live, reports the Arizona Republic.
In October 2012, a physician at the center told Spencer, who served in the U.S. Army from 1968 to 1970, that his cancer had spread to his lungs, and he only had a few more weeks to live, says Fobke. Three days later, the 67-year-old vet shot himself in the head, reports Fox News.
However, the day after Spencer's death, Fobke received a phone call from the hospital saying that the diagnosis was wrong and he was not about to die. But, by then it was too late for Fobke to share the good news with her husband. "It just wasn't right," she said. "He deserved better than what they did to him."  www.latinpost.com/articles/52867/20150512/va-scandal-widow-files-2-5-million-lawsuit-against-phoenix-va-medical-center-for-husbands-suicide.htm
"The danger is that the IS caliphate is becoming a permanent part of the region. The frontiers will shift in the coming months. But with the Kurds governing themselves in the north-east, and the Shias in the south, Iraqis question the government's resolve in reversing IS's hold on the Sunni north-west. 'Partition is already a reality,' sighs a Sunni politician in exile. 'It just has yet to be mapped,'" writes the Economist.
"Baghdadi's caliphate, by almost every measure, is growing. Recent intelligence indicates that the Islamic State's headquarters in Iraq and Syria have sent funds to Egypt's Sinai Peninsula, fighters to Tunisia, and advice to Boko Haram militants in Nigeria. A Mideast diplomat, who refused to be identified by his nationality, said the group is now operating in as many as 16 countries, including Algeria, Afghanistan, and Pakistan," writes Lara Jakes in Foreign Policy.
Who Lost Ramadi and Palmyri? Within a matter of days this week, the Islamic State, also called ISIS or ISIL, seized with apparent ease the cities of Ramadi in Iraq and Palmyra in Syria, in both cases seemingly coming out of nowhere to rout government forces. On Thursday, the militants were digging in, consolidating their grip and executing people with ties to the old order.  www.nytimes.com/2015/05/22/world/middleeast/syria-palmyra-ruins-isis.html?hp&action=click&pgtype=Homepage&module=first-column-region&region=top-news&WT.nav=top-news&_r=0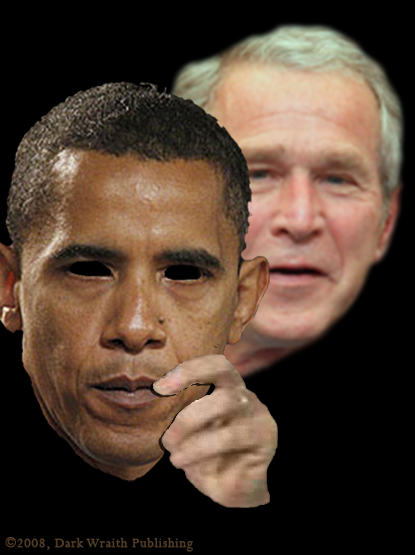 Obamagogue: We are NOT LOSING in Iraq (Syria, Afghanistan, Libya, Mali, to China, Ukraine, and the other 1000 US bases)
General Dempsey, Head of Joint Chiefs, "The Iraqis weren't driven out of Ramadi. They drove out." America's top military officer says Iraqi government forces weren't driven out of Ramadi. They drove.
Gen. Martin Dempsey, chairman of the Joint Chiefs of Staff, told reporters Wednesday on a trip to Brussels that Iraqi security forces commanders made a tactical decision to withdraw from Ramadi last weekend as Islamic State fighters broke through defenses and swarmed through the city, capital of Anbar province.
A sandstorm was reported in the area at the time of the Islamic State assault, but Central Command spokesman Col. Patrick Ryder described it as "minor dust and haze" which had "zero impact," on coalition air operations.
It was the most significant setback in the war against the Islamic State since the militants seized Mosul during last summer's offensive that overran about a third of Iraqi territory. As in Mosul, Iraqi troops abandoned some of their U.S.-supplied equipment as they fled. www.stripes.com/news/middle-east/dempsey-iraqis-weren-t-driven-out-of-ramadi-they-drove-themselves-1.347539
Taibbi on Jeb's "Come to Bro" moment and the Empire's Media The Iraq invasion was always an insane exercise in brainless jingoism that could only be intellectually justified after accepting a series of ludicrous suppositions.
First you had to accept a fictional implied connection between Saddam Hussein and 9/11. Then you had to buy that this heavily-sanctioned secular dictator (and confirmed enemy of Islamic radicals) would be a likely sponsor of radical Islamic terror. Then after that you had to accept that Saddam even had the capability of supplying terrorists with weapons that could hurt us (the Bush administration's analysts famously squinted so hard their faces turned inside out trying to see that one).
And then, after all that, you still had to buy that all of these factors together added up to a threat so imminent that it justified the immediate mass sacrifice of American and Iraqi lives.
It was absurd, a whole bunch of maybes piled on top of a perhaps and a theoretically possible or two. O.J.'s lawyers would have been embarrassed by it.
I don't believe that most of the otherwise smart people who supported the war back then, from Hillary Clinton to the editorial boards of our major newspapers, bought any of this. What did happen is that a lot of people got caught up in the politics of the situation and didn't have the backbone to opt out. They didn't want to look weak, un-American, or "against the troops," at least not in public, so they sat out the debate and got behind the president.
That's why the lambasting of Jeb Bush by all of these media voices grinds a little. At least plenty of Republicans sincerely thought the war was a good idea. But I know a lot of my colleagues in the media saw through the war from day one.
The bulk of them hid behind the morons in our business, people like Tom Friedman and David Brooks and Jeffrey "I trusted the Germans" Goldberg, frontline pundits who were pushed forward to do the dirty work, the hardcore pom-pom stuff.
Many others, particularly the editors, quietly sat by and let lie after lie spill onto their papers' pages, telling themselves that this wasn't wrong or a mistake until years later, when we found out for sure the WMD thing was a canard. more: www.rollingstone.com/politics/news/forget-what-we-know-now-we-knew-then-the-iraq-war-was-a-joke-20150518#ixzz3b03TQlLi
"Get down to Disney World in Florida," he (Bush) urged just over two weeks after 9/11. "Take your families and enjoy life, the way we want it to be enjoyed." and they did it, and they are still doing it. www.washingtonpost.com/wp-dyn/content/article/2008/10/03/AR2008100301977.html

O What a Lovely Moment a War With China would be (video within) The U.S. military has begun to carefully but publicly challenge Chinese island-building on disputed reefs and shoals in the South China Sea, creating fresh tension in a potential global tinderbox as both countries shift forces into the area.
In the latest incident, a Chinese military dispatcher demanded repeatedly that a U.S. Navy P-8A Poseidon surveillance aircraft leave as it flew near Fiery Cross Reef in the Spratly Islands, where China has dredged hundreds of yards of coral and sand and built an airstrip on what it claims is sovereign territory.
"Foreign military aircraft, this is Chinese navy. You are approaching our military alert zone. Leave immediately," the Chinese dispatcher said in a radio transmission, the Navy recounted Thursday.
When the U.S. crew responded that it was flying in international airspace, the Chinese dispatcher answered, "This is the Chinese navy…. You go!" The U.S. plane, which was operating from an air base in the Philippines, received eight warnings from the Chinese during the mission.
Verbal sparring is common between the two militaries, but the Pentagon decision to release two videos and audio recordings from the dust-up a day earlier — less than a week after it disclosed that a U.S. warship also had sailed through the Spratlys — shows a new willingness to publicly confront Beijing for expanding construction projects in waters believed to be rich in oil and gas, and close to vital shipping lanes.
U.S. officials said they are determined to preserve freedom of international navigation and airspace, but are not seeking to provoke a confrontation with China.  www.latimes.com/world/asia/la-fg-us-china-20150522-story.html#page=1&track=lat_emailhouse_th_content-promotion_newsletter_text-link_link1_______150522
Obamagogue's Trillion Dollar Nuke the World Plans: Obama will propose spending cuts for many federal programs in the 2016 budget request he'll send to Congress on Monday, but not for nuclear weapons. Quite the contrary, Obama's administration is proposing to go on a nuclear weapons spending spree. This is an expensive and profound mistake, and one that ignores the limited contribution that nuclear weapons make to U.S. security.
The administration's costly plan proposes to rebuild the entire U.S. nuclear arsenal, including the warheads, and the missiles, planes and submarines that carry them. These plans will cost $348 billion over the next 10 years, according to a Congressional Budget Office estimate released last week. The National Defense Panel, appointed by Congress, found that the price tag over 30 years could be as much as a $1 trillion.
What will taxpayers get for that money? Not much. Nuclear weapons do precious little to address the real threats we and our allies face today,  www.defenseone.com/ideas/2015/02/obamas-trillion-dollar-nuclear-weapons-gamble/104217/
ISIS Claims Suicide Attack on Shia Mosque in Saudi ArabiaA suspected suicide bomber today blew up a Shia mosque in eastern Saudi Arabia and killed at least 10 people in an attack that has been since been claimed by a Saudi branch of the Islamic State (IS) on Twitter.
One witness told Reuters of a huge explosion at the Imam Ali mosque in the village of al-Qadeeh in Qatif province on Friday morning. A doctor at Qatif Central Hospital told the BBC that 10 people had been killed, and at least 70 injured, some badly. news.vice.com/article/suicide-attack-on-shia-mosque-rocks-saudi-arabia?utm_source=vicenewsemail&utm_medium=email&utm_term=News_EN&utm_campaign=VICE%20News
Krugman: They Lied About Iraq (and PK forgot capital, empire, + oil) The Iraq war wasn't an innocent mistake, a venture undertaken on the basis of intelligence that turned out to be wrong. America invaded Iraq because the Bush administration wanted a war. The public justifications for the invasion were nothing but pretexts, and falsified pretexts at that. We were, in a fundamental sense, lied into war.
The fraudulence of the case for war was actually obvious even at the time: the ever-shifting arguments for an unchanging goal were a dead giveaway. So were the word games — the talk about W.M.D that conflated chemical weapons (which many people did think Saddam had) with nukes, the constant insinuations that Iraq was somehow behind 9/11.
And at this point we have plenty of evidence to confirm everything the war's opponents were saying. We now know, for example, that on 9/11 itself — literally before the dust had settled — Donald Rumsfeld, the secretary of defense, was already plotting war against a regime that had nothing to do with the terrorist attack. "Judge whether good enough [to] hit S.H. [Saddam Hussein] …sweep it all up things related and not"; so read notes taken by Mr. Rumsfeld's aide.
This was, in short, a war the White House wanted  www.nytimes.com/2015/05/18/opinion/paul-krugman-errors-and-lies.html?_r=0
The Boy Scout Agenda is a War Agenda
Above, Former Secretary of Defense (war), head of the Boy Scouts–loves those  gay potential conscripts www.usatoday.com/story/news/nation/2015/05/21/boy-scouts-end-ban-gays/27714681/
The International Economic War of the Rich on the Poor
Still too Big To Jail, Five Felonious Banks Guilty but FREE For most people, pleading guilty to a felony means they will very likely land in prison, lose their job and forfeit their right to vote.
But when five of the world's biggest banks plead guilty to an array of antitrust and fraud charges as soon as next week, life will go on, probably without much of a hiccup.
The Justice Department is preparing to announce that Barclays, JPMorgan Chase, Citigroup and the Royal Bank of Scotland will collectively pay several billion dollars and plead guilty to criminal antitrust violations for rigging the price of foreign currencies, according to people briefed on the matter who spoke on the condition of anonymity. Most if not all of the pleas are expected to come from the banks' holding companies, the people said — a first for Wall Street giants that until now have had only subsidiaries or their biggest banking units plead guilty.  The Justice Department is also preparing to resolve accusations of foreign currency misconduct at UBS. As part of that deal, prosecutors are taking the rare step of tearing up a 2012 nonprosecution agreement with the bank over the manipulation of benchmark interest rates, the people said, citing the bank's foreign currency misconduct as a violation of the earlier agreement. UBS A.G., the banking unit that signed the 2012 nonprosecution agreement, is expected to plead guilty to the earlier charges and pay a fine that could be as high as $500 million rather than go to trial, the people said.  www.nytimes.com/2015/05/14/business/dealbook/5-big-banks-expected-to-plead-guilty-to-felony-charges-but-punishments-may-be-tempered.html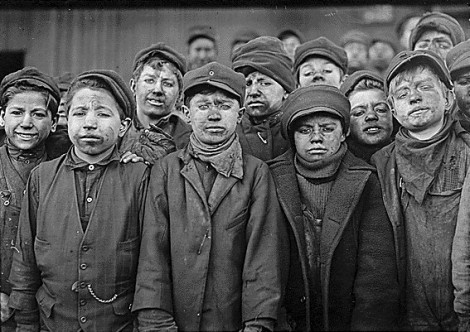 "Poverty is that state and condition in society where the individual has no surplus labour in store, or, in other words, no property or means of subsistence but what is derived from the constant exercise of industry in the various occupations of life. Poverty is therefore a most necessary and indispensable ingredient in society, without which nations and communities could not exist in a state of civilization. It is the lot of man. It is the source of wealth, since without poverty, there could be no labour; there could be no riches, no refinement, no comfort, and no benefit to those who may be possessed of wealth." Patrick Colquhoun  www.filmsforaction.org/news/recovered_economic_history_everyone_but_an_idiot_knows_that_the_lower_classes_must_be_kept_poor_or_they_will_never_be_industrious/
Detroit Water Shutoffs Resume Water shutoffs are expected to resume next week for delinquent residential account holders in Detroit, prompting some to renew the call for a water affordability study.
City Councilwoman Raquel Castaneda-Lopez joined a group of activists who gathered outside City Hall on Monday to advocate for a water affordability plan, saying the assistance model long-used in Detroit is a "broken" one and may not be the best strategy under the new Great Lakes Water Authority set to take effect July 1.
Lopez said the fact some residents can't keep up with payments — even after they're enrolled in an assistance program — means rates are too high.
Assistance plans help delinquent residents get up-to-date on their bills. An affordability plan would reduce rates for some residents, charging high- and moderate-income homeowners more for water than low-income residents. The idea has previously been proposed but never implemented in Detroit.  www.detroitnews.com/story/news/local/detroit-city/2015/05/18/detroit-water-shutoffs-set-resume-groups-urge-plan/27529187/
As Elites Re-colonize parts of Detroit–the rest of the city is left to burn  The number of suspicious fires in Detroit rose sharply in April, killing at least one person and damaging or destroying 142 houses, businesses, schools and apartments, a Motor City Muckraker tally of fire data shows.
The fires spread and damaged more than two dozen neighboring houses, in no small part due to delays caused by broken hydrants and malfunctioning rigs.
In April, 14 engines and ladder trucks broke down at the scenes of emergencies or en route to them. About half of the city's ladder trucks, which are used to rescue people and extinguish large fires, don't have properly working aerials, and the city has no money to replace them.
In all, fires broke out in 258 houses, businesses and other buildings in April. Nearly half of those – 126 – collapsed or were damaged beyond repair.
Of the structures with known occupancies, 124 were vacant and 112 were occupied.
Fires broke out in 223 houses, 24 commercial buildings, three schools and seven apartments.  motorcitymuckraker.com/2015/05/18/arsons-spike-in-april-damaging-or-destroying-142-houses-buildings-in-detroit/
The Emergence of Fascism as a Popular Mass Movement
137 shots Fired into 2 unarmed black people. Nobody/everybody did it. Not guilty. A white Cleveland patrolman who fired down through the windshield of a suspect's car at the end of a 137-shot barrage that left the two unarmed black occupants dead was acquitted Saturday of criminal charges by a judge who said he could not determine the officer alone fired the fatal shots.
Michael Brelo, 31, put his head in hands as the judge issued a verdict followed by angry, but peaceful, protests: Outside the courthouse police blocked furious protesters from going inside while across the city others held a mock funeral with some carrying signs asking, "Will I be next?"
The acquittal came at a time of nationwide tension among police and black citizens punctuated by protests over deaths of black suspects at the hands of white officers — and following a determination by the U.S. Department of Justice that Cleveland police had a history of using excessive force and violating civil rights.
Before issuing his verdict, Cuyahoga County Common Pleas Judge John P. O'Donnell reflected on the unrest. "In many American places people are angry with, mistrusting and fearful of the police," he said. "Citizens think the men and women sworn to protect and serve have violated that oath or never meant it in the first place."
But O'Donnell said he would not offer up Brelo to an angry public if the evidence did not merit a conviction.
"I will not sacrifice him," O'Donnell said.Brelo — who fired a total of 49 shots, including 15 down through the windshield while standing on the hood of the suspects' vehicle — faced as many as 22 years in prison had the judge convicted him on two counts of voluntary manslaughter in the deaths that happened after Timothy Russell's beat-up Chevy Malibu backfired outside police headquarters.  news.yahoo.com/verdict-reached-officer-over-deaths-137-shot-barrage-122057059.html
Those Criminal Detroit Coppers Two suspended Detroit cops who are accused of stealing drugs, money and property during warrantless raids and bogus arrests were indicted Wednesday and face up 20 years in prison.
Federal prosecutors allege that Lt. David Hansberry and Officer Bryan Watson embarked on a four-year crime spree that targeted innocent people, alleged drug dealers and marijuana dispensaries. They are accused of threatening people with arrest and then stealing anything of value.
The pair belonged to a now-disbanded narcotics unit and used their authority to intimidate marijuana dispensary owners, storming in with guns and pocketing the money, cannabis, surveillance equipment and paraphernalia, according to the indictment.
Also under investigation was Detective James Napier, 35, who fatally shot himself in front of his parent's home in January.  motorcitymuckraker.com/2015/04/09/feds-2-detroit-cops-terrorized-dealers-and-dispensaries-stealing-money-drugs-for-years/
Civil libertarians cannot force a full disclosure of the nearly 7,000-page Senate report on the CIA's use of torture in interrogations, a federal judge ruled Thursday.
The 6,963-page "Final Full Report" by the Senate Select Committee on Intelligence (SSCI) has been in a quasi-limbo since Republicans took control of Congress at the beginning of this year.
When the Democrats still controlled the Senate in December 2014, committee chairwoman Diane Feinstein sent a copy of the full report to President Barack Obama, with a letter encouraging the president to use the full report in future development of CIA programs.
Feinstein chose not to seek declassification of the full committee study at that time, however, and the committee's new chairman, Sen. Richard Burr, R-N.C., has since demanded that Obama to return all copies of the Final Full Report immediately.
Burr claimed in his letter that he was unaware copies of the report had been sent to the executive branch. He also allegedly requested that the full report "not be entered into any Executive Branch system of records," which would make it a public record.
With only a 480-page executive summary and 20 conclusions on the report released publicly, the American Civil Liberties Union went to federal court to get the report fully released, along with an internal CIA study commissioned by former Director Leon Panetta, under the Freedom of Information Act.
U.S. District Judge James Boasberg in Washington sided with the government www.courthousenews.com/2015/05/21/judge-wont-give-public-access-to-senate-report-on-cia-torture.htm
Solidarity for Never
New Chant for Counterfeit Opt-Out Movement: Ho! Ho! Hay! Hay! We'll Abuse the kids! Dump Merit Pay!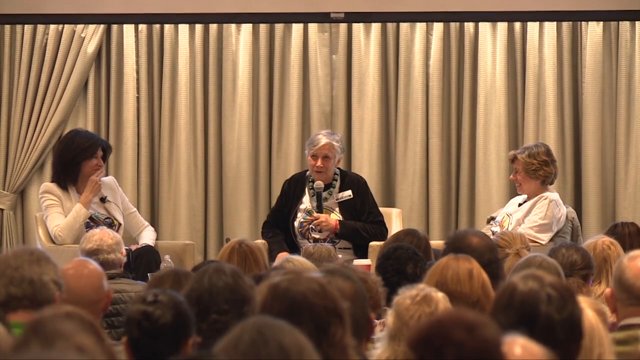 Mother Superiors of the Missions for Capitalism (Eskelsen, Ravitch, Weingarten)
Lying Lily Eskelsen, NEA boss, Says No, Means Yes—to Bill Gates
The Walton, Gates and Broad Foundations are at the forefront of the privatization movement. Will you commit not to accept funding from them and not to collaborate with them? [56:56]
She then asked for their "yes or no" answers:
Lily?
Garcia: Yes.
Randi?
Weingarten: Yes.
In fact, in a blog post entitiled, "Gates Keepers" dated three days prior to her conference appearance (??) and categorized as , "I just had to say this," Garcia defended her right to say "yes" and mean "no."
In her oddly-dated post, Garcia attempts to set Gates apart from Walton and Broad. In reality, NEA has no problem with refusing money from Walton because the Waltons hate unions.
As for the Broad Foundation, Garcia criticizes it as "all charters all the time."
But when it comes to taking cash from the Gates Foundation, Garcia states that Gates is "complicated."…
As supposed evidence that Gates can be trusted (and that accepting his money is fine), Garcia cites part of the Gates Foundation website that offers a brochured Gates sell:
We are focused on results. Those that can be measured. And those measured in ways beyond numbers. We see individuals, not issues. We are inspired by passion, and compassion for the wellbeing of people. Our methods are based on logic, driven by rigor, results, issues, and outcomes. Our innovation means trying new things, learning from our mistakes, and consistently refining our approach. Our strategies help us define our path to success, but our effectiveness is based in the aggregate power of our initiatives to impact holistic change.
above, delusional Lily believes she scared The Obamagogue, but she did get a ride in a limo.
That is enough for Garcia. She considers Gates trustworthiness as established.
She does not add that the Gates Foundation is clear about making grants "according to our funding priorities" and by directly contacting organizations to invite them to apply for grants under those Gates-determined priorities.
As evidence of Gates' goodness, Garcia notes that Gates funds "the National Board for Professional Teaching Standards (which the NEA helped found)."…It is no secret that NEA is all in for CCSS. So, the fact that Gates is all in is no problem for Garcia. As of May 2015, the Gates Foundation has paid the NGA Foundation $4.6 million for CCSS implementation….
Lily Eskelsen Garcia is willing to defend NEA's continued receiving of Gates funding on a technicality:
NEA doesn't directly receive the Gates funding. The NEA Foundation does.   "I was asked at the NPE conference to give a simple answer to a question that is not so simple: Would my union, the NEA, accept Gates grants? The fact is that, no, NEA does not directly take funds from the Gates Foundation. … Our union organized an independent foundation for the very purpose of connecting philanthropists with the creative work of our member practitioners in classrooms across the country. … And in service to those members and those students, we will continue to work with powerful partners, foundations and institutions dedicated to educational innovation, educator empowerment, student health, and parent engagement. Over the years, we've helped educators connect with many donors, including the Gates Foundation…."
NEA and the NEA Foundation are two peas, same pod. The NEA Foundation is supported in part via NEA membership dues, and Garcia sits on the NEA Foundation board of directors.
Gates money to the NEA Foundation is Gates money to NEA. For example, consider these two July 2013 NEA Foundation grants:
Date: July 2013
Purpose: to support a cohort of National Education Association Master Teachers in the development of Common Core-aligned lessons in K-5 mathematics and K-12 English Language Arts
Amount: $3,882,600
Date: July 2013
Purpose: to support the capacity of state NEA affiliates to advance teaching and learning issues and student success in collaboration with local affiliates
Amount: $2,446,500
This $6.3 million was paid to the NEA Foundation but directed toward NEA members/affiliates.
And, to be clear, Garcia was not asked by Ravitch if her union, the NEA, would accept Gates grants. She was asked to "commit not to accept funding from" Gates "and not to collaborate with" Gates.
To this, she said yes.  deutsch29.wordpress.com/2015/05/18/neas-lily-eskelsen-garcia-remains-faithful-to-gates-funding/
"Bigger Bribes from the Empire! No Merit Pay!" Missionaries for Capitalism and War on the March! (behind the 2nd International) Teacher union protests that have rolled through Washington school districts for nearly a month now reached a climactic moment Tuesday as thousands of Seattle teachers walked off the job for a one-day strike, leaving schools in the state's largest district closed.
An estimated 4,000 teachers picketed at eight high schools in the morning before marching more than two miles through downtown Seattle in the afternoon, railing against legislative proposals they say leave them underpaid and overwhelmed in classrooms.
The primary targets of the teachers' ire — Olympia legislators, and Republican state lawmakers in particular — fired back, defending their budget plans, raising their doubts about the strikes' legality and accusing teachers union leaders of using students as political "pawns." (when will the tedious "people in motion!" chants begin?) www.kplu.org/post/teachers-march-through-seattle-streets-one-day-strike-closes-district-schools
Led by TFAer and Smelling of DSA, Seattle "Professionals" pretend a walkout is a strike (what came of "first do no harm?" and how long have you been proctoring those racist tests before merit pay caught on?)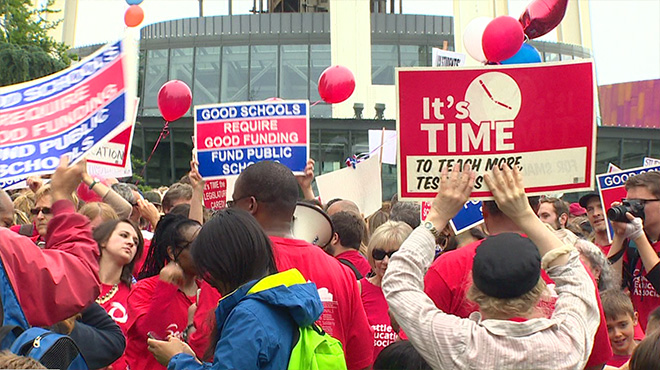 Blowhard Sap Loves DSA–plans to vote away capitalism, empire, and build his hubris ridden ego
"DSA is the major organization on the American left with an all-embracing moral vision, systematic social analysis, and political praxis rooted in the quest for radical democracy, social freedom, and individual liberties."—Cornel West,DSA Honorary Chair
Chickens Coming Home to Roost for Opportunist Freire's Failed Project in Brazil and Latin America Rousseff and several Latin American leaders are being forced to realise, amid growing public hostility, an increasingly unfavourable global economy and a series of spectacular scandals that have highlighted the ethically corrosive effects of more than a decade in power.
Mendes was far from alone in his outrage. The protests last week were among the biggest ever witnessed in Brazil. Estimates of the combined total of protesters at rallies in more than 150 cities range from hundreds of thousands to more than 1.5 million. Even among those who stayed at home, Rousseff is immensely unpopular. Her "good or great" approval rating fell last week to 13% – the lowest of any president since Fernando Collor de Mello was impeached in 1992.
She has been hit by the twin blows of a stagnating economy, which is expected to slip back into recession this year, and a jaw-dropping corruption scandal at the state-run oil company, Petrobras. More than 100 executives and politicians of all ideological stripes have been implicated in at least $3bn of kickbacks, bribery and money-laundering dating back to the 1990s and ramping up enormously after the Workers party won power.  www.theguardian.com/world/2015/mar/22/latin-america-left-tough-times-brazil-argentina-venezuela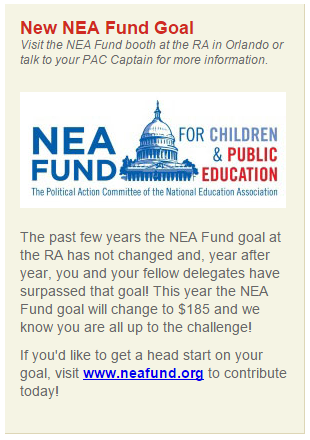 above, NEA delegates will duplicate UTLA's corrupt dodge into the electoral world at their Orlando collection where the NEA bosses they contribute hundreds of thousands to—Hillbillary of course.
UTLA Wasted a Million Dollars on Loser School Board Election–another "radical" caucus sinks into parody of radicalism Supporters of charter schools won a groundbreaking election victory in Los Angeles this week, putting one of their leaders, for the first time, on the governing board of the nation's second-largest school system.
The triumph of charter school co-founder Ref Rodriguez gave leaders of that movement, once outsiders and competitors, a seat at the controls of the Los Angeles Unified School District. The win gives the district's 211 charter schools a key ally they never had before.
Rodriguez defeated one-term incumbent Bennett Kayser to win election to a school board post that represents areas north and east of downtown and the cities of southeast L.A. County.
The Kayser/Rodriguez contest became a high-cost, bitter proxy campaign between charter advocates and the teachers union, a face-off with implications well beyond Los Angeles.  Charter advocates spent more than $2 million to elect Rodriguez. The teachers union put more than $1 million behind Kayser. In three races Tuesday, outside groups spent more than $5million.  www.latimes.com/local/education/la-me-lausd-election-analysis-20150521-story.html#page=1
Spy versus Spy
WAPO: How the NSA Spies on you (and they won't stop until they are fully stopped) Documents obtained by The Washington Post indicate that the National Security Agency iscollecting billions of records a day to track the location of mobile phone users around the world. This bulk collection, performed under the NSA's international surveillance authority,taps into the telephony links of majortelecommunications providers including some here in the United States.The NSA collects this location and travel habit data to do "target development" — to find unknown associates oftargets it already knows about.  To accomplish this, the NSA compilesinformation on a vast database of devices and their locations. Most of those collected, by definition, are suspected of no wrongdoing. Officials say they do not purposely collect U.S. phone locations in bulk, but a large number are swept up "incidentally."Using these vast location databases, the NSA applies sophisticated analytics techniques to identify what it calls co-travelers — unknown associates who might be traveling with, or meeting up with a known target.HERE IS HOW IT WORKS  www.washingtonpost.com/apps/g/page/world/how-the-nsa-is-tracking-people-right-now/634/
Former CIA op, now congressman, praises IS media reach Will Hurd (R-Texas), a former undercover operative for the CIA, tells The Hill that the Islamic State in Iraq and Syria (ISIS) has an uncanny ability to wield social media as a weapon.
"ISIS's ability to leverage social media to hit tens of millions of people at a time is phenomenal," the freshman lawmaker said. "You look at the recent events in my home state of Texas, in Garland, last week, where you had these two individuals that were really inspired by ISIS — based on the rhetoric that they were seeing up online — so we have to be able to counter that threat."  (video inside) thehill.com/video/in-the-news/241985-ex-cia-operative-lawmaker-isis-social-media-reach-phenomenal
Secrets, the C.I.A. and The New York Times  Since 9/11, the United States' "war on terror" has become the overarching news story of our time.
As the nation's dominant news organization, The Times deserves, and gets, intensive scrutiny for how it has handled that story. The grades, clearly, are mixed. Its role in the run-up to the Iraq War has been rightly and harshly criticized. Its early reporting on surveillance, though delayed, was groundbreaking. Its national-security reporting has been excellent in many ways and, at times, is justifiably slammed for allowing too much cover for government officials who want to get their message out.
Nearly 14 years after 9/11, a reckoning finally is taking place. The Times's executive editor, Dean Baquet, has said repeatedly in recent months that he thinks it's time to toughen up and raise the bar.
Here's what he told me recently, in the context of a column I wrote about covering drone strikes and the death of civilians:
"We've learned the perils of not monitoring and policing warfare" as rigorously as possible, and of too readily agreeing to government requests to withhold information.
"We were too soft years ago — at least, I'll say that I was."  publiceditor.blogs.nytimes.com/2015/05/21/secrets-the-c-i-a-and-the-new-york-times/?emc=edit_tnt_20150522&nlid=2254121&tntemail0=y&_r=0
(I got a 9) Pop Quiz! How Kafkaesque is the Fisa Court? www.washingtonpost.com/blogs/the-switch/wp/2015/05/21/quiz-just-how-kafkaesque-is-the-court-that-oversees-nsa-spying/
Our Friendly Merc Corp is Hiring! Why SAIC is for YOU!
Why SAIC?
You can excel at SAIC because we're ready and equipped to help you propel your career. Learn more » www.saic.com/about/join-us/
The Magical Mystery Tour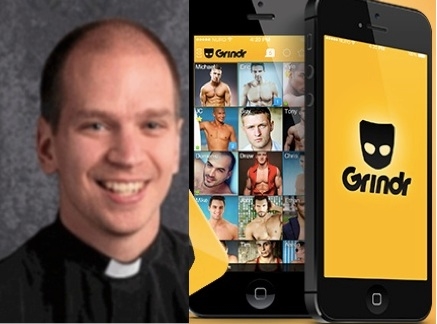 Reverend Matthew Makela was recently listed on the St. John's Lutheran Church website as a devoted husband and father of five children. But, he was forced to resign this week after Queerty.com published pics of his Grinder profile:
Until 2 p.m. on Monday, the 'Our Church Staff' section of St. John's Lutheran Church and School's website described Reverend Matthew Makela as an associate pastor who enjoys, "family, music, home improvement, gardening and landscaping, and sports."
Screenshots obtained by Queerty from a source who asked that his name be withheld shed light on some of the Reverend's other favorite past times — namely nude make out sessions and sex with other men.
And the folks at Queerty.com note, the good pastor has publicly backed an anti-gay agenda on many occasions:
"It is unrighteous to give into sinful temptations. We are all tempted and it is not a sin to be tempted, but it is a sin to give into to temptation. A sexual attraction to the same sex is a sinful temptation to be resisted and overcome by God's grace and power, just as a temptation to steal or lie or overeat must be resisted and overcome by replacement with working hard, telling the truth and moderation in appetite." www.dailykos.com/story/2015/05/20/1386221/-Anti-gay-pastor-in-Michigan-resigns-after-well-you-can-probably-guess?detail=facebook_sf#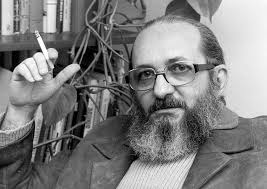 above, Paulo Freire, devout Catholic who lifted much of his work from Dom Halder Camara, leader of Catholic base communities trying to defeat Marxist rebels. The "Dead End at Freire" richgibson.com/rouge_forum/CSSE2008/GibsonCSSE2008.htm
The Best and Worst Things in the History of the World
The Heavens Weep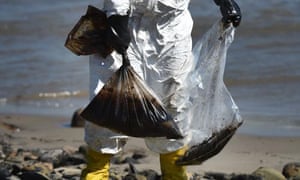 Federal officials are investigating the company at the center of the Santa Barbara oil spill, which has left more than 11 miles of coastline covered with an oil slick.
The Santa Barbara district attorney, Joyce Dudley, told Reuters her office was working with the federal government to determine the potential for criminal or civil prosecution against Plains All American Pipeline, the Texas-based company which owns the ruptured pipeline that has poured about 20,000 gallons of oil into the Pacific ocean.
The state attorney general, Kamala Harris, is working with the Santa Barbara district attorney's office, other state officials and the federal government to investigate the incident and the actions of the company leading up to the spill.
"This oil spill has scarred the scenic Santa Barbara coast, natural habitats and wildlife," Harris said in a statement. www.theguardian.com/us-news/2015/may/23/california-oil-spill-company-investigation-local-state-federal