Saturday, February 23rd, 2013
We Say Fight Back!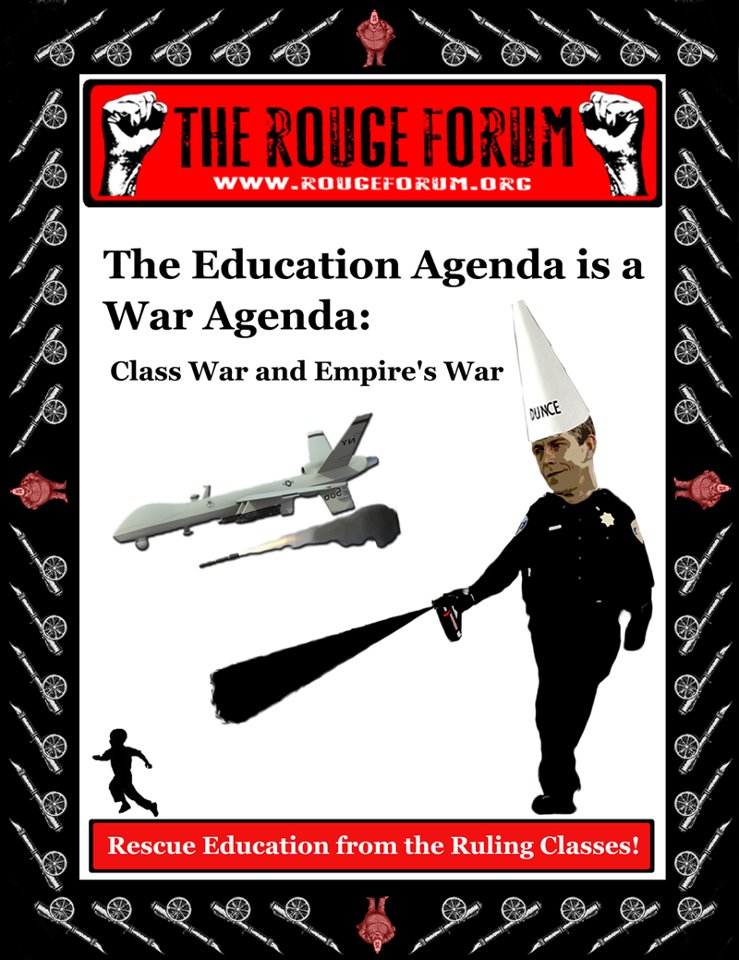 Come to the Rouge Forum Conference 2013
Rouge Forum 2013 will be held at Wayne State University in Detroit, MI on May 16-19.
The theme of this RF2013 is "Winning the Class Struggle Against Corporate Education Reform"
The Rouge Forum brings together academic presentations and panel discussions, performances, community building, and cultural events.
Join us in Beautiful Downtown Detroit!
rougeforumconference.wordpress.com/rouge-forum-2013/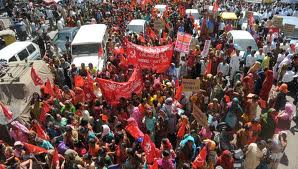 India: General Strike India's public-sector banks and offices have remained closed on the second day of a general strike staged to protest against the government's planned pro-market reforms.
On Thursday, the All India Trade Union Congress said millions of Indian workers participated in the strike held to keep up pressure on the government until their demands are met.
Eleven Indian unions had called for the walkout to express their outrage at the government measures, which they denounced as "anti-poor" and likely to bring about layoffs and price hikes.
According to analysts, the general strike highlighted discontent among Indian workers as the impact of the stoppage was widely felt in heavily unionized state institutions.  http://www.presstv.com/detail/2013/02/21/290128/india-strike-shuts-banks-for-second-day/
Greece: General Strike Greek workers took to the streets Wednesday in a nationwide general strike to protest government austerity measures.
Greece's two largest labor unions called the 24-hour strike to oppose massive wage cuts and sharp tax increases that have left the country economically hobbled.
The unions, GSEE and ADEDY, represent 2.5 million workers in a country of about 11 million people.
The unions have called several general strikes since 2009.
Ferries, flights and trains were delayed and public services ground to a halt Wednesday as up to 60,000 people poured into the streets in front of the Greek parliament, Reuters reported.
Public hospitals functioned using emergency staff, court houses were closed, as were schools   www.globalpost.com/dispatch/news/regions/europe/130220/greek-workers-shut-down-country-over-austerity-measures
February 1848: Marx and Engels Publish  the Communist Manifesto
The history of all hitherto existing society(2) is the history of class struggles.
Freeman and slave, patrician and plebeian, lord and serf, guild-master(3) and journeyman, in a word, oppressor and oppressed, stood in constant opposition to one another, carried on an uninterrupted, now hidden, now open fight, a fight that each time ended, either in a revolutionary reconstitution of society at large, or in the common ruin of the contending classes....Our epoch, the epoch of the bourgeoisie, possesses, however, this distinct feature: it has simplified class antagonisms. Society as a whole is more and more splitting up into two great hostile camps, into two great classes directly facing each other — Bourgeoisie and Proletariat….The executive of the modern state is but a committee for managing the common affairs of the whole bourgeoisie….
Modern bourgeois society, with its relations of production, of exchange and of property, a society that has conjured up such gigantic means of production and of exchange, is like the sorcerer who is no longer able to control the powers of the nether world whom he has called up by his spells. For many a decade past the history of industry and commerce is but the history of the revolt of modern productive forces against modern conditions of production, against the property relations that are the conditions for the existence of the bourgeois and of its rule.
It is enough to mention the commercial crises that by their periodical return put the existence of the entire bourgeois society on its trial, each time more threateningly. In these crises, a great part not only of the existing products, but also of the previously created productive forces, are periodically destroyed. In these crises, there breaks out an epidemic that, in all earlier epochs, would have seemed an absurdity — the epidemic of over-production. Society suddenly finds itself put back into a state of momentary barbarism; it appears as if a famine, a universal war of devastation, had cut off the supply of every means of subsistence; industry and commerce seem to be destroyed; and why? Because there is too much civilisation, too much means of subsistence, too much industry, too much commerce.
The productive forces at the disposal of society no longer tend to further the development of the conditions of bourgeois property; on the contrary, they have become too powerful for these conditions, by which they are fettered, and so soon as they overcome these fetters, they bring disorder into the whole of bourgeois society, endanger the existence of bourgeois property. The conditions of bourgeois society are too narrow to comprise the wealth created by them. And how does the bourgeoisie get over these crises? On the one hand by enforced destruction of a mass of productive forces; on the other, by the conquest of new markets, and by the more thorough exploitation of the old ones. That is to say, by paving the way for more extensive and more destructive crises, and by diminishing the means whereby crises are prevented.
The weapons with which the bourgeoisie felled feudalism to the ground are now turned against the bourgeoisie itself.
But not only has the bourgeoisie forged the weapons that bring death to itself; it has also called into existence the men who are to wield those weapons — the modern working class — the proletarians.http://www.marxists.org/archive/marx/works/1848/communist-manifesto/ch01.htm
Learning the Hard Way–concessions don't save jobs The threat of pink slips has reared its head at Southwestern Community College District for the first time since l987.
Only a few months ago, when voters passed Proposition 30, a tax to fund K-12 schools, community colleges, and state universities, governor Jerry Brown told the San Jose Mercury News, "Here we have a vote of the people, I think the only state in the country that says, 'Let's raise our taxes, for our kids, for our schools, and for our California dream.'"
Last week, however, the Southwestern governing board met and discussed "worst-case scenarios" for negotiations with teachers. The worst-case scenario includes issuing pink slips on March 15. Prior to the board meeting, superintendent Melinda Nish sent out a letter that advised faculty: "An information discussion of workforce reduction does not mean we stop negotiations or the meet-and-confer process."
The faculty response was quick.
On February 14, the Southwestern College Education Association Representative Council passed this resolution unanimously: "Resolved: The [association] directs its negotiations team to not agree to any salary cuts, no layoffs, and, furthermore, that the administration should take a 5% cut."   www.sandiegoreader.com/news/2013/feb/20/stringers-southwestern-college-may-trim-/?c=141018
The Little Red Schoolhouse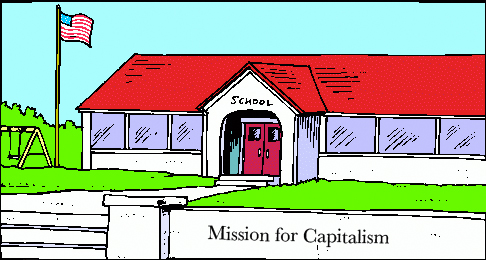 Ohanian on the Common Corpse In response to a poverty rate that tops 90% in many urban and rural schools –and 1.6 million homeless children—many in schools with no libraries–education reformers at the White House, the Bill and Melinda Gates Foundation, and the National Governors Association call for a radical, untried curriculum overhaul and two versions of nonstop national testing to measure whether teachers are producing workers for the Global Economy.
They call this upheaval the Common Core State (sic) Standards (CCSS) and there are two things to remember: The Common Core did not originate with the states and it is speculative and experimental–in a word, cuckoo. I use the (sic) in its title because putting the word "state" in there is a political move, a public relations ploy. Learning from President Bill Clinton's failure to get the national test he wanted, corporate leaders and their political allies try to keep this school remake as distant from the White House as possible, insisting over and over that it's a "grassroots initiative" –what the people asked for. Every time they say this, the press repeats it. The Common Core reality is about as far from Mom and apple pie as a zombie invasion.  Writing in Bloomberg Businessweek, Pulitzer Prize winner Daniel Golden was one of the few journalists to acknowledge the closeness of the White House to the Common Core: "Today, the Gates Foundation and Education Secretary Duncan move in apparent lockstep."
School reform rhetoric about the "failure" of public schools draws on the notoriously deceptive and fear-mongering A Nation at Risk–pushed by entities ranging from the Business Roundtable and the U. S. Chamber of Commerce to the Bill and Melinda Gates Foundation and the U. S. Department of Education. This rhetoric is bi-partisan.   www.dailycensored.com/woo-hoo/
Michelle (test cheat) Rhee's 1/4 Million Makes it a $1.35 Million School Bd Campaign in LA A group led by former District of Columbia schools chancellor Michelle Rhee donated $250,000 Wednesday to contests for seats on the Los Angeles Board of Education, adding further political fuel to a battle over the direction of reform efforts in the nation's second-largest school system.
The support of StudentsFirst, which is based in Sacramento, will benefit an independent campaign on behalf of school board President Monica Garcia as well as Kate Anderson and Antonio Sanchez, who are seeking to join the seven-member body.  http://www.latimes.com/news/local/la-me-0221-school-board-20130221,0,4497748.story
The Education Agenda is a War Agenda: Class War and Empire's Wars (but here's some details) Teachers will be spared the anxiety of pink slips this year, and will finally receive some of the raises that were negotiated three years ago.
However, class sizes — once protected as a top priority by the board — will go up from 24 to 27 students in kindergarten through third-grade at most schools. At the district's lowest -performing campuses, class size will jump from 20 to 24 students, under a preliminary budget plan released this week.
San Diego Unified's roughly 200 schools will feel the pinch of budget cuts with slightly fewer nurses available to treat students. Funding for basic supplies and hourly workers will drop to from $9.6 million to $5.9 million, enough to fund 61 percent of the actual need.  http://www.utsandiego.com/news/2013/feb/21/San-Diego-Unified-budget-class-size-property/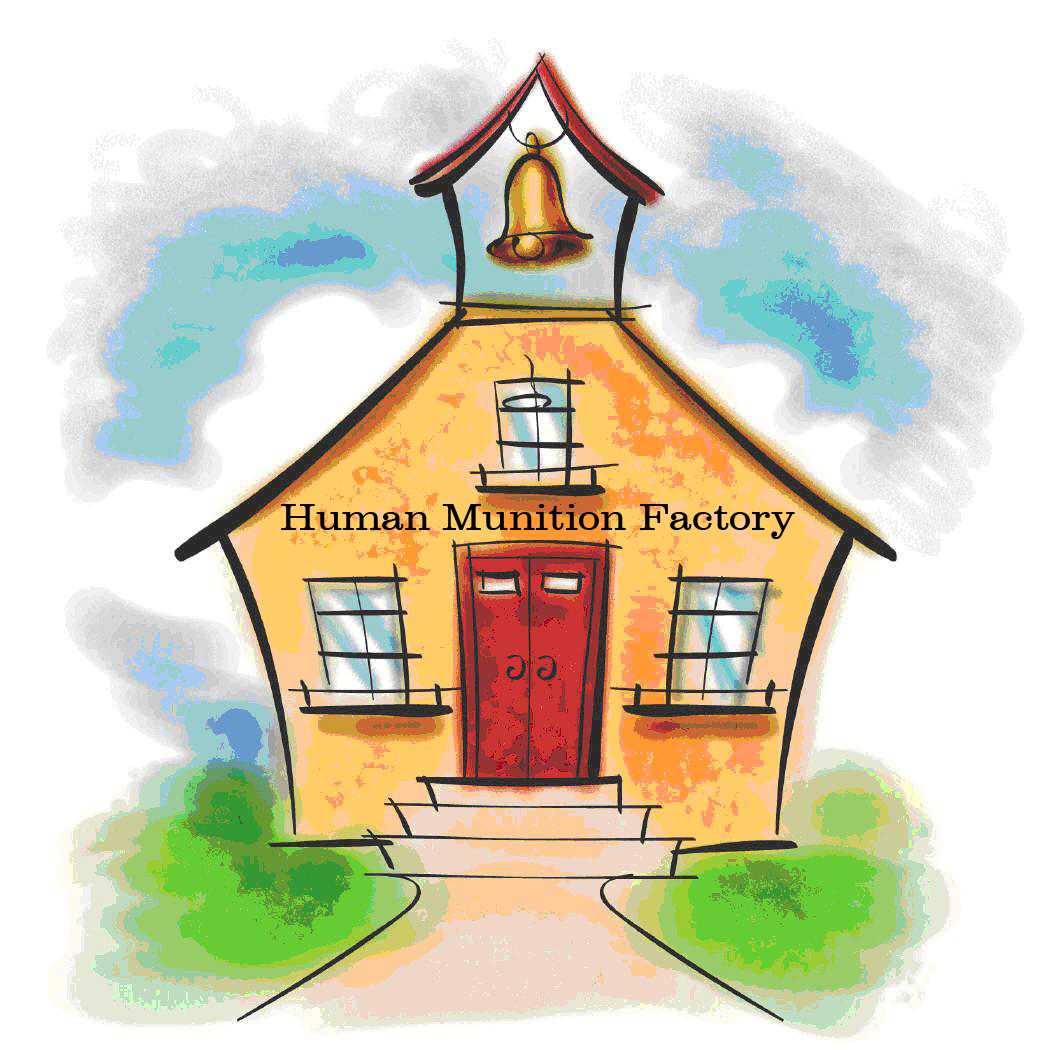 Why School Workers and Their Union Dodge the Fact that the Education Agenda is a War Agenda The receipt of high monopoly profits by the capitalists in one of the numerous branches of industry, in one of the numerous countries, etc., makes it economically possible for them to bribe certain sections of the workers, and for a time a fairly considerable minority of them, and win them to the side of the bourgeoisie of a given industry or given nation against all the others. The intensification of antagonisms between imperialist nations for the division of the world increases this urge. And so there is created that bond between imperialism and opportunism, which revealed itself first and most clearly in Great Britain, owing to the fact that certain features of imperialist development were observable there much earlier than in other countries.  http://www.marxists.org/archive/lenin/works/1916/imp-hsc/ch10.htm
LA School boss, Deasy with the fake degree, wants test scores to count 30 percent (UTLA already caved) L.A. schools Supt. John Deasy announced Friday that as much as 30% of a teacher's evaluation will be based on student test scores, setting off more contention in the nation's second-largest school system in the weeks before a critical Board of Education election.
Leaders of the teachers union have insisted that there should be no fixed percentage or expectation for how much standardized tests should count — and that test results should serve almost entirely as just one measure to improve instruction. Deasy, in contrast, has insisted that test scores should play a significant role in a teacher's evaluation and that poor scores could contribute directly to dismissal.
In a Friday memo explaining the evaluation process, Deasy set 30% as the goal and the maximum for how much test scores and other data should count.  http://www.latimes.com/news/local/la-me-lausd-evals-20130216,0,2751290.story
West Virginia Dances For Common Core and New Tests Students across West Virginia are being prepared for a new standardized test that will replace the state's Westest.
Students will begin taking the Smarter Balanced Assessment test during the 2014-2015 school year. The test, adopted by West Virginia and 45 other states, is based on the national Common Core standards.
"Westest is just a West Virginia-based test. Smarter Balanced is being developed by a consortium of 26 states. This should assure parents that West Virginia is implementing an equal curriculum," said Robert Hull, associate superintendent for the state Department of Education's Division of Teaching and Learning. "Now, we will be able to measure how our students compare to other states much easier."
Kindergarten and first-grade classes already are using the Next Generation Content Standards and Objectives for math and reading/language arts. The standards are being implemented in second-grade classes, and all grades will use them by the fall of 2014.  http://www.register-herald.com/todaysfrontpage/x1633487361/W-Va-educators-prepare-students-to-take-new-standardized-test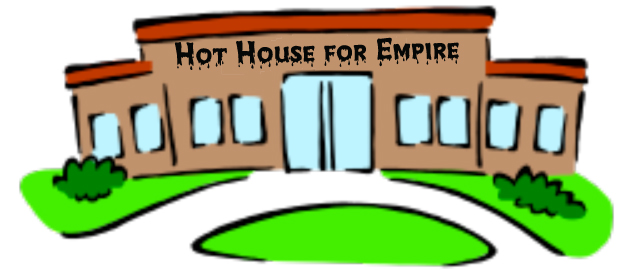 In Capitalist Higher Education, The Low Wage Adjuncts Professor Staff is actually the majority of the faculty known as adjuncts, lecturers, part-time profs and other confusing titles. In the U.S., they number roughly one million. These teachers work on temporary, low-wage contracts, largely ineligible for basic job protections that support academic quality in the classroom.
At the community college where I teach, the percentage of "part-time" professors has gone from 14.1 percent in 1995 to 77.7 percent in 2009, according to a database maintained by the Modern Language Association.
The shift in faculty employment from secure, living-wage jobs to temporary, un-benefited, low-wage work is consistent with what is occurring in the economy. The National Employment Law Project calls it a "good jobs deficit."
At colleges and universities, this deficit has existed for decades. It has gone unnoticed only because faculty regularly make enormous sacrifices to shield their students from its worst effects.   www.takepart.com/article/2013/01/22/higher-educations-darkest-secret
There Goes the CA Teachers' Pension Fund The trust fund that provides pensions to retired teachers has a $64 billion deficit and would need a $4.5 billion per year infusion of revenue to become fully solvent, according to a new internal study.
The California State Teachers Retirement System produced the report in response to a legislative resolution.
Its release came just days after the Legislature's budget analyst, Mac Taylor, indirectly chided Gov. Jerry Brown for ignoring "huge unfunded liabilities associated with the teachers' retirement system and state retiree health benefits" in his new budget.   Read more here: blogs.sacbee.com/capitolalertlatest/2013/02/california-teachers-pension-fund-faces-64-billion-deficit.html#storylink=cpy#storylink=cpy
Gil Gonzalez' Classic: Chicano Education in the Era of Segregation  http://www.utpa.edu/dept/curr_ins/faculty_folders/guadarrama_i/bi%20lingual/Gonzalez.pdf
Ca Governor Jerry Brown's Attack on Academic Freedom Gov. Jerry Brown's 2013-14 budget for California intrudes on academic freedom in a way that could harm the 23 campuses of California State University and the 10 campuses of the University of California—but the impact of his attempt to control academic decision-making threatens every public college and university in the country.
If his attempt to dictate policy succeeds in California, where those two public systems are home to almost 660,000 students and 165,000 faculty and staff members, then no state-university system is safe from such impingement.
Putting aside for the moment the fairness of Brown's proposed $250-million increase for both the CSU and UC systems, and an additional $10-million to each one to develop online courses, the governor's budget attempts to dictate how the increased funds should be spent. That is a violation of academic freedom, the bedrock of colleges and universities. chronicle.com/article/A-Governors-Attack-on/137367/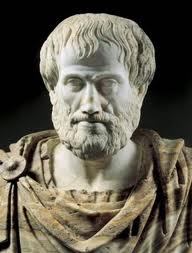 Aristotle Would Roll Over Last September, Albert decided to come to the United States to get his Master's degree in Public Health. A friend told him about Aristotle University in Carlsbad. The program cost $25,000 for a two-year course.
He sold everything, used his entire life savings, about $10,000 to move to the United States. He says he's paid $3,000 to Aristotle University. But, when Albert arrived in September, it was nothing like he had envisioned. Instead of a large sprawling campus, the entire University was in one room, in an office building.
Albert told NBC7, "It's just an office. There's no library. There is nothing. Just a few chairs."
Albert says the director of admissions said they would help him find a job and assist with housing, while he was a student. But, Albert was dropped off at a motel and the job never came. He was thrust into a classroom with other international students, into a course that was already eight months in progress.
Albert says class is held once a week. He says most of the time they watch educational videos and use old textbooks. At one time there were more than 20 students, Albert says less than a dozen attend now.
Source: www.nbcsandiego.com/news/local/International-Students-Misled-by-Universitys-Promises-189933541.html#ixzz2Lm2Ggmt1
The International Hot War of the Rich on the Poor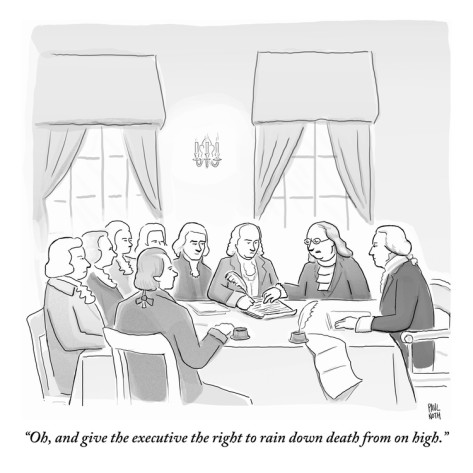 www.condenaststore.com/-sp/Oh-and-give-the-executive-the-right-to-rain-down-death-from-on-high-New-Yorker-Cartoon-Prints_i9417000_.htm
Drone Killer Obamagogue Double Deals Congress he White House is refusing to share fully with Congress the legal opinions that justify targeted killings, while maneuvering to make sure its stance does not do anything to endanger the confirmation of John O. Brennan as C.I.A. director.  Rather than agreeing to some Democratic senators' demands for full access to the classified legal memos on the targeted killing program, Obama administration officials are negotiating with Republicans to provide more information on the lethal attack last year on the American diplomatic compound in Benghazi, Libya, according to three Congressional staff members.
The strategy is intended to produce a bipartisan majority vote for Mr. Brennan in the Senate Intelligence Committee without giving its members seven additional legal opinions on targeted killing sought by senators and while protecting what the White House views as the confidentiality of the Justice Department's legal advice to the president. I    http://www.nytimes.com/2013/02/21/us/politics/strategy-seeks-to-ensure-bid-of-brennan-for-cia.html?ref=global-home#commentsContainer
Hellbound Drones Headed For UAE The United Arab Emirates is close to purchasing Predator drones from a San Diego County defense contractor, sparking concern among arms control advocates.
Under the proposed sale, revealed this week at a defense conference in Abu Dhabi and confirmed Friday, General Atomics Aeronautical Systems Inc. of Poway will sell an undisclosed number of the robotic aircraft to the UAE armed forces for $197 million.   The agreement would mark the first time a non-NATO country has obtained the American-made technology, which has reshaped modern warfare. The deal has drawn scrutiny from critics who worry about the technology falling into terrorists' hands or being used by governments against their own citizens.
The UAE, notably the city-state of Dubai, has been a crossroads for banking, finance and technology as the nation emerged as an economic hub for the Arab world. It has only recently begun to tighten regulations to limit money laundering and other shady financial endeavors that attracted Islamic militants, drug smugglers and other traffickers.
Over the last year, UAE security officials — which have drawn criticism for their surveillance tactics — have also cracked down on internal dissent after the political upheavals of the "Arab Spring."  http://www.latimes.com/business/la-fi-predator-drone-sale-20130223,0,6933108.story
US wars spread to Niger President Obama has announced the deployment of 100 troops to the African nation of Niger, with an eye toward protecting the drone base currently being built in the nation, which neighbors Mali.  http://news.antiwar.com/2013/02/22/obama-deploys-100-us-troops-to-niger-for-drone-base/
Show of Hands! Who Wants to be the Last Troop to Die in the Endless Afghan War? The United States and its NATO allies revealed Friday that they may keep as many as 12,000 troops in Afghanistan after the combat mission ends next year, largely American forces tasked with hunting down remnants of al-Qaeda and helping Afghan forces with their own security.
Patience with the 11-year-old war has grown thin in the United States and Europe, yet Washington and its allies feel they cannot pick up and leave without risking a repeat of what happened in Afghanistan after Soviet troops withdrew in 1989: Attention turned elsewhere, the Taliban grabbed power, and al-Qaeda found refuge.   www.philly.com/philly/news/nation_world/20130223_U_S___allies_may_leave_12_000_in_Afghanistan.html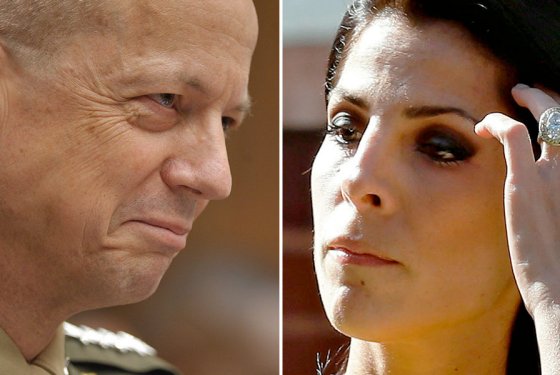 Expert Skank Chaser and Idiot General To Retire Four months after taking office, President Obama approved the firing of the four-star Army general leading the war in Afghanistan. The following summer, the president sacked his replacement, Army Gen. Stanley A. McChrystal, for making intemperate remarks to a reporter. McChrystal's successor, Army Gen. David H. Petraeus, often disagreed with Obama on troop levels and war strategy.
It was not until Marine Gen. John R. Allen took command of the war in July 2011 that Obama found a general with whom he clicked. Allen demonstrated more flexibility on troop numbers and shifts in strategy than his predecessors. Obama's aides, in turn, were far more willing to listen to Allen's views on how the war needed to be waged. Obama had wanted to give Allen, who relinquished command in Kabul this month, the military's most prestigious overseas assignment — supreme allied commander in Europe. But on Tuesday morning, Allen announced that he planned to retire from the military  http://www.washingtonpost.com/world/national-security/gen-john-allen-intends-to-retire-decline-militarys-top-post-in-europe/2013/02/19/41cead8e-7aaa-11e2-82e8-61a46c2cde3d_story.html?hpid=z1
World's largest arms producers:
"1. Lockheed Martin (USA), 2. Boeing (USA), 3. BAE Systems (UK) , 4. General Dynamics (USA), 5. Raytheon (USA), 6. Northrop Grumman (USA), 7. EADS (EU), 8. Finmeccanica (Italy), 9. L-3 Communications (USA), 10. United Technologies (USA), 11. Thales (France), 12. SAIC (USA), 13. Huntington Ingalls Industries (USA), 14. Honeywell (USA), 15. Safran (USA), 16. Computer Sciences Corp. (USA), 17. Rolls-Royce (UK), 18. United Aircraft Corp. (Russia), 19. Oshkosh Truck (USA), 20. General Electric (USA), 21. ITT Exelis (USA), 22. Almaz-Antey (Russia), 23. Mitsubishi Heavy Industries (Japan), 24. DCNS (France), 25. Saab (Sweden), 26. Rheinmetall (Germany), 27. Textron (USA), 28. Hewlett-Packard (USA), 29. CACI International (USA), 30. Babcock International Group (UK), 31. Rockwell Collins (USA), 32. ManTech International Corp. (USA), 33. Hindustan Aeronautics (India), 34. Elbit Systems (Israel), 35. URS Corp. (USA), 36. Harris (USA), 37. Alliant Techsystems (USA), 38. Kawasaki Heavy Industries (Japan), 39. DynCorp International (USA), 40. Vertolety Rossii (Russia), 41. Israel Aerospace Industries (Israel), 42. Goodrich (USA), 43. CEA (France), 44. Fluor (USA), 45. Serco (UK), 46. KBR (USA), 47. Cobham (UK), 48. Indian Ordnance Factories (India), 49. ThyssenKrupp (Germany), 50. Navistar (USA), 51. Rafael (Israel), more.
Posted by As'ad AbuKhalil
Mexico–at least 90 thousand disappeared or killed by Cartels and Government Security forces have taken part in many kidnappings and disappearances in Mexico, and the government's failure to investigate most cases only compounds the anguish of their families, according to a scathing new human rights report.
The report released Wednesday serves as an indictment of the administration of former President Felipe Calderon, who left office Dec. 1, and poses urgent challenges for his successor, Enrique Peña Nieto.
Against the backdrop of a military-led offensive against powerful drug cartels, an estimated 70,000 people were killed during Calderon's six-year term, according to authorities and media tallies. Thousands more, possibly more than 20,000, disappeared.   www.latimes.com/news/nationworld/world/la-fg-mexico-human-rights-20130221,0,5483212.story
The International Economic War of the Rich on the Poor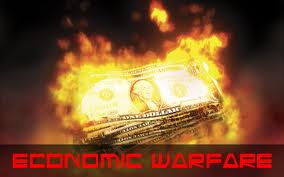 A Land Where Neither War Nor Bailouts will End MANY people became rightfully upset about bailouts given to big banks during the mortgage crisis. But it turns out that they are still going on, if more quietly, through the back door.  The existence of one such secret deal, struck in July between te Federal Reserve Bank of New York and Bank of America, came to light just last week in court filings.
That the New York Fed would shower favors on a big financial institution may not surprise. It has long shielded large banks from assertive regulation and increased capital requirements.
Still, last week's details of the undisclosed settlement between the New York Fed and Bank of America are remarkable. Not only do the filings show the New York Fed helping to thwart another institution's fraud case against the bank, they also reveal that the New York Fed agreed to give away what may be billions of dollars in potential legal claims.
Here's the skinny: Late last Wednesday, the New York Fed said in a court filing that in July it had released Bank of America from all legal claims arising from losses in some mortgage-backed securities the Fed received when the government bailed out the American International Group in 2008. One surprise in the filing, which was part of a case brought by A.I.G., was that the New York Fed let Bank of America off the hook even as A.I.G. was seeking to recover $7 billion in losses on those very mortgage securities.
It gets better.  http://www.nytimes.com/2013/02/17/business/dont-blink-or-youll-miss-another-bank-bailout.html?pagewanted=1&_r=5&ref=business&
Hope and Change! But Wait 8 More Years, and then some more A plan by President Obama for an overhaul of the immigration system would put illegal immigrants on a path to citizenship that could begin after about eight years and would require them to go to the back of the line behind legal applicants, according to a draft of the legislation that the White House has circulated in the administration.  The draft plan says none of the 11 million illegal immigrants currently in the country would be granted permanent resident status and given a document known as a green card until the earlier of two dates: either eight years after the bill is enacted or 30 days after visas have been given to everyone who applied legally.  http://www.nytimes.com/2013/02/18/us/politics/white-house-continues-work-on-its-own-immigration-bill.html?ref=global-home&_r=0
TB Rises in LA Public health officials have launched a new, coordinated effort to contain a persistent outbreak of tuberculosis in downtown L.A.'s skid row, including searching for more than 4,500 people who may have been exposed to the disease.
The Centers for Disease Control and Prevention have dispatched scientists to Los Angeles to help local health officials figure out why the disease is spreading and how to stop it.
Nearly 80 tuberculosis cases have been identified and 11 people have died since 2007, most of them homeless people who live in and around skid row.
Scientists have recently linked the outbreak to one tuberculosis strain that is unique to Los Angeles, with a few isolated cases outside the area. latimesblogs.latimes.com/lanow/2013/02/tuberculosis-downtown-los-angeles-federal-response.html
Pipeline Tax break to cost $7 Billion A tax break used by oil and gas pipeline companies such as Kinder Morgan Energy Partners LP (KMP) will cost the U.S. government $7 billion through 2016, about four times more than previously estimated, Congress's tax scorekeepers said this month.
The nonpartisan Joint Committee on Taxation quadrupled its cost estimate for exempting the fast-growing "master limited partnerships" from corporate income tax in the year ended in September to $1.2 billion from $300 million. The annual cost will rise to $1.6 billion by fiscal 2016, the committee said.   www.bloomberg.com/news/2013-02-21/u-s-quadruples-pipeline-tax-break-cost-to-7-billion.html
The Emergence of Fascism as a Popular Mass Movement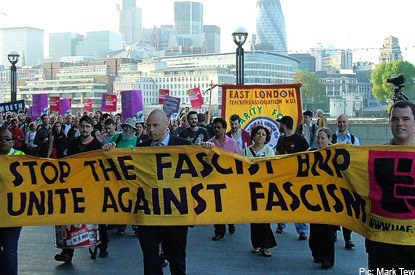 "The chief principle of a well regulated police state is this: That each citizen shall at all times and places be recognized as this or that citizen. No one must be unknown to the police." Johann Fichte, 1796
FEbruary 24, 1920 1920 – The Nazi Party is founded.
About those Black Sites The details of American antiterrorism policies, put in place after 9/11, are still largely hidden, but more pieces of this sordid history are dribbling out.  A valuable new report issued this month by the Open Society Justice Initiative documents the extent of the Central Intelligence Agency's use of extraordinary rendition — the practice of abducting suspected terrorists and transferring them to countries with reputations for torturing prisoners during interrogations.
Reporting by The Times and other news media has long established that the C.I.A. operated a secret detention program with "black site" prisons outside the United States. In December, the Senate Intelligence Committee approved a highly critical, classified report on this program that has not been released. Committee members invoked its findings without revealing any useful new information at the recent confirmation hearing for John Brennan, the Obama administration's top counterterrorism official, who was named to head the C.I.A. But the committee chairwoman, Senator Dianne Feinstein of California, has said that the black sites and coercive techniques were "terrible mistakes."
According to the Open Society report, 54 countries participated in this program, including many where the rule of law is weak or nonexistent, like Afghanistan, Pakistan, Egypt, Malaysia and Somalia. More surprising and alarming is the collusion of leading democracies. Belgium, Finland and Denmark, among others, allowed their airports and airspace to be used for flights associated with C.I.A. rendition operations. Britain, Italy, Germany and Australia helped interrogate one or more suspects and either allowed or actively aided in their transfers.
The report also contains information about the identities and treatment of 136 suspects who were subjected to C.I.A. detention or rendition.   There may be many more individuals caught in this program, but the total number remains unknown. There has been no accountability for the program's violations of American or international law. President Obama refused to investigate Bush administration officials who bear responsibility for authorizing human rights abuses.  ..In a connected matter, Mr. Obama has adopted the Bush administration's claim of a right to carry out targeted killings of suspected terrorists, including Americans, off the battlefield without judicial review or meaningful Congressional oversight.  http://www.nytimes.com/2013/02/18/opinion/about-those-black-sites.html?emc=tnt&tntemail1=y&_r=0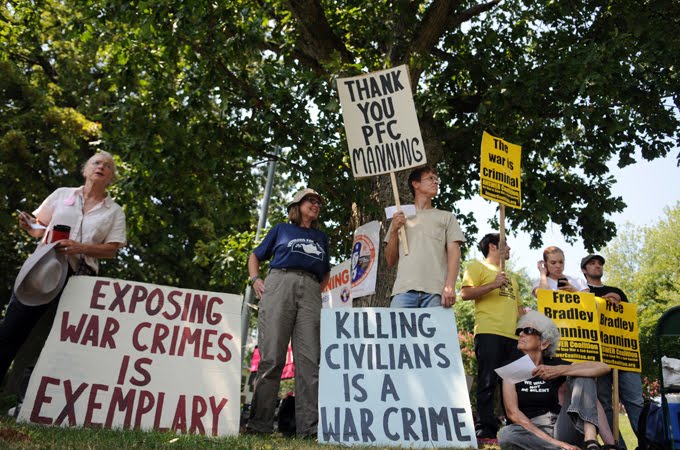 The One Thousand Days of Bradley Manning February 23rd, will mark the 1,000th day in prison without trial for PFC Bradley Manning, accused of releasing classified military documents to Wikileaks. Among the documents was the Collateral Murder video, which shows the 2007 murder of over a dozen people in Baghdad by a U.S. Apache helicopter. The murdered included civilians and two Reuter's employees, photojournalist Namir Noor-Eldeen and his driver Saeed Chmagh.
Manning was also alleged to have released the Iraq War Logs, comprised of nearly 400,000 military logs recorded from 2004 to 2009. The files revealed thousands of reports of prisoner torture and abuse filed against coalition forces in Iraq, including reports of people being hung from the ceiling on hooks, whipped with cables, sexually assaulted, urinated on, and having holes bored into their legs with electric drills. The logs also added an additional 15,000 civilian deaths to the known body count, totalling over 150,000 deaths, of which roughly 80% were civilian.
Furthermore, the leaks detailed allegations of child abuse and child trafficking by the U.S. defense contracting company in Afghanistan, DynCorp, a company which is estimated to make about $2 billion per year in revenue from the U.S.
For shedding light on these atrocities carried out in the name of the United States of America, Bradley Manning has been rewarded by spending three birthdays in prison without trial. Since May 29, 2010, Manning has been held in pretrial detention, the first ten months of which he was kept locked in solitary confinement, denied exercise, sunlight, social interaction, and a number of times was forced to stay completely naked, all in violation of U.S. military law. www.counterpunch.org/2013/02/19/bradley-manning-faces-1000th-day-in-prison/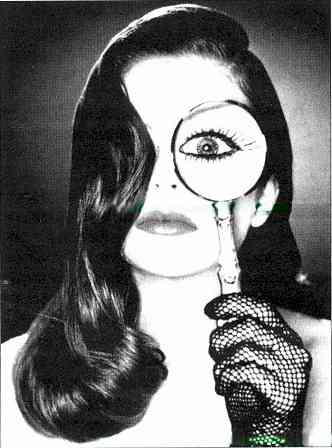 We'll Be Watching You Where's your car? Well, dude, it's in a huge Orwellian police database.
That might seem like the plot of a bad movie, but since around 2010, police agencies in San Diego County have quietly used a network of sophisticated devices called license-plate readers (LPR) to monitor and record the movements of thousands of everyday drivers. Even as you read this, police cars equipped with LPR are patrolling the streets, automatically scanning and photographing every license plate in sight, tagging each with a GPS coordinate and filing the information away. For years.
With 36 million scans and counting—an average of 14 for every registered vehicle in the county—the database provides a mappable, searchable record of the movements of thousands of individual drivers. It's sort of like FourSquare for cops, except that it's involuntary, the data is secret and there aren't quite as many narcissistic hipsters.
The system's become a routine part of police work in San Diego County.   www.sdcitybeat.com/sandiego/article-11511-license-plate-recognition-has-its-eyes-on-you.html
In the Death By 1000 cuts, There goes the Detroit Library The Detroit Public Library has fired one of its top administrators at the center of an FBI investigation over kickbacks.
Chief Administrative Officer Tim Cromer had been on paid leave from his $145,323-a-year post since mid-November when the Federal Bureau of Investigation raided his office at the library's main branch and his West Bloomfield Township home. Cromer was fired Wednesday by Detroit Public Library Executive Director Jo Anne Mondowney, said Russ Bellant, the library board president.
"I can't say," Bellant said, when asked why Cromer was terminated. "I can say there's an ongoing internal investigation."   From The Detroit News: www.detroitnews.com/article/20130222/METRO01/302220435#ixzz2Llk7tDHY
Spain's Remnant of Feudalism up to No Good (again) With a multitude of graft cases undermining Spaniards' faith in just about every institution of government, an intensifying investigation aimed at Mr. Urdangarin has placed the palace under siege as well, and left the nation's aging monarch and his aides struggling to quell the crisis.
Mr. Urdangarin, 45, who is married to the king's youngest daughter, Cristina, 47, is scheduled to testify on Saturday before an investigating judge over allegations that he embezzled millions of euros after leveraging his blue-blood connections to gain inflated, no-bid contracts from regional politicians for his nonprofit sports foundation, Instituto Nóos.
The royal family has tried mightily to distance itself from the investigation   Officially, the palace has insisted that the king knew nothing about the foundation activities of Mr. Urdangarin, who has pledged to prove his innocence. It publicly maintains that Juan Carlos ordered his son-in-law to abandon the troubled foundation in 2006, a year before dubious financial dealings surfaced.
But last weekend, the duke's former business partner, Diego Torres, who is also under investigation, told a judge that the duke made no move without palace approval, and he turned over nearly 200 e-mails to support his claim. Many of those e-mails have now surfaced in the Spanish news media. Others were provided to The New York Times by a person close to the legal process who did not want to be identified for fear of retribution.  http://www.nytimes.com/2013/02/22/world/europe/embezzlement-scandal-threatens-spains-royal-family.html?ref=global-home&_r=0
Solidarity for Never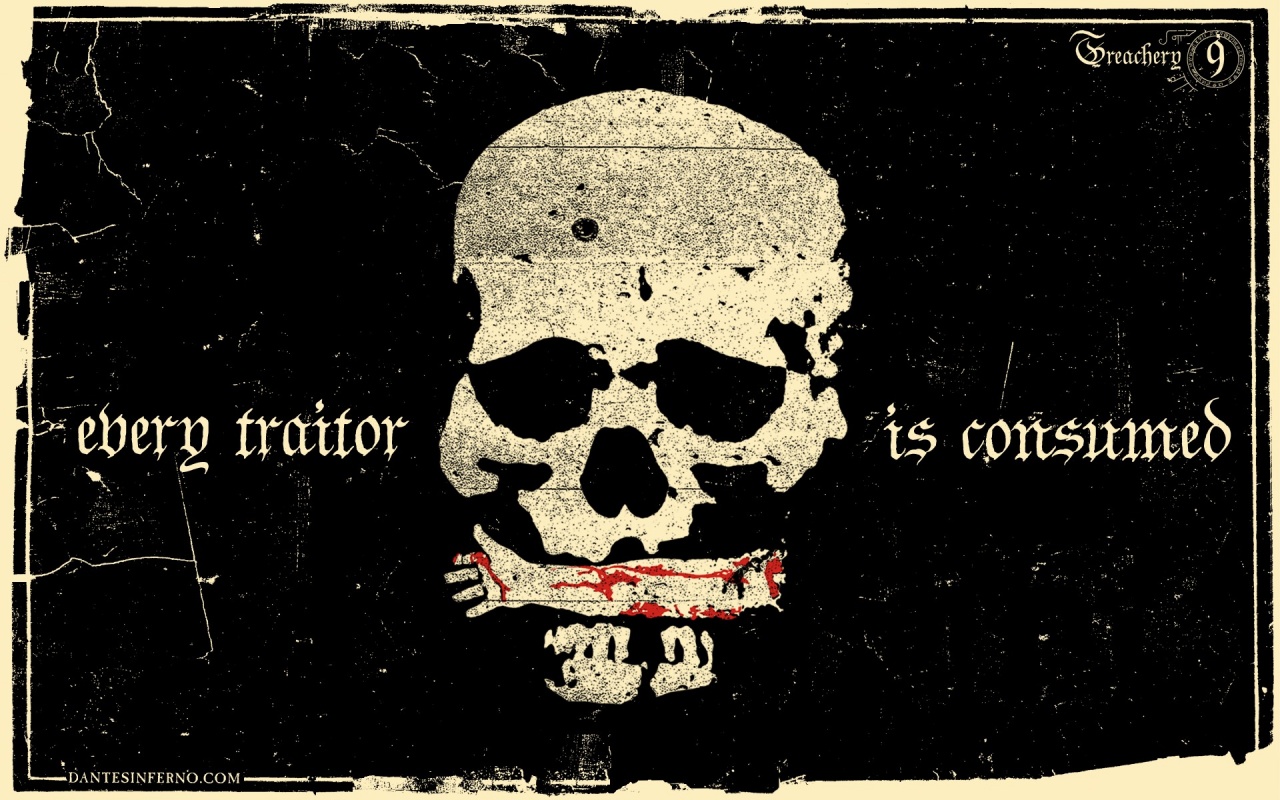 When the AFL-CIA Joins Big Business, Watch Out Immigrants! Labor leaders and the nation's largest business lobby called for a new visa program to let U.S. companies hire foreign workers for jobs Americans aren't available to fill, signaling progress on a critical component of immigration law revisions being debated in Washington.
AFL-CIO President Richard Trumka, representing the nation's biggest organized labor federation, and U.S. Chamber of Commerce President Thomas J. Donohue also said today that the government should create a research bureau to crunch employment and other data to help identify future U.S. labor shortages and ways to address them. www.bloomberg.com/news/2013-02-21/unions-business-reach-accord-on-guest-worker-visa-needs.html
Michigan Unionites Rush to Lock Down Forced Dues Contracts Less than six weeks before Michigan's controversial right-to-work law takes effect, teachers unions across the state are clamoring to get new contracts approved, in what some observers say is an effort to get around the measure and keep dues flowing into union coffers.
Union leaders representing teachers in Utica, Plymouth-Canton, Dearborn and Detroit Public Schools are all working toward new collective bargaining agreements ahead of the new law, which takes effect March 27.
The law includes a clause that says all contracts in place before that date are immune from the new rules, which means members would be tied into paying dues until the new contract expires. The measure bans requiring financial support of a union as a condition of employment for private-sector and most public-sector workers.
From The Detroit News: www.detroitnews.com/article/20130218/SCHOOLS/302180333#ixzz2LlpGKg5J
Michigan's UAW Dues Eaters Continue the Dem Party Bait and Switch scam The Michigan Democratic Party's executive committee has rejected an appeal to toss out 1,349 members signed up by the United Auto Workers to vote in Saturday's contentious state convention vote for party chairman.
By a 39-10 vote, the committee of party leaders and labor union officials rejected Macomb County Democratic Party chairman Ed Bruley's request to remove the members because the UAW did not pay membership fees on time.  From The Detroit News: www.detroitnews.com/article/20130222/METRO/302220454#ixzz2LlZ8YBMJ
Spy versus Spy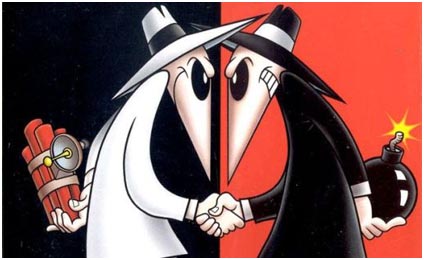 Italy Spy Chief Sentenced–and what of the CIA? Italy's former military intelligence chief was sentenced to 10 years in jail on Tuesday for his role in the kidnapping of an Egyptian Muslim cleric in an operation organized by the United States.
An American former CIA station chief was this month sentenced in absentia to seven years in jail after imam Abu Omar was snatched from a Milan street in 2003 and flown to Egypt for interrogation during the United States' "war on terror".
The Milan appeals court sentenced Niccolo Pollari, former head of the Sismi military intelligence agency, to 10 years in prison and his former deputy Marco Mancini to nine years.
The court also awarded a provisional 1 million euros in damages to the imam, the Ansa news wire reported, as well as 500,000 euros to the imam's wife. www.reuters.com/article/2013/02/12/us-italy-rendition-verdict-idUSBRE91B0OS20130212
Blackwater Skates–They Were Working for CIA The federal prosecution of five former employees of the private security firm Blackwater has crumbled after the defendants said they were acting at the behest of the CIA by providing five guns as gifts to King Abdullah II of Jordan.
Federal prosecutors indicted former Blackwater president Gary Jackson and four others in 2010 on a long list of felony firearms violations involving dozens of weapons, including 17 M-4 military assault rifles and 17 Romanian-made AK-47s.
All charges against three of the accused were dismissed Thursday at the request of prosecutors after a federal judge ruled earlier this month to reduce several of the felony charges to misdemeanors.
Under a plea agreement, Jackson and former company vice president William Matthews admitted guilt Thursday on misdemeanor charges related to record keeping violations, resulting in $5,000 fines and four months house arrest. They had originally faced decades in prison on 12 felony charges each.   www.newschannel5.com/story/21307233/most-charges-dismissed-against-ex-blackwater-execs
Who Runs the Biggest Terrorist Op in the USA? A careful study of the FBI's own data on terrorism in the United States, reported in Trevor Aaronson's book The Terror Factory, finds one organization leading all others in creating terrorist plots in the United States: the FBI.  http://www.alternet.org/world/top-us-terrorist-group-fbi
CIA off to Korea He is a scientist and ultra-wealthy, a low-key Navy veteran who could pass unnoticed at a Wizards or Caps game but who happens to be a part owner of both teams.
Now Jeong H. Kim, 52, may be about to add another line to his glittering résumé: Cabinet secretary in South Korea, where incoming president Park Geun-hye has tapped him to run the ministry of science and technology.  But there is a hitch. Kim's diverse background also happens to include time working with the Central Intelligence Agency. Now this unassuming Potomac resident is not only becoming a household name half a world away, but he is also setting off a political firestorm there.
His connection to the CIA has stoked fears among some South Koreans that Kim would act as a spy for the U.S. government.   www.washingtonpost.com/business/economy/us-tech-giant-named-to-south-korean-cabinet-faces-hitch-over-cia-ties/2013/02/22/e1e5ca0a-7c58-11e2-9a75-dab0201670da_story.html
The Magical Mystery Tour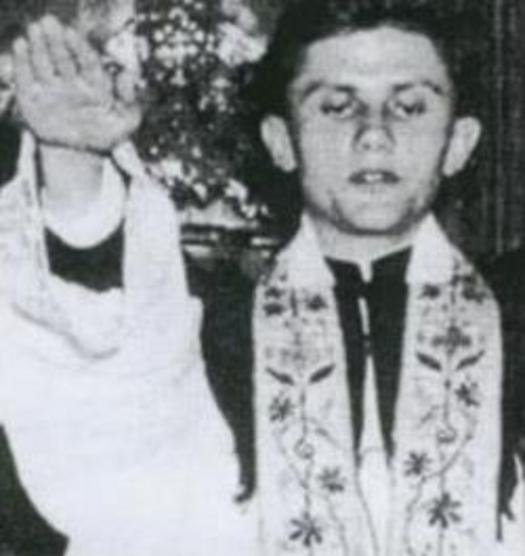 The revolt against science…is not only the expression of a dying and doomed social class; it is an essential part of the campaign of reaction. This is the basis which helps prepare the ground for all quackeries and charlatanries of chauvinism, racial theories, anti-semitism, Aryan grandmothers, mystic swastikas, divine missions, strong-man saviors, and all the rest of the nonsense through which capitalism to-day can try to maintain its hold…There is method in the madness. For capitalism can no longer present any rational defence…Therefore it can only endeavor to save itself on a wave of obscurantism, holding out fantastic symbols and painted substitutes for ideals to cover the reality of the universally hated moneybags. Fascism is the final reduction of this process to a completely worked out programme. R. Palme Dutt: "Fascism and Social Revolution." (1935).
About the Exiting God's Rotweiller Ratzinger was a young Theologian at the Second Vatican Council, and he was quite Progressive there; he complained about the Curia and all the rest. But then in 1968, when he was a professor at Tubingen University in Germany, the student riots were happening there (as they were in Paris in Berkeley and every place else), and the students invaded a faculty meeting and were honored to be heard, ranted and raved; and all the faculty at the [incoherent word] stayed except one guy, and that was Ratzinger, who stood up and walked out. People said the next time they saw him, he was an arch-Conservative.
Then he made his way up the Ecclesial ladder, but meanwhile, he brought the Inquisition back. That's how History will remember him. And he didn't do it alone: his boss John Paul II gave him complete carte blanche to do that. And it's scary, because when you dumb down the church, which is what has happened the last forty-two [42] years, deliberately dumb it down, it's like General Motors firing all it's engineers!
That's really what the Vatican has done: they fired all their Theologians, and they destroyed Liberation Theology, which was the most vibrant and justice-oriented movement on the planet after the Civil Rights Movement. They replaced the heroic Bishops, including people like Oscar Romero, who was actually martyred for his work with the poor in El Salvador, they replaced him with an Opus Dei Bishop; and they've done this all over South America. Opus Dei is a Radical, Fascist, Right-wing Catholic movement begun by a Fascist Priest, Escriva, who actually praised Hitler. And Ratzinger and John Paul II rushed him into canonization! They made a saint of him faster than anyone in the history of the church, and they destroyed the whole process of canonization to do it. They did away with the Devil's Advocate tradition, where you have someone there representing the "shadow side" of the guy — they had none of that. Anyway, the guy is leaving a very dirty footprint behind.
Rob Kall: OK. Well let me slow you down and get you to give a little more details on a couple of things you said. You described him as "Bringing back the Inquisition." What do mean by that?
Matthew Fox: That he fired all the Theologians, and he hounded them; like in my case, he expelled me from the Dominican Order, of which I'd been a member for 34 years, and he silenced me for a year, and then expelled me three years after that. Father Boff, the most read theologian in Latin America, he hounded him, silenced him, and then, Boff quit the Franciscans, of which he was a member for many years. The most read Catholic Theologian in Germany was a psychologist Priest, Eugene Drewermann; and he hounded him, and kicked him out of the Priesthood. So, that's what the Inquisition means, you're not free to think! They spread fear. The three of us were the most read Theologians on our Continent, and all of us were expelled, one way or the other; and so they spread fear to other Catholic thinkers. You know: "Don't think too much, and just stay in line."
In addition, by pushing Opus Dei and these Right-wing groups that are all about obedience and not about Theology, they are sending a message that "The Pope knows everything, and it's all about just obeying what the Pope and the Curia has to say." So, what do you get then, with a dumbed-down church? You get the Cardinal Law's, you get the cardinal Mahony's, you get the sexual crisis, the pedophile crisis, because you don't have men of conscience and intellect overseeing things. You have people that don't know what to do when they here there's a pedophile Priest, they just hide it under the rug. Obviously that's no way to go.   www.opednews.com/articles/Transcript-Former-Catholi-by-Rob-Kall-130220-447.html
The Magdalene Sisters Controversy The first question that arises in response to The Magdalene Sisters, Peter Mullan's controversial, critically acclaimed film about Irish penitential asylums for wayward girls and women, is: Did these horrors really happen?
Did the Magdalene asylums, originally established in the nineteenth century by the Sisters of Mercy as spiritual refuges for prostitutes and other women penitents, go on to hold girls and even grown women against their will, for disgraces ranging from extramarital pregnancy to mere flirting or even having been raped?
Did some women grow old and die working in the infamous Magdalene laundries, not necessarily out of personal conviction or desire for a vocation to lifelong penance, but more or less because the doors were locked?
Were girls brutally beaten for inadvertent or minor offenses, stripped naked and mocked by sadistic nuns over the sizes of their various body parts, abused in other ways?
Tragically, it seems that there may indeed be truth to these charges. While The Magdalene Sisters is a work of fiction, the abuses it depicts are allegedly based on credible survivor accounts of life in the Magdalene institutions, which are said to have taken in as many as 30,000 women between their inception in the 1880s and their final closing in 1996. In fact, there are reports that, according to some survivors, the abuses depicted in The Magdalene Sisters actually fall short of the worst that really happened, and the director himself has commented that he refrained from recreating the most terrible reported incidents for fear of overwhelming and alienating the audience. www.decentfilms.com/articles/magdalenesisters
1922 to 1996–Magdalene's Run Slave Labor Camp Prime Minister Enda Kenny offered an unreserved state apology on Tuesday over Ireland's failure to protect thousands of young women and girls consigned to virtual slavery in the so-called "Magdalene laundries" between 1922 and 1996.  ,,,an official report published earlier this month, which found endemic state involvement in the laundries, contradicting successive assertions from those in power that they played no act or part in their operations. The report dealt with 10,012 women and girls detained in laundries from 1922 to 1996: the average age was 23, the youngest entered aged just nine and the oldest was 89. The report stated that 2,124 of them had been sent by the authorities.
It is believed at least 4,000 more passed through the doors of two other large laundries not considered by the report. Mr. Kenny said the apology and redress also covered these women, a gesture welcomed by advocacy groups and politicians. www.nytimes.com/2013/02/20/world/europe/irish-government-expected-to-apologize-in-laundry-scandal.html?ref=global-home&_r=0
The Best and Worst Things in the History of the World
Text of Brecht at Huac  https://eee.uci.edu/programs/humcore/Student/archives/HUACBrecht.htm
So Long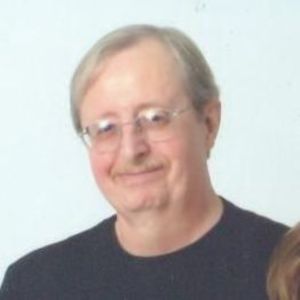 Hopper