Saturday, November 17th, 2012
We Say Fight Back!
www.youtube.com/watch?v=6a5in4tLGT8
Europe Rising–but it will take more than demonstrations Workers across Europe mounted coordinated protests on Wednesday against government austerity policies in a time of economic malaise.  In Spain and Portugal, workers staged general strikes. Unions in Greece, Italy, France and Belgium joined in protests and work stoppages to show solidarity with striking workers elsewhere.
The breadth of the demonstrations, which affected scores of cities, reflected widespread unhappiness with high unemployment, slowing growth and worsening economic prospects in Europe, and the resistance that European governments confront as they push plans for more belt tightening. Occasional clashes with the police were reported in some cities.
Among those striking on Wednesday were railroad workers in Belgium; airline workers, autoworkers and teachers in Spain; civil servants in Italy; and transit workers in Portugal. Union leaders called the coordinated actions historic.   www.nytimes.com/2012/11/15/world/europe/workers-in-southern-europe-synchronize-anti-austerity-strikes.html?emc=tnt&tntemail0=y
Greek Protesters Douse German Louse Demonstrators surrounded a German diplomat in Salonika in northern Greece on Thursday and hurled coffee and bottles of water at him, another reflection of growing anger in Greece against what is widely seen as a crippling austerity plan being imposed largely by Germany.   www.nytimes.com/2012/11/16/world/europe/greeks-pelt-german-diplomat-in-austerity-protest.html?ref=global-home
Pennsylvania Marching Band Hails Russian Revolution A Pennsylvania high school marching band has caused outrage by commemorating the Russian Revolution in a halftime performance – brandishing red flags, military uniforms, hammers and sickles.
Historians and parents of students at New Oxford High School have lambasted the choice of entertainment which remembers an event that gave way to Communism and the deaths of millions.
Even though the school's colours are red, white and blue, they have adopted the theme of 'St Petersburg: 1917′ for their halftime shows, including one last Friday,   engineeringevil.com/2012/09/25/outrage-as-pennsylvania-high-school-marching-band-commemorates-1917-russian-revolution-at-half-time/
The Little Red Schoolhouse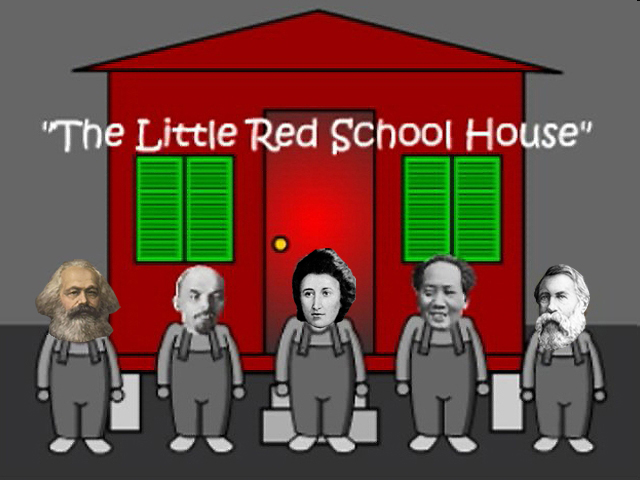 Unlike "Vitriolic" Chicago, Newark Teachers Cave For Merit Pay The new system will enable the district to reward and retain high-performing teachers and furnish extra help for those who are struggling to master what is clearly a difficult profession.
A pay-for-performance component of the new contract allows teachers who are rated highly effective to earn annual bonuses of up $12,500 if they work in low-performing schools and teach in subject areas that are difficult to staff.
Raises will be withheld from ineffective teachers until they improve. Those who do not improve can be removed under a state law passed earlier this year.   www.nytimes.com/2012/11/16/opinion/school-reform-in-newark-with-a-new-teachers-contract.html?emc=tnt&tntemail0=y
Ohanian on CTU, Gates, and the Common Core (of capital, being surplus value) The CTU Question Center doesn't seem to have a position paper on the Common Core. It's past time for them to do some real research in this area–instead of just offering teachers hot links to people who have swallowed the Bill and Melinda Gates Foundation Kool-Aid.
Here's the back story.
The Chicago Teachers Union Quest Center awarded $600,000 American Federation of Teachers Innovation Fund Grant
Aug. 30, 2011
The Chicago Teachers Union Quest Center has been awarded a grant for $600,000 ($200,000 for each of the next three years) by the American Federation of Teachers (AFT) for their proposal to hire teams of teacher leaders to partner with the Union's curriculum and instruction experts. The grant will create model units of instruction, classroom performance assessments, and materials aligned to the new, higher and more rigorous set of state-adopted Common Core State Standards (CCSS).
The CCSS identify what students are expected to know and be able to do in math and English language arts. Eight teacher development teams will also train colleagues across the district to tailor the model units to meet the unique learning needs of each classroom and capitalize on the pedagogical strengths of each teacher.
This is the first time CTU has been awarded this competitive grant. The CTU Quest Center is one of only five recipients of the Innovation Fund grants, supported by the AFT and several private philanthropies.
The Chicago Teachers Union sold out way too cheaply. And who did they sell out to? The Bill and Melinda Gates Foundation and the Broad Foundation were among big funders of this AFT grant.
Whatever Bill wants, Bill gets–even from the Chicago Teachers Union. — Susan Ohanian November 14, 2012  http://susanohanian.org/core.php?id=370
Corruption is Endemic within Capitalism and Capitalist Schools A federal jury on Thursday found a former River Rouge School District official was found guilty Thursday of bribery and mail fraud.
Dolores Reid, 53, of Southfield, the school district's former director of state and federal programs, was convicted after a two-day trial before U.S. District Judge Bernard A. Friedman.
Reid is scheduled to be sentenced March 19.
The bribery charge has a maximum sentence of 10 years in prison and a $250,000 fine. The mail fraud charge has a maximum sentence of 20 years and a $250,000 fine. Both charges are felonies.
The evidence presented at trial showed that in 2010 and 2011, Reid accepted thousands of dollars in cash for giving preferential treatment to a company that provided tutoring services to the school district under the Supplementary Educational Services provision of the No Child Left Behind Act.
"This company received federal funds through the Michigan Department of Education, which subsequently recaptured the funds, leaving the River Rouge School District with a loss of approximately $160,000," the U.S. Attorney's Office said in a statement.
The evidence also showed Reid promoted that company's tutoring by telling parents of students entering River Rouge High School that the program was mandatory.
From The Detroit News: www.detroitnews.com/article/20121115/METRO01/211150475#ixzz2CSpKAt1R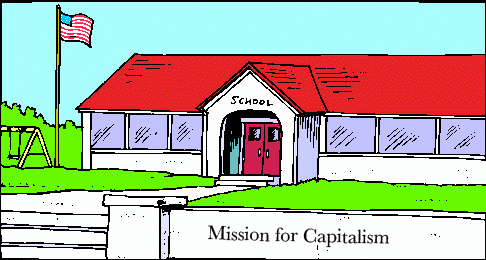 Why Will DC AFT Organize Charters Which they said "Will Destroy Public Education?" Simple. $ The Washington Teachers' Union sees the proposal to close schools as a sign that charter schools — which educate more than 40 percent of the city's students — must be unionized because they will continue to grow quickly.
"It was commonly conceived by our members that many of these schools might receive pressure to reopen as charters," said the union's president, Nathan Saunders. "They wanted to look at options for union membership should that happen."
Saunders said he has the legal right to organize charter schools but that it is difficult because they are exempt from the law that requires the city to enter into collective bargaining with public employees. www.washingtonpost.com/local/education/after-dc-school-closure-proposal-a-flurry-of-feedback/2012/11/14/4b36f750-2e8d-11e2-beb2-4b4cf5087636_story.html?wprss=rss_dc-news&wp_login_redirect=0
USD's Fortune-Teller Boss Cancels Catholic Scholar. Faculty Rises Administrators at the University of San Diego are "obviously disappointed" by a vote of their faculty expressing no confidence in their president and take the matter "very seriously," a senior university official said Wednesday.
"Certainly we consider this very serious and take the faculty sentiment very seriously," said Tim O'Malley, the university's vice president for university relations.
Almost 100 faculty members of the Catholic university declared a loss of confidence in president Mary Lyons' leadership Tuesday, saying her cancellation of a British theologian's visiting fellowship and her response to criticism of the move have shown her to be "ethically bankrupt." The vote tally was 99 in support of the measure, 16 against and 19 abstaining.
The vote was made by faculty of the university's College of Arts and Sciences, one of its seven schools and colleges, and is the latest response to Lyons' rescission of a fellowship for Tina Beattie, a theologian known for her work in contemporary ethical issues.
Beattie had been scheduled to begin a fellowship at the university's Frances G. Harpst Center for Catholic Thought and Culture on Nov. 6. Lyons, who says the theologian publicly dissented from church teaching by suggesting Catholics could support civil same-sex marriage, canceled the appointment in an Oct. 27 letter.   ncronline.org/news/theology/san-diego-university-responds-facultys-vote-no-confidence
SDSU Prezzie Makes $400,000 a year, about the same as the Chancellor of the Entire System After pressure from Lieu and Democratic Sens. Elaine Alquist of Santa Clara and Leland Yee of San Francisco, CSU trustees earlier this year adopted a new policy to bar new presidents from being paid more than $325,000 annually in state funds or earn more than 10 percent above their predecessors' state-funded salaries.
Hirshman's state pay is $350,000, plus $50,000 from foundations. His pay was 33 percent more than Weber's. The new policy was not retroactive, however, so it won't result in a reduction of Hirshman's salary.
SDSU Professor Bill Eadie, the faculty senate chairman at SDSU, said he believes the incoming chancellor asked for the salary reduction because he wanted to show solidarity with faculty and staff who have not had raises in several years. He said it would be popular and achieve his purpose.   www.utsandiego.com/news/2012/nov/16/what-now-sdsu-presidents-pay/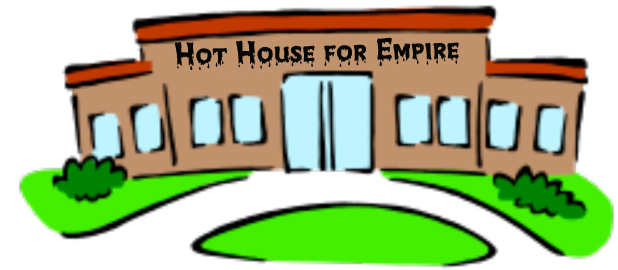 Detroit PS Emergency Manager from Failed Government Motors To Remain Boss The state Court of Appeals ruled Friday that Detroit Public Schools Emergency Financial Manager Roy Roberts lawfully holds office because he was appointed under Public Act 72, the state's weaker emergency manager law.
In a one-page opinion, presiding Judge Kirsten Frank Kelly wrote that no part of Public Act 4 remains in effect as the result of the Nov. 6 election, and the section of P.A. 4 repealing P.A. 72 — Michigan's prior emergency manager law — did not survive the referendum and has no effect.
"Roberts was appointed under P.A. 72 after P.A. 4 was suspended and lawfully holds office," Kelly wrote for the court.  From The Detroit News: www.detroitnews.com/article/20121117/SCHOOLS/211170343#ixzz2CXkW0xyR
Parents Drowning in Student Debt There are record numbers of student borrowers in financial distress, according to federal data. But millions of parents who have taken out loans to pay for their children's college education make up a less visible generation in debt. For the most part, these parents did well enough through midlife to take on sizable loans, but some have since fallen on tough times because of the recession, health problems, job loss or lives that took a sudden hard turn.
And unlike the angry students who have recently taken to the streets to protest their indebtedness, most of these parents are too ashamed to draw attention to themselves. In the first three months of this year, the number of borrowers of student loans age 60 and older was 2.2 million, a figure that has tripled since 2005. That makes them the fastest-growing age group for college debt. All told, those borrowers owed $43 billion, up from $8 billion seven years ago, according to the Federal Reserve Bank of New York.
Almost 10 percent of the borrowers over 60 were at least 90 days delinquent on their payments during the first quarter of 2012, compared with 6 percent in 2005. And more and more of those with unpaid federal student debt are losing a portion of their Social Security benefits to the government — nearly 119,000 through September, compared with 60,000 for all of 2007 and 23,996 in 2001, according to the Treasury Department's Financial Management Service.     http://www.nytimes.com/2012/11/12/business/some-parents-shouldering-student-loans-fall-on-tough-times.html?pagewanted=all
Schools Ripping off Vets, again The perceived parsimony of the diluted GI Bill ended with a bang in 2008 with the passage of the Post-9/11 GI Bill. This bill, which was augmented in 2011, chose to focus on education and retraining, and reflected the nation's grateful thanks to troops returning from years of combat in Iraq and Afghanistan. The legislation provides generous payments for public or private college tuition, a housing allowance for full-time students that amounts to about $1,200 a month and up to $1,000 a year for books.
The latest bill also contains two provisions — one a bureaucratic head-scratcher, the other well intended but often counterproductive — that turn the returning veterans from honorees to prey.
The predators are for-profit universities, which provide by far the lion's share of education to our returning GIs. www.latimes.com/news/opinion/commentary/la-oe-shakely-veterans-college-profit-20121112,0,7753719.story
Only 31 Percent of CA kids are fit For the second year in a row, California students have tested relatively low in a series of statewide physical fitness tests, the state Department of Education announced Thursday.
About 31% of students received healthy scores in all six of the tested areas, State Supt. of Public Instruction Tom Torlakson said in a statement. "When we can call fewer than one out of three of our kids physically fit, we know we have a tremendous public health challenge on our hands," said Torlakson, a longtime cross-country coach. "It affects more than their health — study after study has demonstrated the very clear link between physical fitness and academic achievement."The fitness score dropped to 31% last year, after years of steady improvement, the study's results showed. About 1.3 million fifth-, seventh- and ninth-graders were tested. Of those, only 31% were able to score in what state officials call a "healthy fitness zone."
"While I am glad their fitness levels improve as they make their way through school, we owe it to California's kids to give them more opportunities for exercise, along with better access to healthy foods and clean, fresh water," Torlakson said.  Torlakson's office is continuing to push a year-old initiative to promote healthy choices in schools.  http://latimesblogs.latimes.com/lanow/2012/11/only-31-of-california-students-are-physically-fit.html
The International Hot War of the Rich on the Poor
US Readies Public For Endless War in Afghanistan The next commander of US forces in Afghanistan, Gen. Joe Dunford, told the Senate on Thursday that he supports continuing the war in Afghanistan beyond 2014. "Dunford is ready to tell Congress," reports The Cable, "that he supports U.S. troops staying in Afghanistan for a host of missions in 2015 and beyond, which matches the Obama administration's plans, despite some high-level administration statements to the contrary."   news.antiwar.com/2012/11/15/next-top-general-in-afghanistan-supports-continuing-the-war-beyond-2014/
"In my view our overall objective in Afghanistan after 2014 will be to sustain our hard-won security gains after 2014 so that Afghanistan never again becomes a safe haven for terrorists," Dunford told the senators.
US Backs Brutal Israeli Attacks on Gaza The United States continues to blindly support Israel even as it bombards Gaza's virtually defenseless population and falsely claims it is acting in self-defense.  Ben Rhodes, White House deputy national security adviser, told reporters on Saturday the United States "wants the same thing as the Israelis want," which is an end to rocket attacks on Israel by Palestinian militants in Gaza.
Rhodes disputed that a precipitating factor in this violent escalation was the Israeli air strike that killed Hamas commander Ahmed Jabari.   news.antiwar.com/2012/11/17/us-continues-to-blindly-back-israeli-attacks-on-gaza/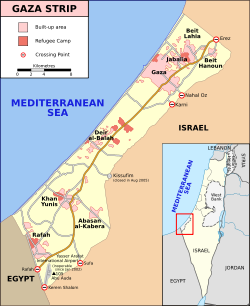 VA Routinely Loses Files of Living Cannon Fodder from Wars DeLara's case is part of a much larger problem that has plagued the U.S. military since the 1990 Gulf War: a failure to create and maintain the types of field records that have documented American conflicts since the Revolutionary War.
A joint investigation by ProPublica and The Seattle Times has found that the recordkeeping breakdown was especially acute in the early years of the Iraq war, when insurgents deployed improvised bombs with devastating effects on U.S. soldiers. The military has also lost or destroyed records from Afghanistan, according to officials and previously undisclosed documents.
The loss of field records — after-action write-ups, intelligence reports and other day-to-day accounts from the war zones — has far-reaching implications. It has complicated efforts by soldiers like DeLara to claim benefits. And it makes it harder for military strategists to learn the lessons from Iraq and Afghanistan, two of the nation's most protracted wars.   www.propublica.org/article/lost-to-history-missing-war-records-complicate-benefit-claims-by-veterans
The International Economic War of the Rich on the Poor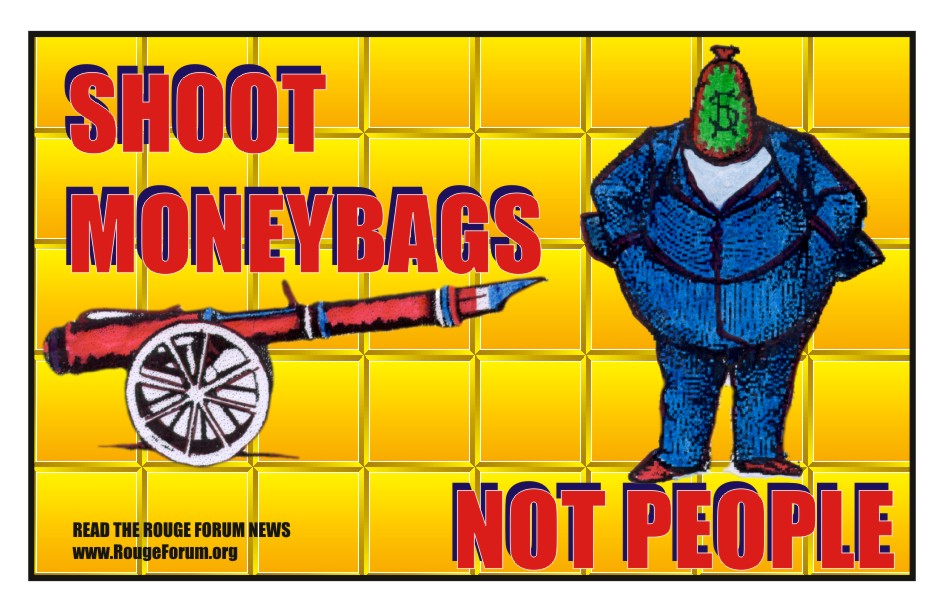 Before the Election was Over, Wall Street Won Before the campaign contributors lavished billions of dollars on their favorite candidate; and long after they toast their winner or drink to forget their loser, Wall Street was already primed to continue its reign over the economy.
For, after three debates (well, four), when it comes to banking, finance, and the ongoing subsidization of Wall Street, both presidential candidates and their parties' attitudes toward the banking sector is similar – i.e. it must be preserved – as is – at all costs, rhetoric to the contrary, aside.
Obama hasn't brought 'sweeping reform' upon the Establishment Banks, nor does Romney need to exude deregulatory babble, because nothing structurally substantive has been done to harness the biggest banks of the financial sector, enabled, as they are, by entities from the SEC to the Fed to the Treasury Department to the White House.
In addition, though much is made of each candidates' tax plans, and the related math that doesn't add up (for both presidential candidates), the bottom line is, Obama hasn't explained exactly WHY there's $5 trillion more in debt during his presidency, nor has Romney explained HOW to get a $5 trillion savings.
For the record, both missed, or don't get, that nearly 32% of that Treasury debt is reserved (in excess) at the Fed, floating the banking system that supposedly doesn't need help. The 'worst economic period since the Great Depression' barely produced a short-fall of an approximate average of $200 billion in personal and corporate tax revenues per year, according to federal data.)
Consider that the amount of tax revenue since 2008, has dropped for individual income contributions from $1.15 trillion in 2008 to $915 billion in 2009, to $899 billion in 2010, then risen to $1.1 trillion in 2011. Corporate tax contributions have dropped (by more of course) from $304 billion in 2008 to $138 billion in 2009 to $191 billion in 2010, to $181 billion in 2011. Thus, at most, we can consider to have lost $420 billion in individual revenue and $402 billion in corporate revenue, or $822 billion from 2009 on. The Fed has, in addition, held on average of $1.6 trillion Treasuries in excess reserves. That, plus $822 billion equals $2.42 trillion, add on the other $900 billion of Fed held mortgage securities, and you get $3.32 trillion, NOT $5 trillion, and most to float banks.
The most consistent political platform is that big finance trumps main street economics, and the needs of the banking sector trump those of the population. We have a national policy condoning zero-interest-rate policy (ZIRP) as somehow job-creative. (Fed Funds rates dropped to 0% by the end of 2008, where they have remained since.)  http://www.nomiprins.com/thoughts/2012/10/23/before-the-election-was-over-wall-street-won.html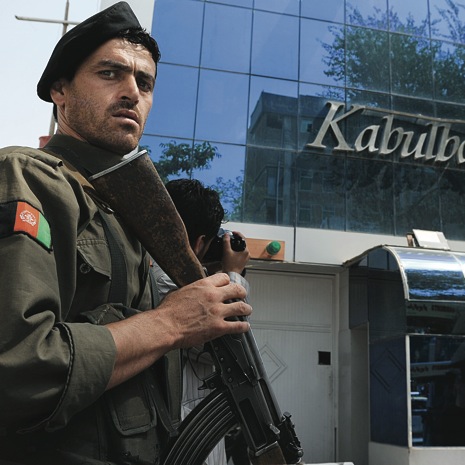 Who Lost the Kabul Bank $? A major step toward resolving the loss of hundreds of millions of dollars from Kabul Bank began last week with the trial of nearly two dozen people, including the bank's former chairman and former chief executive, who are accused of being the main architects of a colossal fraud.  The scandal at Kabul Bank, Afghanistan's largest private financial institution, has laid bare the crony capitalism and corruption that has thrived here in the past decade. The bank was forced into receivership in 2010 under the weight of nearly $900 million in bad loans and missing funds. With this long-stalled trial, the government is trying to demonstrate to Afghans and international donors that it is able to hold powerful people accountable in corruption cases.
International donors, including the United States, the European Union and others, had demanded that the Afghan government take a series of steps to combat corruption in the aftermath of the collapse of Kabul Bank. One of the most important was to prosecute those who had perpetrated the fraud. For a year, the International Monetary Fund suspended Afghanistan's program largely because of the government's lack of progress in bringing to justice the people behind the bank debacle.   www.nytimes.com/2012/11/18/world/asia/fraud-trial-begins-in-kabul-bank-scandal.html?ref=global-home
BP Wrist Slapped by Fast and Furious Forgiver of War Criminals Eric Holder BP has agreed to plead guilty to 14 criminal counts, including manslaughter, and will pay $4 billion over five years in a settlement with the Justice Department over the April 20, 2010, drilling disaster in the Gulf of Mexico that killed 11 people and unleashed the worst offshore oil spill in U.S. history, officials announced Thursday.
The fine is the largest criminal payment in U.S. history, Justice Department officials said, but BP still faces even bigger penalties from federal civil charges, including those under the Clean Water Act.  http://www.washingtonpost.com/business/economy/bp-to-pay-billions-in-gulf-oil-spill-settlement/2012/11/15/ba0b783a-2f2e-11e2-9f50-0308e1e75445_story.html?hpid=z5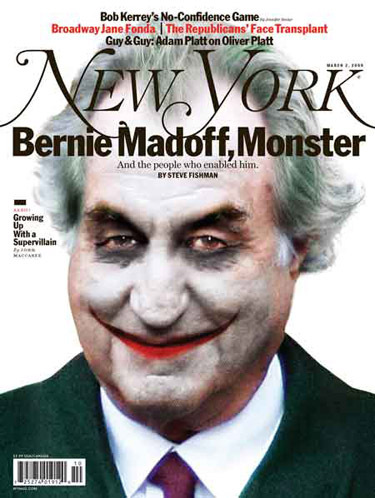 The Madoff Ponzi Scheme 4 Years on. The SEC Knew Below is an excerpt of what Markopolos told the SEC in his 21-page November 7, 2005 letter:
"I am a derivatives expert and have traded or assisted in the trading of several billion $US in options strategies for hedge funds and institutional clients…(Highly Likely) Madoff Securities is the world's largest Ponzi Scheme…The [Madoff] family runs what is effectively the world's largest hedge fund with estimated assets under management of at least $20 billion to perhaps $50 billion…The third parties organize the hedge funds and obtain investors but 100% of the money raised is actually managed by Madoff Investment Securities, LLC in a purported hedge fund strategy. The investors that pony up the money don't know that BM [Bernie Madoff] is managing their money…Some prominent US based hedge fund, fund of funds, that "invest" in BM in this manner include: A. Fairfield Sentry Limited (Arden Asset Management) which had $5.2 billion invested in BM as of May 2005…Access International Advisors…which had $450 million invested with BM as of mid-2002…Tremont Capital Management, Inc…Tremont oversees on an advisory and fully discretionary basis over $10.5 billion in assets.
" Clients include institutional investors, public and private pension plans, ERISA plans, university endowments, foundations, and financial institutions, as well as high net worth individuals…Madoff does not allow outside performance audits. One London based hedge fund, fund of funds, representing Arab money, asked to send in a team of Big 4 accountants to conduct a performance audit during their planned due diligence. They were told 'No, only Madoff's brother-in-law who owns his own accounting firm is allowed to audit performance'…Only Madoff family members are privy to the investment strategy. Name one other prominent multi-billion dollar hedge fund that doesn't have outside, non-family professionals involved in the investment process. You can't because there aren't any…There are too many red flags to ignore. REFCO, Wood River, the Manhattan Fund, Princeton Economics, and other hedge fund blow ups all had a lot fewer red flags than Madoff and look what happened at those places…"  http://wallstreetonparade.com/2012/11/four-years-later-more-madoff-details-emerge/
Sandy Exposes Capitals Walls of Class and Race Hurricane Sandy, the cliché of the moment goes, created a city of haves and have-nots; those New Yorkers with power and heat and the many other assurances of modern life, and those without. But the storm simply made plain the dividing lines in a city long fractured by class, race, ethnicity, geography and culture. And in reminding of these divides it stirred a measure of hope they could be bridged.   www.nytimes.com/2012/11/17/nyregion/after-hurricane-sandy-helping-hands-also-expose-a-new-york-divide.html?nl=todaysheadlines&emc=edit_th_20121117
Attention Carnivores! Eat This! (all for the School Lunch Program) A $500 million settlement has been reached in a federal lawsuit against a company that owned a Chino slaughterhouse, which was at the center of an animal abuse scandal and the country's largest beef recall.
Two of the defendants, father and son Donald Hallmark Sr. and Donald Hallmark Jr., who are alleged in the Department of Justice complaint to be the owners and operators of the former Westland/Hallmark Meat Packing Co. will pay about $300,000 of their remaining assets to the Department of Justice.
Defendants also consented to pay the full judgment fine, but the punishment is largely symbolic because the formerly Riverside-based company is bankrupt, said Jon Lovvorn, attorney for the U.S. Humane Society.
The fine represents the largest court judgment ever entered for an animal abuse case, although it won't be collected because of Hallmark's insolvency. It is intended as a deterrence against future animal cruelty in American slaughterhouses, Lovvorn said.
"This is a critically important case because it shows that the abuse of farm animals have serious legal and economic consequences," he said.
"This is the first-ever federal government fraud case involving animal abuse."
Westland/Hallmark in 2008 voluntarily recalled 143 million pounds of its beef after video evidence from the Humane Society showed two of its workers forcing downer cattle  down a slaughter line at the company's Chino plant – a violation of federal rules prohibiting meat from such animals because of a higher risk of mad cow disease.
The video showed workers moving cows too sick to stand with a forklift, striking them in the face and eyes with a paddle and shocking the animals with an electric cattle prod.   www.pasadenastarnews.com/breakingnews/ci_22008115/chino-slaughterhouse-national-school-lunch-supplier-reaches-500
The Emergence of Fascism as a Popular Mass Movement
November 19, 1942–What Happened to the Last Nazis 70 Years Ago?
Solidarity for Never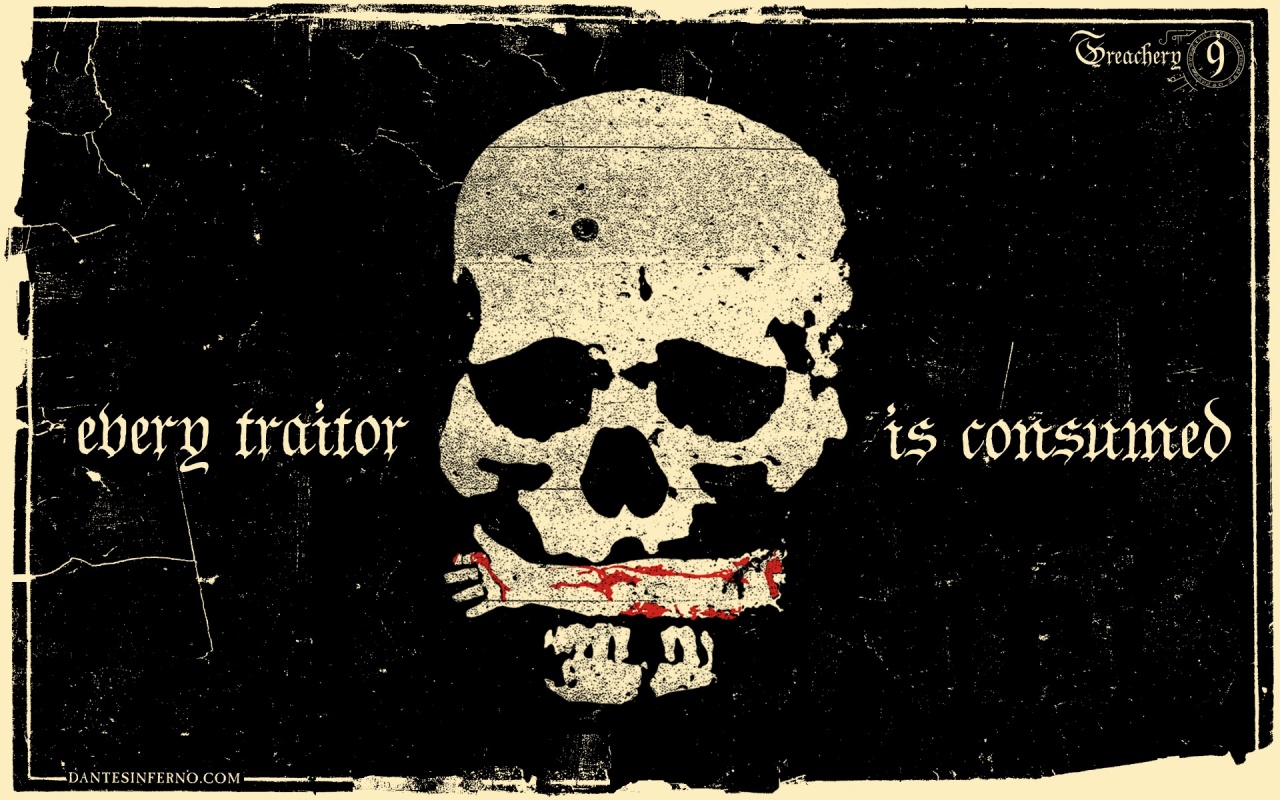 After DFT Promising "Concessions Will Save Jobs, Hundreds of Detroit Teachers Laid off (including 20+ year veterans) The union representing Detroit Public Schools teachers sued the district Wednesday over what it calls improper layoffs based on performance evaluations.
Keith Johnson, president of the Detroit Federation of Teachers, said the union filed the suit in Wayne County Circuit Court.
"They were laid off primarily based on alleged and unqualified teacher evaluations," he said. "Many of these teachers who were adversely affected were never formally observed in the classroom, were never given a comprehensive evaluation and in some cases scored higher than others on their evaluations, yet are still not working."
Johnson made the remarks at a news conference at the union's headquarters Wednesday morning. He was joined by nearly 40 teachers and the union's attorneys.
Johnson said the suit seeks any remedy "permissible by law — reinstatement, punitive damages, whatever they may be." The union said more than 422 teachers were laid off and not recalled at the start of the 2012-13 school year.   From The Detroit News: www.detroitnews.com/article/20121114/SCHOOLS/211140374#ixzz2CSxbpmFn
Unions Don't Unite, Rather Divide, People. Teamster Crooks Threaten Bakery Workers Today, the Teamsters Union announced its recommendation to the Bakery, Confectionary, Tobacco and Grain Millers International Union (BCTGM) that a vote of its Hostess members by secret ballot should be held to determine if the workers want to continue their strike of the company and force it into liquidation.
On Wednesday, Nov. 14, Hostess Brands indicated that if it couldn't resume normal operations by 5 p.m. EST on Thursday, Nov. 15 that it would have to begin the liquidation process. Teamster Hostess members and all Hostess employees should know this is not an empty threat or a negotiating tactic, but the certain outcome if members of the BCTGM continue to strike.    http://www.teamster.org/content/teamsters-bakery-workers-should-hold-secret-ballot-vote-hostess
Spy versus Spy
Happy Birthday George Blake The 90th birthday of a double agent from the height of the cold war has been made the occasion for extensive celebration in Russia, with a documentary film, a rare newspaper interview stressing his happy retirement in Russia and a personal birthday greeting on Sunday from President Vladimir V. Putin.  The spy, George Blake, betrayed British intelligence starting in the 1950s; he was found out in 1961 and sentenced to 42 years in prison. But he escaped five years later using a ladder of rope and knitting needles, made his way to the Soviet Union and has been living out his last years serenely in a cottage outside Moscow   www.nytimes.com/2012/11/12/world/europe/george-blake-british-double-agent-turns-90-in-moscow.html?_r=0
The Magical Mystery Tour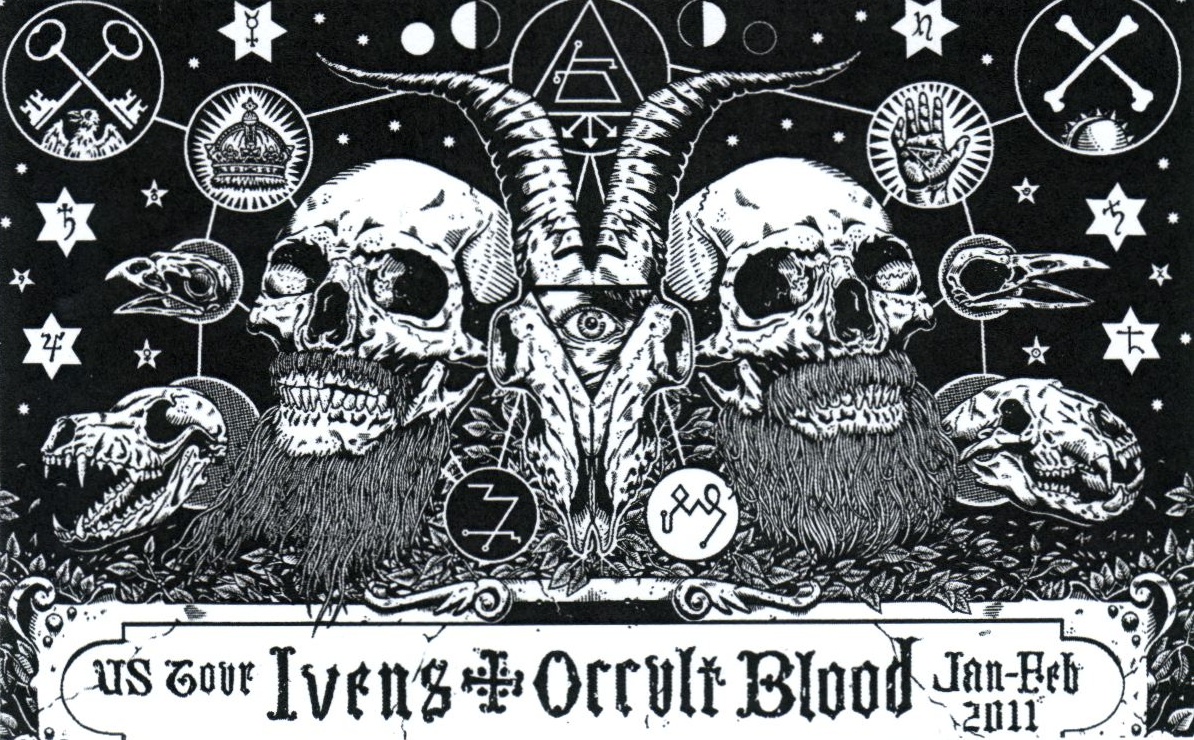 Irish Papists Murder Pregnant Woman the death of 31-year old Indian woman Savita Halappanavar who died of septicaemia following a miscarriage 17 weeks into her pregnancy.
The Irish health authority (HSE) has launched an inquiry into the death, which has reopened a decades-long debate over whether the government should legislate to explicitly allow abortion when the health of a mother is at risk.
Activists in the overwhelmingly Catholic country, which has some of the world's most restrictive laws on abortion, say the refusal by doctors to terminate the pregnancy earlier may have contributed to Halappanavar's death. www.nytimes.com/reuters/2012/11/17/world/asia/17reuters-ireland-abortion.html?ref=global-home
The Best and Worst Things in the History of the World
Military Brass Awash With Sleeze (long list) Gen. William Ward of the Army, known as Kip, the first officer to open the new Africa Command, came under scrutiny for allegations of misusing tens of thousands of government dollars for travel and lodging.
Brig. Gen. Jeffrey A. Sinclair, a former deputy commander of the 82nd Airborne Division in Afghanistan, is confronting the military equivalent of a grand jury to decide whether he should stand trial for adultery, sexual misconduct and forcible sodomy, stemming from relationships with five women.
James H. Johnson III, a former commander of the 173rd Airborne Brigade, was expelled from the Army, fined and reduced in rank to lieutenant colonel from colonel after being convicted of bigamy and fraud stemming from an improper relationship with an Iraqi woman and business dealings with her family.
The Air Force is struggling to recover from a scandal at its basic training center at Lackland Air Force Base, Texas, where six male instructors were charged with crimes including rape and adultery after female recruits told of sexual harassment and sexual assault.   www.nytimes.com/2012/11/13/us/petraeuss-resignation-highlights-concern-over-military-officers-ethics.html?emc=tnt&tntemail1=y
Pro Paramour Broadwell Trolling for Barbarism Paula Broadwell, whose affair with former Gen. David Petraeus brought his career to a sudden end last week, had sought to help defend his decision in 2010 to allow village destruction in Afghanistan that not only violated his own previous guidance but the international laws of war.
At the time, Petraeus was under pressure from the Obama administration to produce tangible evidence of "progress" that could be used to justify troop withdrawals. But the efforts had the opposite effect. The new Petraeus policy guidance allowed the destruction of villages in three districts of Kandahar province if the population did not tell U.S. forces where homemade bombs were hidden.
In early January 2010, Broadwell went to visit the Combined Task Force I-320th in Kandahar to write a story justifying the decision to destroy the village of Tarok Kaloche and much of three other villages in its area of operations.
Ironically, it was Broadwell who introduced the complete razing of the village of Tarok Kalache in Kandahar's Arghandab Valley in October 2010 to the blogosphere. Dramatic photographs of the village before and after it was razed, which she had obtained from U.S. military sources, were published with her article in the military blog Best Defense on Jan. 13, 2011. The pictures and her article brought a highly critical response from blogger Joshua Foust, who is a specialist on Afghanistan.
Tarok Kalache was only one of many villages destroyed or nearly destroyed in an October 2010 offensive by U.S. forces in three districts of Kandahar Province, because the heavy concentrations of IEDs had made clearing the village by conventional forces too costly. www.opednews.com/articles/How-Mistress-Helped-Petrae-by-Gareth-Porter-121116-195.html
What Was All In Broadwell Doing With Top Secret Docs in Her Home? The FBI is making a new push to determine how a woman who had an affair with retired Gen. David H. Petraeus when he was CIA director obtained classified files, part of an expanding series of investigations in a scandal that also threatens the career of the United States' top military commander in Afghanistan.  http://www.washingtonpost.com/world/national-security/fbi-investigating-how-petraeus-biographer-broadwell-obtained-classified-files/2012/11/13/e61a5cfc-2dd5-11e2-beb2-4b4cf5087636_story.html?hpid=z2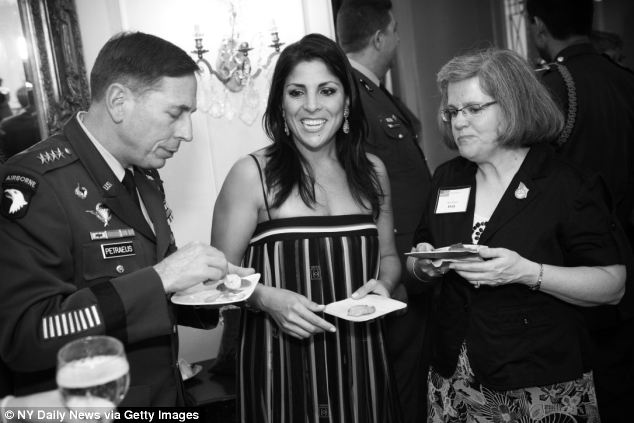 above, Jill Kelley with General Petraeus and his "Wife"
Jill "Kardashian" Kelley Visited White House Thrice Jill Kelley, the Florida housewife whose complaint over threatening emails revealed David Petraeus' affair, has visited the White House three times in the past three months, it has emerged.
In by far the most astonishing example of her determination to reach the top, the shrewd socialite and her twin sister, Natalie Khawam, were invited to two 'courtesy' meals in the Executive Mansion mess hall as a guest of a White House aide, an Obama administration official has revealed.
She met the mid-level aide through her work with MacDill Air Force Base near Tampa, where she also rubbed shoulders with the military's top brass, including General Petraeus.
On one further occasion, she received a White House tour with her family, the official added.
This latest revelation shows just how far Kelley soared from her humble beginnings as the daughter of Lebanese immigrants in Pennsylvania to the host of lavish military parties at her Florida mansion.
Read more: www.dailymail.co.uk/news/article-2234127/Jill-Kelley-visited-White-House-THREE-TIMES-months-twin-sister.html#ixzz2CSKdJZ1j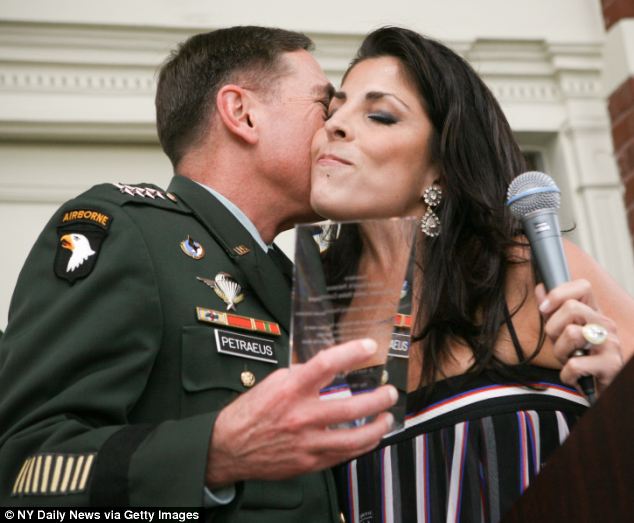 who could have known?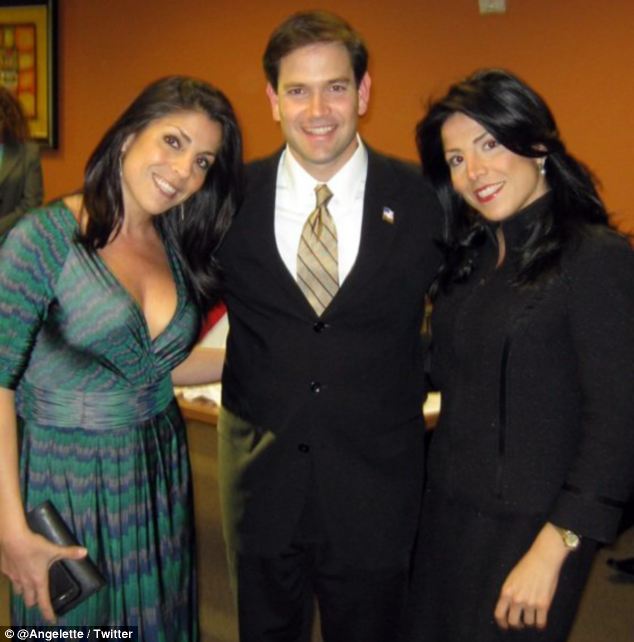 above Kelley and Sis with Florida's Marco Rubio
Jill Kelley is the gal from Tampa who was born a Maronite Christian in Lebanon and who started the entire Petraeus Affair by contacting the shirtless FBI agent about harassing emails that turned out came from Paula Broadwell, who was the lover of General Petraeus.
Lurking in the background of the story, has been Kelley's twin sister, Natalie Khawam. You will recall that as a result of a bitter child custody dispute, General Petraeus and General Allen wrote glowing character references for Khawam. The ex-husband of Khawan, Grayson Wolfe, has been described in the press as an "investment banker," but he isn't just an ordinary IB. And this is where new developments in the story take us. As one anonymous EPJ commenter put it about Wolfe, "Noticing how the twins seem to orbit around trouble, I'm wondering how long before somebody really starts picking at the scab that's the ex-husband of Natalie Khawam: Grayson Wolfe. I gotta believe there's some pus under that one."
And thus we have this fascinating profile of Wolfe from his firm's web page:
Grayson Wolfe is a Partner at Akkadian. He previously served as Director of Broader Middle East Initiatives and Iraqi Reconstruction and Special Assistant to the Chief Operating Officer at the Export-Import Bank of the United States. He was appointed to the bank by President Bush in June 2002. Between January and August 2004, Wolfe served as Manager of the Private Sector Development Office of the Coalition Provisional Authority in Baghdad, Iraq. In this capacity he was directly responsible for implementing a wide range of initiatives to attract foreign direct investment and provide financing to Iraqi companies. During this time, Wolfe worked extensively on the ground with senior Iraqi and Kurdish officials, and with the Ministries of Finance, Trade and Oil.
From 2001 to 2002 Wolfe worked as an attorney for the law firm of Fleischman and Walsh, LLP, where he represented clients engaged in Homeland Security, Telecommunications and Intellectual Property matters. He served as a member of a seven-person team that worked with the North American Railroads and Chlorine Chemical Industries to develop a National Homeland Security Risk Analysis and Management Plan. This plan was adopted by the Class I Freight Railroad CEOs on Dec 6, 2001. Wolfe served as Legislative Director and Counsel for members of Congress from 1999-2002. He has also served in numerous positions in presidential, federal and state political campaigns. Before this, he worked for Citicorp in Poland focusing on emerging markets and franchise development opportunities in Central and Eastern European countries. Curiouser and curiouser it gets.    http://www.economicpolicyjournal.com/
"All In" Broadwell Stripped of Clearances (of Lt Colonel) with video embedded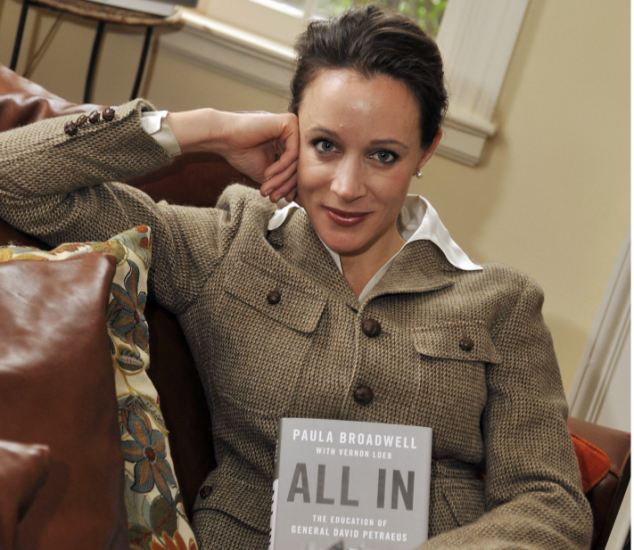 Paula Broadwell, the author suspected of carrying on an affair with former CIA director David Petraeus, has been stripped of her military security clearance after a federal probe alleged she was storing classified military material at her home.
"Appropriate actions with regard to this officer's clearance and access have been taken," said Army spokesman George Wright of Broadwell, an Army reservist and West Point graduate. The FBI found classified material on a computer voluntarily handed over by Broadwell earlier in the investigation. Prosecutors will now have to determine how important the classified material is before making a final decision on how to proceed. Authorities could decide to seek disciplinary action against her rather than pursue charges. The FBI also uncovered "potentially inappropriate" emails between Gen. John Allen, the commander of American forces in Afghanistan, and Kelley, according to a senior U.S. defense official who was traveling with Defense Secretary Leon Panetta. The department was reviewing between 20,000 and 30,000 documents connected to the matter, the official said. The email exchanges between Kelley and Allen took place from 2010 to 2012. …  abcnews.go.com/US/paula-broadwell-stripped-secret-clearance-amid-petraeus-scandal/story?id=17714560#.UKce-SHD59k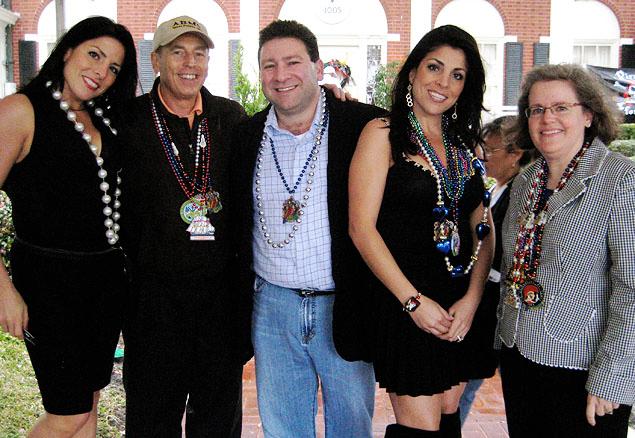 Happy Sis, the War Criminal,  Humiliated Man (if possible) , Jill, and the "Wife"
Broadwell's Fake Academic Credentials from Harvard The details of her shortcomings are unclear but Kennedy School faculty and enrollment records show that she did not continue at Harvard after two years.
The withering conclusion of one unnamed academic was, 'I don't remember her as a student. I remember her as a personality'.
Presumably it was that personality that relieved Petraeus of his critical faculties when he invited Broadwell well and truly into his camp.
Broadwell left Harvard with a lesser diploma in 2008, a master of public administration, after one additional semester.
According to her former professor news that she was to become Petraeus's biographer shocked many in the national security faculty at Harvard because, 'she just didn't have the background – the academic background, the national security background, or the writing background.'
Read more: www.dailymail.co.uk/news/article-2233660/Paula-Broadwell-met-Petraeus-wanted-run-senate-failed-Harvard.html#ixzz2CShHXiqR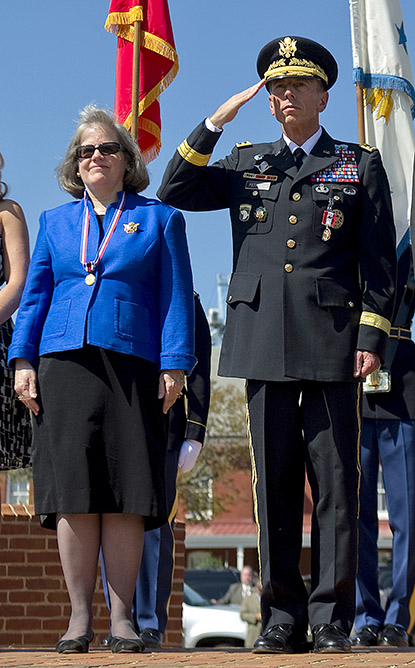 Ptraeus and "Wife"
Notorious PI's Step in to Further Stir the Honey Pot RadarOnline.com has exclusively learned that, along with Monica Lewinsky's crisis management person and John Edwards' attorney taking part in the saga, the Casey Anthony private investigator has now become involved in the salacious situation.
Paula Broadwell, whose affair with Petraeus caused him to resign from his post as the CIA Director last week, was busted after she accused Tampa socialite Jill Kelley of having an illicit relationship with the former General, and Kelley went to the FBI who launched the probe and discovered Broadwell's own dalliances.
PHOTOS: Paula Broadwell Promotes Her David Petraeus Biography
Kelley's 20,000 to 30,000 pages of emails to U.S. Army General John Allen and her relationship with him are now under investigation, as well as the two Generals writing letters on behalf of Kelley's twin sister Natalie Khawam to aid in her custody battle, and Kelley has hired the Lewinsky and Edwards' teams to represent her in her time of need. Meanwhile, Dominic Casey, of D&A Investigations Inc. has been contacted by someone on Khawam's ex-husband's legal team to find out exactly what her relationship was with the Generals.
Dominic Casey confirmed exclusively to RadarOnline.com that he has been "contacted to investigate Natalie's relationship with General John Allen, General Petraeus and other high ranking military officials."
Casey was the investigator hired by Cindy and George Anthony to help find her missing granddaughter Caylee Anthony and he testified in the Casey Anthony trial.
Khawam and her ex-husband Grayson Wolfe have had a nasty divorce and custody battle over their four-year-old son. Both General Petraeus and General Allen wrote letters extolling her virtues to the judge, however she subsequently lost custody of her young son.   www.radaronline.com/exclusives/2012/11/david-petraeus-scandal-casey-anthony-pi-investigating-jill-kelley-sister
War Criminal Allen Sent 20 to 30 THOUSAND emails to Skank Kelley. 20 looks like this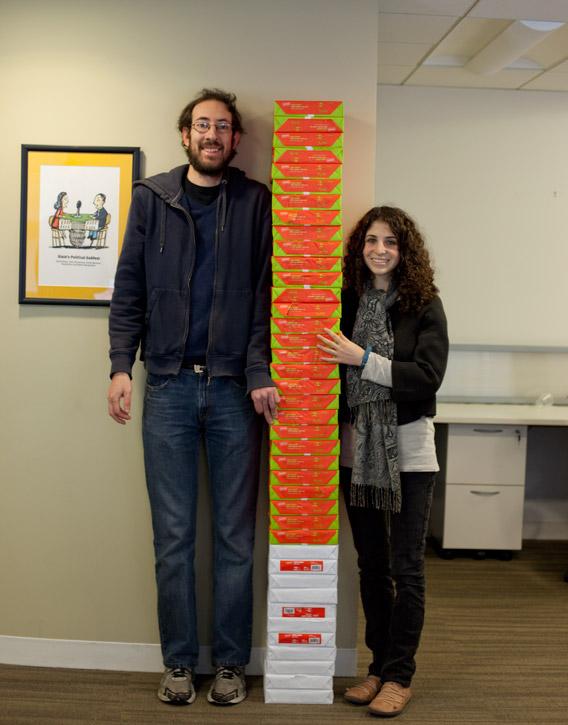 www.slate.com/blogs/the_slatest/2012/11/13/jill_kelley_gen_john_allen_emails_what_20_000_inappropriate_emails_look.html
Jill's Twin Has Some Problems Too Not only did the judge in the case award Natalie's ex-husband custody last year of their now 4-year-old son, John, but he also told Natalie to pay his legal bills amounting to $350,000.
She filed for bankruptcy in April after racking up more than $3 million in debt, according to federal court records. Court filings indicate that the debt included an $800,000 personal loan from Jill and Scott Kelley.
Read more: www.nydailynews.com/news/national/petraeus-friend-jill-kelley-living-large-flat-broke-article-1.1201688#ixzz2CT4hWxtm
CIA Launches soon-to-be-forgotten investigation into War Criminal General The inquiry will focus largely on whether Mr. Petraeus misused the trappings and perquisites of his position, including security details, private jets and special accommodations, to facilitate the affair, a person familiar with the investigation said.  http://www.nytimes.com/2012/11/16/world/africa/cia-investigates-petraeus-as-lawmakers-press-inquiry-into-libya-attack.html?ref=global-home
Why This is all not Cheap Gossip (about War Criminals) nor Prudery: Mossad and Clinton The Book Gideon's spies argues that Mossad blackmailed Clinton with hours of taped conversation he had with his employee and paramour, Monica Lewinsky. Take another look at Jill Kelley. books.google.com/books?id=MRb2_D5io8AC&pg=PA104&lpg=PA104&dq=israel+blackmailed+Clinton+Lewinsky+Mossad&source=bl&ots=uygM_R0ewo&sig=kwkDIyMVRqm6J2A95uKyDaj-23k&hl=en&sa=X&ei=l2-oUO2CI4SoiAK0zoDgDg&ved=0CEcQ6AEwBA#v=onepage&q=israel%20blackmailed%20Clinton%20Lewinsky%20Mossad&f=false
So Long
/p