Saturday, October 27th, 2012
We Say Fight Back!
The Grenada Invasion as Training Ground for Future Wars–Overcoming Vietnam Syndrome The invasion of Grenada, more than 20 years ago, presaged many of the events that blowback on the US today: unilateral warfare, official deceit about the motives for war, a massive military moving against an imagined foe, stifling the press, leaders proclaiming their guidance from God, denials of human and civil rights, systematic torture and subsequent cover-ups-and a hero who refused to go along. Many of the players in the Bush administration who promise perpetual war today cut their teeth on the invasion of Grenada. It is more than worthwhile to review the events that lead to the upcoming trial.   www.counterpunch.org/2004/06/05/the-last-prisoners-of-the-cold-war-are-black/
New! Kennedy Budhall Speaks on the Grenada Revo and its Endgame chirb.it/tnmnMp
Thousands Fight Fake Chinese Red Army A week of protests against the planned expansion of a petrochemical plant in the port city of Ningbo turned violent on Friday and Saturday when demonstrators attacked police cars and tossed bricks and water bottles at officers, according to accounts from participants posted on the Internet.  The protesters, who witnesses said numbered in the thousands, were opposing the expansion of a state-run Sinopec plant, which is already one of the nation's largest refineries. Local residents, citing environmental concerns, have been demanding that the government move the plant from Ningbo, a prosperous city of 3.4 million in Zhejiang Province, not far from Shanghai.
The clashes come at a delicate time for the government, as it prepares for a once-a-decade change in leadership that is scheduled to begin on Nov. 8 during a weeklong series of meetings in Beijing. Public concerns about industrial pollution have become a problem for the governing Communist Party, which often backs economic growth over public concerns about environmental degradation.
In recent years, educated urbanites have harnessed social media to stage street protests against the construction or expansion of factories, mines and refineries. Although such demonstrations are illegal and organizers face arrest, they sometimes have the desired effect.   www.nytimes.com/2012/10/28/world/asia/protests-against-expansion-of-china-chemical-plant-turn-violent.html?ref=global-home
above an earlier demonstration in China, with similar causes
Mass Strikes in Indonesia Thousands of blue-collar workers across the nation began on Wednesday a massive strike they said would last for weeks should the government fail to grant their demands: ending outsourcing practices and cheap labor policies, and providing greater access to health care.
The rallies passed off peacefully in most areas, though there were reports of labor unions conducting combings of factories, including in Tangerang where protesters pelted rocks at a security guard post at a factory belonging to PT LG Indonesia. The protesters were angry about the company's alleged refusal to allow all its employees to skip work, permitting only 200 of them to join the protest.
Activities on more than 60 industrial estates in Riau Islands and West Java were suspended when around a million workers in Batam, Bekasi and Cikarang left their workplaces and took part in the strike.  http://www.thejakartapost.com/news/2012/10/04/workers-comb-plants-strike-begins.html
South Africa Strikes Spread Wider Resolution of the gold sector strike is likely to bring relief to the African National Congress and President Jacob Zuma, who is favoured to win re-election as head of the ruling party at an internal election in December.
However, large parts of the platinum sector remain idle, with no end in sight to a six-week strike at Anglo American Platinum (Amplats), the world's top producer of the metal.
Some 20,500 workers at Amplats' Union and Amandelbult operations are still holding out for higher wages, and the company has also sacked 12,000 wildcat strikers at its Rustenburg mines northwest of Johannesburg.
In all, 100,000 workers have downed tools across South Africa since August in often violent strikes that triggered ratings downgrades and a slight reduction in this year's economic growth forecast from Finance Minister Pravin Gordhan.  http://www.theglobeandmail.com/report-on-business/international-business/african-and-mideast-business/gold-miners-strike-ends-in-s-africa/article4704291/
Mandela's Cops Fire Rubber Bullets at Strikers. The police fired rubber bullets at striking miners at the Anglo American Platinum mine in Rustenburg on Saturday as the company announced that it had agreed to reinstate 12,000 South African workers dismissed earlier this month for staging illegal strikes.  The police fired on hundreds of miners in North West Province who had gathered near the Olympia Stadium, apparently to block a rally by the Congress of South African Trade Unions, which is part of the governing African National Congress. It was unclear if anyone had been injured.
The strikers, in the black T-shirts associated with the Association of Mineworkers and Construction Union and armed with sticks and stones, threatened to attack the trade union ralliers, wearing red T-shirts, according to the South African Press Association, which reported Saturday that some of the miners had vowed not to return to work until their wage demands were met.
The Association of Mineworkers is a newer, more radical union that represents strikers who regard the trade union group and the main mineworkers union, the National Union of Mineworkers, as too close to mine bosses. The miners say the main union has not been properly representing them during the strikes.
Some of the miners had been threatening to make the company's three operations in Rustenburg, near Cape Town, ungovernable if they were not reinstated and their salaries increased.   www.nytimes.com/2012/10/28/world/africa/police-fire-rubber-bullets-at-striking-south-africa-miners.html?emc=tnt&tntemail0=y
Congratulations on the Release of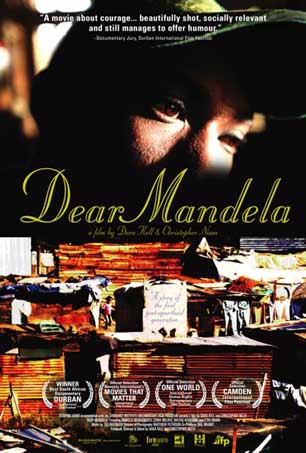 Protestors Hit at Greek Fascist Golden Dawn in NYC The branching out of the Greek neo-Nazi Golden Dawn party into a New York City office triggered protests in the neighborhood of Astoria, a Greek-American enclave, where hundreds of people gathered to show their displeasure the group had come to the U.S. Golden Dawn has 18 seats in the Greek Parliament and is rising fast, ranking third among Greek parties after overtaking the once-dominant PASOK Socialists.
At the event in the Athens Square party, people protested the party's extremist views, which are aimed at ethnic groups, immigrants, gays and political persuasions different from its far-right views.
The event was co-sponsored by the Left Movement N.Y. and Occupy Wall Street Movement. Various university , activist and student foundations also, took part in the demonstration. Some Jewish organizations participated as well.
The protesters criticized Golden Dawn's ideology and actions, which have been said to include attacks on immigrants in Greece. Among those attending were the President of Communication Workers of America, Arthur Heliotis; Despina Lalaki, a professor at NYU; anthropologist Neni Panurgia; surveyor Ackileas Akrivos, and Dimitris Panagiotakis, a professor of Sociology at City University of New York.   usa.greekreporter.com/2012/10/11/new-york-demonstration-against-golden-dawn/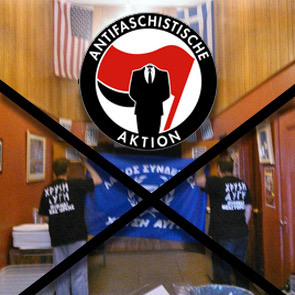 Ellsberg and AntiNukers Win in Federal Court ederal Magistrate judge Rita Federman last Wednesday allowed the U.S. government to dismiss all trespassing charges against the "Vandenberg 15," a group of citizens who in February conducted a civil disobedience action at Vandenberg Air Force Base. The group was attempting to stop a testing of the Minuteman III Intercontinental Ballistic Missile that later reached a target in the Marshall Islands (without a nuclear warhead). The group was urging the base commander to stop the testing of thermonuclear warhead delivery vehicles and to eliminate land-based missiles in the U.S.
The Vandenberg 15 included prominent leaders of the anti-nuclear movement – Daniel Ellsberg, a former Pentagon nuclear weapons strategist, (who also released the Pentagon Papers to the press in 1971); Father Louis Vitale, a Franciscan monk and co-founder of the Nevada Desert Experience; Cindy Sheehan, founder of the Gold Star Families for Peace, whose son, Casey, was killed in the Iraq war; and David Krieger, president of Nuclear Age Peace Foundation (NAPF), member of Veterans for Peace, etc.    http://readersupportednews.org/news-section2/307-11/14194-daniel-ellsberg-and-14-nuclear-protesters-are-victorious-in-federal-cour
The Little Red Schoolhouse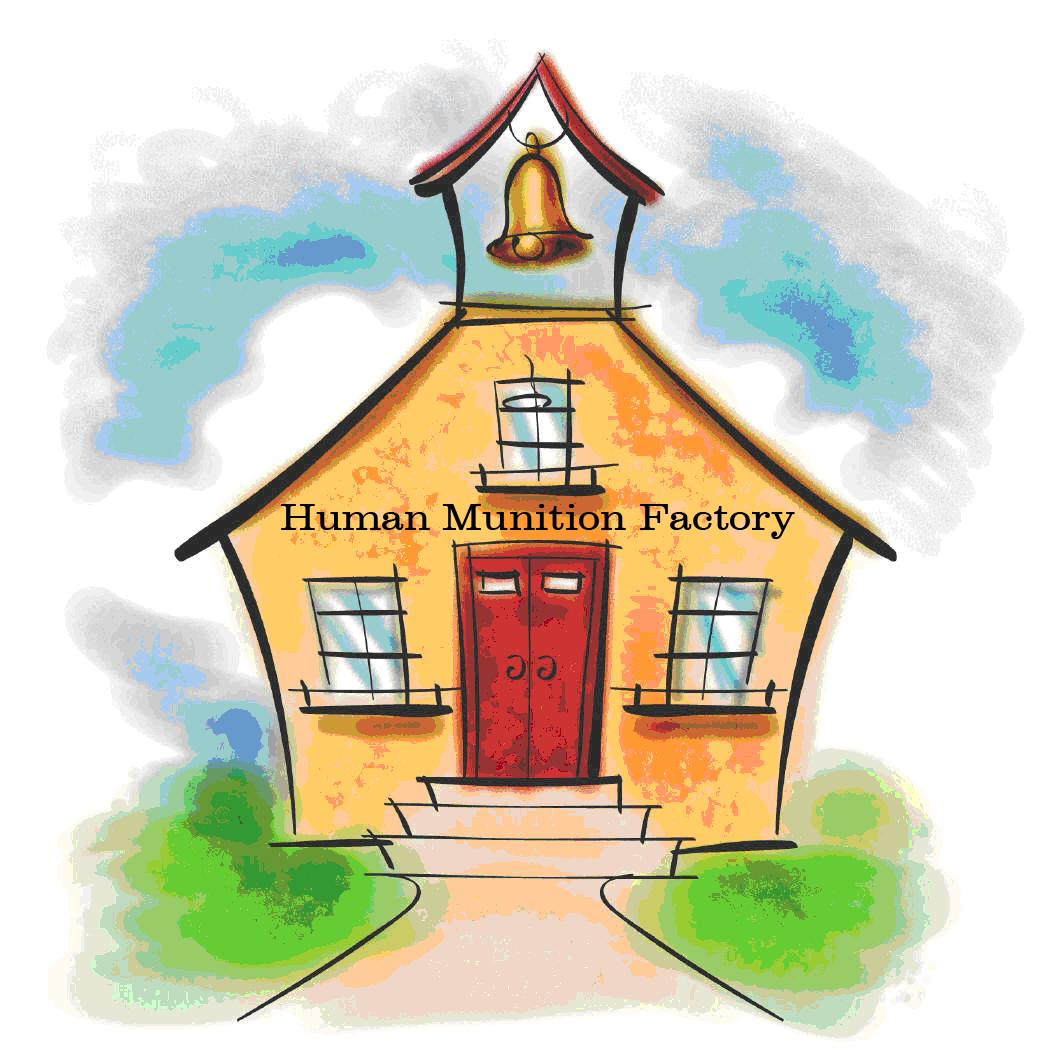 The Chicago Strike is Over. CTU Endorses Obamagogue. Capitalist Schooling Restored. secondcityteacher.webs.com/
Amid Layoffs, Concessions, Pension Cuts, etc, Stupidintendents get Big Raises Amid the ongoing budget crisis affecting schools statewide, seven superintendents in San Diego County have seen their base salaries increase more than 10 percent in the past two years.
The raises came to light with an update this month by The Watchdog of a compensation salary first conducted in 2010.
Those receiving double-digit increases were Janet Wilson of the Dehesa Union School District in El Cajon; Kevin Holt of the San Marcos Unified School District; Larry Perondi of Oceanside Unified School District; Jennifer Walters of Escondido Union School District; Robert Graeff of the Ramona Unified School District; Lemon Grove school chief Ernest Anastos and San Ysidro Superintendent Manuel Paul.
Wilson's base salary rose from $108,000 to $132,000, a 22 percent increase from 2010, the largest percentage of any of the county's 42 school districts. Wilson, who could not be reached because she has been out of the area attending to a family emergency, is taking a 6-day furlough this year, which is the equivalent of a 3 percent pay cut. …• Fourteen of the 35 K-12 superintedents surveyed have a base pay of more than $200,000, the highest paid being Kevin Holt of San Marcos Unified, who earns a base salary of more than $274,000. This year, Holt is taking 15 unpaid furlough days, which reduces his take-home pay this year to about $243,000.
• The average total compensation — which includes salary and benefits such as retirement contributions, medical insurance and auto allowances — is about $232,000. Five of the school chiefs receive more than $300,000 in total compensation: Collins, Perondi, Randy Ward of the San Diego County Office of Education, Kowba and Holt.    www.utsandiego.com/news/2012/oct/27/superintendents-getting-raises-amid-budget-crisis/
New York's Divide and Rule Test Scam On Saturday, more than 15,000 students are expected to file into classrooms to take a grueling 95-question test for admission to New York City's elite public high schools. (The exam on Sunday, for about 14,000 students, was postponed until Nov. 18 because of Hurricane Sandy.)
No one will be surprised if Asian students, who make up 14 percent of the city's public school students, once again win most of the seats, and if black and Hispanic students win few. Last school year, of the 14,415 students enrolled in the eight specialized high schools that require a test for admissions, 8,549 were Asian.
Because of the disparity, some have begun calling for an end to the policy of using the test as the sole basis of admission to the schools, and last month, civil rights groups filed a complaint with the federal government, contending that the policy discriminated against students, many of whom are black or Hispanic, who cannot afford the score-raising tutoring that other students can. The Shis, like other Asian families who spoke about the exam in interviews in the past month, did not deny engaging in extensive test preparation. To the contrary, they seemed to discuss their efforts with pride.  http://www.nytimes.com/2012/10/27/education/a-grueling-admissions-test-highlights-a-racial-divide.html?ref=global-home
Texas Lawsuits Proving Capitalist Schools are Owned by Capitalism Attorneys representing around 600 school districts argued Monday that Texas' school financing system is so "hopelessly broken" that it violates the state Constitution while keeping students from being prepared for the well-paying jobs of tomorrow.
The state countered that, even though the system is flawed, it's nowhere near a crisis point.
Six lawsuits have been filed on behalf of about two-thirds of school districts, which educate about 75 percent of the state's roughly 5 million students. They have been rolled into a single case which opened before state District Judge John Dietz in Austin. The trial is expected to last into January.
The Texas Constitution guarantees an "efficient system of public free schools," but the plaintiffs say many schools can't provide an adequate education because the way they are funded is inefficient and unfair. Districts in rich and poor parts of the state are on the same side in the matter because Texas relies on a "Robin Hood" scheme in which districts with high property values or abundant revenue from oil or natural gas taxes turn over part of what they collect in property taxes to poorer districts.   abcnews.go.com/US/wireStory/texas-schools-head-trial-school-finance-17531869#.UIrr-8_D59l
The International Hot War of the Rich on the Poor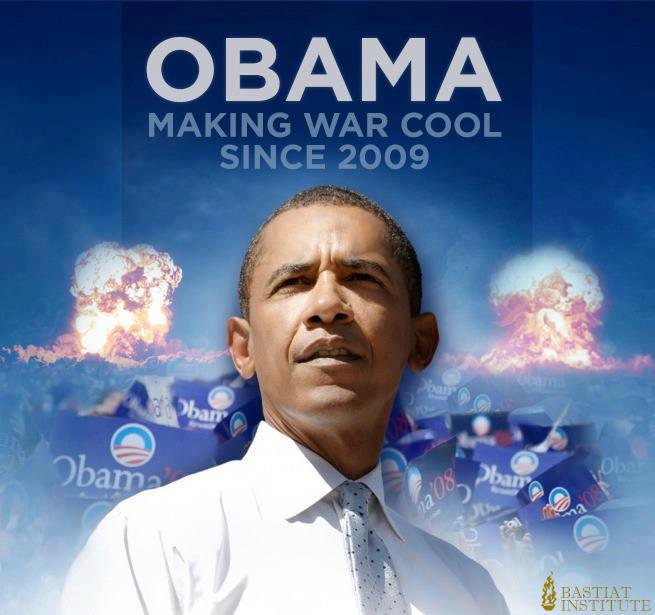 Corruption in the Militarized USA In early 2006, former congressman Randy (Duke) Cunningham was sentenced to eight years and four months in prison for taking $2.4 million in bribes and underreporting his income to tax authorities. Later, his partners in crime also got justice, thanks greatly to the U.S. attorney's office.
Two years ago, the last of seven defendants in a case of military contracting corruption at Space and Naval Warfare Systems Command (SPAWAR), an operation expected to propel the local economy, was sentenced. SPAWAR employees had accepted cash bribes and valuable items from subcontractors. The payoffs for companies passing the bribes were juicy contracts. Among participants were employees of Kratos Defense & Security Solutions, a publicly held local company.
This year, another corruption scam broke at the Naval Air Station North Island. Defense contractors gave Navy civilian employees more than $1 million in cash, checks, retail gift cards, household items, etc. In return, the contractors got millions of dollars in defense contracts.
On October 9, four Navy employees and three contractors got varying sentences. Their greed and book-juggling skills were eye-popping. Donald Vangundy, who had overseen tool control in the Navy's E2/C2 aircraft program, was sentenced to 41 months in custody. According to plea documents, Vangundy took in $413,500 from contractors, including, in just one case, $49,000 in cash; $20,000 in gift cards; $20,000 in electronics items; $38,000 in bicycle shop goods; $78,000 in hobby shop merchandise; $35,000 in home remodeling services; $15,000 in cabinets and countertops, and the like.
He also arranged to have more than $33,000 in goods and services go to two different friends. Then, Vangundy excluded $97,355.21 in taxable income from his 2009 tax returns. Navy employees Kiet Luc, David Lindsay, and Brian Delaney got varying sentences for similar but less serious behavior. On October 18, Kenneth Ramos pleaded guilty to bribery charges.  John Newman, former sales manager of L&N Industrial Tool & Supply of Poway, was sentenced to 18 months in custody. According to the plea documents, Newman was involved in $759,937.50 of fraudulent billings. He provided $325,000 in checks, $96,000 in gift cards, $21,900 in electronics items, and other wages of sin to the Navy personnel. These gifts were charged to the Navy but steered to its rogue employees. Then Newman turned around and billed the Navy $151,987.50 for a 25 percent markup on the grease money. Two other contractor representatives, Michael Graven of X&D Supply of Carlsbad and Paul Grubiss of Centerline Industrial of Poway, also got 18 months.
Here's how it worked: the companies would pass the bribes to the Navy employees. Then those bribes would be disguised in documents submitted to the Navy. Requests for procurement, bids from contracts, sales orders, and invoices were doctored to make it appear that the contractors were furnishing tools and related items. Then would come the markup on the phony invoices.    Two years ago, the last of seven defendants in a case of military contracting corruption at Space and Naval Warfare Systems Command (SPAWAR), an operation expected to propel the local economy, was sentenced. SPAWAR employees had accepted cash bribes and valuable items from subcontractors. The payoffs for companies passing the bribes were juicy contracts. Among participants were employees of Kratos Defense    www.sandiegoreader.com/news/2012/oct/24/citylights1-military-bribes-sometimes-backfire/
CFR: Don't Go Iraq on Iran The Iraq War might seem a thing of the past. But nearly ten years after combat began, the United States and its allies are using policies to address the Iranian nuclear challenge that are eerily similar to those it pursued in the run-up to Operation Enduring Freedom. Just as they did with Saddam Hussein, concerned governments have implemented economic sanctions, diplomatic isolation, and low-level violence to weaken the Iranian regime and prevent it from acquiring nuclear weapons, with the long-term objective of regime change. In Iraq, and seemingly now in Iran, diplomacy and inspections became a means to an end: building up a casus belli. The strategy failed miserably in Iraq a decade ago. It probably will in Iran, too.    http://www.foreignaffairs.com/articles/138201/rolf-ekeus-and-malfrid-braut-hegghammer/dont-go-baghdad-on-tehran?cid=nlc-this_week_on_foreignaffairs_co-102512-dont_go_baghdad_on_tehran_3-102512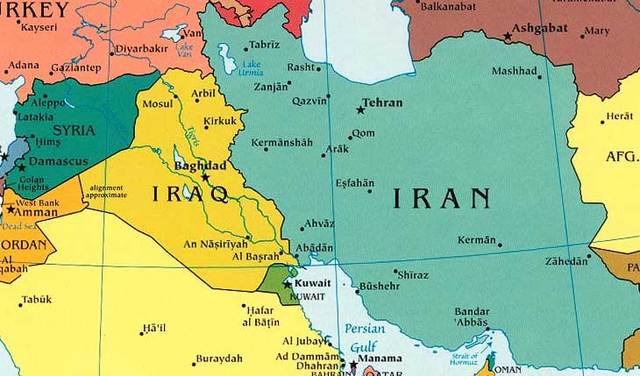 Miramar Jets to Mideast Amid mounting concern over Iran's nuclear program and violence elsewhere in the region, U.S. Central Command quietly dispatched a Marine fighter jet squadron from San Diego to an undisclosed country in the Middle East, U-T San Diego has learned.
The deployment follows threats by the U.S. and Israel of military strikes if needed to prevent Iran from developing a nuclear weapon.
At the same time, the conflict in Syria is threatening to drag Lebanon, Turkey and Jordan into war, Iraq is beset by renewed violence, and terrorist groups hoping to capitalize on political upheaval in the region covet Syria's chemical weapons and Libyan arms.
Against this tense geopolitical backdrop, aviation spotters tracked a dozen jets from Marine Fighter Attack Squadron (VMFA) 314, an F/A-18 Hornet squadron based at Marine Corps Air Station Miramar, en route in late September through Europe.
The heavily armed jets — capable of firing 2,000-pound laser-guided bombs, cluster munitions, air-to-air missiles and a six-barrel 20 mm gun — are used for a variety of missions, including ground attack, escort, enemy air defense suppression, reconnaissance and close air support of ground forces.
U.S. Central Command and the Marine command in the region declined to say which country the squadron deployed to or to comment in detail on its mission, citing political and security sensitivities of the host nation and its neighbors.   www.utsandiego.com/news/2012/oct/26/miramar-fighter-jets-deploy-secret-mideast/
The US Backed Terrorists in Iran –MEK Unsatisfied in "crippling" Iran with sanctions, the US looks to be set for active operations there – and already has an in: a group called the Mujahadin-e Khalq, which in the near future could become the Persian equivalent of the Free Syrian Army.
On September 21, US Secretary of State Hillary Rodham Clinton passed Public Notice 8050, de-listing the Mujahadin-e Khalq (MEK) from the State Department's Specially Designated Global Terrorist list, effective September 28.
What is MEK? Mujahadin-e Khalq is an Iranian Islamic militant organization in exile that advocates the overthrow of the Islamic Republic of Iran. Since its inception in 1965 in Iran, the group conducted assassinations of US military personnel and civilians working in Iran in the 1970s, jubilantly supported the takeover of the US embassy in Tehran in 1979 and opposed the release of American personnel, calling for their execution instead, fought against the Islamic Republic together with Saddam Hussein during the Iraq-Iran War (1980-1988) and set up headquarters in Iraq at Camp Ashraf.
In recent years, according to various sources including NBC, MEK teamed up with the Israeli secret service to kill Iranian nuclear scientists. NBC reported that US officials confirmed that "the Obama administration is aware of the assassination campaign but has no direct involvement".    http://rt.com/news/iran-mek-us-military-237/
US Funneling Armes to Syria's Terrorists (back door to Iran) "Washington is aware of the deliveries of various weapons to illegal armed groups active in Syria. Moreover, judging by the declarations of US officials published in US media, the US coordinates and provides logistical assistance in such deliveries," the Russian Foreign Ministry said in a statement issued on Thursday.
On Wednesday, Russia's chief military officer said that Syrian armed groups have acquired US-made weapons, including Stinger anti-aircraft missiles.
General Nikolai Makarov said it was not clear who had delivered the arms.
"We have information that the rebels fighting the Syrian army have shoulder-launched surface-to-air missiles of several states, including Stingers made in the United States," he said.   www.presstv.ir/detail/2012/10/25/268712/us-sends-arms-to-syria-insurgents/
US Troops to Turkey The commanding general of the US Army Europe (USAREUR) says the Pentagon has recently sent a number of American soldiers to Turkey in a bid to assist Ankara in handling the spillover of the Syrian crisis. "We have had a relatively few number of US Army Europe personnel in Turkey recently," Turkey's Hurriyet newspaper quoted Lieutenant General Mark Phillip Hertling as saying.
The general added, "Some of that has been sharing intelligence."  http://www.presstv.ir/detail/2012/10/25/268704/us-sends-troops-to-turkey-us-general/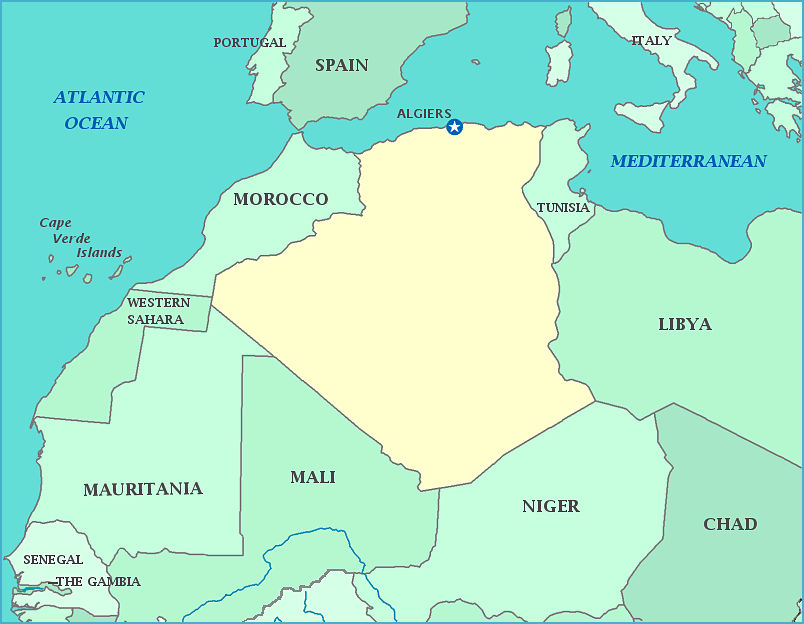 Planning and Funding the Mali Invasion With the African Union still working to finalize its battle plan for invading Mali, a war that is widely expected to begin in early 2013, Western nations are being pressed to endorse the war not just diplomatically, but to bankroll it financially.  The force will be something like 3,200 soldiers, from West Africa mostly, and we know that we will need help from our brothers and sisters in the West to pay for it," noted one AU diplomat.
The invasion is being hyped by a number of Western nations, particularly France, as a vital anti-terror operation. With Islamist fighters flocking to northern Mali to repel the invasion, it could be a protracted, and costly battle.
Which likely suits the AU just fine, so long as someone else is footing the bill. Some AU nations like Burundi have built a significant portion of their economy around participating in UN-endorsed wars, deploying troops who are paid by foreign powers then heavily taxing them to fill their coffers.   news.antiwar.com/2012/10/26/african-union-western-nations-to-bankroll-mali-invasion/
The International Economic War of the Rich on the Poor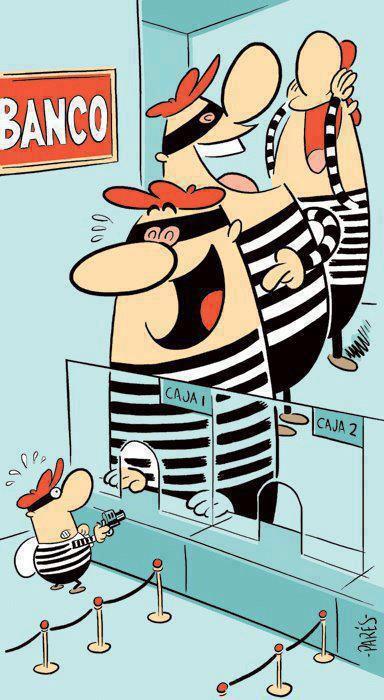 Systematic, Organized, Decay, Made Popular. Detroiters eagerly Board up Homes More than 400 volunteers gathered Saturday morning on Detroit's west side in an effort to board up nearly 150 houses on Make a Difference Day….Bing said abandoned homes have plagued the city as they are often used frequently used as a refuge by drug dealers, prostitutes, and people seeking shelter.   www.detroitnews.com/article/20121027/METRO/210270372/Volunteers-target-150-west-side-homes-shuttering?odyssey=tab|topnews|text|FRONTPAGE
Tweedle Dee and Tweedle Dum Pound Americans with nearly 1 million ads A record-breaking 915,000 presidential campaign ads have aired on broadcast and cable TV from late April through Sunday — a 45 percent increase compared with the 2008 election. "We've already surpassed the total number of presidential ads aired during the entire 2008 campaign, and we still have two weeks to go before Election Day," observes Erika Franklin Fowler, co-director of the Wesleyan University Media Project, which tallied the political outreach.
There is a prevailing trend, though. President Obama's campaign has spent an estimated $239 million on such ads so far, compared with Mitt Romney's $92 million. Almost three-fourths of the president's ads — 73 percent — are negative in tone, the project says, compared with 36 percent of Mr. Romney's ads.   www.washingtontimes.com/news/2012/oct/24/inside-the-beltway-why-youre-tired/#.UIlEpjvEiPQ.reddit
Ford Closes Three Plants in Europe. So Long 5700 jobs Ford Motor Co. (F) will shut three European plants, its first factory closings in the region in a decade, and cut 5,700 jobs to stem losses that the carmaker predicts will total more than $3 billion over two years.   www.businessweek.com/news/2012-10-24/ford-to-shut-belgian-plant-in-shift-to-spain-union-says
Living the Part Time Life in the USA While there have always been part-time workers, especially at restaurants and retailers, employers today rely on them far more than before as they seek to cut costs and align staffing to customer traffic. This trend has frustrated millions of Americans who want to work full-time, reducing their pay and benefits.
"Over the past two decades, many major retailers went from a quotient of 70 to 80 percent full-time to at least 70 percent part-time across the industry," said Burt P. Flickinger III, managing director of the Strategic Resource Group, a retail consulting firm.
No one has collected detailed data on part-time workers at the nation's major retailers. However, the Bureau of Labor Statistics has found that the retail and wholesale sector, with a total of 18.6 million jobs, has cut a million full-time jobs since 2006, while adding more than 500,000 part-time jobs.   www.nytimes.com/2012/10/28/business/a-part-time-life-as-hours-shrink-and-shift-for-american-workers.html?emc=tnt&tntemail0=y
Mandelaite ANC Goon Zuma Builds Mansions While S. Africa Poor Starve Across the valley, a homestead of an entirely different magnitude has mushroomed. It includes dozens of smooth, contractor-built dwellings, a helicopter landing pad, a tennis court and a soccer field. A sports stadium and some underground bunkers are in the works, according to news reports. Glassy, newly paved roads lead to it, and the taupe walls of its neatly thatched rondavels are spotless despite the bucolic setting.
This compound belongs to the most powerful man in the country, President Jacob Zuma, and is now the subject of multiple probes over how $27 million of government money came to be spent on upgrades to his private home, ostensibly for security. Tens of millions more dollars have been spent on roads around the compound and the village.
"He hasn't built anything for us," said the matriarch of the Sithole compound, Phindile Sithole, casting a glare at Mr. Zuma's spread across the valley. "He has only built for himself.  http://www.nytimes.com/2012/10/24/world/africa/south-africas-zumatested-by-mining-crisis-faces-scandal-close-to-home.html?ref=africa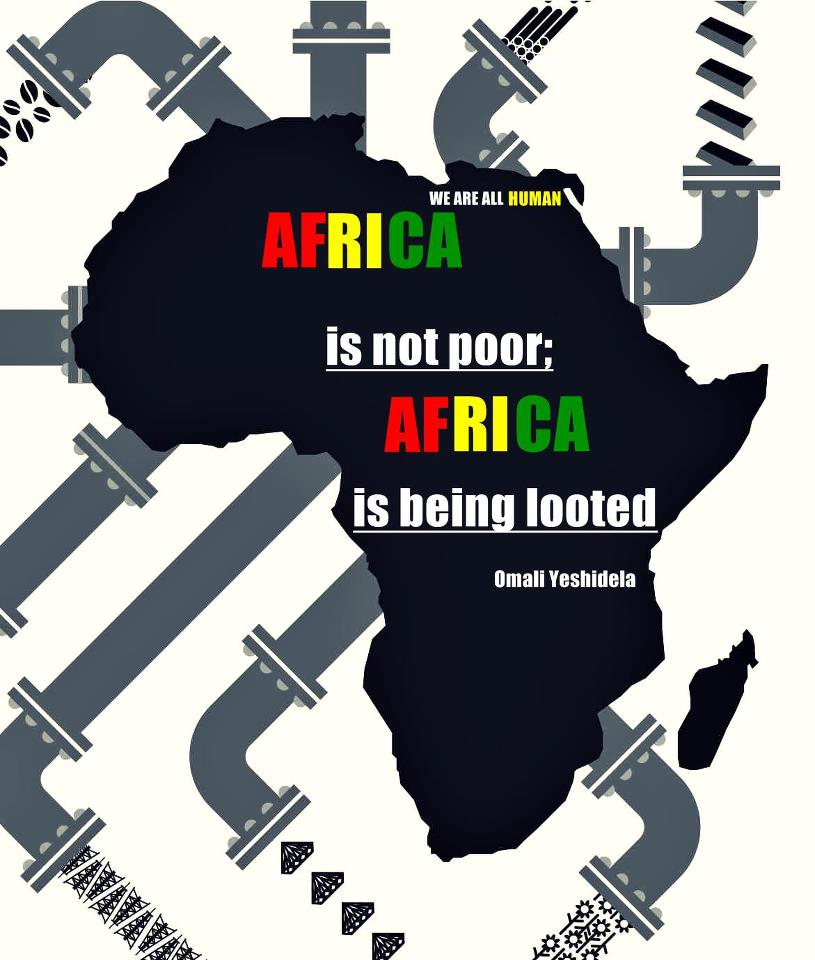 Whoremonger Berlesconi Guilty of Tax Fraud A court in Milan convicted former Prime Minister Silvio Berlusconi of tax fraud on Friday and sentenced him to four years in prison. Mr. Berlusconi is also currently on trial over charges that he paid for sex with an underage prostitute. He has denied the accusation.  The ruling was Mr. Berlusconi's fourth lower-court conviction, and the first since he stepped down as prime minister in November, after years in which his personal legal battles often eclipsed the work of his government. His four-year sentence was reduced to one year under a law aimed at reducing prison overcrowding.
Besides being a blow to Mr. Berlusconi personally, the ruling comes at a time when his center-right party is unraveling and Italy is in the throes of the most dramatic political transition since the early 1990s, when he first came to power. It was just two days ago that he announced that he would not lead his party in Italy's next elections.  http://www.nytimes.com/2012/10/27/world/europe/berlusconi-convicted-and-sentenced-in-tax-fraud.html?ref=global-home
The Crystal Ball: Within 6 Months of the Electoral Farce, a Full Blown attack on the US Workers The United States, it turns out, is a fiscal-gap serial offender by the standards of all three of these respected independent authorities, approximating an average gap of 8 percent of GDP. Compared with Germany and Canada, the United States is addicted to deficits and committed to future spending far beyond reasonable comparison. In fact, the company we keep includes Greece, Spain, Britain and Japan — a rogues' gallery of debtor nations that have abused deficit financing for decades.
A few numbers may be illustrative. The CBO's fiscal gap of nearly 8 percent, for instance, suggests we need to raise taxes or cut spending by an amount equal to $1.6 trillion per year. Yet the expiration of the Bush tax cuts and other provisions included in the congressional supercommittee's "grand bargain" was a $4 trillion battle plan over 10 years, or $400 billion per year.    http://www.washingtonpost.com/opinions/us-risks-falling-off-a-global-cliff/2012/10/25/38cdc85c-1ebe-11e2-9cd5-b55c38388962_story.html
Spain: 25% Jobless Though hardly a surprise, Friday's report that Spain's unemployment rate had surpassed 25 percent was bad news for a government that recently trumpeted a streamlining of its labor market rules.  The ranks of the unemployed swelled to 5.78 million people at the end of the third quarter, compared with 5.69 million a quarter earlier and 2.6 million four years ago, when Spain's property bubble burst, the report said.
The jobs data signaled a deepening recession and raised the likelihood that Spain would again miss budget targets agreed to with other euro zone countries.
There was, however, one perversely positive element to the report: the labor picture is so bleak that it could help Prime Minister Mariano Rajoy make the case that Germany and other lenders cannot risk imposing further austerity measures on Spain's economy in return for providing more European rescue funding.   www.nytimes.com/2012/10/27/business/global/jobs-data-underscore-rajoys-woes.html

The Emergence of Fascism as a Popular Mass Movement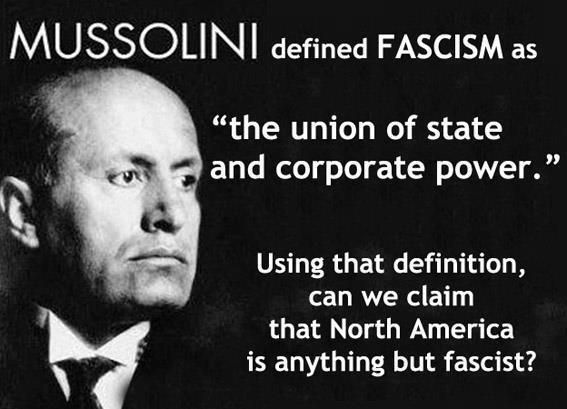 California's SHUE, Worse than Jail in Iran More than 80,000 people were in solitary confinement in the United States in 2005, the last time the federal government released such data. In California alone, at least 11,730 people are housed in some form of isolation. What is unique about Pennington—if being one of thousands can be considered unique—is that he doesn't know when, or if, he will get out of the SHU. Like at least 3,808 others in California, he is serving an indeterminate sentence.
Compared to most SHU inmates, Pennington is a newbie. Prisoners spend an average of 7.5 years in the Pelican Bay SHU, the only one for which the California Department of Corrections and Rehabilitation (CDCR) has statistics. More than half of the 1,126 prisoners here have been in isolation for at least five years. Eighty-nine have been there for at least 20 years. One has been in solitary for 42 years.
Like many of the others, Pennington has never been charged with any serious prison offenses, like fighting or selling drugs. In 20 years of incarceration, his only strikes have been two rule violations: delaying roll call and refusing to be housed in a dorm-style cell with at least seven other prisoners.    http://www.motherjones.com/politics/2012/10/solitary-confinement-shane-bauer#13513956016681&action=collapse_widget&id=3323300
Solidarity for Never
The Long March for This??? Many relatives of Wen Jiabao, including his son, daughter, younger brother and brother-in-law, have become extraordinarily wealthy during his leadership, an investigation by The New York Times shows. A review of corporate and regulatory records indicates that the prime minister's relatives — some of whom, including his wife, have a knack for aggressive deal making — have controlled assets worth at least $2.7 billion.
In many cases, the names of the relatives have been hidden behind layers of partnerships and investment vehicles involving friends, work colleagues and business partners. Untangling their financial holdings provides an unusually detailed look at how politically connected people have profited from being at the intersection of government and business as state influence and private wealth converge in China's fast-growing economy.   www.nytimes.com/2012/10/26/business/global/family-of-wen-jiabao-holds-a-hidden-fortune-in-china.html?_r=1&nl=todaysheadlines&emc=edit_th_20121026
Fools' Errand in Mich–Unionites Try to win by Ballot what was always won by strikes Michigan's unions are asking voters to approve a referendum on the ballot this November, known as Proposal 2, that would lock a series of labor protections into the state Constitution, including the right of public sector unions to bargain collectively and a prohibition against the legislature's enacting a "right to work" law.
The ballot campaign represents an attempt by unions and their Democratic allies to slow or stop the wave of Republican-backed measures adopted in Wisconsin, Indiana, Ohio, Tennessee and other states in the last two years to curb collective bargaining and weaken unions, especially those representing government workers.   www.nytimes.com/2012/10/26/business/in-midwest-labor-presses-for-a-vote-to-lock-in-union-rights.html?emc=tnt&tntemail1=y&_r=0
Spy versus Spy
Li Fenghzhi who Quit the Communist Party of China. Former Spy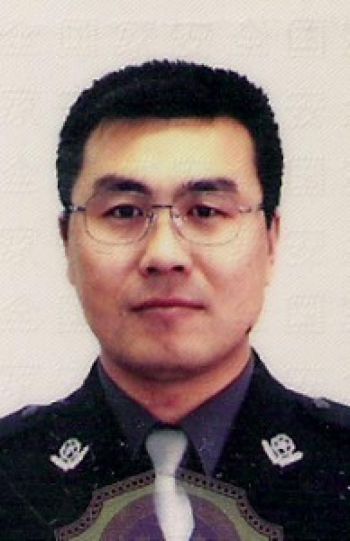 UK Seeks Coverup of Role in US Hellbound Drone Strikes Ties between Britain, the U.S. and Pakistan could be jeopardized if a judge grants a request for a court inquiry into the possible role of U.K. spy agencies in aiding covert CIA drone strikes in Pakistan's northwest tribal region, a government lawyer told Britain's High Court on Thursday.
James Eadie, lawyer for Britain's Foreign Office, insisted that intelligence sharing between Britain and the U.S. — already under strain by previous disclosures made in London courtrooms — and links between Washington and Pakistan would all potentially be cast into doubt.   www.washingtonpost.com/world/europe/uk-claims-possible-court-hearing-into-cia-drone-strikes-in-pakistan-would-risk-denting-us-ties/2012/10/25/b13b3908-1ea7-11e2-8817-41b9a7aaabc7_story.html
The Magical Mystery Tour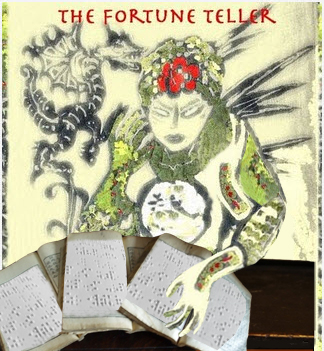 Burma–Armed Murdering Mystics on the Loose 64 people had been killed and more than 2,000 homes destroyed during seven days of sporadic fighting. Some casualties were attributed to security forces opening fire on crowds.
Reports from Rakhine State, the area of the fighting, paint a picture of a chaotic and bloody week of clashes between Buddhist and Muslim communities that are increasingly segregated after thousands of Muslims, a minority in the country, fled to refugee camps during the last outbreak of violence in June.   www.nytimes.com/2012/10/27/world/asia/dozens-dead-in-myanmar-as-sectarian-violence-erupts-again.html?ref=global-home
Maryland–Outing Rapist Priests
Holding signs and childhood photos at a sidewalk news conference, clergy sex abuse victims and their supporters will urge the District of Columbia's top Catholic official to:
–warn his flock about a local priest who is facing at least four sex abuse allegations, and
–post on his diocesan website the names, photos and whereabouts of every predator priest who lived or worked in the archdiocese. They will also prod
–a Silver Spring Catholic group headed by the accused priest to oust him, and
–anyone who may have seen, suspected, or suffered clergy crimes in the DC area to come forward, call police, expose wrongdoing, protect kids and start healing.  http://www.snapnetwork.org/md_victims_wants_catholic_officials_help
The Best and Worst Things in the History of the World
So Long
Russell Means: You Will Remain A Commodity as Long as the Empire Exists