Friday, July 27th, 2012
We say Fightback!
Congratulations to Ravi Kumar on the Publication of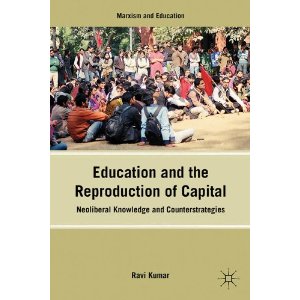 Welcome To Detroit! A Guide to the City for Delegates to
The American Federation of Teachers Convention July 27th-30th, 2012 The AFT will convene in Cobo Hall, downtown Detroit, this year. It's an odd place for the AFT tops to ply their hustle, claiming in a slogan even more vapid than the National Education Association's recent "We Educate America!" AFT says, "We Make A Difference Every Day!"
Well, the Detroit Federation of Teachers surely made a difference. Their bosses organized the decay of what was once touted as the finest urban school system in the USA, with more than 300 thousand students, around 12 thousand teachers, in the early seventies–the bellwether local of the AFT, through a period of slow rot, and now, the near-complete collapse of the entire Detroit Public School system and the local union too.
Arne Duncan, education attack dog for the demagogue Obama, called Detroit, "the worst school system in the country." It's a tough competition for the bottom, especially in Michigan, what with Flint, Benton Harbor, and other cities destroyed much like Detroit, but smaller.
When a Michigan law banned dues check-off this year, the President of the DFT, Keith Johnson, complained in the union's newspaper, the "Detroit Teacher," that 86% of the teachers quit and wouldn't re-sign.
Only a subsequent judge's injunction now keeps the DFT financially afloat, a double-edged indicator–the courts want the union to exist since it has so helped heap concession on concession on the work force (10% pay cuts last year, gutted health benefits, etc., and this year, a contract imposed by an Emergency Financial Manager–EFM–even worse).  richgibson.com/welcome.htm
Between 1999 and 2010, there were 4198 murders in Detroit. Most are Unsolved. Between 2001 and 2012, there were more murders in Detroit than US deaths in Iraq and Afghanistan. www.city-data.com/crime/crime-Detroit-Michigan.html
Ohanian on the Common Core and The Fraudulent "Professional" Organizations Remember, All Verizon Thinkfinity content is endorsed by our content partners [emphasis added], the nation's leading education organizations, who either develop or review each resource. Each of these organizations is a recognized leader in the specific discipline for which they create Thinkfinity content.
Those of you paying dues to the National Council of Teachers of English and the International Reading Association may want to ask them to explain their endorsement.
Free advice to NCTE, IRA, and all of the rest of these education entrepreneurs: You need to issue disclaimer statements warning people to proceed at their own risk, not offer endorsements assuring people that you have examined and approved these lessons as appropriate.    www.dailycensored.com/2012/07/26/look-at-whos-partnering-with-verizon-to-deliver-common-core-offal/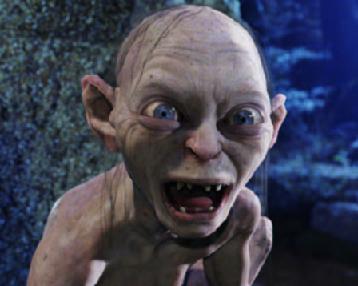 Randi Weingarten (think Smeagol), Undertaker of Urban Education, loves the Common Core Standards (suck it up and do what you are told) " Starting this fall, teachers all across the country will be challenged to start teaching to the Common Core State Standards. These standards are aligned with the knowledge and skills students need to be prepared for college or the world of work they will enter.
Whatever you feel about the Common Core standards, success or failure will depend on how they are implemented. Given that education budgets have been squeezed and teachers across the country are being asked to do more with less, there's a justified fear that states and school systems will skimp on implementation. Without the right support, we know that this effort—like so many standards movements before—could devolve into yet another testing scheme.
We are both advocating for and building these supports. Leaders throughout this room—from Albuquerque, Boston, Chicago, Cleveland—are working through the AFT Innovation Fund to create the supports that will help teachers master the significant instructional shifts required by these new standards.    www.substancenews.net/articles.php?page=3447&section=Article
This is what the Fraudulent Historians "Against the War," sect Doesn't Want anyone to read about Obama, the Wars, and the School Unions NEA Convention Report, Day Three… The NEA Representative Assembly Part Three "We Mis-Educate Our Members and the Nation! No Bullying! Obama! Money=Values   www.substancenews.net/articles.php?page=3392&section=Article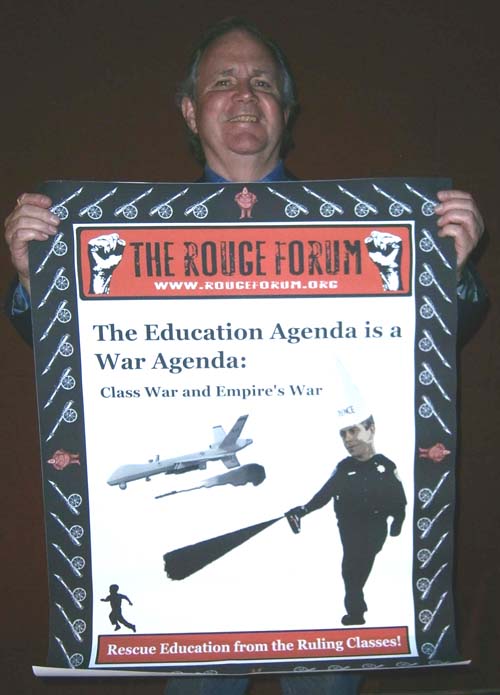 The Little Red Schoolhouse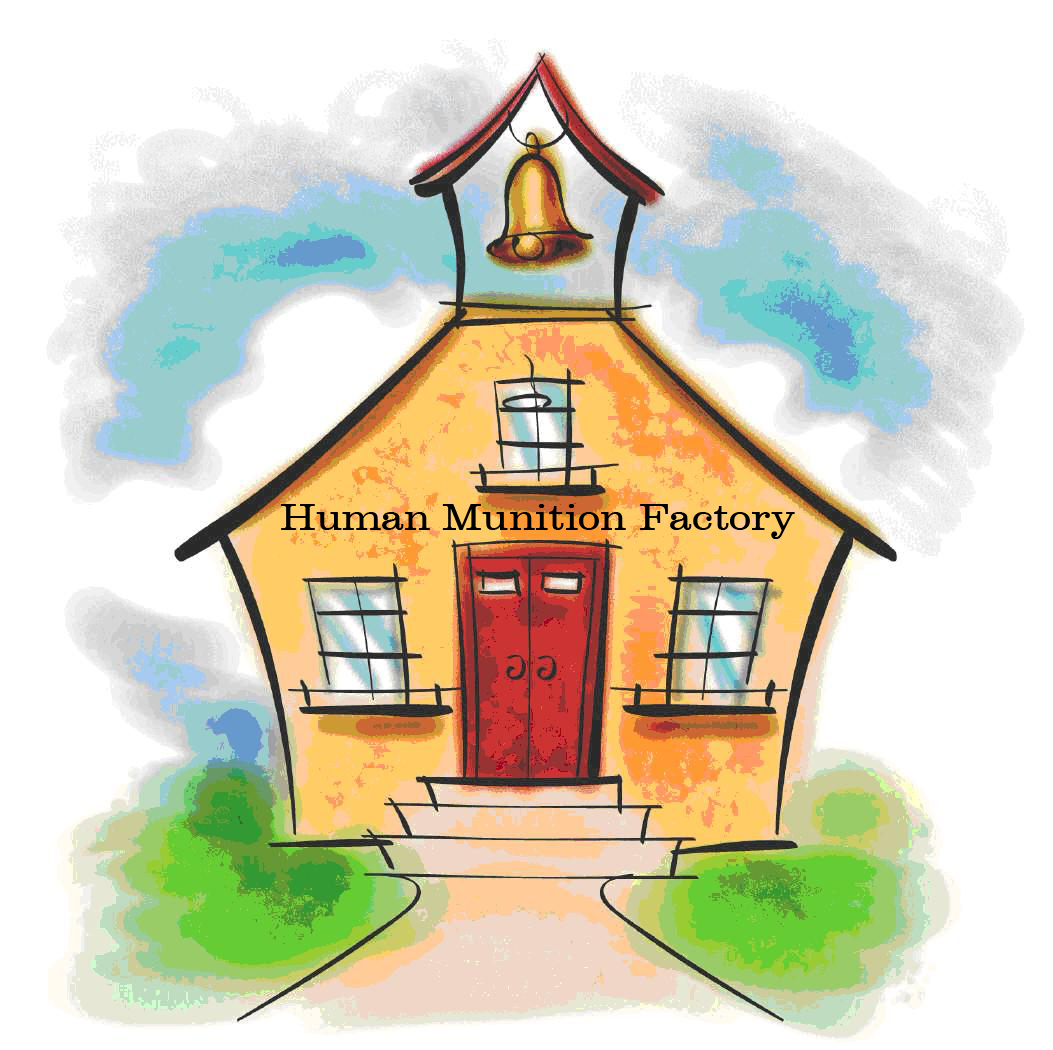 Obamagogue and the Common Core of Capitalist School Knowledge New standards for math and English called Common Core are poised to hit public schools across the nation. Some schools will begin implementing them as early as this fall, before parents have any inkling what has happened to their children's classroom instruction.
Parents will not know how or why the nationally prescribed curriculum came about or how to change it if they don't like it.
That undoubtedly sounds similar to the famous assertion of former House Speaker Nancy Pelosi that Congress would have to pass the Affordable Care Act for people to know what's in it. The nationalized Common Core for education is like Obamacare in ripping control over critical, life-altering decisions from those most affected.
Achieve, a band of like-minded corporate moguls that formed in 1996 to push national education standards, had to report rather sheepishly last month that its own poll showed Americans are almost totally in the dark about the Common Core juggernaut.
A remarkable 79 percent of registered voters know "nothing" or "not much" about what Achieve calls the Common Core State Standards. Another 14 percent said they knew "some," and just 7 percent claimed to know "a lot."
None of that is surprising: Those standards for teaching English and mathematics were put together behind closed doors starting in 2009 by "experts" assembled by resident bureaucrats of the Washington-based Council of Chief State School Officers and the National Governors Association.
In 2010, even before a final draft had been made public, the Obama administration began pressuring states to commit to the Common Core in order to be eligible for a slice of the $4.5 billion Race to the Top fund carved out of the federal stimulus.    www.washingtontimes.com/news/2012/jul/23/obama-quietly-implements-common-core/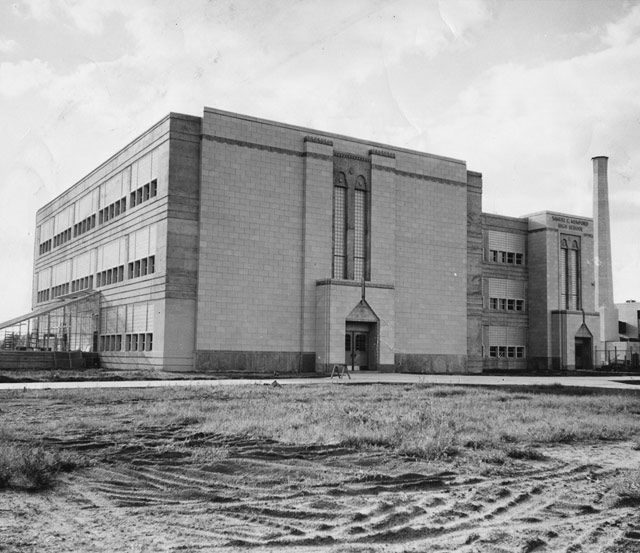 above, art deco Mumford High opened in 1949 and is gone, as of today.
Detroit Schools to spend $52 million plus on new building–do nothing about poverty and racism After a history that stretches back more than six decades, the demolition of Samuel C. Mumford High School is under way.
It will take crews about nine weeks to level the 240,273-square-foot Art Deco-style structure that was built in 1949, said officials with Detroit Public Schools.  …A new $52.1 million facility, under construction on the school's former athletic field, will open this fall.   www.detroitnews.com/article/20120724/SCHOOLS/207240428/1026/schools/Detroit-s-Mumford-High-demolition-under-way
Enrollment in half of the 100 largest public school districts in the United States has declined. Below are the 10 districts with the greatest percentage decrease in enrollment between 2005-6 and 2009-10. (Detroit lost more than 32% of its students, and DPS always lies about enrollment–see the chart) www.nytimes.com/interactive/2012/07/23/us/greatest-declines-in-public-school-enrollment.html?ref=education
Corruption in Capitalist Schools is Endemic, part of the System, but in S. San Diego, it is egregious Southwestern College has gone through a series of upheavals in the past few years and is still the subject of a San Diego County district attorney investigation. Southwestern's former vice president of business and finance, Nicholas Alioto, has been charged with two felonies and a misdemeanor.
What many hoped for, on campus and off, was that the administration would avoid the appearance of impropriety. But heads are shaking and tipsters emailing because of the July 11 agenda.
The new superintendent Melinda Nish came to Southwestern in January 2012 from Coast Community College District. The former interim vice president of business and finance, C.M. Brahmbhatt, also hailed from Coast Community College District and was hired in November 2011.
Brahmbhatt's interim vice president's salary was $13,500 a month, expiring June 30, 2012.
In May of this year, Brahmbhatt shifted from being interim vice president to consultant for Cambridge West Partnership, LLC; he contracted for $60,000 from May through July 31, 2012, "to advise and assist in the preparation of the 2012–2013 budget." (Coincidentally, May was the same month the board approved a 5 percent reduction in pay for classified and certificated Southwestern employees.)   www.sandiegoreader.com/news/2012/jul/11/stringers-questionable-contract-southwestern/
Hey! AFT Delegates! Ask Weingarten What happened to Pittsburgh! The board of Pittsburgh Public Schools tonight voted to furlough 280 school-based employees, including 176 K-12 teachers, 14 pre-K teachers, 59 paraprofessionals, 12 adjuncts, 10 other pre-K professionals and nine technical-clerical workers.
The employees are represented by the Pittsburgh Federation of Teachers and were among the 3,477 school-based employees the district had this past school year. The latest layoffs represent about 8 percent of that group.   www.post-gazette.com/stories/local/breaking/pittsburgh-public-schools-board-oks-furloughs-for-280-workers-646165/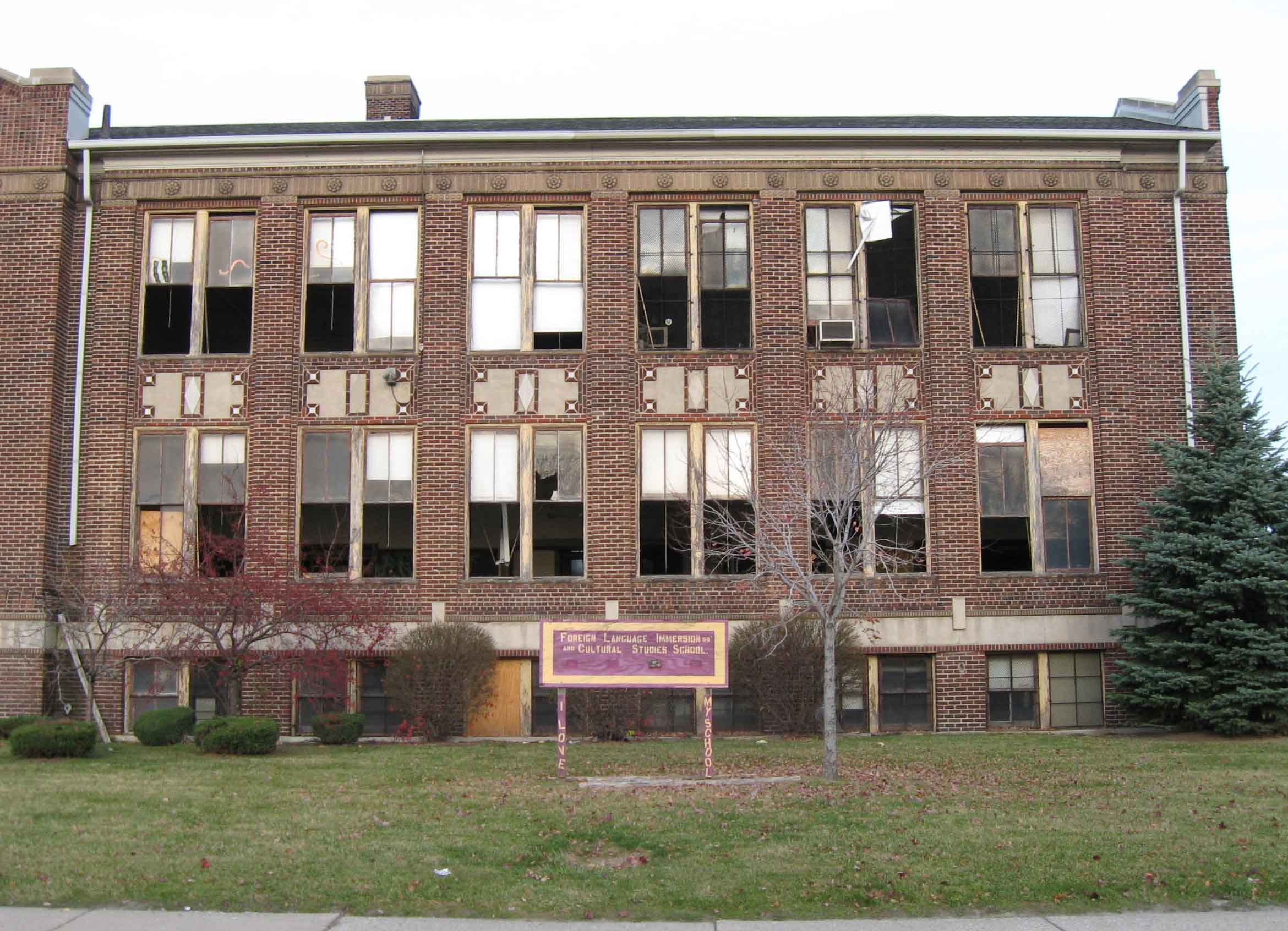 above, one of dozens of Detroit Schools in ruins–the future of urban education
How Deep is UTLA's Sellout on Evalutions via Test Scores? In a potentially groundbreaking decision, Los Angeles teachers and administrators agreed with the school district for the first time to use student test scores as part of performance reviews beginning this school year.
But an attorney for United Teachers Los Angeles later said the commitment he made during a court hearing Tuesday was contingent on whether the union and L.A. Unified School District could successfully negotiate an agreement on exactly how such scores would be used in the teacher evaluations.
That drew criticism from an attorney who sought the pledge in a case he brought on behalf of Los Angeles parents, who successfully sued the district for violating a 41-year-old state law that requires evaluations to include measures of student achievement, such as test scores.
"This is exactly what we were concerned about — that [UTLA] would say one thing in court and change their position thereafter," said Scott Witlin, an attorney for the group of unidentified parents.    www.latimes.com/news/local/la-me-0725-teacher-eval-20120725,0,5808473.story
After Detroit's Once Proud Wayne State U sank to 4th tier, now the bosses want to end Tenure The faculty union at Wayne State University says that proposals made by the administration last week would effectively eliminate tenure protections any time the university wanted to make budgetary shifts.
Under the proposal, "they can get rid of anyone. They admitted at the bargaining table that tenure confers no special status in terms of invoking the procedure for dismissal," said Charles Parrish, president of the faculty union, which is affiliated with the American Association of University Professors and the American Federation of Teachers.
Parrish said in an interview that negotiators were shocked that the proposal was made during contract negotiations, and were afraid that the faculty and academic staff members they represent might not appreciate that the university had actually proposed changing tenure protections. So the union sent the administration proposal (verbatim) to all of its members, and provided a copy to Inside Higher Ed. The proposal does in fact propose to eliminate the university's current tenure protections, which are fairly standard. Currently, tenured faculty members would only be dismissed for serious misconduct or if the university were in a dire financial crisis.   www.insidehighered.com/news/2012/07/23/faculty-accuse-wayne-state-trying-kill-tenure-rights#.UA2AyA1MxYQ.facebook
Holy Crap! More Test Cheating! Florida doles out grades to schools based on the results of the Florida Comprehensive Achievement Test. The Board of Education says in this release that it messed up the grades in 40 of the 67 schools, affecting 213 of the initially graded 2,586 schools. That's eight percent. As it turns out, all of the preliminary scores were lower than they are now said to be.
The department says that:
116 school grades changed from a B to an A
55 school grades changed from a C to a B
35 school grades changed from a D to a C
7 school grades changed from an F to a D
The initial grades — schools are given A, B, C, D or F — were calculated by the department and then, the release says, validated by Florida State University, which, of course, could validate only with the information that it received from the department. Not FSU's fault.   www.washingtonpost.com/blogs/answer-sheet/post/florida-gives-incorrect-grades-to-hundreds-of-its-public-schools/2012/07/23/gJQA7uqg4W_blog.html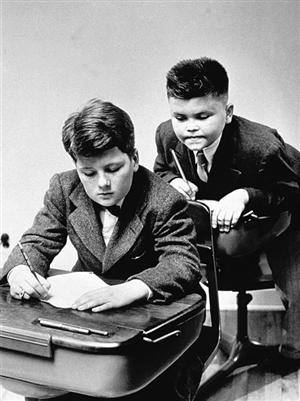 In Upside down California, Cheating Isn't Cheating as it Doesn't Matter California education officials have found the online posting of photos of the state standardized test during testing in May posed no significant impact on the integrity of the exams.
Paul Hefner, communications director for the California Department of Education, said the vast majority of the 442 images were of closed booklets for the Standardized Testing and Reporting exam or illegible pages that were snapped by students with cell phones.
The photos were posted on social media websites, including MySpace and Facebook.
About 36 test questions, however, were clearly readable and hundreds of schools had the questions on their tests (including North Hollywood Senior High, Glendale High, Millikan High and North Monterey County High Schools).   www.scpr.org/blogs/education/2012/07/18/9052/officials-say-leaked-test-questions-have-no-effect/
More Pay Hikes for California State U Prezzies as Tuition Booms, Enrollment Gutted – California State University leaders on Tuesday wrestled with ways to resolve a grim financial picture as they approved 10 percent pay hikes to two new campus presidents.
Executive Vice Chancellor Ben Quillian told the board that the 23-campus system faces deficits ranging from $177 million to $427 million for the 2012-13 fiscal year.
The final amount will depend on whether voters approve tax increase measures in November and whether CSU accepts a "tuition buyout" deal offered by the state Legislature.
If voters reject the tax measures, CSU would lose $250 million in funding. Meanwhile, if CSU accepts the buyout, it would lose $132 million inrevenue from a 9 percent tuition increase this fall in return for an extra $125 million in funds for 2013-14.
Chancellor Charles Reed said accepting the deal would create "an administrative nightmare" because about 300,000 of the system's 430,000 students have already paid their fall tuition.
The university could offer tuition credit instead of refunds, if trustees decide to roll back the fee hike, he said.
Reed noted the system stands to immediately gain $132 million from the tuition increase.
"It's not the greatest deal in the world," he said.
Even without those factors, CSU faces a $130 million structural deficit caused by $750 million in funding cuts since 2007-08, as well as $47 million in increased health and pension costs, …Diane Harrison at CSU Northridge will earn $324,500, and Tomas Morales at CSU San Bernardino will earn $319,000.
A third president received a 9 percent raise: Leslie Wong will earn $324,000 to lead San Francisco State. www.sacbee.com/2012/07/17/4637671/cal-state-mulls-tuition-credit.html
The International Hot War of the Rich on the Poor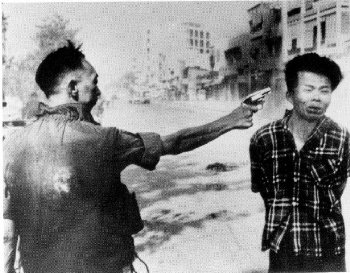 July 29, 1965, 40,000 US Troops Arrive in Vietnam, at Cam Rahn Bay
Billions of Dollars lost to Iraq War Corruption After years of following the paper trail of $51 billion in U.S. taxpayer dollars provided to rebuild a broken Iraq, the U.S. government can say with certainty that too much was wasted. But it can't say how much.
In what it called its final audit report, the Office of the Special Inspector General for Iraq Reconstruction Funds on Friday spelled out a range of accounting weaknesses that put "billions of American taxpayer dollars at risk of waste and misappropriation" in the largest reconstruction project of its kind in U.S. history.
"The precise amount lost to fraud and waste can never be known," the report said.
The auditors found huge problems accounting for the huge sums, but one small example of failure stood out: A contractor got away with charging $80 for a pipe fitting that its competitor was selling for $1.41. Why? The company's billing documents were reviewed sloppily by U.S. contracting officers or were not reviewed at all.
With dry understatement, the inspector general said that while he couldn't pinpoint the amount wasted, it "could be substantial."
Asked why the exact amount squandered can never be determined, the inspector general's office referred The Associated Press to a report it did in February 2009 titled "Hard Lessons," in which it said the auditors — much like the reconstruction managers themselves — faced personnel shortages and other hazards.
"Given the vicissitudes of the reconstruction effort — which was dogged from the start by persistent violence, shifting goals, constantly changing contracting practices and undermined by a lack of unity of effort — a complete accounting of all reconstruction expenditures is impossible to achieve," the report concluded.    news.yahoo.com/auditors-billions-likely-wasted-iraq-174443860.html
Obamagogue to VFW: " I am the best Warmaker Money can Buy!" In a sweeping defense of his foreign policy record, President Barack Obama said Monday that the United States is "safer and stronger and more respected in the world" than when he took office.
"Four years ago, I made you a promise," Obama told the national convention of the Veterans of Foreign Wars. "I pledged to take the fight to our enemies, and renew our leadership in the world. As president, that's what I've done."  http://www.mcclatchydc.com/2012/07/23/157338/obama-tells-veterans-convention.html
Who Lost the Afghan Coppers? Farah Province officials are expressing serious concern today after the police commander from Bala Boluk District defected to the Taliban, taking 12 other police officers and a large quantity of weaponry and military vehicles with him.   news.antiwar.com/2012/07/24/afghan-police-commander-12-other-officers-defect-to-taliban/
About those Syrian "Rebels" there's no endgame in Syria – yet. On the contrary; the sectarian game is just beginning.
It's 1980s Afghanistan all over again. The over 100 heavily armed gangs engaged in civil war in Syria are overflowing with Gulf Cooperation Council funds financing their Russian RPGs bought on the black market. Salafi-jihadis cross into Syria in droves – not only from Iraq but also Kuwait, Algeria, Tunisia and Pakistan, following enraged calls by their imams. Kidnapping, raping and slaughtering pro-Assad regime civilians is becoming the law of the land.
They go after Christians with a vengeance. [1] They force Iraqi exiles in Damascus to leave, especially those settled in Sayyida Zainab, the predominantly Shi'ite neighborhood named after Prophet Muhammad's grand-daughter, buried in the beautiful local mosque. The BBC, to its credit, at least followed the story. [2]
They perform summary executions; Iraq's deputy interior minister Adnan al-Assadi told AFP how Iraqi border guards saw the Free Syrian Army (FSA) take control of a border outpost and then "executed 22 Syrian soldiers in front of the eyes of Iraqi soldiers".
The Bab al-Hawa crossing between Syria and Turkey was overrun by no less than 150 multinational self-described mujahideen [3] – coming from Algeria, Egypt, Saudi Arabia, Tunisia, the United Arab Emirates, Chechnya and even France, many proclaiming their allegiance to Al-Qaeda in the Islamic Maghreb (AQIM).
They burned a lot of Turkish trucks. They shot their own promo video. They paraded their al-Qaeda flag. And they declared the whole border area an Islamic state.    www.atimes.com/atimes/Middle_East/NG25Ak02.html
The International Economic War of the Rich on the Poor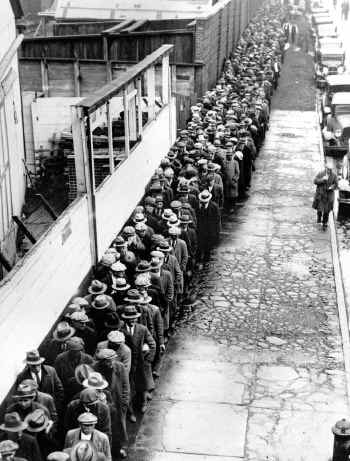 Economic Stagnation–but the greatest Stagnation is the Demolition of Human Talent and Creativity caused by Capital's crises of Wars and Inequality The world's largest economy has suffered a worrying loss of momentum with US growth slowing to an annualised rate of 1.5 per cent in the second quarter of 2012.
The pace of growth is now too slow to bring down unemployment, threatening both the global economic recovery and the re-election prospects of President Barack Obama.
The figure, which was broadly in line with market expectations, will add to the Federal Reserve's fears about progress towards higher employment but may not be alarming enough to force immediate action at an interest rate meeting next week.    www.ft.com/intl/cms/s/0/2e20b90e-d7e8-11e1-9980-00144feabdc0.html#axzz21sqIsl24
Business Booming, Capitalpillar wants More Concessions and the Strike is ON When it comes to dealing with labor unions, Caterpillar has long taken a stance as tough as the bulldozers and backhoes that have burnished its global reputation. Be it two-tier wage scales or higher worker contributions for health insurance, the company has been a leader in devising new ways to cut labor costs, with other manufacturers often imitating its strategies.  Now, in what has become a test case in American labor relations, Caterpillar is trying to pioneer new territory, seeking steep concessions from its workers even when business is booming.
Despite earning a record $4.9 billion profit last year and projecting even better results for 2012, the company is insisting on a six-year wage freeze and a pension freeze for most of the 780 production workers at its factory here. Caterpillar says it needs to keep its labor costs down to ensure its future competitiveness.
The company's stance has angered the workers, who went on strike 12 weeks ago. "Considering the offer they gave us, it's a strike we had to have," said Albert Williams, a 19-year Caterpillar employee, as he picketed in 99-degree heat outside the plant, which makes hydraulic parts and systems essential for much of the company's earth-moving machinery.  …Caterpillar, which has significantly raised its executives' compensation because of its strong profits, defended its demands, saying many unionized workers were paid well above market rates. To run the factory during the strike, the company is using replacement workers, managers and a few union members who have crossed the picket line.
The showdown, which has no end in sight, is being closely watched by corporations and unions across the country because it involves two often uncompromising antagonists — Caterpillar and the International Association of Machinists — that have figured in many high-stakes labor battles.   www.nytimes.com/2012/07/23/business/profitable-caterpillar-pushes-workers-for-steep-cuts.html?_r=1&emc=tnt&tntemail0=y
Super-Rich Hide Trillions in Tax Havens The super-rich are hiding at least $21 trillion in accounts outside their home countries, according to a report by an activist group called the Tax Justice Network.
The wealth hidden in these tax shelters is the equivalent of the United States and Japanese economies combined, according to the report, "The Price of Offshore Revisited."
"The hidden offshore sector is large enough to make a significant difference to all or conventional measures of inequality, " wrote the lead author, James S. Henry, a former McKinsey & Co. chief economist.
"Since most of the missing financial wealth belongs to a tiny elite, the impact is staggering. For most countries, global financial inequality is not only much greater than we suspected, but it has been growing much faster, " he said.    abcnews.go.com/blogs/business/2012/07/super-rich-hide-21-trillion-in-secret-tax-havens-says-tax-justice-network/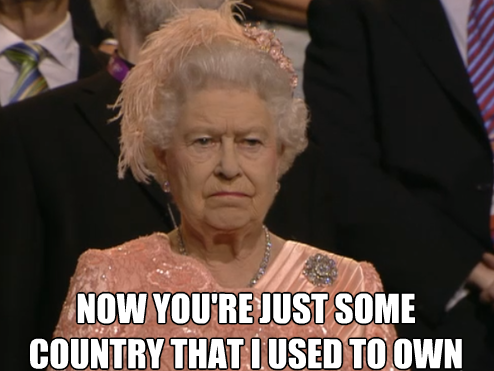 Glen Ford on Obamagogue, Wall St, and Libor The Obama Justice Department is in theater mode, again, pretending to threaten the bankster class with criminal penalties – prison time! – for their manipulation of the global economy's benchmark interest rates. The Justice Department claims to be building criminal and civil cases in the LIBOR scandal, which in sheer scope is the biggest fraud by international capital in history. But that's all a front, a farce. Barack Obama has spent his entire presidency protecting Wall Street, starting with his rescue of George Bush's bank bailout bill after it's initial defeat in Congress, in the last days of Obama's candidacy. He packed his administration with banksters, passed his own bailout and, in collaboration with the Federal Reserve, channeled at least $16 trillion dollars into the accounts of U.S. and even European banks – by far the greatest transfer of capital in the history of the world. Obama has reminded the banksters that it was he who saved them from the "pitchforks" of an outraged public. He pushed through Congress so-called financial reform legislation that left derivatives – the deadly instruments of mass financial destruction that were at the heart of the meltdown – untouched.
Wall Street may or may not remain loyal to Obama, but Obama has been loyal to Wall Street, the guys who gave him the campaign cash to become a viable candidate. His Attorney General, Eric Holder, a corporate lawyer to the core, is busily staging a pre-emptive LIBOR prosecution of bankers in order to shield them from legal action by a host of other government agencies and, ultimately, from the global universe of parties that have been harmed by the bankster's schemes– a list that stretches to infinity. Holder's job is to monopolize the LIBOR case, to the extent legally and humanly possible, grabbing jurisdiction and consolidating the cases against the banks with the aim of reaching a settlement that does not further destabilize the financial system.    www.informationclearinghouse.info/article31919.htm
Who Lost European Auto? The most dreadful year for car sales in more than a decade may require the industry to deal with the overstaffed, underused factories that have been undermining earnings for years.
As the region's weak economies keep many European car buyers away from showrooms, analysts say the unprofitable automakers have no choice but to start closing production lines and cutting payrolls. For the weakest, like General Motors' Opel unit and PSA Peugeot Citroën, their survival may depend on it.    www.nytimes.com/2012/07/26/business/global/europes-auto-industry-has-reached-day-of-reckoning.html?emc=tnt&tntemail0=y
Solidarity Fornever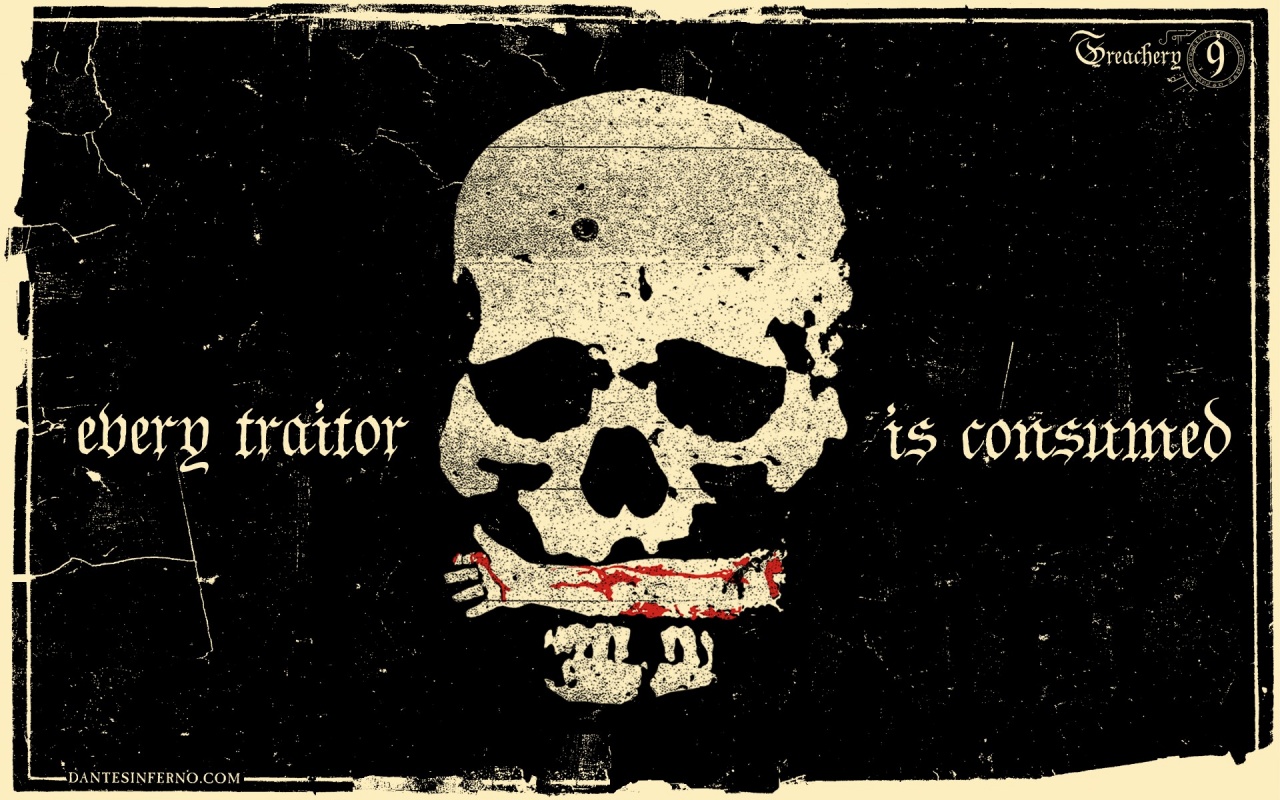 More Proof that US Unionism Divides, doesn't unite, People California's ongoing state budget crisis has claimed another victim: student state workers. In a few weeks the state will ax hundreds of their jobs – just as the school year gets under way.
Meanwhile, the state's university systems have hiked tuition and will probably do it again if voters reject Gov. Jerry Brown's tax proposal on November's ballot.
And with job prospects for young adults more scarce than for other age groups, students such as Sacramento State junior Amber Amey aren't sure what they'll do.
"I don't really have a plan yet, because we were just informed about this," Amey said last week during a break from her job in California State Teachers' Retirement System's call center. "It stinks."
Amey's post and those of about 1,600 state student assistants will soon be the collateral damage of a labor deal struck last month to help close a $15.7 billion budget deficit.
Brown and the state's largest public employees union, Service Employees International Union Local 1000, agreed the 95,000 state workers it represents would take 12 unpaid days off through next June 30 in exchange for, among other things, purging the state payroll of student assistants as of Sept. 1.  … Tuition and fees at California's two public college systems have more than tripled in the last decade as state funding has dwindled.
Earlier this year, the California State University system increased tuition by 9 percent. The University of California last week hiked professional degree program fees by up to 35 percent. At the same time, UC regents froze undergraduate tuition, assuming that voters will approve Brown's tax measure.
Meanwhile, California's unemployment rate for 20- to 24-year-olds in June was 18.1 percent, compared with 10.7 percent for all age groups.     www.sacbee.com/2012/07/23/4650575/california-student-assistants.html
Spy Versus Spy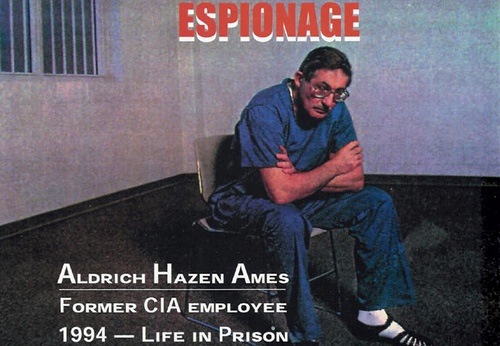 above, Ames was a key CIA agent targeting the USSR. For cash, he served the KGB.
NYPD Knuckleheaded Spy Unit Caught Pants Down (audio tape inside) It's an audiotape the New York Police Department hoped you would never hear.
A building superintendent at an apartment complex just off the Rutgers University campus called the New Brunswick Police 911 line in June 2009. He said his staff had been conducting a routine inspection and came across something suspicious.
"What's suspicious?" the dispatcher asked.
"Suspicious in the sense that the apartment has about — has no furniture except two beds, has no clothing, has New York City Police Department radios."
"Really?" the dispatcher asked, her voice rising with surprise.
The caller, Salil Sheth, had stumbled upon one of the NYPD's biggest secrets: a safe house, a place where undercover officers working well outside the department's jurisdiction could lie low and coordinate surveillance. Since the Sept. 11, 2001, terror attacks, the NYPD, with training and guidance from the CIA, has monitored the activities of Muslims in New York and far beyond. Detectives infiltrated mosques, eavesdropped in cafes and kept tabs on Muslim student groups, including at Rutgers.    news.yahoo.com/confused-911-caller-outs-nypd-spying-nj-084732106.html
Fascism as a Popular Mass Movement
How the Corporate State Works–Jack Abramoff, "How to buy A Congressman" Abramoff: When we would become friendly with an office and they were important to us, and the chief of staff was a competent person, I would say or my staff would say to him or her at some point, "You know, when you're done working on the Hill, we'd very much like you to consider coming to work for us." Now the moment I said that to them or any of our staff said that to 'em, that was it. We owned them. And what does that mean? Every request from our office, every request of our clients, everything that we want, they're gonna do. And not only that, they're gonna think of things we can't think of to do…  Stahl: How many congressional offices did you actually own?
Abramoff: We probably had very strong influence in 100 offices at the time.
Stahl: Come on.
Abramoff: No.
Stahl: A hundred offices?    www.cbsnews.com/2102-18560_162-57459874.html
The Magical Mystery Tour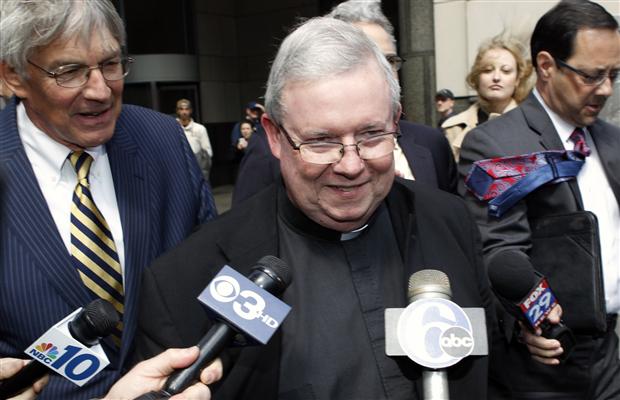 Rapist "Monsignor" Sentenced at Last A Roman Catholic monsignor, William J. Lynn, was sentenced to three to six years in prison on Tuesday for covering up sexual abuses by a priest he supervised in Philadelphia.
"You knew full well what was right, Monsignor Lynn, but you chose wrong," Common Pleas Judge M. Teresa Sarmina said, according to media reports from the courtroom.
"I did not intend any harm," Lynn said in court Tuesday. "My best was not good enough to stop that harm."
A former secretary for clergy to the late Philadelphia Cardinal Anthony J. Bevilacqua, Lynn managed priests and investigated claims of misconduct from 1992 to 2004. With his conviction last month of child endangerment, Lynn became the first Roman Catholic church official to be convicted of a felony for covering up child sex-abuse claims against a priest.
That priest, Edward Avery, was later defrocked and is serving 2½ to 5 years in prison for sexually assaulting an altar boy in church.
In handing down the sentence, Samina said Lynn, 61, allowed "monsters in clerical garb … to destroy the souls of children, to whom you turned a hard heart."
Man claiming to be Jesus attacks 'Antichrist' neighbor with crowbar "A Palm Bay man claiming that he was Jesus Christ used a crowbar and another weapon to threaten his neighbor, who he says was the Antichrist … Kenneth David Peterson, 51, was charged with aggravated stalking and aggravated assault …"  www.freep.com/article/20120724/BLOG44/120724001/Eric-Millikin-Man-claiming-Jesus-attacks-Antichrist-neighbor-crowbar?odyssey=tab|topnews|text|FRONTPAGE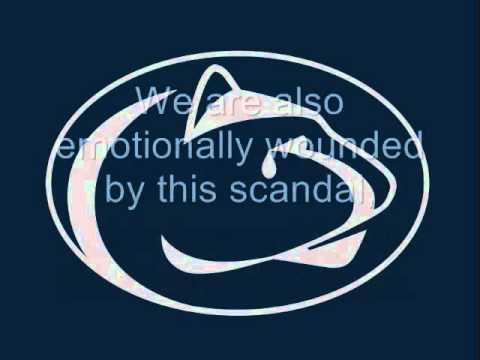 Still Maintaining its Wall of Secrecy, JoeP Disappears from PSU Early Sunday morning, before many residents woke, Penn State workers armed with jackhammers and a forklift removed the controversial statue from its place next to Beaver Stadium.
After the covered and padded statue went into the stadium — to be moved to an unnamed "secure location" — workers took down the Paterno quotation and plaques from the monument's stone wall.   www.centredaily.com/2012/07/22/3268799/penn-state-police-surround-joe.html
Here is a bait for Conspiracy Buffs. What ties together JoePa, his wife, many officials at PSU, and Louis Freeh together? The Catholic Church and Opus Deit.  And, why does the former president of PSU, Spanier, take pride in maintaining his "Top Secret Clearance"? Huh?
What does PSU do in Response to the Rape Scandal? Hires two PR firms to promote Fundraising and "Nittany Pride."   alumni2.psu.edu/email/120726/email.html
The Best and Worst things in the History of the World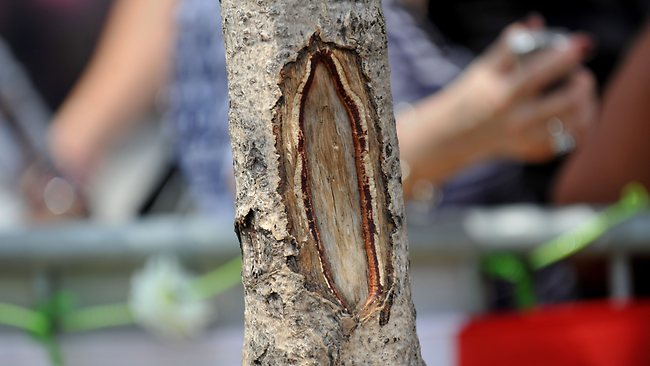 Do Something! Virgin Mary Trapped in Tree Trunk! Already the base of the tree and an adjacent fire hydrant are draped in rosaries, votive candles, flowers and pictures celebrating Our Lady of Guadalupe, a major figure in Mexican Catholicism.
Police have erected a metal barricade around the tree and a patrol car is parked alongside to ensure safety for both crowd and tree.    www.heraldsun.com.au/news/world/us-crowds-flock-to-virgin-miracle-tree/story-fnd134gw-1226435061063
So Long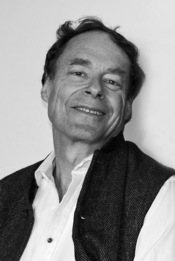 Our friend and comrade Alexander Cockburn died last night in Germany, after a fierce two-year long battle against cancer. His daughter Daisy was at his bedside.
Alex kept his illness a tightly guarded secret. Only a handful of us knew how terribly sick he truly was. He didn't want the disease to define him. He didn't want his friends and readers to shower him with sympathy. He didn't want to blog his own death as Christopher Hitchens had done. Alex wanted to keep living his life right to the end. He wanted to live on his terms. And he wanted to continue writing through it all, just as his brilliant father, the novelist and journalist Claud Cockburn had done. And so he did. His body was deteriorating, but his prose remained as sharp, lucid and deadly as ever.
In one of Alex's last emails to me, he patted himself on the back (and deservedly so) for having only missed one column through his incredibly debilitating and painful last few months. Amid the chemo and blood transfusions and painkillers, Alex turned out not only columns for CounterPunch and The Nation and First Post, but he also wrote a small book called Guillotine and finished his memoirs, A Colossal Wreck, both of which CounterPunch plans to publish over the course of the next year.
Alex lived a huge life and he lived it his way. He hated compromise in politics and he didn't tolerate it in his own life.    www.counterpunch.org/2012/07/21/farewell-alex-my-friend/