Friday, October 28th, 2011
We Say Fightback!
General Strike Oakland! November 2 2011 (below, last Oakland General Strike, 1946)
PROPOSAL:
We as fellow occupiers of Oscar Grant Plaza propose that on Wednesday November 2, 2011, we liberate Oakland and shut down the 1%.
We propose a city wide general strike and we propose we invite all students to walk out of school. Instead of workers going to work and students going to school, the people will converge on downtown Oakland to shut down the city.
All banks and corporations should close down for the day or we will march on them.
While we are calling for a general strike, we are also calling for much more. People who organize out of their neighborhoods, schools, community organizations, affinity groups, workplaces and families are encouraged to self organize in a way that allows them to participate in shutting down the city in whatever manner they are comfortable with and capable of.
The whole world is watching Oakland. Let's show them what is possible.
Did that Oakland Cop Who Shot Scott Olson Do So under Orders? The back story: Under court order, the department signed a policy requiring the safety precaution, stemming from a 2003 protest in which officers fired "less-than-lethal" munitions on a crowd at the Port of Oakland protesting the war in Iraq. The New York Times described it at the time as "the most violent (clash) between protesters and the authorities anywhere in the country since the start of the war."
Chanin said Tuesday's clash reminded him strongly of the 2003 incident. He said he doesn't yet know what the consequences to the department  could be, though he noted that the department spent millions of dollars settling lawsuits in the wake of the 2003 dust-up. www.mercurynews.com/bay-area-news/ci_19205554
www.youtube.com/watch?v=fNGlHlOvCao
Study the Above as they Study Us. Don't only Learn Fear. Revenge is Sweetest Tasted Cold.
Scott Olsen. Man Down. Could he be the American/Tunisian Fruit Vendor? The Accelerator? Occupy Oakland: Scott Olsen suffered the head injury during protests on Tuesday evening. Photograph: screengrab via YouTube
"This poor guy was right behind me when he was hit in the head with a police projectile. He went down hard and did not get up," Finneburgh wrote.
Olsen was taken to Highland by fellow protesters.
The Guardian spoke to people with Olsen at the hospital. Adele Carpenter, who knows Olsen through his involvement with anti-war groups, said she arrived at the hospital at 11pm on Tuesday night.
Carpenter said she was told by a doctor at the hospital that Olsen had a skull fracture and was in a "serious but stable" condition. She said he had been sedated and was unconscious.
"I'm just absolutely devastated that someone who did two tours of Iraq and came home safely is now lying in a US hospital because of the domestic police force," Carpenter said. (From the Guardian UK)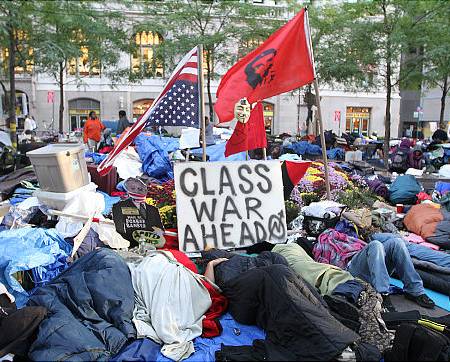 Fill the Jails! Why Not Join the Other 2 Million on the Inside? Talk to them And the Troops! Anti-Wall Street demonstrators of the Occupy Chicago movement stood their ground in a downtown park in noisy but peaceful defiance of police orders to clear out, leading to 130 arrests early Sunday, authorities said.
Occupy Chicago spokesman Joshua Kaunert vowed after the arrests that protests would continue. "We're not going anywhere. There are still plenty of us," Kaunert said after the arrests.
Elsewhere, police reported 11 arrests overnight in the Occupy Cincinnati protests. Officers said those arrested had stayed in that city's Fountain Square after Sunday's 3 a.m. closing time and each was charged with criminal trespass. And in Philadelphia, police arrested more than a dozen protesters who camped out in the middle of the street across from police headquarters Sunday.
In Chicago, officers began taking people into custody just before 1 a.m. Sunday. Those arrested were led in groups to vans and two large white buses as others clamored to be arrested.
"Take me next! Take me next!" some shouted as police began the arrests. Others chanted as they were led away: "We'll be back!"
Officers had begun placing metal barricades around the area of Chicago's Grant Park  http://www.sfgate.com/cgi-bin/article.cgi?f=/c/a/2011/10/23/MNEK1LLACK.DTL
Where are Our Drones? Invade Oakland! Al Jazeera on the Oakland Police Attack: Early on Tuesday morning in Oakland, California, police raided a protest encampment that had been making local news for more than two weeks, by firing tear gas and flash-bang grenades into an area where hundreds had been sleeping.
The Occupy Oakland protest, inspired by New York's Occupy Wall Street, was opposing the government's approach to dealing with a federal and local austerity crisis – which came close to closing numerous libraries and laying off about 500 local teachers in the past year. Five Oakland schools are scheduled to close down before the next school year.
Occupy Oakland began with a 2,000-or-more person rally on October 9. A group of local labour unions quickly paid for port-o-potties, and after pressure from Occupy Oakland's twitter account, rapper Lupe Fiasco visited to donate food and an electrical generator. A make-shift kitchen and barbecue made food available for free at all hours – donated by neighbourhood supporters – and a library was established with a steadily increasing number of books available to anyone. One rumour at the camp was that nearby homeless shelters had directed people without beds to the encampment where they would receive better services than at the shelter.  http://english.aljazeera.net/news/americas/2011/10/20111026135124919772.html
Below–Bosch–Fall of the Rebel Angels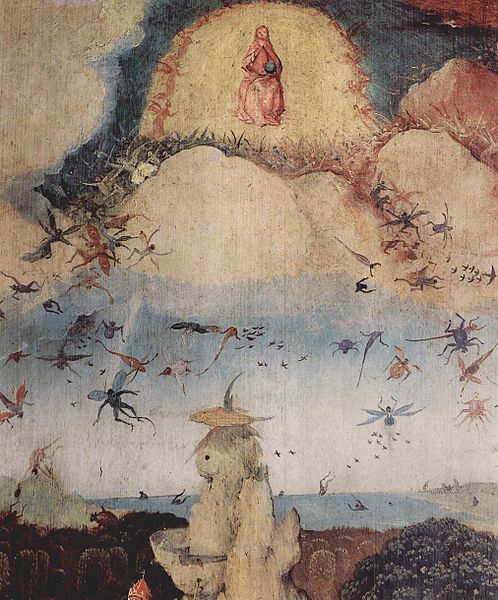 Before entering Hell completely, Dante and his guide see the Uncommitted, souls of people who in life did nothing, neither for good nor evil (among these Dante recognizes either Pope Celestine V or Pontius Pilate; the text is ambiguous). Mixed with them are outcasts who took no side in the Rebellion of Angels. These souls are neither in Hell nor out of it, but reside on the shores of the Acheron, their punishment to eternally pursue a banner (i.e. self interest) while pursued by wasps and hornets that continually sting them while maggots and other such insects drink their blood and tears. This symbolizes the sting of their conscience and the repugnance of sin. This can also be seen as a reflection of the spiritual stagnation they lived in. As with the Purgatorio and Paradiso, the Inferno has a structure of 9+1=10, with this "vestibule" different in nature from the nine circles of Hell, and separated from them by the Acheron.
Occupy San Diego, Resembling a Ghost Dance, gets Shoved Aside: Police moved in on the Occupy San Diego protesters early Friday morning, forcing them out of their downtown encampments in Civic Center Plaza and Children's Park and arresting 51 people. 51 arrested
Police officers and sheriff's deputies in riot gear took action about 2 a.m. They used loud speakers to order the crowd, which was mostly asleep, to pick up their belongings and move. www.signonsandiego.com/news/2011/oct/28/several-occupy-san-diego-protestors-arrested/
Protest sit-in blocks Greece bailout meeting (video inside link) A protest sit-in by civil servants at the Greek transport ministry in Athens has forced international debt inspectors to reschedule a meeting where they were due to discuss reforms, including new licensing laws for taxis.
Yannis Ragoussis, the transport minister, was due to hold a meeting with inspectors from the European Central Bank, the International Monetary Fund and the European Union [collectively known as the troika] on Friday morning, but found the building under occupation by protesting employees.
A similar meeting with Evangelos Venizelos, the Greek finance minister, was moved to a different government building on Thursday after that venue was also occupied.
Protesting civil servants continued to guard the entrance to the finance ministry on Friday morning, spraying the words "They shall not pass" across drawn-down metal shutters.
The inspectors' meeting at the transport ministry was pushed back to 6:00pm local time (15:00GMT), a ministry official told the Reuters news agency.
A lockout at the national statistics office ELSTAT, meanwhile, forced the agency to postpone the publication of two sets of economic indicators on Friday.  http://www.aljazeera.com/news/europe/2011/09/2011930135431879415.html
If Autoworkers Won't Resist the UAW, How Come Casino Workers Resist Teamster Sellouts? MGM Grand Detroit union workers reject contract
Four-year contract 'overwhelmingly rejected' as council seeks mediator; no strike planned   www.detnews.com/article/20111028/BIZ/110280376/1001/MGM-Grand-Detroit-union-workers-reject-contract
Oregon District Rejects Performance Pay: The Oregon City School District has decided to reject a $2.54 million federal grant meant to reward top educators, partly because of philosophical concerns over performance-based pay.
When the district won the money in September 2010 through a group application with six other districts and the non-profit Chalkboard Project, Oregon City's union and administration at first insisted they could devise a way to tap the federal government's "Teacher Incentive Fund" without offering merit-based pay incentives.
A year later, after failing to agree on a plan for individual bonuses, the 8,100-student district has decided to abandon the program.   www.oregonlive.com/oregon-city/index.ssf/2011/10/oregon_city_school_district_wa.html
The Little Red Schoolhouse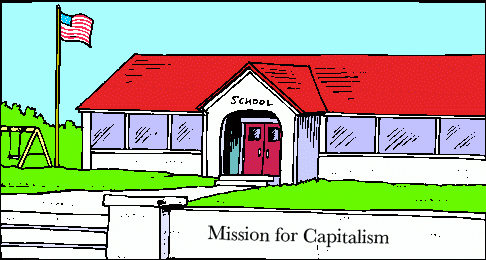 Capitalist Detroit School with 55 kids warehoused in kindergarten, cited by Fire Marshall: A Detroit public school was cited Tuesday by the Detroit Fire Marshal's Office for overcrowding after a parent complained to fire officials that too many children were in her son's kindergarten class.
Lt. Gerod Funderburg of the Detroit Fire Department said the fire marshal's office issued a citation at Nolan Elementary School, 1150 Lantz.
"They went out today and issued a ticket for overcrowding," Funderburg said   detnews.com/article/20111026/SCHOOLS/110260350/Jammed-Detroit-public-school-cited-as-hazard#.TqgymEvdlKY.email
Detroit's Capitalist Schools as a Failed State with No Books. Seven weeks into the academic year, schoolwork is well under way at Detroit Public Schools. High school students have been quizzed on their world history, kindergartners are moving through the sounds of the alphabet, and students have finished MEAP testing.
But many students — potentially thousands — are still waiting to get textbooks.
At Cass Tech High School alone, teachers are short nearly 2,400 textbooks in grades 9-12 for subjects including chemistry, geometry, Spanish and U.S. history, according to a survey done by the Detroit Federation of Teachers. Teachers at the nationally recognized "School of Excellence" say they are missing 950 textbooks in chemistry alone and 250 in U.S. history.
At Priest Elementary Middle School, which serves 989 kindergarten through eighth-grade students, teachers report missing 3,460 textbooks — mostly for English courses for students in K-6, but also science workbooks and workbooks with tear-out sheets.
Union representatives said 29 of 127 DPS buildings reported more than 8,300 missing textbooks. Ten buildings reported no missing books, and 88 schools did not file a report, leaving union officials uncertain as to the extent of the problem districtwide.
According to its 2011-12 budget, DPS slashed spending on textbooks and library books from $6.5 million in 2010-11 to $3.5 million this year.  http://www.detnews.com/article/20111028/SCHOOLS/110280375/1026/Students-still-wait-for-books-at-DPS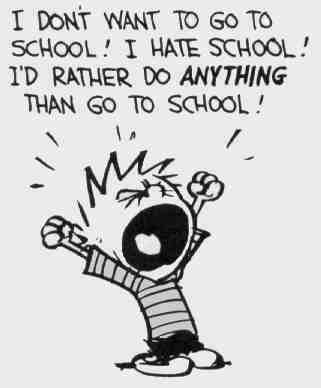 Millionaire Hired to be Overseer of Michigan's Bad Bank Schools Promises to be Lean and Mean to others: Covington, who signed a four-year contract in August at a salary of $225,000 per year, plus a $175,000 signing bonus, said in the next few weeks and months he will focus on getting his team in place, a nine-member staff including two deputy chancellor positions, general counsel, a chief of staff and others.
Also coming is a roll-out calendar for the EAA , Covington said, which will include timing for decisions on which DPS schools will be moved into the system and school leadership decisions such as principal hires.  http://www.detnews.com/article/20111025/SCHOOLS/110250388/1026/schools/Covington-promises-'lean–mean'-education-organization
Holy Crap! They Were All Cheating in Atlanta! A learning disability made school hard for Chantel Cox. But she always stayed on grade level and looked forward to earning a high school diploma. She actually was excited about taking the state graduation tests.  After school every day, Chantel and her mother, Deirdre, logged onto test preparation websites. At Carver High School of Technology in Atlanta, where Chantel was a junior, teachers helped her get ready. They believed, Deirdre Cox said, that Chantel could pass.
But the morning of the high school writing test, in September 2009, school administrators pulled Chantel and several other Carver juniors aside. All stood a good chance of failing — and of lowering the school's odds of meeting its do-or-die performance targets. While the rest of the 11th grade took the test required for all juniors, Chantel and the others worked puzzles in a special-education classroom.
Their absences could be excused, because the school had placed them in a grade all their own: 10 1/2.
The episode reflects the pattern of academic irregularities that emerges in a new investigation of Atlanta's high schools by The Atlanta Journal-Constitution. …At one Atlanta high school, failure literally was not an option; the minimum grade for all students was 70. At another, the principal allowed no more than 10 percent of seniors to fail, regardless of their grades. Another principal allegedly ordered teachers to change grades and ignore absences so students could receive diplomas. Teachers at several schools apparently obtained advance copies of state tests and gave students the actual questions during practice exams. www.ajc.com/news/atlanta-high-schools-broke-1208111.html
NEA Gives Lee County Fla a $1.25 million Merit Pay for Performance Award: Lee County Schools has won a five-year, $1.25 million grant from the National Education Association Foundation to increase achievement rates for low income and minority students.
The Teachers Association of Lee County, the Lee County School District and the Foundation for Lee County Public Schools will use the funding to support joint work that will improve the quality of instruction in district classrooms. The partnership's proposal focused on ways to strengthen three areas of intervention in public education: Increased teaching effectiveness; community and parent engagement; and system alignment and coherence.
"It's going to be a great blessing to this district," Lee County School Board Chairman Tom Scott said Tuesday night. "I look forward to how those dollars are going to be deployed."   www.news-press.com/article/20111025/NEWS0104/111025037/Lee-County-School-District-awarded-1-25-million-grant?odyssey=nav%7Chead
The New York Times Proves you can Teach OWS without Ever Saying Capitalism: Overview | Why are protesters occupying Wall Street? What are they protesting, and what are their goals? In this lesson, students are introduced to Occupy Wall Street and then investigate the movement more deeply.
Warm-Up | Provide students with the following six slogans that have been displayed on placards    http://learning.blogs.nytimes.com/2011/10/11/who-are-the-99-ways-to-teach-about-occupy-wall-street/
Honest Judge! I didn't Have My Mind Right!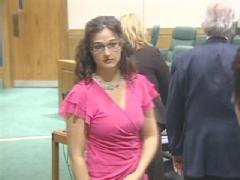 LEBANON, Ohio — The trial of the former Mason gym teacher accused of having sex with students gets underway today. Lawyers for 33-year-old Stacy Schuler of Lebanon plan to plead not guilty by reason of insanity.
She is charged with 16 felony counts of sexual battery and three misdemeanor counts of offenses involving underage persons.
The charges stem from accusations Schuler had sex with five Mason students, mostly football players, and buying or providing alcohol for them.  http://www.newstalkradiowhio.com/news/news/local/Teacher-sex-case/nFLq7/
The International Hot War of the Rich on the Poor
Allah Akbar is What is Being Shouted by the Sodomizer US Allies, Same thing shouted 9/11/01
Counterpunch: Top Ten Myths From War for Libya's Oil: Since Colonel Gaddafi has lost his military hold in the war against NATO and the insurgents/rebels/new regime, numerous talking heads have taken to celebrating this war as a "success". They believe this is a "victory of the Libyan people" and that we should all be celebrating. Others proclaim victory for the "responsibility to protect," for "humanitarian interventionism," and condemn the "anti-imperialist left". Some of those who claim to be "revolutionaries," or believe they support the "Arab revolution," somehow find it possible to sideline NATO's role in the war, instead extolling the democratic virtues of the insurgents, glorifying their martyrdom, and magnifying their role until everything else is pushed from view. I wish to dissent from this circle of acclamation, and remind readers of the role of ideologically-motivated fabrications of "truth" that were used to justify, enable, enhance, and motivate the war against Libya—and to emphasize how damaging the practical effects of those myths have been to Libyans, and to all those who favoured peaceful, non-militarist solutions.
These top ten myths are some of the most repeated claims, by the insurgents, and/or by NATO, European leaders, the Obama administration, the mainstream media, and even the so-called "International Criminal Court"—the main actors speaking in the war against Libya. In turn, we look at some of the reasons why these claims are better seen as imperial folklore, as the myths that supported the broadest of all myths—that this war is a "humanitarian intervention," one designed to "protect civilians". Again, the importance of these myths lies in their wide reproduction, with little question, and to deadly effect. In addition, they threaten to severely distort the ideals of human rights and their future invocation, as well aiding in the continued militarization of Western culture and society.  http://www.counterpunch.org/2011/08/31/the-top-ten-myths-in-the-war-against-libya/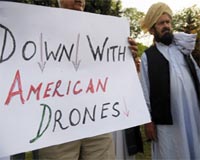 Jirga: CIA's Drone Murders Build Terror (the drones are already home, flying the US/Mex Border) ISLAMABAD: Wazriristan Grand jirga participants unanimously passed a resolution against drone strikes in Pakistan and appealed to the Supreme Court to take action against them.
Chairman of Pakistan Tehreek-i-Insaf (PTI) Imran Khan, while addressing the jirga, urged the Pakistan Army not to fight America's war in the country.
He observed that whenever an innocent was killed in a drone strike, his family members started backing the militancy to take revenge, which, according to him, was natural.
The jirga was attended by tribal elders, families of the victims of drone attacks and human rights lawyers.
At the end of the jirga, the participants unanimously passed
In the resolution, the participants also appealed to the United Nations secretary general to prevent the extra-judicial killings of civilians in drone strikes. The jirga was organised by Pakistan 's Foundation for Fundamental Rights and British legal charity, Reprieve. Imran Khan's former wife and renowned human rights campaigner Jemima Khan also participated in it.
The participants also unanimously agreed that the CIA's drone campaign in Pakistan's Tribal Areas was actually fanning terrorism.
War Criminal John McCain Suggests and Attack on Syria Might be fun: US Senator John McCain raised the prospect Sunday of possible armed intervention to protect civilians in Syria where a crackdown on pro-democracy protests has killed more than 3,000 people.
"Now that military operations in Libya are ending, there will be renewed focus on what practical military operations might be considered to protect civilian lives in Syria," McCain told a World Economic Forum meeting in Jordan.   www.google.com/hostednews/afp/article/ALeqM5h0nVakIHbx4EcY2Omt0rtb4EFnLw
Which Part of the US Was it that Is Leaving Iraq? -Iraq has agreed with oil majors to build a multi-billion-dollar oil field water injection plant in the south of the country, after disagreement over costs that suspended the project for months, a senior Iraqi official said Wednesday.
Exxon Mobil Corp. (XOM) was picked on behalf of foreign oil firms to lead the mega water-injection project, needed to boost crude oil production rates from Iraq's southern oil fields.  http://online.wsj.com/article/BT-CO-20111019-719692.html
Fake Tunisisan Revolution Wins Islamic Rule: Libyans and Egyptians acknowledge that Tunisia was not only the first but also the easiest of the Arab revolutions, because of its relatively small, homogenous, educated population and because of the willingness of the Tunisian military to relinquish power. The success of Tunisia offers inspiration, but perhaps few answers, for Egyptians or Libyans who hope to follow in its footsteps  http://www.nytimes.com/2011/10/24/world/africa/tunisians-cast-historic-votes-in-peace-and-hope.html?_r=2&ref=world
War Means Work. Now Hiring. War Makers: Military Sealift Command: www.sealiftcommand.com/resources/now-hiring?utm_source=signonsandiego.com&utm_medium=728×90&utm_campaign=departmentpromo
The International Economic War of the Rich on the Poor
Classic Liquidity Crisis. Banks Flooded With Cash. Won't Loan. Freeze up: Banks Flooded With Cash They Can't Profitably Use   Droves of consumers and businesses unnerved by the lurching markets have been taking their money out of risky investments and socking it away in bank accounts, where it does little to stimulate the economy.
Though financial institutions are not yet turning away customers at the door, they are trying to discourage some depositors from parking that cash with them. With fewer attractive lending and investment options for that money, it is harder for the banks to turn it around for a healthy profit.  http://www.nytimes.com/2011/10/25/business/banks-flooded-with-cash-they-cant-profitably-use.html?scp=1&sq=flood%20of%20cash%20banks%20will%20not%20loan&st=cse
The Council on Foreign Relations Notes INEQUALITY, just Like OWS–the war of Ideas: The surface of life has greatly improved, at least for educated, reasonably comfortable people — say, the top 20 percent, socioeconomically. Yet the deeper structures, the institutions that underpin a healthy democratic society, have fallen into a state of decadence. We have all the information in the universe at our fingertips, while our most basic problems go unsolved year after year: climate change, income inequality, wage stagnation, national debt, immigration, falling educational achievement, deteriorating infrastructure, declining news standards. All around, we see dazzling technological change, but no progress. Last year, a Wall Street company that few people have ever heard of dug an 800-mile trench under farms, rivers, and mountains between Chicago and New York and laid fiber-optic cable connecting the Chicago Mercantile Exchange and the New York Stock Exchange. This feat of infrastructure building, which cost $300 million, shaves three milliseconds off high-speed, high-volume automated trades — a big competitive advantage. But passenger trains between Chicago and New York run barely faster than they did in 1950, and the country no longer seems capable, at least politically, of building faster ones. Just ask people in Florida, Ohio, and Wisconsin, whose governors recently refused federal money for high-speed rail projects.  http://www.foreignaffairs.com/articles/136402/george-packer/the-broken-contract?cid=emc-nov11promob-content-102611
Below, the Whirlwind of Capitalist Crises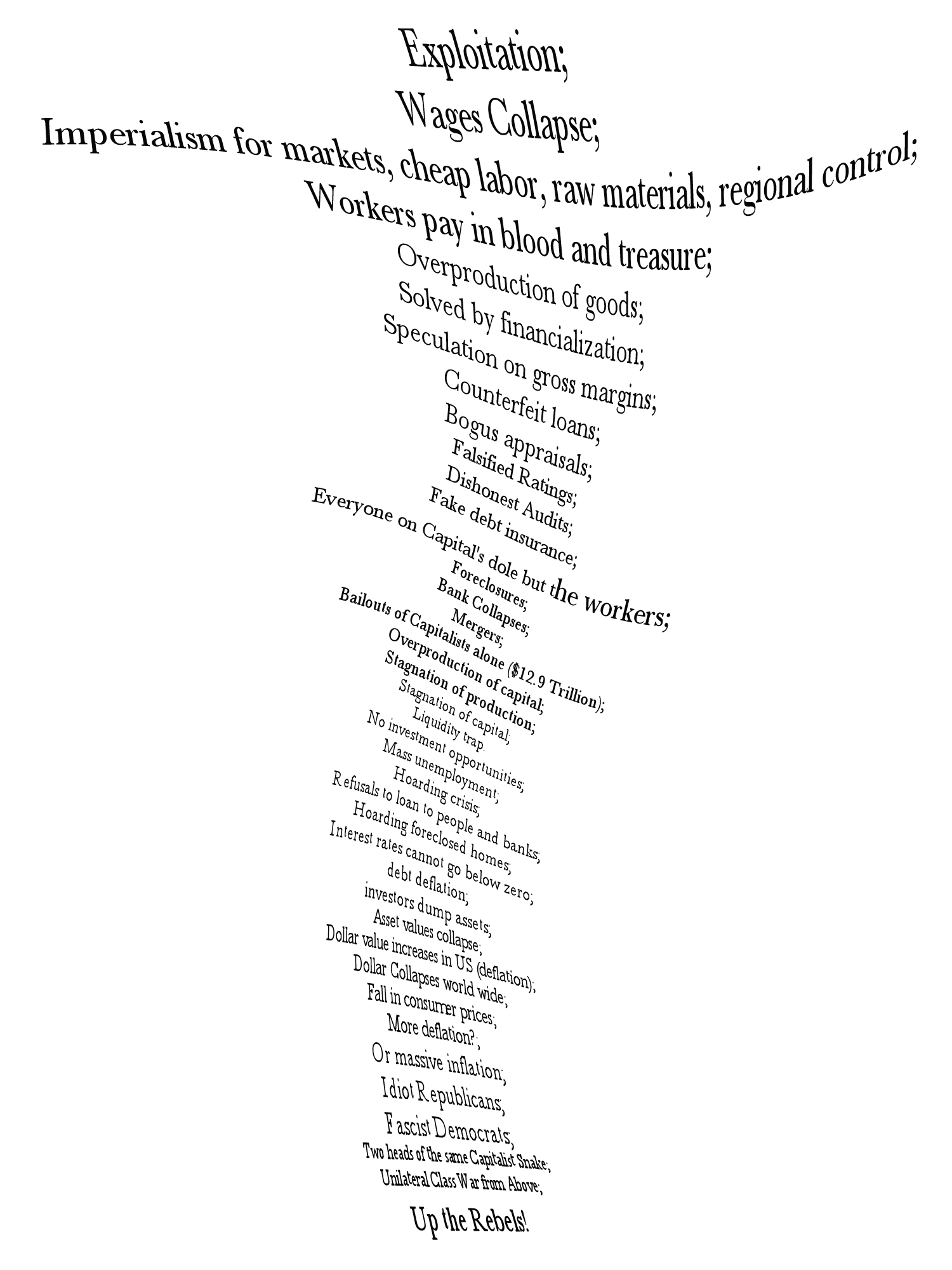 China Laughing Harder Still. The World would like a Bailout, Please. The head of the eurozone's bailout fund is beginning attempts to persuade China to invest in a scheme to help rescue member countries facing debt crises.  After meeting Chinese leaders, Klaus Regling said there were no formal negotiations and would be no deal now.
It is thought China may pay about 70bn euros ($100bn) into the fund, which is expected to be boosted to 1tn euros.
Meanwhile French President Nicolas Sarkozy said debt-ridden Greece's entry to the eurozone was a mistake. www.bbc.co.uk/news/world-europe-15489202?cid=nlc-dailybrief-daily_news_brief-link4-20111028
Pimp From the Gangster Class still running Detroit takes 5th 450 times: Former city Treasurer Jeff Beasley, a one-time fraternity brother to ex-mayor Kwame Kilpatrick, is a target in a federal grand jury probe involving Detroit pension funds, according to a deposition obtained by the Free Press.
Beasley was interviewed in a five-hour deposition in a civil suit last month, during which he took the Fifth Amendment more than 450 times, refusing to answer questions about whether he took bribes or kickbacks, including Super Bowl tickets, a cruise and free condo stays, in exchange for his support of any pension deals. He wouldn't even say how he met Kilpatrick, much less answer questions about whether or not he encouraged an Alabama businessman to donate $100,000 to Kilpatrick's defense fund in exchange for a political favor   www.freep.com/article/20111024/NEWS01/111024048/Ex-Detroit-treasurer-invokes-Fifth-more-than-450-times-federal-probe?odyssey=tab|topnews|text|FRONTPAGE

Netflix Customers Unoccupy Netflix: Netflix Inc. (NFLX) dropped the most in seven years after the video-rental service said it lost 800,000 U.S. subscribers in the third quarter, more than expected, and predicted more cancellations over a price increase.
Netflix plunged 37 percent to $75.28 at 9:39 a.m. New York time, for the biggest intraday decline since October 2004. The stock closed at an all-time high of $298.73 on July 13, according to Bloomberg data.  http://www.bloomberg.com/news/2011-10-24/netflix-3q-subscriber-losses-worse-than-forecast.html
Read Marx! Make Class War!
Marx on the Current Sources of the Great Financial Crisis: The full cash value of today's product can therefore be realised only with the assistance of money advanced against commodity values yet to be produced. 'The surplus value created at one point requires the creation of surplus value at another point,' as Marx put it in the Grundrisse. How are these points, separated in space and time, to be linked? In a word, through the credit system, which involves 'the creation of what Marx calls "fictitious capital" – money that is thrown into circulation as capital without any material basis in commodities or productive activity'. Money values backed by tomorrow's as yet unproduced goods and services, to be exchanged against those already produced today: this is credit or bank money, an anticipation of future value without which the creation of present value stalls. Realisation (or the transformation of surplus value into its money equivalent, as profit) thus depends on the 'fictitious'. www.marxists.org/archive/marx/works/1857/grundrisse/
The Emergence of Fascism as a Popular Mass Movement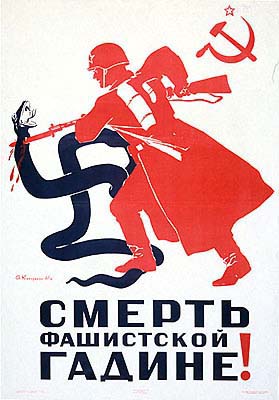 How The Government Smashed my Free Speech Rights via the Patriot Act: Sometime in 2012, I will begin the ninth year of my life under an FBI gag order, which began when I received what is known as a national security letter at the small Internet service provider I owned. On that day in 2004 (the exact date is redacted from court papers, so I can't reveal it), an FBI agent came to my office and handed me a letter. It demanded that I turn over information about one of my clients and forbade me from telling "any person" that the government had approached me.
National security letters are issued by the FBI, not a judge, to obtain phone, computer, and banking information. Instead of complying, I spoke with a lawyer at the American Civil Liberties Union and filed a constitutional challenge against the NSL provision of the Patriot Act, which was signed into law 10 years ago Wednesday.  http://www.washingtonpost.com/opinions/how-the-patriot-act-stripped-me-of-my-free-speech-rights/2011/10/20/gIQAXB53GM_story.html?hpid=z3
Mexico–Government Gives up on Growers and (makes deals with) does what after 40,000 are dead?— The Mexican government is allowing domestic marijuana and opium poppy production to climb to record levels, as soldiers who once cut and burned illegal crops here in the vast Sierra Madre mountains are being redeployed to cities to wage urban warfare against criminal gangs.
Since President Felipe Calderon ordered his troops into the streets in late 2006, the acreage dedicated to marijuana farming has nearly doubled in Mexico, according to technical reports by the U.S. government and the United Nations, data provided by the Mexican military, and interviews with law enforcement agents and growers  http://www.washingtonpost.com/world/americas/mexicos-drug-war-bypassing-growers/2011/10/20/gIQAPKv93L_story.html?hpid=z2
Mexico City–Greatest Panopticon Yet! There are 13,000 surveillance cameras dispersed across this megalopolis, capturing everything in view, in real time and around the clock.
The cameras peek at streets and people from the tops of light poles, inside buses and over subway platforms, watching in the name of public safety.
The local government, headed by Mayor Marcelo Ebrard, this week unveiled an intelligence center where all these video feeds are monitored. It is a state-of-the-art "integrated" hub with a name that sounds like a futuristic space vessel: the C4I4.
Speaking inside the building's circular nerve center — where 600 video screens carried scenes of residential streets and choked intersections — Ebrard told reporters that the C4I4 is one of the largest and most advanced public-safety command centers in the world. All of the city's databases, such as vehicle records and home addresses, are at officials' fingertips inside the C4I4. Forty-seven public-safety agencies, from firefighters to the bank police, now have a single home base in case of a major emergency.
And every image captured by the center's cameras — movement in the city's prison yards, commuters on the jam-packed Metrobus lines — is stored for up to a week, making for a gigantic ongoing intelligence operation blanketing the urban obstacle course that is Mexico's capital. Hence the center's name, signifying four Cs (command, control, communications, computing) and four I's (intelligence, integration, information, investigation).
Ebrard said the center would help "guarantee safety in our city." latimesblogs.latimes.com/world_now/2011/10/mexico-city-security-intelligence-emergency-center-c4i4-ebrard.html
NYPD Pigs Squeal and Squeal!
A three-year investigation into the police's habit of fixing traffic and parking tickets in the Bronx ended in the unsealing of indictments on Friday and a stunning display of vitriol by hundreds of off-duty officers, who converged on the courthouse to applaud their accused colleagues and denounce their prosecution….As 16 police officers were arraigned at State Supreme Court in the Bronx, incensed colleagues organized by their union cursed and taunted prosecutors and investigators, chanting "Down with the D.A." and "Ray Kelly, hypocrite."
As the defendants emerged from their morning court appearance, a swarm of officers formed a cordon in the hallway and clapped as they picked their way to the elevators. Members of the news media were prevented by court officers from walking down the hallway where more than 100 off-duty police officers had gathered outside the courtroom.
The assembled police officers blocked cameras from filming their colleagues, in one instance grabbing lenses and shoving television camera operators backward.    The unsealed indictments contained more than 1,600 criminal counts, the bulk of them misdemeanors having to do with making tickets disappear as favors for friends, relatives and others with clout. But they also outlined more serious crimes, related both to ticket-fixing and drugs, grand larceny and unrelated corruption. Four of the officers were charged with helping a man get away with assault.
Jose R. Ramos, an officer in the 40th Precinct whose suspicious behavior spawned the protracted investigation, was accused of two dozen crimes, including attempted robbery, attempted grand larceny, transporting what he thought was heroin for drug dealers and revealing the identity of a confidential informant.  http://www.nytimes.com/2011/10/29/nyregion/officers-unleash-anger-at-ticket-fixing-arraignments-in-the-bronx.html?_r=1&hp
NYPD Planting Drugs Chasing Hookers: NYPD narcs showered a junkie with crack and forced her to perform sex acts in return, she testified in the latest embarrassing revelation to emerge from a police corruption trial.
In one incident, Melanie Perez recalled on the stand last week, a cop called her to his home, made her smoke drugs then pulled down his pants and demanded oral sex. "What was I going to do?" she testified in Brooklyn Supreme Court. "I did it."
The damning account came during the bench trial of Jason Arbeeny, one of eight undercovers charged in a scandal that rocked the Brooklyn South Narcotics squad.
The trial has already yielded troubling testimony on officers "flaking" – planting drugs on innocent victims – to meet arrest quotas and get overtime pay.  http://www.nydailynews.com/news/ny_crime/2011/10/24/2011-10-24_cop_gave_me_crack_to_perform_sex_says_junkie.html
More Rapist Cops in San Diego: 25-year-old woman testified Monday that a San Diego police officer made sexually suggestive comments when he arrested her in January on suspicion of drunken driving.
She said she was in the back of a police car when she begged Officer Anthony Arevalos not to book her for DUI, given that she was walking away from her car — not driving — when the officer contacted her in the Gaslamp Quarter.
She testified that Arevalos asked, "What do you have to offer me?" She said she responded that she was a college student and didn't have anything to give. She said he then told her, "Women seem to have a lot to offer me to get out of things."  http://www.signonsandiego.com/news/2011/oct/24/woman-testifies-police-officer-sex-case/
Solidarity ForNever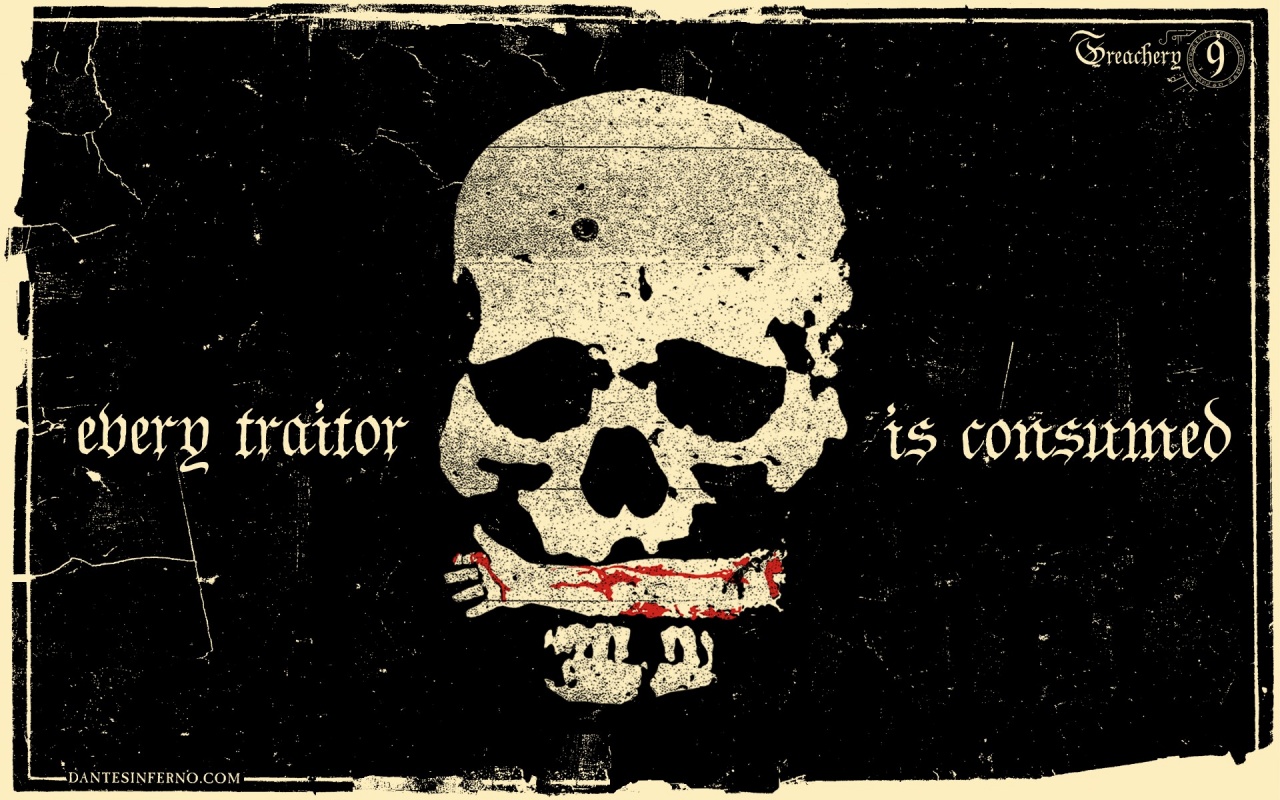 UAW FInalizes the Chrysler Sellout tho Skilled Trades and nearly 50 percent say NO! The United Auto Workers union announced Wednesday it has ratified its collective agreement with Chrysler Group LLC, despite a majority of skilled trade workers turning down the pact.
Altogether, Chrysler's production and skilled trade workers combined voted 55 percent in favor of the contract; salaried workers approved the agreement by 69 percent.
Skilled trade workers alone — a group that doesn't include production workers — voted 56 percent against the agreement.
The UAW said its International Executive Board investigated why skilled trade workers voted "no" and determined they were predominantly economic and not unique to skilled-trade work.
"Accordingly, the [International Executive Board] declared the agreements ratified under the UAW Constitution," the UAW said in a statement released Wednesday afternoon  http://www.detnews.com/article/20111026/AUTO01/110260421/Skilled-trades-vote-no–but-UAW-OKs-Chrysler-deal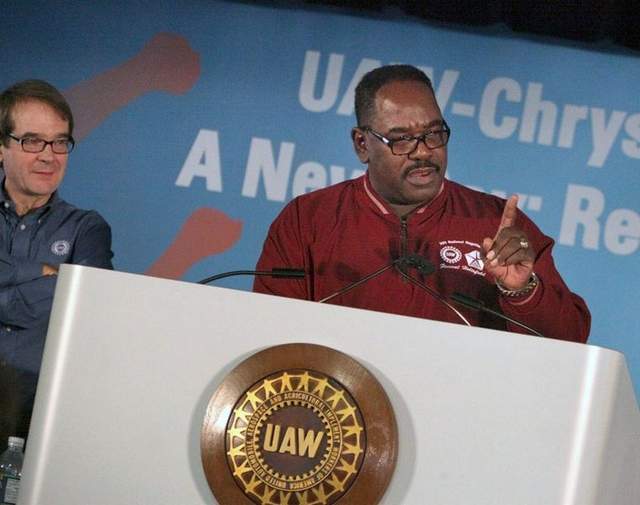 (above, King of the UAW, in background, laughs at UAW members)
The Torment and Demise of the United Autoworkers Union: The UAW is not poor. Perhaps that is proof it is not dead. The UAW has money. It draws income from investments and membership dues (and it is a significant property holder as well). In 2005, the UAW made $51,960,369 from its investments. The UAW holds a strike fund of nearly one billion dollars, $914, 244, 968.00, to be precise. In twelve separate funds, the union holds $190,135, 870. And an emergency fund hosts $87,731,995. There are 524 people on staff, including seven top officers, eleven executive board members, and a host of "international" representatives, all drawing more than $100,000 per year. Yet the UAW leadership cannot mobilize its own members for strikes or job actions, having abandoned that kind of activity soon after WWII — and when UAW members attempted work actions on their own, UAW leaders and staff assaulted them, as we shall see. In the UAW, and the entire labor movement (for our purposes, I adopt the term "labor movement," to mean AFL-CIO, which has little in common with labor or movement), there are very few people who have ever marched on a serious picket line, nearly no one who has ever led a strike, especially not a strike that won. clogic.eserver.org/2006/gibson.html
The Magical Anti-Mystic Tour this Week! Bad Bishop William Montgomery Brown; Heresy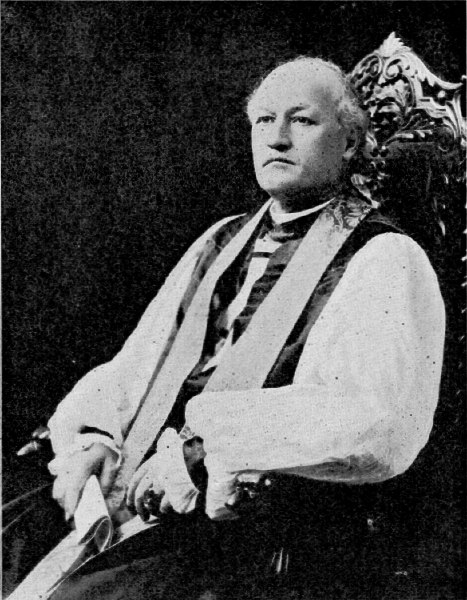 SKINNING BISHOP BROWN
Dear Lord, Thy church on devious ways
Hath fallen in these latter days.
The auger-holes of Leighton Parks
Would sink a half a dozen Arks.
While what is said by Percy Grant
Doth make the mast both creak and slant,
And Reiland, Lord, thou knowest his breath
Doth threaten yawning, billowy death.
While Guthrie doth, with song and dance,
Into the spot-light blithely prance.What can we do? The rich and great
Upon their words and preaching wait-The men who own the railway shares,
The oil kings and the millionaires.
Dear Lord, thou knowest, without their cash,
Thy holy church would go to smash.And then there's Bishop Lawrence, too'
Oh Lord, what would'st 'Thou have ass do?
He raised us millions, Lawrence did;
We cannot put him on the skid
If we tried him 't'would raise a roar
From Maine to the pacific shore."What! Lawrence called a heretic?
See all he's done! It makes us sick I"
And yet, dear Lord, Thy church is true
To that which Thou would'st have her do.
Thy Bishops faithful shepherds are
To guard the flock from wolf and b'ae,
And ever keen to drive away
Doctrines erroneous, strange, and to
Guard zealously, from earthly taints,
The Faith delivered to the Saints,
Lord, dost Thou doubt it? Then look down
And watch them skinning Bishop Brown.
-Sylvanus-1924.  http://www-rohan.sdsu.edu/~rgibson/brownraceproblem.htm
Brown: I have lived into my third generation. If I could live to its end, twenty-five years more, I would see a new world-a world without an exploitation problem; a world without a race problem; a world without a class problem; a world without a poverty problem, and a world without a war problem.
Best Thing in the History of the World!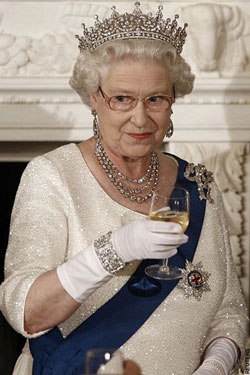 Egalitarian Parasitical Monarchs! Sons and daughters of any future UK monarch will have equal right to the throne, after Commonwealth leaders agreed to change succession laws.
The leaders of the 16 Commonwealth countries where the Queen is head of state unanimously approved the changes at a summit in Perth, Australia.
It means a first-born daughter of the Duke and Duchess of Cambridge would take precedence over younger brothers.
The ban on the monarch being married to a Roman Catholic was also lifted.
Under the old succession laws, dating back more than 300 years, the heir to the throne is the first-born son of the monarch.  http://www.bbc.co.uk/news/uk-15492607