Friday, July 29th, 2011
We Say FightBack!
The core issue of our time is the relationship of rising color-coded social and economic inequality challenged by the potential of mass class-conscious resistance.
Congratulations to Immanuel Ness and Dario Azzellini  for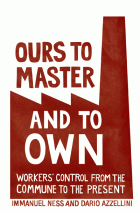 Whistleblower Wins Over KBR and Feds! Greenhouse, a federal whistleblower who was demoted after exposing problems with a U.S.
government contractor in Iraq, has won an almost $1million settlement.
The U.S. District Court in Washington on Monday approved awarding Greenhouse $970,000 in full restitution of lost wages, compensatory damages and attorney fees, said her attorney, Michael D. Kohn.
Beyond the particulars of her situation, Greenhouse said her case makes it "loud and clear that federal employees need better laws" to protect them if they engage in whistleblowing. The Greenhouse settlement with the Army Corps of Engineers closes a high profile case that involved a Halliburton subsidiary, Kellogg Brown and Root. The Pentagon did not respond to a request for comment. Greenhouse, who was the civilian procurement executive for the agency, objected to KBR using its own cost projections for a multi-year no-bid, no competition contract. www.whistleblowers.org/storage/whistleblowers/documents/abittersweetwinforafederalwhistleblower.pdf
From the People who Made "Sir No Sir!"; The Story of the IVAW Winter Soldiers' Testimony: thisiswherewetakeourstand.com/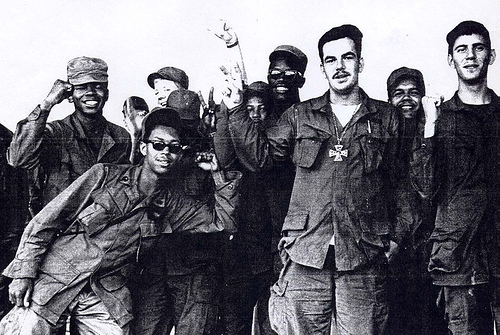 Little Red Schoolhouse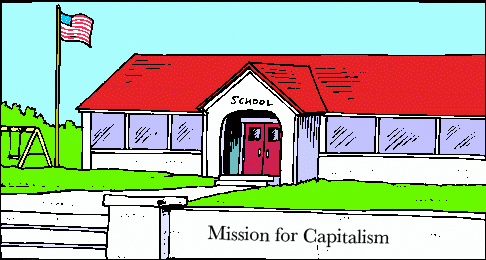 Detroit Mayor and Emergency Financial Manager Gut Teacher Contract–force citizens to Move: Roy Roberts, the "Emergency Financial Manager," (EFM) of the Detroit Schools, today announced a 10% wage cut aimed at all district employees. He also described further benefit cuts but offered no clear details. The wage cut will come, on average, to about $7,400 per school worker. richgibson.com/DPSunilateralcut.htm (below, vacant stripped Detroit School, photo RG)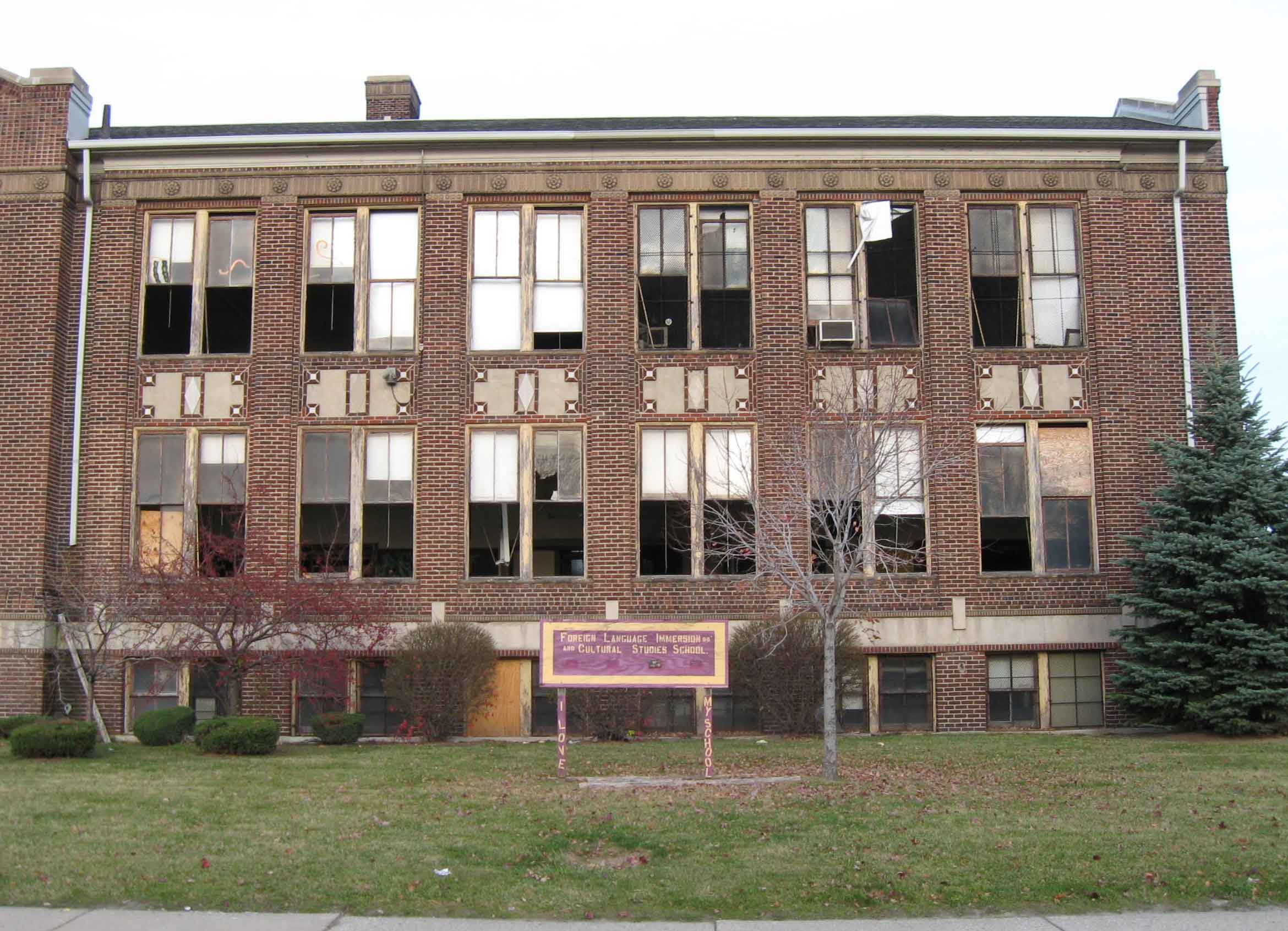 Video of Aspen Bosses Describing How they Made Fools of the Illinois EA, and Bought the Pols to Demolish all of Collective Bargaining (except the all-important dues income)
www.youtube.com/embed/kog8g9sTDSo
And Don't Miss the NEA Standing Strong Parody Here
Reconstituted LA School Workers Stigmatized in Job Hunt: In a bizarre game of musical chairs, nearly 1,000 Los Angeles teachers — who are guaranteed jobs somewhere in the school system — have been hunting for a school that wants them. And hundreds of them have to counter a stigma that they are undesirable castoffs, because they previously worked at low-performing schools that are being restructured.
These teachers are from eight schools that are undergoing shakeups intended to bring in new talent, shed previous instructors and administrators and fundamentally change the academic culture. It's a theory of reform embraced by the Obama administration, though such efforts have a mixed record nationwide. ..In three job interviews, including one at Huntington Park, "all seemed to be going well, up to a certain point," said Nava, who is 52. "Attitudes change upon realizing that (1) I am a displaced teacher from Jordan. (2) I was Jordan's [union] chair. My Jordan colleagues have shared similar experiences with me."  http://www.latimes.com/news/local/la-me-lausd-teachers-20110708,0,7226228.story
Thanks to NYC AFT, 42 Percent of New Teachers Denied Tenure: Under tougher evaluation guidelines that the city put into effect this year, 58 percent of teachers eligible for tenure received it, the mayor said at a news conference at the Department of Education. A decision on tenure was deferred for 39 percent of eligible teachers, up from 8 percent a year ago. Three percent of eligible teachers were denied tenure outright in both years.  http://www.nytimes.com/2011/07/28/nyregion/tenure-granted-to-58-of-eligible-teachers-in-city.html?hp
UCSD, bastion of racist nooses, Fires Diversity Consultant: A former University of California San Diego employee, hired to raise money for diversity programs, has sued the university alleging that she was fired for speaking up about discriminatory practices at the La Jolla campus. www.signonsandiego.com/news/2011/jul/27/diversity-fundraiser-sues-ucsd-over-firing/
Big Bucks for New San Diego State Boss: California State University is proposing to pay the new president of its San Diego campus $100,000 more annually than his predecessor, a move that is raising hackles as the university grapples with another round of student tuition hikes amid deep state funding cuts.  If the plan is approved Tuesday by the Board of Trustees, San Diego State President Elliot Hirshman would receive annual compensation of $400,000 — $350,000 from the state and an annual supplement of $50,000 from the campus' nonprofit foundation. ..Some lawmakers, students and faculty were incredulous at the salary recommendation and its timing, coming after the Legislature and governor approved a spending plan last week that cuts $650 million from Cal State, with additional reductions possible.
On the same agenda Tuesday, the university's governing board will consider a recommendation to increase annual tuition by 12% — or an additional $294 a semester for fall 2011. That would be on top of a previously approved increase of 10%. Over the last decade tuition has tripled, to $4,884 a year for undergraduates in the university system. …The compensation package includes a $1,000-per-month vehicle allowance and reimbursement for moving costs as well as for expenses incurred in selling Hirshman's Virginia residence. In San Diego, he will occupy a house provided by the university.  www.latimes.com/news/local/la-me-calstate-salary-20110709,0,5989129.story
Un-Trustees Back 12% Tuition Hike for CSU's: CSU board of trustees voted 13 to 2 in favor of a 12 percent increase in tuition for the upcoming fall semester, bringing undergraduate tuition to $5,472. The increase was in response to a $650 million cut in state funding and is on top of a previously approved tuition increase for the coming academic year.  http://www.citytowninfo.com/career-and-education-news/articles/students-outraged-by-csu-tuition-increase-and-sdsu-president-salary-11071301
8% of Michigan Teachers (Victims or Unethical Cowards?) Cheat on Big Tests: One out of three public school educators report pressure from bosses, parents or others to change grades, and nearly 30% say pressure to cheat on standardized tests is a problem at their school, according to a voluntary Free Press survey of Michigan educators.
At schools that don't meet federal standards, the tension is higher: About 50% say pressure to change grades is an issue, and 46% say pressure to cheat on the tests is a problem.
Some cave in — about 8% say they changed grades within the last school year, and at least 8% admit to some form of cheating to improve a student's standardized test score.  http://www.freep.com/article/20110727/NEWS06/107270396/Survey-Nearly-30-Michigan-teachers-report-pressure-cheat
The International Hot Endless Wars of the Rich on the Poor
Ninety seven years ago, at Somme, 20,00o men blessed, then killed, for?
Guerrillas who Fight to a Tie are Winning: The mayor of the volatile Afghan city of Kandahar, Ghulam Haidar Hameedi, has been killed in a suicide attack, officials say. The attacker detonated explosives in his turban as the mayor made an address at the city hall, police said. Two weeks ago, President Hamid Karzai's influential half-brother, Ahmad Wali Karzai, was killed in the same city. The violence comes as Nato troops begin the handover of security to local forces in parts of the country. www.bbc.co.uk/news/world-south-asia-14304650
Terrific Interactive Map on US Troop Locations in the World
The Cost of Mercenaries=$34 Billion+: The United States has wasted some $34 billion on service contracts with the private sector in the wars in Iraq and Afghanistan, according to a study being finalized for Congress.
The findings by a bipartisan congressional commission were confirmed to Reuters by a person familiar with the draft of the study, which is due to be completed in coming weeks. The analysis by the Commission on Wartime Contracting, details of which were first reported by the Wall Street Journal, offers the most complete look so far at the misuse of U.S. contracting funds in Afghanistan and Iraq, where more than $200 billion has been doled out in the contracts and grants over nearly a decade.
It also gives the most complete picture of the magnitude of the U.S. contracting workforce in the two countries.
The source, who declined to be named, said more than 200,000 contractors have been on the U.S. payroll at times in Iraq and Afghanistan — outstripping the number of U.S. troops currently on the ground in those countries.
The United States has fewer than 100,000 troops in Afghanistan and some 46,000 forces in Iraq.  http://www.reuters.com/article/2011/07/23/us-usa-afghanistan-waste-idUSTRE76M27Y20110723
Those who wish to Prepare for War with China, Please Stand: sources told Reuters it was building two of its own carriers, the official Liberation Army Daily stressed the mix of patriotic glory-seeking and future security worries behind the decision.
China's humiliations at the hands of Western powers in the past centuries "left the Chinese people with the deep pain of having seas they could not defend, helplessly eating the bitter fruit of being beaten for being backward," said a front-page editorial in the paper.
That trend is changing as Beijing ramps up its military spending while Washington discusses cutting its much larger defense budget. Growing Chinese military reach is triggering regional jitters that have fed into longstanding territorial disputes, and could speed up military expansion across Asia.
In the past year, China has had run-ins at sea with Japan, Vietnam and the Philippines. The incidents — boat crashes and charges of territorial incursions — have been minor, but the diplomatic reaction often heated.  http://www.reuters.com/article/2011/07/28/us-china-carrier-idUSTRE76Q6O420110728
Since the end of the Second World War, the United States of America has …Attempted to overthrow more than 50 governments, most of which were democratically-elected. 7
Attempted to suppress a populist or nationalist movement in 20 countries. 8
Grossly interfered in democratic elections in at least 30 countries. 9
Dropped bombs on the people of more than 30 countries. 10
Attempted to assassinate more than 50 foreign leaders. 11
In total: Since 1945, the United States has carried out one or more of the above actions, on one or more occasions, in the following 69 countries (more than one-third of the countries of the world):
Afghanistan
Albania
Algeria
Angola
Australia
Bolivia
Bosnia
Brazil
British Guiana (now Guyana)
Bulgaria
Cambodia
Chad
Chile
China
Colombia
Congo (also as Zaire)
Costa Rica
Cuba
Dominican Republic
East Timor
Ecuador
Egypt
El Salvador
Fiji
France
Germany (plus East Germany)
Ghana
Greece
Grenada
Guatemala
Honduras
India
Indonesia
Iran Iraq
Italy
Jamaica
Japan
Kuwait
Laos
Lebanon
Libya
Mongolia
Morocco
Nepal
Nicaragua
North Korea
Pakistan
Palestine
Panama
Peru
Philippines
Portugal
Russia
Seychelles
Slovakia
Somalia
South Africa
Soviet Union
Sudan
Suriname
Syria
Thailand
Uruguay
Venezuela
Vietnam (plus North Vietnam)
Yemen (plus South Yemen)
Yugoslavia
Thanks to Bill Blum. killinghope.org/bblum6/aer96.html
Nearly Five months into Obamagogue's War on Libya (losing still), what did the Vaunted "Historians Against the War" have to say? Not a peep. Nothing. Silence. Completely shut up by: Ignorance. Cowardice. Opportunism. Racism. But they fit into academia very well.
Bogus Libya Rebel Killed–Tribal wars Ahead? The top rebel military commander was killed Thursday, and members of his tribe greeted the announcement with gunfire and angry threats. The violent outburst stirred fears that a tribal feud could divide the forces struggling to topple the Libyan dictator, Col. Muammar el-Qaddafi. www.nytimes.com/2011/07/29/world/africa/29libya.html?ref=world
The International (Unilateral) Economic War of the Rich on the Poor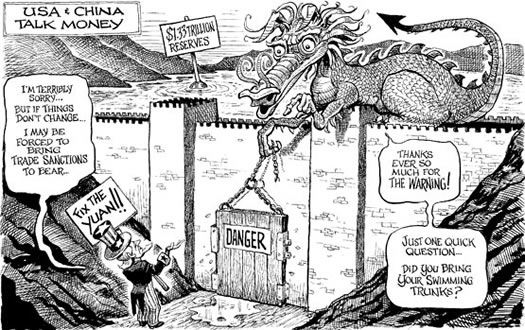 In a Liquidity Crisis (stagnation of production, capital, and consumption) a rush to Treasury Makes Sense, but What if the International Community doesn't care for the Dollar? Even as the debt ceiling deadline looms, defaulting on bond payments is still unlikely. The Treasury can prioritise who it pays and when.
Rather more likely, however, is a downgrading of Washington's dues by an impertinent rating agency. But would such a downgrade of American sovereign debt matter? If commentators are divided over the question, investors do not seem to be. Yields on 10-year Treasuries, for example, are back below 3 per cent, as they were last week, and last month for that matter
One reason is that there are few forced sellers. Treasuries would still be a core investment for domestic households, companies and state and local governments, which together own a fifth of them. Friendly capital rules mean that domestic banks also do not care much. Neither do money managers whose bond weightings would simply move with the index. Double-A rated Treasuries are of high enough quality for money market funds too. But foreigners, who own 46 per cent of Treasuries, and have been diversifying their holdings, may feel that a downgrade would justify their actions. The reality is that US Treasuries, federally guaranteed mortgage-backed securities and agency debt account for 53 per cent of all triple-A assets in the global bond universe, according to Nomura. There are few other places to go. And in any case, would buying elsewhere be clever? Investors may have spotted an ironic twist: a US downgrade might cause Treasuries to rally as riskier assets were dropped. A bet against the richest and most powerful country on the planet is never a safe one.  http://www.ft.com/intl/cms/s/3/16deafb6-b7a6-11e0-8523-00144feabdc0.html#axzz1TKxdWALE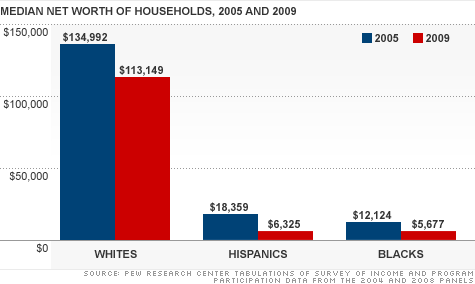 The wealth gap in the United States has grown wider in the wake of the Great Recession, with black and Hispanic American households faring much worse than white households, according to a study published Tuesday.
The study, from 2009 data compiled by the Pew Research Center, found the median wealth of white households was 20 times that of black households and 18 times that of Hispanic households. (Note the wealth Gap within Races as well).  http://money.cnn.com/2011/07/26/news/economy/wealth_gap_white_black_hispanic/index.htm?cnn=yes&hpt=hp_c1
Another Side of Wealth Gap–the Rich dodge Taxes: Jeffrey Thomasson, 52, may pass on more than $100 million to heirs using an estate-planning strategy for avoiding gift and estate taxes.
Thomasson, who lives in Indianapolis, said he's funding a so-called dynasty trust set up in Delaware with $8 million of equity from the expanding financial advisory business he owns, Oxford Financial Group. Putting the assets in a trust, which he figures could be worth more than $100 million by the time he dies, means the money should go to his heirs without triggering federal gift, estate or generation-skipping transfer taxes.  Jeffrey Thomasson, 52, may pass on more than $100 million to heirs using an estate-planning strategy for avoiding gift and estate taxes.
Thomasson, who lives in Indianapolis, said he's funding a so-called dynasty trust set up in Delaware with $8 million of equity from the expanding financial advisory business he owns, Oxford Financial Group. Putting the assets in a trust, which he figures could be worth more than $100 million by the time he dies, means the money should go to his heirs without triggering federal gift, estate or generation-skipping transfer taxes.  http://www.bloomberg.com/news/2011-07-28/dynasty-trusts-let-u-s-wealthy-duck-estate-gift-taxes-forever.html
Obamagogue's Fascist War on the Dispossessed: The U.S. Government has spent $13 trillion in financial bailouts since Lehman Bros. failed in September 2008. But . Obama warns that thirty years from now, the Social Security fund may run a $1 trillion deficit. It is to ward it off that he urges dismantling the plans for such payments now.  It seems that the $13 trillion used up all the money the government really has. The banks and Wall Street firms have taken the money and run. There is not enough to pay for Social Security, Medicare or other social spending that the Blue Dog Democrats and Republicans now plan to cut….But of course, it is all about the banks. Wall Street knows that to get sufficient Congressional votes to roll back the New Deal, Social Security, Medicare and Medicaid, a Democratic president needs to be in office. A Democratic Congress would block any Republican president trying to make the kind of cuts that Obama is sponsoring. But Congressional Democratic opposition is paralyzed when President Obama himself – the liberal president par excellence, America's Tony Blair – acts as cheerleader for cutting back entitlements and other social spending.   counterpunch.org/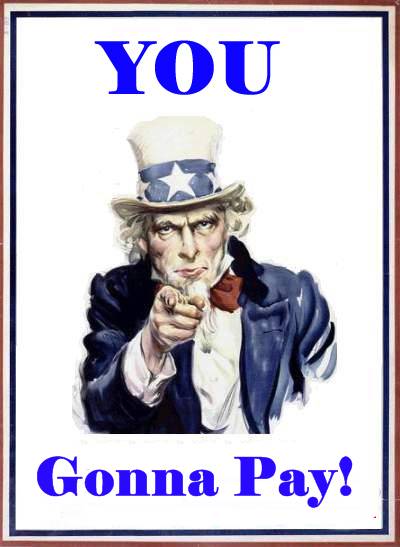 Ford Profits Doing Fine (don't tell the UAW's members): quarterly profits reported by Ford Motors Co. managed to exceed all Wall Street expectations due to the fact that North America enjoyed higher vehicle sales and the prices for cars such as Focus and Fiesta increased globally.  http://www.dailynewsengine.com/2271/ford-profit-exceeds-expectations/
Mission Accomplished! Shell Signs Iraq Deal: Royal Dutch Shell PLC (RDSA) and Iraq have settled most pending legal issues that have delayed a $12 billion gas deal for more than two years and an initial pact could be signed mid next week, a senior Iraqi oil official said Friday.
Since the signing of an initial agreement in 2008 to begin negotiations on the project, the Iraqi oil ministry has been working to finalize a online.wsj.com/article/BT-CO-20110708-709145.html
Reaping the Whirlwind of Greed and Exploitation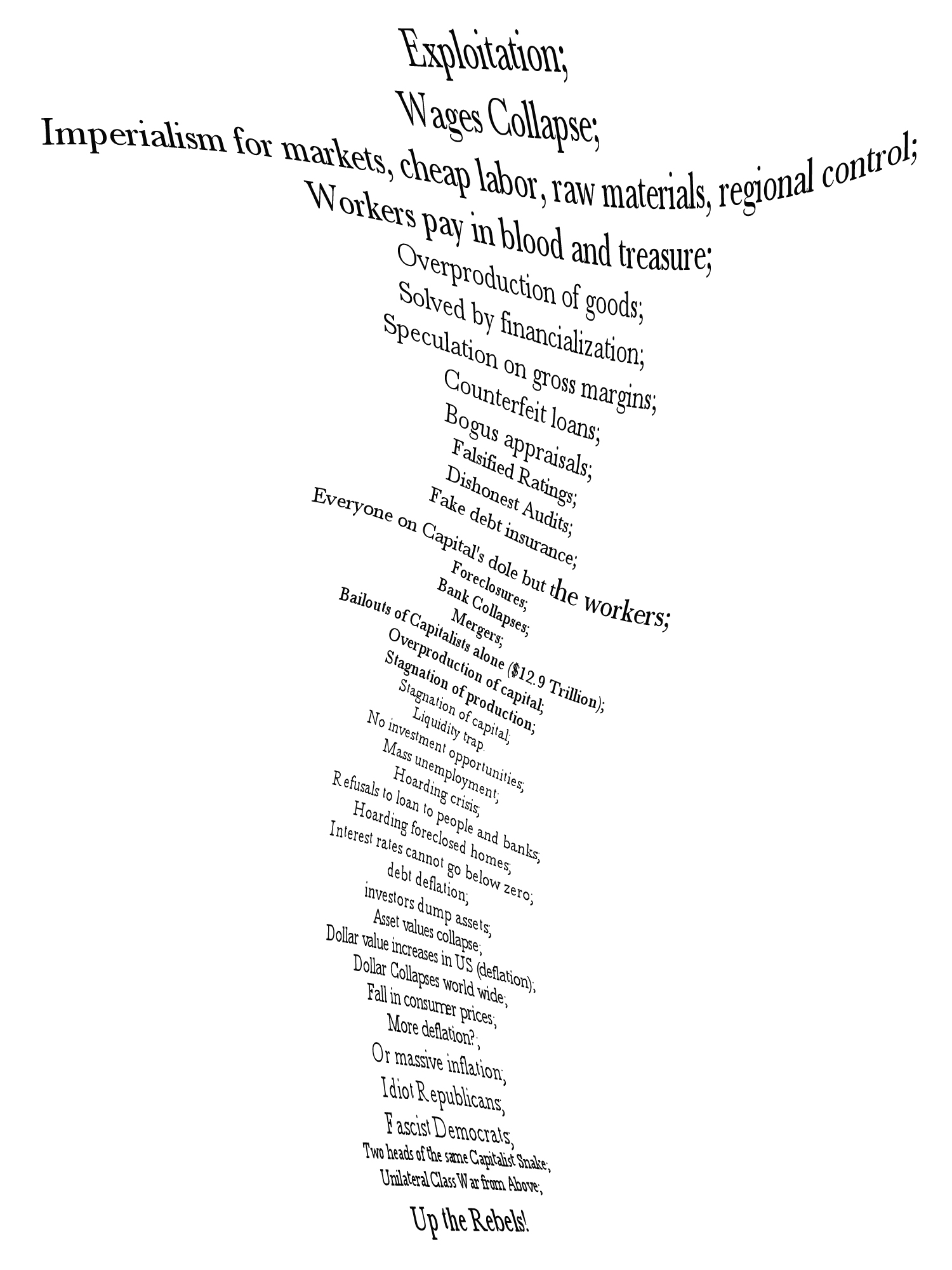 Capitalism: Frozen (The limit to capital is capital itself–Marx): The U.S. economy grew at a weak rate of 1.3% from April through June, another sign that the recovery has faltered dramatically…"Anemic consumption, still declining state and local government spending, tepid business investment, and soft housing activity all combined to offset some strength in exports," she said. "Concerns about the weak labor market and rising food and energy prices continue to weigh on consumer confidence." latimesblogs.latimes.com/money_co/2011/07/second-quarter-gdp-economic-growth-.html
Life is Good at Exxon Mobile (how about you?) THE ever-rising price of oil has given Exxon Mobil a 41 per cent leap in second-quarter profits — its best 90-day result for three years.
The company said that an increase in production had helped to produce the figures.
The world's largest oil company said that profits for the second quarter were $US10.68 billion ($9.7bn), up from $US7.56bn in the same period last year. Revenues rose 36 per cent to $US125.5bn. www.theaustralian.com.au/business/mining-energy/exxon-mobil-profit-jumps-41pc/story-e6frg9df-1226104165307
Things Are Swell At Shell: Oil giant Royal Dutch Shell has reported a 77% jump in second-quarter profit, thanks to higher energy prices.
Shell's profit for the three months to June came in at $8bn (£4.9bn) on a current cost of supplies basis, up from $4.5bn in the same period last year.
Though oil and gas production was 2% lower than the same quarter in 2010, the company said it had benefited from asset sales in the first half of 2011.
Earlier this week, rival BP announced second-quarter profits of $5.3bn. www.bbc.co.uk/news/business-14321819
The Detroit Plan To Strangle Poor and Working Class Neighborhoods–Dem Mayor Says "If they stay where they are, I absolutely cannot give them all the services they require.": It calls for dividing Detroit into three categories based on a neighborhood's health — steady, transitional and distressed — and concentrating certain services in those areas. For example, building demolitions would be more common in "distressed" and "transitional" areas, while healthier "steady" neighborhoods would get more code enforcement and illegal dumping cleanups. The new deployment of city services will take effect in two weeks. detnews.com/article/20110728/METRO/107280418/Detroit-services-to-depend-on-neighborhood-condition
OMG!!! China's Inflation! Consider Overproduction/stagnation: In the latest sign that China is still struggling to tame inflation, the government said Saturday that the consumer price index rose by 6.4 percent in June, the highest rate in three years. Although analysts were expecting inflation to peak for the year in June, the figures are troubling, particularly because food prices rose 14.4 percent from a year ago, up from 11.7 percent in May, suggesting that Beijing may have a difficult time reining in rising prices.
The price of pork — a major food staple in China — rose 57 percent in June alone, making it the biggest contributor to inflationary pressure  http://www.nytimes.com/2011/07/10/business/global/chinese-inflation-jumps-again-as-pork-prices-soar.html?hp
Solidarity Forever
Detroit Fed of Teachers, AFT, Upholds Election Fraud: The decision of the AFT Executive Council,in accordance with the DFT constitution, is final and binding.  mi.aft.org/dft231/index.cfm?action=cat&categoryID=559E3C78-738E-42A6-9DCD-C174522891BA
UAW Opposes Higher Mileage Standards, Defends Big Auto: The UAW is concerned about the potential impact the higher CAFE standard would have on profitability, jobs and wages, Sean McAlinden, chief economist for the Center for Automotive Research, said last week.
NEA Bosses ($686,949 a year, $60 million to spend on Obama campaign, $358 million budget) Back and Buy off Counterfeit Grassrooty Save Caoitalist Schools of the Empire Rally: Educators from around the country will be in Washington, D.C. on July 30 for the Save Our Schools March. Speakers will include NEA Vice President Lily Eskelsen, NEA Student Program Chair Tommie Leaders and other public education supporters like Linda Darling-Hammond, Matt Damon, Diane Ravitch, Jonathan Kozol, and Pedro Noguera. neatoday.org/2011/07/25/save-our-schools-march-july-30/
NEA Demands More Money Still from the Rank and File (not to "win" anything but to Defeat Bad Guys): Donate $10 right now to ensure the defeat of candidates who have done everything in their power to undermine public education. www.neafund.org/main.cfm?actionId=globalShowStaticContent&screenKey=cmpContributionChained&s=nea&htmlKey=072711contribute&agreed=1&memberId=3711494&campaign=WIdonors
From Many of the Same People who Brought you Obamagogue, Intensified High-stakes Exams, Regimented Curricula, Segregation, Nationalism,  and Militarism in Capitalist schools—a Save "Our" Schools Rally! (that would be Ravitch, the Washington Post and its dear pal Rhee, NPR, PBS, Meir, Darling Hammond, EdWeek, NEA and AFT, and many others)–it's ComicCon East (a false flag fake opposition headed to voting booths again) Where the Wars, Capitalism, Obama, and Direct Action are Verboten: Thousands of educators and supporters are expected to be marching, rallying and talking here this week in support of public schools. If I were at the "Save Our Schools" march around the White House, my sign would say "Bring Us Together." Too many of us who care about schools are picking at each other, but maybe I am expecting too much.  http://www.washingtonpost.com/local/education/save-our-schools-march-wont-unite-us-but-thats-fine/2011/07/24/gIQA3pvyeI_story.html

The Emergence of Fascism as a Mass Popular Movement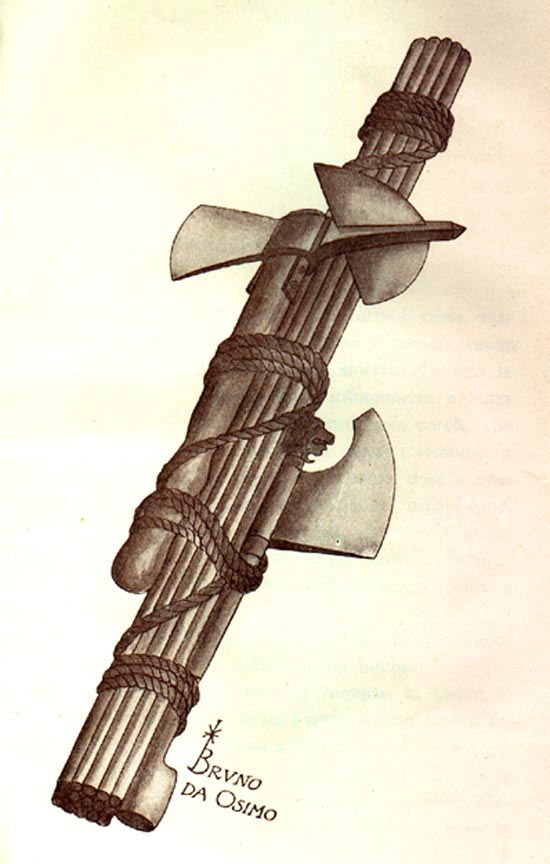 Norway Shooting Highlights Europe's Virulent Right: The Norwegian Police Security Service published a report stating that "a higher degree of activism in groups hostile to Islam may lead to an increased use of violence".
It noted that activity in extremist groups rose steadily during 2010 and 2011. However, it concluded that there was little chance of a terrorist attack from the nation's anti-Muslim fringe.
Most resources were still directed against the risk from jihadist groups, and little appeared to have been done to combat the new danger from the far-Right. www.telegraph.co.uk/news/worldnews/europe/norway/8658434/Norway-shooting-police-may-have-failed-to-take-Right-wing-extremist-threat-seriously.html
Spy Versus Spy
Hacker Kids Whip CIA and FBI. Boss Quits: The head of the US body responsible for combating cyber-attacks has resigned unexpectedly following a string of online assaults on the CIA and other government agencies.Randy Vickers, the director of the US computer emergency readiness team (US-CERT), stepped down on Friday, according to a Department of Homeland Security email obtained by the Reuters news agency.According to Reuters, the email did not disclose any reason for Vickers's resignation. The Department of Homeland Security declined to comment. Vickers, director of US-CERT since 2009, will be temporarily replaced by deputy director Lee Rock.
Vickers's resignation follows a number of online attacks on government websites including the Senate, the CIA and the FBI  http://www.guardian.co.uk/technology/2011/jul/26/us-cyber-security-chief-quits
CIA Tried to Use Med Program to Kill OBL: The C.I.A. spared no effort in its relentless and ultimately successful campaign to locate and kill Osama bin Laden. But it has been revealed that the no-holds-barred inventiveness of C.I.A. operatives involved the recruitment of a Pakistani doctor to run a community vaccination program in Abbottabad as cover to try and obtain biological samples from occupants of the Bin Laden compound.  http://www.nytimes.com/2011/07/27/opinion/27iht-edchow27.html?_r=1&emc=tnt&tntemail1=y
Western Spooks Killing Iran's Scientists: Western security agencies were most likely behind the killing of an Iranian scientist in an operation that underlines the myriad complications in the conflict over Iran's nuclear programme, analysts say.  http://uk.reuters.com/article/2011/07/26/uk-iran-scientist-idUKTRE76P2NO20110726
The Magical Mystery Tour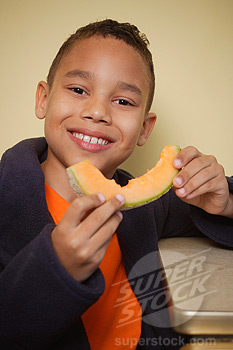 O Those Nasty, Nasty Popes: The popes who achieved greatness, however, were outnumbered by the corrupt, the inept, the venal, the lecherous, the ruthless, the mediocre and those who didn't last long enough to make a mark….Of the minor 15th-century Pope Paul II, to pick one from the ranks of the debauched, Norwich writes: "The pope's sexual proclivities aroused a good deal of speculation. He seems to have had two weaknesses — for good-looking young men and for melons — though the contemporary rumor that he enjoyed watching the former being tortured while he gorged himself on the latter is surely unlikely."
Sexual misconduct figures prominently in the history of the papacy…http://www.nytimes.com/2011/07/10/books/review/book-review-absolute-monarchs-a-history-of-the-papacy-by-john-julius-norwich.html?nl=books&emc=booksupdateema1
Was Ireland the Training Center For Rapist Priests and Nuns? In language never heard before from an Irish prime minister about the Catholic Church leadership in Rome, Enda Kenny said Thursday, "I think this is absolutely disgraceful that the Vatican took the view that it did in respect of something that's as sensitive and as personal with such long-lasting difficulties for persons involved. The law of the land should not be stopped by a collar or a crozier."
The commission, headed by Judge Yvonne Murphy, was tasked with examining complaints of abuse and cover-up in the Diocese of Cloyne — a rural area covering most of County Cork in southern Ireland — between 1996 and 2009.
Bishop John Magee, who was secretary to three popes and is remembered as the Vatican official who found Pope John Paul I's body in 1978, was Bishop of Cloyne from 1987 until last year. The report found that he misled the Irish minister for health and children, when he insisted that the church's own guidelines for dealing with complaints of abuse by priests were being fully complied with.
Between 1996 and 2008, two-thirds of complaints in the diocese were not reported to the police by church authorities and Magee's oversight of child safeguard measures was described as "inadequate and in some respects dangerous." www.globalpost.com/dispatch/news/regions/europe/ireland/110714/ireland-catholic-church-sex-abuse-report
Memories of Good Father Hageman: predominantly Hispanic men from the string of dusty towns along Route 66 in Arizona have stepped forward, alleging that Father Hageman sexually abused them as boys when he worked in local parishes from the early 1940s until his death in 1975.
A recent study commissioned by the nation's Roman Catholic bishops found the rise of sexual abuse in the church coincided with the social and sexual tumult of the 1960s and '70s. But the story of Father Hageman, as told through recently released church documents chronicling his troubles, begins much earlier. Indeed, the priest has long haunted the deeply Catholic Hispanic communities around Holbrook, Winslow and Kingman, Ariz. His accusers said that he was "dumped" in impoverished, nonwhite communities by church officials to avoid scandal,  http://www.nytimes.com/2011/07/11/us/11priest.html?_r=1&hp
Best Thing in the History of the World
Woo Hoo! Wu's Unwanted Woo Boo Hoos: Wu, 56, said Tuesday the well-being of his children should come first, so he will resign after Congress resolves the current debate over the federal debt ceiling.
In 2004 Wu, now 56, won re-election despite acknowledging a decades-old college incident in which he tried to force a former girlfriend to have sex. m.ctv.ca/topstories/20110726/democrat-congressman-resignation-scandal-110726.html
It's a good thing he's staying for a little while. A sexual predator is exactly the kind of sane, reasoned voice we need right now.
Chris Bateman
Meat Packer www.theonion.com/articles/congressman-resigns-over-unwanted-sexual-incident,21025/
So Long Ron, Hermione, Harry, Amy and Milt.