Friday, May 27th, 2011
We Say Fight Back!
Congratulations to Brad Porfilio for the publication of: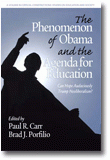 www.infoagepub.com/products/The-Phenomenon-of-Obama-and-the-Agenda-for-Education
We CAN Win: I spoke at the school board. Students, parents and colleagues attended and donated their 3 minutes. I've pasted the link of part 1 of my speech below.
The following week, students then demonstrated peacefully by the hundreds, with petitions, and were met with the private security firm that was brought in the day after my non-renewal. A week later, a student of mine from last year had his materials confiscated by an assistant principal, including his printed statement from the school board expressing his right to demonstrate. Given that his father was recently deported, and he and his mom made homeless, he was ill-equipped to deal with this frustration emotionally. When threatened with suspension, he punched a door and broke two fingers. He now needs hand surgery. As a result, I was encouraged to speak in front of the school board again to plead the case.
On April 26th, I first addressed the board. The result: 2 weeks later at the very next board meeting they ousted the superintendent at 9:45pm. The high school principal, to whom I addressed my open letter, resigned 35 minutes later. The assistant principals are expected to follow suit soon.
Moral: YOU can change a district.
www.youtube.com/user/CoinToss2011?feature=mhum#p/a/u/1/gwepU1Gx36Q
Egypt's Docs Go on Strike: The strike was organized by the High Committee for the supervision of the strike, which was elected by the syndicate's General Assembly on 1 May. The strike covered most public hospitals in Egypt and several university hospitals.
"We finally did it; we finally held the first doctor's strike in Egypt's history," said Dr. Rashwan Shaaban, a member of the committee.
According to Shaaban, a cardiologist who is a member of the committee, the strike was observed by 65 per cent of hospitals in Cairo and Giza and 90 per cent of hospitals in other governorates. The strike was held between 9 am and 2 pm, the normal working hours of public clinics, and did not include intensive care units, emergency rooms, delivery rooms and emergency surgery operating rooms. The group insist that it was a "civilized strike," that did not harm any patients, who were told to go to emergency rooms to get medical attention.
The group insisted that if their demands are not met, they will begin another open-ended strike on 17 May.
english.ahram.org.eg/NewsContent/1/64/11842/Egypt/Politics-/Egyptian-doctors-hold-first-nationwide-strike.aspx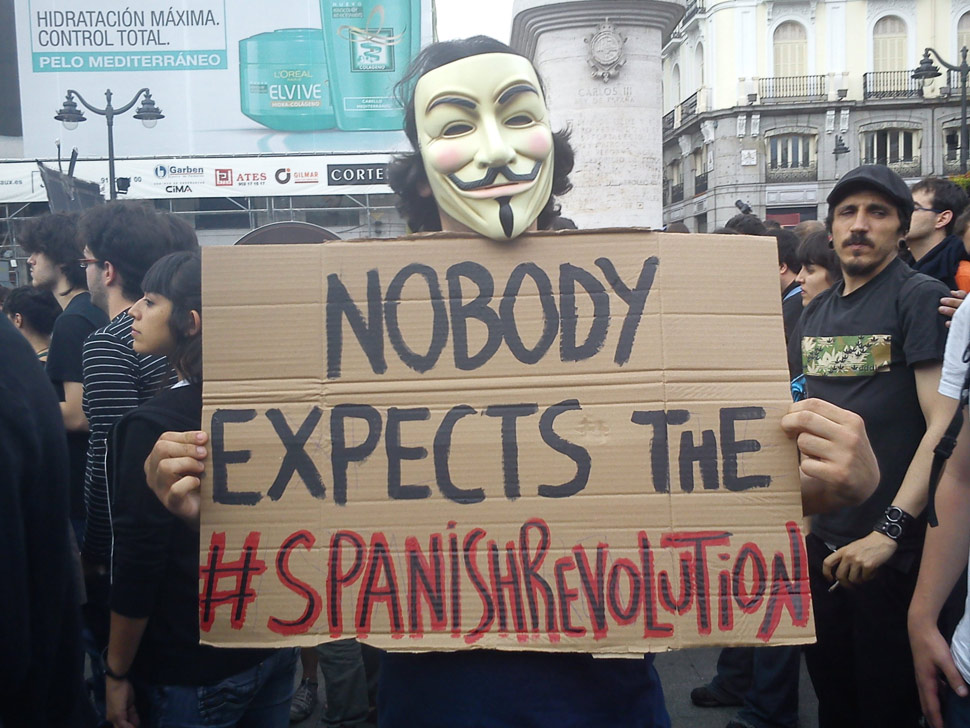 The Little Red Schoolhouse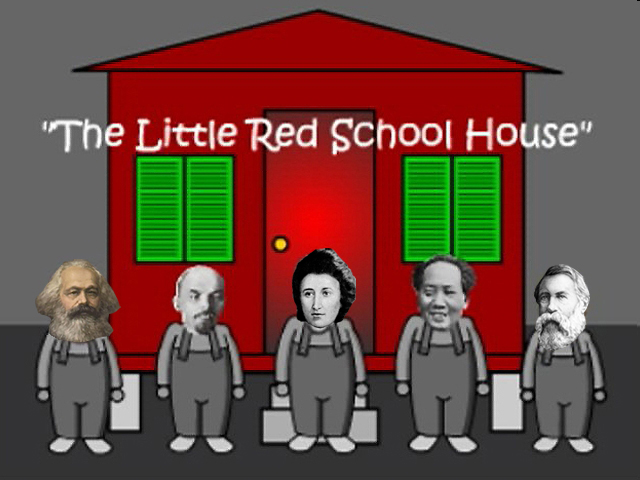 Detroit Snooze: Destroy the Detroit Public Schools: DPS can't be saved. It pushed beyond the tipping point years ago, and must be allowed to slide into oblivion.
Perpetuating the myth that the worst urban school district in America can be rescued and remade to operate effectively in its current form is a guarantee that another reform effort will fail, and the hopes of another generation of Detroit children will be washed away.
www.detnews.com/article/20110515/OPINION03/105150315/Column–Roberts-must-be-demo-man-for-Detroit-Public-Schools
It Ain't Privatization; its Corporatism: Schools and Bill Gates: For years, Bill Gates focused his education philanthropy on overhauling large schools and opening small ones. His new strategy is more ambitious: overhauling the nation's education policies. To that end, the foundation is financing educators to pose alternatives to union orthodoxies on issues like the seniority system and the use of student test scores to evaluate teachers.
In some cases, Mr. Gates is creating entirely new advocacy groups. The foundation is also paying Harvard-trained data specialists to work inside school districts, not only to crunch numbers but also to change practices. It is bankrolling many of the Washington analysts who interpret education issues for journalists and giving grants to some media organizations.
Turn My School into a Prison, Please! Dear Governor Snyder,
In these tough economic times, schools are hurting. And yes, everyone in Michigan is hurting right now financially, but why aren't we protecting schools? Schools are the one place on Earth that people look to to "fix" what is wrong with society by educating our youth and preparing them to take on the issues that society has created.
One solution I believe we must do is take a look at our corrections system in Michigan. We rank nationally at the top in the number of people we incarcerate. We also spend the most money per prisoner annually than any other state in the union. Now, I like to be at the top of lists, but this is one ranking that I don't believe Michigan wants to be on top of.
Consider the life of a Michigan prisoner. They get three square meals a day. Access to free health care. Internet. Cable television. Access to a library. A weight room. Computer lab. They can earn a degree. A roof over their heads. Clothing. Everything we just listed we DO NOT provide to our school children.
This is why I'm proposing to make my school a prison. The State of Michigan spends annually somewhere between $30,000 and $40,000 per prisoner, yet we are struggling to provide schools with $7,000 per student. I guess we need to treat our students like they are prisoners, with equal funding. Please give my students three meals a day. Please give my children access to free health care. Please provide my school district Internet access and computers. Please put books in my library. Please give my students a weight room so we can be big and strong. We provide all of these things to prisoners because they have constitutional rights. What about the rights of youth, our future?!
Please provide for my students in my school district the same way we provide for a prisoner. It's the least we can do to prepare our students for the future…by giving our schools the resources necessary to keep our students OUT of prison.
Respectfully submitted,
Nathan Bootz, Superintendent, Ithaca Public Schools
Obamagogue's Dancing Seals (schools) to Rush the RaTT again: improvement competition will get another chance, the Obama administration announced on Wednesday, though this time $200 million will be up for grabs, compared with $4 billion awarded last year.
An additional $500 million will be devoted to a parallel competition among all states to raise the quality of early learning and child care programs and to increase families' access to them, federal officials said.
The nine states that were Race to the Top finalists but came up short last year —Arizona, California, Colorado, Illinois, Kentucky, Louisiana, Pennsylvania, New Jersey and South Carolina — are eligible to submit new applications this year seeking $10 million to $50 million, depending on population and other factors, the Department of Education said. In last year's competition, the winners were Delaware, the District of Columbia, Florida, Georgia, Hawaii, Maryland, Massachusetts, New York, North Carolina, Ohio, Rhode Island and Tennessee, with Florida and New York getting $700 million each.
www.nytimes.com/2011/05/26/education/26early.html?_r=1&ref=education
What is the Truth Behind Back to Nature Ferguson Academy's Grad Rate? Andrews, the principal, cited a Bill and Melinda Gates Foundation report that CFA's graduation rate was at 90 percent and that all graduates go to college.
DPS disputes that information. District data from 2007-08 show a 23 percent graduation rate, Wasko said
www.detnews.com/article/20110527/SCHOOLS/105270383/1026/High-cost-of-specialized-schools-pressures-DPS
Above: School is Out and Over for the Summer!
The International Hot War of the Rich on the Poor:
"It will be Days, Not Weeks." Ten Weeks into War on Libya and What have the  Vaunted "Historians Agains the War" Said? Nothing at all. Why? Sheer Opportunism. President Obama told a bipartisan group of members of Congress today that he expects the U.S. would be actively involved in any military action against Libya for "days, not weeks," after which he said the U.S. would take more of a supporting role, sources tell ABC News.
The White House meeting with 18 lawmakers came as Obama delivered an ultimatum to Libyan leader Moammar Gadhafi that he must immediately implement a ceasefire in all parts of Libya and allow international humanitarian assistance, or risk military action against his regime.
abcnews.go.com/International/libya-crisis-obama-moammar-gadhafi-ultimatum/story?id=13164938
Blackwater Mercs in the UAE to Protect Oil and Dictators: Colombians had entered the United Arab Emirates posing as construction workers. In fact, they were soldiers for a secret American-led mercenary army being built by Erik Prince, the billionaire founder of Blackwater Worldwide, with $529 million from the oil-soaked sheikdom.
Mr. Prince, who resettled here last year after his security business faced mounting legal problems in the United States, was hired by the crown prince of Abu Dhabi to put together an 800-member battalion of foreign troops for the U.A.E., according to former employees on the project, American officials and corporate documents obtained by The New York Times.
The force is intended to conduct special operations missions inside and outside the country, defend oil pipelines and skyscrapers from terrorist attacks and put down internal revolts, the documents show. Such troops could be deployed if the Emirates faced unrest or were challenged by pro-democracy demonstrations in its crowded labor camps or democracy protests like those sweeping the Arab world this year.
www.nytimes.com/2011/05/15/world/middleeast/15prince.html?hp
Children of the Poor Weary of Killing Other Children of the Poor?
Report Findings: 1.
Morale: Significant decline in reports of individual morale relative to 2009 and 2005. Unit morale unchanged.
2.
Psychological Problems: Acute stress rates significantly higher than rates from 2009 and 2005. Rates of combined psychological problem measure (acute stress, depression, or anxiety) significantly higher than 2005.
3.
Suicide Ideation: Rates of suicide ideation are unchanged.
4.
Concussive Events: Soldiers report high exposure to concussive events. Low percentages report being evaluated by "Medical Professionals" for concussions; however, the evaluation rate may be higher than estimated because Soldiers may not consider medics "Medical Professionals." Note that survey was also conducted before full implementation of Directive-Type Memorandum (DTM) 09-033 "Policy Guidance for Management of Concussive/Mild Traumatic Brain Injury in the Deployed Setting."
5.
Medication Use. Medication use for mental health or combat stress was 3.7%. This rate is slightly lower than the antidepressant use rate of 4.6% among a demographically comparable civilian sample.
Some of the highlights:
— Only 46.5 percent of soldiers said their morale was medium, high or very high last year, compared to 65.7 percent in 2005. For Marines, it was only 58.6 percent last year compared to 70.4 percent when they were surveyed in 2006 in Iraq. (The report compares numbers of the Marine to their time in Iraq because they were not in Afghanistan in significant numbers before the surge)
— Nearly 80 percent of Marines and soldiers said they'd seen a member of their unit killed or wounded, compared to rough half who said that in the earlier years.
— Nearly one in five soldiers and Marines reported psychological problems such as acute stress, depression or anxiety last year. The number for soldiers was one in 10 in 2005 and for Marines about one in eight in 2006.
—The military says it boosted the mental health staff in the country to one for every 646 soldiers last year, compared to one for every 1,123 in 2009.
www.armymedicine.army.mil/reports/mhat/mhat_vii/J_MHAT_7.pdf
Hey Troops! Politicos Want to Sell You out to the Taliban! American officials have met with a senior aide to the fugitive Taliban leader, Mullah Muhammad Omar, at least three times in recent months in the first direct exploratory peace talks, officials in the region said. …Begun well before the killing of Osama bin Laden on May 2, the meetings represent a clear shift in the attitude of the Obama administration toward peace talks with the Taliban, first signaled by a speech in February by Secretary of State Hillary Rodham Clinton, the Western officials said. In that speech Mrs. Clinton said that previous requirements for starting talks could instead be considered "desired outcomes," opening the way to exploratory meetings without preconditions.
www.nytimes.com/2011/05/27/world/asia/27taliban.html?_r=1&emc=tnt&tntemail1=y
The International Economic War of the Rich on the Poor
$12.9 Trillion Bailout Can't Entice Banks to Loan or Release Homes: they own more than 872,000 homes as a result of the groundswell in foreclosures, almost twice as many as when the financial crisis began in 2007, according to RealtyTrac, a real estate data provider.
In addition, they are in the process of foreclosing on an additional one million homes and are poised to take possession of several million more in the years ahead.
Five years after the housing market started teetering, economists now worry that the rise in lender-owned homes could create another vicious circle, in which the growing inventory of distressed property further depresses home values and leads to even more distressed sales.
With the spring home-selling season under way, real estate prices have been declining across the country in recent months.  www.cnbc.com/id/43132732
Solidarity Forever
Will Chicago CORE Follow Other Fake Union Reformers?
Illinois education "reform" bill passes with bipartisan support
By Kristina Betinis
17 May 2011
On Thursday May 12, the House of Representatives in the US state of Illinois passed a reactionary education "reform" bill with overwhelming support from both Democrats and Republicans. Amidst deep cuts in education spending in Illinois and throughout the country, the bill will make it much easier to fire teachers and will effectively eliminate the right to strike.
The bill passed by a margin of 112-1 in the House, with one member voting "present." In the Senate, it passed 54-0. The attack on teachers is part of a more general attack on public education as a whole. The House voted the same day (by a margin of 102-12) to cut funding for schools throughout the state.
The Obama administration immediately hailed the bill. Education Secretary and former Chicago public schools CEO Arne Duncan called it "truly remarkable," stressing the support for the measure provided by the trade unions. "Business, unions, educators, advocates and elected officials all came together around a plan that puts children ahead of adults [i.e., attacks teachers] and paves the way for meaningful education reform." The administration has spearheaded a nation-wide campaign to victimize teachers, close public schools, and expand private charter schools.
All of the major components of the right-wing school reform program embraced by both Democrats and Republicans are included in the bill. It ties layoffs to "performance"—as opposed to senioority—thus eradicating tenure rights. It also allows lower senioritty teachers to be called back from being laid off before more senior educators, opening the door for school districts to dump higher-paid veteran teachers in favor of those with less experience. Performance is defined vaguely enough to be essentially arbitrary. School administrators may even give negative evaluations based on the use of sick days.
Other measures in the bill make tenure harder to achieve and extend the probationary period required of newly hired teachers. The lead time to notify teachers of layoffs is reduced. Local school boards are given extended power to fire tenured teachers, in addition to being able to do so more quickly.
The bill also imposes onerous requirements for Chicago Public Schools teachers to legally strike, through the mandating of lengthy mediation and fact-finding procedures. It raises the bar for a strike vote from a simple majority of votes cast to 75 percent of the membership of the Chicago Teachers Union. Before any such vote could even occur, the CTU would have to give a 10 day notice of its intent to strike. This would be at the end of a 120-day mediation period. Taken together, these measures will in effect take away the right of CPS teachers to strike.
Another measure approved for Chicago allows the Chicago Board of Education to lengthen the school day and year without granting a pay raise.
The House bill also includes changes to the earlier Senate bill. The source of funds for teachers' pensions will be shifted away from state taxes to local property taxes in school districts. CPS teachers are also removed from even nominal oversight of the Illinois Educational Labor Relations Board, extending the autonomy of the Chicago Board of Education and the mayor that appoints its members and its executive.
Democratic Governor Pat Quinn's spokesperson confirmed last week that the governor supports the bill and expects to sign it into law. Spokesperson Annie Thompson said that "meaningful education reform has been and is one of Gov. Quinn's top priorities, which is why he supported and why he worked for the passage of Senate Bill 7."
Chicago's new Mayor Rahm Emanuel, Obama's former chief of staff, also heralded the bill. As a candidate, Emanuel advocated curtailing teachers' right to strike and called on Democratic Speaker of the House Michael Madigan to pass legislation to that effect. In his inaugural address on Monday, Emanuel said he would make education "reform" a top priority.
The Chicago Sun-Times quoted Dr. Barbara Radner at DePaul University's Center for Urban Education, who remarked: "[Emanuel]'s just been given the tools he needs from the state to be the education mayor … in a way [Mayor] Daley was never able to." Daley was given immense power over Chicago Public Schools in 1995, and his Renaissance 2010 plan led to the shutdown of many public schools and their replacement by charter schools. Emanuel's administration will be even more destructive.
The trade unions are entirely complicit in this historic attack on teachers and public education. At a national level, the teachers unions have backed Obama's education policy and have announced their support for his reelection in 2012. In Illinois, the unions were involved in crafting the legislation and gave it their enthusiastic support as it passed the Illinois Senate. They raised hypocritical criticisms of certain aspects of it as it moved through the House, but this was only after teachers voiced outrage at the Senate bill and at the complicity of the teachers' unions in its passage.
The Illinois Education Association and the Chicago Teachers Union worked with right-wing "reform" groups and Democratic and Republican legislators to develop the bill since late 2010. As the House vote neared, the IEA changed its position to neutral.
The IEA explained on its website that its neutral position was due to a technical problem, and re-affirmed its support for the "historic legislation that moves public education forward in Illinois." The CTU's leadership, the Caucus of Rank-and-File Educators (CORE), which had been elected by teachers on the basis of its claim to oppose right-wing attacks on education, tried to distance itself from the bill, claiming opposition to certain measures. This is a complete fraud, however, aimed at covering the complicity of the supposed "left" faction in the union in the attack on teachers.
The measures in the Illinois bill are similar to those in other states—like Wisconsin and Florida—pushed by Republican leaders.rs. In Illinois, the legislation is moved by Democrats, with the participation and support of the teachers' unions, both of which argue for the superiority of this model of "collaboration" as opposed to the confrontational approach taken by Governor Scott Walker and the Republicans in Wisconsin. This is the position of the Obama administration, which worked hand in hand with the UAW to push through unprecedented attacks on autoworkers.
As Duncan put it in reacting to the legislation, "For some time now I have been saying that tough-minded collaboration is more productive than confrontation, and this is the proof." In other words, by ensuring union participation at the outset, when the final product was unveiled teachers were left politically disoriented and unprepared to mount any struggle in opposition to these right-wing bills.
There is immense opposition among teachers to this attack. The passage of this bill makes clear, however, that a successful struggle to defend teachers requires a break with the trade unions and the construction of independent organizations of working class struggle. The defense of public education must be based on the building of an independent political movement of the working class, in opposition to the Democratic and Republican Parties and the capitalist system they defend.
Corporate Escort Michelle Rhee Joins AFT Procurer Parker: Michelle A. Rhee butted heads frequently during her three-year tenure as schools chancellor of Washington with the president of the local teachers' union, George Parker, and eventually a voter backlash over the city's school reform wars cost both of them their jobs.
Now, in a strange-bedfellows twist, Ms. Rhee has named Mr. Parker as the first senior fellow of Students First, the national group she formed after stepping down as chancellor last fall. She says she hopes Mr. Parker can be a compelling voice for change, especially in speaking to teachers' union members around the country. He says Ms. Rhee hates teachers' unions less than most people think.
www.nytimes.com/2011/05/21/education/21rhee.html
Mothballed, Old Fake Left Mumbles Through Cobwebs: The Socialist Party has about 1,000 members nationally. The Communists claim 2,000. The Democratic Socialists, which for many years included luminaries like Michael Harrington and Irving Howe, have about 6,000. .. The Communists even own the means of production — they lease out their eight-story building on West 23rd Street to other left-wing organizations. The party has the most decorous space, having redesigned its office with glass walls and tall windows.
www.nytimes.com/2011/05/23/nyregion/leftist-parties-in-new-york-have-new-appeal.html?_r=1
The Emergence of Fascism as a Mass Popular Movement:
More BiPartisan Corporate State Action: Patriot Act Extended
The deal to extend the powers without changes followed negotiations between the Senate majority leader, Harry Reid, Democrat of Nevada, and Republican leaders including the Senate minority leader, Mitch McConnell of Kentucky, and the speaker of the House, John A. Boehner.
www.nytimes.com/2011/05/20/us/20patriot.html
Spy Versus Spy
US Funds Pakistani Terrorist ISI: confessed Pakistani American terrorist took the stand in a Chicago courtroom Monday and described a close alliance between Pakistan's intelligence service and the Lashkar-i-Taiba terrorist group, alleging that Pakistani officers recruited him and played a central role in planning the 2008 Mumbai attacks.

David Coleman Headley's long-awaited testimony at the start of a trial with international repercussions resolved one question at the outset: Federal prosecutors did not hesitate to connect Pakistan's Inter-Services Intelligence Directorate (ISI) to the attacks that killed 166 people, including six Americans.
www.washingtonpost.com/national/david-headley-witness-in-terror-trial-ties-pakistani-spy-agency-to-militant-group/2011/05/23/AFEEb99G_story.html?hpid=z2
Obamagogue's NSA Attacks Whistleblower (following Bush): June 13th, a fifty-four-year-old former government employee named Thomas Drake is scheduled to appear in a courtroom in Baltimore, where he will face some of the gravest charges that can be brought against an American citizen. A former senior executive at the National Security Agency, the government's electronic-espionage service, he is accused, in essence, of being an enemy of the state. According to a ten-count indictment delivered against him in April, 2010, Drake violated the Espionage Act—the 1917 statute that was used to convict Aldrich Ames, the C.I.A. officer who, in the eighties and nineties, sold U.S. intelligence to the K.G.B., enabling the Kremlin to assassinate informants. In 2007, the indictment says, Drake willfully retained top-secret defense documents that he had sworn an oath to protect, sneaking them out of the intelligence agency's headquarters, at Fort Meade, Maryland, and taking them home, for the purpose of "unauthorized disclosure." The aim of this scheme, the indictment says, was to leak government secrets to an unnamed newspaper reporter, who is identifiable as Siobhan Gorman, of the Baltimore Sun. Gorman wrote a prize-winning series of articles for the Sun about financial waste, bureaucratic dysfunction, and dubious legal practices in N.S.A. counterterrorism programs. Drake is also charged with obstructing justice and lying to federal law-enforcement agents. If he is convicted on all counts, he could receive a prison term of thirty-five years.  …'Can you believe they're doing this? They're getting billing records on U.S. citizens! They're putting pen registers' "—logs of dialled phone numbers—" 'on everyone in the country!' "
www.newyorker.com/reporting/2011/05/23/110523fa_fact_mayer
Kidnapper and Spy Sues USA but Saves Secrets: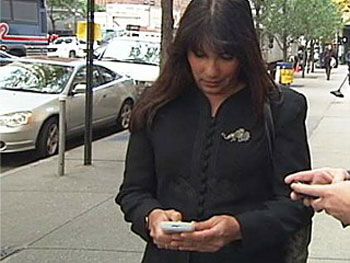 The judge pronounced herself "literally speechless" at the government's assertions. But she directed Mr. Zaid to answer, in writing, the government's objections to his request for a closed hearing to convey the classified information, saying she would rule later on whether to order such a hearing.
The dispute came in a lawsuit filed by Sabrina De Sousa, one of 23 people convicted in Italy in the kidnapping of the cleric, known as Abu Omar. Prosecutors said all 23 were C.I.A. employees.
In one of the best-known cases of the C.I.A. practice known as rendition, Abu Omar was seized on a street in Milan in 2003 and flown to Egypt, where he said he was tortured.
Former colleagues say Ms. De Sousa was a C.I.A. officer posing as a diplomat, the most common kind of cover for intelligence agents working abroad. She has declined to say whether she worked for the agency, noting that she was officially posted to Italy as a State Department employee.
In 2009, Ms. De Sousa sued the State Department, the C.I.A. and several officials in an attempt to force the American government to invoke diplomatic immunity on her behalf in the hope of blocking her prosecution by the Italian authorities.
www.nytimes.com/2011/05/27/us/politics/27secret.html?emc=tnt&tntemail1=y
Magical Mystery Tour:
Still Ok to Do those Kiddies (and Collect the Dough) But the 60s are Guilty: the abuse occurred because priests who were poorly prepared and monitored, and were under stress, landed amid the social and sexual turmoil of the 1960s and '70s.
In one of the most counterintuitive findings, the report says that fewer than 5 percent of the abusive priests exhibited behavior consistent with pedophilia, which it defines as a "psychiatric disorder that is characterized by recurrent fantasies, urges and behaviors about prepubescent children.
"Thus, it is inaccurate to refer to abusers as 'pedophile priests,' " the report says….Anne Barrett Doyle, the co-director of BishopAccountability.com, a Web site that compiles reports on abuse cases, said, "There aren't many dioceses where prosecutors have gotten involved, but in every single instance there's a vast gap — a multiplier of two, three or four times — between the numbers of perpetrators that the prosecutors find and what the bishops released."
Worst Thing in History of the World 1:
above, escort for Capital, Peroska Nagy and IMF "socialist" pimp Straus Kahn
IMF Pervo Busted for Raping Maid: He was accused of a sex attack on a maid earlier in the day at a Times Square hotel, the authorities said.
Mr. Strauss-Kahn, a candidate for president of France, was taken off an Air France flight by officers from the Port Authority of New York and New Jersey and turned over to Manhattan detectives, according to a Port Authority spokesman. He was expected to be taken to the offices of the Manhattan Special Victims Unit at P.S.A. 5 in Manhattan, another official said….Mr. Strauss-Kahn, who is married to a prominent television news reporter, has been dogged by scandal. In 2008 he was embroiled in a controversy after accusations arose that he had had a sexual relationship with one of his subordinates, Piroska Nagy, a senior official in the I.M.F.'s Africa Department. The I.M.F. hired a law firm to launch an investigation, and Ms. Nagy left the fund and went to work for the European Bank for Reconstruction and Development. With the I.M.F. needed to quell the international economic meltdown, Mr. Strauss-Kahn was kept on the job. He later apologized for an "error in judgment."
www.nytimes.com/2011/05/15/nyregion/imf-head-is-arrested-and-accused-of-sexual-attack.html?_r=1&hp
Worst Thing in the History of the World 2
Another Detroit Hack Caught Robbing the Poor: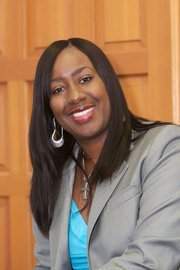 A fired director at the center of the latest City Hall corruption probe admits her staff used federal funds for the poor to buy $200,000 in office furniture — and makes no apologies for it….Greg Murray, vice president of the union, Senior Accountants, Analysts and Appraisers, that represents about 20 department staffers, bristled when told that Coleman defended the furniture expense.
He said some of the replaced furniture was only 2 years old: "$200,000 for furniture in a city department that was reluctant to open a warming center is heartless."
This winter, Coleman was at the center of a controversy because the city's warming center didn't open until the end of February. A longstanding policy mandated its operation, but Coleman said it couldn't open because of budget constraints and called a center a "nice extra to have."
www.detnews.com/article/20110527/METRO/105270356/Fired-Detroit-official-defends-$200K-furniture-buy
Worst Thing in the History of the World 3
Detroit Cops as Stupid, Corrupt, and Incompetent as Ever: How can you even begin to calculate the costs of the Detroit Police Department's inexplicable failure to transfer, secure or even inventory more than 20,000 pieces of criminal evidence left behind in an unguarded and unlocked facility when the city shuttered the department's criminally mismanaged crime lab two years ago?…And what about the ordinary Detroiters whose lives were placed in jeopardy when a department that lists gun trafficking among its most urgent priorities left thousands of rounds of live ammunition open to scavengers, as if bullets were as useless as your grandmother's mouldering collection of National Geographic magazines?
www.freep.com/article/20110527/BLOG25/110527034/Editorial-DPD-sets-new-standard-incompetence
Best Thing in the History of the World
B. Traven on the Labor Theory of Value: