Saturday, February 26th, 2011
We Say Fightback: Well Grubbed Old Mole!
All out March Second! Rescue Education from the Ruling Classes!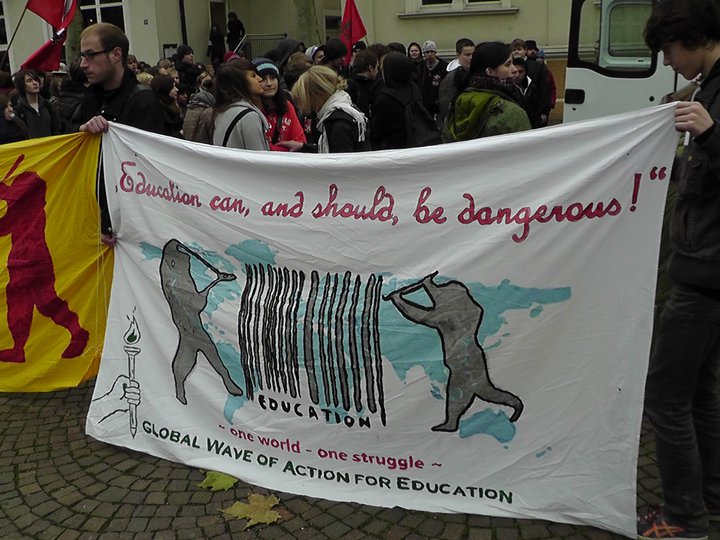 Eric Foner: Return of the Class Struggle: Walker has threatened to send in the National Guard to clear the capitol of protesters, a throwback to the days when troops were regularly employed to crush strikes. It will be interesting to see whether the American military, unlike its counterparts in Egypt, is willing to use violence against fellow citizens demanding their rights.
Henry Anderson on His Struggle to Expose the Bracero Programs
Congratulations to Gil Gonzalez on this Important Film
Ex-CIA Agent Beaten and Arrested at Hillbillary Speech:
The Walker-Koch Prank:
Walker/Koch Prank Described:
Republican Gov. Scott Walker, believing he was getting a telephone call from billionaire campaign contributor David Koch, discussed the possibility of "planting some troublemakers" among people protesting his budget repair bill and confidential strategies for pushing the bill through — all with a New York-based blogger who recorded the call.
The conversation was posted by the website the Buffalo Beast, which claimed that the conversation took place Tuesday. Instead of Koch, the co-owner of Koch Industries and key backer of the conservative Americans for Prosperity, Walker appears to have been speaking with Buffalo Beast editor Ian Murphy.
In a news conference Wednesday afternoon, Walker said he won't be distracted by the prank call, and he'll push forward with a bill to limit the power of public employee unions.
Walker stood by his comments on the call, saying they were no different than what he has said publicly.
During the some-20-minute phone call, the prankster asked if there was anything he could do to help — such as "planting some troublemakers" among the protesters.
Walker paused, then said, "We thought about that."  http://host.madison.com/wsj/news/local/govt-and-politics/article_7f7b33ce-3f6e-11e0-b629-001cc4c002e0.html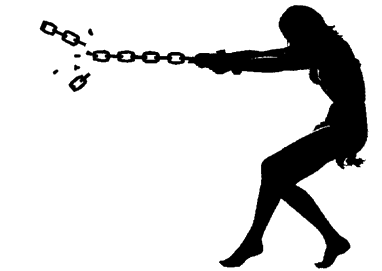 Red Flags on the March in Greece–Fighting Cops:
The NEA-AFL-CIO's Fake "Save the Middle Class" Rallies: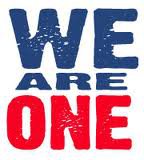 The last two weeks have made abstractions into realities easily seen.
*It is possible to fight back and win. That's the main lesson. It is right to rebel and, even considering tragic sacrifices, victories are possible.
*School workers do sit in a key, centripetal, organizing point of North American society. School workers are under attack, but only after attacks on the mentally ill, welfare recipients, the fake Drug War, and industrial workers all succeeded — proof that an injury to one only goes before an injury to all, an ineluctable certainty the AFL-CIO persistently chose to ignore, spitting in the face of those who died fighting for labor's gains, in contempt of history itself.
*The working class taken as a whole, is key. Workers' strikes in Egypt toppled Mubarek.
*It is necessary and proper to work with troops. Will troops, now, shoot Americans if called upon? At this moment, probably. Not forever. The economic draft, more and more, makes troops an unreliable ally for the rich.
*But in the interaction of the many ways to examine history, from culture/religion to sex/gender to nation/tribe–what stands above as the organizing factor is class struggle. Those who deny that, now, lie. www.substancenews.net/articles.php?page=2038&section=Article
You Can Call the Madison Teachers' Inc. (sic) Crisis Committee
www.madisonteachers.org/hot%20topics/Crisis%20Committee%202010-11-WL%20022511.pdf
The Little Red Schoolhouse: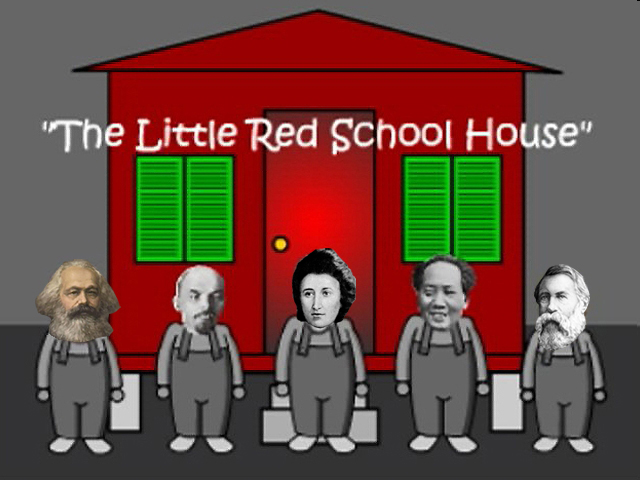 Once, 300,00 kids Attended Detroit Schools. Is this the End? What Kills DPS? Capitalism. Racism. Democrats. A lunatic School Board. Corruption. Incompetence. Leaders of the DFT.
Swift and severe changes are coming to Detroit Public Schools.  State education officials have ordered Robert Bobb to immediately implement a financial restructuring plan that balances the district's books by closing half of its schools, swelling high school class sizes to 60 students and consolidating operations.  http://detnews.com/article/20110221/SCHOOLS/102210355
Quisling Weingarten Begs to Dump Tenure: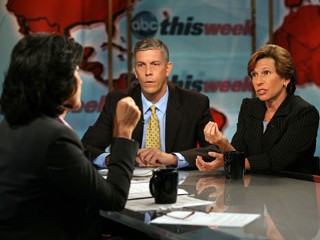 Responding to criticism that tenure gives even poor teachers a job for life, Randi Weingarten, the president of the American Federation of Teachers, announced a plan Thursday to overhaul how teachers are evaluated and dismissed. www.nytimes.com/2011/02/25/education/25teacher.html?_r=1&ref=education
Providence RI Fires all Teachers: But We're Not Detroit! "I don't plan on being Detroit," Mr. Taveras said. "It won't happen here. We care too much about education, and we'll do everything we can to make sure our kids are in class sizes that are appropriate and led by great teachers." www.nytimes.com/2011/02/26/us/26providence.html?hp
The International War of the Rich on the Poor:
Pilger: The Arab Revolt is a Fight vs US Fascism/corporate state: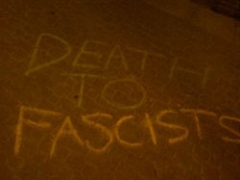 The revolt in the Arab world is not merely against a resident dictator, but against a worldwide economic tyranny designed by the US Treasury and imposed by the US Agency for International Development (USAID), the International Monetary Fund (IMF) and the World Bank, which have ensured that rich countries like Egypt are reduced to vast sweatshops, with half the population earning less than $2 a day. The people's triumph in Cairo was the first blow against what Benito Mussolini called corporatism, a word that appears in his definition of fascism. www.truth-out.org/behind-arab-revolt-a-word-we-dare-not-speak68036
Pacifism or Revolution?
Libya Rising and the Implications: Stratfor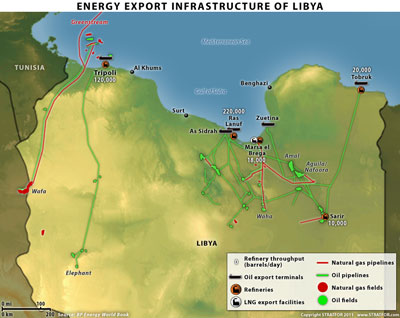 Libya's population is split in half: Leader Moammar Gadhafi's power base is in Tripoli in the extreme west, the opposition is concentrated in Benghazi in the east, with a 600 kilometer-wide gulf of nearly empty desert in between.
This effectively gives the country two political factions, two energy-producing basins, two oil output infrastructures. Economically at least, the seeds of protracted conflict — regardless of what happens with Gadhafi or any political changes after he departs — have already been sown. If Libya veers towards civil war, each side will have its own source of income to feed on, as well as a similar income source on the other side to target. There have not been any attacks on the energy sector yet, but the threats to stability — overt and implied — have been sufficient to nudge most international oil firms operating in Libya to evacuate their staffs.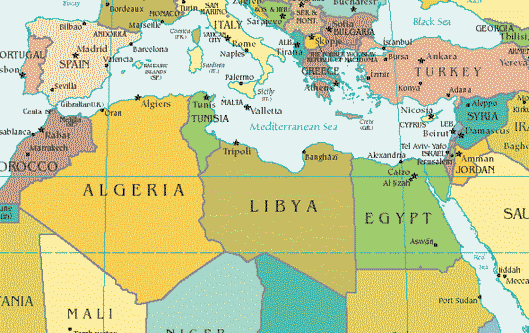 US' Puppets in Iraq Tremble as People Rise: a string of violent demonstrations convulsed the country, challenging the tenuous security situation. The rallies in more than 10 cities were modeled after the uprisings in Tunisia and Egypt, and they brought together a chorus of anger at local and national governments. The protests were the largest public outpourings in Iraq since last summer, when thousands raged against the country's decaying electricity grid and regular blackouts.
like many other demonstrations throughout Iraq, they quickly spiraled out of control as protesters pulled down two concrete blast walls that blocked access to a bridge leading to the Green Zone. Rock-throwing demonstrators clashed with security forces who, in turn, beat many of the protesters, fired water cannons at them and kept them from crossing the bridge.
In the volatile northern city of Mosul, security forces fired on a group of protesters who had set the governor's office on fire, killing five people and wounding at least 15. Fatal clashes also erupted in Anbar Province, near Kirkuk, in Basra and in heavily Sunni Muslim towns north of Baghdad, pitting demonstrators against local or national security forces, according to security and hospital officials across the country. www.nytimes.com/2011/02/26/world/middleeast/26iraq.html
Iran Cracks Down:
In response, the government unleashed what witnesses said was an extraordinary number of security forces to violently battle the crowds. Witnesses said mobs of anti-riot police and plainclothes Basij militia lined the streets and on several occasions fired directly into the crowd and beat protesters with steel batons. In one neighborhood, the Basij took over a commercial building and dropped tear gas canisters from the roof onto the protesters, witnesses said.
Basij militia dressed in black shot and killed two young men in Tehran's Vanak and Vali Asr squares, according to witness accounts posted on opposition websites. The victims haven't been identified. Dozens have been injured and arrested, according to witnesses. online.wsj.com/article/SB10001424052748703498804576156041487406056.html
The US Flees Pech Valley, once "Central" To Afghan War: it is an emotional issue for American troops, who fear that their service and sacrifices could be squandered. At least 103 American soldiers have died in or near the valley's maze of steep gullies and soaring peaks, according to a count by The New York Times, and many times more have been wounded, often severely.
Military officials say they are sensitive to those perceptions. "People say, 'You are coming out of the Pech'; I prefer to look at it as realigning to provide better security for the Afghan people," said Maj. Gen. John F. Campbell, the commander for eastern Afghanistan. "I don't want the impression we're abandoning the Pech."  http://www.nytimes.com/2011/02/25/world/asia/25afghanistan.html?_r=1&hp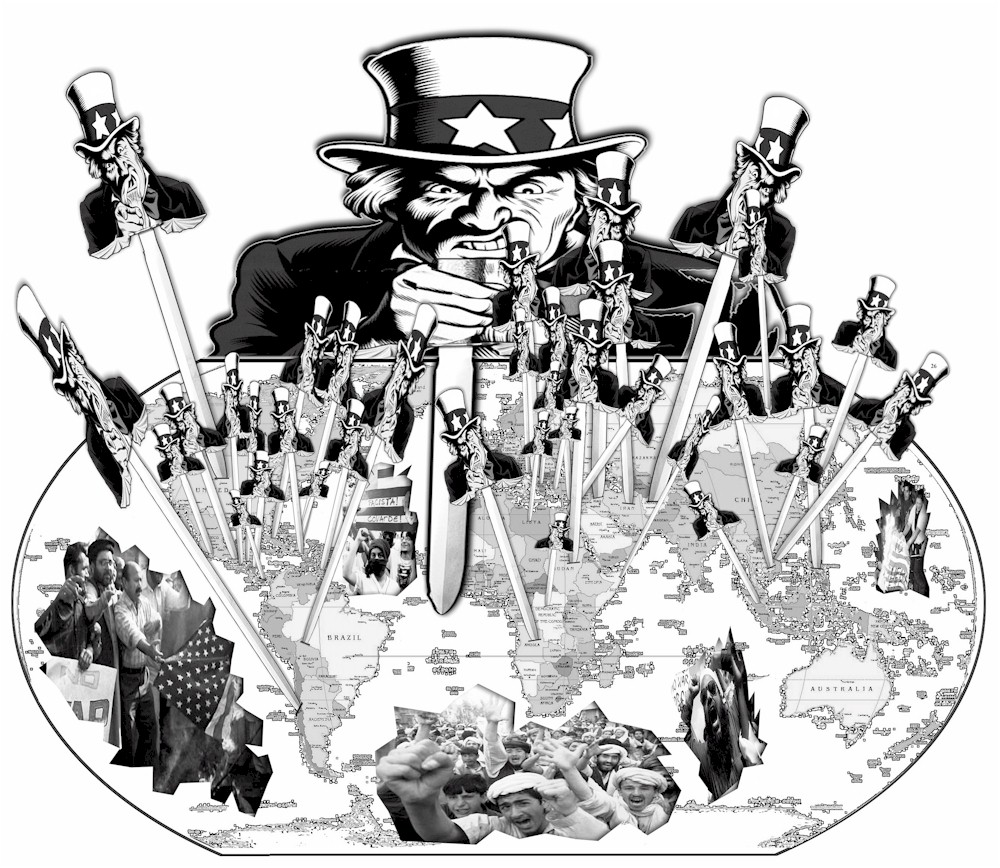 US Vetoes UN resolution on Israel's Expansionism: The US has vetoed an Arab resolution at the UN Security Council condemning Israeli settlements in the Palestinian territories as an obstacle to peace.
All 14 other members of the Security Council backed the resolution, which had been endorsed by the Palestine Liberation Organisation (PLO).
It was the first veto exercised by the Obama administration which had promised better relations with the Muslim world. www.bbc.co.uk/news/world-middle-east-12512732
Woo Hoo! Hey! Imperialists! You Are Losing! What we have created instead, West shows, is a vast culture of dependency: Americans are fighting and dying, while the Afghans by and large stand by and do nothing to help them. Afghanistan's leaders, from the presidential palace in Kabul to the river valleys in the Pashtun heartland, are enriching themselves, often criminally, on America's largesse. The Taliban, whatever else they do, fight hard and for very little reward. American soldiers, handcuffed by strict rules of engagement, have surrendered the initiative to their enemies. Most important, the Afghan people, though almost certainly opposed to a Taliban redux, are equally wary of both the Americans and their Afghan "leaders." They will happily take the riches lavished on them by the Americans, but they will not risk their lives for either the Americans or their own government. The Afghans are waiting to see who prevails, but prevailing is impossible without their help.  http://www.nytimes.com/2011/02/27/books/review/Filkins-t.html?pagewanted=2&nl=books&emc=booksupdateema1
Chinese Social Fascists Crack Down Promptly: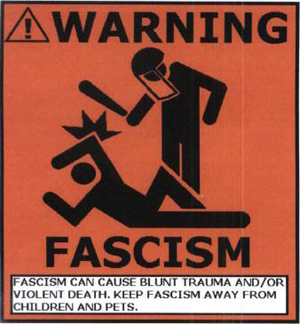 Chinese officials on Sunday cracked down against protests, or rumors of them, sending police to detain dissidents and breakup public gatherings in the capital and Shanghai.
After Internet messages calling for demonstrations in 13 cities surfaced on Saturday, apparently from Chinese language sites based overseas, there were reports of activists being preemptively hauled away.
Very few Chinese responded, and in only a couple of cities, but Beijing's authoritarian regime still mobilized large teams of police to ensure all remained quiet.
The heavy response by Chinese officials was a reminder of the government's low tolerance for any hint of political discord. The country's combination of surveillance, sophisticated management of information, and a willingness to deploy large numbers of security forces has so far allowed it to cut off even the most remote of challenges to the Chinese Communist Party.  http://www.mcclatchydc.com/2011/02/20/109074/china-cracks-down-on-protest-threats.html
Yippee! War Means Work! Boeing Wins Killer Contract! Lawmakers said Chicago-based Boeing Co. has won the $35-billion contract to build a fleet of aerial refueling tankers, possibly the culmination of a dramatic decade-long battle that the aerospace world has been following. The bitter fight between Airbus parent company European Aeronautic Defense & Space Co., or EADS, and archrival Boeing. has been hard fought. There are tens of thousands of jobs at stake, and many in the defense industry believe that the lucrative tanker contract could be the last new major Pentagon purchase for years to come.
Boeing has said that its winning bid would mean about 4,500 jobs in California, even though the bulk of assembly work will be done at an aircraft production plant in the Seattle area. (LA times)
The International Economic War of the Rich on the Poor:
Taibbi: Why Aren't the Banksters in Jail?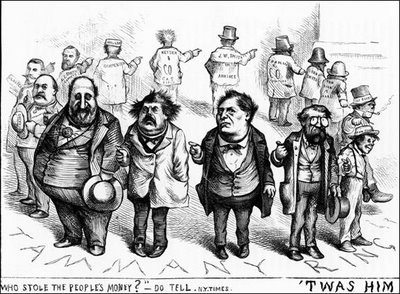 Over drinks at a bar on a dreary, snowy night in Washington this past month, a former Senate investigator laughed as he polished off his beer.
"Everything's fucked up, and nobody goes to jail," he said. "That's your whole story right there. Hell, you don't even have to write the rest of it. Just write that."
I put down my notebook. "Just that?"
"That's right," he said, signaling to the waitress for the check. "Everything's fucked up, and nobody goes to jail. You can end the piece right there."
Nobody goes to jail. This is the mantra of the financial-crisis era, one that saw virtually every major bank and financial company on Wall Street embroiled in obscene criminal scandals that impoverished millions and collectively destroyed hundreds of billions, in fact, trillions of dollars of the world's wealth — and nobody went to jail. Nobody, that is, except Bernie Madoff, a flamboyant and pathological celebrity con artist, whose victims happened to be other rich and famous people.
The rest of them, all of them, got off. Not a single executive who ran the companies that cooked up and cashed in on the phony financial boom — an industrywide scam that involved the mass sale of mismarked, fraudulent mortgage-backed securities — has ever been convicted. Their names by now are familiar to even the most casual Middle American news consumer: companies like AIG, Goldman Sachs, Lehman Brothers, JP Morgan Chase, Bank of America and Morgan Stanley. Most of these firms were directly involved in elaborate fraud and theft. Lehman Brothers hid billions in loans from its investors. Bank of America lied about billions in bonuses. Goldman Sachs failed to tell clients how it put together the born-to-lose toxic mortgage deals it was selling. What's more, many of these companies had corporate chieftains whose actions cost investors billions — from AIG derivatives chief Joe Cassano, who assured investors they would not lose even "one dollar" just months before his unit imploded, to the $263 million in compensation that former Lehman chief Dick "The Gorilla" Fuld conveniently failed to disclose. Yet not one of them has faced time behind bars. www.rollingstone.com/politics/news/why-isnt-wall-street-in-jail-20110216?page=1
BushSkank Meets Dictator and Hugs all Around–2008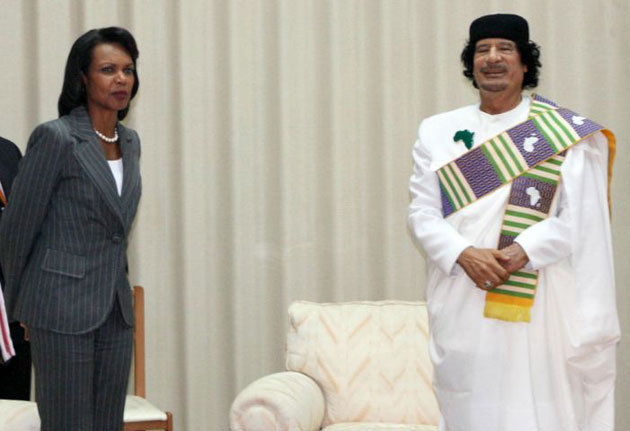 US Secretary of State Condoleezza Rice has met Libya's Muammar Gaddafi on a visit to the north African country US officials are hailing as "historic".
She is the first US secretary of state to visit Libya since 1953.
The pair met at Mr Gaddafi's compound in Tripoli, which was hit in US bombing raids ordered by Ronald Reagan in 1986.
Libya was on the US state department list of sponsors of terrorism until 2003, when it abandoned weapons of mass destruction and renounced terrorism.  http://news.bbc.co.uk/2/hi/7599199.stm
Mother Jones Charts on Inequality (more on the link):motherjones.com/politics/2011/02/income-inequality-in-america-chart-graph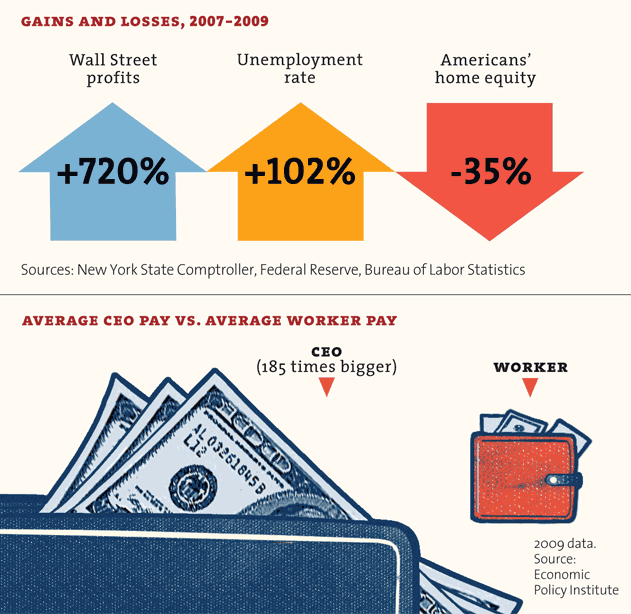 French Boss Sarkozy Hugs Ghadaffi: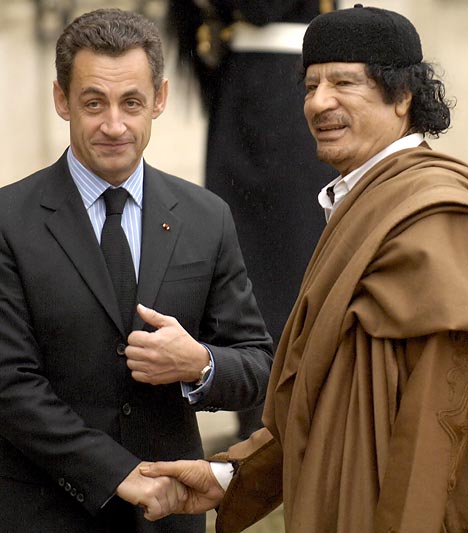 President Nicolas Sarkozy defended Muammar Gaddafi's visit to France on Wednesday, saying the Libyan leader was not considered a dictator in the Arab world.
Gaddafi's first visit to France in 34 years has been accompanied by the signing of several business deals, and human rights groups and the opposition Socialists have accused Sarkozy of putting commercial interests before human www.reuters.com/article/2007/12/13/us-france-libya-idUSL1249424020071213
Spy Versus Spy
Holy Cow! Raymond Davis is a CIA Spook! Why did the NYTimes Choose to Keep this Obvious Fact a Secret?
The American arrested in Pakistan after shooting two men at a crowded traffic stop was part of a covert, C.I.A.-led team collecting intelligence and conducting surveillance on militant groups deep inside the country, according to American government officials. www.nytimes.com/2011/02/22/world/asia/22pakistan.html?hp
The Worst Person in the History of the World:
Sandy Fonzo has a right to Settle the Score with the POS Judge
Spy Versus Spy Part Two:
US Military Uses Illegal psy-ops Vs Idiot US Senators: The U.S. Army illegally ordered a team of soldiers specializing in "psychological operations" to manipulate visiting American senators into providing more troops and funding for the war, Rolling Stone has learned – and when an officer tried to stop the operation, he was railroaded by military investigators. ..
The orders came from the command of Lt. Gen. William Caldwell, a three-star general in charge of training Afghan troops – the linchpin of U.S. strategy in the war. Over a four-month period last year, a military cell devoted to what is known as "information operations" at Camp Eggers in Kabul was repeatedly pressured to target visiting senators and other VIPs who met with Caldwell. When the unit resisted the order, arguing that it violated U.S. laws prohibiting the use of propaganda against American citizens, it was subjected to a campaign of retaliation.
"My job in psy-ops is to play with people's heads, to get the enemy to behave the way we want them to behave," says Lt. Colonel Michael Holmes, the leader of the IO unit, who received an official reprimand after bucking orders. "I'm prohibited from doing that to our own people. When you ask me to try to use these skills on senators and congressman, you're crossing a line."..
The incident offers an indication of just how desperate the U.S. command in Afghanistan is to spin American civilian leaders into supporting an increasingly unpopular war. According to the Defense Department's own definition, psy-ops – the use of propaganda and psychological tactics to influence emotions and behaviors – are supposed to be used exclusively on "hostile foreign groups." Federal law forbids the military from practicing psy-ops on Americans, and each defense authorization bill comes with a "propaganda rider" that also prohibits such manipulation. "Everyone in the psy-ops, intel, and IO community knows you're not supposed to target Americans," says a veteran member of another psy-ops team who has run operations in Iraq and Afghanistan. "It's what you learn on day one."  http://www.rollingstone.com/politics/news/another-runaway-general-army-deploys-psy-ops-on-u-s-senators-20110223?page=1
Best Thing in History of the World: