Friday, December 17th, 2010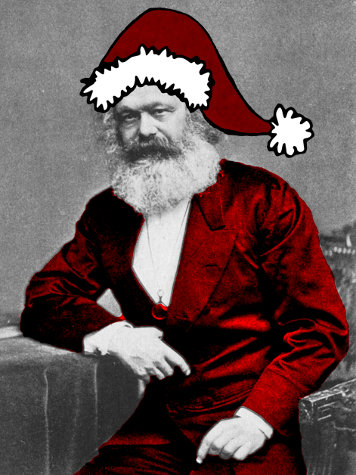 The children walking along the road of truth and reason carry love to all; and they clothe everything in new skies; they illumine everything with an incorruptible fire issuing from the depths of the soul. Thus a new life comes into being, born of the childrens' love for the entire world; and who will extinguish this love–who? What power is higher than this? Who will subdue it? The earth has brought it forth; and all life desires its victory–all life. Shed rivers of blood, nay seas of blood, you'll never extinguish it. Maxim Gorky, Mother, p486.
The Little Red Schoolhouse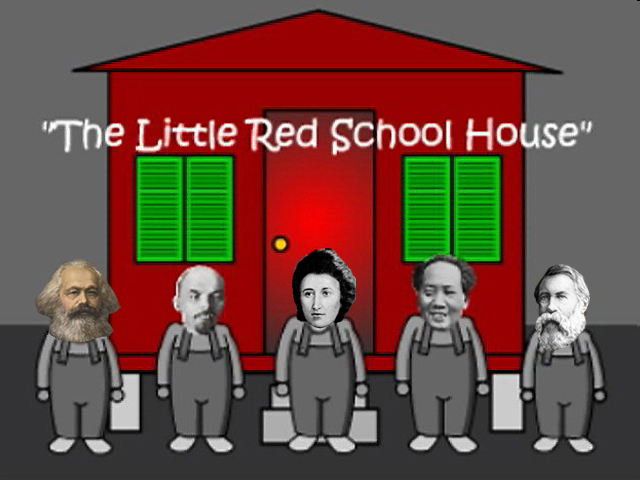 America's Gangster Ed Programs–the Atlanta Scam: criminal investigators began digging anew into accusations of widespread cheating on state standardized tests that had been plaguing the district for two years.
The allegations, which center on dozens of employees who are suspected of changing test answers to improve scores, have already been the focus of investigations by the state and the Atlanta school system that have cost more than $1 million.
The new investigation led an influential group of black pastors to call a news conference to denounce what they say is a "witch hunt" on educators who — however misguided — were just trying to help children.
"Now we want to put teachers in jail, which is absurd," said the Rev. Timothy McDonald, a leader of the group, the Concerned Black Clergy of Metropolitan Atlanta.
At a meeting on Monday, the group vowed to monitor the criminal investigation, and it criticized The Atlanta Journal-Constitution, which first reported the cheating accusations and has thoroughly chronicled the district's troubles.
The Atlanta school board, meanwhile, is in such disarray that a team from the regional agency that provides accreditation for the 49,000-student district showed up on Wednesday for its own investigation into whether infighting was keeping the board from governing properly. www.nytimes.com/2010/12/12/education/12atlanta.html?hpw
Gangster Education Part II: Bank of America Bid-Rigging: In the scheme, when school districts and municipalities looked to invest proceeds from municipal bond sales, the financial institutions would converse behind the scenes to come up with bids that looked competitive but reduced the interest rate and increased the fees the entity would have received in a truly competitive bid process. pottstownmercury.com/articles/2010/12/09/business/srv0000010225115.txt?viewmode=fullstory
CTA/NEA's Fave Gov. Brown Promises to Gut Schools More–Or is this a Scare Tactic To Seek a Tax on Workers? The state is facing a $28-billion budget gap for the next 18 months, and $20-billion deficits through the 2015-16 fiscal year. With education making up roughly 40% of state funding, much of these cuts will likely come from the state's schools.
California's K-12 system has been battered by billions of dollars of cuts in recent years, resulting in widespread teacher layoffs, the overcrowding of the classroom, the shortening of the school year and the elimination of many courses and extracurricular programs. Community colleges have eliminated courses and are turning students away. Students in the UC and Cal State systems have seen sharp fee increases. latimesblogs.latimes.com/california-politics/2010/12/brown-wants-to-complete-budget-in-60-days-predicts-cuts-to-education.html
Polling Americans Shows….Intellectual Morass: An overwhelming majority of Americans are frustrated that it's too difficult to get rid of bad teachers, while most also believe that teachers aren't paid enough, a new poll shows.
The Associated Press-Stanford University poll found that 78 percent think it should be easier for school administrators to fire poorly performing teachers. Yet overall, the public wants to reward teachers — 57 percent say they are paid too little, with just 7 percent believing they are overpaid and most of the rest saying they're paid about right www.detnews.com/article/20101215/SCHOOLS/12150340/1026/Poll-finds-most-want-easier-way-to-fire-bad-teachers
We Say Fight-Back!
La Habra Education Association on Strike: Informal talks between the La Habra School District and the teachers' union produced no agreement over the weekend, so the teachers plan to resume their strike Monday.
According to a statement issued by the La Habra Education Association, its bargaining team was prepared to meet through the night in an attempt to reach an agreement with the school district.
But if there is no resolution, many of the 225 district teachers plan to walk picket lines for a fourth day on Monday outside the district's nine schools.
Following today's general membership meeting, teachers picketed in the neighborhoods of La Habra school board members.
"We are so thankful for the tremendous support of our parent and community members," said LHEA President Danette Brown, noting that some 35 businesses on La Habra Boulevard have posters in their windows supporting the teachers and urging the school board to settle the dispute.
Last week, many parents kept their children out of school in solidarity with the teachers.
The school board voted Nov. 18 to cut teacher salaries by 2 percent and force them to take two furlough days. The teachers will also have to help pay for some of their health insurance benefits.
Teachers earn an average salary of $63,000, with those at the top of the pay scale earning $99,000, said Bill Guy of the California Teachers Association.
Teachers could lose $14,000 to $20,000 in salary and benefits from the cuts, Guy said.

Detroit Symphony Musicians: Toughest Militants in the USA: Striking musicians of the Detroit Symphony Orchestra won a snow-covered victory today when a visiting troupe canceled its 3 p.m. performance at Orchestra Hall.
The bus carrying the Canadian string group Bowfire, all members of the same international union as DSO musicians, pulled up just before noon, encountering about 20 pickets…
Shortly after noon, the DSO issued a statement announcing the "forced last-minute cancellation of its much-anticipated holiday 'Bowfire' concert." The release also noted that the musicians will stage their own concert at St. Anne Catholic Church in Warren, also at 3 p.m. today. www.detnews.com/article/20101212/ENT01/12120320/Picketing-musicians-force-cancellation-of-DSO's-'Bowfire'-concert
Susan Ohanian vs the New York Times–Some News not fit to Print:
This is part of what Susan O wanted to say when the NYT asked her for expert comment. See the full exchange linked below: " "Race to Nowhere" accurately portrays the heartbreaking stress schools place on children. The fear of "not being good enough" now begins with standardized requirements for Pre-K. Although the Times review emphasized the pressure felt by suburban students preparing their resumes for the Ivy League, a Vermont high schooler with an Individualized Education Plan (IEP) wrote six pages of expletives on his federally-required test.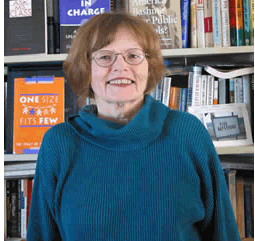 You f_ _ _ ing a_ _holes.
I have been taking these f_ _ _ing tests since first grade and I am f_ _ _ing sick of it. I know I can't spell. You know I can't spell. I have more important things to do than this bulls_ _ _ test. . . . This is a f_ _ _ing waste of time. You could spend this time teaching me something.
Suspended for inappropriate behavior, this youth missed out on the lumberjack test he'd planned to take the next day. The state of Vermont owes him an apology for going along with federal mandates insisting that one size fits all.  http://susanohanian.org/show_commentary.php?id=866
Georgia Prisoners Unite and Strike:
An historic prisoners' strike underway in the state of Georgia with inmates in at least six separate prisons refusing to leave their cells for the third work day.
Of note, this strike seems to be entirely organized by the inmates themselves who have worked across the (particularly in prison) stark lines of race and religion which so often keep workers divided.
When the strike began, prisoner leaders issued the following call: "No more slavery. Injustice in one place is injustice to all. Inform your family to support our cause. Lock down for liberty!"
On Thursday morning, December 9, 2010, thousands of Georgia prisoners refused to work, stopped all other activities and locked down in their cells in a peaceful protest for their human rights. The December 9 Strike became the biggest prisoner protest in the history of the United States.
Thousands of men, from Augusta, Baldwin, Hancock, Hays, Macon, Smith and Telfair State Prisons, among others, initiated this strike to press the Georgia Department of Corrections ("DOC") to stop treating them like animals and slaves and institute programs that address their basic human rights. They set forth the following demands:
* A LIVING WAGE FOR WORK
* EDUCATIONAL OPPORTUNITIES
* DECENT HEALTH CARE
* AN END TO CRUEL AND UNUSUAL PUNISHMENTS
* DECENT LIVING CONDITIONS
* NUTRITIONAL MEALS
* VOCATIONAL AND SELF-IMPROVEMENT OPPORTUNITIES
* ACCESS TO FAMILIES
* JUST PAROLE DECISIONS
libcom.org/news/inmates-six-georgia-prisons-strike-fourth-day-14122010
Cyber-Voters Elect Assange Man of the Year: The controversial founder of WikiLeaks, Julian Assange, has won an online vote to be TIME Magazine's Person of the Year.
The annual online vote asks readers to choose the most influential person, people or things from the previous year.
Readers voted a total of 1,249,425 times, and the favorite was clear, TIME reported. Julian Assange raked in 382,020 votes, giving him an easy first place. He was 148,383 votes over the silver medalist, Recep Tayyip Ergodan, Prime Minister of Turkey. www.cbsnews.com/8301-503543_162-20025550-503543.html
Perpetual War
Rouge Forum End of Year Intelligence Estimate on US Wars: The Empire Lost. The Poor Suffered. We Foresaw That in 2001. It's Still True. But Millions are Dead Now. For What? Imperialism. Mysticism. Opportunism. Racism. Ignorance: all in one.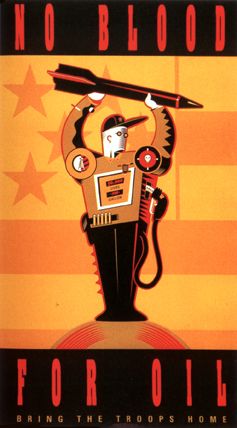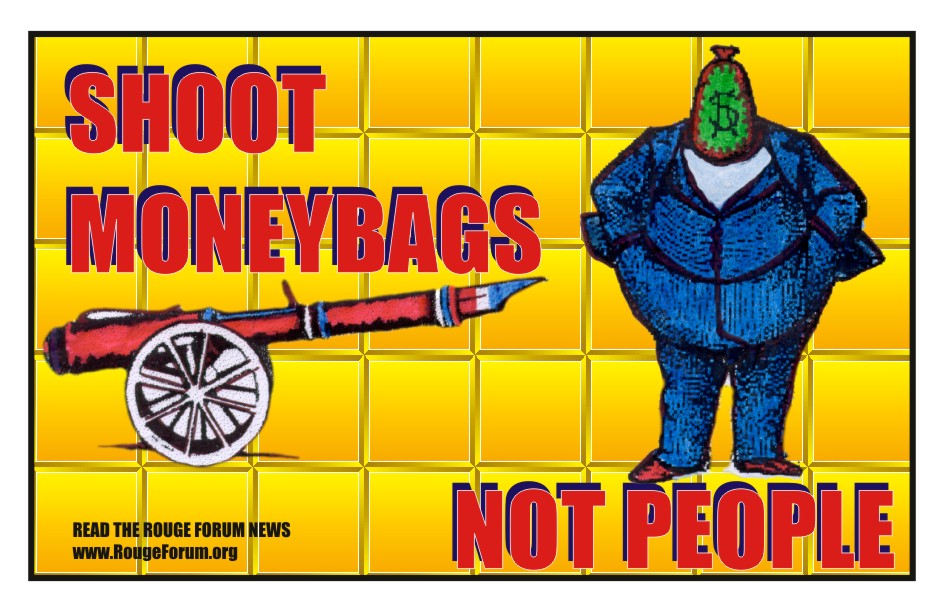 The Two Posters Above are Still on Sale at richgibson.com/noblood.html Below is the 2001 Classic Rouge Forum GOT WAR? flyer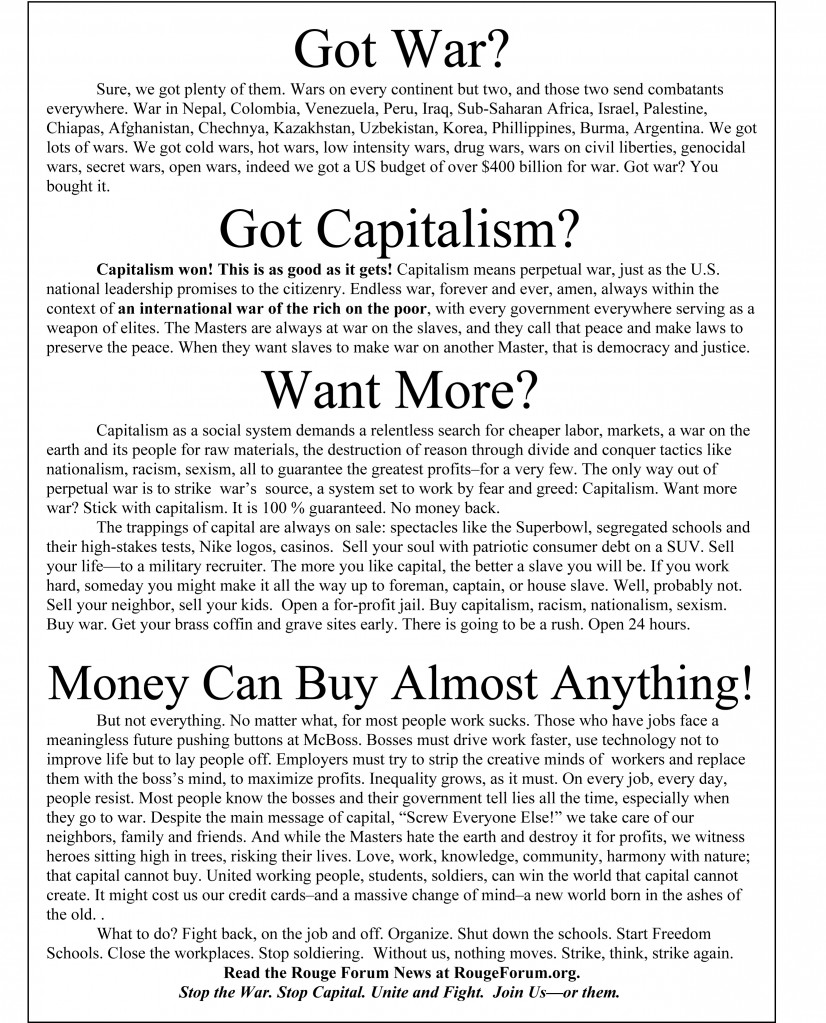 Above: A Railgun: The Highest Form of American Science
Scary Deja Vous: Japan aims its Military Toward China: Japan is about to release new military guidelines that would reduce its heavy armored and artillery forces pointed northward toward Russia in favor of creating more mobile units that could respond to China's growing presence near its southernmost islands, Japanese newspapers reported Sunday.
The realignment comes as the United States is making new calls for Japan to increase its military role in eastern Asia in response to recent provocations by North Korea as well as China's more assertive stance in the region.
The new defense strategy, likely to be released this week, will call for greater integration of Japan's armed forces with the United States military www.nytimes.com/2010/12/13/world/asia/13japan.html?hp
The International Economic War of the Rich on the Dispossessed: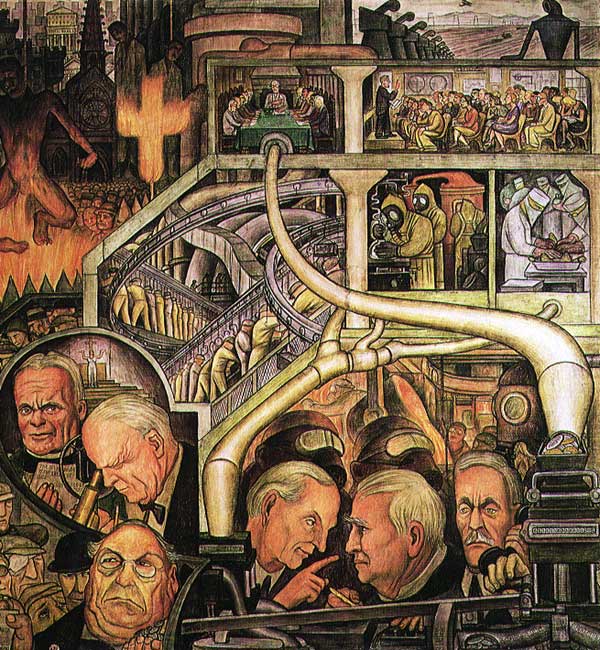 Above, Rivera's banned-by-Rockefeller "Man at the Crossroads" Fresco
Secretive Bankster Elite Rules Derivatives: On the third Wednesday of every month, the nine members of an elite Wall Street society gather in Midtown Manhattan. The men share a common goal: to protect the interests of big banks in the vast market for derivatives, one of the most profitable — and controversial — fields in finance. They also share a common secret: The details of their meetings, even their identities, have been strictly confidential.
Drawn from giants like JPMorgan Chase, Goldman Sachs and Morgan Stanley, the bankers form a powerful committee that helps oversee trading in derivatives, instruments which, like insurance, are used to hedge risk.
In theory, this group exists to safeguard the integrity of the multitrillion-dollar market. In practice, it also defends the dominance of the big banks…
One former regulator warned against deferring to the banks. Theo Lubke, who until this fall oversaw the derivatives reforms at the Federal Reserve Bank of New York, said banks do not always think of the market as a whole as they help write rules.
"Fundamentally, the banks are not good at self-regulation," Mr. Lubke said in a panel last March at Columbia University. "That's not their expertise, that's not their primary interest." www.nytimes.com/2010/12/12/business/12advantage.html?_r=1&nl=todaysheadlines&emc=a2&pagewanted=all
Obamagogue to Spend $1 Billion on his Election: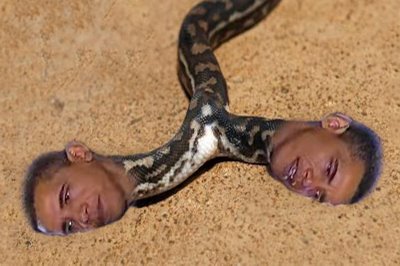 He raised and spent $750 million in the 2008 campaign, and there is already speculation that the cash-collection operation for his 2012 reelection bid will crest the once-unimaginable sum of $1 billion raised. (That's a one and nine zeros. Nine!)
The key difference between 2004 and 2008 was that Obama became the first person to opt out of public financing for the general election since the adoption of the current campaign finance system in the wake of the Watergate scandal. www.washingtonpost.com/wp-dyn/content/article/2010/12/12/AR2010121203181.html?hpid=moreheadlines
Hey 99ers! You're Still Screwed! The extension for unemployment benefits that is part of the compromise tax deal is good news for many of the unemployed, but it won't provide aid to anyone who's been out of a job over 99 weeks.
As we've explained previously, the extension worked out by President Barack Obama and congressional Republicans only lets unemployed workers continue to draw benefits for up to 99 weeks, it doesn't extend the duration of the program beyond that point. Those who have exhausted all currently available benefits — so-called 99ers — won't be granted an extension. That's a concern because the number of 99ers may be increasing.
blogs.wsj.com/economics/2010/12/16/unemployment-extension-wont-help-99ers/
Obamagogue Declares Tax Breaks for Billionaires a Great Victory: In remarks before signing the bill, Obama called it "a substantial victory for middle-class families across the country." He said that "they are the ones hardest hit by the recession" and "the ones who need relief right now."
Obama said he was signing a bill "that will protect the middle class, that will grow our economy and that will create jobs for the American people." www.washingtonpost.com/wp-dyn/content/article/2010/12/16/AR2010121606200.html?hpid=topnews
The Emergence of Fascism as a Mass, Multi-tentacled Popular Movement:
Chalmers Johnson: Those who Torture Outside the Country will do so in: The Treatment of Bradley Manning.
From the beginning of his detention, Manning has been held in intensive solitary confinement. For 23 out of 24 hours every day — for seven straight months and counting — he sits completely alone in his cell. Even inside his cell, his activities are heavily restricted; he's barred even from exercising and is under constant surveillance to enforce those restrictions. For reasons that appear completely punitive, he's being denied many of the most basic attributes of civilized imprisonment, including even a pillow or sheets for his bed (he is not and never has been on suicide watch). For the one hour per day when he is freed from this isolation, he is barred from accessing any news or current events programs. Lt. Villiard protested that the conditions are not "like jail movies where someone gets thrown into the hole," but confirmed that he is in solitary confinement, entirely alone in his cell except for the one hour per day he is taken out. www.salon.com/news/wikileaks/index.html?story=/opinion/greenwald/2010/12/14/manning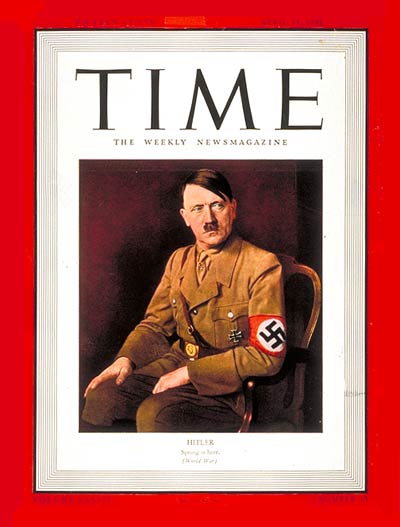 Only the NYTimes Thinks this is News: The US Imported Nazis!
The report, "Hitler's Shadow: Nazi War Criminals, U.S. Intelligence and the Cold War," grew out of an interagency group created by Congress to identify, declassify and release federal records on Nazi war crimes and on Allied efforts to hold war criminals accountable. It is drawn from a sampling of 1,100 C.I.A files and 1.2 million Army counterintelligence files that were not declassified until after the group issued its final report in 2007.
"Hitler's Shadow" adds a further dimension to a separate Justice Department history of American Nazi-hunting operations, which the government has refused to release since 2006 and which concluded that American intelligence officials created a "safe haven" in the United States for certain other former Nazis…  http://www.nytimes.com/2010/12/12/us/12holocaust.html?hp
Why Does the Times Make the Fake "Revelation" above When Even Before Chris Simpson's "Blowback" it was Commonly Known?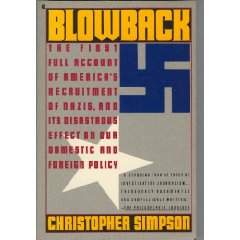 President Harry Truman ordered a program of psychological warfare, covert operations, and intelligence gathering aimed at the USSR and its satellites that began as early as 1945 and significantly accelerated in the years that followed. Recently declassified records make clear that by 1948 Truman had approved claimed to have large networks of sympathizers behind Soviet lines. German intelligence specialists like General Reinhard Gehlen, who had run these networks during the war, asserted that a modest infusion of American money and arms could produce secure organizations of espionage agents, saboteurs, and strong-arm specialists inside the East bloc countries and in the teeming refugee camps that then dotted western Germany. The idea, in a nutshell, was secretly to underwrite the work of these groups in much the same way that the Allies had backed resistance forces inside German-occupied territory during the war…
Contrary to the promises once made inside secret U.S. government councils that the use of such persons would be of practical benefit to this country, the truth is that these Nazi utilization programs have frequently been disasters, even when all ethical considerations are laid aside; Their behind-the-lines spy teams are now known to have been largely nonexistent, and those that did exist were laced with Soviet double agents. Instead of building a relatively airtight anti-Communist spy service, the same old boy circles used to recruit former Nazis ended up giving the USSR a relatively easy way to penetrate legitimate U.S. intelligence gathering on Soviet military capabilities and intentions. U.S.-sponsored secret warfare campaigns employing these recruits failed consistently, leading to the arrests, imprisonments, and sometimes executions of thousands of Eastern Europeans.
The government's use of Nazis and collaborators in intelligence programs has also left a mark on life in the United States itself. This impact is what is known in spy jargon as "blowback," meaning unexpected-and negative effects at home that result from covert operations overseas www.thirdworldtraveler.com/Fascism/DiscreetSilence_B_CS.html
Fascism in Russia(where 20 million died to fight it) : the perpetrators came from Nashi, a youth movement I have criticized. The group's appearance on the public scene has accompanied a new level, and acceptance, of violence in Russian politics; members are called "Nashists" by their opponents, as a pun on "fascists," for good reason.
Nashi is closely tied to the Kremlin, which founded the group five years ago in response to fears that Ukraine's Orange Revolution could inspire similar uprisings in Russia. When newspapers reported that Vasily Yakemenko, its former leader and now the minister for youth affairs, might have been involved in the attack on me, he was granted an unscheduled meeting with Prime Minister Vladimir Putin. Was this meant to show that the authorities didn't share such a suspicion — or that they didn't care whether the accusation was true?
What strikes me about the theories is that, in each case, the ultimate perpetrator is the state. And for some reason that seems acceptable to most Russians: practically no one here has questioned the right of the state to resort to extra-legal violence to maintain power, even against journalists. www.nytimes.com/2010/12/12/opinion/12Kashin.html?_r=1&hp
Mexico's Growing Narco Fascism: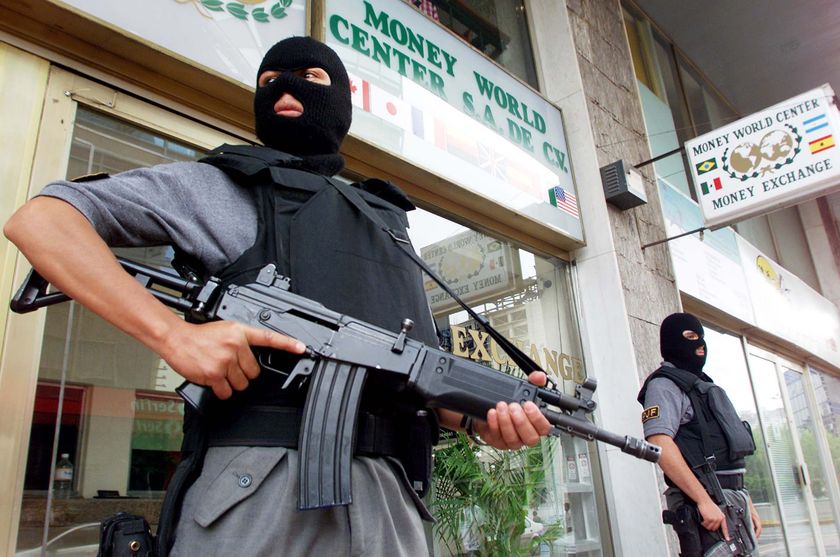 When 35 mayors, prosecutors, police chiefs and other officials in the state of Michoacan were hauled into jail and accused of taking bribes from a cartel last year, it looked as if the federal government was finally attacking the political collusion that has long nurtured the drug gangs.
But instead of heralding a bold new front in Mexican President Felipe Calderon's 4-year-old drug war, the case has turned out to be an embarrassing example of how that offensive is failing.
More than a year later, the prosecution is in ruins. Judges ruled that the evidence was too flimsy, and all but one of the suspects has been freed. Many have returned to their old jobs, accusing the government of a politically motivated witch hunt during an election season.
The high-profile collapse underscores fundamental defects in the Mexican criminal justice system, including the country's ministerios publicos, a combination detective and prosecutor. These officials are poorly paid, frequently lack professional training and have been known to throw cases in exchange for bribes or to escape possible retribution.
www.latimes.com/news/nationworld/world/la-fg-mexico-michoacan-20101212,0,2289242,full.story
www.youtube.com/watch?v=poXCJ_liXTQ&feature=related
Spy Vs Spy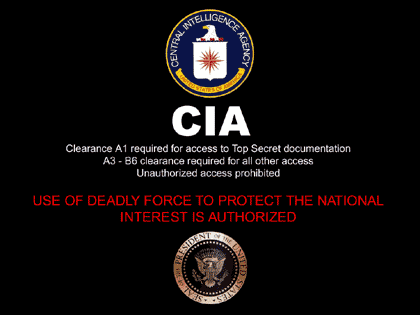 CIA Chief in Pakistan Run Out of the Country! Too Scary For Him! Boo! CIA's top spy in Pakistan has been pulled from his post after a Pakistani tribesman publicly accused him of responsibility in the deaths of three civilians in a drone-fired missile strike in the militant-heavy northwestern borderlands, a U.S. intelligence official said Friday.
The CIA station chief is returning to the United States, the official said, after "terrorist threats against him in Pakistan . . . of such a serious nature that it would be imprudent not to act."
…Last month, a resident of the North Waziristan tribal agency – the epicenter of Islamist insurgents in Pakistan and the target of nearly all strikes by unmanned U.S. aircraft this year – identified and threatened to sue the CIA station chief if he was not compensated for what he said were the deaths of his brother, his son and a friend in a 2009 drone strike. The station chief's name was then widely published in Pakistani media.
This week, the accuser, Kareem Khan, asked police to file a criminal complaint against the station chief and prevent him from leaving the country. Khan and hundreds of other residents of the tribal areas staged a protest against drone strikes last weekend in Islamabad, the capital.
www.washingtonpost.com/wp-dyn/content/article/2010/12/17/AR2010121703105_2.html?hpid=topnews
While CIA Boss Flees The Country, China's Premier Arrives: The Chinese premier has arrived in Pakistan on a visit aiming at reassuring the country that energy, military and economic ties remain tight, despite China's warming relations with India, Pakistan's rival.
Yousuf Raza Gilani, Pakistan's prime minister, and other members of the government received Wen Jiabao and his delegation at Chaklala Air Base in Rawalpindi on Friday.
The Chinese leader arrived after a three-day visit to India, and is expected to sign off on trade deals officials estimated at between $10bn and $14bn with Pakistan, and was likely to pledge Chinese help to develop a strategic port…China wants to use Pakistan as a gateway to the Muslim world and as a new "Silk Road" for China's energy-hungry interior, as well as a balance against India's military rise.
Pakistan, in turn, plans to further rely on China for the bulk of its weapon systems, as a major investor for its ports and roads, and as a counter-weight to American demands and conditions in the fight against "Islamist" militancy.
During his New Delhi visit, Wen used more than $16bn in trade deals and promises of political support to charm India into temporarily setting aside disputes with China. english.aljazeera.net/news/asia/2010/12/2010121742023487595.html
Afghan Drug Lord is US Spy: Under US Rule, and Afghan Narco State: When Hajji Juma Khan was arrested and transported to New York to face charges under a new American narco-terrorism law in 2008, federal prosecutors described him as perhaps the biggest and most dangerous drug lord in Afghanistan, a shadowy figure who had helped keep the Taliban in business with a steady stream of money and weapons.
But what the government did not say was that Mr. Juma Khan was also a longtime American informer, who provided information about the Taliban, Afghan corruption and other drug traffickers. Central Intelligence Agency officers and Drug Enforcement Administration agents relied on him as a valued source for years, even as he was building one of Afghanistan's biggest drug operations after the United States-led invasion of the country, according to current and former American officials. Along the way, he was also paid a large amount of cash by the United States.
Afghan drug lords have often been useful sources of information about the Taliban. But relying on them has also put the United States in the position of looking the other way as these informers ply their trade in a country that by many accounts has become a narco-state.
Italian Court Ups Penalties Against US War Criminal Spies: An Italian appeals court sentenced 23 Americans to up to nine years in jail Wednesday for the abduction of a Muslim cleric, in a symbolic condemnation of the CIA "rendition" flights used by the former U.S. government.
The sentences are tougher than those initially handed down last year. The Americans were all tried in absentia because the United States refused to extradite them.
The court convicted the Americans for the abduction of Egyptian-born cleric Hassan Mustafa Osama Nasr, snatched off a Milan street in 2003 and flown to Egypt for interrogation.
The heaviest sentence — nine years in prison — was handed down to the former head of the CIA's Milan station, Robert Seldon Lady, up from eight years in the 2009 trial.
Twenty-one other former agents and a U.S. air force lieutenant colonel got seven years each — up from five years initially.
The 2009 verdict was the first of its kind against the "rendition" flights practiced by the administration of former U.S. President George W. Bush, which have been condemned by civil society groups as a violation of basic human rights. uk.reuters.com/article/idUKTRE6BE5B420101215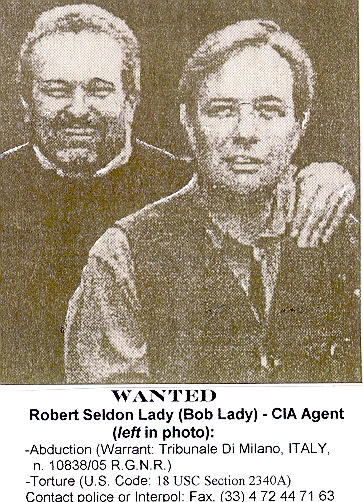 In June 2009 Robert Seldon Lady, was quoted by Il Giornale as saying of the kidnapping, "I'm not guilty. I'm only responsible for carrying out orders that I received from my superiors."
Solidarity Forever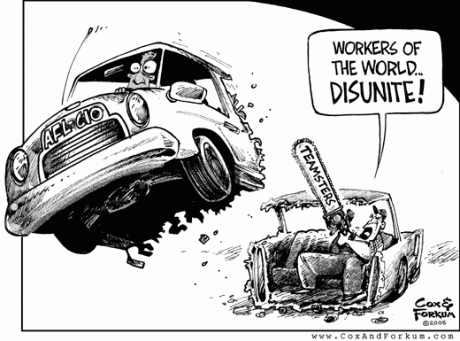 War of All on All in AFL-CIO : Harry Kelber on the Union's Splits: U.S. Labor Is Split over South Korea Free Trade Deal
Two powerful AFL-CIO unions, the United Auto Workers (UAW) and the United Food and Commercial Workers (UFCW) have both endorsed the U.S. -South Korean Free Trade Agreement, each claiming that it would bring more jobs and other advantages to the workers in their respective industries.
But the agreement received strong opposition from several major AFL-CIO unions, including those representing machinists, steelworkers and communications workers, who argued that the deal would lead to a loss of jobs, just as the North American Free Trade Agreement (NAFTA) had done since its enactment in 1993.
AFL-CIO President Richard Trumka also opposed the agreement. "So long as these agreements fall short of protecting the broad interests of American workers and their counterparts around the world in these uncertain economic times, we will oppose them," Trumka said in a statement.
By supporting the agreement, the two unions are breaking with organized labor's traditional opposition to free trade deals as a threat to American jobs. Their breakaway support improves the chances that Congress will approve the agreement. The U.S. had a $6.6 billion merchandize trade deficit with South Korea in the first nine months of this year.
Detroit News: 3 Cheers for Corporate State Unionism: For Michigan to come back, its businesses must squeeze the maximum efficiency out of every dollar invested, says Pat Devlin. "We all have to bring value to the table. We're all in this together."Devlin will preach that message Monday when the Center for Michigan and Business Leaders for Michigan convene a summit of 600 business, community and political leaders in Lansing to discuss common sense reforms.
What makes Devlin's participation in the event notable is that he's a union man — head of the Michigan Building Trades and Construction Council. After enduring a recession that has left 55 percent to 70 percent of members of the various construction unions out of work, Devlin has become a missionary for profits and business efficiency. www.detnews.com/article/20101212/OPINION03/12120310/1008/Unions-getting-profit-religion
Magical Mystery Tour
What Happens to those Who Trail Mammon?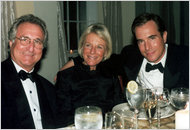 The Madoffs: a Family of Parasites, jailed Bernie, Ruth and Dead Mark
Mark Madoff, the older of Bernard L. Madoff's two sons, hanged himself in his Manhattan apartment on Saturday, the second anniversary of his father's arrest for running a gigantic Ponzi scheme that shattered thousands of lives around the world.
www.youtube.com/watch?v=Xi7FHz3cdes
Dead Lying Failed (Vietnam, Bosnia, Afghanistan)Imperialist: Holbrooke responded by telling her to end the war…http://www.washingtonpost.com/wp-dyn/content/story/2010/12/13/ST2010121305455.html?sid=ST2010121305455
Rapist Priests Everywhere! Not All are Elvis Impersonators: The Vatican tried to stop Dublin church leaders from defrocking a particularly dangerous pedophile priest and relented only after he raped a boy in a pub restroom, an investigation reported Friday. ..They described Walsh as "probably the most notorious child sexual abuser" of the 46 cases they investigated covering the years 1975-2004. Walsh often performed as an Elvis impersonator in a traveling Catholic song-and-dance production popular with children called the "All Priests Show." The report found this increased his easy access to victims, as did his interest in scouting groups and taking altar boys on visits to the Dublin seminary, Clonliffe College…
Archbishop Martin said today that he believed that Walsh, who was
defrocked by Pope John Paul II in 1989 on the advice of Cardinal
Desmond Connell, most likely abused hundreds of children in the
Ballyfermot parish. "At least seven priests in the archdioceses were
aware of his behaviour," said Archbishop Martin today. This is
outlined in Chapter 19, which says the knowledge that Walsh was a
serial paedophiliac offender was held by the seven by as early as
March 1985. Rather than being suspended, he was removed from
Ballyfermot and placed in Westland Row parish that year.http://www.wtop.com/?nid=383&sid=2204721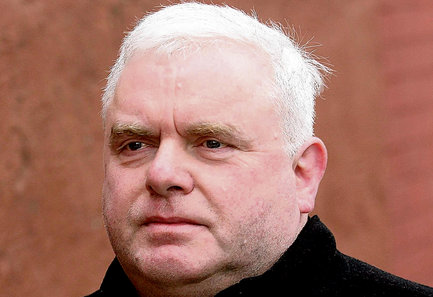 Above–rapist priest and Elvis Imitator Tony Walsh
New York Rapist Only One of Many: Nineteen priests in the archdiocese have been discharged from the priesthood since 2002, when a sexual abuse scandal shook the church nationwide, but Monsignor Kavanagh is the only one who has pursued the full complement of appeals available to him, Mr. Zwilling said. He is also one of the highest-ranking local priests to have been caught up in the accusations.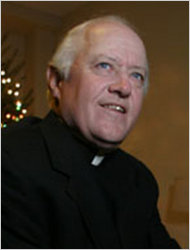 Above, Priest Kavanaugh
If you Dress Up in a Funny Outfit, Can You Avoid Criminal Charges and insist on a Church Trial?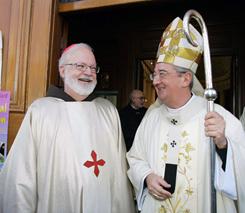 Worst Thing in the History of the World
Nearly the Entire Detroit Political Class Headed to Jail: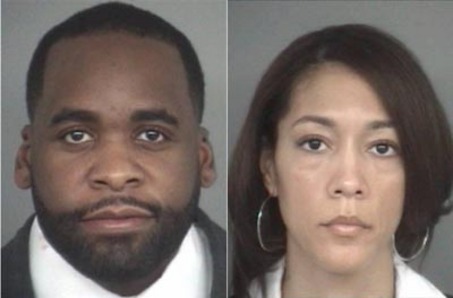 A federal grand jury has indicted former Detroit Mayor Kwame Kilpatrick, his father Bernard Kilpatrick, former Kilpatrick aide Derrick A. Miller, Kilpatrick pal Bobby Ferguson and former Detroit water chief Victor Mercado, the U.S. Attorney's Office said today.
The indictment charges them with racketeering conspiracy and accuses them of extortion, bribery and fraud. The indictment alleges Ferguson received "tens of millions of dollars from municipal contracts" after the power of the mayor's office was used to coerce others to steer work his way.
Some of that money was then shared with Kwame Kilpatrick and his father, Bernard, the indictment alleges. Kilpatrick and his dad also are accused of extorting hundreds of thousands of dollars in cash, free flights and other benefits from a variety of contractors. Some of the allegations date back to Kilpatrick's days as a state representative before he was elected mayor in 2001.
Ferguson, a construction and demolition contractor who is a close friend of Kilpatrick's, kicked back at least $424,000 in cash and other benefits to the former mayor and Bernard Kilpatrick deposited more than $600,000 in cash into his personal bank accounts while his son was mayor, the indictment alleges. www.detnews.com/article/20101215/METRO01/12150382/Kilpatrick-indictment–'Tens-of-millions-of-dollars'-misused
At least 300 motorists stranded for 40+ hours–in Canada!!!
Best Thing in the History of the World: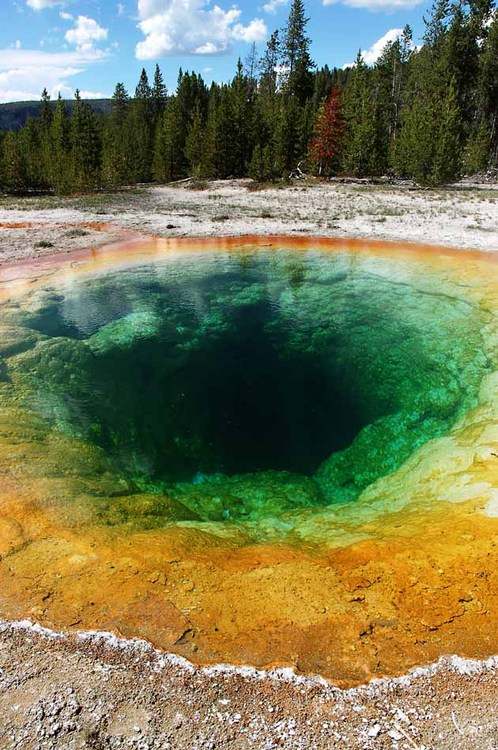 Morning Glory Pool by Old Faithful, Yellowstone
Captain Beefheart Leaves the Building
So Long and Great Respect Bill Buchanan:
Thanks to Adam and Gina, Jack G, Doug and Connie, Faith and Craig, Wayne, Doug, Bryan, Elisha, Peter and John M, Steve, Ricky, Tom H, Perry, Barb and Ken, Sherry, Marc and Bonnie, Gary W, Sandy and Sally, the Susans, nancy M, Billy H, Elvira and Tony, Candace, Annie, Larium, Nicole, Arturo, Marisol, Joe B and C, and Amber.
Good luck to us, every one.
r