Tuesday, October 26th, 2010
Little Red Schoolhouse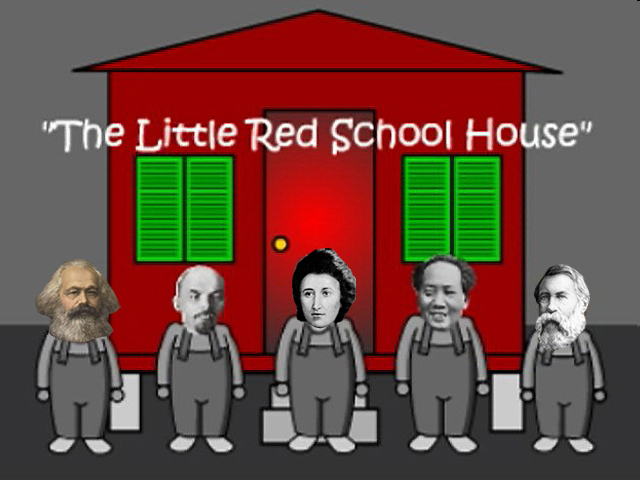 Chicago Whittier Sitdowners Hold Strong For Complete Victory:
"I was ignored, laughed at, intimidated and treated like a criminal by CPS."
Part of Arceli Gonzalez's opening remark Wednesday during her allotted time at the Chicago Public Schools board meeting is no longer true. The parents and activists protesting at Whittier Elementary School are not being ignored.
After her contentious exchange with schools CEO Ron Huberman, Gonzalez and over a dozen other supporters of the protest filtered out of the board chamber. In the hallway, a gaggle of media crowded around for an impromptu press conference where Gonzalez said the sit-in would not end even if they received Huberman's promised letter outlining prior agreements to preserve the field house they call "La Casita."
For the last 43 days, parents and activists from Pilsen have been living in the field house at Whittier, 1900 W. 23rd St., to protest the plan to demolish the decades-old building – deemed unsafe by CPS – and replace it with green space. It was to be the final part of $1.4 million in improvements to Whittier in the last year. The group demands a library for the school, one of over 160 in the system without a formal library.
"We don't want 10 books in the school, we want a full top-of-the-line library for our kids, just like other schools are getting," said Evelin Santos, a DePaul student from Pilsen who has been very active in the protests.
news.medill.northwestern.edu/chicago/news.aspx?id=171262
One of the Best Big Test Videos Yet: Male figure: Let's begin today's collaborative planning meeting with successes and challenges. Who would like to volunteer some successes? You are all required to volunteer successes.
Female voice: My students are not understanding verse structure. We have been working on it for three days….
Male voice: That is not a success. You need to mention a success for this week.
Female voice: There have not been any this week. Today is Tuesday and Monday was a holiday.
Male voice: See, it was not hard to find a success. Stop being so negative and we can get more done. Does anyone have a challenge to volunteer? voices.washingtonpost.com/answer-sheet/school-turnaroundsreform/ha-funny-scary-education-conversation.html?wprss=answer-sheet

The Education Agenda is a War Agenda: CHULA VISTA, CA – Southwestern College today announced a major new partnership with the U.S. Navy and Department of Labor to train students for long-term, well-paying careers in ship maintenance and repair. The new program is the only one of its kind in California and open to anyone interested in becoming part of the Navy's civilian workforce.
"Our students want an education that translates into a career. With this new partnership, they have yet another way to get it," Dr. Raj K. Chopra, Superintendent/President of Southwestern College, said. "Working with our federal partners, Southwestern College is proud to offer diverse learning opportunities to our students and community."
The program, called the Southwest Regional Apprenticeship Program, is based at the Naval Air Station North Island in Coronado. It includes academic and trade-based training, and provides its graduates U.S. Navy and Department of Labor Journeyworker certifications and a Certificate of Proficiency from Southwestern College.
So You Want to Get a PhD in the Humanities? (Poignant video):
www.xtranormal.com/watch/7451115/?ref=nf
Another Creative Video by Jerry "Gangs in the Hat!" www.xtranormal.com/watch/7471189/
Stroker Mathis Sentenced: Former Detroit Public School Board President Otis Mathis was sentenced today to two years probation for misconduct in office related to accusations he fondled himself during a private meeting with the woman who was then serving as the district's superintendent. www.detnews.com/article/20101026/SCHOOLS/10260389/1408/LOCAL
More Detroit School Administrator/Gangsters Charged: A federal grand jury today whacked a former Detroit Public Schools executive with new charges in a public corruption scandal involving inflated million-dollar invoices, kickbacks and expensive parties that were thrown on the school district's dime.
Charged in the superseding indictment was Stephen Hill, 59, a former executive director of the Risk Management Department of the DPS, who allegedly accepted and demanded kickbacks from a vendor accused of looting more than $3 million from the school district by over-billing for inadequate work. Hill also accepted kickbacks in the form of a brand-new Mustang GT convertible in 2005, and a new Dodge Durango SUV in 2006, the indictment said.
Hill also is charged with conspiring to use DPS funds to pay for his $40,000 retirement party when he temporarily left DPS in September 2005.
Also charged in the superseding indictment were Sherry Washington, her sister Gwendolyn Washington, Marilyn White, and Sally Jo Bond — all of whom were partners in company called "Associates for Learning."
According to the indictment, Associates for Learning contracted with Hill to facilitate a wellness program for DPS employees that was supposed to cost $150,000. The company ended up billing DPS more than $3 million for the program, and gave Hill 5% of the total amount as a kickback, the indictment said.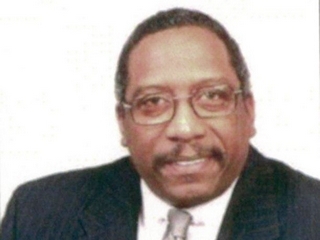 www.freep.com/article/20101027/NEWS01/101027063/1318/Ex-DPS-executive-others-indicted-in-corruption-case
Perpetual War
2011 Exit? No! We Meant 2014. Pretty Much the Same Thing, eh? (call in another airstrike):
A chorus of military and diplomatic voices is predicting that combat operations in Afghanistan will likely continue for several more years, despite a promised U.S. timetable to begin withdrawing troops next July.
Among those casting doubt on an aggressive drawdown in 2011 are former Marine Corps Commandant James Conway, who retired Friday; military analysts; NATO diplomats who will gather for a summit next month; and Marines serving in Helmand province interviewed by The San Diego Union-Tribune. www.signonsandiego.com/news/2010/oct/25/allies-point-to-2014-for-exit-date/
From an On-the-Spot WashPost Reporter: Thanks to WikiLeaks, though, I now know the extent to which top American leaders lied, knowingly, to the American public, to American troops, and to the world, as the Iraq mission exploded. The American troops, who were risking their lives on the ground, witnessed and documented it themselves…was not "calming," as Rumsfeld would have it. Rather, this was sectarian war, and, over the next few months, the Bush administration's effort to convince the world that everything was hunky-dory in Iraq became less and less sustainable as the slaughter continued. According to the synopsis of the WikiLeaks documents by The New York Times, the death toll in 2006 reached beyond 3,000 one month.
Late last year, I sat in on a seminar at Harvard's John F. Kennedy School of Government led by a former Bush official in Iraq and heard her say matter-of-factly that more than 1,000 people died in one day in the immediate killing after the Samarra bombing.
But as the WikiLeaks documents show, Casey and Rumsfeld must have known that all along, owing to the accounts from their forces. Despite the statements of the top U.S. commanders at the time, it wasn't the journalists in Baghdad who were lying. www.thedailybeast.com/blogs-and-stories/2010-10-25/wikileaks-shows-rumsfeld-and-casey-lied-about-the-iraq-war/2/
Taliban Still Rising: An intense military campaign aimed at crippling the Taliban has so far failed to inflict more than fleeting setbacks on the insurgency or put meaningful pressure on its leaders to seek peace, according to U.S. military and intelligence officials citing the latest assessments of the war in Afghanistan.
Escalated airstrikes and special operations raids have disrupted Taliban movements and damaged local cells. But officials said that insurgents have been adept at absorbing the blows and that they appear confident that they can outlast an American troop buildup set to subside beginning next July.
www.washingtonpost.com/wp-dyn/content/article/2010/10/26/AR2010102606987.html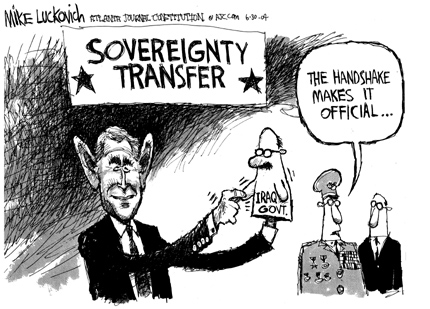 Puppet Gov on Obamagogue and the War Criminals: Hey Liberals How Are the Prosecutions Going?

Rats and Buggery! Is Our Puppet Their Puppet Too? Give Us Back the Strings! One evening last August, as President Hamid Karzai wrapped up an official visit to Iran, his personal plane sat on the airport tarmac, waiting for a late-running passenger: Iran's ambassador to Afghanistan.
The ambassador, Feda Hussein Maliki, finally appeared, taking a seat next to Umar Daudzai, Mr. Karzai's chief of staff and his most trusted confidant. According to an Afghan official on the plane, Mr. Maliki handed Mr. Daudzai a large plastic bag bulging with packets of euro bills. A second Afghan official confirmed that Mr. Daudzai carried home a large bag of cash.
"This is the Iranian money," said an Afghan official, who spoke on condition of anonymity. "Many of us noticed this." www.nytimes.com/2010/10/24/world/asia/24afghan.html?hp
Yup and Damn Right They Give Me Bags of Cash. So Do You. It's the Price of Patriotism says Lap Dog Karzai: President Hamid Karzai acknowledged on Monday that he regularly receives bags of cash from the Iranian government in payments amounting to millions of dollars, as evidence mounted of a worsening rift between his government and its American and NATO supporters. "They do give us bags of money — yes, yes, it is done," Mr. Karzai said, responding to questions about a report in The New York Times on Sunday that Iran sends regular cash payments to his chief of staff, Umar Daudzai. "We are grateful to the Iranians for this."
"Patriotism has a price," he said.
Afghan and Western officials said the Iranian payments were intended to drive a wedge between Mr. Karzai and the United States and NATO. www.nytimes.com/2010/10/26/world/asia/26afghan.html?_r=2&hp
Hey Karzai! Watch Your Back!
US To Pay Billions in Bribes Asking Jihadists to be Nice: The Obama administration announced Friday that it would seek an additional $2 billion in aid for Pakistan's military, despite continuing disagreements with Islamabad over the war against militants.
The five-year package, which supplements $7.5 billion in civilian aid to Pakistan, would raise annual military aid to about $400 million a year from $300 million. The plan is subject to congressional approval and won't come up for consideration until next year, congressional sources said.
The announcement came at the end of a week of high-level meetings between U.S. and Pakistani officials in Washington, which were used to promote an image of harmony between the countries. www.latimes.com/news/nationworld/world/la-fg-pakistan-military-aid-20101023,0,3601041.story
WikiLeaks First US CyberTarget? Forget China or Al Qaeda. In a twist that would have been inconceivable even a few months ago, the WikiLeaks.org Web site is being proposed as the first public target for a U.S. government cyberattack.
After the shadowy, document-leaking organization distributed nearly 400,000 classified documents from the Iraq war on Friday, Washington officialdom responded with a torrent of denunciations alleging violations of national security and endangering U.S. military operations.
In a rare point of congruence, the Washington Post and the Washington Times both criticized the release, with the smaller paper arguing that WikiLeaks' offshore Web site should be attacked and rendered "inoperable" by the U.S. government. Some hawkish conservatives followed suit, including Christian Whiton, a State Department adviser under President George W. Bush, who wrote a column calling on the U.S. military to "electronically assault WikiLeaks and any telecommunications company offering its services to this organization." www.cbsnews.com/8301-501465_162-20020869-501465.html?utm_source=feedburner&utm_medium=feed&utm_campaign=Feed%3A+CBSNewsWebMD+(CBS+News%3A+Health%3A+WebMD)
Financial World Raises its Finger to US Demands On Currency and Trade (hey, are we supposed to keep shopping and will you please send some checks so we can?): In the wake of the global financial crisis and devastating recession, U.S. officials have pressed harder for export-dependent countries to import more and grow their economies by boosting domestic demand. At the same time, the U.S. and other countries that have been running deficits would need to consume less while lifting savings and investments. The shift, officials argue, is necessary for strong, sustained growth of the global economy and to prevent a recurrence of the recent worldwide crisis.
While agreeing to the general principles of this framework, the U.S.-backed proposal to set global curbs on the current-account surpluses and deficits of major countries drew immediate opposition from some key American allies and trading partners, underscoring the difficulties ahead in restoring stability to the global economy. www.latimes.com/news/politics/la-fi-g20-meeting-20101024,0,1753309.story?track=rss&utm_source=feedburner&utm_medium=feed&utm_campaign=Feed%3A+latimes%2Fmostviewed+%28L.A.+Times+-+Most+Viewed+Stories%29
www.youtube.com/watch?v=w_IOOIK4SA4
Shazam! We Got Some Techno War For You Creeepos! Doom This Time! Oops. Send More Money! A Boeing 747 jumbo jet outfitted with a massive laser gun failed to knock out a dummy missile over the Pacific Ocean, marking the second consecutive setback for a key missile defense program that is years behind schedule and plagued with cost overruns.
The heavily modified 747, dubbed Airborne Laser Test Bed, was unable to fire the laser gun because its onboard sensors could not accurately track the missile, the Pentagon's Missile Defense Agency said. It was the second time in as many months in which the laser failed to hit the target…It has taken nearly 15 years and at least $4 billion to develop the airborne laser, which has been designed and tested in Southern California www.latimes.com/business/la-fi-airborne-laser-20101023,0,6448960.story
Stratfor on The Obamagogues Iran Option: Obama has avoided overt military action against Iran, so a confrontation with Iran would require a deliberate shift in the U.S. stance, which would require a justification.
The most obvious justification would be to claim that Iran is about to construct a nuclear device. Whether or not this is true would be immaterial. First, no one would be in a position to challenge the claim, and, second, Obama's credibility in making the assertion would be much greater than George W. Bush's, given that Obama does not have the 2003 weapons-of-mass-destruction debacle to deal with and has the advantage of not having made such a claim before. Coming from Obama, the claim would confirm the views of the Republicans, while the Democrats would be hard-pressed to challenge him. In the face of this assertion, Obama would be forced to take action. He could appear reluctant to his base, decisive to the rest. The Republicans could not easily attack him. Nor would the claim be a lie. Defining what it means to almost possess nuclear weapons is nearly a metaphysical discussion. It requires merely a shift in definitions and assumptions. This is cynical scenario, but it can be aligned with reasonable concerns.
As STRATFOR has argued in the past, destroying Iran's nuclear capability does not involve a one-day raid, nor is Iran without the ability to retaliate. Its nuclear facilities are in a number of places and Iran has had years to harden those facilities. Destroying the facilities might take an extended air campaign and might even require the use of special operations units to verify battle damage and complete the mission. In addition, military action against Iran's naval forces would be needed to protect the oil routes through the Persian Gulf from small boat swarms and mines, anti-ship missile launchers would have to be attacked and Iranian air force and air defenses taken out. This would not solve the problem of the rest of Iran's conventional forces, which would represent a threat to the region, so these forces would have to be attacked and reduced as well.
An attack on Iran would not be an invasion, nor would it be a short war (reprinted from Stratfor with permission) www.stratfor.com/weekly/20101025_us_midterm_elections_obama_iran?utm_source=GWeekly&utm_medium=email&utm_campaign=101026&utm_content=readmore&elq=b56211105cdd4b62b546af54c4e36540
War on Drugs is War on Minority People: "In the last 20 years, California made 850,000 arrests for possession of small amounts of marijuana, and half-a-million arrests in the last 10 years. The people arrested were disproportionately African-Americans and Latinos, overwhelmingly young people, especially men."
For instance, the report says that the City of Los Angeles "arrested blacks for marijuana possession at seven times the rate of whites."
This imbalance is not specific to California; it exists across the country.
One could justify this on some level if, in fact, young blacks and Hispanics were using marijuana more than young whites, but that isn't the case. According to the National Survey on Drug Use and Health, young white people consistently report higher marijuana use than blacks or Hispanics. www.nytimes.com/2010/10/23/opinion/23blow.html?_r=1&scp=1&sq=charles%20blow%20smoke&st=cse
Election Shell Game:
www.youtube.com/watch?v=vqRccJDX2v0   
Buy My Vote! richgibson.com/buymyvote.html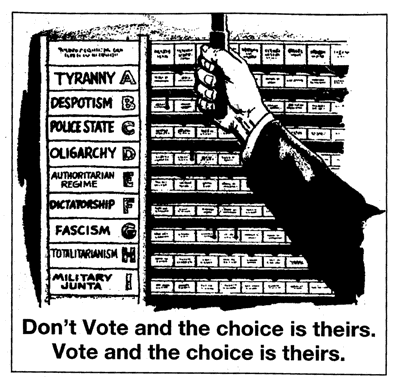 NEA Spending Machine Cranks Out Another $15 Million: The National Education Association (NEA) launched a $15 million ad campaign on Wednesday to help elect several Democratic lawmakers. thehill.com/blogs/ballot-box/house-races/123007-teachers-union-launches-15-million-ad-mail-campaign-for-dems
www.youtube.com/watch?v=sqG8aVcxtuM
Hey! Demagogues! Gossips! Whores! Politicos!There's a War(s) On! Both Democrats and Republicans appear to have decided that talking about the wars is not in their best interest. Democrats are divided on the war, and do not want to air internal divisions in a year when they have so many other problems. Republicans are unified in support of the war in Afghanistan and the president's decision to send more troops there, but see no need to stress an issue on which they are more or less allied with Mr. Obama. http://www.nytimes.com/2010/10/29/us/politics/29war.html?_r=1&hp
Tomgram–Winners and Losers as Hysteria Builds About the Shell Game:
Prospective Winners
Osama bin Laden: Who woulda thunk it? More than nine years after 9/11, Osama bin Laden and his number two compadre, Ayman al-Zawahiri, are believed to be alive, well, and living comfortably in the Pakistani borderlands with not a cave in sight, according to the best guesstimate of a "NATO official who has day-to-day responsibility for the war in Afghanistan." With the globe's "sole superpower" eternally on his trail — admittedly, the Bush administration took a few years off from the "hunt" to crash and burn in Iraq — he's a prospective global winner just for staying alive. But before we close the books on him, he gets extra points for a singular accomplishment: with modest funds and a few thousand ragtag masked recruits, swinging on monkey bars and clambering over obstacles in "camps" in Afghanistan, he managed to lure the United States into two financially disastrous, inconclusive wars, one in its eighth year, the other in its tenth. To give credit where it's due, he had help from the Bush administration with its dominatrix-like global fantasies. Still, it's not often that someone can make his dreams your nightmares on such a scale.
The Taliban: Here's another crew heading toward the winner's circle after yet another typically fraud-wracked Afghan parliamentary election conferring even less legitimacy on President Hamid Karzai's toothless government in Kabul. Think of the Taliban as the miracle story of the global backlands, the phoenix of extreme Islamic fundamentalist movements…. www.tomdispatch.com/post/175312/tomgram:_engelhardt,_placing_your_global_bets/
There Goes the Economy:
The Thieving Bastards Lied Again: The United States Treasury concealed $40 billion in likely taxpayer losses on the bailout of the American International Group earlier this month, when it abandoned its usual method for valuing investments, according to a report by the special inspector general for the Troubled Asset Relief Program…"In our view, this is a significant failure in their transparency," said Neil M. Barofsky, the inspector general, in an interview on Monday.
In early October, the Treasury issued a report predicting that the taxpayers would ultimately lose just $5 billion on their investment in A.I.G., a remarkable outcome, since the insurance company was extended $182 billion in taxpayer money in the early months of its rescue. The prediction of a modest loss, widely reported as A.I.G., the Federal Reserve and the Treasury rushed to complete an exit plan, contrasted with an earlier prediction by the Treasury that the taxpayers would lose $45 billion. www.nytimes.com/2010/10/26/business/26tarp.html
Stiglitz: Jail the Bastards: Legal penalties for financial fraud in the U.S. have become "just a cost of doing business," Stiglitz said. "It's like a parking fine. Sometimes you make a decision to park knowing that you might get a fine because going around the corner to the parking lot takes you too much time."
"We fine them, and what is the big lesson?" said Stiglitz. "Behave badly, and the government might take 5% or 10% of what you got in your ill-gotten gains, but you're still sitting home pretty with your several hundred million dollars that you have left over after paying fines that look very large by ordinary standards, but look small compared to the amount that you've been able to cash in."
Taken together, Stigliz said, this system of widespread fraud, lax regulation and non-deterrent enforcement, created a system of skewed incentives that rewarded criminality, gambling and other bad behavior, and left American workers, investors and homeowners holding the bill.
Meanwhile, the astonishingly disproportionate influence of the big banks and corporations on the American political system has allowed powerful executives to exert their will on the U.S. government at the expense of the people, Stiglitz said….
What should be done? "I think we ought to go do what we did in the S&L [crisis] and actually put many of these guys in prison," said Stiglitz. "Absolutely. These are not just white-collar crimes or little accidents. There were victims. That's the point. There were victims all over the world."
Among the casualties of this whole mess, according to Stiglitz? Faith in the legal system itself. "The legal system is supposed to be the codification of our norms and beliefs, things that we need to make our system work," he said. "If the legal system is seen as exploitative, then confidence in our whole system starts eroding." www.dailyfinance.com/story/investing/joseph-stiglitz-corporate-crooks-to-jail/19684353/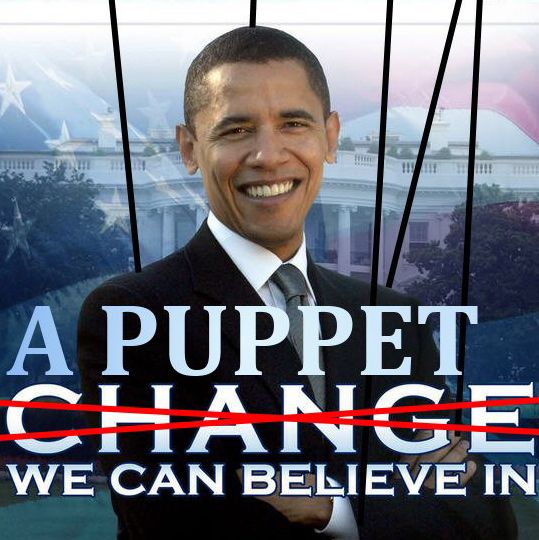 Fasenfest on the Continuing Financial Collapse (not for them, for us): Bank profits in the first quarter of 2010 soared to an amazing $18bn, with 'big' banks (defined as those with over $10bn in assets) booking almost $16bn in profits, over 85 percent of total bank profits. And yet, in the same FDIC Quarterly Banking Profile, First Quarter 2010 (www2.fdic.gov/qbp/2010mar/qbp.pdf), it is reported that about 775 banks are in danger of failing. The banking industry is shaking out, with all signs pointing to consolidation – apparently worries over banks being 'too big to fail' translates into 'let's get bigger'. Furthermore, one of the main reasons for this large upsurge in profits is that big banks have drastically reduced the amount set aside to cover potential losses. These are the big banks that received major infusions of taxpayer dollars to sustain them during the 2008–9 financial crises as a result of under-estimating risk and taking big financial losses (many have returned these TARP funds to relieve themselves of the limited TARP-related obligations and controls; see bailout.propublica.org/list/index for an accounting). And now these are the same banks which are holding on to capital and making it near impossible for small businesses to borrow in order to expand and hire (it is a well rehearsed tale that most job growth occurs with the expansion of small businesses). The profit picture is rosy for manufacturing as well. After all, as the US Census Bureau News reported (www2.census.gov/econ/qfr/current/qfr_mg.pdf), in the first quarter of 2010 manufacturing firms earned $107.8bn in profits, up about $4.5bn from the previous quarter.
These are not numbers one expects to see in a society whose economy seems to be tanking or in a tailspin (or so it would seem when you are on the bottom). How can one explain these two sets of numbers? In the end it is easy. First, as has always been the case, productivity gains have enabled many manufacturers to maintain or increase output (and after all, whether you adhere to basic Marxism or capitalism, both teach you that you have to produce to generate profits), all with fewer and fewer employees. As noted in a report to Congress (Platzer and Harrison, 2009: 8) there were almost four million manufacturing jobs lost between 2000 and 2008, yet manufacturing output between 1997 and 2005 increased by 60%, a clear indication of the productivity gains that require fewer workers in this sector. Since 2008 the forecast for employment in manufacturing continues to worsen even as production and (as we note above) profits continue to climb.
Clearly, as Rick Wolff (2010) points out, this truly is a recovery for a very few. (Fasenfest in Critical Sociology 37(1) 3-6, 2010–"Capitalism's Shell Game).
NPR on the Latest of the Housing/Finance Crisis. No Accountability. None. www.npr.org/templates/rundowns/rundown.php?prgId=13
Bloomberg: Rich Got Really Richer and Workers (and Jobless) Poorer: As the recession pushed U.S. incomes down last year, America's highest earners — 74 people who made more than $50 million — saw their pay more than quintuple on average to a record $519 million each.
Those top-end Americans earned a combined $38.4 billion in 2009, up from $11.9 billion earned by 131 individuals with wages above $50 million in 2008, according to Social Security Administration data. Nationally, the average annual wage fell by $384 to $39,269 and the median wage fell by $253 to $26,261 during the worst economic slump since the Great Depression.
www.bloomberg.com/news/2010-10-25/america-s-top-earners-saw-pay-quintuple-last-year-to-average-519-million.html
Financial Times–Why Would Anyone Buy a Negative Rate Bond? Because the Dollar May Collapse! Never too Late to Panic: The abnormal state of the credit markets came into focus as the US Treasury sold bonds with negative interest rates for the first time and Goldman Sachs prepared to issue its first 50-year debt deal.
Both developments on Monday highlighted the difficult choices facing investors at a time when interest rates are at historical lows and the Federal Reserve is moving towards more asset purchases aimed at boosting the economy and staving off deflation. Investors who think the Fed will succeed in its efforts – which would lead to higher inflation – accepted a yield of minus 0.55 per cent on $10bn of Treasury inflation protected securities, or Tips, which compensate holders if the consumer price index rises…"We are seeing longer-term-thinking clients becoming increasingly wary of bonds and hedging against inflation. Shorter-term thinkers are still willing to buy bonds, on the presumption that they are nimble enough to get out when inflation comes to push yields up." www.ft.com/cms/s/0/dfa5ee7c-e08e-11df-abc1-00144feabdc0.html
We Say Fight Back.
www.youtube.com/watch?v=AtZV5XdfqrI
Workers Tell Unionites Who Spend $100 Million Plus On Electoral Sham, "They're All Crooks. Go Away You Shills" It was a beautiful autumn morning, but Mr. Turosky, a retired steelworker himself, greeted them with surprising gruffness. He said he wasn't buying what they were selling; in fact, he wasn't going to vote at all, even though he is a lifelong Democrat.
"I'm mad at all of them; they're all crooks," he said, angry that the government is not increasing his monthly Social Security payments for the second year in a row. "I have no use for any of them."
Poland Strikes and Tenant Actions Continue: Today tenants blocked rush hour traffic and demonstrated against city housing policy, calling for the dismissal of the entire adminstration and condemning the role of all authorities in supporting the system of exploitation and speculation. zspwawa.blogspot.com/2010/10/tenants-protest-strike-actions-continue.html
Pa Teachers On Strike (don't mess with football): BETHEL PARK, Pa. — After weekend negotiations ended without a deal, the Bethel Park Teachers Union began striking on Monday.
All classes in the Bethel Park School District were canceled beginning Monday, Oct. 25.Athletic events will continue as scheduled. Bethel Park High School students who attend the Steel Center Area Vocational Technical School will continue to attend at their regularly scheduled times and will be transported from their regular bus stops, rather than from school.

Zbig Brizenski on It is Easier to Kill People than Control Us and THE UPRISING!

Solidarity Forever
Harry Kelber on the AFL-CIO's Bogus Working America Membership: As a member of Working America, what is expected of you? The short answer is: nothing. There are no meetings, conferences or workshops, where you and other members can get together to discuss the organization and its problems. All decisions are made in-house, without input from members.
If you would like to run for a position on the organization's board of directors, forget it. There are no elections. Working America is run by a group of 10 AFL-CIO International Union presidents and their aides under the direction of executive director Karen Nussbaum, a co-founder of the organization.
As a member, every six months or so, you may receive a list of about 20 major issues, and you can check off those that you are especially interested in. The checked list may vary with different members, but it doesn't really matter. The ultimate campaign issues are decided by Nussbaum and her staff and are always consistent with the official agenda of the AFL-CIO. Differences of opinion never see the light of day.
Thus, Working America can speak out on any issue in the name of 3.2 million members, with considerable political clout, in support of any of AFL-CIO 's public campaigns, no matter what the wishes of its members are.'Working America' Is Subsidized by AFL-CIO Dues-Payers
www.laboreducator.com
Can They Get !/2 The Working Class To Jail the Other Half? California's politically powerful prison guards union will appeal a $12 million verdict by a federal jury in a defamation and breach of contract case, the union's lawyer said Saturday.
The jury in Sacramento federal court awarded more than $10 million in punitive damages Friday to former officials of Corrections USA, a California-based national coalition of prison guard unions. That's on top of $2.6 million awarded by the same jury earlier in the week for financial losses.
More than $12 million of the verdict is against the California Correctional Peace Officers Association. The union was accused in the three-year-old lawsuit of taking over Corrections USA and removing its previous officers. The balance of the award is against Corrections USA and two of its officers.
The jury found officials with the union and Corrections USA broke contracts, spread lies about Corrections USA's founder and two other plaintiffs, and harmed their financial future as the union was seizing control of the national organization.
"The message this verdict sent was scorched earth tactics and bullying tactics by CCPOA are not acceptable. Maybe the next time CCPOA will think twice," said Daniel Baxter, the attorney for Corrections USA's founder and former executive director, Brian Dawe. www.mercurynews.com/breaking-news/ci_16422474
Former Patco Leader Dennis Reardon Loses Ohio Ed Association Lawsuit, Gets Mink: also accused Lopez of being responsible for two anonymous letters sent to Reardon, one of which insulted Reardon's wife, also an OEA employee. It read, in part:
You have made life a lot more difficult for people who devoted their working lives to OEA. Meanwhile Mrs. Reardon is decked out in a full length fur coat. You know the old saying? "What do you call a pig in a dress? A PIG!" How can you look at yourself in the mirror? You will burn in hell, you bastard.
The case worked its way to the 10th District Ohio Court of Appeals of Ohio, which ruled against OEA. On the issue of Lopez calling Reardon a "slimebag," the court found:
The voicemail was a statement of opinion that Lopez did not think well of Reardon. This kind of trifling figure of speech is of so little consequence it cannot be said to be material and should be disregarded.
www.eiaonline.com/intercepts/2010/10/20/labor-relations-at-the-ohio-education-association-or-dont-call-your-ex-boss-a-slimebag/
Fake Wobblies Lose FastFood Vote: The workers voted against joining the Industrial Workers of the World, which was a powerful, far-left union a century ago, but now is far smaller and weaker and often seeks to organize groups of workers that other unions overlook.
Among the votes cast, 87 were against the union, 85 for, with 2 challenged ballots. The challenged ballots would not affect the outcome because the union needs a majority to win. The results are final, but parties have seven days to file objections before the results are certified. Erik Forman, one of the leading pro-union employees, said the union would file objections, accusing management of unfair labor practices, to ask for a new vote.
www.nytimes.com/2010/10/23/business/23labor.html?emc=tnt&tntemail0=y
Here, Counterfeit Wobblies, is What Hundreds of People Fought and Died About, the Heritage you Defile:

Spy vs Spy

CIA renegade Agee's files surface at NYU
The private papers of Philip Agee, the disaffected CIA operative whose unauthorized publication of agency secrets 35 years ago was arguably far more damaging than anything WikiLeaks has produced, have been obtained by New York University, which plans to make them public next spring.
Agee, who worked undercover in Latin America from 1960 to 1968 and died in Cuba two years ago, once said he resigned because the values of his Catholic upbringing clashed with his CIA assignments to destroy movements to overthrow U.S.-backed military regimes. CIA defenders said he was on the verge of being fired.
Agee's first book, "Inside the Company: CIA Diary," published in 1975, included a 22-page appendix with the real names of some 250 undercover agency operatives and accused a handful of Latin American heads of state of being CIA assets.
The CIA's classified in-house journal, Studies in Intelligence, called it "a severe body blow" to the agency.
"As complete an account of spy work as is likely to be published anywhere," wrote Miles Copeland, a former CIA station chief, "an authentic account of how an ordinary American or British 'case officer' operates… All of it … presented with deadly accuracy."
Two subsequent books by Agee and his co-author Louis Wolf revealed the names of about 2,000 more alleged CIA operatives in Western Europe and Africa. blog.washingtonpost.com/spy-talk/
Magical Mystery Tour
Don't Worry–Froggy Saves the Day!
www.youtube.com/watch?v=NYki4s73Kwg&feature=related
More News on San Diego's Rapist Priests (nearly $200 million worth of them but immediately after the settlement the SD Catholic Church sent Letters to the Entire Community Demanding Money to Pay for Their Crimes, ah, sins): But the pages that do involve allegations show a pattern that has become common to clerical sexual abuse cases in other dioceses: Victims and their families were often ignored or called liars; diocese officials transferred priests when allegations were made but never contacted the police; and the San Diego Diocese found parishes for priests being transferred from elsewhere in the country to avoid allegations.
One case is that of Robert Nikliborc, a priest who served time in federal prison for failing to file income taxes. He had been accused of living a double life as a wealthy married man in Palm Springs and was later accused of molesting several youths under his care at a Banning school for boys.
In 1976 then-Bishop Leo T. Maher wrote to the pope's delegate in Washington, D.C., saying of Nikliborc that it "would seem he has a dual personality, has charm and a most pleasing personality, and can easily win people over to his views. But if one does not agree, he is really vicious, very vindictive. … I can say in all honesty he is a liar and a very dishonest person. … I do not believe he should be allowed to function as a priest."
Jean Jadot, the Holy See's apostolic delegate to the U.S., responded: "I realize that you will have to do something. My only suggestion is that you try and avoid as much harmful publicity for the church as possible."
Nikliborc continued serving at Saint Anne Catholic Church in San Diego and more than two decades later, when the priest himself asked to retire, his superiors asked him to stay on.
www.latimes.com/news/local/la-me-priests-20101025,0,723032.story
The Rapid Emergence of Fascism as a Mass, Popular, MultiTentacled Movement:
Chomsky and Hedges: "called him at his office in Cambridge, Mass. "The parallels are striking. There was also tremendous disillusionment with the parliamentary system. The most striking fact about Weimar was not that the Nazis managed to destroy the Social Democrats and the Communists but that the traditional parties, the Conservative and Liberal parties, were hated and disappeared. It left a vacuum which the Nazis very cleverly and intelligently managed to take over."
"The United States is extremely lucky that no honest, charismatic figure has arisen," Chomsky went on. "Every charismatic figure is such an obvious crook that he destroys himself, like McCarthy or Nixon or the evangelist preachers. If somebody comes along who is charismatic and honest this country is in real trouble because of the frustration, disillusionment, the justified anger and the absence of any coherent response. What are people supposed to think if someone says 'I have got an answer, we have an enemy'? www.truthdig.com/report/item/noam_chomsky_has_never_seen_anything_like_this_20100419/
The US Holocaust Museum "Nazi Medicine" Display (which omits the foundational US Eugenics Research): www.ushmm.org/museum/exhibit/online/deadlymedicine/
However, "Only after the United States set the pace in eugenics did Germany enter the arena. In 1925 the Rockefeller Foundation gave $2.5 million to the Psychiatric Institute of Munich, Germany for the study of Eugenics (around the time that Prescott Bush (George's grandfather) got involved in financing the german war industrial machine via his investment bank, Brown Brothers Harriman). Germany later performed 375,000 forced sterilizations between 1933-39."
www.hartford-hwp.com/archives/45/300.html
www.hartford-hwp.com/archives/45/index-dfdgd.html
Best Thing in the History of the World
Zee Future by Student Nick Damiano: vimeo.com/3702380
Zee Past–Why People Go To Detroit Lions' Games:
www.youtube.com/watch?v=9FJoRxT6B5g
Worst Thing in the History of the World
Grace Slick is 71:

If the FBI Kills You, It May Go Something Like This: www.freep.com/article/20101022/NEWS02/101022061/1318/Watch-dramatic-FBI-video-of-Muslim-leaders-killing-in-Dearborn-raid-shootout
Never Forget


So Long Alex:
www.youtube.com/watch?v=hHUiCYAE2DY
www.latimes.com/news/obituaries/la-me-alexander-anderson-20101026,0,5114226.story
Thanks to  Paul, Adam and Gina, Perry. Monte, Sally and Sandy, Marisol, Peter, Ricky, Steve, Dennis, Mary Smith and John, Kate, Perry, Ken and Barb (yes), Arturo, Ruben, Edgar, Jesus, Dave, Sharon A., Carol Panetta, Candace, Aschlye, Sherry, Wayne, TC, and Donna.
Good luck to us, every one. See below for the letter from France.
r
It's not time for a post-mortem just yet, but the protest movement in
France is winding down.
"Only" 2 million people took to the streets today, as opposed to 3.5
million two weeks ago.
The bosses are still in a state of shock though. They revealed today
that for the last two weeks, 50% of French industry had been halted
because of a lack of raw materials and fuel. Today, Thursday, 25% of
factories were still "experiencing major production delays and were
unable to keep shipment deadlines, causing even more losses through
contract-clause related penalties". As many trade unionists
commented :"when they start talking about losses, that means we are on
the verge of winning".
And strikes are still ongoing in most French refineries. Despite
Government propaganda that announced that five out of twelve refineries
were now running, it appears that this is yet another lie. Seven
refineries are on strike until Saturday, two refineries are shut down
and in a state of lock out, three refineries voted to resume work (after
management offered them a pay increase and the payment of all their days
of strike) but are unable to process anything as the pipelines from the
oil terminals in the ports of Marseille and Le Havre are still blocked
by striking dockers. So actually, not a single litre of petrol is coming
out of any of the twelve refineries right now.
But the mood is undeniably pessimistic, especially after the betrayal of
the CFDT and certain segments of the CGT. The CFDT has accepted to meet
the bosses to discuss "unemployment and wages". A clear indication that
the time has come for a sell-out (sigh, another one).
As I said, the time for forensic examination of living labour has not
yet come. However, analyses (plural of analysis, just checking) of the
10/10 events are beginning to circulate.
Some characteristics of the "pension revolt" have been pointed out by
most commentators on the left :
– strikers were from "old heavy-industry" : railways, steel workers,
auto workers, transport, energy or "intellectual workers" : teachers,
health workers, bank employees, students. That is, workers employed in
businesses with over 50 employees. People working in small (under 50
employees) businesses just couldn't organize. Neither could workers
working in shopping malls, supermarkerts, telemarketing, services, etc.
(in French refered to as CSIT, Commerce, Services and Information
Technologies).
Wherever casualization of the working force was most prominent, people
COULD NOT AFFORD (in their own words) to strike, because they feared for
their livelihoods (most were single paycheck families).
– this situation led to what "Mouvement Communiste" in their analysis of
the French strikes (published in France and in English on
Libcom.org
)
called "strike by proxy schizophrenia". "instead of going on strike
themselves, 2/3rds of the working class applauded while a minority went
on strike. Strike by proxy is a great danger for the working class".
There are many points in "Mouvement Communiste"'s paper that I, and many
workers on the road block, find highly debatable. They tend to impose
their own peculiar brand of Council Communism on a complex situation
(Fighting against pension reforms is incompatible with true Workers'
emancipation).
– It was always clear that "pension reform" was just one of the reasons
why people went on strike anyway. Actually, most workers talked about
feelings of rage and frustration, feelings of powerlessness in the face
of a Leviathan that any spark would ignite.
-The union bureaucracy and left-wing parties (especially the NPA and
LEft Party) initially played a major role in organizing the general
strike. However, the movement rapidly became truly inter-sectorial and
saw workers from very different industries unite in collectively
blocking the economy. In every city and neighbourhood, workers began
blocking fuel depots and major highways leading to industrial parks.
This will remain one of the highlights of 10/10. From the very
beginning, it was all about shutting down production and consumption and
hitting the bourgeoisie hard, and all those who participated were
conscious of the need to bring the country to a standstill and happy to
see production stop and Capitalist profits decline (be it for 17 days).
-In many cities (Perpignan, Rennes, some Paris "arrondissements"),
though not in my hometown, General Meetings of all striking workers were
convened daily and organized road blocks and many other protests. These
protests included (depending on the region): toll-free highways during
the mid-term vacations, collecting refuse with the help of striking
garbage collectors and dumping it in front of the homes of leading
business people, university cafeteria workers providing free meals for
students, shutting down of tax office buildings  (which surprisingly
turned out to be quite unpopular, people late in paying their taxes were
close to panic when they heard that they couldn't enter the tax office
buildings), etc.
– A very considerable amount of money was collected all over the country
to support the striking refinery workers. Again, "strike by proxy" as
some would say.
– However, the "General Meetings of all striking workers" did not
include some sectors of heavy industry who were highly unionized and
where the union bureaucracy scorned such initiatives preferring to let
"the unions do their job of co-ordinating protests". In most cities,
including my own "heavy industry red redoubt", unions simply did not
care for the idea of "Workers' councils". Nonetheless, striking workers
from different industries quickly came to befriend each other, exchanged
e-mails, cell phone numbers and facebook pages. Even "Mouvement
Communiste" admits that "these inter-sector contacts will serve in the
future".
– The Union bureaucracy predictably "betrayed" the movement. The funny
thing is, all the workers I talked to were fully expecting this and
showed no surprise when the CFDT offered a truce.
"They always do that. They've been doing that for forty years.
Urge people to go on strike, wave red flags and then negotiate with the
bosses. But who gives a damn about the union bureaucrats ? It's not
about them, is it ? At least we're fighting and that's all that counts.
Won't be a revolution, but it might be the only chance we will get for a
long time to show them what we think. So we can't be too picky, see what
I mean ?" was the sentiment I got again and again from auto workers,
truckers and railway workers.
So I don't think workers and students were really "fooled" by the union
bureaucracies, because they knew exactly what to expect from the
beginning. Even young workers in their 20s.
The fact is that despite all the rejoicing, it was felt that there was
an iron weight weighing on the working class : people need a paycheck
and a majority of the working class is angry but just doesn't believe
that change is possible.
A worker from a tractor-producing plant on his way home from work
stopped to chat with us at a road block. He told us : : "The supervisor
came to the workshop. He saw we were all kind of idle because no
deliveries had come in for three days. He said to me : 'Go out with one
of the truck and try and get some supplies from the storage facility'. I
said to him : 'Excuse me sir, but I'm not a strike-breaker. If you send
me out, I'll just stop the truck on the highway and join the strikers,
so you'd better give me something else to do'. And I think it's a bloody
shame. It's a shame that we didn't go out on strike in my factory, it's
a shame that the oil workers are striking for the rest of us, whereas we
should all of us be out demonstrating. You know … So I know this
movement won't succeed. Because most of us are just too afraid to
strike…"
And you know what, I don't find this statement pessimistic. Working
class consciousness in France has received a tremendous boost from the
events from October 11th onwards. All the arrogant journalists from
Liberation, TF1, Le Monde, etc. have been forced to recognize that
something has changed in France, although on the surface nothing has
changed. Events didn't unfold in the Senate, they unfolded on the
streets.
So now what ? Of course, Unions have vowed "to continue the protests"
but at the same time, they are talking about engaging in talks with
business leaders on "a broad range of issues including unemployment,
youth and pay".
New (or rather old) forms of protest have emerged : blocking the
economy, hitting the bourgeoisie's wallet, inter-sectorial solidarity.
This time, workers didn't just block their own work places : they went
out and collectively helped block the whole production and consumption
system. The government contend this is a sign of weakness on the part of
the working class ("unions are no longer capable of calling for a real
general strike, they just call out the most radical elements from
different sectors to block the economy. IT is a case of increased
radicalism compensating for a fall in the number of unionized workers
over the last twenty years").
But it could also be regarded as a sign of strength, especially given
the fact that for 17 days, 71% of the working class approved of blocking
the economy according to polls.